Durability and Build Quality

90%
| | |
| --- | --- |
| Pros | Cons |
| ✅ Very affordable and excellent value for money | ❌ Not so much heft, not the most realistic to hold |
| ✅ Durable reinforced polymer frame, sturdy construction | ❌ Not the most powerful blowback action around |
| ✅ Good performance out of the box | ❌ Fire selection lever isn't found on the outside of the frame |
| ✅ Full automatic firing option | |
| ✅ Great rate of fire stock | |
| ✅ Lightweight | |
| ✅ Great magazine compatibility | |
| ✅ Extremely modifiable and customizable with enormous aftermarket support | |
| ✅ Gas efficient | |
Action Army is perhaps best known in the airsoft world for its high quality airsoft parts and sniper rifles.
The AAP-01 Assassin was something of a daring shift for the company, marking its entry into the highly competitive airsoft gas blowback pistol market.

With its Ruger Mark IV-inspired looks, good out of the box performance and access to a wide range of parts and accessories for customization, the AAP-01 was something of a smash hit and managed to attract a substantial following soon after launch.
If you're thinking of adding the Action Army AAP-01 Assassin to your collection, then read on as we take a more in-depth look at this popular and affordable gas blowback pistol.
Specifications
| | |
| --- | --- |
| Manufacturer | ASG Action Army |
| Power | Green Gas |
| Action | Gas Blowback |
| FPS | ~340 FPS |
| Hop Up | Adjustable |
| Inner Barrel | 5.07 in (129mm) |
| Outer Barrel | 14mm CCW threaded |
| Total Length | 9.05 in (230mm) |
| Weight | 1.43lb (648 g) |
| Construction | Polymer with metal internals |
| Rounds | 22 |
How closely does the AAP-01 resemble a real steel gun?
| | | |
| --- | --- | --- |
| | Action Army AAP-01 | Ruger MK 4 |
| Weight | 1.43 lbs (648g) | 2.23 lbs (1.01 kg) |
| Barrel Length | 5.07 inch (129 mm) | 5.5 in (139.7 mm) |
| Overall length | 9.05 in (230 mm) | 9.75 in (247.65 mm) |
| Action | Semi/Auto | Semi |
| Caliber | 6mm | .22 LR |
| Capacity | 22 BBs | 10+1 rounds |
| Construction | Polymer | Aluminum/hammer forged steel |
| Sights | Fixed front, adjustable rear | Fixed front, adjustable rear |
| Rail | No | No |
Although the AAP-01 is Action Army's own design, its rather unique looks are based largely on the Ruger Mark IV, a 22 caliber target pistol known for its vintage shape and competition-level accuracy.
Like the Mark IV, the AAP-01 has a rounded shape with an internal cylindrical bolt that is pulled back from the rear with prominent "ears" to either side for easy gripping.
Also like the Mark IV, the AAP has reversible controls, with safety and mag catch being able to be switched over to the left side for easier left-handed use.
Unlike the Mark IV, however, Action army has cut various grooves and channels into the AAP-01's frame and outer barrel, making it a little easier to grip when racking and gives it a little bit more of an angular look.
The gun itself is a little shorter and, being made of polymer rather than metal, is considerably more lightweight.
Similarly, rather than the standard, checkered 1911-style grips that are found on most Mark IVs, the AAP-01 uses a rather visually striking grip style that is a mixture of honeycomb and granulated texturing.
Finally, the AAP-01's front and rear sights are fiber-optic style, which is as opposed to the Mark IV's more traditional iron sights.
Obviously,as the gun is only inspired by Ruger's Mark IV and not a licensed model, there are no Ruger trademarks on the gun.
Action Army AAP-01: How does it perform?
Build Quality and Construction
The ASG Action Army AAP-01 is a mostly polymer gas blowback airsoft pistol, with the frame, bolt assembly and outer barrel all made of plastic, with some of the internals made of metal.
Although it isn't a metal airsoft pistol, the AAP-01 is made of fiber-reinforced polymer construction that makes it far more durable than ABS gas pistols while keeping the gun pretty lightweight overall.
The gun itself is well put together and extremely sturdy out of the box.
The outer barrel and upper receiver are solidly bolted together, almost as if they were one piece, and they securely lock into the glock 17-style lower receiver, meaning there is little to no looseness, wobbling or rattling to the gun when handled.
Like the Mark IV, the AAP-01 uses a cylindrical internal bolt that draws from the back of the gun and is a bit unusual but pretty cool.
Rather than the whole top of the gun blowing back, the outer barrel and top frame assembly remains stationary as the bolt blows back from the rear, reducing vibration and, in theory, keeping the sights a little more on target between shots (as well as reducing any effect such vibration might have on less expensive optical attachments).
Inside the upper receiver, users will find a pretty decent 6.03 mm tightbore aluminum inner barrel, which also helps the gun deliver better accuracy and performance.
Interestingly, while the upper receiver is fairly unique, the lower receiver is broadly compatible with the TM Glock 18C, accepting triggers, mags, nozzle springs, hammers and so on, which gives the gun considerable flexibility in customizing and upgrading that we'll talk about later.
Earlier models of the gun came with a zinc alloy hammer, which users complained was prone to breaking after prolonged use on automatic. Happily, this has since been replaced with a more durable alloy hammer, although users who really want to go to town on full auto might want to upgrade to a more high durability aftermarket steel part later on.
In terms of externals, the AAP-01 comes with a 14mm negatively threaded outer barrel, which accommodates most mock suppressors (in case you want to take the whole "Assassin" thing a bit farther).
In addition, the gun comes with a couple cool fiber optic-style, orange and green iron sights. Although these are, in actuality, tiny fluorescent glow-sticks, they are a lot cooler to look at compared to plain sights and, much like real fiber optic sights, they can be of great help with target acquisition in ambient light conditions or low-contrast targets.
The front sight is, of course, fixed, while the rear can be unscrewed and removed, which is nice if you want to mount optics or attach an additional rear rail to the gun.
Like the Mark IV it is based on, the AAP-01 doesn't come with any pre-installed rail attachments.
There are a pair of optional rail attachments that come included with the gun in the box, however, and these fit along the top and bottom of the gun to a couple of pre-drilled holes.
This does ultimately mean a little extra work on the part of users if they do want to mount optics, flashlights or lasers to the AAP-01.
Users should also be aware that these mounting holes are not threaded (the screw is supposed to provide any needed threading when it is screwed in the first time), so they need to be careful when applying force and need to make sure that the screw is aligned properly, which can be a bit of a hassle depending on how handy you are with an Allen key.
When mounted, the rails provide a top and bottom (12 o' clock and 6 o' clock) picatinny rail system that works with most airsoft accessories, which is quite helpful, although (much like the real steel Ruger) they do bulk up the gun's profile considerably in our opinion.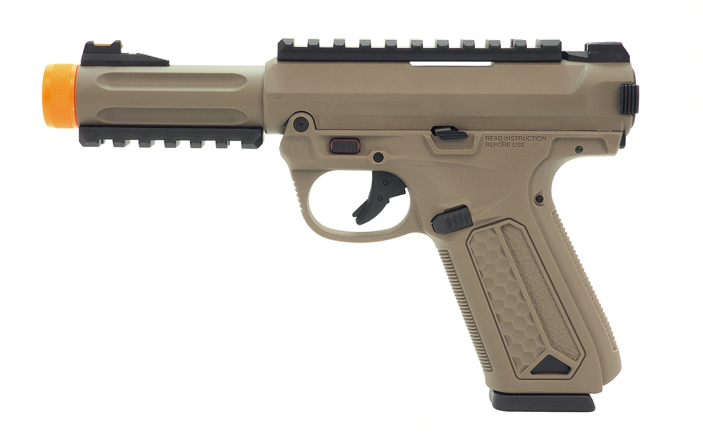 One thing that is kind of interesting is the AAP-01's trigger.
The trigger has a built in lever that requires users to squeeze the trigger firmly and correctly before the gun will fire.
A casual flick isn't usually enough to get the gun firing, which allows the trigger itself to act as a sort of an extra safety mechanism to help prevent accidental discharge, which is pretty cool.
Performance and Accuracy
In terms of performance, we found that out of the box and running green gas the AAP-01 got about 340 FPS with 0.20g BBs, meaning it can be a highly versatile and usable gun for both outdoor use and indoor/CQB games where FPS limits might be a little more strict.
Although it can, in theory, use CO2 and some AAP-01 users have used CO2 mags and (they claim) have no issues with it, we would probably stick with green gas for longevity's sake given the gun's mostly polymer construction.
The AAP-01 is also quite accurate out of the box, getting good groups at 50 feet (15 m) without ease and reliably hitting center mass at over 100 feet (30 m) without much of a problem, something that was assisted by the very visible fluorescent sights.
Accuracy is further increased by the fact that, unlike many other gas pistols, the barrel of the AAP is fixed (non-recoiling) and its bolt is internally located.
As a result the gun doesn't have quite as much of a blowback feel to it that other GBB pistols may have (which can be a downside for some), but this reduced vibration does make the gun more of a stable firing platform, especially if you are mounting optics (especially less expensive ones).
While it is true that gas blowback airsoft guns don't have quite the same recoil power as a real steel gun, this setup does provide a little help when trying to keep your sights on small targets, particularly at range.
One thing users should note, however, is that the gun comes with the hop-up completely turned down/off.
You will need to turn it up a bit before shooting it the first time or your BBs will basically drop after about 30-40 feet. Luckily, ASG has made it quite easy as the hop up adjustment gear is located just inside the mock ejection port, and the slide catch is actually functional (so you won't have to hold the bolt back with your other hand like some 1911 replicas we could mention).
In addition to its accuracy, the AAP-01 has a hilarious and awesome rate of fire.
The AAP-01 is capable of shooting on semiautomatic and automatic, which is pretty cool, and with the flick of a switch it can churn out BBs at around 21-25 RPS on automatic, almost begging for it to be fitted with a drum mag or rigged for HPA.
Finally, in terms of gas efficiency, the AAP-01 is pretty good on gas.
We found that the gun can fire off about 2-3 mags per fill (44-60 or so rounds) depending on how aggressive your fire is and ambient temperature.
Handling and Feel
Overall, the Action Army AAP-01 is quite nice to hold and use.
The gun is nicely balanced and sits comfortably in hand, and with its polymer construction it is quite lightweight and easy to hold on target for extended periods of time, although being made of plastic and weighing under 1.5 lbs, it does lack a little bit when it comes to heft and realistic firearm feel compared to heavier, all steel airsoft pistols and can feel a bit toy-ish at times.
That said, it is a very easy airsoft gun to carry and doesn't really add a lot of weight to any loadout, making it ideal as a secondary weapon or even as a primary for CQB.
In terms of its profile, although its upper receiver is a bit unusual, the lower receiver feels very much like a Glock 18 in-hand
Similarly, although they are a little more unusual than the typical checkered or granulated grips found on most stock airsoft pistols, the mixed honeycomb grips on the AAP-01 are actually fairly comfortable and do a pretty good job at keeping the gun stable and secure, even when wet.
In terms of use, the gun is quite easy to hold and rack.
Unlike the rounded and smooth Ruger upon which its externals are based, the AAP-01 has a variety of channels and grooves cut into it, allowing users to grip the gun a little more firmly at different locations.
Racking the gun's cylindrical internal bolt is similarly easy, as ASG has included prominent wings on each side, which allow users to more easily get a secure grip to draw it back, even when wearing gloves.
One thing that we really liked is that the gun can be easily modified to accommodate both left and right handed users.
Both the safety and mag release of the gun are fully reversible, allowing users to switch them easily from side to side, and the slide catch is, of course, ambidextrous.
In terms of feel, as we mentioned earlier, the AAP-01 is a very stable platform and its fixed barrel and internal bolt don't give it as much of a blowback effect as some other guns.
That said, the gun more than makes up for it in our opinion with its very smooth and quick cycle, and its snappy and short recoil.
One thing that is a little awkward with the gun is that the selector switch for full auto is located at the top of the bolt and is only accessible when it is pulled back.
Maintenance
The Action Army AAP-01 is actually pretty easy to disassemble and maintain, even compared to more common and standard 1911 and Glock replicas.
Disassembly of the gun requires a simple, firm press of a button located at the back of the gun, underneath the bolt.
Once pressed, the upper receiver flips up and can be popped up with a gentle tug, providing access to the bolt, nozzle, hop up, springs and inner barrel and more, allowing users to clean, inspect and periodically maintain them easily.
Unlike your standard Glock or 1911, this push-button disassembly method means there's no need to fiddle around with take down levers or push, pull or otherwise finagle a slide, which is nice, especially if you have to do this on the fly during a game.
Similarly, adjusting the hop up is quite easy.
As with more modern airsoft pistols, the hop up is accessible through the ejection port. The AAP-01's slide catch is functional, so will helpfully hold the bolt back for you while you make adjustments so there's no need to work one handed with this gun as there might be with other affordable airsoft replicas.
Finally, in terms of replacement parts, Action Army and ASG have done a great job at providing a lot of ready parts online, and many of the internals are compatible with Tokyo Marui standard Glock 18cs, so repairing the gun shouldn't be much of an issue if things go wrong.
Magazine type and capacity
The Action Army AAP-01 Assassin comes with a single 22 round metal magazine, which is ambidextrous and can be used whether the gun is configured to right or left handed shooting.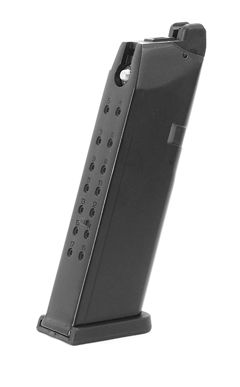 Interestingly, Action Army has produced a wide variety of magazines for this gun, which is kind of cool.
Aside from making it easy to find spares, Action Army also produces AAP-01 extended mags, 50 round lightweight extended mags and even drums that users can buy to take advantage of its nice ROF.
Because it uses a Glock-compatible lower (18C), the AAP-01 essentially uses Tokyo Marui compatible G-series mags. 
As a result, the AAP-01 is highly cross compatible with a wide variety of magazines from other makers, such as WE, Tokyo Marui, Umarex and more, as well as being able to make use of a huge variety of aftermarket mags, which ultimately goes a long way in reducing the cost of ownership for the gun and making it more a little more fun to play around with.
Upgrades and Customizability
Affordable, accurate and with decent power and speed, the AAP-01 is a great performing polymer gas blowback airsoft pistol that has a rather cool look to it.
As nice as it is, however, there are honestly quite a few of those around.
Where the gun really stands out, and why it has become so popular among airsoft players and enthusiasts (price, obviously, aside) is that it is a fantastic platform for upgrades and customization.
Being Action Army's first foray into the world of airsoft pistols, the company has done a fantastic job at providing a ready and wide array of upgrades and accessories for the AAP-01.
The company itself sells upgraded upper receiver kits, barrel extensions, folding stocks, holsters, replacement triggers, hammer upgrades, aluminum frame attachments and much much more.
In addition to ASG and Action Army, a wide variety of well-known brands in the airsoft world have gotten in on the AAP-01 parts game, as well, offering a mind-boggling amount of upgrades and custom parts for both its externals and internals.
A simple google search will allow any AAP-01 owner to find custom valves, precision barrels, improved hop ups and buckings, folding stocks, enhanced nozzles, custom holsters, stainless steel hammers, short stroke kits, HPA rigs, and more.
Perhaps one of the more fun and hilarious customization offerings out there are the various third party body kits available for the AAP-01.
Users can purchase M4-style rifle kits, carbine kits, kits that turn the AAP-01 into a sniper rifle, kits that turn it into power drill for some reason, and even kits that turn the AAP-01 into various anime-style weapons, such as a Gundam-themed line up that turns the pistol into a beam spray gun, machine gun or Tac ZA.
Finally, because it is such a popular pistol in the airsoft world, the AAP-01 has also found a lot of support in the 3D printing world.
There are tons of communities out there online that offer various custom and innovative 3D models for the gun, which isn't something that is as often seen in the airsoft world.
In short, while the AAP-01 is a good gun to run stock, it really excels as a platform for customization.
Users have a nearly boundless opportunity to modify and personalize the gun, with the only real limits being their imagination…and wallet.
Price
Note: Prices correct as of writing, all prices in USD.
Pricewise, the Action Army AAP-01 is typically sold for around $100.
Given its strong out of the box performance and build quality, and its ability to be easily customized and modified, the AAP-01 is a highly affordable airsoft gas blowback pistol that provides a lot of value to users.
It is significantly less expensive than a comparable Glock 18C, including its closest rival the WE Tech Galaxy G, as well as other mainstays of the airsoft field, such as a Tokyo Marui Hi Capa or a decent quality 1911.
As a result, models tend to fly off the shelves and go out of stock quickly, and it can sometimes be hard to get your hands on one.
Or
Or
Action Army AAP-01 Assassin Pros and Cons
Advantages
Highly affordable and great value
At or under $100, the Action Army AAP-01 is a very affordable gas blowback pistol that offers overall performance comparable to far more expensive airsoft guns, making it great value for money.
Well built and sturdy
Although it is made of plastic, the Action Army AAP-01 Assassin is made of reinforced polymer, which makes it fairly durable and scratch resistant.
Further, it is well put together, with snugly fitting receivers and a firmly fixed barrel that feels solid and doesn't creek, rattle, or unduly bend.
Good performance out of the box
Running stock, the AAP-01 fires at around 340 FPS @ 0.20g, meaning it hits hard but can still be used in both indoor and outdoor games, even with stricter FPS limits.
Similarly, it is highly accurate, capable of easily hitting targets well past 100 feet, and its more stable, target-shooting construction means it stays on target between shots a little more easily, even for an airsoft gun.
Fires on Semi and Auto
The AAP is capable of firing on fully automatic as well as semi automatic, which makes it a little more attractive to those looking to lay down a heavier spray of BBs on their friends and enemies.
Impressive Rate of Fire
In addition, the AAP-01 has a pretty decent rps stock, capable of firing off BBs at around 21-25 RPS.
Lightweight
With its polymer construction, the AAP-01 is very lightweight. At less than 1.5 lbs, it very easy to hold, shoot and carry, particularly as a secondary airsoft weapon.
Cool Looks
Modeled after the Ruger Mark IV, the AAP-01 has a very futuristic cylindrical, tapered look that can help it stand out in an airsoft field filled with traditional 1911 and Glock replicas.
Great mag compatibility
The AAP-01 uses standard G-series mags, meaning it can take advantage of a wide variety of different magazines from both Action Army and other brands, making it a lot easier (and cheaper) to find replacements and spares.
Pretty gas efficient
Depending on how aggressively they fire it and depending on temperature, users can fire between 2-3 mags with the AAP before needing a refill of green gas, making the gun pretty efficient in that regard.
Extremely modifiable
Finally, as it does have some parts compatibility with TM Glocks, and has a plethora of upgrades and custom parts available both from Action Army and from third parties, there are a ton of things that can be added to or done with the AAP-01 to suit its owners tastes.
Users are effectively free to customize its looks and performance to their hearts desire and can do so pretty easily compared to many other airsoft pistols out there.
Disadvantages
Doesn't have the most realistic feel
Although made of durable polymer material, the AAP-01 is a very lightweight and plastic airsoft gun and can lack the heft and realistic feel of a full metal replica.
Weaker blowback feel than some other models
Although fairly snappy, efficient and quick shooting, the AAP-01 doesn't have the strongest blowback feeling out there, which can be a concern for some users.
Fire selection is not externally located
While it is great that the AAP-01 is capable of automatic fire, unlike some other airsoft replicas out there, the fire selector switch is not located on the body of the gun, but rather requires users to draw the bolt back to access it, which can be a little annoying.
Bottom Line
As a first foray into the world of airsoft pistols, Action Army (and ASG) have knocked it out of the park with the AAP-01.
Lightweight, with good all around performance, extreme customizability and wide aftermarket support, the AAP-01 is a great option for a secondary airsoft gun, a first pistol or even a primary weapon for some games.
Add to this a highly affordable price tag and lower cost of upkeep, and it is perhaps unsurprising that the Action Army AAP-01 Assassin has become so popular since its release.
Ted Clark– Hailing from Florida, Ted has been an avid airsoft enthusiast since he was in middle school. When he's not checking out and reviewing airsoft guns, he enjoys picking off his enemies one by one on the field as a sniper.