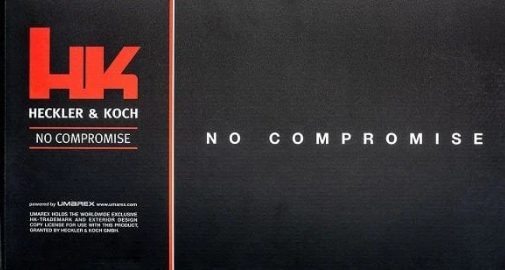 Durability and Build Quality

95%
| | |
| --- | --- |
| Pros | Cons |
| ✅ Lightweight, easy to handle | ❌ Sights are fixed |
| ✅ Fully licensed with H&K trademarks | ❌ Proprietary VP9 mags |
| ✅ Durable and solid build quality | |
| ✅ Good, balanced performance | |
| ✅ Swappable back straps and side panels | |
| ✅ Realistic chamber indicator | |
| ✅ Fun blowback action | |
| ✅ Slide is ergonomic, easy to rack | |
The H&K VP9 (aka the Volkspistole 9) is a striker-fired pistol created for use by Bavarian police as a replacement for their long-serving P7 service gun.
Its use by police and military forces, as well as its cool, modern looks and interesting features, have attracted a good deal of attention in the airsoft world as well, with an airsoft VP9 being something of a unique, go-to alternative to the more ubiquitous USPs and traditional-looking Glocks out there.
If you feel you might be interested in picking one up for yourself, then the Elite Force / Umarex VP9 is probably your best (and really only) bet.
To help you decide if this officially licensed airsoft Volkspistole is really worth your time and money, we decided to take a closer look
Specifications
| | |
| --- | --- |
| Manufacturer | VFC |
| Power | Green Gas, CO2 |
| Action | Semi Auto, Gas Blowback |
| FPS | ~ 320 FPS @ 0.20g BBs |
| Hop up | Adjustable |
| Inner barrel | 4 inch (101 mm) |
| Total Length | 7.32 inches (186 mm) |
| Weight | 1.64 lbs (743 g) empty |
| Construction | Metal slide with nylon-reinforced polymer frame |
| Rounds | 22 |
How Much Does The Elite Force VP9 Look Like A Real Steel H&K?
| | | |
| --- | --- | --- |
| | Umarex VP9 | H&K VP9 |
| Weight | 1.64 lbs (743g) empty | 1.66 lb (753 g) empty |
| Overall length | 7.3 (185mm) | 7.34 in (186 mm) |
| Action | Semi automatic | Semi automatic |
| Caliber | 6mm | 9mm |
| Capacity | 22 | 15-20 rd |
| Construction | Metal slide, nylon-reinforced polymer frame | Steel barrel, slide and spring; reinforced polymer frame |
| Sights | Fixed | Fixed |
| Rail | 6 O' Clock | 6 O' Clock |
Overall, the Elite Force / Umarex VP9 is pretty much a 1:1 airsoft replica.
The Elite Force VP9 is nearly identical to its real steel inspiration, matching the 9mm handgun very closely in terms of weight, length, height and even construction – VFC's use of aluminum alloy and reinforced polymer feels and looks very similar to the steel/polymer build of the Volkspistole, an example of which can be seen below.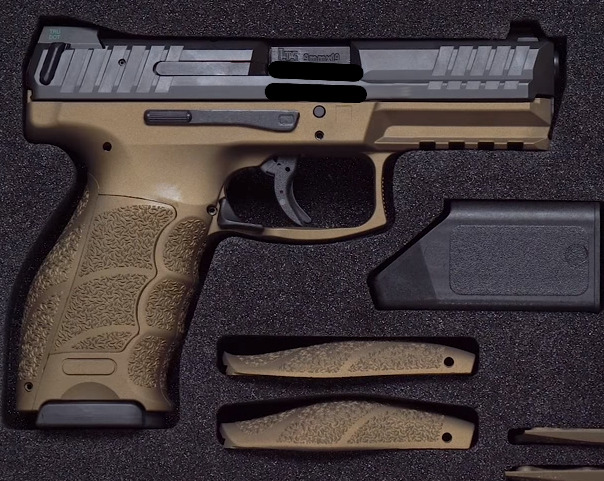 VFC has also done a good job at replicating the VP9's more modern and tactical looks, accurately recreating the gun's distinctive beveled front end, finger grip, 4-slot rail and aggressive front/rear serrations.
In addition, all the switches and buttons of the real steel VP9 are replicated and functional on the Elite Force, including small details such as ambidextrous controls, winged "charging supports" on the slide, trigger safety, and red strike tip.
The gun even comes with two extra interchangeable backstraps and side panels, much like the original, which we'll discuss later.
As it is an officially licensed model, the Elite Force airsoft VP9 also comes with an assortment of H&K trademarks around its frame, slide, grips and so on, which is a definite plus for collectors and enthusiasts.
Interestingly, the trades across the slide are actually engraved into the metal, rather than stamped, which lends the gun a bit more of a quality look and feel in our opinion.
How Well Does the Elite Force / Umarex VP9 Perform as an Airsoft Gas Pistol?
Build-quality and construction
Like the H&K VP9, the Elite Force / Umarex VP9 airsoft pistol uses a blend of polymer and metal in its construction.
As with the company's Glock series, the frame is made of nylon-reinforced polymer, while the slide, sights, levers, outer barrel, rail and more are made of a fairly high quality aluminum alloy.
This isn't too far off from the real steel version's use of machined steel and firearms-quality polymer, and the overall result is that the Elite Force feels very sturdy, realistic and solid in hand and should stand up to most of what an airsoft game can throw at it.
Fit and finish on the gun is also quite good.
We found the slide action to be quite smooth, the gun's controls all seemed to be well-fitted and thumbed securely into place with a satisfying click, and in general there wasn't a lot of bending, squeaking or looseness to the gun when we handled it, which is always a good thing.
The VP9 comes with a rather spacious 4-slot metal rail, which gives users a little more room to add their favorite flashlights or lasers to the gun compared to a more typical 3-slot picatinny.
When it comes to barrel accessories, however, some versions of the Elite Force / Umarex VP9 come with ready 14mm CCW  threading (such as the Deluxe models), while others (such as the one we looked at) will unfortunately need an adaptor.
The gun does come with metal white dot sights, which are pretty high visibility and make it a little easier to get a bead on low-contrast targets or in low light conditions. 
They are, much like the real steel VP9, fixed and so can't be adjusted for elevation or windage, making them really only usable to about 70 feet or so (20m), beyond which users will have to rely more on their gut.
That said, they are removable and can be swapped out for adjustable models or fiber optics if that's more your thing.
One thing we found that's a pretty cool touch with the Elite Force / Umarex VP9 is its "cocking indicator," located where the hammer would otherwise be in a non-striker fired model.
Just like with the real steel model, the gun sports a small area where a red dot will appear when the gun is ready to fire (and remains black when it is not). 
This is a neat little feature that's fairly unique in the world of airsoft and can be a handy way to check at a glance if you've left your airsoft pistol ready to fire.
Inside, true to VFC pistols, the gun's internals are fairly robust, being based largely on the company's renowned Glock series. 
The metal slide is nicely reinforced, which is good news if you're planning on running higher pressure gasses.
The inner barrel is made of well-finished brass, the nozzle is made of fairly hard wearing plastic, most of the hammer and trigger system are steel, the recoil spring feels fairly heavy duty and the gun contains an adjustable rotary-style metal hop up.
Sadly, and unlike Umarex's more modern Glock models or VFC's own 1911, the hop up unit is located under the slide and so users will have to disassemble the gun to access the wheel, limiting the ability to make last second adjustments in the field.
Performance and accuracy
By and large, the Elite Force / Umarex VP9 is a very capable airsoft pistol.
On green gas and using 0.20g BBs, the gun chronoed at a decent enough 320 FPS, making it powerful enough for outdoor skirmishes but still capable of sliding in under any FPs restrictions that an indoor/CQB field may have.
The gun's striker-fired trigger action is highly responsive, even with the integrated trigger safety, offering a very clean break and quick return.
Further, the gun has a pleasant and fairly strong blowback action that cycles fairly quickly, even with its heavier metal slide.
Accuracy-wise, while it will hit targets to about 100 feet (30m) or so without issue, the gun is really more at home in the 50-60 foot range (15-18 m), where it will group pretty well.
In terms of gas efficiency, the VP9 is okay, if nothing to write home about – we saw it get around 2 mags per fill at room temperature.
Handling and feel
For a full-size airsoft pistol, the Elite Force / Umarex VP9 is surprisingly easy to handle.
The gun is around the same size as a USP or Glock 19X, and is more compact than a typical airsoft 1911 or M9, which makes the gun pretty easy to carry and store on the field.
Yet, at around 1.6 lbs (740g), the gun definitely has some heft to it and manages to feel very much like a real steel firearm, particularly with its nice, thick metal slide.
The gun also comes with fairly aggressive and deep front and rear serrations that make racking the slide a lot easier regardless of your preference, in all weather conditions and even when wearing gloves.
In addition to these, unlike most other pistols, the VP9 comes with little side wings located to the rear that, looking somewhat like those found on a Galaxy G or an AAP-01, can make it a lot easier to rack the slide if your hands are wet or if your grip is a little weak, which is kind of cool.
The molded grips on the Elite Force VP9 are also worth mentioning.
Well-stippled and with prominent finger grooves cut into them, they stand out quite a bit and are fairly comfortable to hold for people with around average sized hands. 
Those with significantly larger or smaller than average hands (as with other grooved grips) may find them to be a little less so, however.
To help those with different sized grips find better purchase on the gun, the VP9 comes with extra back straps that can be popped on or off of the frame.
Interestingly enough, and rather unusually, the VP9 also allows users to pop off and replace the side panels of the grip, allowing them to change the relative chunkiness of the gun's grip, (on one or both sides), as well, for maximum comfort and stability.
Finally, the Elite Force / Umarex VP9 is fully ambidextrous.
It uses a trigger safety, rather than one mounted to the frame, sports a through-the-trigger-guard paddle mag release and sports ambi slide releases, all of which make it a highly intuitive and usable option for both left and right handed shooters.
Maintenance
Takedown of the Elite Force / Umarex VP9 is pretty typical of a semi and is quite simple, being able to be done in a matter of seconds once you get the hang of it.
Draw the slide back, align the notch with the slide stop, push the lever down and pull the slide forward and off.
After this, the gun really only requires routine GBBP maintenance, cleaning and lubing the barrel and internals, inspecting for damage, checking seals and so on.
It is worth noting that the gun isn't exactly a TM spec gun and so upgrades and replacements aren't quite as ubiquitous as some other models of airsoft pistol.
That said, the VP9 is a desirable replica and it isn't that hard to find upgraded slides, sights, triggers or even complete steel internals (such as those produced by Crusader Tech) if you're willing to look around online.
Magazine type and capacity
The VP9 comes with a metal, front-loading magazine that holds 22 rounds and fills with green gas (a less expensive CO2 model is also available).
By and large, we found that the magazine fit snugly in the mag well, fed reliably, showed no signs of leaks and dropped free when needed.
On the downside, the magazine is proprietary and, aside from limiting the selection of mags sizes for the gun quite a bit, this can increase the cost of ownership in the long run.
Price
Note: All prices correct as of writing, all prices in USD.
The Elite Force / Umarex VP9 tends to come in at around $150-170 or so.
This puts it solidly in the mid-range of airsoft green gas pistols, putting it solidly in the range of well-known competitors such as the Tokyo Marui Hi Capas, the Tokyo Marui MK23, and a little less than Umarex's Glock range.
Nevertheless, the gun does deliver a considerable amount of value for its price, offering solid all-around performance, a highly realistic design, durable build quality, cool looks, and, of course, all the H&K trademarks your heart might desire.
Advantages of the Elite Force / Umarex VP9 GBB Pistol
Accurate, full licensed design
The Elite Force / Umarex VP9 is an 1:1 airsoft replica of the well-known H&K firearm, and VFC has done an excellent job at reproducing all of the gun's unique details, including its chamber indicator, removable sights, beveled slide, highly customizable grips and more.
Further, as it is officially licensed, the gun sports a number of authentic H&K trademarks across its frame.
Durable build quality
The VP9 is a very well-made and solid airsoft pistol, using reinforced internals, a high quality alloy slide, and a sturdy reinforced polymer frame it should withstand most of what a typical airsoft player can throw at it without a problem.
Well-balanced, versatile performance
On green gas, the Umarex VP9 is capable of chronoing at a decent 320 or so FPS and offers reliable accuracy in the close to medium range, making it a versatile pistol for both indoor and outdoor use.
Swappable back straps and side panels
The Elite Force / Umarex VP9 comes with a set of swappable backstraps, which allow users of varying hand sizes to more easily find a grip that works for them.
Unusually for an airsoft pistol, and true to the real steel version, the VP9 also comes with swappable side panel options, which can change the width of the grip, as well, further increasing the personalization of the gun.
Cool chamber indicator
Also like the real steel VP9, at the back of this airsoft pistol is a chamber indicator that turns red when the gun is primed to fire, a cool addition that can help prevent accidental discharges.
Snappy blowback
Despite having a fairly solid metal slide, the Elite Force / Umarex VP9 still maintains a pretty quick cycling, snappy blowback action that makes it a blast to shoot.
Fully ambidextrous
The Elite Force VP9, like its real steel inspiration, is a good option for both left and right handed airsofters as it sports ambidextrous mag releases, a trigger safety and an ambi slide release.
Easy to rack slide
Finally, the Elite Force / Umarex VP9 has a very easy to rack slide that sports deep, easy to grip serrations on the front and back, as well as small "wings" that allow users with poor grip strength (or those wearing thick gloves) to find better and more effective purchase.
Disadvantages
Fixed sights
Although they are cool, high contrast white dot sights, the Elite Force / Umarex VP9's sights are not adjustable (much like the real steel H&K), which can be something of a disappointed to backyard plinkerers and sticklers for range and accuracy.
Proprietary mags
The Elite Force VP9 uses a 22 round metal mag that, while of decent quality itself, is proprietary to the system, which limits the options available to users and can increase the long term ownership costs of the gun to some degree.
Bottom Line
Solidly built, durable, lightweight and with good all around performance, if you're looking for a gas blowback pistol but want something a little more tactical and modern looking than a Glock, the Elite Force / Umarex VP9 might be just the right gun for you.
Ted Clark– Hailing from Florida, Ted has been an avid airsoft enthusiast since he was in middle school. When he's not checking out and reviewing airsoft guns, he enjoys picking off his enemies one by one on the field as a sniper.