Durability and Build Quality

97%
| | |
| --- | --- |
| ✅ Very cool, modern 2011 design | ❌ No back up sights |
| ✅ Exceptionally durable, solid and well-made | ❌ Semi only |
| ✅ High quality, high performance internals | |
| ✅ Good power | |
| ✅ Very accurate | |
| ✅ Crisp blowback action with fast cycling | |
| ✅ RMR-ready | |
| ✅ Good value for money | |
| ✅ TM compatible | |
TTI is a company best known among enthusiasts for their high quality firearms and among most others as making some of the more iconic guns from the John Wick franchise.
Capturing almost as much attention for its unique color and style as it does for its role in John Wick 4, the TTI Sand Viper is one of the newer and more high profile of the company's offerings.
The JAG Arms Sand Viper is an officially licensed GBB replica of the gun and has drawn quite a bit of interest from airsofters since its release, both for its design and attractive price.
To find out if its worth your time and money, we decided to take closer look for ourselves.
Specifications
| | |
| --- | --- |
| Manufacturer | JAG Arms |
| Power | Duster, Green Gas |
| Action | Semi Auto |
| FPS | ~ 360 FPS @ 0.20g BBs |
| Hop up | Adjustable |
| Inner barrel | 3.93 inch (100 mm) |
| Total Length | 8.5 inches (215 mm) |
| Weight | 2.38 lbs (1.08 kg) empty |
| Construction | CNC aluminum slide and frame |
| Rounds | 30 |
How closely does the TTI Sand Viper Airsoft Pistol resemble the real steel version?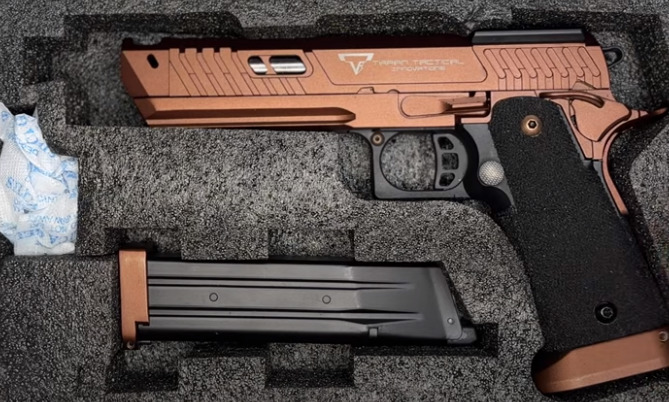 | | | |
| --- | --- | --- |
| | TTI Sand Viper by JAG Arms | TTI Sand Viper |
| Overall length | 8.5 in (215 mm) | 8.5 in (215 mm) |
| Action | Semi automatic | Semi automatic |
| Caliber | 6mm | 9mm |
| Capacity | 30 | 17-28 rd |
| Construction | Aluminum frame, slide and nylon-reinforced polymer grips | Steel slide, frame, Coyote Bronze DLC coating on frame |
| Sights | none | none |
| Rail | 6 O' Clock | 6 O' Clock |
The JAG Arms x TTI Sand Viper airsoft pistol is an officially licensed replica of the now Hollywood-famous TTI competition pistol of the same name, which is itself a modified take on the 2011 Hi-Capa.
All told, the JAG has made its Sand Viper GBB an extremely realistic take on its real steel inspiration, matching it very closely in terms of length and weight.
The gun is made out of aluminum that's tinted a sweet pretty sweet bronze that actually looks and feels pretty similar to the real steel TTI's Coyote Bronze DLC coated steel.
The Sand Viper also stays true to the TTI in a lot of its controls and overall external design, featuring things like an extended mag release button, square trigger guard, flared magwell, lengthy beaver tail, twin safeties, RMR plate, skeletonized trigger, lack of sights, ported and lightning-cut slide and more.
Consequently, the gun is about as visually stunning as the real steel Sand Viper, which is saying quite a bit, and it should stand out nicely among the veritable sea of 1911s that tend to populate airsoft fields today.
As a licensed airsoft pistol, the JAG Arms x TTI Sand Viper does contain a variety of trades and roll marks that collectors and enthusiasts will enjoy.
The gun features typical TTI markings across its slide and under its barrel and, of course, features the gun's rather distinctive (and not exactly subtle) white snake-inspired "Sand Viper" logo across its right side, which is not only cool but should let everyone around you know just what you're carrying.
How Well Does The TTI Sand Viper Perform as an Airsoft Pistol?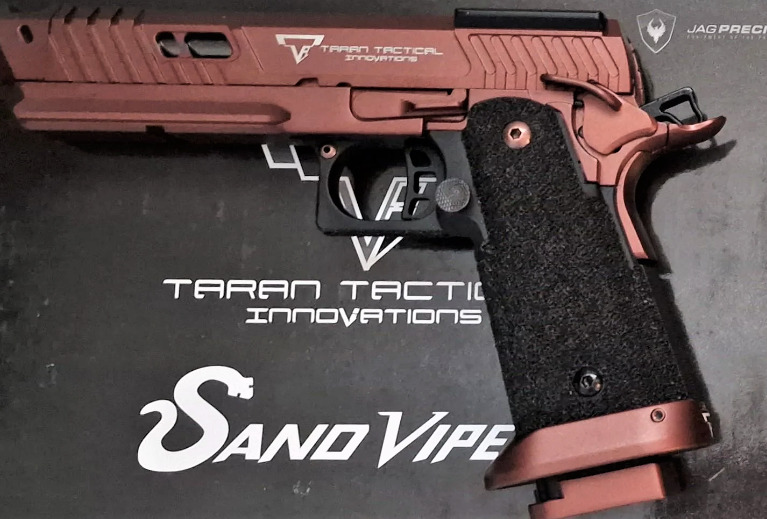 Build-quality and Construction
The TTI Sand Viper is a full metal airsoft pistol and it is clear JAG has put a lot of effort into this gun's construction.
The gun's slide and frame are made of tough, bronzed CNC aluminum, making it a lot more durable than many other airsoft full-metal airsoft gas pistols that tend to be built out of softer zinc-heavy alloys.
As a consequence, the gun is easily capable of reliably withstanding the pressures of gas use (even higher PSI variants of green gas) and so should be able to be fielded for quite some time without breaking or needing much in the way of major repairs, which is always nice.
Further, as the grips are also made of a fairly hard-wearing material (nylon reinforced polymer), the gun's solid build should allow it to stand up to most of what a running and gunning airsoft game can throw at it.
Fit and finish on this gun is surprisingly good, as well.
When we handled it, we found that the gun's slide was extremely to draw back, and the gun in general showed no signs of rattling, clattering, looseness or bending that we could notice.
Further, all the critical controls on the gun – slide stop, mag release, trigger, hammer and safeties, all felt quite secure and properly installed, showing no real looseness or wobble when thumbed, which is always nice to see.
Like the TTI / STI Combat Master, the Sand Snake does have an extended mag release with an oversized button that sort of juts out a bit from the frame. 
This configuration makes the mag release a little easier to use without changing grips and more accessible for those with smaller hands.
In addition, due to the fact that the Sand Viper's release is a bit closer to the frame, the gun does fit into holsters a little more readily than the Combat Master and there is slightly less of a chance for an accidental release due to a clumsy finger slip.
Another rather unique feature of this gun is that its outer barrel is firmly affixed to a compensator located at the end of the frame and barrel.
In airsoft this compensator is largely for looks (as, unlike the real steel version, there is no major release of hot gasses from the barrel that would cause significant muzzle flip).
It is, however, pretty cool to look at and keeps the outer barrel static, which can prevent the inner barrel from jiggling around and can improve accuracy.
In terms of accessories, the JAG x TTI Sand Viper comes with a Glock-style accessory rail located on the lower part of its frame, which should allow it to pretty easily attach the usual assortment of flashlights and lasers without an issue.
The gun also comes with a threaded outer barrel, which is fun and can let it make ready use of the various barrel accessories out there (extenders, tracers, mock suppressors and so on).
It should be noted, however, that it is 11mm CW and so users will need a 14mm adaptor to attach the most common ones out there.
Also, because the outer barrel is fixed to the gun's compensator, it can't be as easily swapped out, something those into modding should be aware of.
Interestingly, and true to its real steel influence, the gun does not come with any iron sights.
Instead, the JAG x TTI Sand Viper comes with an optic-cut slide and a pre-installed optic mounting plate (something like a M3-0.5mm), which allow users to buy and readily mount their choice of RMR red dot sights, as well as those intended for Docter plates, as well (like a Vortex Viper, for example), which is pretty cool.

On the downside, of course, should their optic fail the gun has no backup and users will have to rely on their own instinct and experience to hits at any kind of range.
On the inside, too, things are well put together.
The Sand Viper's internals are largely Tokyo Marui compatible, which is always good news and ensures that upgrades and replacement parts are pretty easily available.
Further, despite the fact that the slide is only around 4.5 inches long, the gun comes with a fairly long and well-finished (100 mm) inner barrel that actually extends well into the compensator and has a slightly tighter diameter (6.03mm), helping give the gun a bit some more power and consistency when fired.
The Sand Viper also comes with a nice, rotary style adjustable metal hop up located just on the underside of the slide.

The hop up is pretty solid, providing adequate spin to let the gun handle BBs into the 0.30s, and its adjustment wheel clicks into place pretty solidly and securely when turned.
Sadly, like other 1911-style guns, there isn't any real external access to the hop up and users will have to strip it to make any last minute adjustments, which can be a bit of a hassle sometimes.
Interestingly, the gun comes with a pretty strong recoil spring system (we'd wager a 130%), which can help the gun produce a stronger and faster cycling blowback.

Finally, the Sand Viper comes with a cool-looking skeletonized trigger.
Aside from looking cool, it's also adjustable, meaning users can turn the small grub screws located near it to customize trigger pull to some extent, giving them greater precision and control without having to modify the gun.
Performance and Accuracy
Overall, the JAG x TTI Sand Viper is a pretty capable airsoft gas pistol, something that's perhaps expected given the performance-oriented pedigree of the real steel gun.
On green gas and using 0.20g BBs, we saw the gun chrono at around 360 or so FPS when settled in.
Although perhaps a little too powerful for fields with stricter FPS limits, such as indoor and CQB fields, it does make the gun able to keep up with the big boys during outdoor games.
In terms of accuracy, the gun is actually quite a little sure shot.
Fit a decent optic to it and throw in some decent middle to low-heavy weight BBs and, once things are dialed in, it can hit targets to around 130 feet (40m) or so without too much of a problem.
Where the gun really shines, in our opinion, is in its blowback action – the gun is simply a ton of fun to shoot.
The gun's slide is buttery smooth and is relatively short (4.5 inches) and lightweight, and the gun's recoil spring is a bit stiffer and stronger than what is typically fitted to an airsoft pistol.
As a result, the slide snaps back sharply and cycles very quickly with each shot, even with an attached RMR (which adds a bit of rear weight and tends to slow things down) and the gun has a very noticeable kick when fired…even on green gas.
In addition, the trigger action on the gun is quite good, with a crisp trigger break and an excellent return.
This combination of a crisp trigger and a rapid cycle allows the Sand Viper to deliver shots in very quick succession on the field compared to its rivals.
Unfortunately, and unlike some other alternatives such as the Galaxy G or the Umarex Glock 18C, it is semi-auto only, which is kind of a shame given its fast cycle and rather capacious 30 round magazine.
In terms of gas efficiency, the Sand Viper is adequate although not exceptional, getting around 2-3 or so mags per fill, which should let you fire off around 60-90 odd BBs at your opponents before having to stop for a refill.
Handling and feel
For the most part, the TTI Sand Viper is a pretty comfortable and easy to use airsoft pistol.
At around 8.5 inches long, it is a full sized pistol and has around the same size and weight characteristics as various 1911s of note, such as the popular TM Hi Capas, the MK23, and the venerable Glock 17.
Modeled after a double-stack, It is a bit of a beefy gun, and although this may not be what those with very small hands might want to hear, we feel it still is pretty easy to hold and use for most players.
The gun is serrated across the front and rear of the slide, and its distinctive lightening pattern is both cool to look at and fairly deeply cut, meaning users should be able to get a solid grip with which to draw it when conditions are a bit wet or if they're wearing gloves.
Similarly, the gun's plastic grip is extensively stippled with a diamond textured back, which helps users get a firm hold of this gun in all conditions.
Interestingly, the gun also comes with a squared trigger guard, which gives users more room than the typical rounded options.
Aside from looking a bit more modern and aggressive, this is a feature that can help with trigger control by preventing accidental bumps, provide a bit more stability for a supporting hand, and that can make the gun a little more user-friendly for those wearing gloves or those with larger fingers.
Finally, the JAG x TTI Sand Viper is pretty ambidextrous, sporting dual safeties and reversible mag release, which makes it pretty left hand friendly, as well.
Maintenance and Upgrades
Like other 1911-style pistols and Hi Capas, taking down the Sand Viper for maintenance is pretty easy.
Users simply align the notch on the slide to the corresponding nub on the slide catch, pull the slide catch out and it should slide right off the frame.
From here, users can check for damage and periodically lubricate and clean the internals after use.
Because the gun is largely TM compatible on the inside, replacement parts are quite easy to find and upgrades are pretty plentiful.
There are, for example, upgraded slides, upgraded hop ups and buckings, upgraded nozzles, tighter bore barrels, steel catches and controls, and more that can be installed.
Interestingly, the gun's slide is compatible with the Combat Master's, allowing users to mix and match colors with the cool bronze look of the Sand Viper, as well as take advantage of the Combat Master's white dot integrated sights.
Magazine type and capacity
There are a few options out there, but in general the airsoft TTI Sand Viper comes with a 30 round metal JAG Arms Hi Capa magazine with a flared base to fit the guns magwell.
We found that this magazine sat quite nicely in the gun, slid in and out with no issue, fed BBs quite reliably and didn't really have any noticeable issue with gas leaks.
Magazine compatibility is mixed with this gun.
It will accept JAG arms magazines, as well as Tokyo Marui and Echo1 Hi Capas pretty well, but due to its magwell design other magazines may not fit at all, may fit but with feeding issues or may fit but not necessarily drop free.
Price
Note: All prices correct as of writing, all prices in USD.
Although it can vary by retailer and availability, by and large the Sand Viper can be picked up for around $200-$220, which is in the same ballpark as the TM Hi Capas, the Elite Force VP9, Sig P320, Umarex/Elite Force Glocks and other airsoft pistol staples.
All things considered, this makes the JAG x TTI Sand Viper actually pretty decent value for money.
The gun is very well built with a CNC aluminum frame, is officially licensed, TM compatible, comfortable to hold, dead accurate, powerful and has a blowback action that makes it a heck of a lot of fun to fire.
It's also extremely cool to look at and…hey, John Wick, right?
Finally, considering the fact that a real steel Sand Viper costs somewhere in the range of $7,000, this airsoft replica's price suddenly doesn't really seem all that steep.
Or
Or
Advantages of the airsoft TTI Sand Viper
Beautiful gun
The TTI Sand Viper is a beautiful airsoft gun to look at.
With its modern 2011 pistol style, ported slide, skeletonized trigger, lighting cut serrations and gorgeous copper color, it can make an excellent centerpiece in a collection and should make standard Hi Capa-wielding opponents seethe with jealousy.
Extremely durable and well-made
The Sand Viper is made out of hard-wearing and durable CNC'd aluminum, rather than typical plastics or alloys, making it more likely to last with frequent use and stand up to the usual knocks and bangs airsoft entails.
Further, the gun has been assembled quite well inside and out.
It seems there has been quite a bit of thought put into its internal components and everything outside seems to have been installed nice and tightly, with the gun avoiding any looseness, wobbling or rattling.
Powerful
At 360 FPS, the Sand Viper also has enough bite to it to make opponents think twice and it is certainly capable of keeping up with just about any airsoft pistols out there.
Accurate
The gun is also quite accurate at range.
Properly adjusted and with the right optics, users should be capable of hitting man-sized targets up to 130 feet or so.
Excellent blowback action
With its strong recoil spring and short, lightweight slide the Sand Viper is an absolute blast to fire, providing a quick cycle and a forceful kick that GBB enthusiasts will really appreciate.
RMR-ready
Although it doesn't come with any sights, the TTI Sand Viper comes with a pre-installed optics plate mounted to it that can readily accept both RMR and Docter red dot sights.
Good Value For Money
At only around $200, the Sand Viper is a cool, well-built, durable, upgradable, well-performing and officially licensed airsoft gas pistol that's not really all that more expensive than other Hi Capas in the range.
TM Compatible
Finally, the JAG x TTI Sand Viper airsoft pistol is largely Tokyo Marui compatible, which allows its owners to more easily find replacement and upgrade parts for it.
Disadvantages
No back up sights
Like its real steel inspiration, the TTI Sand Viper's slide doesn't come with any sights attached to it, meaning that users will have to buy and attack optics to really get the most out of it in terms of any kind of accuracy.
Semi Only
With its crisp action and expansive magazine, the Sand Viper seems like it would be a natural select fire airsoft pistol.
Sadly, it is semi-only so users looking for some volume of fire will have to keep their trigger finger ready.
Bottom Line
With its excellent build quality, decent price, good overall performance and potential for easy upgrades and repairs, whether you're a fan of John Wick or just looking for a beautiful and snappy airsoft gas pistol, the JAG x TTI Sand Viper might just be what you're looking for.
Ted Clark– Hailing from Florida, Ted has been an avid airsoft enthusiast since he was in middle school. When he's not checking out and reviewing airsoft guns, he enjoys picking off his enemies one by one on the field as a sniper.