Best Airsoft Grenade Launcher
If you're interested in taking on a grenadier role, or just want to bring some surprising firepower to your next game, an airsoft grenade launcher might just be what you need.
Powerful, cool looking, fairly simple, fun to use and capable of launching a wide array of objects at your opponents, they can be an interesting addition to any collection.
That said, you do want to make sure that you find a model that fits your playstyle and one that you can get some good use out of over time.
To help out, we've put together a list of models that we think just be worth your time and money.
In A Rush? Check Out Our Top Picks
What We Look For In An Airsoft Grenade Launcher
Price
While the launchers themselves can vary fairly widely in terms of price (and quality), the real cost when it comes to these little beauties is in the shells.
Generally speaking, these little beauties cost between $20-30, with more specialized options sometimes costing far more (Tag shells can cost $100-120 each, for example).
And while they are reusable, you'll probably be hard pressed to do so in game and will have to buy and carry a few in your loadout to be effective.
In other words, on top of the launcher you might have to budget some serious cash for shells.
Consequently, while you certainly want to look for quality when it comes to an airsoft grenade launcher (a device that actually works is always nice to see), you also need to balance this with a price that's at least somewhat budget-friendly and that will allow you to actually afford ammo.
With single shot undermount models, this means we tend to favor models that are under $100, while with standalones (which tend to be a little bit more complex in terms of externals) we like to see them kept under $200.
Weight
When it comes to airsoft, normally you want a little heft in your replica to make them feel a little more like a real steel firearm or accessory and less like a plastic toy.
With airsoft grenade launchers, weight does become something of a complicating factor.
Undermount launchers attach to the front of a gun and can dramatically affect their weight distribution, making them front heavy and harder to carry.
Standalones, on the other hand, are generally carried as an extra option, and when you're running and gunning any extra weight can slow you down.
While there's no real standard for these things per se, a real steel M203 style grenade launcher typically weighs around 3 lbs (~1.4 kg), which is a lot considering an M4 only weighs around 7 lbs, and so we tend to give high marks to anything that can come in below that.
When it comes to standalones, things are a little trickier as they can be built in a number of different configurations, but as a rule of thumb we like them as light as possible, preferably less than 5 lbs (~2.2 kg) or about the weight of an SMG.
Build Quality and Durability
It goes without saying that we want our grenade launchers to be built well and be built to last for more than a few shots.
That said, these devices are pretty simple – there aren't usually a lot of complicated parts and heavy lifting is usually done by the shells themselves.
Further, while they might be used to clear a room in a somewhat devastating fashion, they're not likely to be handled quite as harshly or banged around quite as much as a primary.
Consequently, these don't necessarily need to be made of milled steel and a good, reinforced polymer can do just fine.
We're really looking for a well-built, solid and reliable trigger mechanism, i.e. a firing pin made of durable alloy, a well-finished tube and a trigger and spring set up that's not too hard to pull.
Shell Compatibility
There are a lot of different grenade shells out there and part of the fun of an airsoft grenade launcher is being able to try out new and varied methods of harassing your opponents.
What we like to see, therefore, is an airsoft grenade launcher that can fit and launch standard 40mm shells without them getting stuck, jammed or being too short for the firing mechanism to reach.
We also like it when our airsoft grenade launchers can fit Taginn shells, as well as standard shower shells, without needing too much modification.
Our Picks
Best Under-Barrel – Matrix / S&T M203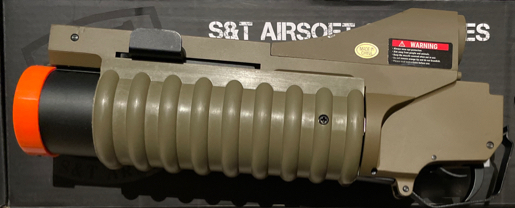 | | |
| --- | --- |
| Price | ⭐⭐⭐⭐⭐ |
| Weight | ⭐⭐⭐⭐⭐ |
| Durability and Build Quality | ⭐⭐⭐⭐⭐ |
| Shell Compatibility | ⭐⭐⭐⭐ |
| Ease of Mounting | ⭐⭐⭐⭐ |
| | |
| --- | --- |
| Pros | Cons |
| Highly affordable | Barrel clasp may be a bit tight on thicker AR barrels |
| Lightweight | No trades |
| Durably built | |
| Reliable | |
| Multiple mounting options | |
If you're looking for a good under-barrel grenade launcher for your airsoft AR replica, the Matrix / S&T M203 is, in our opinion, your best bet.
The Matrix M203 is a single shot under-barrel grenade launcher that comes in a short (12.5 inch /317.5 mm) and long (16 inch / 406 mm) frame, allowing it to aesthetically fit both carbine and full M16-style builds.
The M203 is a mostly plastic affair, made from sturdy nylon-reinforced polymer materials that helps keep the weight down, so it shouldn't make your AR too front heavy when attached.
Being made out of pretty much the same reinforced plastic as many of the M4s it will be attached to (if not better in some cases), the Matrix should stand up pretty well to most of the day-to-day bumps and bangs that an airsoft game can throw at it.
Importantly, the trigger, safety and firing pin of the device are alloy, however, so it should stand up to repeated use for some time without issue.
There are full metal versions of the Matrix available, but unless you think you're going to repeatedly drop your gun from a height, the extra weight and cost is probably not worth it in our opinion.
One thing to note is that the Matrix doesn't come with any Colt or licensed trademarks, which can be a bit of a downside for those looking for maximum realism, but otherwise the Matrix is pretty much identical in form and function to a real steel M203 launcher (aside from some plastic seams, obviously).
The lack of licensing probably also goes a long way in keeping the price below many competitors, which is nice.
In terms of grenades, the M203 is pretty well finished and we found that it fit the vast majority of 40mm grenades we could throw into it without any jams.
TAGINNs, however, are a little long for his device and may require some light modification to work properly.
Interestingly, the Matrix comes with 3 forms of attachment possibilities:
A standard AR clamp collar, for standard barrel mounting
Delta ring attachments, which can work with more highly detailed or thick barreled ARs, like Tokyo Maruis
And picatinny RIS adapters, which should let it fit pretty much any other form of AR with 6 o' clock rails
As a result, users do have their choice with this airsoft grenade launcher as it does fit a wide range of AR styles, from vintage 80s style to straight-from-the-battlefield carbines.
Once we mounted it, the Matrix felt very sturdy and there wasn't any wobble or rattle to it. Similarly, the barrel itself slid open and closed smoothly and locked into place with a audible click, which we liked.
In terms of price, the Matrix can usually be found for well under $100, often under $80, which makes it a highly affordable choice.
Although pretty cheap to buy, given its light weight, sturdiness when attached and flexible attachment points, we feel it offers excellent value to users, which is why it is our choice for the best airsoft M203 launcher.
Best Standalone Launcher – ICS MGL
| | |
| --- | --- |
| Price | ⭐⭐⭐⭐ |
| Weight | ⭐⭐⭐⭐ |
| Durability and Build Quality | ⭐⭐⭐⭐⭐ |
| Shell Compatibility | ⭐⭐⭐⭐⭐ |
| Ease of Mounting | ⭐⭐⭐⭐ |
| | |
| --- | --- |
| Pros | Cons |
| 6 chambered launcher can offer quick, repeat fire | Pretty big and bulky |
| Durably built | May take some time to learn to use instinctively |
| Not terribly heavy | |
| Quad rails and top rail mean plenty of room for accessories | |
| Flexible in terms of ammunition | |
| Lots of fun to hold and use | |
If you're looking for the biggest, meanest standalone grenade launcher that can maximize your potential on the field, the ICS MGL Gen 2 should probably be at the top of your list.
Based on the Milkor Supersix series of riot guns, the ICS MGL is a grenade launcher with a six shot, spring-powered revolving chamber.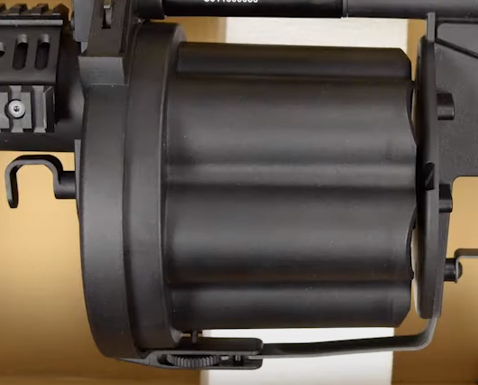 Looking and functioning something like an oversized airsoft revolver mixed with a shotgun, the ICS can store and fire off up to six grenades in rapid succession, i.e it can feasibly let loose hundreds of BBs or airsoft slugs in a matter of seconds (or an amusing, and painful, combination of slugs and BBs).
At 28 inches long the gun is a big boy – about the size of a compact carbine, although quite a bit chunkier around the middle.
Although definitely large, it is surprisingly light.
ICS has made this gun out of reinforced-polymer, which is a good choice as it keeps the weight of this beefy grenade launcher down to a fairly reasonable 5 lbs, meaning it's not as much of a pain to carry around all day compared to an all-metal build.
The MGL is quite well-built, too.
Its revolver action is very smooth and it has a sturdy but responsive trigger mechanism that makes firing the gun very easy and quite reliable.
The revolving mechanism does have some locking clips and latches that, although not particularly complicated, do take a little time to get used to at first, which is something to consider before heading out to the field for the first time.
The ICS MGL also comes with a fairly comfortable and ergonomic crane stock that is actually surprisingly adjustable.
It not only extends and collapses, but adjusts in terms of angle, which can make it easier to shoulder when aiming upwards for those long distance, parabolic TAGINN shots, shells that the Gen 2 can accommodate without modding thanks to a longer cylinder (a distinct improvement over earlier designs).
Interestingly, ICS has also fitted the MGL with a quad and upper rail set up, which means that the gun can be loaded up with tactical accessories.
Importantly, this means it can be fitted with a grip and optic, which should make handling and shooting it more stable and accurate, respectively, which we certainly appreciate.
Pricewise, the ICS MGL is about middle of the road as far as standalones are concerned, typically being priced somewhere in the $200 region.
That said, it is very well made, can offer a huge amount of firepower and can give players a lot of flexibility, both in terms of ammo and in-game use, which is why it sits comfortably at the top of our list of standalone launchers.
Or
Most Flexible – Ares M320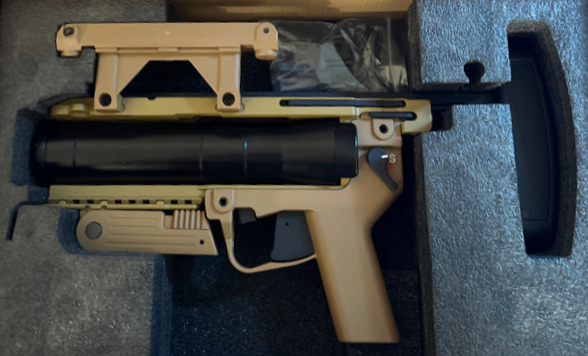 | | |
| --- | --- |
| Price | ⭐⭐⭐⭐ |
| Weight | ⭐⭐⭐⭐ |
| Durability and Build Quality | ⭐⭐⭐⭐⭐ |
| Shell Compatibility | ⭐⭐⭐⭐⭐ |
| Ease of Mounting | N/A |
| | |
| --- | --- |
| Pros | Cons |
| Very flexible – can be used as a standalone or an under-barrel | Can add bulk when mounted under barrel |
| Excellent shell compatibility | Not all that cheap |
| Additional lower rail for accessories or grips | |
| Fairly compact when collapsed | |
| Durably built | |
| Pretty cool, real world design | |
If you're looking for maximum flexibility in terms of in-game use, the Ares M320 might be just what you're looking for.
Based on the real steel M320 GL, the Ares M320 is a single shot 40mm airsoft grenade launcher that can be attached to an RIS rail or used autonomously, thanks to a detachable collapsible buttstock.
This almost PDW-sty;e buttstock can make the M320 a bit more compact and easier to maneuver around with when detached than other options, with the whole gun only about 14 inches long when collapsed.
As a result, the M320 can more easily be carried and passed around among team members if it isn't being mounted to a gun and used as part of a dedicated grenadier loadout.
The Ares M320 is also quite well built as a grenade launcher, being made with an alloy barrel set into a reinforced polymer frame it should stand up to fairly vigorous use without an issue.
Its side loading barrel also takes pretty much any 40mm shell, including TAGINNs, without the need for modification, although some users find the TAGINNs to be a bit snug.
As an interesting touch, the gun comes with its own lower rail, which allows the launcher to fit any number of accessories, such as flashlights or lasers, in addition to the included detachable folding grip.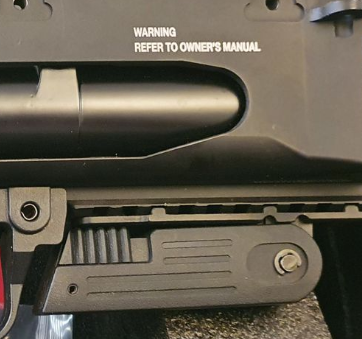 As a result, those taking on a grenadier role won't have to trade off their favorite tactical accessories for grenade capability, which is always nice.
One thing that users will have to consider, however, is that the M320 is designed to be able to be used autonomously and can look something like a small pistol attached to a barrel.
As a result, it can add a bit more bulk to an airsoft gun than, say, a thinner-profile M203.
In terms of price, the Ares M320 typically comes in at around the $220-240 price range, which is a bit more on the premium side.
Nevertheless, with its flexible use, excellent build quality, excellent shell compatibility and cool looks, we feel it can be well worth the price.
Or
Best AK Launcher- Double Bell GP 25
| | |
| --- | --- |
| Price | ⭐⭐⭐⭐⭐ |
| Weight | ⭐⭐⭐⭐ |
| Durability and Build Quality | ⭐⭐⭐⭐⭐ |
| Shell Compatibility | ⭐⭐⭐ |
| Ease of Mounting | ⭐⭐⭐⭐⭐ |
| | |
| --- | --- |
| Pros | Cons |
| Solid, durable metal build | A bit heavy |
| Old-school, highly realistic looks | Uses proprietary CA 11 grenades, need adaptor to fit typical 40 mms |
| Easily attaches to AK74s and 47s | |
| Doesn't add much bulk to gun | |
| Reasonably affordable | |
Finding a grenade launcher for a classic airsoft AK can be a bit tough given the rather old school and unique design of the gun and the usual desire for authenticity.
If you do have an AK47 or AK74 and you don't want to ruin its look with extensive modification, then the Double Bell GP 25 is likely for you.
The GP 25 is a suitably old-school, muzzle-loading under-barrel airsoft grenade launcher modeled after the real steel accessory of the same name.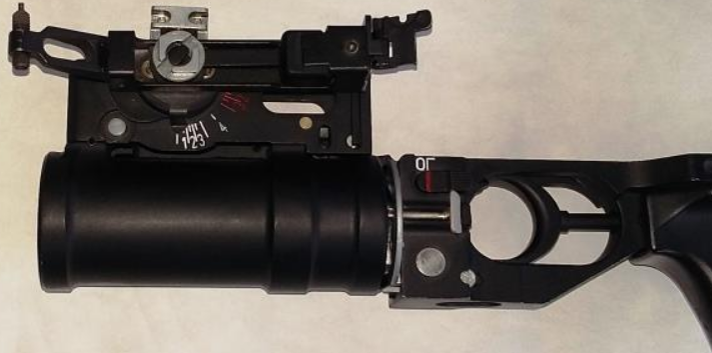 With the exception of its small grip, it is a full-metal build and so is extremely sturdy and can take a bit of abuse, not unlike the AK it is designed to attach to.
This metal build, while very realistic, also means that it is a bit on the heavy side, at just under 3 lbs.
That said, if you're carrying around an AK74 or 47 as your primary, a lightweight design isn't likely on the top of your list of priorities.
The Double Bell GP-25 is a 40mm grenade launcher but, sadly, due to being an AK launcher, really only accommodates specialized 36 round shower shells (the more versatile GP 30, sadly, is still discontinued as of writing).
That said, there are a few GP-25 compatible shells out there made by third party manufacturers (such as this one by Madbull) that can help lower the cost of ownership somewhat, as well as a TAGINN grenade series specifically designed for this launcher, so things aren't too bad for fans of the Eastern bloc.
In addition, unlike many M4 and M16 airsoft grenade launchers, the GP 25 is extremely easy to attach, literally sliding onto the lower barrel and locking on to the gas port with a click.
Like its western counterpart, the M203, the GP-25 sits flush with the lower barrel and so doesn't bulk out the gun it is attached to in any meaningful way, which is good as AKs tend to be bulky enough as is.
One thing we particularly liked is the launcher's flip-up, Soviet style sights.
Although not exactly all that functional with shower shells, they are cool to look at and use.
In terms of price, the GP 25 is fairly responsible considering the lack of airsoft AK grenade launchers out there, usually being priced somewhere around $150.
And when you consider how robust, easy to attach and well-built the GP-25 is, that isn't bad at all.
Undermount Grenade Launchers vs Standalones
When it comes to buying airsoft grenade launchers, many potential users get stuck on the question of whether they should buy an undermount for their primary rifle or pick up a standalone unit.
It is a bit of a tricky question and both have their pros and cons.
Undermount considerations
As they are attached to the underside of an airsoft carbine or rifle, one of the main advantages undermount grenade launchers have over their standalone counterparts is that they don't leave you as defenseless when you need to reload.
Once you've shot your grenade, a grenadier can always immediately fall back on firing at your opponents from a primary carbine or rifle, rather than having to put the launcher away and fumble around for a sidearm.
On a related note, an undermount makes the grenadier role in team play much more multifunctional, being able to act as grenadier and assaulter.
Another advantage is that they add functionality to an existing airsoft gun, rather than replacing one.
If you have a modded M4 that can really outperform on the field, for example, adding an M203 will give it the ability to launch shells, as well.
On the downside, players should be aware that an undermount grenade launcher can make an airsoft rifle a lot more front heavy and a bit unwieldy, which can make them harder to carry for long periods of time.
Another thing to consider is that, being mounted to the underside of an airsoft gun, they are by definition linked to a particular player on a team.
Unlike a standalone that can be passed around, if the grenadier is eliminated so is the grenade launcher and, as a grenadier tends to attract a lot of attention on the field, this is important to think about.
Standalone considerations
One of the main advantages of a standalone grenade launcher is the tactical flexibility it can offer.
A standalone does not require the person using it to have a compatible airsoft gun, so those carrying one can equip themselves with pretty much any airsoft gun they'd like, be that an SMG, pistol or even a bullpup.
More than that, during teamplay, a standalone airsoft grenade launcher can be passed around from teammate to teammate, meaning that it can be deployed quickly by whoever is closest to the target and can feasibly stay in play even if its owner is eliminated.
In addition, a few standalones include revolving chambers, which means that they can (unlike an undermount) be used to quickly fire off several shells in succession.
On the downside, a standalone is a dedicated weapon and will have to be carried by someone on a team.
If the launcher is large and heavy enough, this can preclude them from carrying a full primary, forcing the grenadier to rely on pistols or small SMGs as a backup.
Similarly, because a standalone launcher is not attached to a carbine or rifle, it can leave a grenadier more vulnerable during reloads and it does mean that a team has one less ready rifleman during the remainder of play.
Advantages of an Airsoft Grenade Launcher
Can be devastating at short and medium distance
Particularly with shower shells, an airsoft grenade launcher can be a devastating CQB option.
With each trigger pull possibly unleashing 60-80 BBs (or more) in a single massive volley, they can be a more effective option than even an airsoft shotgun when clearing rooms.
Can launch a wide variety of objects
An airsoft grenade launcher can be surprisingly flexible and adaptable.
They essentially act as a mechanism for tapping gas-filled shells, many of which can be filled with anything from BBs to rubber slugs to nerf darts and balls.
In addition to opening up a whole new range of "counts as" possibilities, it can simply be a lot of fun to see what you can launch out of one of these things and how far.
Adds realism to team games
An airsoft grenade launcher allows teams of players to add grenadiers to their teams, which fits the way in which most modern armies structure their squads and allows teams to easily add 40mm grenades to their arsenal.
Can be a lot of fun
There's really nothing like sliding a 40mm airsoft grenade shell into a launcher, locking it in and hearing the muffled "thunk" when it is fired.
Similarly, there's nothing quite like hearing the screams of frustration from your opponents when they are suddenly hit by a shower of BBs.
They are often allowed where grenades are not
Many fields won't allow players to deploy airsoft grenades, due to the hazards of pyrotechnics and throwing objects around other people.
Most (though not all) will allow undermount airsoft grenade launchers, particularly if using shower grenades.
Disadvantages
They're extra weight
Whether an undermount or a standalone, airsoft grenade launchers and their shells do represent extra equipment that need to be added to a loadout and, depending on make and model, it can represent a fair amount of weight, especially if you plan on carrying a sidearm as well..
They're expensive
Although a launcher may not be all that expensive, airsoft grenade shells can get up there in price..
It's not uncommon, for example, to pay $30 or so per shell and you will need a few to be effective.
You will make yourself a target
Not everyone appreciates being hit with a volley of 80 BBs or having a TagInn land nearby, and grenade launchers (quite rightly) can be seen as a priority threat in CQB games.
As a result, grenadiers can find themselves being specifically targeted by other players for elimination.
Bottom Line
Finding an airsoft grenade launcher that fits your style of play, your style and, let's face it, your budget can be a bit challenging.
That said, as they can be highly effective in CQB and can pretty much launch anything that fits in their shells (or barrels), airsoft grenade launchers can definitely be a fun, unique and tactically useful option to bring to a game.
Ted Clark– Hailing from Florida, Ted has been an avid airsoft enthusiast since he was in middle school. When he's not checking out and reviewing airsoft guns, he enjoys picking off his enemies one by one on the field as a sniper.