The FN FAL is a legendary and cool Cold War-era gun with an even more legendary and cool nickname – The Right Arm of The Free World.
Rather than just being something clever thought up in FN's marketing division, the FAL earned its nickname going head to head with the iconic Kalashnakov in the various wars, insurgencies and "police actions" that raged across the globe in the mid-20th century.
Once favored among Western militaries and their unconventional allies, the FN FAL has long been at the top of the list for historically-minded airsoft enthusiasts looking for something a little different.
And while the overall number of airsoft FN FAL replicas out there has never been huge, unlike their real steel counterparts the quality has notoriously been…hit or miss.
If you are looking for a FAL to add to your collection and want something that both looks good and shoots well, then check out our (admittedly short) list of what we consider to be the best airsoft FN FALs out there for sale.
In A Hurry? Check Out Our Top Picks
What We Look For In An Airsoft FN FAL
Realism
The FN FAL is a historically significant firearm, and for the most part that's why most interested airsofters will want to buy one over, say, a more tactically flexible (and frankly, useful) M4 replica.
Consequently, we're looking for FN FALs that look as close as possible to a real steel model.
Real steel FN FAL battle rifles have the following rough specs, which should serve as a decent enough guideline in terms of dimensions:
Weight
9.4 lbs / 4.25 Kg (full rifle)
9.1 lbs / 4.12 Kg (Para)
8.25 lbs / 3.74 Kg (Carbine)
Length 
43 inches / 1090 mm (full)
28.5 – 37.5 inches / 724-927 mm (para) 
37.5 inches / 952 mm (carbine)
Barrel Length
21" 
18"
16"
Construction
Steel with plastic or wood furniture
There have been a lot of variants of the FN FAL over the decades, from full rifles to SBRs and carbine pistols, which in turn means there's a good bit of flexibility in terms of design options and possibilities for customization.
That said, we do like to keep our FNs as old-school as possible, as they are something of a classic and really lend themselves to collectors, milsim enthusiasts and those who just want a retro loadout.
This means we are looking for full-metal guns that ideally come with
Classic FN triangular ventilated handguards (in plastic or wood), rather than keymods, quad rails, M-LOKs or other modern touches
Solid or side-folding (para) full rifle stocks, rather than crane or collapsing stocks
Adjustable post and aperture sights (with ramped rear sight)
Ambidextrous mag release
Plastic or wood grip carry handle (on full size models)
When it comes to markings,the FAL was licensed and manufactured across the Western world so official FN licensing isn't strictly necessary, but we do like to see caliber markings, a "S R (A)" safety, a serial number and so on.
Build Quality
The FN FAL was designed for the varied battlefields of the globe-spanning cold war and, like the AK series, was designed to take some abuse.
Consequently, we expect a good airsoft FN FAL build to be well put together, using decent metals (ideally aluminum or steel, but at least decent quality alloys) and polymers to make sure it can stand up to the typical bumps and bangs of gameplay.
More than that, FALs tend to be fairly expensive as far as airsoft rifles go and pretty rare.
When the cheapest models of a replica tend to cost a couple hundred bucks, you want them screwed together pretty tightly.
Size and Heft
The FN FAL was designed in a time when full-sized battle rifles dominated the battlefield.
By modern standards, at nearly four feet long and nearly 10lbs, it is a big and heavy gun.
When it comes to length, we like our airsoft FALs to be (as per the chart above) between 37 and 43 inches long.
Further, we do expect some accuracy in terms of weight and like our full-metal replicas to be between 6.5-9 lbs (3 kg to 4 kg), a little heavier than a standard M16 clone, which helps make them feel more like a real steel firearm rather than a toy. 
Parts compatibility
Something of a niche item, FN FAL replicas aren't your typical airsoft M4s and aren't always the easiest to shop for when it comes to replacements and upgrades.
Consequently we do like it when the core parts of our FALs to be easy to fix and upgrade with as many commonly found parts as possible and avoid the use of proprietary components.
For AEGs this means using standard V3 gearboxes and, for the very few GBBRs out there, well-supported gas systems.
Performance
Keeping in mind that this is airsoft, an FN FAL should about perform as well as any other airsoft gun in its class, i.e. M16s and AKs.
More specifically, they should have select fire capability with a ROF in the teens (when fitted with a decent battery), they should be able to hit targets out to around 150 feet and chrono somewhere between 350-400 FPS.
Our Picks
Best Overall Airsoft FAL- Classic Army SA58
| | |
| --- | --- |
| Price | ⭐⭐⭐⭐ |
| Realism | ⭐⭐⭐⭐ |
| Durability and Build Quality | ⭐⭐⭐⭐⭐ |
| Parts Compatibility | ⭐⭐⭐⭐ |
| Performance | ⭐⭐⭐⭐⭐ |
| | |
| --- | --- |
| Pros | Cons |
| Relatively affordable | Hard to find in US |
| Full metal with cnc upper receiver, durable polymer furniture | Mags are hard to find, hicaps |
| Fully upgradable V3, durable components | |
| Solid, reliable performance | |
| Comes with top rail and threaded barrel | |

If you're looking for a FN FAL AEG, the Classic Army SA58 is probably the best overall bang for your buck…if you can find one, of course.
The Classic Army is a replica of a DSA SA58 carbine variant of the classic FN.
At around 38 inches long and weighing about 7 lbs, it is about as close to a 1:1 replica as exists out there today, and it can come with some pretty cool DSA markings.

The gun itself is, of course, full metal.
Made from high quality aluminum alloy with a CNC'd upper receiver and nylon-reinforced polymer furniture, it is built quite tough, easily on par with just about any modern mid-level AR, and so should stand up to moderate handling without a problem.
Based on a DS Arms variant, rather than an old school FN, the gun does come with some (very light) modern accouterments.
In particular, it comes with a built-in 20mm top rail (as opposed to other models which offer an adaptor as an optional purchase), which allows users to mount their choice of optics and shift away from the period-specific (although fully adjustable) alloy iron sights.
The gun also comes with 14mm CCW threading that will allow users to screw in their choice of barrel accessories, be they mock suppressors or tracer units, should they feel the need to make this gun even longer.
Inside, the gun is powered by a nice, reinforced metal V3 gearbox with an AK motor cage.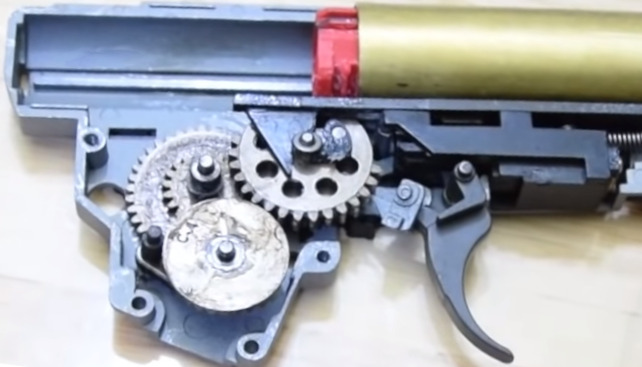 The gearbox is pretty standard, with steel gears in an 18:1 ratio, 7mm bushings, polymer piston with a metal tooth and generally pretty clean shimming and assembly.
The gearbox  is powered by a pretty standard Classic Army short type, high torque motor and has a metal SIG-552 style drum hop up unit that is actually pretty good and is capable of lifting .32s without a problem. 
Aside from being pretty well put-together, the real benefit of this set up lies in how easy it is to upgrade and maintain – users should be able to swap generic upgraded V3 components into the CA SA58 without much of a problem.
In terms of performance, the Classic Army SA58 is a good all around airsoft rifle.
Using 0.20g BBs, a 9.6V battery and with its stock (~M100) springs, we saw it chrono in at around 370 FPS, which is decent enough and should allow the gun to be used at most fields.
The SA58 is of course select fire and, when set to automatic, is capable of delivering a pretty competitive rate of fire.
With a 9.6V we saw it get around 19 RPS, which puts it well on par with any solid stock AR AEG.
Put in a MOSFET and throw in a LiPo and this gun should really rock.
In terms of accuracy, we saw the Classic Army easily hit targets to about 100 feet (30m) out and, with a little tuning and care, was capable of hitting targets at the 140-150 foot range fairly reliably.
The gun is, to be sure, no stock sniper rifle but it should serve its purpose as a primary at medium and even long distance engagements.
When it comes to price, too, the Classic Army SA58 is a pretty good deal.
Typically coming in below $350, it is considerably less expensive than some of its competitors and is about on par with other good quality AR/AK primary options, such as a Krytac Alpha or an Arcturus AK12.
The main downside of the Classic Army SA58 is simply that it can be very hard to find if you live in the US and, with its reputation preceding it, sells out quite quickly.
And, while the gun comes with a decent enough 450 rd. hi cap and while the company does make 120 rd. mid-caps, these can also be hard (and pricey) to source in the US.
That said, if you can get your hands on one of these, we say do so as the combination of build quality, performance, upgradability and looks should serve you very well. 
Or
Best Day To Day – JG SA58/6mmProShop FAL Carbine 
| | |
| --- | --- |
| Price | ⭐⭐⭐⭐⭐ |
| Realism | ⭐⭐⭐⭐ |
| Durability and Build Quality | ⭐⭐⭐⭐ |
| Parts Compatibility | ⭐⭐⭐⭐ |
| Performance | ⭐⭐⭐⭐ |
| | |
| --- | --- |
| Pros | Cons |
| Relatively affordable | Not the most long range |
| Full Metal | Mags are still a bit tricky to find |
| Good all around performance | |
| Fully upgradable, standard V3 | |
| Comes with top rail and threaded barrel | |
| More easy to find in the US than the CA | |

If you're in the market for a FAL and you want something to use as a day to day rifle option, the JG SA58 is probably your best bet.
The JG is, shall we say, heavily inspired by the Classic Army SA58 and shares many of its design features but is a little easier to find these days.
It is a full metal airsoft FAL, with aluminum alloy upper and lower receivers, outer barrel, selectors and charging handle, as well as durable nylon-reinforced polymer furniture, so it should stand up fairly well to some moderately rough handling.
The gun is offered in several variations, with traditional looking models with solid stocks and FN handguards and more modern versions that use keymod handguards and a folding Para-style stock.
We would recommend most users go with a solid stock and FN handguard variant, as these provide the best balance between classic looks and usable battery space.
While folding stock JG SA58s are certainly a little more compact they do mean that the gun has to be front wired, and because of the FAL's unique design this means that the battery has to be fitted into a battery case/mock PEQ box that attaches to the keymod.
The gun is based on a DSA SA58 so (like the CA) it comes with a few modern touches that some users will appreciate, even if they aren't quite vintage.
It comes with a 20mm rail, which means you can attach your choice of optics or accessories, as well as 14mm CCW threading, which means you can add some barrel attachments quite easily.
Internally, the JG uses a pretty standard metal V3 gearbox/AK motor cage with steel gears, a piston with a metal tooth, sealed cylinder 7mm bushings and is, by and large, decently shimmed.
The gearbox is powered by a balanced JG blue short-type motor, and fires through a metal Sig-style hop up (which is easy to adjust thanks to the gun's functioning bolt catch) and a 335mm long 6.08mm diameter brass barrel that is pretty smooth and well finished out of the box. 
While it's not the most sophisticated gearbox out there, it works pretty well out of the box and, being pretty much a standard V3, it can be pretty easily upgraded and/or repaired if necessary, which is a big plus.
And, considering that it is more easily found in the US than the CA, there will be quite a few more OEM parts floating around out there in case things go really wrong.
That said, you should note that the JG SA58 comes with an electric blowback mechanism, which cycles the bolt and vibrates the gun to simulate a gas blowback action.
This can be a fun and enjoyable feature, especially considering how few FN FAL GBBRs are on the market, but keep in mind that this is another thing that can go wrong.
It also means that the gun's piston is proprietary, as it contains a groove in it to work with the EBB mechanism.
That said, you can always pretty easily remove the EBB if you'd like and swap the piston in for a more standard, upgraded version later on should it become a problem.
In terms of performance, the JG is a solid performer.
Chronoing in at around 350 FPS (using 0.20g BBs and a 9.6v), it's not the most powerful but also shouldn't fall afoul of FPS limits, so it should be able to be used in most games and fields.
In terms of range, while it can hit targets at 150 feet, we feel it is really most at home at the 100-120 foot range, where we saw it get pretty decent groupings but begin to scatter a bit past 130.
When it comes to ROF, we saw the gun get around 16 or so RPS on 0.6, which is pretty good for a stock airsoft assault rifle and bodes well should you eventually throw a LiPo into it.
The gun comes with a 500 round metal hi cap, but will work with a pretty wide range of FAL AEG mags, assuming you can find them.
Finally, the JG is also pretty affordable as far as FALs or even niche airsoft rifles go, often being able to be picked up for under $200-250, or around the same price as a typical entry level AEG, which is (pleasantly) surprising. 
Or
Best FN FAL GBBR – VFC LAR
| | |
| --- | --- |
| Price | ⭐⭐⭐ |
| Realism | ⭐⭐⭐⭐⭐ |
| Durability and Build Quality | ⭐⭐⭐⭐ |
| Parts Compatibility | ⭐⭐⭐⭐ |
| Performance | ⭐⭐⭐⭐⭐ |
| | |
| --- | --- |
| Pros | Cons |
| An actual GBB Airsoft FN FAL | ABS handguards |
| Full Metal | Pricey |
| Excellent blowback action and feel | |
| Old school FAL design with carrying handle | |
| Can easily be converted to carbine form | |
| Excellent trigger action | |
| Highly accurate at range | |
If you want a gas blowback FN FAL, which should give you about as close to a realistic experience as airsoft will get you, you don't really have a lot of options.
Actually, until recently, you didn't really have any.
The VFC LAR is a green gas powered take on the FN FAL and it is based on the full size, vintage 50.00 so you're able to get the FAL in all its old-school, Cold War glory.
At a full 43 inches (1095mm) long and tipping the scale at a hefty 8.82 lbs / 4 kg (the bolt itself weighs around 300g), the VFC is a big boy and, with its built-in carry handle, replicates the look and feel of a classic FAL pretty exactly.
The gun is, as might be expected of a gas airsoft gun, full metal.
With a decent quality aluminum alloy upper receiver, aluminum sights, as well as a steel lower receiver, mock gas block and outer barrel, it should stand up to the typical running and gunning, as well as the increased strain that gas use will place on it.
The handguards are made of plastic and handle pretty well, although being made of ABS they can flex a bit if squeezed too hard, although these can be swapped out easily enough for aftermarkets. 
Beyond that the gun is put together extremely well, with no rattling or looseness that we could detect when we handled it.
The gun does come with 14mm CCW threads, so attaching barrel accessories is easy enough, although being modeled on an older pattern FAL it doesn't have any rails, so you will have to make use of its adjustable iron sights for any distance shots. 
Inside, VFC has put a good quality gas system into the LAR. 
There are plenty of durable steel parts, including the bolt, the hammer and trigger group.
There is also 21mm enlarged metal nozzle and the gun generally has a pretty good air seal.
The inner barrel is a 6.08 mm diameter aluminum one, which is a little weaker than the steel surrounding it but is otherwise well-finished and, interestingly, is considerably shorter than the outer at around 360mm and is threaded.
What this means is that you can unscrew the outer barrel and pop on a flash hider to the barrel assembly to make the gun a more compact carbine if you really want, which is kind of cool.
In terms of its hop up, the gun uses an adjustable VSR-style screw type, which is located underneath the gun just to the front of the mag well. 
Although it works pretty well and does fine with 0.30s, we would have probably preferred something a little easier to access and adjust.
In terms of performance, the gun is pretty sweet to shoot.
We saw it chrono in at around 370 FPS, so it's not overpowering (and/or bannable) on the field, and we found the gun to have a very responsive and crisp trigger, which is always what we like to see.
Due to its use of a heavier steel bolt, the gun also has an excellent blowback action, snapping back with a very noticeable kick and a really loud snap.
(If you choose to remove the short stroke buffer, however, the gun really does hammer backwards (due to the greater carrier travel), although you will reduce the overall cycle rate on full auto).
In terms of accuracy, the gun is quite accurate and consistent (for a GBB anyway) and had no problem hitting targets past 150 feet (45m) in fairly nice and clear weather.
The gun is select fire, which is pretty cool and realistic…even if the gun really only comes with a 20 round metal magazine that will empty in a second or so. 
Since it's pretty much the only game in town at time of writing, the mags are effectively proprietary, but they do feed well and have a good gas seal.
The gun also has quite good gas efficiency, getting about 5 mags or 100 shots per fill in non-inclement weather.
On the downside, the gun is quite expensive, usually coming in north of $600 and with mags that can cost up to $50.
That said, it is a really cool and well made gun that is quite accurate, is an absolute blast to fire and is one that can finally give you the realistic FAL experience you crave. 
Or 
Advantages of an FN FAL in Airsoft
It's not another M4 or AK
Let's face it – sometimes you want something a little different to take to an airsoft field and taking another bog-standard AR or even AK build may not be appealing, regardless of how well-built or effective they may be.
With its long length, stamped receivers, beefy box mags and tapered profile, the FN FAL has very distinctive, old-school looks that will definitely help you stand out in a crowd.
The FN FAL is a gun with a rich and colorful history
The FN FAL wasn't referred to as "The Right Hand of the Free World" for no reason.
Developed in the late 1940s and early 1950s as one of the earlier assault rifles, it soon found itself, alongside the venerable M14 and M16, as a main battle rifle for NATO and NATO-aligned forces during the cold war.
As a result, the FAL often found itself going toe-to-toe with AK47s and AK74s of the era in conflicts across the world, from the jungles of Vietnam to the gritty battles of the Middle East to the counter-insurgencies of cold war Africa.
Carried for decades by soldiers and would-be soldiers of fortune alike, there are simply few guns out there with as rich or interesting a history as the FAL.
Durably built
Intended to replica a heavy steel firearm from the 50s and 60s, there are pretty much no plastic airsoft FN FALs out there.
Airsoft FN FALs tend to use a good deal of metal in their construction and so, externally at least, they tend to be better able to stand up to some pretty tough handling.
Will work just as good or better than any modern option
Classic looks aside, airsoft FN FALs are replicas that use similar internals and features as their more modern alternatives, such as a typical airsoft AK.
As a result, while they may look and feel old-school, they should be just as capable on the field where it counts – i.e., firepower, speed and accuracy.
Drawbacks You Should Consider
Relatively hard to find
FN FALs are a very niche item in airsoft.
Unlike an M4 or even an AK, there aren't too many manufacturers out there that make them and those that do aren't making a wide range of them.
As a result, consumer choice is pretty limited compared to other options, retailers tend to run out of stock pretty quickly and store owners tend to be a bit slow when it comes to re-orders.
Further, because there isn't a lot of competition out there, FN FALs tend to be pretty pricey, with models starting out in the low hundreds.
Finally, as there are only a few models out there, replacement parts can be hard to find for these guns, so you will have to take care of them a bit more.
Big and heavy
Airsoft FN FALs are built to be big and relatively heavy to replicate the look and feel of their real steel counterpart, a full-sized battle rifle from the mid-20th century.
Weighing over 7 lbs in many cases, they can be a bit more of a pain to carry than a modern carbine during extended gameplay.
And, at around 40 inches long, they can be hard to maneuver around with, especially in close quarters.
Bottom Line
With its old-school charm and long history of service, the FN FAL can be an interesting addition to any airsoft collection.
While they tend to be relatively expensive and while there isn't a ton of choice, there are a few gems out there that can deliver enough power, accuracy and fun to make your next game a memorable one.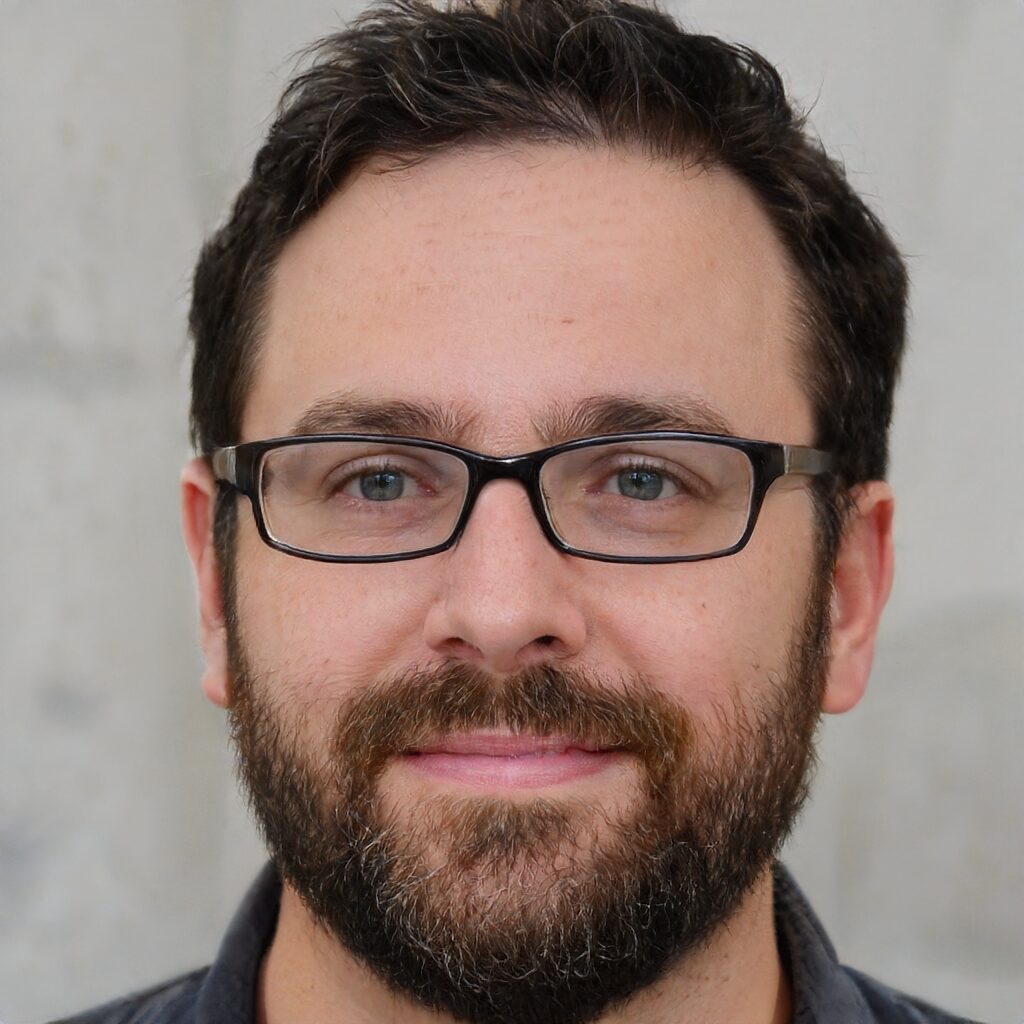 David Lewis – A longtime airsoft and airgun enthusiast and collector, our editor David's lifelong passion for tactical sports began in high school with some friends, a cheap knock-off airsoft M4, and an open field behind his parents' house.

When he's not plinking around, he enjoys sharing his knowledge of airsoft and helping those just starting out.