A CO2 airsoft pistol can be a fun and valuable addition to any airsofter's arsenal.
Compared to other gas pistols, they kick harder, shoot faster, sound better and typically are more consistent in colder temperatures.
That said, CO2 airsoft pistols do have a reputation for being somewhat…temperamental, and to be honest there are a lot of poorly made models out there that are more likely to have you cursing than helping you punish your foes.
If you feel you want to take a step up from the typical Green Gas pistols on the field, then let us help you find one that fits your needs with our recommendations for the best CO2 airsoft pistols on the market.
Short on Time? Check out our choices for the best CO2 airsoft pistols around
But first, what should you look for in a CO2 Airsoft Pistol?
CO2 is a bit of a different animal when it comes to gas and airsoft, so there's a few things that we look at in particular when considering models that run on them.
Build quality and construction
Compared to Green Gas, CO2 does put a little more strain on an airsoft pistol. Cheaper models may, in theory, run CO2 but in practice can tend to break after a short period of use.
In general, you want your CO2 airsoft pistol to be made with as much high quality metal as possible. This is particularly true of blowbacks, where the slide's cycling tends to put a lot of stress on the part and can result in polymers cracking or splitting after some use.
Beyond the materials used, obviously any airsoft gun should feel sturdy and solid in hand, with no loose parts that will fly loose or break under use conditions.
We also like to see adjustable hop up units on CO2s, as they do have some power behind them and it is kind of a shame if you can't harness that power (and the power of the Magnus effect) to let your BBs travel as far as they can go.
Balanced FPS
Normally, with airsoft pistols, we'd be concerned as to whether they can actually deliver a punch that justifies their price.
With CO2, the problem is usually quite the opposite.
CO2 pistols, due to their use of higher pressure gas, tend to shoot hot – that is at high FPS. We're talking 380-400+, with some models going wild at 500+ FPS.
While hilarious to think about (and maybe take a crack at your friends with in the backyard), unfortunately many indoor and CQB fields have rather strict FPS limits to prevent injuries from close range fire.
As a result, many of these high powered CO2 airsoft pistols will fail a chrono, meaning they can't be used in their most natural environment.
Consequently, CO2 pistols, more than other gas airsoft pistols, need to strike a finer balance between being able to fire something worthwhile and not being banned altogether.
In general, we tend to look for pistols that sit around 330-350 FPS and only really consider those in the 350-400 FPS range if they have a lot to bring to the table and with the caveat that they might need to be adjusted or be kept for outdoor use.
Accuracy
While pistols are a short range airsoft tool, it is actually nice to be able to hit something more than 10 feet out. While not as strict as we might be with a rifle, we do look to see if an airsoft pistol can reliably hit a center mass target (at least, most of the time) at 100-130 feet or so.
Gas Efficiency
Although CO2 isn't tremendously expensive, nobody likes a gas hog that runs out of juice before a mag is even emptied. Generally speaking, we look to see how many mags per fill we can get out of a gun and typically consider 2 or more mags per fill to be decent for a CO2 pistol.
Best Colt 1911-Style CO2 Airsoft Pistol – Elite Force Full Metal 1911 Tactical
| | |
| --- | --- |
| Manufacturer | Elite Force / Umarex |
| Power | CO2 |
| Action | Full Blowback |
| FPS | ~350 FPS @ 0.20g BBs |
| Hop up | Adjustable |
| Total Length | 9.1 inches (230 mm) |
| Weight | 2 lbs (908g) |
| Construction | Full metal20mm picatinny undermount rail14mm Threaded tip |
| Magazine | 14+1 |
| | |
| --- | --- |
| Pros | Cons |
| Durable, well-built full metal construction | Hop up adjustment requires slide removal |
| 14 mm thread | Some proprietary KWC parts limits ease of upgrading |
| Cool looks, skeletonized trigger | Only comes with 1 magazine standard |
| white dot sights for improved visibility | |
| 20mm rail for easy addition of accessories | |
| Compatible with a variety of different KWC magazines | |
| Comfortable to hold and use | |
| Feels great – short trigger pull, excellent blowback action | |
| Hits hard but falls within most indoor FPS limits | |
The 1911 is a well-designed, hard hitting and ergonomic semi-automatic that has been popular with militaries, police and enthusiasts the world over for decades.
If you're in the market for a CO2-powered airsoft replica of this classic pistol, the Elite Force Full Metal 1911 Tactical sits at the top of our list of recommendations.
To start off, it is well made and well designed. The Elite Force 1911 TAC has an all-metal construction that can easily handle the increased pressure of a CO2 cartridge, and stands up nicely to the many bumps and knocks of an airsoft skirmish.
The 1911 TAC also has a lot of features that can help its performance and usability on the field.
Earlier models' relatively standard fixed sights have been replaced in recent years with
high visibility white-dot front and rear fixed sights, which dramatically increase the pistol's visibility at range.
It also comes with a 20mm undermount rail that not only adds to the pistol's tactical looks but also allows users to easily add a laser or flashlight.
Also helpful is the inclusion of a threaded barrel tip, which allows the TAC to accept most 14mm negatively threaded mock suppressors, should you feel like kicking things up a notch.
Internally, the Elite Force 1911 Tactical uses a decent but fairly standard 5" brass 6.08mm inner barrel. It comes with a fairly solid and easily adjustable hop up, as well, although it (and its bucking) are proprietary to KWC, making it a little harder to upgrade or replace.
Unfortunately to access the hop-up, the Elite Force 1911 Tactical takes a bit of an old-school airsoft pistol approach, meaning you'll have to remove the slide to access it, making it a little harder to make ad hoc adjustments in the field.
Elite Force has made the 1911 TAC quite easy to handle. The plastic diamond textured grips feel nice and are backed up by a similarly textured, stippled back strap. Together these provide solid grip in pretty much all conditions, and can provide a lot of control over the pistol even when wearing gloves.
In terms of performance, the 1911 TAC's cool skeletonized trigger has a sharp, short trigger pull that makes the gun very responsive and quick to fire.
And in terms of power we find it to be well balanced, coming in at a beefy 350FPS @ 0.20g and around 330 FPS or so with 0.25g BBs. Overall, it delivers a punch but is still capable of being used in pretty much any field, indoors or out.
When fired, the CO2-powered 1911 TAC has a very snappy and strong blowback action that really gives a nice kick and delivers a great sounding blast along with it, which was great.
The gun comes with a single stack polymer magazine that holds 14 bbs. A 12g C02 cartridge is inserted inside, which gives it a slightly thicker profile, but we think should still fit in most mag pouches.
In terms of gas efficiency, we averaged about 3-4 magazines per fill, which isn't bad for a gas pistol, although the TAC comes with a single magazine, so you'll probably need to purchase a second or third after a while.
That said, the 1911 TAC's magazines are highly compatible with other KWC OEM pistols, so it should fit Umarex, Cyberguns, ASG and a few others. While not the cheapest, they are pretty widely available.
Finally, in terms of price, the Elite Force 1911 Tactical CO2 comes in at a pretty reasonable sub-$150, making it a good choice for both experienced users and those dipping their toes into the world of higher powered gas for the first time.
Overall, the Elite Force 1911 Tactical CO2 airsoft pistol is well built, hits hard, can be used in most indoor fields and delivers a wonderful firing experience.
Although adjusting the hop up can be a bit annoying at times and it does use some proprietary KWC parts, this gun not only sets the bar for 1911 CO2 airsoft pistols, but really is an excellent example of a gas blowback pistol altogether.
For more information, you can read our in-depth review of the 1911 TAC
Best Revolver – Dan Wesson 715 CO2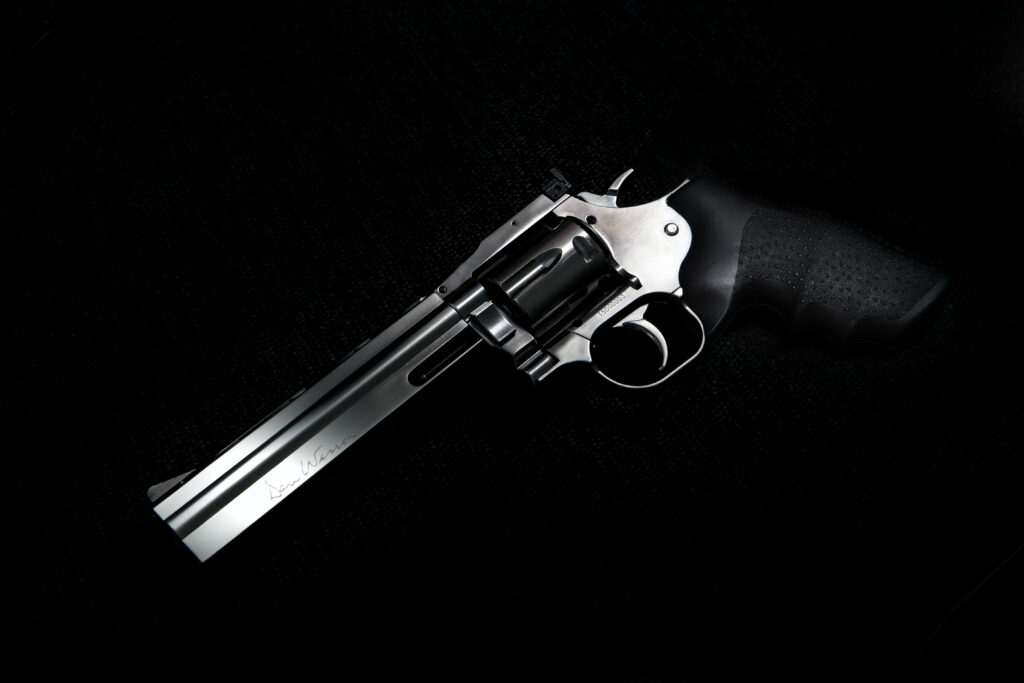 Manufacturer
ASG
Power
CO2
Action
Revolver
FPS
~380-420 FPS @ 0.20g BBs
Hop up
Adjustable
Total Length
Varies
2.5" – 8.5 inches (215mm)
4"- 9.21 inches (2344mm)
6" – 11.25 inches (285mm)
Weight
2.2 lbs (908g) – 2.7 lbs (1225g) depending on size
Construction
Full metal with rubber grips
Rounds
6
| | |
| --- | --- |
| Pros | Cons |
| Well priced | Trigger is heavy, longer pull |
| Beautifully constructed, polished full metal in chrome and blued steel style | Full sized models can shoot hot for some ranges |
| Snubnose, 4" and 6" variants available | Lack of sight enhancements can make it tricky to aim on low contrast targets |
| Realistic, rotating cylinder | |
| Realistic look and feel | |
| Ergonomic pistol grip | |
| Adjustable rear sights | |
| Officially licensed by Dan Wesson with trademarks | |
| Quite powerful but still usable indoors (esp. with heavier BBs) | |
| Integrated tool for changing CO2 built into grip | |
| Speedloader and 6 shells included, | |
| Supports moon clips for faster loading | |
If you're looking for a quality airsoft revolver to bring to your next game, the Dan Wesson 715 series has the good looks, power, quality and overall intimidation factor that puts it squarely at the top of our list of recommendations.
The Dan Wesson 715 is an officially licensed, fully trademarked CO2-powered airsoft replica of the well-known and heavy duty real steel version.
As you might expect of a Magnum replica, the 715 is durably built with a full-metal construction (available in a chrome/nickel style or a dark blued steel) and has a hefty and highly realistic 2.2-2.7lb weight (about the same weight as an actual, empty .357), giving it a nice, solid feel in hand.
Models come with high-quality, lightly textured rubber grips over a solid metal core that feature an ergonomic, finger grooved design that feel great to the touch and let you keep a tight hold on the gun when wet or when running and gunning.
The 715 lineup comes with a few, differently-lengthed variants – a snub nose, police special-type model with a 2.5" (6.3 cm) barrel, a 4" (10.1 cm) barrel and a full size 6" barrel.
If you really want a small, compact revolver as a secondary (or want to role play as a 1970s detective) then the 2.5" snubnose is probably what you're looking for, but otherwise we'd recommend the 4" as a fine balance of portability and full-size feel.
The 4" model also comes with an integrated picatinny rail, in case you want to add an accessory to this revolver for whatever reason, something that is absent in the other two sizes.
Inside the Dan Wesson 715, you'll find a decent, fairly standard brass inner barrel of various sizes (140 mm on the 4", for example).
More importantly, however, the Dan Wesson 715 comes with an adjustable hop up that you can access from the top of the barrel, something that's not all that common with airsoft revolvers.
This makes it far easier to adjust for different weight BBs and keep the 715 accurate at range.
Also helping with accuracy is the fact that all models come with fully-adjustable rear sights, letting you control for both wind and elevation.
Unfortunately, true to the real 357, these are simple metal and lack the white-dot enhancements common to other pistols that help when sighting a dark colored target.
One thing we think is kind of a nice thought is that the gun has built a flip-out allen key
In terms of performance, these things pack a real punch.
Using 0.20g BBs on CO2, these things deliver around 400-450 FPS, with slightly higher FPS depending on barrel length, which can be a bit much for some indoor fields.
There are low-powered versions available, or shall we say lower-powered versions, that tend to deliver a more indoor-friendly 300-350 FPS @ 0.20g. If you're interested in using these as part of a CQB or indoor game, you'll probably want to look at these, even if they deliver a slightly gentler punch.
In terms of accuracy, the 715 series is highly accurate, especially once you dial in your hop up. Being airsoft it, the barrel size doesn't matter as much, meaning users are far more free to pick the style they like/feels best, which is nice.
And, of course, it is a blast to shoot. There is a real kick to this revolver and it sounds great when fired, and the hammer and cylinder rotation are really cool to watch when the gun is fired.
One thing to note for more performance-oriented users, is that the 715 has a double action trigger.
Pull is a bit long and heavy, much like in a real steel version.
While this adds to the realism and makes using the gun a rather unique experience, it will reduce your overall rate of fire.
In terms of gas performance, we got about 90-95 shots off before seeing a noticeable decline in performance, which isn't bad at all,
Ammo-wise, the 715 series runs on single shot, revolver shells that are fun to use and, since they are KWC, are fairly compatible as far as airsoft revolver shells go, being able to fire shells from similarly modeled Umarex, ASG, Cyberguns and more, which helps to keep cost of ownership down a bit.
Finally, in terms of price, the Dan Wesson 715 series comes in just north of $100, which given the features, trademarks, performance and build quality is really good value for money.
Overall, with its beautiful looks, realistic action, powerful punch, accuracy, affordable price, and quality build, the Dan Wesson 715 is without a doubt one of the best examples of an airsoft revolver on the market.
For more information, check out our in-depth review of the ASG Dan Wesson 715
Best sub-$100 CO2 Airsoft Revolver – Umarex Walther P99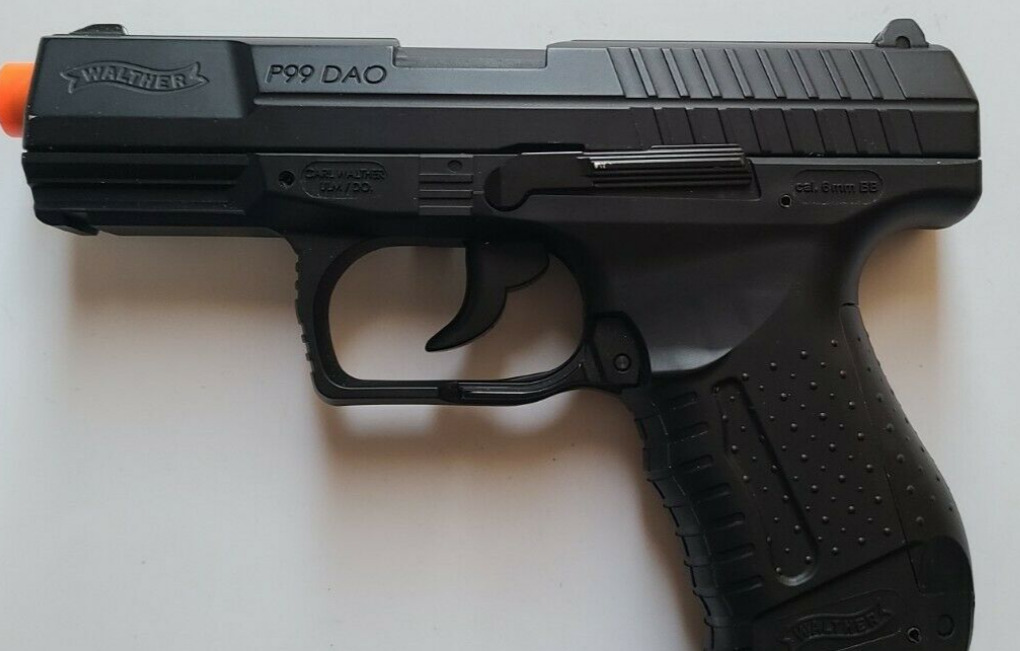 | | |
| --- | --- |
| Manufacturer | Umarex |
| Power | CO2 |
| Action | Gas Blowback |
| FPS | ~ 350-380 FPS @ 0.20g BBs |
| Hop up | Fixed |
| Total Length | 7.25 inches (1842 mm) |
| Weight | 1.76 lbs (798g) |
| Construction | Metal slideABS Plastic frame |
| Rounds | 15 |
| | |
| --- | --- |
| Pros | Cons |
| Affordable | Double action only – heavy trigger pull can limit ROF |
| Full metal slide | Fixed hop up limits accuracy at longer range |
| Well built | |
| Good all around FPS | |
| Officially licensed with trademarks | |
| Compact with longer grip – good for those with medium/large hands | |
| Decent kick, sound and blowback action | |
| Very gas efficient – 300-350 shots per fill | |
If you're just getting into CO2 airsoft pistols, or you're just looking for an inexpensive CO2 blowback as a secondary weapon, the Umarex Walther P99 is probably what you're looking for.
That's because while it is a cheap airsoft CO2 pistol to buy, it's certainly not cheaply built and represents fairly good value.
Coming in at well under $100, the Umarex Walther P99 is fairly well built for the price. An officially licensed model, it features Walther P99 trademarks, a comfortable and lightly textured plastic grip and a full metal slide that can handle it's CO2 power.
At 7.25" long and just under 2lbs, the gun is compact and easy to hold and is a pretty good replica of the famous P99 (a favorite of Pierce Brosnan's James Bond), although it does have something of an elongated grip to accommodate its 12g CO2 gas canisters.
While this means it's not an exact 1:1 replica of the Walther, it does let those with medium to larger hands get a better, more comfortable grip, far more so than similarly-sized semi auto airsoft pistols.
Out of the box, the P99 is well built with nothing loose and it feels well put together – there's not a lot of flex or wobble on the plastic frame, which is always nice to find with less expensive pistols.
Inside the gun, Umarex has included a decent but more or less standard brass inner barrel and a hop up unit. The hop up is pretty good quality, but is fixed, so you won't be able to adjust this pistol much for distance.
In terms of performance, the Walther P99 offers good all-around performance with a healthy 350-380 FPS using 0.20g BBs, making it usable in pretty much all fields, indoors and out.
When fired, though, this gun delivers impressive blowback, which is not something you might expect from a budget CO2 airsoft pistol. The gun's metal slide really kicks back and the gun definitely makes its presence known with a relatively loud sound (although it leans a bit towards the metal-y).
Despite this blowback, however, the P99 is still fairly gas efficient. We got around 8 mags per fill, which is impressive on its own, while other users claim to have gotten double that, adding to the gun's budget-friendly nature.
One thing to note though is that this gun is double action only, so the trigger pull can be slightly heavy, requiring a little more effort to get a faster rate of fire.
With its fixed hop up, the P99 offers solid and some would say surprising accuracy at close to mid ranges, but past 120 feet it does start to become a little less accurate.
The P99 uses a plastic 15 round mag that, while proprietary to the model, isn't all that expensive to buy replacements or spares for, which further helps keep the costs down.
Overall, while it's not the greatest airsoft pistol in the world, the Umarex Walther P99 is solid, well built, reliable, accurate and gives a nice kick, making it our top choice if you're looking for CO2 pistol action on a budget.
Most Flexible CO2 Airsoft Pistol – ASG CZ P-09 w/ Metal Slide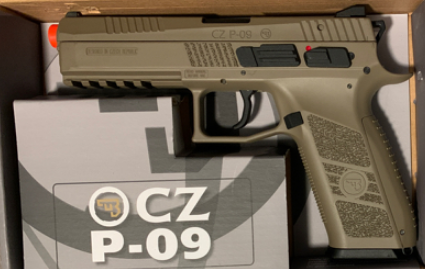 Manufacturer
ASG
Power
CO2
Action
Gas Blowback – Green Gas or CO2
FPS
~ 370-380 FPS @ 0.20g BBs
Hop up
Adjustable
Inner Barrel
3.9 inch (100mm) – 14 mm negative thread
Total Length
8.8 inches (2230 mm)
Weight
2 lbs (920g)
Construction
Metal slide
Nylon-reinforced polymer frame
Rounds
25
| | |
| --- | --- |
| Pros | Cons |
| Very flexible – accepts Green Gas or CO2 | Lower profile CZ Slide requires a stronger grip when racking |
| Durable – Full metal slide, reinforced polymer frame | Some proprietary parts |
| Well built | |
| Strong FPS, can run Green Gas for stricter field limits | |
| Officially licensed with trademarks | |
| White dot sights for better aiming on low contrast targets | |
| Undermount rail makes it easy to add accessories | |
| Threaded barrel makes it easy to add suppressors | |
| Decent kick, sound and blowback action | |
| Gas efficient | |
If FPS limits are getting you down and you're looking for a well-made airsoft gas pistol that lets you easily switch between green gas and CO2, then look no further because the ASG CZ P-09 has got what you need and more.
A replica of the relatively well-known Czech service pistol, the ASG CZ P-09 is a sturdy polymer framed airsoft pistol with a durable metal slide designed to withstand the increased pressure of a CO2 cartridge.
The gun has CZ trademarks and, at 8 inches long and around 2lbs, the gun is a close replica of the real steel version and feels solid and realistic in hand.
The ASG CZ P-09 has subdued but well-textured grips that are nice to look at, easy to hold and do well in wet weather. The gun also includes decently wide and textured slide cuts, which help users get a sturdy grip when drawing the slide, even with gloves on.
In addition, the P-09 is quite accommodating when it comes to accessories, featuring an undermounted 20mm picatinny rail, making it ready for lasers or flashlights, and a negatively threaded 14mm outer barrel, which makes adding a suppressor fairly easy.
The gun also comes with white dot fixed sights, which can help when aiming the gun in low light or at low contrast objects or targets.
Inside is a fairly standard 3.9 inch brass inner barrel as well as a hop up unit. The hop up is adjustable, which is great and helps the gun's accuracy at distance, although you do need to remove the slide in order to do so.
Looks and features aside, where this gun really stands out is in its performance and its flexible shooting nature.
Unlike most other CO2 guns on the market, the ASG CZ P-09 can run on both Green Gas and CO2 cartridges, giving it the ability to be used as a day to day heavy hitting CO2 sidearm or be easily configured to meet strict indoor and CQB FPS limits by simply swapping cartridges or magazines.
In terms of performance, the P-09 is no slouch. In CO2, it fires off 0.20g BBs at a hard hitting ~370-380 FPS, which (like most other CO2 pistols) can exceed the limits of some fields.
Rather than messing around with springs and other modifications, swapping a green gas cartridge into the P-09 gives it a more indoor-friendly range of around 280-300 FPS @ 0.20g BBs.
Blowback is obviously stronger when configured for CO2, being nice and snappy, but was quite smooth and impressive on Green Gas as well, which was surprising given the metal slide.
In terms of accuracy, the P-09 is pretty decent as well, and should serve quite well at most distances (well past 120 feet) once you adjust the hop up properly.
Gas wise, the P-09 is pretty decent as well at about 3-4 mags per fill, so despite its flexibility it isn't exactly a gas hog.
The CZ P-09 comes with a metal double stacked magazine that holds 25 Bbs. It is proprietary, which is a little annoying, but there is no shortage of them on the market so finding spares isn't really an issue.
Overall, the P-09 is a solid and well built airsoft CO2 pistol that runs well on both CO2 and Green Gas, giving users greater FPS flexibility to accommodate any field limits they may come across. 
For more information, read our in-depth review.
Best Airsoft M9 – Elite Force Beretta M92a1 Full Auto CO2
| | |
| --- | --- |
| Manufacturer | Elite Force/Umarex |
| Power | CO2 |
| Action | Gas Blowback |
| FPS | ~ 310-330 FPS @ 0.20g BBs |
| Hop up | Adjustable |
| Inner Barrel | 5 inch (127mm) |
| Total Length | 8.5 inches (2170 mm) |
| Weight | 1.9 lbs (920g) |
| Construction | Full metalUndermount weaver rail |
| Rounds | 22 |
| | |
| --- | --- |
| Pros | Cons |
| Durable full metal construction | Double action only – heavy trigger pull can limit ROF |
| Semi auto with full automatic option | Proprietary hop up and magazine, can be hard to upgrade some parts |
| Well built with full trademarks from Baretta | |
| Decent FPS, indoor-friendly | |
| White dot sights for better aiming on low contrast targets | |
| Undermount rail makes it easy to add accessories | |
| Threaded barrel makes it easy to add suppressors | |
| Decent kick, sound and blowback action | |
| Gas efficient | |
Who doesn't love the look of a military pistol? But sometimes you just want something a little different than all the 1911 and 1911-clones out there.
The service pistol of the US Armed forces since 1985, the M9 seems a natural fit as a 1911 alternative (being the actual replacement for the 1911), and the M9 replica we most recommend for airsoft players is the Elite Force Beretta M92 A1 Full Auto.
Externally, the Elite Force M92 A1 is a solid piece.
It is made of solid metal and, at over 8 inches long and about 2lbs, replicates the length and weight of the real steel Beretta quite well, feeling quite solid and hefty in hand.
Most everything from the outer barrel to the slide are metal, including the tip which is simply painted orange, rather than being plastic.
The only thing that is plastic on this gun are the grips, which feature a nice diamond texture and the tri-arrow Beretta logo, which is pretty cool looking.
The gun comes with an undermount weaver rail, for adding accessories, and white dot sights, for better visibility when aiming.
Inside, the Elite Force M92 A1 has an adjustable hop up that you access by using the slide, and it is fairly easy to use and allows the gun to adjust its fire for greater accuracy at distance.
Unfortunately, it is located under the slide (meaning you'll have to strip it to adjust the hop up) and it is proprietary.
All told, the Elite Force Beretta M92A1 is actually very sturdily built and put together, inside and out..
And there's a good reason for that.
Aside from being a CO2 airsoft pistol, meaning it has to withstand the effects of more highly pressurized gas than a standard Green Gas GBBP, the M92 A1 actually has the option of firing on full automatic, putting it in rare company among airsoft gas pistols.
With the flick of a switch (from ⚫ to ⚫⚫⚫) the Elite Force Beretta M92a1 goes from firing off a single BB at a trigger pull to empting its 22 round mag in a matter of a couple seconds, which is hilariously fun and can give your opponents a sudden and unexpected surprise on the field.
In terms of performance, the Elite Force 92 A1 delivers about 330 FPS, which makes it ideal for both indoor and outdoor use.
The gun has a fairly responsive trigger and, when firing, the gun has a nice and snappy blowback action and a very nice blast, sounding something like an airsoft machine pistol or even small SMG when on auto.
Accuracy-wise, it is a fairly precise pistol and can reliably drill targets to well over 100 feet, although you'll probably want to keep the auto fire for closer ranges.
In terms of gas efficiency, it's not bad either, we saw about 2-2.5 mags per fill, obviously getting greater efficiency in semi-auto.
In terms of ammo, the Elite Force 92 A1 Full Auto comes with a double stack metal mag that holds 22 rounds. It is proprietary, which means you'll only be able to use KWC Beretta 92A1-style mags, but they are easy enough to find.
If you do use the full auto on the regular, however, the 22 rounds will fly by and you will probably want to purchase an additional extended 40 round mag.
Pricewise, the Elite Force 92 A1 isn't the cheapest around, coming in at north of $130, but with its trademark looks, durable build, accurate fire and full auto option, it does give you a lot for your airsoft dollar.
All told, the Elite Force 92 A1 is a solidly-built and highly capable M9 replica with a really cool auto fire function that will likely give those 1911-users a good run for their money on the field.
Blowback or non-blowback?
When you're shopping for a semi auto CO2 airsoft pistol, one of the first things you'll have to decide is whether to go with a blowback or non-blowback model, that is whether or a replica's slide will cycle to better simulate the firing of a real gun.
On its face, this seems like a no-brainer – blowbacks are cool and so are the obvious choice.
There are also a lot of other reasons to go with a blowback action besides the sort of ephemeral rule of cool, such as greater authenticity and realism, a better feeling when shooting due to its kick, and shorter, more responsive trigger pulls that can help speed up your rate of fire.
That said, non-blowback CO2 pistols do have their advantages over blowbacks.
For one thing, they tend to be more gas efficient since it doesn't use its CO2 to blow the slide back with each fire.
Non-blowbacks also tend to be quieter as there is no noisy slide action, which can help prevent other players being alerted to your position.
Additionally, non-blowbacks tend to (although not always) last a little longer and require a little less maintenance due to not being subject to the same amount of stress on the slide and related components.
Finally, due to their greater gas efficiency, they tend to have a very slightly higher FPS than blowback models (although this can be a drawback as well, since CO2 pistols already have a hard time dealing with indoor/CQB FPS limits).
Overall, though, we tend to lean towards purchasing CO2 and other gas airsoft pistols with full blowback.
Most good quality models are efficient enough with CO2 that it's only really a marginal difference anyway, especially if you live where CO2 canisters are cheap and plentiful.
And since most of us don't really use a GBBP as our primary during most games, you're really buying these for the fun and experience of them, which is only really amplified by the ability to watch and hear a replica's slide cycle.
Does a CO2-powered gas blowback pistol really need to be full metal?
Running CO2 tends to put more stress on an airsoft gun than Green Gas, and so they do need to be built out of stronger, heavier parts.
Ideally, yes the frame and slide of a gas airsoft pistol that's going to be running CO2 should be made of relatively high quality metals so they will last a long time without cracking or otherwise breaking.
And we say high quality metals since quite a few CO2 airsoft pistols are made of cheap, pot metals that are little better than ABS plastic and tend to break after a period of time.
That said, the most important component we think really needs to be made out of metal with gas blowbacks when it comes to running CO2 is the slide, which is usually the piece that ends up taking the most abuse.
What are the benefits of a CO2 Airsoft Pistol over Green Gas?
Better kick
The increased power of a CO2 airsoft pistol tends to yield a better feeling when firing compared to running on less pressurized Green Gas.
The increased kick and sound associated with CO2 is a lot of fun and provides a more realistic experience in game.
Increased FPS
Airsoft pistols that run on CO2 are typically far more powerful than those running on Green Gas. In fact, it is rare to find one that fires below 320 FPS.
Higher pressure CO2 gas provides better performance in cold weather
Although all gasses are subject to the basic laws of physics and, simply put, tend to decrease in pressure as the ambient temperature decreases accordingly. Since CO2 has a higher starting pressure to begin with, it tends to do a little better and consistently than Green Gas.
Finally, while both Green Gas and CO2 suffer from the cool down effect, CO2 is a little less affected by it.
What are some drawbacks of using a CO2 airsoft pistol?
CO2 cartridges
Unfortunately, CO2 is usually sold in little individual ampules or cartridges while Green Gas is sold in larger cans.
As a result, while you can top up and refill Green Gas as needed, with CO2 you will have to deal with changing individual canisters once they're empty.
More maintenance required to prevent damage to the gun
Green Gas often comes with lubricant inside, while CO2 does not (being called a "dry gas"), so you will need to lubricate your gun a little more frequently.
Similarly, CO2 runs at a higher pressure and can wear out seals, O-rings and the like a little more quickly, so you'll have to periodically check your gun inside and out to prevent leaks.
Tend to shoot a little hard
CO2 airsoft pistols are notorious for hitting hard, sometimes well north of 400 FPS. And that's all well and good…until you visit an indoor airsoft field with stricter FPS limits and are told your little beast of a pistol isn't welcome.
Bottom Line
There's nothing quite like a CO2 airsoft pistol. They hit harder and faster than Green Gas, have a better sound and can provide a more realistic experience overall.
Unlike Green Gas models, however, they do have unique considerations so that they can be used effectively (or at all) on the field.
That said, with the right model running at the right FPS, they can be a very cost effective and fun way to scatter your enemies on the field.
FAQ