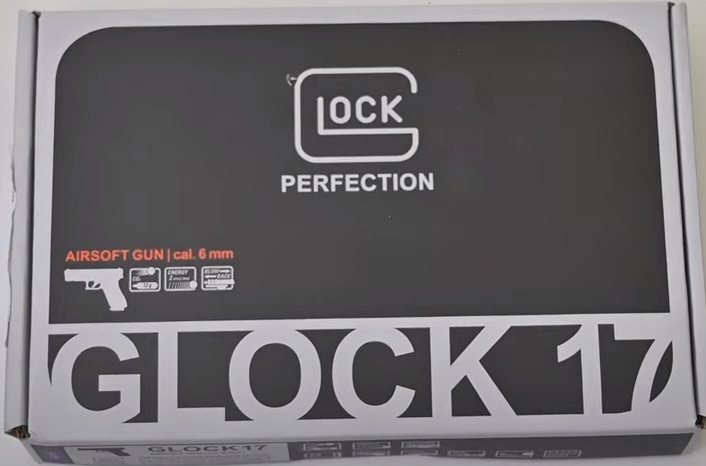 Durability and Build Quality

95%
| | |
| --- | --- |
| Pros | Cons |
| ✅ Lightweight and durable construction | ❌ Fixed sights |
| ✅ Versatile and well-balanced power | ❌ Barrel not threaded |
| ✅ Extremely realistic with Glock trades | ❌ Mags not the most cross-compatible |
| ✅ Very comfortable to hold | |
| ✅ Easy to adjust hop up | |
| ✅ Snappy and enjoyable blowback action | |
| ✅ Good gas efficiency | |
| ✅ Fully ambidextrous | |
| ✅ Lots of aftermarket parts and accessories | |
Introduced in 1982, the Glock 17 is Glock's first 9mm Parabellum model and can be thought of as something like the granddaddy of all Glocks.
Through its successive generations, it has proven time and time again that Glocks are a force to be reckoned with in the firearms world and its 5th generation model, launched in 2017, seems to have largely lived up to the reputation of its predecessors.
Similarly, Umarex's line of Glock airsoft pistols have developed a reputation over the years for quality and performance, and their officially licensed Glock 17 Gen 5 gas blowback model (also known as the Elite Force Glock 17 Gen 5) has raised a few eyebrows and amassed something of a following in recent years.
To find out if Umarex's current incarnation of the Glock 17 is worth your time and money, and a spot in your airsoft pistol collection, we decided to give it a closer look.
Specifications
| | |
| --- | --- |
| Manufacturer | VFC |
| Power | Green Gas |
| Action | Semi Auto, Gas Blowback |
| FPS | ~ 330-340 FPS @ 0.20g BBs |
| Hop up | Adjustable |
| Inner barrel | 3.82 inch (97 mm) |
| Total Length | 7.99 inches (203 mm) |
| Weight | 1.45 lbs (660g) empty |
| Construction | Metal slide with nylon-reinforced polymer frame |
| Rounds | 23 |
How closely does the Umarex Glock 17 Gen 5 resemble the real thing?
| | | |
| --- | --- | --- |
| | Umarex G17 Gen 5 | Glock 17 Gen 5 |
| Weight | 1.45 lbs (660g) empty | 1.38 lb (630 g) empty |
| Overall length | 7.99 in (203mm) | 7.95 in (202 mm) |
| Action | Semi automatic | Semi automatic |
| Caliber | 6mm | 9mm |
| Capacity | 23 | 17-33 rd |
| Construction | Metal slide, nylon-reinforced polymer frame | Steel barrel, slide and spring; reinforced polymer frame |
| Sights | Fixed | Fixed |
| Rail | 6 O' Clock | 6 O' Clock |
Overall, the Umarex Glock 17 Gen 5 is a pretty exact replica of a Glock.
The airsoft pistol matches its real steel counterpart pretty closely in terms of overall length and weight, as well as being virtually indistinguishable visually.
All of the gun's buttons and catches are where they should be and are fully functional, and it even manages to get all the small details of the real steel G17 Gen 5 correct, from its slightly tapered front to its textured grip, weaver rail and even its flared magwell.
Ironically enough, and unusually for an airsoft gun, Umarex's use of nylon-reinforced polymer materials actually increases the realism of its airsoft pistol, as the Glock series is known for its use of a nylon-based proprietary polymer material (Polymer 2) for their frames.
Finally, the Umarex Glock 17 Gen 5 is an officially licensed airsoft pistol, so prominent trades are featured on the gun, which is good news for Glock fans and those who love their trademarks.
The Glock logo is etched towards the front of the barrel along with the gun's branding and caliber, on the right hand side above the slide stop, as well as prominently on the grips.
In case there is any further doubt, on the right hand side of the gun there is a rather prominent statement of it being an officially licensed product.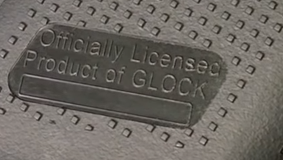 Umarex G17 Gen 5 vs Gen 4: What's Different?
The Umarex Glock 17 Gen 5 is an officially licensed replica of the G17 Gen 5 and differences between the Umarex G17 Gen 5 and the popular Gen 4 are mostly based on actual developments made to the real steel Glock.
In particular, the Gen 5 model's grips are smooth, having deleted the finger prominent grooves that featured on the Gen 4 in order to make the gun a little more natural for those with larger or smaller hands to hold.
The magazine catch has been enlarged, making it a little easier to use.
Similarly, the magazine well has a characteristic flare to it, a widened bottom that allows for improved magazine loading and fit.
The front of the Umarex Glock 17 Gen 5 is slightly beveled, as well.
Compared to the Gen 4's classic Glock-style straight squared off nose, it is designed to make sliding the gun into a holster just a little easier and a little less likely to snag on the way in.
There are, however, some improvements that Umarex has made that are specific to airsoft and this model in particular.
For example, the "officially licensed" trademark information has been moved from the frame of the gun to the grip, something of a stylistic choice that we think can make the gun a little more realistic when held in-hand.
On the inside, the blowback housing has been widened a little bit to allow for more gas venting and to create a better blowback experience over the Gen 4.
The Gen 5 has also changed its hop up configuration considerably compared to the Gen 4.
While the Gen 4 uses a dial-style hop up located under the slide, thus rather inconveniently requiring the gun to be stripped before making an adjustment, the Gen 5 allows the hop up to be adjusted from the front of the gun using a hex key.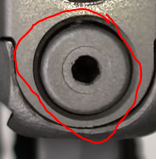 While perhaps a more unusual design, it does make adjusting the pistol's spin on the fly a little easier.
Finally, there are some largely cosmetic differences between the Gen 4 and Gen 5 mags, such as a slightly longer and wider base plate (to fit the flared magazine well) and slightly deeper round numbering on the side.
How Well Does the Umarex Glock 17 Gen 5 Perform as an Airsoft Gas Pistol?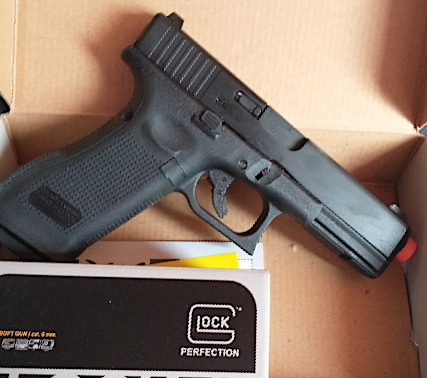 Build-quality and construction
Much like its real steel counterpart, the Umarex Glock 17 Gen 5 is largely a polymer airsoft gun.
Its frame is made of nylon-reinforced polymer material, while its slide is made of aluminum alloy. The result is a pretty durable airsoft pistol that ultimately feels a lot more sturdy compared to rivals made of ABS plastic or even full metal pistols made from cheaper alloys or pot metal.
In terms of fit and finish, Umarex has done a good job putting the Glock 17 Gen 5 together.
The frame didn't show any signs of bending, rattling or squeaking when handled, and the gun's slide stops, mag release and takedown tabs all felt solidly attached without any looseness or prominent wobbling that we could find.
As with previous generations, the Umarex G17 Gen 5 comes with an undermount rail, which makes adding accessories, such as flashlights, lasers and more, quite easy.
The outer barrel of the Umarex G17 Gen 5, unfortunately, isn't threaded.
As a result, the gun doesn't natively accept most mock suppressors or tracer units without a replacement or modification.
In terms of sights, the Gen 5 comes with fairly standard replica 3 dot Glock sights.
As with many other Glock models, these sights are pretty low profile, making them pretty well suited to CQB and vest holsters as they are less likely to snag on things.
However, while the white dot markings do a pretty good job at preventing these sights from getting lost on targets and do a reasonable job at maintaining visibility in lower light and on low contrast targets, their low profile does mean that they can be a bit hard to see at night or in the dark.
Those who want to take these to night games or who otherwise like to skulk around in the shadows would be probably best served by upgrading them to some tritium or fiber optic sights.
Users should note, however, that these sights are fixed, which is a drawback.
While they do a fine job at aiming to about 75 feet (22 meters), past that you will have to rely on instinct a bit more to correct for elevation.
Inside the gun, Umarex has done a fine job with their G17 Gen 5.
The slide is solid and reinforced, and the upper receiver includes a dual recoil spring set up. This is designed to better handle the force of the gun's blowback to prevent any damage to its internal parts, reducing wear and tear in the long run.
The gun also includes an improved valve system and an adjustable hop up that, as mentioned previously, is now capable of being adjusted with an allen key from the front of the gun, which is fairly convenient compared to previous generations, as well as 1911 and M9-style alternatives such as the Elite Force 1911 TAC or the KJW M9.
Performance and accuracy
Designed to run on green gas, the Umarex Glock 17 Gen 5 isn't the most high-powered airsoft pistol out there, but it is a pretty decent, all-around performer in our opinion
In terms of power, after the first couple shots we saw the pistol get around 330-340 or so FPS using 0.20g BBs.
Although you won't be blasting your way through your opponents at 400+ FPS, it is decently powerful yet won't fall afoul of any FPS limits, so it can be brought to indoor, outdoor and CQB events without much of a problem.
As for accuracy and range, we saw the gun get excellent groupings to about 50 feet (15 m) or so. We also saw the gun hit man-sized targets to about 100 feet (30 m), although past 75 feet (22 m) hitting smaller targets can take a little more skill due to the gun's fixed sights.
As a result, we'd say that the gun is most at home in closer quarter airsoft games or as a sidearm.
As with the real steel model, the gun does have a trigger safety, so users will have to depress this first before squeezing the main trigger for the gun to fire.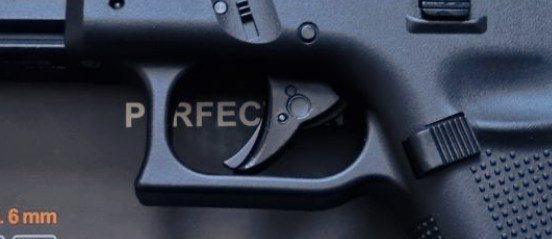 That said, we didn't find it to have too much of an impact on performance.
Trigger response on the Umarex G17 Gen 5 is smooth and relatively light compared to a real steel G17, providing a crisp break.
The blowback on the Umarex Glock 17 Gen 5 is excellent, especially given its green gas power.
The metal slide moves smoothly and quickly back and forth and provides a satisfying clack with each shot, making the gun a lot of fun to use even if you're just plinking around in the backyard.
In terms of gas efficiency, the Umarex Glock 17 Gen 5 is pretty decent, getting around 3-4 mags per fill and so shouldn't be too expensive to run.
The slide stop is functional, as well, so the slide will stay open when the mag is empty – an added touch of realism that we always appreciate.
Handling and feel
Overall, the Umarex Glock 17 Gen 5 is a pretty easy to use and handle airsoft pistol.
At just under 8 inches long (203mm), it's more compact than full-sized options such as the Tokyo Marui Hi Capa or even the Cybergun Jericho 941, and so is a little easier to carry and maneuver with around as a sidearm during a game without sacrificing much in the way of intimidation.
At around 1.45 lbs (660g), the Gen 5 is also fairly lightweight compared to many other pistol options (as one would expect from a Glock), yet still has enough heft to feel like a real steel firearm.
True to the real steel Glock, the Umarex G17 Gen 5 has serrations at the rear of the slide that are intended to help with drawing, particularly in wet conditions.
While a pretty exact copy of the original, the serrations aren't all that deep on this gun. While fine when drawing the slide with your bare hands, it can be a little hard to get a good grip on them when wearing gloves.
The gun's grips are nicely textured on the sides, front and rear and are easy to get a firm hold of, even in wet weather.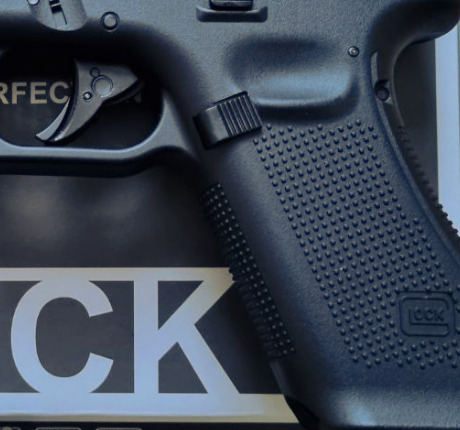 As we mentioned previously, unlike the Gen 4 model the grips are no longer finger grooved.
Finger grooves on grips are something of a controversial feature on both real steel and airsoft guns.
They can offer exceptional grip and handling…if they fit your hand.
If your hands are bigger or smaller than the grips were designed for, however, they can feel quite awkward.
As a result, while we never had an issue with the finger grooves ourselves, the Umarex Glock 17 Gen 5's flat profile grips (like its real steel counterpart) more people should find the grips comfortable to hold.
Finally, the Umarex Glock 17 is pretty ambidextrous, making it a lot easier to use for left-handed airsoft players.
The slide stop is featured on both the right and left hand side of the gun, the magazine release is reversible, and the safety is located on the trigger rather than on the frame.
Maintenance
Like a real steel Glock, the Umarex Glock 17 Gen 5 is very easy to strip and maintain.
The gun features twin takedown latches located on either side of the frame. To separate the slide from the frame, simply push the latch down and gently push the slide forward.
From there, the recoil spring can be removed by pressing it inwards and sort of wiggling it free, after which internals are easily popped out.
Users can then check for damage, clean everything up and apply a light amount of lubricant where needed (hammer, trigger, rails etc).
Although not TM-standard, replacement parts for the Umarex Glock 17 Gen 5 are pretty easy to find online and owners should have no problem finding replacement triggers, barrels, slides, slide stops, frames and more.
Magazine type and capacity
The Umarex Glock 17 Gen 5 comes with a fairly sturdy metal 22 round Glock style green gas magazine.
There are different VFC/Umarex magazines available for this model, including 18 round and even 50 round extended mags, so there is some choice out there.
That said, mags for this gun can be on the expensive side, costing well over $30, and due to the popularity of the series often sell out.
And, because the series does use a somewhat unique configuration, mag compatibility is somewhat limited, although users can make use of mags intended for the Gen 4 and there are a few 3rd party manufacturers making mags specifically for the VFC/Umarex Glock 17s.
Accessories & Customizability
The Umarex Glock 17 Gen 5 is not a Tokyo Marui compatible airsoft pistol and uses some proprietary components, so it can't really take advantage of the many parts and accessories that exist for TM-compatible Glocks.
That said, Umarex Glocks are very popular in their own right and there are tons of aftermarket parts and accessories out there for the G17 Gen 5.
Users can, for example, find a variety of aftermarket sights, as well as upgraded barrels, slides, hammers, recoil springs, spring guides, hop ups, buckings and more.
Further, there are different aftermarket triggers available for this airsoft gun, including flat triggers that can make them far better at delivering lightning-fast snap shots.
Replacing the barrel with a 14mm threaded version is quite easy and allows the gun to accept a variety of mock suppressors and tracer units, while the existing undermount rail can be fitted with any number of airsoft and real steel Glock accessories, such as flashlights and lasers.
Price
Note: All prices correct as of writing, all prices in USD.
The Umarex Glock 17 Gen 5 tends to come in at around $180 or so depending on the retailer.
This does put it more towards the more premium end of the airsoft pistol market, roughly on par with the Tokyo Marui Hi Capas, the ASG CZ P-09 the Sand Viper and various licensed 1911s, and more expensive than options like the Elite Force 1911 TAC.
That said, the Umarex Glock 17 Gen 5 is a very well-made, durable and well-designed airsoft pistol that can be a great all-around choice for just about any airsoft game.
And, unlike the above models, it is also an extremely accurate and officially licensed Glock replica, looking pretty much exactly like the real steel Gen 5 and having all the Glock trademarks that you could possibly want.
Or
Or
Or
Advantages of the Umarex Glock 17 Gen 5 GBB Pistol
Lightweight but durable
With its reinforced polymer frame and metal slide, the Umarex Glock 17 Gen 5 is a very durable and solid GBB airsoft pistol that should stand up nicely to the typical bangs and knocks of a typical spirited airsoft game.
Yet, despite its strength, like its real steel Glock counterpart, it is still a pretty lightweight airsoft gun. Weighing just under 1.5 lbs it is easy to carry and hold for extended periods of time, making it an ideal sidearm.
Versatile, with well balanced performance
Although it isn't exactly a field dominating powerhouse, at ~330 FPS the Umarex Glock 17 Gen 5 has enough power to be useful in outdoor games but is still CQB and indoor game friendly.
Very realistic and has Glock trademarks
Umarex has done an excellent job replicating the look and feel of a real steel Glock 17 Gen 5. Their G17 Gen 5 model has the same look, a similar construction and is nearly identical as far as overall dimensions are concerned.
In addition, the gun is an officially licensed replica with all the Glock trademarks you could ask for in all the right places.
Comfortable to hold
The Umarex G17 Gen 5 is lightweight and has a comfortable and easy to hold fully textured grip that makes it very easy to hold for extended periods and in all weather conditions.
And, in something of an improvement over the Gen 4 models, it now has shed its finger grooves in favor of a more traditional straight grip, which should make it a bit more comfortable for those with smaller or larger hands.
Improved hop up adjustment
Unlike many 1911s, M9s and even older Umarex Glock 17 generations, users can adjust the hop up on the Glock 17 Gen 5 without having to detach the slide from the frame.
This makes it much easier to adjust BB spin in a game.
Snappy and enjoyable blowback
Thanks to its improved valve system and aluminum alloy slide, the Umarex Glock 17 Gen 5 has a smooth and snappy blowback that is quite enjoyable, especially for a green gas pistol, and is even something of an improvement over older models.
Good Gas efficiency
The Umarex Glock 17 Gen 5 can get around 3-4 mags per fill, which is pretty decent, especially given its pretty impressive blowback action and should reduce its overall running costs.
Ambidextrous
The Umarex Glock 17 Gen 5 is a pretty ambidextrous airsoft pistol. With dual slide stops, an integrated trigger safety and a reversible mag release, righties and lefties alike should have no problem handling this airsoft gun.
Lots of customizability and accessorization options
Although it isn't a TM clone, the popularity of Umarex Glocks means that there are a plethora of accessories, replacement parts and upgrades available for their Glock 17 Gen 5 model.
Users can freely and easily add real steel Glock flashlights and lasers, swap the barrels, upgrade the hop up, upgrade the slide and much much more.
Disadvantages
Fixed sights
Unfortunately, like its real steel counterpart, the Umarex G17 Gen 5 comes with fixed sights, which can make it a little more challenging to hit targets past 75 feet or so.
Barrel not threaded
The Umarex Glock 17 Gen 5 does not come with a threaded barrel out of the box. This means that attaching a mock silencer or tracer unit can be difficult without swapping the outer barrel for a threaded upgrade.
Mags not the most compatible
The VFC/Umarex Glock mags are designed a little differently than many other Glocks on the market and so aren't as compatible with those of other brands.
While The G17 Gen 5 can accept those of older versions and even some other Glock models, and while there are a few 3rd parties making mags here and there for it, it can be a little more challenging to find spares or alternative mag designs.
Bottom Line
If you're in the market for a lightweight, solidly built and well-balanced gas blowback Glock, and you want a model that's as true to life as possible, Umarex's Glock 17 Gen 5 stands out not only as an excellent Glock 17 airsoft replica, but also as a great all around choice for an airsoft sidearm.
Ted Clark– Hailing from Florida, Ted has been an avid airsoft enthusiast since he was in middle school. When he's not checking out and reviewing airsoft guns, he enjoys picking off his enemies one by one on the field as a sniper.