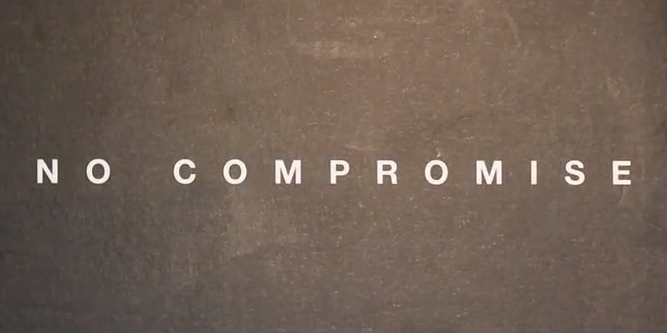 Durability and Build Quality

88%
| | |
| --- | --- |
| Pros | Cons |
| ✅ Officially licensed with H&K trades | ❌ Not the cheapest CO2 pistol |
| ✅ Realistic design and feel | ❌ Uses proprietary parts, mags |
| ✅ Accurate at range | ❌ Rail may need adaptor |
| ✅ Power suitable for outdoor and CQB use | |
| ✅ Gas efficient | |
| ✅ Comfortable to hold and fire | |
| ✅ Threaded outer barrel | |
| ✅ Nice, snappy blowback | |
| ✅ Functional decocker | |
| ✅ Good trigger feel | |
The H&K USP is a pretty well-known gun among enthusiasts as a replacement for the venerable P7 and as the more practical sibling of the military-grade, USSOCOM competition-winning MK23.
Those who don't follow firearms lore quite as closely will probably recognize the USP from its appearances in a long list of films, tv shows and video games over the years, such as Dawn of the Dead, The Expendables, Wind River, Escape from Tarkov, Call of Duty and more.
Oddly enough, there aren't a huge number of airsoft USPs out there for enthusiasts to choose from.
One of the more popular models out there is the Umarex H&K USP CO2.
To find out if it's really worth a spot in your collection, we decided to take a closer look.
Specifications
| | |
| --- | --- |
| Airsoft type | CO2 Gas Blowback |
| FPS | ~340-350 FPS @ 0.20g BB |
| Magazine Capacity | 18 BBs |
| Inner Barrel | 3.89 in (99mm), 6.05mm diameter barrel |
| Hop up | Adjustable |
| Construction | Alloy slide, reinforced-polymer frame |
How much does the Umarex H&K USP Resemble A Real Steel USP?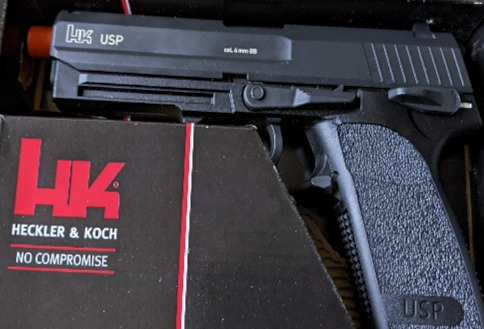 | | | |
| --- | --- | --- |
| | Umarex H&K USP | H&K USP |
| Weight | 1.6 lbs (725g) empty | 1.65 lb (748 g) empty |
| Overall length | 7.5 in (192mm) | 7.67 in (195 mm) |
| Action | Semi automatic | Semi automatic |
| Caliber | 6mm | 9mm |
| Capacity | 18 | 15 rd |
| Construction | Metal slide, nylon-reinforced polymer frame | Steel barrel, slide and spring; reinforced polymer frame |
| Rail | USP-style rail 6 O' Clock | USP rail at 6 o'clock |
The Umarex H&K USP is an officially licensed airsoft replica of an H&K USP, and as such it is a very true-to-life reproduction of the famous German semi-automatic.
Owing to the real steel USP's use of high-strength polymer and metal, the Umarex is a pretty close match for it in terms of weight, coming in just a fraction of an ounce (or a few grams) lighter.
The Umarex H&K USP airsoft pistol is also nearly identical to the real steel version in terms of overall dimensions. Being only fractionally shorter than its inspiration in terms of length, it would be tough to tell the two apart by size alone.
In addition, the gun comes with all the appropriate USP details one might expect, including its angular, polygonal muzzle bushing, a frame-mounted H&K USP control level that, just like the original, acts as a combination safety and decocker, ambidextrous magazine release, tri-dot sights and more.
Airsoft collectors will be happy to know that, as an officially licensed reproduction, the Umarex USP CO2 comes with all the H&K and USP trades that one could want.
These include a "USP" etched into the plastic grips, as well as an assortment of branded markings engraved into the gun at different locations and highlighted in bright white that make it obvious (perhaps too obvious to some tastes) that you are indeed carrying an H&K-licensed airsoft gun.
One thing some users may not appreciate is the paragraph of a warning label painted on the side of the gun that, while certainly important information, can make the gun look a little less authentic.

How Well Does the Umarex USP Perform as an Airsoft Pistol?
Build-quality and construction
Like a real steel H&K USP, the Umarex airsoft version uses a mix of metal and polymer material.
The frame of the gun is made of a nylon-reinforced polymer, while the slide is a fairly heavyweight aluminum alloy and the internals are metal.
The end result is a gun that is pretty solid and durable and that should stand up to the higher PSI of CO2 cartridges, as well as most of the typical bumps and knocks that an average airsoft game will subject it to, without much of a problem.
Although the frame is made of polymer material, it is of pretty high quality, feeling pretty rigid and without any squeaking, flexing or bending when handled, which is always appreciated.
Similarly, all the levers and switches present on the exterior of the gun feel pretty securely installed.
There was no wobble or looseness in the mag release lever, the safety had a nice, heavy feel to it and clicked into place nice and audibly, the slide lock is chunky and (importantly) functional, and the gun's slide drew back easily and smoothly.
One thing to note is that the safety lever does act as a decocker, as well.

When the lever is flicked up, the gun is in "safe" (S) and won't fire, and when the lever is in its middle position it is ready to fire (F) (oddly enough, while most of the other engravings on the gun are painted white, the :S" and "F" are not, which can make them a little hard to see).
When pulled down again, however, it lowers the hammer without firing the gun, i.e. decocking it.
Although it is an extra feature, the decocker spring is actually pretty strong and well made and, if flicked casually, will actually return the gun to "safe" (S), which is a nice added safety feature.
Much like a real steel H&K, Umarex's airsoft USP features an integrated rail located at the 6' o'clock.
One thing to note is that it is modeled on the real steel USP rail, which is proprietary to H&K in design.
While this means you can attach any USP attachments you may find for the gun (admittedly there aren't all that many(, you will need an adaptor to attach more common picatinny or weaver pistol accessories, such as flashlights, lasers and such.
The gun does come, however, with a threaded outer barrel, which is 14mm CCW and so users should have little issue attaching their favorite mock suppressors or tracer units to the gun.
In terms of sights, the Umarex H&K USP CO2 comes with pretty standard metal notch and post iron sights.
These are fairly low rise, being slightly inset into the slide, and so aren't as likely to snag on clothing or equipment in CQB, which is helpful.
They are adjustable and come with white-dot markings, which can help keep things a little more accurate in low light conditions and when aiming at low-contrast targets.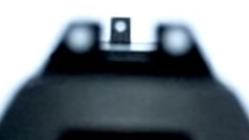 Inside, the Umarex H&K USP is pretty well put together.
The interior components are made of pretty durable metal, including the trigger connector, outer barrel and recoil spring guide, while the inner barrel is a decently tight 6.05 mm steel barrel.
The gun does come with a screw-type adjustable hop up that does give some pretty decent spin.
Unfortunately, like many airsoft pistols, you will have to disassemble the slide to do so, which makes making adjustments on the fly a little trickier to accomplish.
Performance and accuracy
The Umarex H&K USP CO2 GBB is a more than decent, all-around airsoft pistol.
A CO2-powered airsoft gun, the Umarex USP is capable of delivering some decent power, chronoing in around 340-350 FPS with 0.20g BBs.
While not quite as powerful as some other CO2 powered options out there, such as the ASG CZ P-09, it is more than enough to do the job in just about any airsoft game, indoors or out, without falling afoul of most FPS limits.
It's also pretty accurate, easily capable of getting pretty close groupings to about 50 feet (15m) and, due to its adjustable hop and adjustable/high visibility sights, capable of reliably hitting targets to about 100 feet or so (30m).
The trigger on the Umarex H&K USP is double-action/single-action.
When used as a double action, the trigger pull is a bit longer and heavier but has a snappy release and reset, making follow up shots pretty quick.
The gun is also capable of single action mode, in which case the travel shortens up and the trigger becomes fairly light and responsive.
The blowback action on the Umarex USP is pretty good.
The slide is pretty weighty and slides back with some force, and the cycle rate is decent and should allow the gun to get off rounds pretty quickly for a semi.
In terms of gas efficiency, it isn't bad for a CO2 blowback pistol and, under normal circumstances and weather, users should get 2-3 mags per fill.
For those who want to stretch their CO2 canisters a little further, there are more gas-efficient non-blowback models out there, as well.
Handling and feel
More or less a 1:1 reproduction of the H&K USP, the Umarex is pretty comfortable to use as an airsoft pistol.
At around 7.5 inches long, it is around the same length as perennial CQB favorites the Glock 19x and the Tokyo Marui Hi-Capa 4.3, while at around 2 lbs loaded it isn't particularly too hard to carry around but does have enough heft so as not to feel toylike despite its polymer frame.
The Umarex USP comes with relatively wide-spaced serrations and an enlarged trigger guard, which makes it easy to rack and fire even when using gloves.

Similarly, the gun comes with nicely textured plastic grips, with pretty tactile stippling along the sides and some fairly grippy diamond texturing along the back and front.
When it comes to ambidexterity, like the stock original the Umarex USP is a little more suited to right handed users.
While the mag release lever is usable from either side of the gun, the safety and slide catch are both only located on the left hand side of the frame.
Maintenance
The Umarex H&K USP CO2 is stripped down much like a 1911.
Simply push the slide back until its center aligns with the slide stop pin, pop the slide stop out and the slide should come free from the frame.
From there, users can access the spring/spring guide, hop up, barrel assembly and so on, doing routine maintenance, lubing and checking for damage.
In terms of replacement parts, the gun does use a number of proprietary parts. There are replacements available online and users can find most of what they'll need with a simple Google search, including complete repair kits.
That said, there isn't quite as much in the way of replacement or custom parts for this gun as there might before a Tokyo Marui or Tokyo Marui-spec clone.
Magazine type and capacity
The Umarex H&K USP CO2 comes with a single 18 round metal magazine.
The magazine does feel pretty solid, feeds reliably and holds gas pretty well.
Spare mags can be picked up for this gun, including slightly larger capacity versions (22 rd), although both they and the stock versions can be somewhat expensive.
In terms of mag compatibility, the gun really only takes its own Umarex H&K USP CO2 mags,
Price
Note: All prices correct as of writing, all prices in USD.
Umarex makes a variety of licensed USP variants. Some are made by different companies, (KWC, VFC), some use different gasses, others are non or semi-blowback
The one we looked at in this review is the fully-licensed, threaded, full-size Tactical CO2 model of airsoft USP and it tends to come in pricewise at just under $150, depending on retailer.
At this price point it is on the premium end of airsoft gas pistols, and around the same price as a Tokyo Marui Hi-Capa 4.3 or the ASG CZ P-09.
It is, however, a pretty accurate and well-balanced CO2 airsoft gun, that's pretty durable and has distinctive, USP good looks and, on the whole, should make a fine airsoft sidearm.
Or 
Or 
Advantages of the Umarex H&K USP Tactical
Well-balanced power for a CO2
Unlike many CO2 pistols that tend to shoot a little too hot for most indoor and/or CQB ranges, Umarex's CO2-powered airsoft USPs tend to chrono around 340-350 FPS, meaning they should have enough power for outdoor games but still be able to slide in under any FPS limits an indoor/CQB field may have.
And, because it is CO2, it will stand up to colder conditions a little better than green gas equivalents.
Accurate, with adjustable hop up and sights
The Umarex H&K USP Tactical is a pretty accurate airsoft pistol, as well, being able to get good groupings under 50 feet and easily hit man-sized targets to around 100 feet and beyond.
This accuracy at range is helped out by the fact that the gun comes with a decent enough adjustable hop up and clear, high visibility adjustable sights that make it easy to put the gun on target.
Fully licensed and very realistic
Umarex does hold H&K licensing agreements and so its airsoft USP does have all the official trades and markings one might come to expect (and more).
Further, the Umarex H&K USP is a very close replica of a real steel USP, using a similar construction (metal slide on polymer frame) and design, similar external controls, and even similarly textured grips.
Threaded outer barrel
The Umarex H&K USP Tactical CO2 comes with a 14mm CCW threaded barrel, making it easy to attach your favorite mock suppressors and tracer units to the gun, unlike some other airsoft USP variants and models out there.
Pretty gas efficient
Although it is a gas blowback airsoft pistol, the Umarex H&K USP Tactical does have pretty good gas efficiency. Getting around 2-3 mags per fill, it shouldn't be too much of a burden on anyone's airsoft budget.
Comfortable to hold and use
With some good heft, nicely textured grips, a large but not too chunky grip, a decent beavertail and serrated slide, the Umarex H&K USP is a pretty comfortable and fun airsoft gun to hold and fire pretty much in all conditions.
Functional decocker
An interesting feature of the Umarex H&K USP is that they have included a functional version of the real steel H&K combined selector and decocker.
When activated, the decocker will return the hammer to its uncocked position, preventing it from discharging and returning it into double-action mode.
Disadvantages
Not the cheapest CO2 out there
At just under $150, the Umarex H&K USP Tactical CO2 isn't exactly cheap and is more on the premium side of airsoft pistols.
Further, replacement and spare mags for the gun can also be quite expensive to buy.
Uses some proprietary parts and mags
While generally well-made, the Umarex H&K USP is not a Tokyo Marui clone and does use proprietary parts and designs that can be a little harder to replace or upgrade over time.
Similarly, the magazines of the gun are only compatible with Elite Force/Umarex H&K USP CO2 mags, making it a little more challenging to find and buy spares.
Rail requires adapter
Although it does have an undermount rail, the Umarex H&K USP's rail is based on the real-steel USP, a proprietary H&K design that isn't really all that natively compatible with many airsoft accessories.
Users will likely have to purchase an adaptor to add their favorite flashlights or laser units.
Bottom Line
If you're looking for an airsoft USP, there aren't too many options out there.
The Umarex H&K USP Tactical CO2 can be a good option for those interested in this rather famous H&K pistol.
With its full sized frame, well-balanced power, cool features, accuracy and more, the gun is not only cool looking and officially licensed, but a capable performer on the field, as well.
Ted Clark– Hailing from Florida, Ted has been an avid airsoft enthusiast since he was in middle school. When he's not checking out and reviewing airsoft guns, he enjoys picking off his enemies one by one on the field as a sniper.