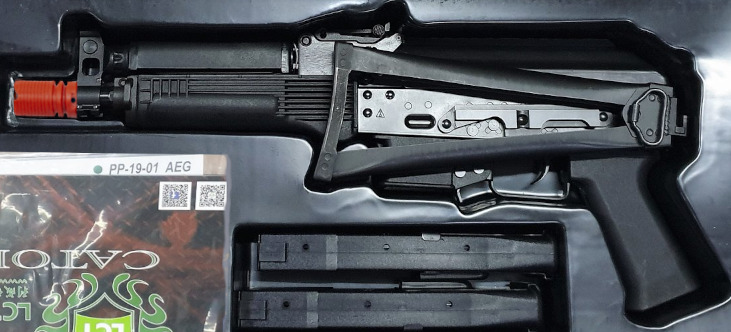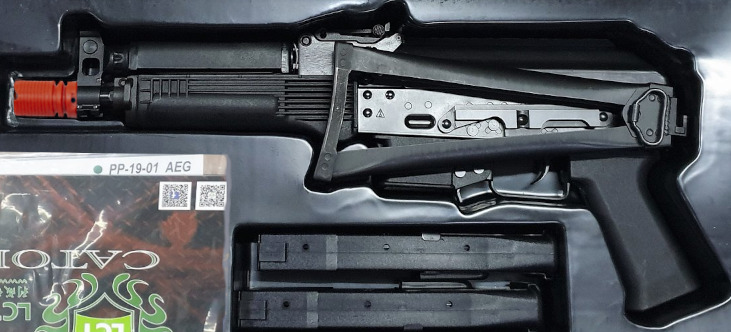 Durability and Build Quality

96%
| | |
| --- | --- |
| Pros | Cons |
| ✅ Compact 9mm AK SMG design | ❌ A little on the pricey side |
| ✅ Extremely durable | ❌ Shoots a bit hot for CQB out of the box |
| ✅ Excellent build quality | ❌ Battery compartment a little small |
| ✅ Tank-like internals | |
| ✅ Hard hitting | |
| ✅ Easy to customize, compatible with a good deal of AK74 furniture | |
| ✅ Pretty accurate | |
| ✅ V3 compatible gearbox | |
Some airsofters just love their AK replicas.
Whether its a 47, a 74 or even a 105, there's just something about the rugged competency of this Russian legend that makes an enthusiast's eyes skip right over all those AR clones and seek out a Bakelite covered, metal-heavy classic.
If you're an AK fan and are looking for a more modern SMG design (or are planning to do some close quarters airsofting), LCT's PP-19 Vityaz AEG might be just what you're looking for.
Blending Kalashnikov looks with a compact 9mm SMG design, the gun's heavy duty build quality and capable nature on the field has attracted a dedicated following over the years.
To find out if this SMG's reputation is well-deserved, and to help you figure out if it is right for you, we took a closer look at the LCT PP-19 AEG.
Specifications
| | |
| --- | --- |
| Manufacturer | LCT |
| Action | AEG |
| FPS | ~400 FPS |
| Hop Up | Adjustable |
| Inner Barrel | 6.02mm tightbore, brass |
| Outer Barrel | 14mm CCW threaded |
| Total Length | 18.5 in (470 mm) folded, 27.6 in (700mm) extended |
| Gearbox | V3 |
| Motor | 22K short type |
| Weight | 7 lbs (3.2 kg) |
| Construction | Stamped steel body, polymer furniture |
| Rounds | 50 |
How does the LCT PP 19 compare to a real steel Vityaz?
| | | |
| --- | --- | --- |
| | LCT PP 19 AEG | JSC Kalashnikov PP-19-01 Vityaz |
| Weight | 7.05 lb (3.2 kg) | 6.39 lbs (2.9 kg) |
| Barrel Length | 10 in (255 mm) | 9.4 in (237.5 mm) |
| Overall length | Collapsed: 18.5 in (470 mm)Extended: 27.6 in (700mm) extended | Collapsed: 18.9 in (480mm) Extended: 27.8 in (705 mm) |
| Action | Select Fire Semi/Auto | Select Fire Semi/Auto |
| Caliber | 6mm | 9mm |
| Capacity | 50 BBs | 30 round box |
| Construction | Stamped Steel | Stamped steel |
| Sights | Adjustable AK-type | Adjustable AK-type |
| Rail | Top picatinny rail | Top picatinny rail or side dove-tail |
The LCT PP 19 is a pretty accurate replica of the Kalashnikov SMG, all things considered.
Aside from some slight differences in size (unusually for airsoft, the AEG is fractionally longer), the LCT PP 19 matches its real steel counterpart pretty well in terms of its overall dimensions.
The externals of the gun are also quite well done.
The LCT PP 19 has all the typical AK-style features you might expect, including a Cyrillic-labeled selector switch, forward leaf-style rear sight and triangular side-folding stock.
The gun is even made from stamped steel and features injection molded polymer furniture, much like the JSC Kalashnikov PP-19.
As such, the gun is able to replicate that distinctive AK heft quite well.
In fact, the LCT PP 19 is actually a little heavier than the real steel version, something that is a bit unusual in the airsoft world.
Since it's not an officially licensed replica, there aren't too many notable markings to speak of beyond some 9x19mm caliber markings, not that AKs are really all known for their exciting and prominent display of branding and logos.
While not all that much of an issue for most airsoft players, sticklers might get a little annoyed by all the "nice AKS" comments they'll receive on the field by those less familiar with the subtleties of AK gun design.
It should be noted that this model is actually referred to as the PP-19-01, as there is a less common PP 19 with a helical magazine floating around (not produced by LCT as far as we know), but most airsofters and retailers tend to refer to this as the LCT PP 19 Vityaz, and for the purposes of this review we will as well.
LCT PP-19 Vityaz AEG: How does it perform?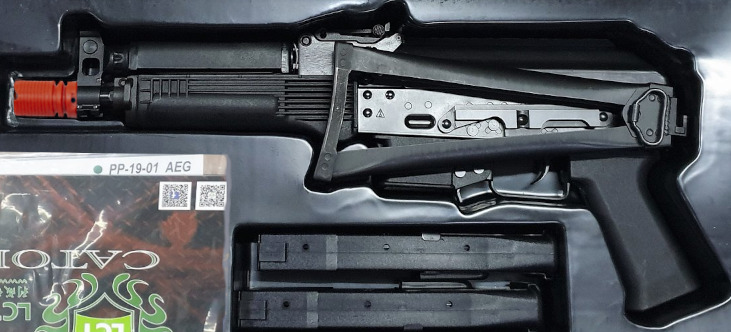 Build Quality and Construction
The LCT PP 19 Vityaz AEG is a full metal airsoft gun.
In fact unlike most all-metal airsoft guns out there the gun isn't made of pot metal, alloy or even aluminum, but the receivers, charging handle, stock, barrel assembly and so on are instead stamped out of steel, much like an actual Kalashnikov PP-19.
The only real plastic on this gun is in its furniture, with the grips, magwell and handguard being made of polymer material.
Because of this construction, the PP 19 is, true to the Kalashnikov name and reputation, extremely tough and durable for an airsoft gun and it should be able to withstand most of the knocks, bangs and drops that a typical airsoft game can throw at it.
Of course, being made of steel does make the gun fairly heavy compared to other SMG options, something we'll talk about a little later.
The gun itself feels well put together and solid, which is perhaps unsurprising given LCT's reputation for producing high-quality AK airsoft guns.
The selector switch is nice and snappy, the charging handle moves back nice and smoothly (although being based on a 9mm variant it doesn't move back a whole lot).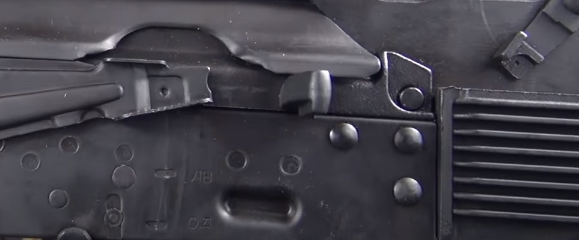 In general there isn't a lot of wobble or rattling with this gun, despite its steel construction, and the body has been fit together pretty snugly.
Perhaps unusually for an AK variant, the LCT PP-19 comes with a metal top-mounted picatinny rail that runs across the dust cover.
Some AK purists may perhaps scoff, but this rail set up makes it a lot easier to add optics to the PP-19, with users being able to take full advantage of the many 20mm rail options available without the need for any cumbersome adaptors.
And because the rail is metal (although not steel), it can largely accommodate most higher-quality real steel accessories, as well.
Interestingly, the gun also offers an SKS-style side mount, in case you have any Russian optics lying around.
The LCT PP-19 also comes with a 14mm negative threaded outer barrel, so (as befitting a more modern SMG) it's fairly easy to find and attach the usual assortment of suppressors or barrel-mounted tracer units to the gun.
In terms of sights, the gun comes with fairly standard and adjustable AK-style leaf sights.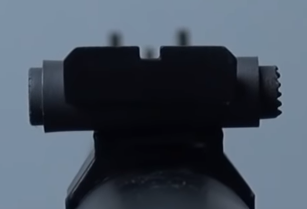 The rear sight is, as might be expected, mounted forward of the dust cover and are graduated, which are cool to look at and add a touch more realism to the overall design.
Inside, the LCT PP-19 is, quite simply, a tank.
The gun comes with a upgradable V3 gearbox, 9mm bearings, steel gears (18:1 ratio), a steel tooth piston, a chrome-plated brass cylinder, steel spring guide, and aluminum cylinder and piston heads.
Just like the internals of an AK should, the gearbox is durable and hard-wearing, designed to power through games and should last most users for quite some time.
Although the gearbox is compatible with many V3 parts, there shouldn't be too many upgrades needed on its internals, except for perhaps a mosfet, which isn't included.
Powering the gearbox is a 22K short-type motor. The stock motor certainly does the job but isn't really the most torquey or powerful in its class.
It is largely overshadowed by those included in guns like the EVO 3 A1, the Krytac Kriss Vector and the ARP9, and as a result the trigger response can be a little less responsive than some others.
That said, the gun comes with a pretty decent inner barrel out of the box, a tightbore brass 6.02 mm, which helps give the gun deliver more of a punch.
Users should know that the battery compartment for the LCT PP-19 can be quite cramped, being located under the gun's dust cover. While easily accessible, the compact gun isn't exactly what we might consider roomy and it does limit the types of batteries you can use with the gun to some degree (stick types are preferable).
Finally, at the back of the gun, the LCT PP 19 comes with a triangular, AKS-style side-folding, skeletonized stock.
The stock is, like the rest of the gun, made of steel and locks into place nicely with a double hook system, ensuring it doesn't pop free or rattle around when folded.
Although fairly angular and made of metal, the stock is rounded at the end and can be surprisingly comfortable to shoulder for long periods of fire, far more so than its looks would suggest.
Performance and Accuracy
Although fairly compact, the LCT PP-19 is a hard hitting little SMG.
Using 0.20g BBs, we saw the gun deliver between ~400-410 FPS with an 11.1 Lipo, easily putting it on par powerwise with its bigger brothers.
While great when you're out on the field, it can be a little too powerful for use in CQB games, where stricter FPS limits would apply.
This is, of course, a little bit of a shame since the LCT PP-19's compact dimensions and easy maneuverability make it ideal for close quarters airsofting.
To make it more CQB-friendly, users will need to swap in a less powerful spring, such as an M95.
The gun is, of course, capable of both semi and automatic fire and, when on full auto, delivers a pretty decent rate of fire considering the 22K motor, around 14-15 RPS or so.
The LCT PP-19 is fairly accurate out of the box, and we saw decent groupings to about 50 feet (15m) and could hit man-sized targets to 100 feet (50m) and up without all that much effort.
To help out with accuracy, the gun does come with a slide-adjustable hop up, which is extremely easy to use and provides more than decent spin.
Although notionally accessible through the 9mm-sized ejection port, most users will probably find it easier simply to pop the dust cover off and access it from the top.
Handling and Feel
The first thing you might notice when picking up the LCT PP-19 is its weight.
Although compact, this SMG is quite hefty.
Tipping the scales at just over 7 lbs (3.2 kg) it does weigh about as much as a kitted-out M4. Although this is certainly not news to any fans of airsoft AKs, it can be a bit wearing over time if you're not used to it.
It does make the gun very realistic to hold, however, especially as it is made out of stamped steel – there's certainly no mistaking this airsoft gun for a toy.
That said, LCT has done a pretty good job at keeping the gun balanced, with most of the gun's weight centered around the middle it's not that hard to hold and move around once you're used to it.
At between 18 and 27 inches (stock collapsed and extended), the LCT PP-19 AEG it is very easy to maneuver around with and carry in tight situations and around obstacles, especially when compared to a full-sized AK or even a carbine.
While perhaps a little longer than some popular SMG competitors, such as the Scorpion EVO 3 A1, KWA MP9, Nemesis X9 or Krytac Kriss Vector, the PP-19 is still pretty small and easy to use in CQB games all things considered.
Holding the gun is fairly comfortable, thanks to its nicely sized and ergonomic pistol grip, as well as its lightly textured, horizontally grooved handguard.
One thing to note is that the gun (like the real steel model) is largely compatible with AK74 parts, providing it with a very high level of modularity.
If you don't like the modern/tactical look of the polymer furniture, it can be very tempting to throw on some Bakelite wood grips and handguards to get that classic AK look and feel.
In fact, because of its compatibility with AK74 parts, there is quite a lot you can do with this gun to get it looking and feeling just right, which is always appreciated in airsoft.
As for left handed use, the LCT PP-19 is an AK variant and so are more friendly to right-handed users.
The AK selector switch and charging handle are right-hand oriented, while the mag release and sling mount are ambidextrous.
Maintenance
If you are more used to field stripping M4 style airsoft guns, the LCT PP-19 can be a little bit of a pain.
Accessing the battery, spring and hop up is easy enough and can be done by simply lifting the dust cover using a button located towards the rear.
Getting a little deeper into maintaining the gun is where things get a little tricky.
The internals are pretty screwed down in this gun.
While this has the distinct advantage of keeping everything secure and snug inside the gun when in use, but means that there can be quite a few screws and pins to deal with when taking it apart.
Magazine type and capacity
The LCT PP 19 comes with two 50 round 9mm style box magazines, as well as a metal clip to hold them together for easier, on-the-fly mag swaps.
The magazines are made of plastic, are pretty lightweight and slide smoothly and securely into the magwell.
In addition to these, there are 100 and even 200 round mags available for the PP 19, so users do have their choice between mid caps and hi caps as well.
That said, the mags are proprietary and because the gun fits 9mm style mags, it means the gun cant take advantage of the more common AK style airsoft mags out there.
On the plus side, however, LCT mags aren't really all that expensive, with users being able to pick up spares for $20-30 or so depending on the retailer.
Price
Note: Prices correct as of writing, all prices in USD.
The LCT PP-19 isn't exactly a cheap airsoft gun, typically coming in between $350-400 or so (depending on retailer).
At this price point it is on the more premium side of the AEG SMG market, being comparably priced with ASG's Scorpion Evo 3 A1, the Krytac Kriss Vector and a little more expensive than an ARP9, but a little less expensive than some of LCT's other compact Soviet-era options such as their AS VAL.  
That said, it is fairly easy to see where the money goes with this airsoft gun.
It is a rather unique looking, robust and well-built AK variant with a mostly steel body. It is compact, hits hard, is pretty accurate and is very easy to modify and customize to taste and playstyle.
Or
Or
LCT PP 19 AEG Pros and Cons
Advantages
Compact design
If you like the style of an AK but are looking for something that will be a little easier in CQB and close quarters, the LCT PP-19 AEG might just be what you're looking for.
At just 18.5 inches with the stock collapsed, it might not be the smallest SMG around, but it is highly compact and easy to maneuver around with.
Very durable
It really doesn't get much more durable than steel when it comes to airsoft, and the LCT PP-19 is a mostly stamped steel design. It should, therefore, stand up to most of the rough and tumble game play an typical enthusiastic player can throw at it.
Well put together
LCT has done quite a good job with its quality control on the PP-19. The gun and its components are pretty snugly put together and there is very little rattle, clattering or looseness out of the box.
Tank-like internals
The PP-19 Vityaz AEG has a pretty solid and durable gearbox. It uses steel gears, steel bearings, a steel tooth piston, a chrome plated cylinder, a metal spring guide and aluminum piston and cylinder heads.
Like the AK platform it is based on, it should last for quite some time.
V3 compatibility
The gun's gearbox is a pretty TM standard V3 and therefore can take advantage of the wide range of upgrade and replacement parts on the market.
Picatinny rail
Unlike a traditional AK74 airsoft replica, the LCT PP-19 includes a top mounted picatinny rail as well as a more authentic, Russian-optic-friendly side mount. Consequently, it is a lot easier to add optics and other accessories without the need for an adaptor.
Hard hitting
Despite its reduced size, the LCT PP-19 is no slouch on the field and is capable of delivering a full-sized AK punch, around 400 FPS with 0.20g BBs.
Fairly accurate
The LCT PP19 isn't a sniper rifle or DMR, but is certainly capable of delivering a decent grouping at 50 feet (15 m) and can reliably hit center mass at 100 feet (30m) and beyond.
Good modularity with AK74 parts
The LCT PP-19 is largely compatible with the company's other AK74 furniture and parts and can therefore be easily styled and customized externally to taste and preference.
Disadvantages
Pricey
Usually coming in at over $350, the LCT PP-19 isn't exactly the cheapest airsoft AK or SMG out there and may be beyond the budget of some players.
Can shoots a bit hot for CQB
While the LCT PP-19 hits pretty decently, in the US at least its ~400 FPS power is a bit too much for some indoor and CQB fields and it may need to be modified to comply with FPS limits.
Small battery compartment
The battery compartment in the LCT PP-19, which is located under the dust cover, can be cramped and may mean that users have to plan a little ahead when picking out batteries for it.
Bottom Line
Sometimes it feels like M4-style SMGs and carbines are a dime a dozen on airsoft fields.
With its highly realistic post-Soviet good looks, LCT's PP-19 Vityaz AEG is an attractive 9mm-style SMG that successfully stands out in a sea of airsoft AR clones and even manages to set itself apart from other AKs.
And, with its durability, compact size, hard hitting power, accuracy and customizability, it can deliver on the field as well.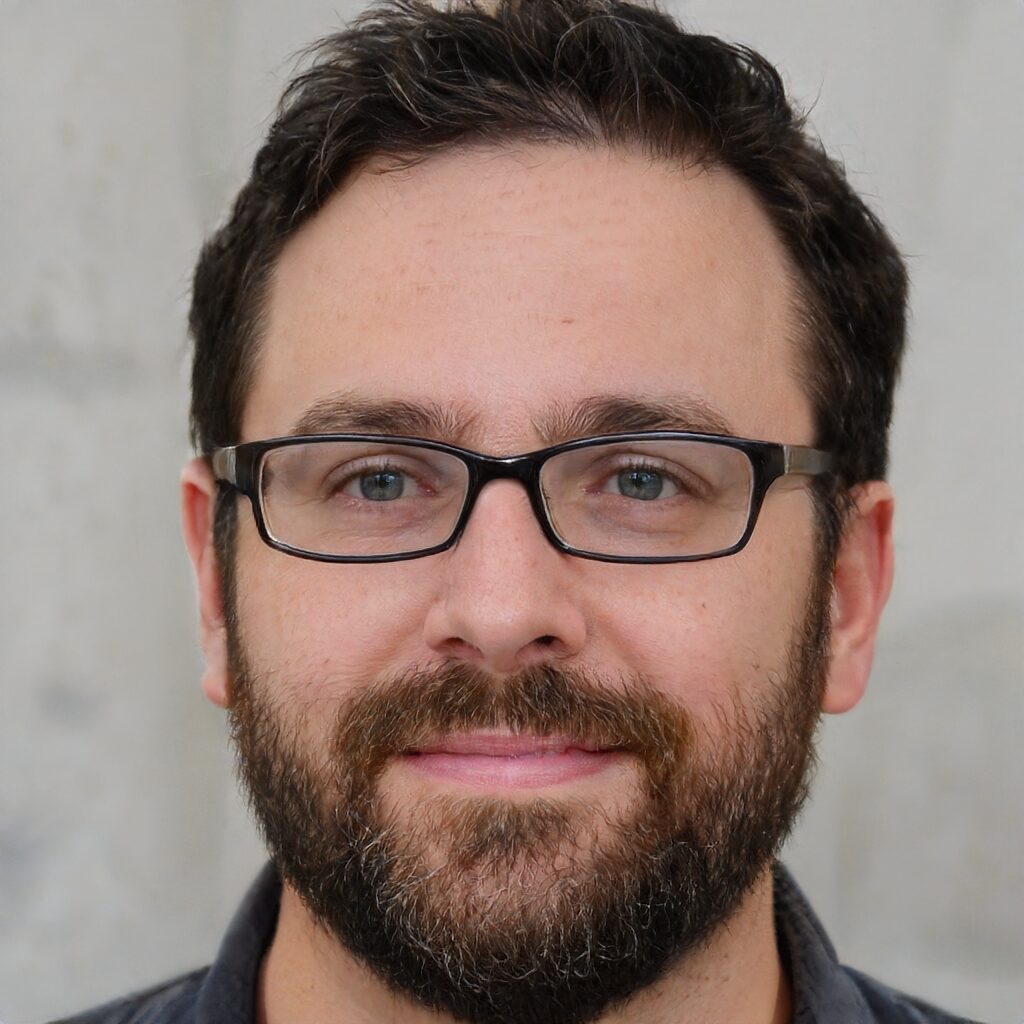 David Lewis – A longtime airsoft and airgun enthusiast and collector, our editor David's lifelong passion for tactical sports began in high school with some friends, a cheap knock-off airsoft M4, and an open field behind his parents' house.

When he's not plinking around, he enjoys sharing his knowledge of airsoft and helping those just starting out.