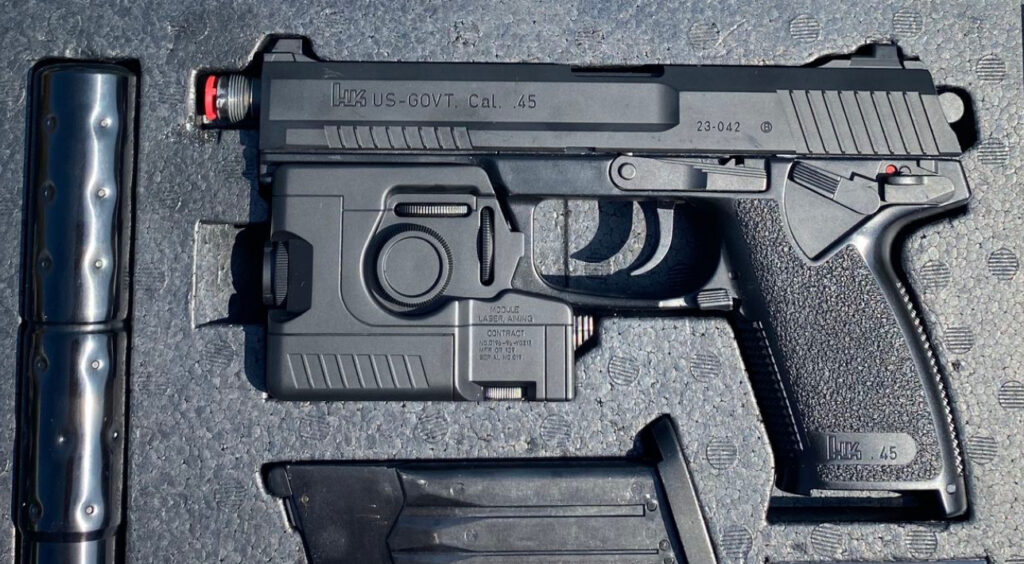 Durability and Build Quality

92%
| | |
| --- | --- |
| Pros | Cons |
| ✅ Extremely well-built | ❌ Not the cheapest gas pistol to buy |
| ✅ Very quiet, especially with suppressor | ❌ Non-blowback pistol |
| ✅ Very accurate | ❌ Adding accessories may require adaptors |
| ✅ Cool trademarks | |
| ✅ Decent, well-balanced power, especially for a TM | |
| ✅ Comes with some unique accessories | |
| ✅ Very gas efficient and cheap to run | |
The Tokyo Marui MK23 is a green gas-powered non-blowback airsoft pistol that is based on the legendary H&K USSOCOM MK23, a pistol designed specifically to meet the demanding needs of US military special operators.
While not quite as popular on airsoft fields as a typical 1911 clone, in recent years, Tokyo Marui's MK23 has become something of a legend for those in the know – an accurate and quiet airsoft pistol perfect for eliminating targets and leaving no one the wiser.
If you think you might be in the market for one of these stealthy sidearms, or are just looking for something a little different for your next game, then read on as we dive deeper into the Tokyo Marui MK23
Specifications
| | |
| --- | --- |
| Manufacturer | Tokyo Marui |
| Power | 134A, Green Gas |
| Action | Semi (SA/DA), non blowback |
| FPS | ~ 330 FPS @ 0.20g BBs |
| Hop up | Adjustable |
| Barrel Length | 5.23 inch (133 mm) |
| Total Length | 9.65 inches (245 mm) |
| Weight | 1.87 lbs (850g) |
| Construction | ABS plastic |
| Rounds | 28 + 1 |
How closely does the Tokyo Marui MK23 resemble the real thing?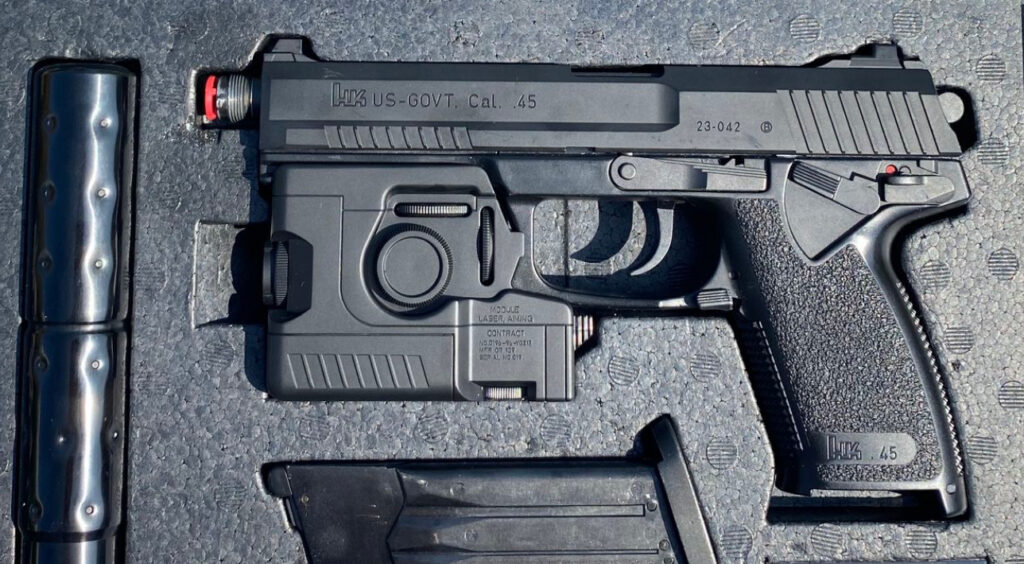 Tokyo Marui MK23
H&K USSOCOM MK23
Weight
1.87 lbs (850g);
2.43 lb (1200g) with suppressor and LAM
2.43 lb (1.2 kg);
5 lb (2.28kg) with suppressor and LAM
Barrel Length
5.23 inch (133 mm)
5.87 in (149.10 mm)
Overall length
9.65 inches (245 mm) w/o suppressor;
16.5 in (421 mm) with
9.65 in (245.11mm) w/o suppressor;
16.5 in (421 mm) with
Action
Semi, single/double action
Semi, single/double action
Caliber
6mm
.45 cal
Capacity
28+1
12 rounds standard
Construction
ABS PLastic
Steel
Sights
Adjustable rear
Adjustable rear
Rail
Universal Mounting Grooves
Universal Mounting Grooves
As with other Tokyo Marui replicas the attention to detail here is superb and the MK23 matches its real steel H&K inspiration very closely in both its looks and dimensions.
To see for yourself, check out the video of an H&K MK23 below: 
In fact, other than accounting for weight differences due to being made of plastic rather than forged steel, the Tokyo Marui MK23 is more or less a 1:1 reproduction of the USSOCOM legend.
This includes the external switches and details – the ambidextrous safeties, mag releases and non-functional slide locks all look right and are located where they should be.
For better or worse, the gun even comes with H&K's Universal Mounting Grooves molded into the lower receiver.
In terms of trademarks, enthusiasts are in luck as the gun comes with some pretty cool looking and prominent H&K trademarks across the barrel and on the bottom of the gun's grip, adding further realism to this airsoft pistol.
Amusingly, the Tokyo Marui MK23 ships in its own professional-looking, TM-branded hard plastic, foam-lined carrying case, much like a real pistol. 
Aside from looking awesome, the case can provide a lot of protection to the gun when transporting it between games and even comes with its own loop for adding a lock to make sure nobody steals your rather pricey piece.
How Well Does the Tokyo Marui MK23 Perform as an Airsoft Gas Pistol?
Build-quality and construction
As with other Tokyo Marui airsoft pistols, such as the PX4 or the Hi Capa series, with the exception of the barrel and barrel threading, which are metal, the Tokyo Marui MK23 is made of ABS plastic.
As a result, despite its rather intimidating size, the gun is actually quite lightweight when empty and when stripped of its attachments.
At under 2lbs (around 900g), the gun is easy to hold and is easy to add to just about any loadout.
Yet, despite its light weight and plastic construction, the MK23 is still a Tokyo Marui and therefore is still very well put-together.
When holding the gun, everything feels nice and tightly fitted, the ABS plastic feels very high quality and doesn't show much flex or bending when we handled it.
Importantly, the hammer, slide catch and safeties all feel solidly attached and click into place quite nicely.
Of course, being a non-blowback airsoft pistol, the slide catch is largely nonfunctional, but it can be flipped up and down, adding a touch more realism than it would otherwise.
The Tokyo Marui MK23 is designed to run on green gas and duster, and, although it is non-blowback, as with similar TM models its ABS construction and internals probably won't stand up to CO2 gas usage, which can be disappointing to some.
The Tokyo Marui MK23's outer barrel is threaded, and designed to accommodate an impressively large metal suppressor that comes with the gun.
The suppressor is a replica of the real steel MK23's Knights Armament suppressor.
At just over 7.5 inches (193mm) long, the suppressor is almost comically big – almost the length of the MK23 by itself – but does add an special ops/assassin-vibe to the gun, which can be kind of cool. 
The suppressor is made of fairly sturdy aluminum, contains foam, coming in at nearly 1 lb (453g) it is a beefy boy. 
When holding it, it gives the impression that it can take whatever an airsoft game can throw at it and, interestingly, when attached to the MK gives it some much needed heft.
Users should note, however, because the Tokyo Marui MK23's outer barrel has a 16mm thread it can be a little trickier to find and use other suppressors with the gun than competing guns that use more standard, 14mm threading.
In terms of rails, the MK23 comes with a reproduction of H&Ks Universal Mounting Grooves (UMG) molded into the 6 o clock, rather than a standard picatinny.
While faithful to the real steel original, and while it does allow the old-school (and included) Laser Aiming Module (LAM) to be attached easily, it does mean that users who want to attach a wider variety of parts might need to pick up an aftermarket under-rail adapter for the model.
In terms of sights, the Tokyo Marui MK23 comes with pretty standard plastic sights that are integrated into the upper receiver.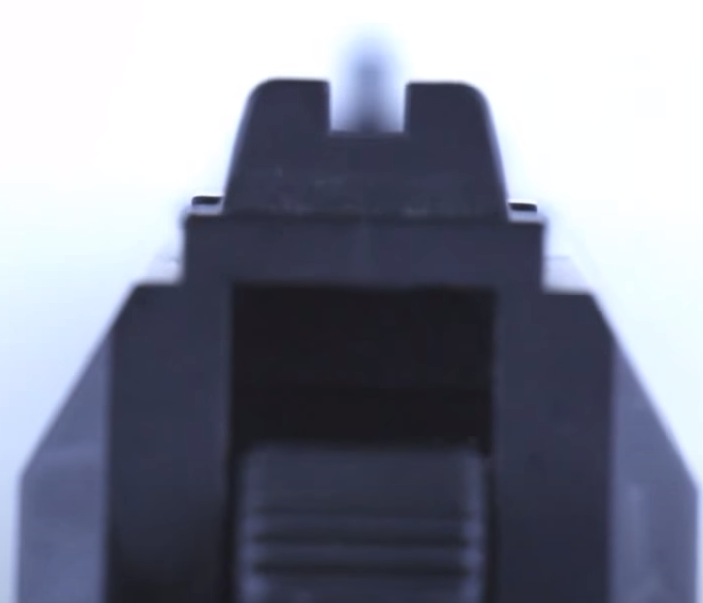 Honestly, we would have preferred white dot sights for better low light aiming on an airsoft gun like this, but the black sights do a pretty good job anyway and a small dab of white paint does the job just fine.
The Tokyo Marui MK23 comes with an adjustable hop up.
It is a wheel style hop up and is easy to adjust.
As with other Tokyo Marui hop ups, it is quite good and can give a lot of fine grained control on spin, helping the gun stay accurate at distance. 
Also like many other TM models, it is located under the slide rather than behind the ejector port, so users unfortunately have to strip the gun to make any adjustments, which can be a little tricky to do in-game.  
LAM Unit
Much like its real steel predecessor (at least the military variant) the Tokyo Marui MK23 comes with a Laser Aiming Module (LAM) unit.
The LAM unit is a replica of Insight Technology's AN/PEQ-6 system, and is sort of a squarish unit that mounts underneath the gun.
The LAM is made of the same ABS plastic as the Tokyo Marui MK23 itself, weighs very little and when attached.
While the real steel version of the AN/PEQ-6 was sort of an all-in-one laser, flashlight and IR light, the Tokyo Marui version is mostly for show. 
The flashlight itself isn't all that powerful and the "laser" is really a red LED light, something of a peculiarity given that many airsofters readily use actual laser pointers on their airsoft pistols.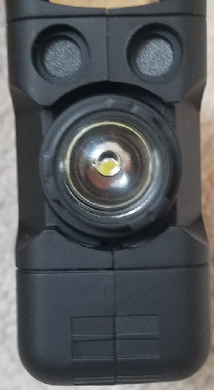 That said, the LAM looks extremely cool when attached to the MK23, giving the gun a retro-cool SOCOM look, and can be fun to fiddle around with when not in-game.
Interestingly, there are a number of projects online that help users install real lasers into these airsoft devices.
Performance and Accuracy
Right off the bat, users should note that the Tokyo Marui MK23 is a non blowback airsoft pistol.
As a result, the slide does not move backwards after a shot in order to mimic the action of a real steel semi auto pistol.
While this may be a deal-breaker for some, those who are willing to look beyond this will certainly be delighted by the MK23's performance as a green gas airsoft pistol.
While other Tokyo Marui pistols aren't exactly known to be hard hitting, using clocking in the mid 200s or so in terms of FPS, the MK23 actually does pretty well in this area.
After settling in, with 0.20g bbs we saw the gun hit around 310-330 FPS without the suppressor and marginally less (~320 or so) with the included suppressor attached.
Although not an FPS monster by any means, it does make the MK23 very usable in both indoor and outdoor games, as it shoots hard enough while still coming in under nearly any FPS limits a field might put into place.
The gun is also extremely accurate out of the box and saw no issues hitting targets well past 100 feet (35 meters), and saw reasonable hits all the way out to about 150 (45 meters).
Where the gun really stands out is in its sound – or rather, the lack thereof.
With its lack of blowback and its finely-finished construction, the Tokyo Marui MK23 is one of the quietest, stealthiest airsoft pistols we've heard.
About all you hear from this a few feet away is the clack of the hammer, making it the perfect gun for sneaking around and taking targets out.
Use this outdoors in a live field game, and you can probably freely pick targets off without your opponents being the wiser.
This is perhaps unsurprising given that the real steel version was intended to be used by US Navy Seals and other special operations forces.
Similarly, as a non-blowback, gas efficiency is great with the TM MK23.
We saw about 3 or so mags to the fill, and some users online report getting 4 or more, so it should be fairly cheap to run, as well.
Handling and feel
There's no getting around the fact that the Tokyo Marui MK23, like its real steel counterpart, is a big gun.
At nearly 10 inches (254 mm) long, it is enough to make Desert Eagle users feel personally inadequate and its extended size means it can be a little trickier for those with very small hands to hold and use in game.
With the suppressor attached, its overall length further increases to nearly 17 inches long, which is getting into submachine gun territory, something that those who want to use it in extreme CQB games might want to consider.
That said, for its size, the Tokyo Marui MK23 is very comfortable to hold.
On its own the gun is extremely well balanced and it is still easy to hold onto and use for extended periods with the LAM and suppressor attachments attached.
The gun's grips are made of stippled plastic and feature diamond-patterned texturing on the front and back, providing excellent friction and contact in wet weather or when a user is gloved. 
The slides are thickly serrated at the front and back, allowing users to get a nice, solid grip on the gun and letting them rack from the front or rear, depending on preference. 

In addition, the gun's hammer is prominent and functional, allowing users to switch to single action if they so choose and enjoy a lighter trigger pull as a result.
The Tokyo Marui MK23 is very left-hand friendly, as well.
There are functional, ambidextrous safeties located to the rear, and the mag release is ambidextrous, as well. It is located just under the trigger guard and features little wings on either side for easy left- or right-handed activation.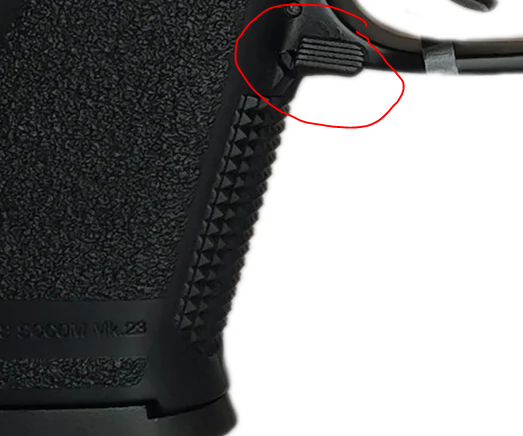 Maintenance
A non-blowback airsoft gun, being exposed to less friction than a typical GBB model, the Tokyo Marui MK23 doesn't really require a whole lot in the way of maintenance.
Popping the slide catch on the right side allows the slide to disengage and be removed, which then allows users to do basic maintenance such as cleaning, checking the hop up for damage, checking the seals and adding silicon lubricant when/if necessary to the appropriate o-rings and seals.
In terms of repair parts, it is a Tokyo Marui and there are quite a few, and users should be able to find replacement barrels, triggers, outer barrels, seals, hop ups and so on.
There are also a variety of upgrade parts available for this model, including tighter barrels, metal slides, better buckings and nubs and outer barrels with more standard 14mm threading, for the easier (and cheaper) attachment of aftermarket accessories.
Magazine type and capacity
The Tokyo Marui MK23 comes with a metal 28 round magazine that fills with green gas.
Although the MK23 isn't as popular as the Hi Capa or other standard Tokyo Marui pistol fare, there are plenty of magazines out there for purchase, and the gun is fairly cross-compatible with magazines for other non-blowback MK23s, such as those from STTI, Matrix and ASG.
Accessories & Customizability
While the gun comes with its own suppressor and cool-looking LAM, the Tokyo Marui MK23 does require a bit of work to customize compared to other Tokyo Maruis.
With its 16mm threaded barrel and Universal Mounting Groove, it can require an adaptor or two for users to be able to add their own flashlights, (actual) lasers, tracer units or mock suppressors.
Those who really enjoy swapping barrel-mounted accessories around may wish to invest in an outer barrel replacement, changing it to a more standard 14mm CCW set up.
Price
Note: All prices correct as of writing, all prices in USD.
In general, the Tokyo Marui MK23 typically comes in at around $140, depending on the retailer.
This puts it in a similar price range as other Tokyo Marui gas pistols such as the PX4 and a little less expensive than their Hi Capa series.
While not particularly cheap, for the price users do get an extremely well made, decently powered, highly accurate and very stealthy airsoft pistol that even comes with its own suppressor and a cool to look at LAM system.  
Like other Tokyo Marui airsoft guns, the MK23 isn't always the easiest to get your hands on in the US, but you can likely order one at the following stores.
Or
Advantages of the Tokyo Marui MK23
Well built
The Tokyo Marui MK23 is extremely well built. Although it is made of plastic, it is solidly built and well put together, and it doesn't rattle, bend or flex when held or used.
Extremely quiet
Finely put together and without any blowback, the MK23 is a very stealthy gun that makes very little noise when fired, and with the suppressor attachment you can freely stalk around the field and pick off targets without those around you being much the wiser.
Very accurate
The TM MK23 is extremely accurate out of the box and, with an finely-tunable adjustable hop up, it can be used to hit targets well past 100 feet or more.
Cool trades
Not only does the Tokyo Marui MK23 look like the real steel original, it has some cool and realistic looking markings along the barrel and grip that, even if not 100% true to the original, look pretty cool.
Decent, well balanced power
At around 315-330 FPS, the Tokyo Marui MK23 isn't the most powerful airsoft gun we've seen, but its power is good enough for use in most airsoft games, be that outdoors or in CQB arenas with strict FPS limits.
Comes with cool accessories
For the same price as a typical Tokyo Marui gas pistol, the TM MK23 includes a large metal, foam-filled replica Knights Armament suppressor and a retro-styled and realistic AN/PEQ-6 laser aiming module that give it a very tactical, '90s SOCOM style.
High gas efficiency
Because it doesn't use as much gas blowing back its slide the Tokyo Marui MK23 is actually pretty gas efficient, getting between 3-4 mags per fill. This lets its users play longer and helps them save money in the long run.
Disadvantages
Not exactly cheap
At just around $140, the Tokyo Marui MK23 isn't the cheapest non blowback green gas airsoft pistol out there.
Non-blowback
While there are distinct advantages to a non-blowback design, being a lot quieter and better on gas for example, some users will be put off by the lack of realistic action and sound.
Adding common accessories can require adaptors
Although the TM MK23 has a threaded outer barrel and has a mounting system on its underside, like the real steel version it has 16mm threading and a Universal Mounting Groove.
This means it may need adaptors for 14mm CCW threads and picatinny rails, which are more commonly used with airsoft accessories.
Bottom Line
If you're looking for a stealthy, tactical airsoft pistol to take with you to your next airsoft game, the Tokyo Marui MK23 is a perfect choice that blends power, silence and accuracy in an impressively large and intimidating package. 
Will Martin – Will has been into airsoft and paintball for well over 10 years, and has done it all – from upgrading and fixing gearboxes as a tech to building custom airsoft loadouts for his friends to supporting off those friends as a DM.