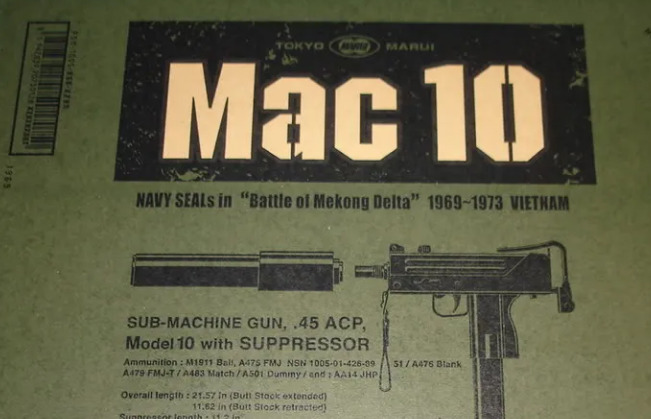 Durability and Build Quality

91%
| | |
| --- | --- |
| Pros | Cons |
| ✅ Very compact, CQB-oriented | ❌ Pricey |
| ✅ Lightweight, well-balanced | ❌ Uses less-moddable AEP parts |
| ✅ Very realistic looking | ❌ ROF nothing to write home about |
| ✅ Highly accurate | |
| ✅ Stock retracts completely into body | |
| ✅ Excellent build quality | |
| ✅ Good battery efficiency | |
| ✅ Includes replica Sionics suppressor | |
| ✅ 14mm CCW threaded barrel will accept other accessories | |
| ✅ Can be extremely stealthy | |
Arguably alongside the Uzi and the MP5K, the MAC 10 is one of the most well-known machine pistols ever made.
Its simple design, performance and rather revolutionary suppressor helped it make a big splash in the Vietnam-era, while its iconic looks and capacity for impressive automatic fire has led it to be featured in films, tv and video games well into the 21st century.
As a result of this fame, the MAC 10 has always been fairly sought-after in the airsoft world, especially for those looking for a compact and lightweight CQB option or automatic-capable sidearm.
The Tokyo Marui MAC 10 is one of the most popular and highly-regarded versions of the MAC 10 out there and, rather unusually, is an AEP.
To find out if the gun lives up to its reputation, and if it's worth your hard-earned money and time, we decided to take a closer look.
Specifications
| | |
| --- | --- |
| Manufacturer | Tokyo Marui |
| Action | AEP/AEG |
| FPS | ~240 FPS |
| Hop Up | Adjustable |
| Inner Barrel | 131mm, brass |
| Outer Barrel | 14mm CCW threaded |
| Gearbox | Tokyo Marui CMG micro-gearbox |
| Motor | Short type |
| Weight | 3.26 lbs (1.5 kg) |
| Construction | ABS plastic |
| Rounds | 65 |
How does the Tokyo Marui compare to a real steel MAC-10?
Tokyo Marui MAC 10 AEP
Ingram MAC-10
Weight
3.26 lbs (1.5 kg)
6.2 lbs (2.84 kg)
Overall length
Stock retracted 11.6 in (295mm)
Stock extended: 21.58 in (548 mm)


Stock retracted: 11.6 in (295mm)
Stock extended: 21.58 in (548 mm)
Action
Select Fire Semi/Auto
Select Fire Semi/Auto
Caliber
6mm
9mm or .45 ACP
Capacity
65 rd midcap
30/32 round box
Construction
ABS Plastic
Stamped steel
Sights
Notch and post
Notch and post
Rail
None
None
As might be expected from Tokyo Marui, the MAC 10 AEP is a pretty accurate replica of the Military Armament Corporation Model 10.
By and large the airsoft model matches its real steel counterpart pretty well, looking nearly identical to the classic machine pistol and replicating its overall length, height and width pretty precisely.
The TM MAC 10 also replicated the (albeit modest) externals of the real steel version, including its notched charging handle, its iconic retractable and curved wire stock, its trigger-adjacent safety and its forward-mounted selector switch.
One notable difference is that the Tokyo Marui MAC 10's frame is made from very lightweight ABS plastic, due to laws surrounding Japanese airsoft gun construction.
As a result it is significantly lighter than its stamped steel counterpart, coming in at nearly half its weight.
Interestingly, despite not being an officially licensed replica, the Tokyo Marui MAC 10 does have some markings on it that are fun to look at.
The original, real steel MAC 10s had "Ingram M10 CAL 9mm (or 45 ACP), Military Armament Corp Powder Springs GA" stamped across the side.
As a nod to their inspiration, the Tokyo Marui MAC 10 has something similar, although slightly different. 
While not exactly authentic (we can only imagine the difficulties in trying to procure licensing agreements from a long defunct firearms brand), they can look realistic enough from a distance.  
Tokyo Marui MAC 10 AEP: How does it perform?
Build Quality and Construction
Like other Tokyo Marui airsoft guns, such as the MP7, the MAC 10 AEP is largely made of ABS plastic.
There are some notable metal pieces, however, such as the trigger, front sight, barrel assembly, sling point, mag release button, stock, selector and safety switches and bolt handle.
As we've mentioned this is a significant departure from the real steel MAC-10, which was made out of stamped steel, and does make the TM airsoft version a lot lighter in hand.
That said, typical of Tokyo Marui build quality, the gun does feel well-built and well put together.
The plastic construction holds up pretty well when handled, with no real bending, flexing or creaking.
Although the MAC-10's exterior design is notoriously stripped down and simple, what is there (the safety and selector switch) are fitted correctly and securely to the gun, clicking nicely into place with no wobble or looseness that we could feel. 
The rather spartan looks of this airsoft gun does mean that things are a bit more limited when it comes to mounting accessories.
There are, for example, no rails on this Vietnam-era weapon's frame and so it doesn't readily allow users to mount optics, flashlights or lasers without modifying the frame.
Similarly, like the real steel original, the fixed iron sights are very basic and consist of a sort of drilled out notch and post configuration.
On the other hand, this is largely a CQB oriented airsoft gun that will probably be used as a secondary or (if heavily modified) as part of a speedsoft game, so long distance aiming isn't likely to be all that much of a concern for most of its users.
The Tokyo Marui MAC 10 does, however, come with a threaded barrel and a mock suppressor.
The mock suppressor is a replica of the two-stage Sionics subsonic suppressor that made the original MAC 10 so famous among members of the contemporary military and military enthusiasts today.
This plastic suppressor is quite large when fitted to the MAC 10. 

At 11.2 inches (285mm) it is almost as large as the frame of the gun itself and tips the scales at a beefy 0.5 lbs (230g), almost a third of the Tokyo Marui's weight.
That said, it is extremely realistic and detailed, replicating the Sionic's two-stage design with a large rear section and radically tapered front.
Although it is a mock suppressor, when screwed into the MAC10, it is quite intimidating to look at from the wrong end and is certain to bring a smile to most anyone's face, especially milsim and firearms enthusiasts.
Users should note, however, that the suppressor can dramatically increase the length of the MAC 10 (effectively doubling it), which can impact the gun's overall maneuverability in CQB games, as well as its use as a compact sidearm. 
For those who aren't fans of such an imposing suppressor, the Tokyo Marui MAC 10 does have 14mm CCW threading, so adding a smaller and more lightweight suppressor (or tracer unit) won't be much of an issue.
In terms of the stock, the Tokyo Marui MAC 10 comes with a replica wire stock that fully retracts into the body of the gun.
Despite its rather thin and compact profile, the stock is made of metal and is pretty solid and doesn't have a lot of wobble when extended, which can give the gun a bit more stability when shouldered, which is nice.
Being an AEP, on the inside the Tokyo Marui MAC 10 is a bit different from other AEG SMGs out there and uses somewhat proprietary components from its Compact Machine Gun (CMG) series.

Rather than a standard V2, it uses a full-metal micro-gearbox, with metal gearing, nylon reinforced bushings, a relatively weaker spring and a (very compact) ported cylinder.
The gun is also powered by a short type motor, has a fairly standard brass barrel and comes with an adjustable hop up.
Interestingly, and unlike many other machine pistols out there, the hop up is pretty well designed.
It is a rotary style hop up that is directly located behind the gun's ejection port, which makes making adjustments on the fly a lot easier. 

The gun doesn't come with a bolt stop, however, so you will have to hold the bolt handle back to make adjustments, something that can be a little more awkward given the position o the handle on the top of the gun.
Finally, the battery compartment to the Tokyo Marui MAC 10 is a little different.
Unlike most AEGs, where the battery is located in the stock or in the handguard, batteries in the MAC 10 are actually inserted from the front of the gun. 
Users press down on a little button towards the front of the gun, pop off the faceplate and can slide a battery into an area located just above the barrel.
Having very compact dimensions and using a micro-gearbox there aren't a lot of options when it comes to stock batteries for the gun.
It will accept a 7.2v AEP battery pretty easily and, should users decide to add a mosfet, it can accept a very small and thin 7.4v lipo.
That said, while an 11.1v battery might technically be possible with some careful upgrades, and some may even fit nicely into the frame, the increased ROF might strain the internals or cause some misfeeding problems.
Performance and Accuracy
The MAC-10 isn't exactly a gun that most people would confuse for an assault rifle replacement, and the same is largely true of the Tokyo Marui.
While its compact dimensions and automatic fire capabilities make it well-suited as an all-around secondary, this machine pistol/submachine gun is really most at home in CQB.
When it comes to power, we saw the MAC-10 put out about 240 FPS with 0.20g BBs, which isn;t surprising given that this is a Tokyo Marui and is subject to Japan's stricter laws on FPS output.
While not exactly a powerhouse by any means, it does mean that users should have no problem bringing the MAC-10 to indoor or CQB fields, which tend to have strict FPS limits.
Interestingly, although mid-200 FPS isn't exactly a class-leader when it comes to airsoft SMGs in general, the Tokyo Marui MAC 10 is fairly powerful for an AEP, which tend to have a hard time putting out anything over 200.
As an electric, the gun is also remarkably consistent with its power output, about +/- 5 FPS, avoiding the swings in performance that gas guns are known for.
Those interested in squeezing a little more power out of this little gun would be best served by adding a mosfet and inserting a LiPo, which can bring performance up to around the 290-300 FPS range.
It is important to note that, like any good SMG, the Tokyo Marui MAC-10 is select fire and can be switched to automatic fire, which is always nice in CQB.
Its rate of fire is a little on the slow side, however, at around 10 RPS when stock.
Despite not being a monster in terms of power, when it comes to range and accuracy, however, the Tokyo Marui MAC 10 is actually quite accurate (a quality famously not shared by its real steel counterpart).
The gun will group well enough to about 50 feet (15 m) and will hit man-sized targets reliably past 100 feet (30m).
With a little effort, the gun should be able to hit targets to 150 feet (45 m) and some users report being able to hit targets well past even this distance, although we haven't put this to the test ourselves.
One thing to note is that the gun can be very quiet when fired, especially with the suppressor attached, so it can be a good secondary option if stealth is the name of your game.
It is also very battery efficient, being able to be run for several days on a single charge using a 7.2v NiMH battery, which is actually quite impressive.
Handling and Feel
The first thing you might notice about the Tokyo Marui MAC-10 is just how much it can expand and contract.
With the stock folded and the suppressor removed, the gun is about 11 inches long, quite a bit shorter than other staples of CQB such as the ARP9, the Scorpion Evo 3 or even the KWA MP9.
In fact, when fully retracted, this automatic-capable machine pistol/submachine gun isn't all that much larger than a Desert Eagle.
In this configuration, the gun is highly compact and easy to handle, ideally suited to very close in airsofting or just as an easy to carry and unobtrusive backup in your loadout.
Screw the Sionics suppressor onto the tip, pull out the stock and the MAC-10 is certain to surprise you (and your opponents), extending to about the length of an AK47.
As we've mentioned, the gun is fairly light and easy to carry.
Due to the fact that its battery and mechbox are located at the top center of its body, the MAC 10 is actually quite well-balanced, with the weight sitting comfortably atop the user's fist for the most part.
As a result, the gun can be very easily carried and fired one-handed, which can make it a good option for fast-paced and dynamic games, as well as just looking pretty cool in general.
The MAC-10's overall aesthetics and ergonomic design tend to favor function over form and give the gun a very old-school look and feel.
Like the Uzi, the frame of the MAC-10 is somewhat brick-like and sports a chunky, untextured grip that is surprisingly comfortable for those with larger or even average hands.
When it comes to left-handed use, the like its real steel equivalent, Tokyo Marui MAC 10 is a mixed bag,
The bolt handle, stock release, mag release and safety are all ambidextrous, while the safety and selector switches are located on opposite sides of the frame.
Maintenance
The Tokyo Marui MAC 10 is an AEP and so it is pretty low maintenance and pretty straightforward to own.
That said, stripping it can be a little more work than a standard AR or 1911 pistol, although it isn't all that complex in the grand scheme of things.
To do so, users need to pop the faceplate off, remove the front body pin, and unscrew a 1.5mm hex screw located in the center of the gun to remove a mid-body pin.
Once this is done, the top and bottom receivers of the gun come apart fairly easily, revealing the bolt handle and action on the top and the hop up, battery tray and mechbox on the bottom.
Users can then inspect their gun for damage, clean it and lube any parts as needed.
In terms of upgrades and replacement parts, the Tokyo Marui is an AEP based on their less common CMG micro-gearbox series.
As a result, there aren't quite as many replacement and upgrade parts for this gun as there typically are for most Tokyo Marui AEGs, particularly those using V2 gearboxes.
That said, due to the popularity of the Tokyo Marui MAC 10 (and the relative scarcity of other MAC-10s in the airsoft world), a number of companies have created replacement parts and upgrades for the model, including improved barrels and some impressive HPA kits.
As an AEP, however, there are some considerations that users need to take into account before diving head first into modding this gun.
The use of smaller and more delicate components, lack of cylinder volume and so on does mean that adding stronger motors and springs can be a bit trickier compared to a full AEG, for example.
Magazine type and capacity
The Tokyo Marui MAC 10 comes with a mixed metal/plastic, Ingram-style 65-round mid cap magazine.
The magazines are large and rather sturdy, being able to hold up to most abuse without an issue and feed pretty well and reliably.
For those who want a little more, there are 480-round hi-cap magazines available for the gun as well, and there are a few 3rd party manufacturers making spares for this model of gun, which can reduce ownership costs in the long run.
One thing users should consider, however, is the length of these magazines as they are quite long and can give users a hard time when it comes to fitting it into a standard pouch.
Price
Note: Prices correct as of writing, all prices in USD.
The Tokyo Marui MAC 10 tends to come in at around the $230-290 mark, which does put it on the higher end of AEPs and places it alongside other higher-end CQB models, such as the KWA MP9, the Tokyo Marui MP7, the X9 and so on.
With all that said, despite the demand, MAC-10s aren't exactly all that common in the airsoft world and the Tokyo Marui is a particularly well-made example of one, being very accurate, reliable, well-built and highly realistic. 
Or 
Or 
Tokyo Marui MAC 10 AEP Pros and Cons
Advantages
Highly compact, CQB-oriented design
When fully retracted, the Tokyo Marui MAC 10 is less than 12 inches long, making it a very small and easy to carry machine pistol/submachine gun, even when compared to other airsoft guns in its class.
The gun's highly compact dimensions, reliable electric power and smooth, simplified design make it ideal for maneuvering around walls and obstacles and make it extremely easy to throw into just about any loadout.
As such, it can be an ideal choice as a CQB airsoft gun.
Lightweight and easy to carry
In a similar vein, the Tokyo Marui MAC 10 is also quite easy to carry in general, weighing just about 3 lbs and maintaining most of that weight just above a user's grip.
Very realistic looking
Typically Tokyo Marui, the MAC 10 is an accurate replica of a real steel Ingram, matching the gun extremely closely in looks, external functions and overall dimensions.
Very well built
Tokyo Marui is known for its focus on quality control and the MAC 10 is no exception. Although made of ABS plastic, the gun is solidly put together, with no real looseness, rattling, creaking or squeaking when handled.
Even traditional trouble spots on other guns, such as the retracting wire stock, are properly installed and feel built to last.
Accurate at range
Despite its size, and the reputation of its real steel counterpart, the Tokyo Marui MAC 10 is pretty accurate at range, partly thanks to its well-designed hop up that offers decent and even spin.
Although the gun is probably best used in close quarters, it is capable of hitting targets well past 100 feet (30m).
Good battery efficiency
Although it is designed to run on an AEP 7.2v NiMH battery and is an automatic-capable machine pistol, the Tokyo Marui MAC 10 is no battery hog and can be used repeatedly across several days on a single charge.
Threaded barrel and included suppressor
Although the MAC 10 doesn't feature much in the way of rails, it does come with a standard 14mm CCW threaded barrel, which can accommodate a wide range of mock suppressors and tracer units.
In addition, it also comes with a period-correct two-stage Sionics suppressor that is quite impressively large and intimidating looking.
Very quiet
The Tokyo Marui MAC 10 is also quite quiet for an AEP.
Attach the included suppressor and what you sacrifice in terms of compactness is more than made up for with deadly stealth.
Disadvantages
Expensive
Although it is a great gun, the Tokyo Marui MAC 10 is somewhat pricey for an airsoft AEP, typically coming in at over $200, and can be a bit tougher to squeeze into an airsoft budget.
Not the most moddable
The Tokyo Marui MAC 10 uses a CMG micro-gearbox whose proprietary parts, unusual design and compact dimensions make it more difficult to mod compared to the typical TM-standard V2s and V3s out there..
ROF nothing to write home about
The Tokyo Marui MAC 10 is a select fire airsoft machine pistol with full automatic capabilities. It is a bit slower than some other rivals, however, getting around 10 RPS out of the box.
Bottom Line
The Ingram MAC 10 is something of a legend in the firearms community, a fixture in pop culture and a must-have for many airsoft collectors and COB-enthusiasts.
With its accurate looks, excellent build quality, consistent and accurate fire, highly-compact dimensions (when retracted, obviously), the Tokyo Marui MAC 10 is one of, if not the, best examples of the gun in airsoft today and can be a welcome addition to any collection or CQB loadout. 
Ted Clark– Hailing from Florida, Ted has been an avid airsoft enthusiast since he was in middle school. When he's not checking out and reviewing airsoft guns, he enjoys picking off his enemies one by one on the field as a sniper.