Durability and Build Quality

98%
| | |
| --- | --- |
| Pros | Cons |
| ✅ Solid, aluminum construction | ❌ Not the most cheapest airsoft gun |
| ✅ High ROF | ❌ Some proprietary parts in gearbox |
| ✅ Great accuracy | |
| ✅ Reinforced, rugged internals | |
| ✅ High quality hop up | |
| ✅ MOSFET, LiPo ready | |
| ✅ Quick change spring system | |
| ✅ Can mount tons of accessories to it | |
The Krytac Alpha series is Krytac's entry level, somewhat more affordably priced, range of airsoft guns.
Something of a younger brother to their rather esteemed flagship line, the Trident MK-II CRB, the Alpha CRB has built up something of a reputation of its own as a high quality, capable primary for those on a bit of a tighter budget.
To find out if the Alpha CRB is worth a spot in your collection, we decided to take a closer look.
Specifications
| | |
| --- | --- |
| Manufacturer | Krytac |
| Power | AEG |
| Action | Semi, Auto |
| FPS | ~ 340-350 FPS @ 0.20g BBs |
| Hop up | Adjustable |
| Inner barrel | 11 inch (280 mm) |
| Total Length | 31.3 inches (795.02 mm) |
| Weight | 5.2 lbs (2.4 Kg) empty |
| Construction | Aluminum alloy |
Although this review is focused on the carbine-style CRB, it should be noted that Krytac also produces a far more compact, CQB-optimized Alpha SDP, somewhat loosely modeled on the M4 Patriot, which is mostly similar to the CRB in terms of internal design and performance.
How closely does the Krytac Alpha CRB resemble a real steel M4?
| | | |
| --- | --- | --- |
| | Krytac Alpha CRB | M4 Carbine |
| Weight (empty) | 5.2 lbs (2.4 kg) | 6.36 lbs (2.88 KG) |
| Length | | |
| Stock extended | 31.3 in (795 mm) | 33 in (838.2mm) |
| Stock retracted | 28 in (711 mm) | 29.75 in (756 mm) |
| Ambidextrous safety | Yes | No |
| Ambidextrous mag release | No | No |
| Mag type | STANAG | STANAG |
| Construction | Aluminum alloy | Metal |
| Picatinny rail positions | Full length top, Alpha handguards | Top Rail |
Like its big brother, the Trident MK2 CRB, is something of a modern take on a M4 carbine design.
To be sure the gun's upper and lower receivers are molded to replicate the AR's classic billet receivers and the all-metal Alpha CRB is pretty similar in feel, size and weight to a real steel M4, being only about an inch shorter and a pound lighter, which is always a plus with an AEG.
In addition, the billet-style receiver sports true-to-life AR-style controls, which are all laid out where they should be and are all fully functional, including its bolt lock, charging handle and flip-down dust dover.
Beyond this, the gun does sport a more tactical look than a traditional AR carbine, with a full-length top rail, stippled pistol grip, Alpha handguard and thicker, streamlined crane stock.
The gun also has ambidextrous safeties, which is a departure from most stock M4 carbines out there, but is always a welcome feature.
In terms of official trademarks and markings, the Alpha doesn't really have any, being based on Krytac's own design.
It does, however, sport the company's Kraken logo fairly prominently on its magwell, which we always think is pretty cool.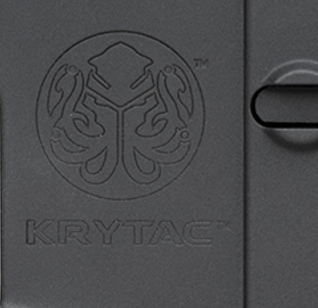 How Does The Krytac Alpha CRB Perform As An Airsoft AEG?
Build-quality and construction
Although the gun represents Krytac's entry-level airsoft line, there's certainly nothing basic or cheap about the way this gun is put together.
The Krytac Alpha is a full-metal airsoft gun with high quality aluminum alloy receivers, aluminum alloy controls and anodized T6 aluminum handguards (M-LOKS in CRB-M models) that make it rigid and durable enough to withstand a fair amount of airsofting abuse while still keeping its weight down to a more than reasonable sub-6 pounds.
As with other AR builds, the gun's grip and stock are made of plastic.
Unlike other entry-level builds, however, they are made from nylon-reinforced polymer, rather than cheaper and more brittle ABS, which is always a plus.
As with other Krytac we've seen, the Alpha CRB seemed very well put together when we handled it, with its frame pretty solidly fitted together.
Although it uses a lot of metal in its build, the Alpha didn't rattle or clatter and all its controls seemed properly installed and secured in the gun's receiver, snapping into place firmly and with an enjoyable click.
The Krytac Alpha CRB comes with a full length, military standard metal top rail, which allows users to attach their choice of airsoft or real steel optics, as well as a skeletonized 10" aluminum handguard of Krytac's own design.
Somewhat similar to an M-LOK or Keymod, users can attach floating picatinny rail sections to various areas of the handguard in a number of different positions (3, 6, 9 and 12, as well as offset).
This handguard not only gives the handguard a more comfortable and smoother grip than a quad rail (that also won't catch on clothing or gear in CQB), but also gives users a lot more choice when it comes to where they would like to mount their flashlights, lasers and other tactical accessories.
The only real downside, as with other modular handguards, is that it requires users to fiddle around with rail segments in order to attach things.
In addition to rail mounts, the Krytac Alpha CRB also comes with a 14 mm CCW threaded outer barrel, so users can attach their choice of suppressors or tracer units, something we always like to see in an airsoft carbine.
The Alpha's quality also extends to the gun's internals.
Much like the Trident, the Alpha CRB makes use of Krytac's Nautilus V2, a somewhat proprietary gearbox of the company's own design.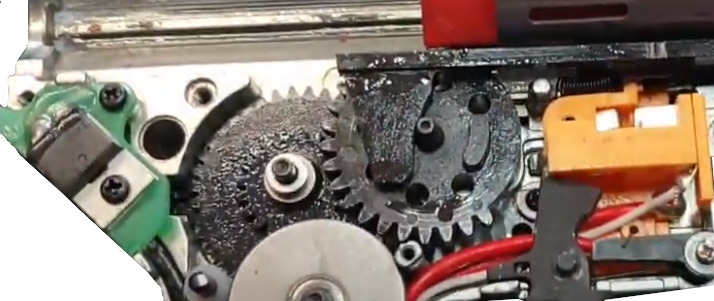 Inside the gearbox's reinforced metal shell, users will find 18:1 steel gears, 8mm bearings, a heavyish padded and ported polymer piston with several metal teeth (~¼ rack) and a 2nd tooth delete (increasing the angle of engagement) and a polymer cylinder and nozzle.
The Nautilus is a bit thinner in profile and more extensively reinforced than other V2s and, as a result, it does look a bit different and uses a few proprietary components, which those interested in potential future mods should be aware of.
In particular, the gun's gears are a bit narrower than usual (particularly the spur gear) and the gear shaft is, accordingly, a bit shorter.
Consequently, it can be a bit harder to swap parts out for upgrades.
Interestingly, and unlike most other stock entry level airsoft guns, the Krytac Alpha CRB's gearbox comes with a pre-installed MOSFET that, combined with the gun's increased angle of engagement and reinforcements, makes it LiPo ready.
The MOSFET is a 3034 and is of pretty good quality for a stock unit, being able to withstand higher current pretty well.
It isn't programmable, however, and is really there to protect the gun's trigger contacts from scorching over time.
Those looking to upgrade the gun with an ETU, such as with a GATE Aster, can certainly do so although the overall design of the Nautilus will mean doing a little bit of modding, such as by removing some of the trigger reinforcements.
The Nautilus also features a quick change spring system, which is accessible from the rear and lets users swap springs without having to crack the gearbox open.
While it still requires users to pop the gun open (and isn't accessible from the stock as can be done with Ronins and some premium Specnas), it is certainly easier and faster to do than having to open up the gearbox.
The Alpha's Nautilus gearbox is powered by a fairly impressive long type 20K 25 TPA motor.
Although not quite the 30K motor that the Trident comes equipped with, it is well-balanced overall and offers a considerable amount of torque, especially for an entry-level gun.
Although it uses ferrite magnets, rather than neodymium, in general it is quite a bit more responsive and capable than most stock motors we've seen.
The Krytac Alpha CRB comes, as might be expected, with an adjustable hop up unit.
It is a pretty decent rotary hop up unit with 15 positions (marked by nice, big numbers) that click nicely into place and, more importantly, stays in place, which running and gunning players will certainly appreciate.
Inside, the hop up uses a fanged bucking that grips passing BBs quite well and offers fairly capable spin out of the box, handling 0.25s and up without much of a problem.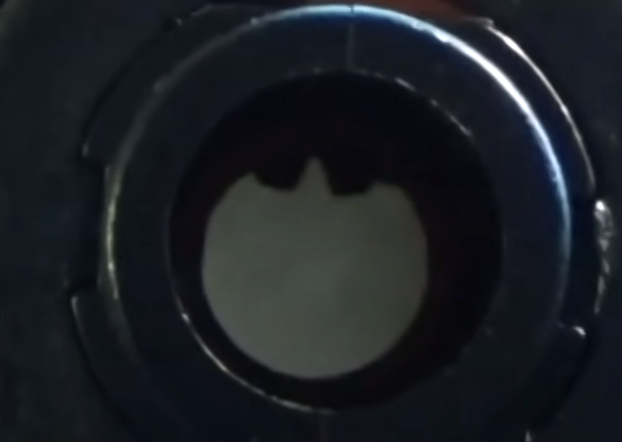 Connected to the hop up, Krytac has fitted the Alpha CRB with a tighter bore 6.05mm brass barrel (about 280mm long) that's actually extremely smooth and finished.
Finally, the Krytac Alpha CRB sports a nice, comfortable stock with an easy-to-grip, textured adjustment lever, ambidextrous sling and a thick, comfortable buttplate.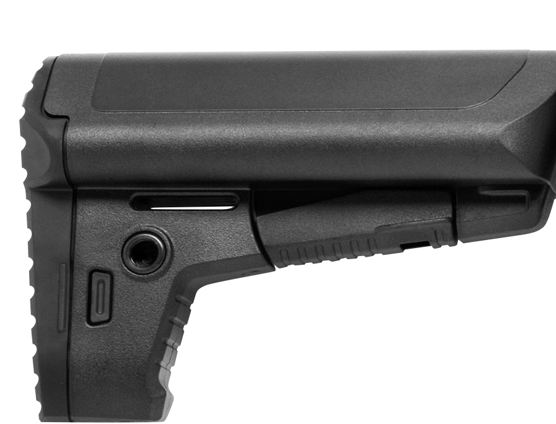 A rear-wired airsoft carbine, the gun's battery compartment is located in the stock but, thanks to a thicker design, there is quite a bit of room inside to fit most batteries.
Performance and Accuracy
Out of the box, we found the Krytac Alpha to be a solid performing and capable airsoft carbine.
In terms of power, using 0.20g BBs we saw the gun chrono in at around 340 or so FPS stock.
Although not quite as powerful as its bigger brother, the Alpha is still a good all around-er and it should be able to be used in just about every airsoft field out there, regardless of any FPS-limits.
Those interested in getting this gun across the 400 FPS line, however, can always use the quick change spring system to swap out the M90 for a M110 or M120 spring, which the gun should be able to handle due to its torquey motor, reinforced internals and durable metal/ball bearing spring guide.
Throw in a more powerful battery and set the gun to auto, and the magic really starts to happen.
With an 11.1V battery we saw the gun deliver a blazing 21-22 RPS, putting it considerably ahead of more common entry level airsoft carbines, such as the Raider, in terms of ROF, and up there with more premium and impressively quick VFC Saber Carbine.
In addition, in terms of accuracy, the gun is pretty laser-like thanks to its high quality barrel and grippy hop up unit.
Once tuned, we saw the gun group quite well at around 100 feet (30m) and was able to consistently hit targets past 150 feet or so (45m) without a sweat.
While the gun is certainly no sniper rifle, it is quite impressive for a company's entry level option.
Handling
All things considered, the Krytac Alpha CRB is a comfortable gun to carry and handle.
Its aluminum receivers and handguard give the gun a very solid and realistic feel in-hand, and yet it remains a little lighter than a typical airsoft M4 carbine, at just over 5 lbs, and (with its 10 inch barrel) is fairly compact, which makes it easy to carry and navigate around obstacles with in close quarters.
Its smooth, skeletonized handguards are also quite comfortable to hold, particularly compared to a traditional quad rail, and are easy to wrap your hands around, whether you use a traditional or C-Clamp grip in your games.
The Alpha comes with a fairly standard M4-style pistol grip.
It has some pretty nice texturing along the sides and some channels running along the front and back, which can help when handling the gun in wet conditions or when wearing gloves.
Finally, the Alpha CRB is fairly left-hand friendly.
It sports ambidextrous sling loops as well as dual fire selectors that make it quite capable regardless of your preferred hand or if firing offhand.
Maintenance and Upgrades
The Krytac Alpha CRB is based on an airsoft AR platform and so is quite simple to take down and perform maintenance on.
Lock the bolt, pop the body pins, slide the upper receiver off the lower and you suddenly have access to the gun's internals.
When it comes to upgrades, the Krytac Alpha is, much like the Trident, really a great out of the box performer.
As something of a trade off, because its reinforced gearbox is a little narrower and uses some proprietary parts, it can be a bit harder to swap parts into it compared to a TM-standard M4.
To be sure there are parts available for upgrade if you look for them, such as stronger springs, tighter bore barrels, cylinders, motors and more.
There can also be a fair amount of documentation and support found online, but in general it can be a little more work to get non-Krytac parts installed and fitted correctly than with a typical M4 clone.
Magazine type and capacity
The Krytac Alpha CRB usually comes with a 150 round metal STANAG style magazine, which fits quite well and feeds quite reliably.
As the gun is fully compatible with other AR-style mags, it can also be fitted with any number of hi-caps, mid-caps, low-caps, specialty mags, drums and more from a wide range of manufacturers.
This provides users with an excellent range of options to choose from and can allow them to fit more budget-friendly mags into the gun, which can help keep costs down in the long run.
Price
Note: All prices current as of writing. All prices in USD.
Although it depends on where you pick it up from, for the most part the Krytac Alpha CRB comes in at around the $300-350 range.
This does make it somewhat pricey for an entry-level airsoft gun, but does make it far more affordable than the Trident series, as well as similarly performing Avalons and Ronins, and about the same price as an EMG Umbrella Corporation M4
And, to be fair, the Krytac is only considered entry level for this class of gun (and in relation to Krytac's more premium models), as it is a far better put together and performing airsoft carbine than most beginner's M4s.
It is, after all, all-metal, reliable, well-built, LiPo-ready, shoots fast, shoots accurately, has good mag compatibility and can be made to hit harder than most other entry-level models out there.
Or
Krytac Alpha CRB AEG Pros and Cons
Advantages
Durable, high quality aluminum build
The Krytac Alpha CRB is an all-metal build that uses high quality aluminum alloy receivers and an aircraft-quality aluminum handguard.
As a result, it should be able to withstand the day to day knocks, bangs and even light drops that airsofters will probably put it through.
High ROF
Throw in an 11.1V LiPo and the Krytac Alpha can really rock.
Capable of delivering over 20 RPS, it is a lot speedier and more intimidating than many other airsoft carbines out there.
Very accurate
Thanks to its well-finished barrel and capable internals, the Krytac Alpha can easily and fairly reliably hit targets past 150 feet or so, which makes it a great primary option for outdoor games and larger fields.
Reinforced and solid internals
The Alpha CRB uses the same Nautilus gearbox found on Krytac's more premium airsoft rifles.
With hardened metal gears, 8mm bearings, durable piston, padded cylinder, MOSFET and more, it's clear the company put a lot of thought into its thinner design and it should help keep the gun up and spitting BBs for quite some time.
High quality hop up
Krytac has fitted the Alpha CRB with a pretty well-designed rotary hop up unit that sports an easy to read face, sturdy adjustment and a super grippy bucking that can provide ample spin to even middle and higher weight BBs.
Lots of for accessories can be fitted to it
The Krytac Alpha CRB offers users quite a few places to mount accessories, including an expansive top rail, a very modular M-LOK style handguard and a 14mm CCW threaded barrel.
Consequently, there is very little that users won't be able to mount to this gun.
LiPo Ready
With its metal toothed/high angle of engagement cylinder and MOSFET, the Krytac Alpha comes LiPo ready and can be fitted with a 11.1V battery out of the box for maximum performance.
Quick change spring system
The Krytac Alpha CRB also comes with a quick change spring system that allows users to swap out its stock spring for something more powerful without having to bother opening up the gearbox and messing around.
Disadvantages
Pricey
At over $300, although less expensive than some of Krytac's other offerings, the Alpha isn't exactly what we could call a cheap airsoft rifle and can put a dent in your budget.
Uses proprietary parts
Krytac's Nautilus gearbox certainly performs well and reliably out of the box, but its thinner profile means that it uses some proprietary components and designs that can make it a little harder to modify.
Non-programmable MOSFET
While it does come with a pretty good quality MOSFET that will protect the gun when using LiPos, the stock unit included in the Alpha's gearbox isn't programmable and will need to be swapped with an ETU if a user wants some more advanced options, such as burst mode.
Bottom Line
Although the Alpha CRB represents Krytac's entry level M4 line, there is nothing basic about this gun.
Although not quite to the level of the more premium Trident, it is a well-made and very durable airsoft carbine that provides highly capable out of the box performance on the field and can be a great gun for those who are starting to get serious about airsoft.
Ted Clark– Hailing from Florida, Ted has been an avid airsoft enthusiast since he was in middle school. When he's not checking out and reviewing airsoft guns, he enjoys picking off his enemies one by one on the field as a sniper.