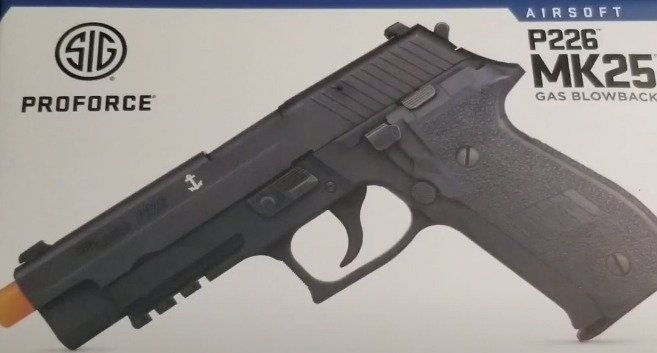 Durability and Build Quality

94%
| | |
| --- | --- |
| ✅ Affordable | ❌ Not all that ambidextrous |
| ✅ Officially licensed | ❌ Mags are proprietary |
| ✅ Good all around power and performance | |
| ✅ Very comfortable to hold and use | |
| ✅ Good accuracy at range | |
| ✅ Well-built, durable | |
| ✅ Good blowback action | |
| ✅ Compact, CQB-ready | |
Known for its extensive use by the Navy SEALs, the Sig Sauer P226 MK25 is a durable and reliable pistol that's become extremely popular among firearms enthusiasts.
It's perhaps no surprise that it has garnered a good deal of attention in the airsoft world, as well.
The Sig Sauer Proforce P226 Mk25 is an affordably priced and officially licensed airsoft GBB replica of this famous pistol, allowing users to bring the Mk25's look, capabilities and style to the airsoft field without breaking the bank.
To find out if this gun lives up to its real steel legacy, and to find out if it's worth your time and money, we decided to take a look at it for ourselves.
Specifications
| | |
| --- | --- |
| Manufacturer | Sig Sauer Proforce/VFC |
| Power | Green Gas |
| Action | Semi Auto |
| FPS | ~ 320 FPS @ 0.20g BBs |
| Hop up | Adjustable |
| Inner barrel | 3.82 inch (97 mm) |
| Total Length | 7.7 inches (196 mm) |
| Weight | 1.76 lbs (800 g) empty |
| Construction | Metal |
| Rounds | 18 |
How Well Does A Sig Sauer Airsoft P226 Mk25 Resemble A Real Steel Firearm?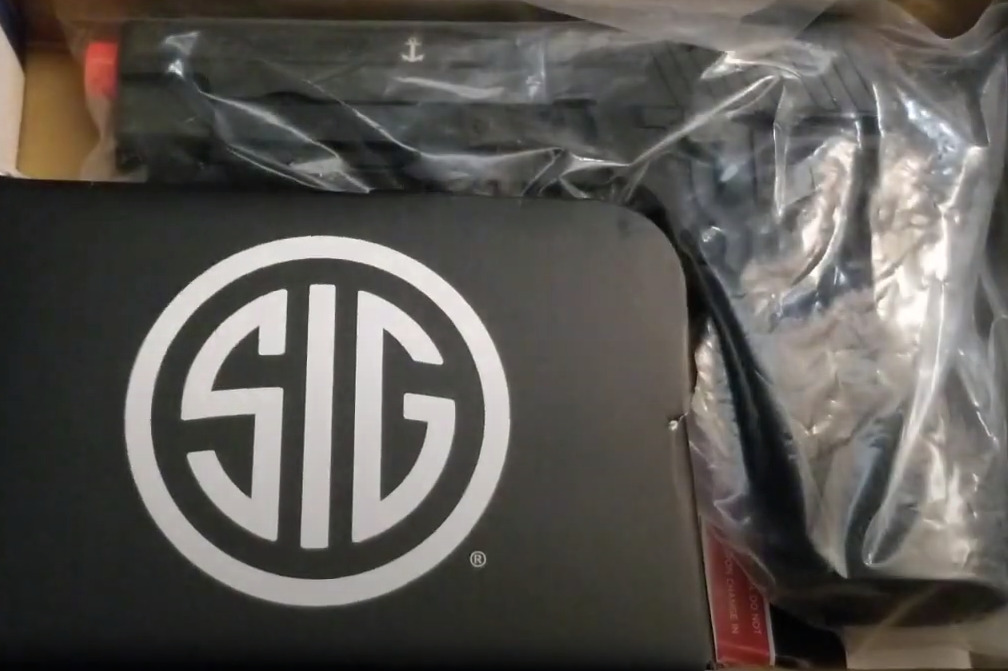 | | | |
| --- | --- | --- |
| | Sig Sauer SigAIR P226 Mk25 | SIG P226 Mk25 |
| Overall length | 7.7 inches (196 mm) | 7.7 in (196 mm) |
| Barrel Length | 4.4 inches (113 mm) | 4.4 inches (113 mm) |
| Weight | 1.76 lbs (0.875 KG) | 2.12 lbs (0.964 KG) |
| Action | Semi automatic | Semi automatic |
| Caliber | 6mm | 9mm |
| Capacity | 25 | 15 rd |
| Construction | Aluminum alloy slide and frame | Steel slide, frame, polymer grips |
| Sights | Fixed | Fixed |
| Rail | 6 O' Clock | 6 O' Clock |
Produced by Sig Sauer's SigAIR airsoft division, the Sig Sauer Proforce P226 Mk25 airsoft pistol is an officially licensed 1:1 take on a real steel Mk25 and, as might be expected, it is an extremely accurate replica.
Unlike other replicas of the famous P226 that are out there, there are few if any noticeable external differences between the airsoft Sig Sauer P226 Mk25 and its ballistic counterpart, with the airsoft version matching its inspiration pretty closely in terms of overall length and design.
To be sure, the airsoft version is a little lighter and is made of alloy, rather than steel, but otherwise looks and feels much like the real thing and includes many important details such as a heavily stippled grip, curved back, white dot sights, rail, trigger and more. 
Sig has even made sure to accurately recreate the cluster controls that the P226 is known for, including a functional decocker and slide stop.

More than that, as it is an official replica, the Sig Sauer Proforce P226 (unlike many other options out there) comes with all the official trademarks and markings that one might expect of a real steel Mk25, which is certainly good news for collectors and milsim enthusiasts. 

The gun, for example, has the company and model name stamped on it, and sports a cool white anchor that has been laser etched onto the slide.
How Does A Sig Sauer P226 Mk25 Perform As An Airsoft Pistol?
Build-quality and Construction
The Sig Sauer Proforce P226 Mk25 airsoft pistol is an all metal affair, with its frame, slide, sights and various controls being made of a fairly sturdy aluminum alloy and, really, only its grips being made of polymer materials.
As a result, the gun is pretty durable, far more so than many of the popular plastic P226 replicas out there, and should be able to stand up to most of the usual nicks and bangs that a typical airsoft game will throw at it without any major issue.
Just as importantly, Sig seems to have made sure that the fit and finish for this airsoft pistol is up to standard, with the Mk25 and its controls showing no real wobbling, clattering or looseness when we handled it and the gun's components generally feeling tightly and solidly put together.
Accessory-wise, the Sig P226 Mk25 comes with a short picatinny rail at the 6' O Clock, meaning it can be fairly easily fitted with flashlights, lasers and other fun tactical items.
Unfortunately, the gun doesn't come out of the box with a threaded outer barrel, meaning that those interested in adding a mock suppressor or a tracer unit will need to do some modification, find an adaptor or replace the outer barrel.
It does, however, come with pretty decent iron sights. 
They sit fairly low on the gun (much like a real steel P226), which makes it easy to draw the gun quickly in tight quarters without snagging on clothing or gear.
They also have nice, bright white dot markings on them, which tends to make them easier to use in low light conditions or when drawing a bead on a low contrast target (an opponent in dark clothes against a dark background, for example).
The sights are fixed, however, and molded to the gun, so they can't really be adjusted or swapped out all that easily.
Internally, the Sig Sauer P226 Mk25 is pretty well built.

The gun comes with a 97mm long 6.08mm wide brass inner barrel fitted to a pretty solid metal rotary-style hop up and the slide does have a good deal of metal reinforcement, which is always nice to see.
By and large, the gun has quite a few TM compatible parts, such as its hop up unit, bucking and valve system, which does make repairing and upgrading the gun a bit easier and cost effective.
Performance and Accuracy
For the most part the Sig Sauer Proforce P226 Mk25 airsoft pistol is a solid all around performer.
On green gas and with 0.20g BBs, we saw the gun chrono at around 320 FPS, which puts it just in the sweet spot that allows for capable outdoor use while still coming in well under just about any indoor/CQB FPS limits.
The gun is a single/double action pistol, and its trigger feel does reflect this.
Once cocked, the gun can be used in single action mode and, as might be expected from a Sig, its trigger is pretty responsive with an even and crisp break and reset.
On double action, the gun's trigger is a bit heavier and a bit mushier, which is actually a safety feature designed to help prevent accidental discharges as the gun (like the real steel P226 and other guns in the range) does not come with an external safety – in order to fire the gun on double action you do have to put in a bit more effort.
That said, the blowback action on the gun is pretty decent, thanks to its solid metal slide.
While perhaps not the fastest cycling slide out there, the gun does give a solid and somewhat realistic feeling kick with each shot, which we definitely appreciate.
In terms of range, while the gun is certainly intended to be used in more close engagements as a sidearm, it certainly is quite capable.
At around 50 feet (15m), the natural home for any airsoft pistol, we found the gun to be quite capable of delivering some tight groupings, and past the 100 foot mark (30m) the gun was certainly capable of hitting man-sized targets fairly reliably.
Some users do claim that, with the gun dialed in and with a bit of effort, they were able to hit man-sized targets to about 200 feet (60m) with this gun.
While we can't really testify to that as we didn't take the gun out to ranges of that distance, it does seem at least possible as the gun seems quite capable at hitting targets at a fair range.
In terms of gas efficiency, the P226 is a decent enough gas blowback airsoft pistol, getting around 1.5-2 mags per fill.
Handling and Feel
The Sig Sauer Proforce P226 Mk25 airsoft pistol is, like its real steel inspiration, quite comfortable to use.
The gun is pretty compact for a full-size pistol, being shorter and easier to handle in close quarters compared to a typical M9 or 1911 clone.
It's also quite a solid feeling airsoft pistol.
At just under 2 lbs and with an aluminum alloy construction, the gun isn't too heavy but seems very realistic in-hand and avoids having a toy-like feel – a common problem with lighter, plastic P226 replicas.
More than that, thanks to its curved grip and good overhang, the gun fits quite comfortably into most hands and can even be easily handled by users with smaller grip sizes.
This is especially true given that the Sig P226 airsoft pistol keeps the many controls present on a real steel Mk25, such as its decocker, takedown lever and more, near the grip, meaning you don't have to break your hold on the gun as much when firing the gun.
At the same time, the gun's stippled grip and deep serrations make it quite easy to hold and use when the gun is wet or if a user is wearing gloves, which is always nice.
There are a couple unusual things users should note about this gun's handling characteristics that are taken from the real steel firearm.
The first is that the gun does not come with a physical safety, relying (as we mentioned) more on its double action and heavier trigger pull to prevent an accidental discharge.
As a result, users might want to use a bit more care when handling this replica than they might other airsoft pistols.
The second relates to the gun's functional decocker.
Just like with a real steel P226, the gun will only partially decock when this lever is depressed, meaning the hammer will only drop about halfway.
This is designed to prevent the hammer from connecting with the valve knocker when decocking (resulting in a discharge), but might be something of a surprise to a new owner.
Finally, as with other P226 Mk25s and the real steel version, the Sig Sauer Proforce P226 Mk25 is mostly designed for right-handed use, with its controls located on the left hand side of the gun.
Maintenance and Upgrades
Takedown and maintenance on the Sig P226 Mk25 is pretty easy to do.
The gun comes with a large and prominent takedown lever that, once flipped, allows the slide to pop free from the frame.
Once this is done, users can then check the gun's internals for damage or wear and lube as needed.
That said, a full teardown of the gun can be a bit tricky, as might be expected of a gun with so many levers and controls on it.
In terms of repairs, the gun does have a lot of TM compatible parts, including its valve, hop up unit and bucking, which is always helpful and consequently it can take some 3rd party parts as well as OEM, which should help keep costs down.
Magazine type and Capacity
The Sig Sauer Proforce P226 Mk25 comes with a metal 18 round single stack green gas magazine.
The magazine is pretty sturdy, feeds pretty well and reliably and, interestingly enough, is designed to drop free, which it does pretty smoothly and which is good news for those who like to keep things as tactical as possible when running and gunning.
We would, of course, recommend that users only do so on soft ground where the mags are unlikely to get damaged as new ones aren't exactly the cheapest out there to buy.
The mags are also proprietary to the gun, which is a bit of a bummer.
Price
Note: All prices correct as of writing, all prices in USD.
In general, the Sig Sauer Proforce P226 Mk25 can be picked up for around $140, which considering its good build quality, performance, accuray of design and the fact that it is an officially licensed, well-known airsoft gun makes it pretty good value for money.
At this price range, the gun is cheaper than the ever-popular TM Hi Capas and Glock 17s, and is only a little more expensive than the also-popular WE F226 Mk25, which is kind of interesting. 
Advantages of the SIG Sauer P226 Mk25 Airsoft Pistol
Affordable
At around $140, the Sig Sauer Proforce P226 Mk25 is a pretty good deal.
The gun is all metal, performs quite well, looks very cool and has a good number of official Sig Sauer trades and markings on it.
Compact and easy to handle
At under 8 inches long, the Sig Sauer Proforce P226 Mk25 is pretty easy to draw and maneuver around with, particularly in tight quarters or in CQB games.
At the same time, its weight and construction keep it feeling very much like a real firearm.
Solid power and performance
Chronoing in at around 320 FPS on green gas, the Sig P225 Mk25 offers decent all around power that should allow it to be used outdoors, indoors and in CQB games without issue.
Well-built and durable
The Sig Sauer P226 Mk25 airsoft pistol has been put together quite well.
The gun is all metal and its parts have been fitted together quite nicely and properly, with very little wobble or looseness that we could notice out of the box.
Comfortable to hold and use
Much like its real steel inspiration, the P226 Mk25 airsoft pistol is quite comfortable to use, with rounded grips, deep cut serrations, close-in controls and lots of effective stippling to keep things under control when wet.
Very accurate at range
Although it will probably be used, like most airsoft pistols, at close range, the Sig Sauer P226 Mk25 airsoft pistol offers pretty good accuracy at range and can easily be used to take out targets in a pinch past 100 feet or more.
Good blowback action
Finally, the Sig Sauer P226 Mk25 airsoft pistol also offers a solid kick when fired, which can make it a lot more fun, realistic and enjoyable to use compared to others.
Disadvantages
Not all that ambidextrous
As with other P226 replicas, the Sig Sauer Proforce P226 Mk25's controls are located on the left side of the slide, making it largely configured for right hand use.
Proprietary Magazine
The Sig Sauer P226 Mk25's magazine, while of good quality, is proprietary and the gun can't easily use those from other manufacturers, which can raise its running costs a bit.
Bottom Line
Affordable priced, well-built and with good performance and accuracy, if you're looking for a cool, officially licensed P226 replica for your next game, the Sig Sauer Proforce P226 Mk25 should be at the top of your list.
Ted Clark– Hailing from Florida, Ted has been an avid airsoft enthusiast since he was in middle school. When he's not checking out and reviewing airsoft guns, he enjoys picking off his enemies one by one on the field as a sniper.