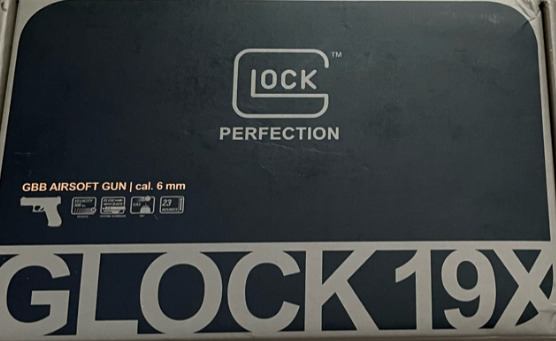 Durability and Build Quality

95%
| | |
| --- | --- |
| Pros | Cons |
| ✅ Lightweight and durable | ❌ Barrel not threaded |
| ✅ Good all-around power | ❌Sights are fixed |
| ✅ Officially licensed with tons of Glock trades | ❌ Mags not the very cross-compatible with other brands |
| ✅ Easy to hold, easy to use | |
| ✅ Hop up is easy to adjust in-game | |
| ✅ Excellent blowback action | |
| ✅ Pretty decent gas efficiency | |
| ✅ Fully ambidextrous | |
| ✅ Tons of upgrades and aftermarket parts | |
The Glock 19x Crossover is a popular Glock pistol that is blend of the full size Glock 17 and the more compact and easy to handle 19, combining the best features from both guns.
Dependable, relatively compact and very versatile, the Glock 19X has found its place in the Glock line up, becoming something of a best seller and even earning grudging respect from so-called Glock haters.
The Umarex Glock 19X is an officially licensed replica of the G19X that, too, has found a receptive fanbase in the world of airsoft, earning a strong reputation for reliability and overall build quality and has become a very popular sidearm alongside its big brother, the Umarex Glock 17 Gen 5.
To find out if Umarex's G19X lives up to its reputation, and to help you decide if its worth a spot in your collection (or in your loadout), we decided to do a deeper dive into this airsoft green gas Glock.
Specifications
| | |
| --- | --- |
| Manufacturer | VFC |
| Power | Green Gas |
| Action | Semi Auto, Gas Blowback |
| FPS | ~ 340-350 FPS @ 0.20g BBs |
| Hop up | Adjustable |
| Inner barrel | 3.35 inch (85 mm) |
| Total Length | 7.5 inches (190 mm) |
| Weight | 1.45 lbs (660g) empty |
| Construction | Metal slide with nylon-reinforced polymer frame |
| Rounds | 22 |
How closely does the Umarex Glock 17 Gen 5 resemble the real thing?
| | | |
| --- | --- | --- |
| | Umarex G19X | Glock 19x |
| Weight | 1.45 lbs (660g) empty | 1.55 lb (704 g) empty |
| Overall length | 7.5 in (109mm) | 7.44 in (202 mm) |
| Action | Semi automatic | Semi automatic |
| Caliber | 6mm | 9mm |
| Capacity | 22 | 17-33 rd |
| Construction | Metal slide, nylon-reinforced polymer frame | Steel barrel, slide and spring; reinforced polymer frame |
| Sights | Fixed | Fixed |
| Rail | 6 O' Clock | 6 O' Clock |
The Umarex Glock 19X is a close replica of a real steel Glock 19X.
In terms of overall length, weight and dimensions, Umarex has done an excellent job replicating the 19X and, for an airsoft gun, it is pretty much identical to the real steel version, down to the two tone Coyote Tan finish.
In addition, all of the buttons and levers on the Umarex are where they should be and are fully functional, and the Umarex's Gen 5 Glock frame manages to replicate all the small details of the real steel G19X, including its slightly tapered front end, flared magazine well and ambidextrous controls.
Unusually for an airsoft gun, the Umarex 19X even manages to somewhat replicate the overall construction of a Glock.
Its nylon-reinforced polymer frame and metal slide are similar to the Polymer 2 frame and steel barrel and slide of a real steel model, adding a welcome extra touch of realism to the gun.
Finally, those who love airsoft trademarks will be pleased to know that, as with many of the other Umarex Glocks, the 19X is an officially licensed airsoft replica.

As a result, the pistol features prominent Glock trademarks in a variety of locations around the gun, including the front of the slide, behind the ejection port and on both sides of the grips.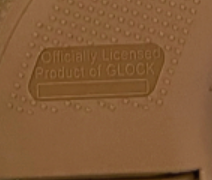 There are, amusingly enough, even Glock trades on the tops of the gun's sights if you look closely, presumably in case there is any remaining doubt in the minds of your opponents that you are indeed carrying a Glock airsoft pistol.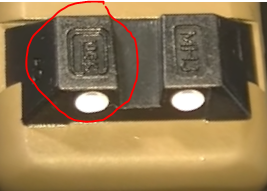 How Well Does the Umarex Glock 19X Perform as an Airsoft Gas Pistol?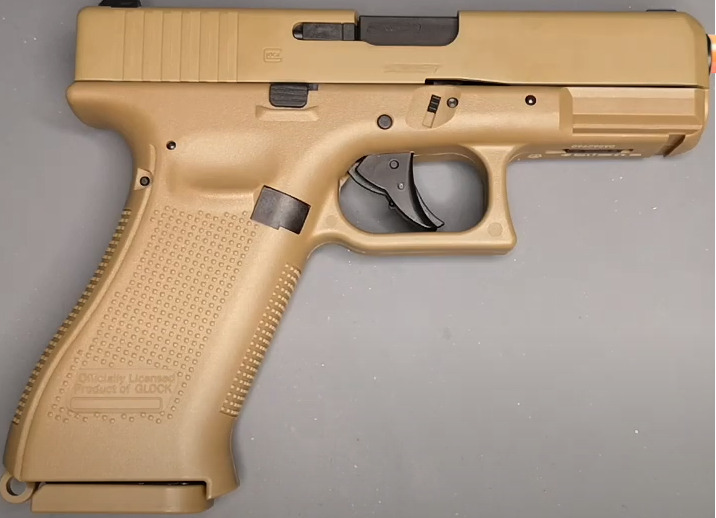 Build-quality and construction
Designwise, the Umarex Glock 19X is, like its real inspiration, designed to be something of a blend of the venerable Umarex Glock 17 Gen 5 and their Glock 19 Gen 5 replica.
The gun has an Umarex Glock 19-size slide and barrel and fits them to a slightly shortened G17 Gen 5 frame, giving it the same overall height (and mag capacity) as a G17 but coming in at about a half-inch shorter.
In terms of build, the Umarex Glock 19X's frame is made of nylon-reinforced polymer material, while its slide is made of a pretty high quality aluminum alloy.
This construction makes the G19X a pretty sturdy and durable airsoft pistol that feels quite solid in hand, especially compared to all plastic or even cheaper metal guns.
The gun's slide and frame come in slightly different shades of Coyote Tan.
While this look is somewhat controversial in the airsoft community, it is fairly true to the real steel G19X and we at least feel it looks pretty cool and gives the gun a nice, sandy two tone effect that will let it stand out in a bit more in a sea of matte black 1911s and M9s.
When handled, we found that the Umarex Glock 19X was pretty well put together, with no bending, squeaking, looseness or rattling to speak of, and all its external components seemed pretty tightly installed.
The Umarex Glock 19X comes with a rail located at the 6 o' clock (undermount), which allows the gun to readily accept a variety of tactical accessories, such as flashlights, lasers and more.
The outer barrel, sadly, is not threaded and therefore will require a swap if you want to attach a mock suppressor or tracer unit to the gun.
The Umarex Glock 19X comes with standard 3 dot Glock sights.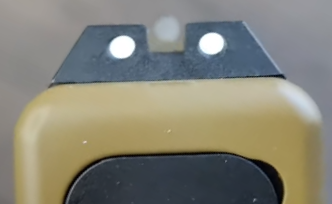 These sit fairly low on the gun's slide, which can help prevent it from snagging on clothing or equipment in a game, and the white dot markings help make them easier to see on low-contrast targets or in lower light.
That said, they can be a bit tough to see in the dark and fans of night or twilight games might want to eventually switch them to tritium or fiber optics.
The sights are also fixed, which is a drawback for those taking aim at longer range targets outdoors. Past about 75 feet (22 meters) or so, users will have to go with their gut and experience, correcting for elevation manually (i.e. raising the gun and increasing the spin).
As with other models in the Umarex Gen 5 Glock range, the interior of the 19X is pretty well designed and rugged.

The slide is reinforced with extra metal and the gun includes a fairly heavy duty recoil spring assembly that is designed to absorb the gun's blowback force and better protect its internal parts from wear and tear.

Being a Gen 5 Umarex Glock, the 19X also includes an adjustable hop up located at the front of the gun, just under the mouth of the barrel.
The hop up can be adjusted from the outside using a small (and included) allen key, which makes making on-the-fly adjustments to spin a lot easier than having to strip the gun and access the hop up from underneath the slide, as is done with previous versions of Umarex Glocks, as well as many 1911s and M9s on the market.
Performance and accuracy
The Umarex Glock 19X comes in both a green gas and CO2 model, for this review we tested the green gas version.
As a green gas airsoft pistol, while the G19X isn't exactly an FPS monster, it does deliver a fair amount of performance that allows it to be more usable in a wider variety of airsoft games and events.
We saw the Umarex Glock 19X hit around 340 FPS or so using 0.20g BBs, meaning that it should slide under most CQB and indoor FPS limits but still provide enough power so as not to sacrifice outdoor playability and enjoyment.
The gun is also pretty accurate, especially for its size, getting nice and tight groupings below 60 feet (18m) and being able to hit targets reasonably well to around 100 feet (30m).
This accuracy at range is at least partly attributable to the gun's hop up unit, which tends to provide excellent spin right out of the box.
The gun's accuracy at longer range is somewhat hampered, however, by the gun's fixed sights and, while those with more experience can get around this to some degree, we'd say that the gun is really most suitable as a sidearm or in close quarters.
The Umarex Glock 19X green gas model is also a lot of fun to shoot, offering users a pretty decent blowback action.
Its slide action is smooth and provides a satisfying metallic sound when the gun is fired that can actually be pretty loud for an airsoft pistol.
Similarly, the gun's trigger, despite having a built-in Glock-style safety, is actually pretty light and snappy, providing a decently crisp break when pulled.
Finally, the Umarex Glock 19X is fairly gas efficient, getting about 3-4 mags per fill, and so shouldn't be too much of a drain on the budget to use regularly.
Handling and feel
Quite similar to the venerable Umarex G17 Gen 5, but with a slightly more compact design, the Umarex Glock 19X is a surprisingly comfortable and easy to use airsoft pistol.
At around 7.5 inches long (190mm) the G19X is about a half inch shorter than the 17 (and about 0.7 inches longer than the 19) and significantly more compact than other popular airsoft side arm options, such as the Elite Force 1911 TAC or the KJW M9.
As a result, it can be a lot easier to carry around in game and store away as a sidearm.
Yet, despite its more compact dimensions, the Umarex Glock 19X still has enough heft to it to feel pretty realistic.
At just under 1.5 lbs (660g), the G19X feels very much like a real steel Glock and manages to avoid feeling like a toy, a common problem with more compact airsoft pistols.
As with similar Gen 5 Glocks, the Umarex Glock 19X comes with rear serrations on the slide that can make it a little easier when racking the slide.
Unfortunately, they can be a bit shallow compared to some other airsoft pistols and some users may find it a bit hard to get proper purchase when wearing gloves.
The G19X's grips are nicely textured all around, allowing users to get a nice, solid grip on them in all weather conditions.
Like other generation 5 Umarex Glocks, the grip is straight, rather than including the finger grooves that earlier generations had, which tended to be hard for users with smaller or larger hands to get a comfortable grip on.
Finally, the Umarex Glock 19X is a fully ambidextrous airsoft pistol, which is good news for lefties.
The safety is located on the trigger, the gun has twin slide stops on each side, abd the magazine release button, although located on the left side out of the box, is reversible.
Maintenance
The Umarex Glock 19X breaks down like a real steel Glock firearm.
There are two takedown latches located on either side of the frame.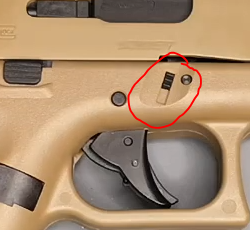 Pressing them down allows the slide to separate from the frame with a gentle push forwards, revealing the recoil spring assembly and the rest of the gun's internals.
Once the gun is stripped, users can easily check for any damage, do some cleaning and lube the hammer, trigger, rails and more.
When it comes to replacement parts and repairs, it is important to note that the Umarex Glock 19X (like the other Glocks in Umarex's line) is not TM spec.
While this means it doesn't enjoy as wide a range of parts and upgrades as TM-style Glocks, such as the WEs, Umarex Glocks are still extremely popular in the airsoft world and replacement triggers, barrels, slides, frames and more are pretty widely available for the 19X.
Magazine type and capacity
The Umarex Glock 19X comes with a metal 22-round VFC Glock-style mag that's pretty sturdy and is designed to fit its flared magazine well pretty snugly.
There are also a variety of magazines available for the G19X, such as expanded 50 round mags, which gives users a little more choice.
The Umarex Glock 19X is compatible with some other gen 5 Umarex Glock models, such as the 17, although users will have to deal with the black/tan color combination.
Magazines for the Umarex Glock range can be pretty expensive, however, and tend to sell out quickly.
Unfortunately, because the magazine's design is somewhat proprietary and not TM spec, the gun isn't compatible with magazines from other Glock 19X brands, which would otherwise make it easier to find spares and reduce the overall running cost.
Accessories & Customizability
While the Umarex Glock 19X isn't TM spec and does use some proprietary parts, it is quite a popular airsoft pistol and, as a result, there are quite a few aftermarket upgrades and accessories out there for it.
Those who are interested in modifying their 19X can find any number of aftermarket sights, upgraded and threaded barrels, hammers, hop ups, buckings, valves and much, much more.
Price
Note: All prices correct as of writing, all prices in USD.
The Umarex Glock 19x comes in at around $180 or so, depending on the retailer, or around the same price point as other Gen 5 Umarex Glocks, such as the 17, 18 and standard 19.
This means that the Umarex G19X is a bit more of a premium airsoft pistol pricewise compared to guns such as the KJW M9 or the AAP 01, but somewhat on par with many Tokyo Maruis (such as the MK23) or the ASG CZ P-09.
All told, however, the Umarex Glock 19X is a very reliable, well-made, decently powerful, durable and accurate airsoft pistol with fairly compact dimensions and, unlike the above guns, it is an officially licensed and very realistic airsoft Glock.
As a result, we still think it can provide excellent value for money as an airsoft sidearm.
Or
Or
Advantages of the Umarex Glock 19X GBB Pistol
Fairly compact sidearm choice
The Umarex Glock 19X is a little shorter than the well-known 17 Gen 5, and considerably more compact than most 1911s and M9s put there, making it ideal for close quarter games.
Yet, despite its shortened length, it can still easily fit standard capacity VFC Glock mags, making it capable of delivering the same amount of fire in game.
Lightweight but solid
Although its plastic frame keeps its overall weight quite manageable, the use of nylon- reinforced polymer (rather than ABS) makes the G19X pretty durable.
This durability is further enhanced by the gun's reinforced aluminum alloy slide and excellent build quality.
Well balanced performance
Although not an FPS monster, the green gas version of the Umarex Glock 19X delivers a pretty solid ~340 FPS, making it a good option for both outdoor and indoor events.
Officially licensed with lots of authentic Glock trades
Umarex's G19X is an officially licensed airsoft replica and, aside from being a very accurate recreation of a real step 19X, the gun has a wide variety of Glock trades molded into it in different locations.
Easy and comfortable to handle
The Umarex Glock 19X is easy to hold and use, being fairly lightweight, compact, and having comfortable and textured grips and a fully ambidextrous design.
Easily adjustable hop up
Unlike the many airsoft pistols that require users to disassemble the gun in order to adjust their hop, the Umarex Glock 19X's hop up is readily accessible externally from the front of the gun and can be easily adjusted on the fly.
Snappy blowback
With Umarex's improged Gen 5 valve system and a metal slide, the G19X offers users an excellent blowback action that is very enjoyable and a joy to use.
Good gas efficiency
The Umarex Glock 19X ie pretty good on gas, as well, getting about 3-4 mags per fill of green gas, so it's shouldn't be all that expensive to run in the long term.
Lots of aftermarket accessories and upgrades
Although not Tokyo Marui spec, the Umarex Glock 19X is very popular and it is quite easy to find replacement parts, accessories and upgrades for the gun.
Disadvantages
Non-threaded stock barrel
The Umarex Glock 19X comes out of the box with an unthreaded outer barrel, so it can be tricky for users who want to add a lock suppressor or tracer unit to do so without swapping the barrel out.
Fixed sights
As with other Umarex Glocks in the series, the G19X comes with standard, Glock-style fixed sights that can make hitting targets more than 75 feet (22 m) away a little tricky.
Bottom Line
The Umared Glock 19X is a lightweight, durable, reliable and decently powerful gas blowback Glock airsoft pistol that is as true to life as it gets.
If you're interested in a well-balanced sidearm for your next airsoft game, or if you just love the Glock 17 Gen 5 and want something a little more compact, the G19X might just be the green gas pistol for you.
Ted Clark– Hailing from Florida, Ted has been an avid airsoft enthusiast since he was in middle school. When he's not checking out and reviewing airsoft guns, he enjoys picking off his enemies one by one on the field as a sniper.