Durability and Build Quality

94%
| | |
| --- | --- |
| Pros | Cons |
| ✅ Compact, CQB-optimized design | ❌ Not exactly cheap |
| ✅ Durable reinforced polymer frame | ❌ Battery compartment is a little small |
| ✅ Decent FPS, highly accurate, fast shooting | ❌ Trigger pull a little heavy |
| ✅ Burst mode | |
| ✅ Very sturdy and well-built, capable of accepting real steel accessories on metal rails | |
| ✅ Very high quality internals | |
| ✅ Gearbox is largely V2 compatible | |
| ✅ Thoroughly authentic – made by company that produces the actual gun | |
| ✅ Pretty ambidextrous | |
| ✅ Quick change spring system | |
When the KRISS Vector SMG hit the scene in 2007, its ultramodern looks, compact size and smooth, accurate fire made waves in the firearms world.
Since then, the gun has been increasingly showing up in popular media, making appearances in such hit franchises as Taken, John Wick, Pay Day, Far Cry, The Purge and more.
The Vector's futuristic looks and reputation for performance has garnered significant interest and attention in the airsoft world, as well, with quite a few players wanting to add this unusual SMG to their collection.
As a result of this demand, Krytac (KRISS' own airsoft and replica division) introduced their own officially licensed AEG model of the Vector for airsoft use, the Krytac KRISS Vector SMG AEG.
If you feel you might be interested in picking up a Vector for your next game, then read on as we explore it in more detail.
Specifications
| | |
| --- | --- |
| Manufacturer | Krytac |
| Action | AEG |
| FPS | ~350 FPS |
| Hop Up | Adjustable |
| Inner Barrel | 6.1 in (155mm) |
| Outer Barrel | 14mm CCW threaded |
| Total Length | 26.2 in (665.48 mm) stock extended |
| Weight | 5.7 lb (2.6 kg) |
| Construction | Polymer |
| Rounds | 95 |
How closely does the Krytac Vector SMG resemble a real steel KRISS Vector?
Krytac KRISS Vector 
KRISS Vector SMG
Weight
5.7 lbs (2.6 kg)
7.45 lbs (3.4 kg)
Barrel Length
6.1 inch (155 mm)
6.5 in (165.1 mm)
Overall length
Collapsed: 17.2 in (436.88mm)
Extended: 26.2 in (665.48 mm)
Collapsed: 18.5 in (469.9 mm)
Extended: 27.9 in (708.6 mm)
Action
Semi/Auto/Burst
Semi/Auto/Burst
Caliber
6mm
9x19mm/.45ACP
Capacity
95 BBs
17 rounds
Construction
Polymer
Polymer
Sights
Flip up sights
Flip up sights
Rail
Top, bottom, side
Top, bottom, side
Aside from some slight differences in overall size due to differences between airsoft and true firearm construction, as an officially licensed replica of the KRISS Vector the Krytac Vector does an excellent job at replicating the real steel SMG's looks.
For all intents and purposes, the Krytac Vector is a 1:1 airsoft copy of the KRISS, replicating the gun's rather unique looks and matching its real steel inspiration in dimensions fairly closely.
Everything from the boxy shape of its receivers to the Picatinny rail and switch placement to the skeletal, side-folding stock is dead accurate on this model.
Further, as an officially licensed airsoft version of the KRISS, the gun contains all the trademarks you would expect, from the prominent "V" design on the sides and front of the frame to an engraving of the brand across the handguard.
This attention to detail and accuracy should really come as no surprise, since KRISS USA actually owns Krytac and can freely access and replicate many of the external features and controls of its own firearm.
Interestingly, the Krytac Vector even uses the same military standard metal picatinny rails as the KRISS, which allows it to more easily mount real steel parts to the gun.
Krytac KRISS Vector: How does it perform?
Build Quality and Construction
The Kriss Vector series is known for its very unique, love-it-or-hate-it styling, and if you're reading this review, chances are good you're more in the love-it camp and can appreciate its futuristic, boxy good looks.
Like the real steel version, the Krytac KRISS Vector SMG is largely made of nylon-reinforced polymer materials that makes it pretty durable compared to ABS plastic airsoft guns and cheaper metal builds.
The gun itself is solidly put together and feels extremely sturdy. With the receivers held together by three body pins and the stock firmly attached and lockable, there is virtually no looseness, wobbling or rattling with the Vector when it is handled.
In fact, everything from the stock to the mags to the selectors on the body of the gun snap into place with a heavy, satisfying click much like you might expect on a real firearm.
There are also handy diagrammatic markings on the selector, which we like and reminds us of a classic MP5.
On the outside, the Krytac Vector comes stock with three metal picatinny rails – an extended top rail, a short bottom rail and an optional side rail that can be attached to either side of the gun.
Unlike the various polymer rails common in airsoft, these rails are true military standard 1913 picatinnies and can therefore more easily accommodate real steel firearm accessories without worrying about chipping or damaging them, which is a plus.
In addition to the rails, the outer barrel of the Krytac Vector is 14mm CCW threaded, so adding mock suppressors or tracer units to the gun is pretty simple.
The Krytac also comes with KRISS' own relatively well known, removable flip up sights, which also feature in the company's real steel collection.
The sights are low-profile (0.5" folded) mixed metal-polymer flip ups that come with dual aperture and windage adjustments.
The sights are fully adjustable, snap and lock firmly into place and add an extra touch of authenticity for those who like running back up sights on top of their opticals.
Finally the Vector comes with a removable, folding, skeletonized stock that locks nicely into place, reducing wobble and rattle and dramatically shortening the overall length of the gun, which is great for CQB games.
The stock is adjustable for length, which is nice for an SMG, although you do have to use an allen key to loosen a couple screws before pulling the butt plate out and then retightening.
There are, however, also a variety of buffer tube adaptors for the gun that allow users to add their own non-folding M4 stocks should they wish.
Krytac is known for the quality of its internals, and its Vector doesn't disappoint in this regard.
The Krytac Vector comes with a vertically-oriented proprietary gearbox, perhaps unsurprising given the unique shape and style of this gun.
While proprietary is not usually a word you really want to hear with airsoft AEGs, the Krytac Vector gearbox is actually mostly V2 compatible, and can accept many replacement and upgrade components from the wide selection of aftermarket parts available on the market.
The only real proprietary parts that we could see were things like the tappet and padded cylinder head.
Inside, the gearbox is quite high quality. It is reinforced and contains steel gears, 8mm steel bushings, and a polymer piston with 5 steel teeth.
It also contains a quick change spring system that allows users to pop out the fairly tight stock M120 spring from the bottom of the gun and swap it for a higher or lower performance spring, as the situation (and fields) demand.
The gearbox is driven by a short-type 30K neodymium high torque motor and is mated to a fully adjustable, rotary style, numbered hop up unit and a tight bore 6.03mm inner barrel.
The Krytac Vector also comes stock with a MOSFET and an electronic trigger unit with two microswitches – one that controls the burst/automatic mode and the other that is attached to the safety, which actually serves to disconnect the gun from the battery.
The gun is, of course, LiPo-ready and (unlike previous editions) is now wired to a Deans connector and can accept 11.1V 1400Mah LiPo batteries.
The Krytac Vector's battery compartment is located in the pistol grip. It is a little cramped and really only fits batteries that are 4.5 inches (116mm) or less unless you purchase a battery extension cap.
Krytac also recommends that batteries output less than 30 amps, as any more can lead to overspin or feeding problems, so you might have to do a little shopping around for batteries with this AEG.
Performance and Accuracy
In game, the Krytac Kriss Vector is a solid performer.
In terms of FPS, the gun hits around 350 FPS with 0.20g BBs, meaning it hits decently hard for an SMG and has great versatility for both indoor and outdoor use.
The gun is also quite accurate out of the box, being able to group nicely at well over 100 feet (30 m) and has no issue hitting targets reliably past 150 (45 m).
With an out of the box 24 RPS or so, the Krytac Vector AEG SMG also has a respectable rate of fire, which serves its role as a submachine gun quite well in-game.
Like its real steel counterpart, the Vector is capable of selective fire.
The gun's ETU gives it the option of semi, burst and automatic fire, giving it increased versatility in game.
Users can pick off opponents with accurate, semi automatic fire, provide cover or suppressing fire with its burst mode and, of course, sweep the room on automatic.
Users should note that both the real steel KRISS Vector and the Krytac KRISS Vector AEG have two-round bursts, rather than the more common three.
One thing users should also note is that the Krytac Vector's trigger is a little on the heavy side and can require users to squeeze it a little harder than more hair-trigger SMGs.
We did like the stock Krytac hop up that comes with the Vector (and other Krytac airsoft guns, really).
A rotary hope up, it has a nicely designed and numbered dial that makes it a lot easier to dial in and adjust on the fly, helping improve the accuracy and range of the gun, and the bucking and nub provides excellent grip and backspin.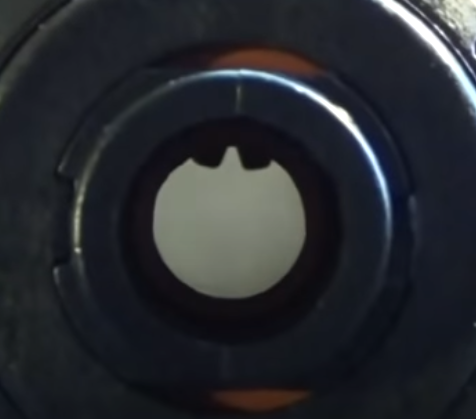 Handling and Feel
The Krytac KRISS Vector SMG's unique looks give it somewhat different handling and feel compared to your average carbine or H&K replica.
The gun itself is very compact, being relatively tall and boxy towards the front and tapering back towards the rear.
This style makes the gun very CQB friendly, in our opinion, with the user's supporting hand having a lot of dedicated real estate near the magazine to grip the gun firmly and making the gun very easy to snap around corners and maneuver with in tight spaces, even without a foregrip.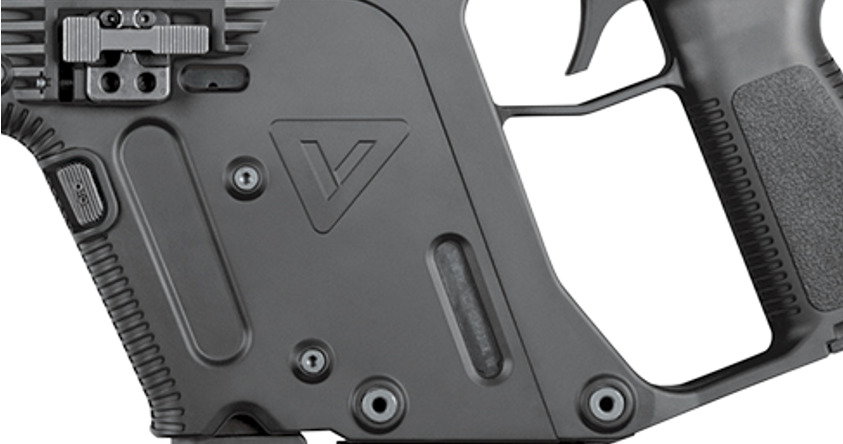 This is assisted by the gun's granular textured grip and grooves cut into frame (at the front strap and in front of the mag well), which provide extra grip, especially when using gloves.
KRISS has also ensured that, with this design, the safety and fire select levers are within easy reach, although the mag release is set a little too far out for our liking, making it a little hard to trigger if you're holding the gun one handed, especially for those with small hands.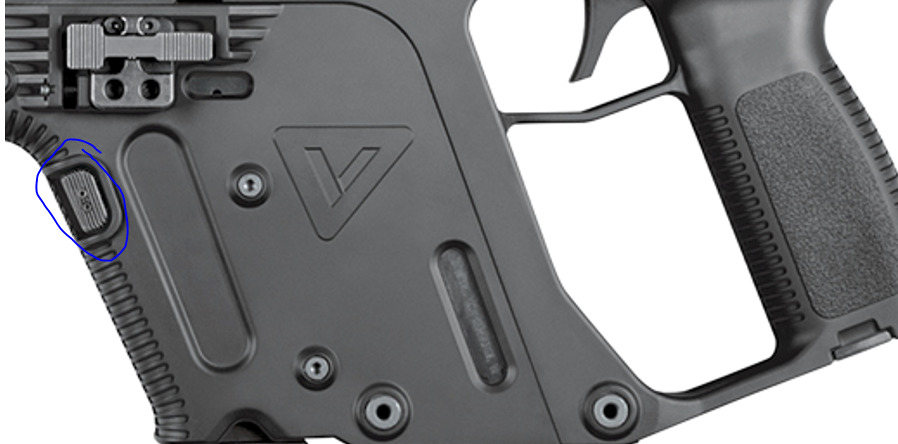 At just under 6 lbs, much like the real steel version, the gun has some heft to it, especially considering its polymer build.
Although a little more front heavy than similar SMGs, the added heft does gives the gun a very realistic feeling in-hand and with the stock extended and shouldered it can actually be surprisingly comfortable to use for extended periods.
In addition, Krytac has put some effort into making the Vector left-handed friendly, which we appreicate, with fully ambidextrous safeties and selectors (although the mag release and charging handle are on the left side).
One thing we thought was kind of fun with the Vector is that Krytac offers two ways to access the hop up.
The unit is located, as you might expect, under the mock ejection port's square dust cover.
Users can either lift up the lip of the dust cover manually or use the charging handle, which lifts up like a lever and pops the dust cover open in a very tactical and more entertaining way.
It also makes accessing the hop up unit a little more ambidextrous as the charging handle is located on the left side only.
Maintenance
The Krytac Kriss Victor AEG is quite easy to dissassemble and maintain.
Users simply pop the gun's 3 body pins and the upper and lower receivers come apart pretty smoothly, providing access to its internals.
As mentioned above, the hop up is easy to reach (located under the dustcover) and is quite to adjust being rotary-style with visible numbering.
Similarly, changing the spring on the gun is a snap.
The spring system is accessible from the base of the gun. Users unscrew the base plate with an allen key, after which they can simply pull the entire spring spring guide out, swap the spring and then slide everything back in.
The whole process takes only a couple minutes and can be done on a bench or even in the parking lot in front of an airsoft field (if you're the type to leave things to last minute).
In terms of replacement parts, most of the gearbox is V2 compatible and upgradable.
For those parts that are proprietary, Krytac does a pretty good job at providing readily available replacements, so its not very hard to find them online if you need them.
In terms of upgrades, while the gun does perform pretty well stock, there are qutie a few upgrade parts available to the vector, with improved motors, gears, springs and barrels all available from Krytac and assorted third parties and pretty easily found with a simple Google search.
Magazine type and capacity
The Krytac KRISS Vector AEG SMG comes with a physically huge 95-round polymer midcap magazine.

The magazine is a direct replica of the real steel KRISS Vector's magazine, with full trademarks and little numbered holes that, in the real steel version, allow users to see how many rounds they have left, which is a nice touch although not necessarily all that useful in airsoft.
Interestingly, the tip of the magazine is widened and designed to be as speedloader friendly as possible, which is a nice touch.
Krytac also offers a selection of alternative magazine options, such as 50 round short mags, and there are a number of aftermarket magazines available from a number of companies, including hicaps and drums.
Price
Note: All prices current as of writing. All prices in USD.
There's no really getting around it, the Krytac Kriss Vector AEG SMG is an expensive little gun – at just under $500, your wallet will definitely feel this one.
That said, the Vector is a great SMG. There simply aren't a lot of airsoft guns out there like it, and with high quality internals, unbeatable authenticity and excellent performance it does offer a significant amount of value for its hefty price tag.
Krytac KRISS VECTOR AEG SMG Pros and Cons
Advantages
Compact design excels in CQB
With the stock collapsed, the Krytac Vector SMG is less than 18 inches long, making the gun quite compact, shorter than even popular CQB airsoft mainstays such as the G&G ARP9 and others.
While perhaps a little unusual, its tall, boxy profile also gives users of the gun plenty to hold onto with their supporting hand, making the gun very stable and comfortable to use when navigating tight environments or peeking around corners.
Decent FPS, highly accurate and good ROF
The Krytac Vector SMG is a solid all around airsoft performer. At around 350 FPS, it has decent power that can be used in CQB and in outdoor games, it is dead accurate and it is a speedy shot, getting around 24 RPS out of the box.
Sturdy and capable of accepting real steel accessories
Although it is a plastic airsoft gun, the Krytac Vector SMG is made of nylon-reinforced polymer, making it quite rigid and durable and it can likely weather most of the day to day abuse a typical airsofter can throw at it.
Unlike many other airsoft replicas, the Krytac Vector also makes use of metal MIL-STD rails, which are less prone to chipping or breaking compared to polymer versions and can accept real steel components.
High quality internals
True to Krytac's reputation, the Vector SMG AEG is very well made on the inside, as well. The gun comes stock with a Krytac MOSFET and ETU, a quick change spring system, a well-made rotary hop up, a tightbore barrel and a full metal, reinforced gearbox with steel gears and 8mm steel bushings.
Largely V2 compatible gearbox
Although the Krytac Vector uses a proprietary gearbox, many of its components are V2 compatible, allowing users to take advantage of the many aftermarket parts and upgrades available in the airsoft market.
Thoroughly authentic
Krytac is owned by KRISS, the makers of the real steel Vector. As a result, their airsoft replica is pretty much an identical 1:1 replica of the real thing, with all the trademarks and features one might expect.
It really doesn't get much more authentic than that.
High build quality
Krytac has done an excellent job with quality control of the Vector's assembly. Everything about the gun is well-fitted – there is no undue noise, looseness or flex to the gun and the various control levers on its exterior snap it to place with a heavy and satisfying click.
Left handed friendly
The Krytac Vector SMG is mostly ambidextrous, with fully-functioning safety and fire selection located on both the left and right hand sides of the frame.
Easy to use quick change spring system
Krytac has included a very easy to use and extremely convenient quick change spring system with the Vector.
Upgrading or downgrading the gun's performance can be done by simply unscrewing the base plate, popping out the spring guide assembly, making a switch and then popping everything back in.
Automatic and burst mode functionality
Thanks to its stock ETU, the Krytac KRISS Vector SMG AEG allow users to take advantage of both 2-round burst and automatic firing modes, making it a proper and versatile airsoft submachine gun option.
Disadvantages
Not exactly affordably priced
Often sold for nearly $500, the Krytac Vector SMG is not cheap.
Although it is licensed and contains a variety of high quality parts on the inside, it is more expensive than many SMG options out there.
Small battery compartment
Although it is LiPo ready and accepts 11.1V batteries, the Vector's battery compartment is relatively small and cramped, accepting batteries that are 116mm long or less.
While users can find battery extension caps pretty readily for the gun that allow them to use a wider choice of batteries, it is kind of annoying.
Trigger pull can be a little heavy
The Krytac Vector SMG is not a hair-trigger gun, its trigger pull is somewhat heavy and can be off-putting for those who like an ultralight trigger, like speedsofters, who may want to replace it with an aftermarket part.
Bottom Line
If you're looking for a high-qualtity SMG that performs well out of the box, is well built inside and out, and you want something a little different than the usual carbines and H&K replicas out there, if you have the money the Krytac KRISS Vector can certainly deliver the firepower and experience you're looking for.
Ted Clark– Hailing from Florida, Ted has been an avid airsoft enthusiast since he was in middle school. When he's not checking out and reviewing airsoft guns, he enjoys picking off his enemies one by one on the field as a sniper.