Durability and Build Quality

98%
✅ Very cool, unique design
❌ Not exactly cheap
✅ Exceptionally durable, solid
❌ Front wired, battery compartment can be a little
cramped
✅ Well put together
❌ Can be a little too powerful stock for some fields
✅ Robust internals
✅ Pretty powerful
✅ Extremely accurate
✅ Integrated mock suppressor
The AS VAL was designed and developed in the Soviet Union in the late 1980s as a compact assault rifle intended for special operations forces.
A highly specialized weapon, the AS VAL is known for its unique looks and its integrally-suppressed design.
Looking quite a bit different than a standard AK and used by operators across the Soviet states and their allies, airsoft AS VALs have become somewhat prized by airsoft collectors and OPFOR enthusiasts.
With its typically durable and realistic design, the LCT AS VAL has attracted a good deal of attention among those looking for a quality, usable replica of the gun and is likely one of the most popular AS VAL models out there.
To find out if this airsoft gun is worth your time and money, we decided to take a closer look.
Specifications
| | |
| --- | --- |
| Manufacturer | LCT |
| Power | AEG |
| Action | Semi, Auto |
| FPS | ~ 410-415 FPS @ 0.20g BBs |
| Hop up | Adjustable |
| Inner barrel | 16.5 inch (420 mm) |
| Total Length | 34.6 inches (878 mm) |
| Weight | 7.5 lbs (3.4 Kg) empty |
| Construction | Steel with polymer furniture |
How Much Does the LCT AEG Resemble A Real Steel AS VAL?

LCT AS VAL
Soviet AS VAL
Weight (empty)
7.5 lbs (3.4 kg)
5.51 lbs (2.5KG)
Total Length
25 in (635 mm) folded

34.6 in (878mm) extended
24.2 in (615 mm) folded
34.4 in (875mm) extended
Mag type
LCT midcap box mag
SR-3 style box magazine
Caliber
6mm
9×39mm
Construction
Steel
Steel
Rail positions
AK-style dovetail side rail
AK style dovetail side-rail
In general, the LCT AS VAL is a pretty decent replica of a real steel AS VAL, although there are a few differences here and there that we should note.
In terms of the gun's overall dimensions, LCT has done a pretty good job at recreating the compact design of this Soviet rifle, with only a fraction of an inch difference between it and its real steel inspiration both when the stock is folded and when it is extended.
Interestingly, the LCT's receivers are (as with most of their high-quality airsoft AK replicas) made out of stamped steel with light brown polymer furniture, which is quite similar to the way the real steel AS VAL is constructed.
Further, the LCT AS VAL sports the same dovetail side rails, skeletonized folding stock, riveted receiver, shortened AK-style safety and rather unusual trigger-mounted selector switch as the real steel version.
Of course, it also sports the impressively long, integrated suppressor that the real steel AS VAL is best known for (albeit with a federally mandated orange tip, at least in the US). 

While the LCT is broadly quite similar to the real steel model, there are some differences that prevent it from being considered a perfect 1:1 replica.
The LCT is actually heavier than the real steel AS VAL, which stood out among Soviet weaponry for its relatively light weight (at least compared to the typical AK74s that were floating around Eastern bloc militaries at the time).
The LCT tips the scales at around 7.5 lbs empty, in line with most of LCTs AK AEGs, which makes it about 2 lbs heavier than the uniquely designed, special operations-oriented AS VAL.
Further, due to the fact that the gun needs to accommodate an airsoft V3 gearbox, its dust cover is a bit taller than the real steel version.
In terms of trademarks and markings, the gun is based off of a gun produced in different Soviet factories where things like branding and marketing weren't exactly top of mind.
Consequently, and actually much like the real steel AS VAL, there really aren't any trades or markings on this airsoft gun aside from the amusingly dummy-proof three-dot/single-dot fire selection indicators on either side of the receiver.
How Does The LCT AS VAL Perform As An Airsoft AEG?
Build-quality and construction
As is typical of the company and its Soviet-era replicas, the LCT AS VAL is pretty much built like a tank.
The gun is a full metal airsoft AEG, with its receiver, dust cover and barrel assembly being made of stamped steel, a definite step up in terms of durability (and realism) from the usual zinc-aluminum alloys found on many other airsoft rifles.
In addition, the gun's integrated mock suppressor and folding stock are made out of high quality aluminum, while its furniture (grips and notional handguard) is made from sturdy nylon-reinforced polymer that's colored a suitably cheery and Soviet brown or black.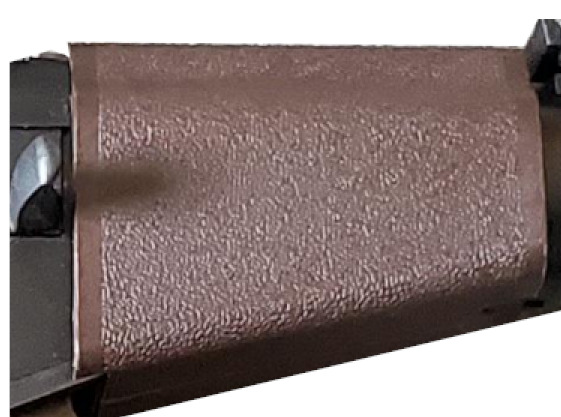 The resulting gun is extremely durable and should easily stand up to most of what an even boisterous airsoft game can throw at it.
More than that, LCT has done a good job with its quality control.
Although made out of metal, the gun was very quiet when we handled it.
There was no rattling, squeaking or clattering that we could notice, even when we were on the move.
Further, all the gun's levers and controls were properly fitted to the gun, locking firmly into place when thumbed and showing no signs of looseness, which is always nice to see.
In terms of accessories, the gun is based on a design dating back to the early 1980s (and in the Communist bloc) so there aren't quite as many ready options as with, say, a modern M4.
The gun comes with AK-style side-mounted dovetail rails, which can be used for attaching Soviet-style optics and other accessories. 
It should be noted that, because the gun's dust cover is a bit tall, the gun does require the use of a riser/mount rail if you want to attach a scope.
Although these don't usually come with the gun, they are usually fairly inexpensive to pick up, which is always helpful.
There are quite a few varieties out there, including those with picatinny-style rails, which allows the gun to be used with a greater range of optics than most AKs.
One thing to note, however, is that when the stock is folded it does clamp against the gun's side-mounted dovetail rails, which can make things a little bit tricky when attaching the gun's risers and/or optics.
The LCT AS VAL comes with an integrated metal mock suppressor, which forms the front half of the gun, and essentially acts as the gun's handguard. 
Although textured for better grip, the suppressor doesn't natively have any rails or mounting points (again, being designed in the early 80s), but is where the gun's typical AK-style rear leaf sight has been welded. 
However, recently and in response to the airsoft community's general love of accessories, LCT has begun selling aluminum railed suppressors for the AS VAL, as well as various rail adaptors that clamp-on to the suppressor.
With these, users are able to attach their choice of lasers, flashlights and vertical grips, should the mood strike them.
On the inside, LCT has put a fair amount of effort into this gun and the internals are quite solid.
The gun comes with an metal LCT V3-style gearbox with 9mm steel bearings. 

Inside, users will find steel gears, a piston with a full metal rack of teeth, a ported aluminum piston head, aluminum cylinder with double o-ring, chrome plated brass cylinder, steel spring guide and more.
This is all powered by a pretty high quality and torquey short type motor.
It should be noted that, due to the design of the AS VAL grip, the gun's motor cage is of a proprietary design, which can make swapping in a new motor a bit trickier without some modding/shaving as it tends to prevent a typical motor's pinion gear from meeting the gearbox's bevel gear.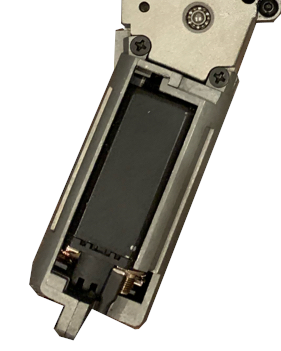 The gun comes with a pretty typical AK-style slider hop up, which provides pretty decent spin and is accessible once the charging handle is drawn back although it is a bit tucked in under the dust cover.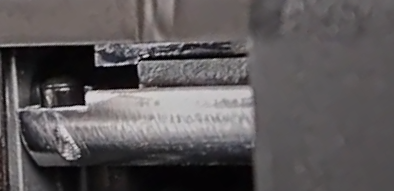 BBs then pass through a 420mm tightbore 6.02mm brass barrel, which is pretty well machined and quite smooth out of the box.
Finally, at the back of the LCT AS VAL is a AKS-style side-folding skeletonized stock.
This aluminum folding stock extends quite easily and folds into place securely and without much rattling or jiggling, which is something we always like to see with side-folding skeletonized stocks.
Despite its industrial looks, the stock is surprisingly comfortable to shoulder for long periods of time.
Interestingly, in recent years LCT has started offering adaptors for the gun that will allow it to fit a wider range of stocks, including the company's more modern, adjustable and AR-like Z-series stocks, which is good news for those who don't find metal folding stocks all that aesthetic or comfortable to lean on.
It is important to note that because the gun uses a skeletonized stock, it is front-wired with the battery being located under the gun's integrated suppressor.
Although not quite as fiddly and cramped as your typical airsoft AK battery placement (i.e. squeezed under the dust cover), as with other front-wired airsoft guns things do get a bit tight and it does limit the size of battery you can feasibly use with this gun, which is something to keep in mind.
Performance and accuracy
On the field, the LCT AS VAL is a pretty capable airsoft rifle.
We saw the gun chrono between 410-415 FPS with 0.20s, which means the gun is pretty consistent and means it has plenty of power to spare.
That said, it can be a little powerful for some indoor and CQB fields, particularly those with stricter FPS limits.
The gun's trigger is quite crisp, with a snappy break and return and when set to automatic and when running 7.4V LiPos, the gun actually has a pretty good rate of fire, getting around 17 or so RPS.
Although not the fastest airsoft out there, it is very quick compared to most AK-style guns, such as the company's own Vityaz or the Arcturus AK12, and even most M4 rivals, such as the G&G Raider and others.
Yet, speed isn't really what this gun is all about.
Thanks to its long tightbore, decent hop up and heavy, stable frame, it is actually quite an accurate gun out of the box, especially when firing from prone.
With everything dialed in, we saw the gun easily get exceptionally tight groupings to around 50 feet (15m) and it was more than capable of reliably hitting targets past 150 feet (45 m), making it an intriguing option as a DMR or even sniper base.
This accuracy is helped along by the gun's adjustable slide hop up that, while a bit tricky to access from the gun's ejection port (like the PP-19 you might find it easier to pop the dust cover off and access it from the top of the gun), provides excellent spin on even heavier weight (.32 g + BBs) and holds its tuning well even after a lot of use.
Handling
Like other steel LCT airsoft AKs, the first thing you might notice about the LCT AS VAL is its weight.
While the gun is pretty compact (especially when folded), it tips the scales at a beefy 7.5 lbs (3.4 kg) without any optics or accessories attached to it.
While this means that the gun can take a bit of time to get used to, particularly for those used to running and gunning with lightweight CQB-optimized carbines, it really ups the realism and helps the gun feel very much like a real steel firearm.
The gun's weight is a bit weighted towards the front, due to its impressively sized mock suppressor, but it isn't excessively front heavy and is, on the whole, pretty easy to hold and fire.
Further, with an overall length of between 24 and 35 inches, the LCT AS VAL is surprisingly easy to maneuver around in tight quarters, particularly compared to a typical full sized AK74 or AK105.
The gun's chunky plastic grip is pretty comfortable and easy to hold and does come with a fair bit of texturing, which makes the gun a lot easier to handle when wet or when wearing gloves.
Unlike most AKs or ARs, and like its real steel counterpart, the LCT AS VAL does not come with much of a dedicated handguard.
While there is something of a notional bit of plastic located between the magwell and the barrel assembly, for the most part users will have to hold the gun's mock suppressor with their supporting hand.
Luckily, the suppressor is fairly well attached and is pretty well textured towards the front, which allows users to get a more than decent hold on it, particularly if they favor a more modern C-clamp grip.
One thing to note on this gun is its fire selector switch.
While most AKs make use of a fairly chunky metal bar on the receiver, the LCT AS VAL (again, very much like its real steel counterpart) actually has its selector located behind the trigger.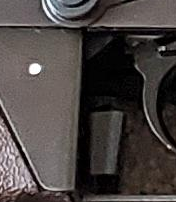 To switch between single shot and automatic, users push the selector from side to side following the white dot indicators on the receiver (one dot – one shot, three dots – many shots).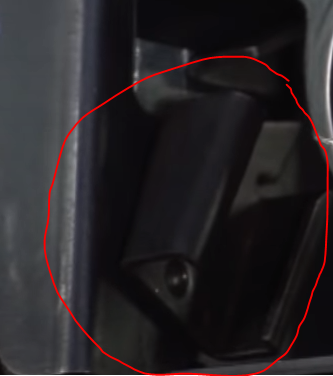 Although the manual of arms for this gun is a little unusual and can take a bit of getting used to for those familiar with AR or AK selectors, it actually is pretty intuitive and most users should get the hang of it pretty quickly.
This trigger-mounted selector also gives this gun a little bit more ambidextrousness than Soviet-style airsoft replicas are usually known for.
Combined with the gun's AK-style ambidextrous mag release, the LCT AS VAL is a lot more left-hand friendly than most AKs out there, although the gun's sling and charging handle are still right-hand oriented.
Maintenance
Field stripping the LCT AS VAL can be a bit different and even a bit tricky if you're used to M4-style airsoft guns.
As with other AK-inspired airsoft guns, the LCT AS VAL is really built quite solidly and its internals and components are pretty well screwed in.
The battery in the gun, as mentioned previously, is located in the mock suppressor and accessing it is a bit unusual compared to most airsoft guns.
Users have to press a button located on the underside of the handguard and then firmly unscrew the suppressor, turning it until the iron sights more or less align with the side rail whereupon it should pop off.
Once this is done, users can then pull off the small plastic handguard before pressing a button located on the back of the gun, which allows the dust cover to pop off and reveals the top of the gun's gearbox.
Accessing and removing the gearbox, as with other AK airsoft guns, means unscrewing the handguard and a few other screws located on the gearbox's top brace and around the receiver.
While this does keep the gun's internals secure and snug inside the receiver, preventing damage and keeping everything from rattling when on the go, it does mean that doing maintenance and repairs can be a little more time consuming than just popping off a couple body pins to separate a gun's upper and lower receivers (as is the case with most ARs).
Magazine Type and Capacity
The LCT AS VAL usually comes with a 50 round textured polymer mid cap 9×39 style box magazine.
The stock magazine is pretty cool to look at, being a bit different visually from typical AK banana style mags, inserts pretty easily and feeds quite well and reliably.
It is, however, a proprietary design and so the gun can't really take advantage of the numerous AK-style mags out there in the airsoft world or even the few other AS VAL style mags that float around out there, such as those from King Arms, NPO or CYM.
That said, as the AS VAL is a shared platform with LCT's other 9×39 style airsoft rifles (such as the SR-3M and others), the company does offer quite a few other options, such as 250+ round high caps, 70 round extended length mid caps and more, so there is some choice out there.
Price
Note: All prices current as of writing. All prices in USD.
The LCT AS VAL sits at the mid to upper range of AEGs in terms of price, usually coming in north of $400.
This puts it more or less in the same general area as LCT's other AKs, such as the LCK105, the PP-19 or their AK74M, all of which tend to be considered some of the more premium Eastern bloc replicas out there.
In terms of other AS VAL options it is solidly in the middle, being a little more expensive than a CYMA but considerably less expensive than an NPO AS VAL.
With all that said, the LCT AS VAL does offer a lot of value for its price tag.
The gun has a unique and memorable design, is made with a considerable amount of solid steel, has robust and high quality internals, hits pretty hard and is quite accurate at range. 
Or
LCT AS VAL Pros and Cons
Pros
Cool design
There's no two ways about it, the AS VAL is an unusual Soviet-style design that will stand out on an airsoft field, even among other AK replicas.
Extremely durable and solid
With its steel receivers, aluminum stock and suppressor and reinforced polymer furniture, the LCT AS VAL is built like a tank and should withstand most of what can reasonably be thrown at it in an airsoft game.
Well put together
More than its external materials, LCT has screwed this gun together pretty tightly and it didn't really show any sign of wobbling, looseness or rattling when we handled it.
Further, the gun's folding stock locked nicely and securely into place, and made little to no noise when we ran around with it, which is something that we like to see in these kinds of builds.
Robust, high quality internals
On the inside, the LCT AS VAL is pretty solid.
Its V3 gearbox uses steel gears, steel bearings, a piston with a full metal rack, aluminum ported piston head, steel spring guides, a well-finished tightbore barrel, a torquey motor and much more.
Powerful
Chronoing at a pretty consistent 410-415 FPS, the gun, the LCT AS VAL doesn't just look good but can keep up with just about any airsoft rifle around.
Very Accurate
With its good quality hop up, properly finished tightbore barrel and ample power, the LCT AS VAL is easily able to hit targets past the 150 foot (45m) range, making it a highly accurate and capable choice as a primary.
Integrated mock suppressor
Like its real world counterpart, the LCT AS VAL comes with a sizable, built-in mock suppressor that gives it a unique tactical look and profile, as well as an intimidating presence.
Can now accommodate a good number of accessories
Recently, LCT as released a number of add-on accessories for the LCT AS VAL that can improve its modularity and accessorizability, such as an adaptor that lets it support a number of different stock types and rail adaptors/railed mock suppressors that will let it more easily support flashlights, lasers and more.
Cons
A little pricey
There's no getting around it, as with LCT's other AKs you do pay for quality with this gun and your wallet will feel its $400+ price tag.
Battery compartment a little cramped
Due to its design, the LCT AS VAL is front wired and its battery sits inside the gun's mock suppressor, which can limit the size and type of batteries it can accept.
Can be a little powerful for some fields
Chronoing at around 410 FPS means that a stock LCT AS VAL can be a little too powerful for some CQB/indoor fields, particularly those with stricter FPS limits, and may require users to downpower it with a spring change.
Bottom Line
With its steel construction, high quality build quality, robust internals, good power and excellent accuracy, if you're looking for an AS VAL replica the LCT might be just the right airsoft AEG to take to your next game. 
Will Martin – Will has been into airsoft and paintball for well over 10 years, and has done it all – from upgrading and fixing gearboxes as a tech to building custom airsoft loadouts for his friends to supporting off those friends as a DM.