Durability and Build Quality

98%
| | |
| --- | --- |
| ✅ Extremely realistic airsoft replica | ❌ Not the cheapest option around |
| ✅ Durable, full metal construction | ❌ Kind of heavy |
| ✅ Good build quality | ❌ Battery compartment not huge |
| ✅ Lots of interesting design features | |
| ✅ Solid performance | |
| ✅ Fast ROF on auto | |
| ✅ Telescoping, folding stock | |
| | |
Designed to withstand the chilling temperatures of arctic warfare, the AK5C is perhaps most well known as a compact, modern update of the rifle of choice of the Swedish military since the 1980s, the venerable AK5.
The AK5C has also appeared in popular media franchises such as Battlefield 4 and Medal of Honor, where its unique looks and storied history won over fans from all walks of life.
It is perhaps no surprise, then, that the gun has become somewhat in demand in the airsoft community, with its unique looks and design making it an attractive alternative to the M4 and other AR-style carbines and rifles.
The GK5C is G&G's take on the AK5C and has earned a reputation over the years as a solid and capable airsoft gun.
To find out if it's worth your time and money, we decided to take a closer look for ourselves.
Specifications
| | |
| --- | --- |
| Manufacturer | G&G |
| Power | AEG |
| Action | Semi, auto |
| FPS | ~380 FPS @ 0.20g BBs on duster |
| Hop up | Adjustable |
| Barrel Length | 14 inch (~357 mm) |
| Total Length | 25-35 in (655-900 mm) |
| Weight | 8.8 lbs (4 kg) |
| Construction | Metal frame, polymer furniture |
| Rounds | 330 |
How closely does the G&G GK5C resemble a real steel AK5C?
G&G GK5C
FFV AK5C
Weight
8.81 lbs (4 kg)
9.9 lbs (4.5 kg) loaded
Overall length
25 in (655 mm) folded;
33-35 in (845-900 mm) collapsed/extended
26.3 in (667 mm) folded;
33.5-36 in (852-914 mm) collapsed/extended
Action
Semi, auto
Semi, auto
Caliber
6mm
5.56 mm
Capacity
330 rds
2/5/8 shells
Construction
Aluminum alloy receiver, steel barrel assembly reinforced polymer furniture
Steel frame, polymer furniture
Rail
Quad
Quad
On the whole, G&G has done an excellent job creating a realistic airsoft AK5C.
The GK5C manages to match its real steel inspiration pretty closely in terms of its overall length (with the stock folded, retracted and extended) and even comes pretty close to the AK5C's rather substantial 9.9 lb weight, which is pretty impressive for an airsoft AEG rifle.
The gun also replicates all the unique, some might say quirky, features of the famous Swedish service rifle, such as its modular and removable handguard, boxy frame, extended top rail, folding/adjustable front sight, chunky knurled charging handle knob, funky bolt catch, integrated cable/pressure switch cut out, prong-type flash suppressor, ambidextrous controls and more.
The gun even comes painted in a very realistic Hunter green with contrasting brown rail, which pretty much completes the gun's Nordic military forces look and should help it stand out quite well among a sea of gray and black M4s.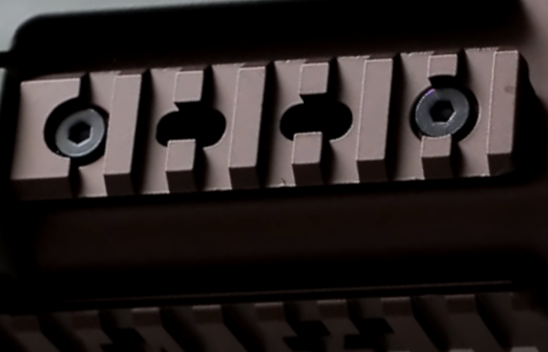 One thing the gun does not have, however, is a lot of trademarks and official markings as it isn't an officially licensed airsoft replica.
While this is actually fairly realistic, as the AK5C is first and foremost a locally modified take on the FN FNC and isn't exactly replete with tons of cool logos like a Colt or H&K might be, it can be a bit of a sore point for gun enthusiasts and collectors.
How Well Does the G&G GK5C / AK5C Perform as an Airsoft AEG Rifle?
Build-quality and Construction
Like the AK5C that inspired it, the G&G GK5C is an extremely well-built and solid airsoft rifle.
The gun is full metal – sporting thick aluminum alloy receivers, metal switches, a steel barrel assembly and nylon-reinforced polymer grips, stock and handguard, the GK5C is very durable and should stand up to most of the abuse that a typical airsoft game will throw at it, including the occasional awkward knock or bang.
While the GK5C isn't exactly one of G&G's flagship models, it's pretty clear that the company has put a fair amount of effort into its build quality, particularly with newer versions of the rifle.
When we handled it, we found that the gun's receiver and barrel were properly fitted together, the fire controls were installed nice and tightly (a common issue with early versions of the gun), the stock both folded and extended smoothly and the gun was generally free from any rattling or looseness of parts, even when it comes to the gun's rather unique handguard.
In addition to an extended top 1913 rail that gives the gun a distinctive saw-back appearance, like the real steel AK5C, the G&G GK5C comes with modular and removable rounded handguard sections along its side and bottom.
When moved back or removed, they reveal additional rail sections that allow the gun a good deal more room for accessories, such as flashlights, lasers and vertical foregrips.
While perhaps not quite as slick and tactical looking as an M-Lok or even a Keymod, by keeping sections of the rail covered the AK5C / GK5C does keep the front of the gun a bit smoother than a traditional quad rail and therefore a little less likely to snag or catch on clothing or gear.
The modular handguard setup also gives users a bit more flexibility when it comes to customizing the gun's looks compared to a standard quad rail, letting them keep certain sections of rail hidden while exposing others.
Interestingly, and much like its real steel inspiration, the G&G GK5C also includes a small cut out just behind a plastic cover on its handguard section.

This indentation is actually a pretty cool and user-friendly feature that's designed to give users a place for a pressure pad and keep the gun's externals a little more streamlined.
Unfortunately for left handed users, and unlike a real steel AK5C, this indentation is only available on the left hand side of the G&G, with the right hand side faux-cover being purely decorative and non-removable.
In addition to its rather plentiful room for on-frame tactical accessories, the G&G GK5C also comes with a 14mm threaded outer barrel, which should allow users to attach their choice of suppressors or tracer units to the gun without an issue.
The G&G GK5C also comes with adjustable iron sights, with a nice flip down front and a rear sight located just behind the top rail segment.
Much like an AK5C, these sights are…serviceable but are really for emergency back up use, as they aren't really the easiest to use for long range shots.
Consequently, to make the most out of the gun you'll probably want to take a page from the Swedish armed forces and fit it with a good red dot sight of some kind.
On the inside, the G&G GK5C is well built, as well, with the company having refined it to a pretty good degree over the years.
The gun comes with a metal reinforced V2 gearbox with 8mm bearings, G&G steel gears in an 18:1 ratio, a piston with a full metal rack, a ported piston head and a custom nozzle.
The gun is powered by a standard G&G 18K long type motor and fires through a nicely finished 357 mm long 6.08mm inner barrel.
The GK5C also comes with a nice and stiff rotary hop up unit that is easily accessible and provides a good deal of spin, lifting mid-weight BBs such as 0.28gs and 0.30s quite easily.
Sadly, unlike the company's SSG-1 or even the Raider, the gun does not come with a MOSFET, although there is plenty of room to add one.
And, if you plan to run this gun as your primary airsoft AEG, you probably should.
The gun is front wired and doesn't really have a ton of space for batteries, meaning you'll probably need to run it with small and/or configurable LiPos, such as the company's recommended three-piece 11.1v, in order to avoid anything popping open and for the handguards to remain flush.

Finally, G&G has done a pretty good job replicating the AK5C's rather user-friendly and highly adaptable telescopic / folding stock.
The G&G GK5C's stock can be extended out a couple inches, collapsed or even folded flat against the gun's side.
Much like the Arcturus AK12 and a few others we've looked at, this really allows the gun to be used comfortably by users of many different shapes, heights and arm lengths, and of course lets users fold the stock down when in tight quarters (or just for fun) and, thankfully, does so smoothly and without blocking the gun's controls.
Performance and Accuracy
Although the G&G GK5C may look quite a bit different than the typical M4s you might see on a field, it is a fairly impressive performer.
Running on 11.1V and with 0.20g BBs, we saw the gun chrono around 380 FPS, which means it has plenty of power for most fields, although users may need to downpower its spring for fields with stricter FPS limits.
As it is an assault rifle replica, the gun is capable of full auto fire and actually has a pretty quick rate of fire, around 19 RPS on 11.1Vs.
While not a speed demon like the speedsoft-oriented SSG-1 or the famous ARP9, the gun can be quicker on auto than many other airsoft assault rifle options out there, including the G&G Raider.
The gun's trigger is pretty crisp, with a nice break and quick return, and the gun's gearbox is pretty quiet for an AEG, so you won't be quite as distracted by a loud whine when in use.
The GK5C also does surprisingly well at long range.
Fitted with a decent optic, it is actually pretty easy to hit targets to around 100 feet (30 meters) and the gun will pretty reliably hit torso-sized targets to 150 feet and beyond (45 m) without an issue.
Handling and Feel
The G&G GK5C's rather boxy looks belie a gun that is actually pretty comfortable to hold.
To be sure, and much like its AK5C inspiration, the gun is pretty hefty.
Tipping the scales at over 8 lbs, it certainly isn't an airsoft rifle for the faint of heart or the weak of arm, especially if taken to longer games.
That said, combined with its full metal design, the gun does feel exceptionally realistic, especially for an AEG, and does have a reassuring solidity to it.
In terms of its length, however, the gun isn't all that much larger than an M4 and is actually shorter than an AK74 or even a SCAR 17.
With the stock folded in place, the gun actually becomes quite compact and easy to maneuver around with in tight spaces, and the fact that the stock also can be extended makes it a little more comfortable for those of different arm lengths to use, which is always nice.
The G&G GK5C also comes with a nice, wide trigger guard and a distinctive round, chunky bolt handle (with a functional and funky wire and metal catch), which makes the gun very easy to operate when wearing gloves – perhaps something that should be expected from a weapon designed to defend a land of ice and snow but should certainly be welcome by fans of tactical loadouts.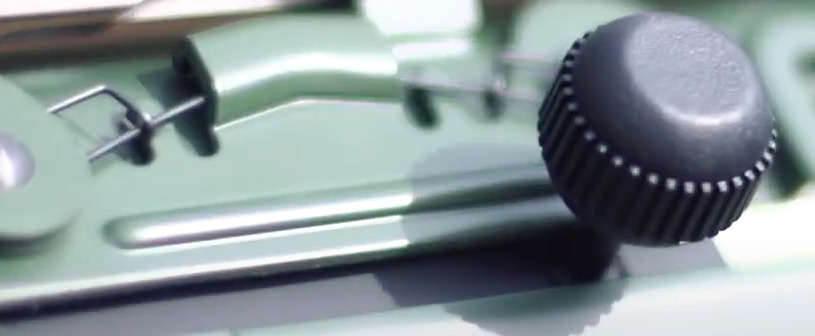 The gun's grip, meanwhile, is thick and easy to hold, although it might be a bit on the smooth side for some.
The gun is, however, pretty ambidextrous in design.
It comes with fire selection levers on both sides of its frame, left and right hand sling points, and dual mag and bolt releases.
The only real issue left handed users might have with this gun, as we mentioned previously, is that the pressure pad indentation is only really available on its left hand side.
Maintenance
Although the AK5C design might seem a bit unusual to those more familiar with M4s or even AKs, the G&G GK5C is actually fairly easy to field strip.
After removing the battery, of course, simply pop the gun's body pin and the top half of the receiver should slide off, revealing the gun's gearbox, hop up, barrel assembly and so on, which can then be cleaned, lubed and inspected as necessary.
Although the gun is powered by a pretty standard V2, the GK5C, as with a few other G&G guns we've seen, does use some proprietary parts, such as its stock, hop up chamber, nozzle and selector plate.
While these parts are good quality and contribute to the gun's excellent performance and design, they do mean that upgrading and repairing the gun can be a bit more challenging than a typical TM-clone as you can't always simply grab certain parts from a 3rd party manufacturer, especially as this is more of a niche airsoft gun than other rifle replicas.
That said, with a little searching around you can find tightbore barrels, improved hop us, SHS pistons, improved nozzles, MOSFETS and more that can be fitted to the gun.
Magazine Type and Capacity
The G&G GK5C is usually sold with a 330 round polymer mid-cap that sports a true-to-life waffle design.
All things considered, the G&G magazine is a pretty good one.
In our experience, it slid in and out smoothly and fed reliably without jamming or suffering from multifeed issues.
The winding mechanism was a bit recessed, but wasn't anything too serious.
Happily, the gun does accept just about any STANAG-style magazine, so users can make use of the many, many low, mid and high cap mags out there, as well as drums, and which can lower the overall running cost of the gun quite a bit.
Price
Note: All prices correct as of writing, all prices in USD.
The G&G GK5C isn't exactly a cheap airsoft rifle.
Typically retailing north of $400, it does represent a significant purchase and is generally more expensive than many other AEGs out there, such as an Umbrella Corporation M4, a Krytac Trident, and on par with guns such as the Sig MCX Virtus or an VFC Avalon Saber.
That said, for the money you do get a rather unique looking airsoft AEG with a strong military connection, excellent build quality, more than capable performance and a range of interesting features that help it stand out from the crowd.
Or
Advantages of the G&G GK5C
Very realistic airsoft replica
On the whole, G&G has done an excellent job replicating the rather unique and aggressively boxy style of the Swedish AK5C, managing to create an AEG that's nearly identical to its real steel inspiration in looks, details, size and weight.
Very solid, durable design
Made of thick aluminum alloy, steel and nylon-reinforced polymer, the G&G GK5C is a durable airsoft gun that should stand up to the rigors of gameplay without issue.
Good build quality
More than that, G&G has put a good deal of effort into the fit and finish of this airsoft gun, giving it a high quality paint job and making sure that its parts and controls have been fit together properly and snugly.
Lots of interesting design features
The G&G GK5C comes with a number of interesting features that make the user-experience a bit more enjoyable, such as a telescoping and folding stock, ambidextrous controls, a smooth and snag-reducing modular handguard/rail system and even a built-in place to fit a pressure pad.
Great performance
While perhaps a bit different looking than a standard M4, hitting at around 380 FPS and able to hit targets past 150 feet or so, the G&G GK5C is certainly capable of slugging it out with just about any other gun on the field.
High ROF
Fitted with a LiPo and set to auto, the G&G GK5C is capable of firing off BBs at a rate of about 19 RPS – more than decent for an airsoft assault rifle.
Folding, extendable stock
As mentioned, the stock on the G&G GK5C is both telescoping and folding to the side, giving the gun a lot of built in flexibility of use and making it more comfortable for a wider range of users.
Disadvantages
Small battery compartment
Front-wired and based on a rather unique design, the G&G GK5C doesn't exactly have a cavernous battery compartment and can be a bit more limited in the types of batteries it will comfortably accommodate without modification.
Heavy
At nearly 9 lbs, the G&G GK5C, like a real steel AK5C, is no lightweight and can be a bit heavy to carry around all day if you're not used to it.
Not cheap
Typically sold for over $400, the G&G GK5C is not exactly the cheapest AEG around and, while very well made, it can be a bit much for some tighter budgets.
Bottom Line
With its highly accurate and innovative design, excellent all around performance and solid build quality, if you're looking to add a bit of Nordic joy to your airsoft collection with an AK5C replica, the G&G GK5C is probably your best bet.
Will Martin – Will has been into airsoft and paintball for well over 10 years, and has done it all – from upgrading and fixing gearboxes as a tech to building custom airsoft loadouts for his friends to supporting off those friends as a DM.