Durability and Build Quality

92%
| | |
| --- | --- |
| Pros | Cons |
| ✅ Easy to carry, comfortable to hold | ❌ Fixed sights |
| ✅ Versatile, all-around power | ❌ No 14mm CCW threading on outer barrel |
| ✅ Officially licensed with Glock trademarks | ❌ Constant automatic fire can strain some parts over time |
| ✅ Capable of full automatic | |
| ✅ Impressive rate of fire | |
| ✅ Snappy blowback action | |
| ✅ Accurate at range | |
| ✅ Ambidextrous | |
| ✅ Tons of upgrades and aftermarket parts | |
| ✅ Adjustable hop up | |
The Glock 18 is, arguably, one of the most eyebrow-raising Glocks out there.
Similar in style to the venerable G17, the 18 is actually a fully-automatic model capable of laying down up to 1200 9mm rounds per minute.
Unfortunately, the Glock 18C isn't a very easy gun to get your hands on even in the United States – being an automatic pistol there are pretty strict laws that restrict its sale to civilians.
Airsoft enthusiasts and collectors, however, don't have to worry about it and can easily get their hands on a replica of this powerhouse Glock.
The Umarex 18C is an officially licensed airsoft replica, one of the most true to life and, like its smaller siblings, the G17 and the G19X, it has garnered some attention and amassed its share of fans in the airsoft world over the years.
To find out if the Umarex 18C is worth a spot in your airsoft pistol collection, we decided to check it out for ourselves.
Specifications
| | |
| --- | --- |
| Manufacturer | VFC |
| Power | Green Gas |
| Action | Select fire automatic, Gas Blowback |
| FPS | ~ 300 FPS @ 0.20g BBs |
| Hop up | Adjustable |
| Inner barrel | 3.82 inch (97mm) |
| Total Length | 8.03 inches (204 mm) |
| Weight | 1.89 lbs (857g) empty |
| Construction | Metal slide with nylon-reinforced polymer frame – Gen 3 |
| Rounds | 50 (extended mag) |
How closely does the Umarex Glock 18C (Gen 3) resemble the real steel version?
| | | |
| --- | --- | --- |
| | Umarex G18C Gen 3 | Glock 18C Gen 3 |
| Weight | 1.89 lbs (857g) | 1.47 lb (670 g) |
| Overall length | 8.03 inches (204 mm) | 8.03 inches (204 mm) |
| Action | Select fire (Semi + Automatic) | Select Fire (Semi + Automatic) |
| Caliber | 6mm | 9mm |
| Capacity | 50 | 17-33 rd |
| Construction | Metal slide, nylon-reinforced polymer frame | Steel barrel, slide and spring; reinforced polymer frame |
| Sights | Fixed | Fixed |
| Rail | 6 O' Clock | 6 O' Clock |
The Umarex Glock 18C is an officially licensed model, and as such it is a very close replica of a real steel Glock.
Umarex has done an excellent job overall of matching the 18C closely in terms of its weight, length and dimensions, being a pretty 1:1 replication down to the iconic oversized vent ports cut out of the top of the slide.
Since this is based on a Glock pistol, the Umarex G18C's airsoft-style mixed metal/polymer construction actually works in its favor, replicating the real steel version's steel and Polymer 2 build.
That said, as it is made of more typical airsoft materials, rather than the advanced composites used by Glock, it is actually slightly heavier than the real steel 18C, a quirk of design that is a bit unusual in the airsoft world.
In terms of its looks, all of the switches and details are where they should be on the Umarex and, importantly, actually work.
This includes the safety-integrated Glock trigger, the dual takedown levers, the U-shaped sights and, of course, the characteristic, oversized selector switch.
Since this is an official Glock model, collectors will be pleased to know that it does come with all the trades you might expect…and more.
Glock trademarks and branding are sprinkled liberally across the gun, with full trade identifiers across the side of the slide (as is expected), and Glock logos and branding on the grip, the slide, the barrel assembly and so on.
One thing to note is that as the gun is built with Umarex's Gen 3 lower assembly, the official licensing notice is located on the frame, rather than lower down on the grip as in Gen 5 Umarex Glocks, which makes it a little more conspicuous.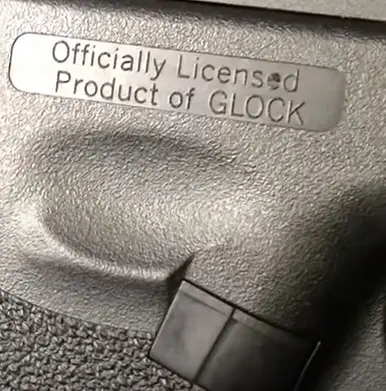 How Well Does the Umarex Glock 18C Perform as a Gas Blowback Airsoft Pistol?
Build-quality and construction
Like other models in the Umarex Glock line, the 18C is a gas blowback airsoft pistol that sports an aluminum alloy slide set on top of a nylon-reinforced polymer frame.
This makes the gun pretty sturdy and durable but still lightweight and easy to hold and handle for extended periods of time compared to those heavier, steel or full aluminum slides.
Umarex has done a pretty good job putting the gun together.
While the frame is made of plastic, we didn't find there to be any bending, squeaking or looseness to speak of, and the mag release, teardown levers and trigger all properly and firmly installed.
The Umarex Glock 18C is an automatic-capable pistol and its design is notable for the rather prominent selector switch that's located to the back of the slide.
As with the other external components on the gun, we found the selector switch to be nicely installed, giving a nice, firm click when thumbed.
As with the real steel 18C, the selector switch allows the gun to toggle between semi and automatic fire modes and these are indicated with three fairly small dots.
The single dot on top indicates semi (single shot) mode while the two on the bottom set the gun to automatic fire.
While somewhat intuitive, the dots are fairly small and pretty subdued, matching the color of the frame, and so can be hard to see in low light.
In the end, users will probably go more by muscle memory and feel (up – semi, down – auto) rather than looking for these visual indicators.
The Umarex G18C also incudes the large and rather distinctive mock vent cuts on the top of its slide.
In real steel Glock 18Cs, the vents are designed to shunt propellant gas upwards when fired (especially on auto), which helps reduce muzzle flip, keeps the gun's recoil more manageable and, in turn, helps users keep the gun on target when blasting away.
Although perhaps less functional in airsoft, the vents do look pretty cool and are an accurate touch that we appreciate.
Like other Glocks in the series, the Glock 18C does not come with a 14mm CCW threaded outer barrel, so users will need a replacement or modification to add a mock suppressor or tracer unit, which is kind of unfortunate.
The gun does, however, come with a rail attachment under the barrel (at the 6' o' clock), which is a good thing and lets users readily attach some tactical accessories to the 18C, such as lasers, flashlights and more.
In addition, to help with aiming, the Umarex G18C comes with white marked Glock-style sights, a standard front post and a u-shaped notch sight in the rear.
These are pretty low rise sights and are pretty snag-resistant in our opinion, which is good for CQB and close in games, and they do a fairly good job when on low-contrast targets or in poor lighting conditions.
That said, they aren't the most prominent and can be a little hard to see in very low light conditions, so fans of night games may want to switch them out for some fiber optics when possible.
Another issue that can be a concern for some users is that the sights are fixed. While they do a fine job to about 75 feet (22 m), after that it can take a little bit of skill and practice to consistently nail targets.
Inside the gun, broadly speaking Umarex has done a good job at ruggedizing their Glock 18C for gas blowback.
The slide is reinforced towards the back and the gun does include a dual spring system that can help the slide better cope with the gun's blowback and protect the internals a little bit more.
That said, the gun is an automatic-capable airsoft pistol and the slide is made from alloy materials, rather than steel or high grade aluminum.
While this does keep things light and gives the gun an excellent blowback action, some users have reported some issues when firing the gun on auto for extended periods, notably finding damage to the hammer and slide stop after some time.
Those interested in regularly using the gun on full auto would probably be best advised to swap the slide for a replacement steel or higher grade aluminum version when possible.
Fortunately, there are a wide variety of affordable upgrades available out there for this model.
Finally, the Umarex Glock 18C comes with a fully adjustable wheel-style hop up unit.
Unlike their G17 Gen 5 and 19X models and more like a traditional airsoft pistol, the hop up adjuster is located under the slide and is not accessible from the outside of the gun.
Consequently, users will have to strip the gun to make adjustments, which can be a bit of hassle during a game or on the fly.
Performance and accuracy
The Umarex Glock 18C is a green gas airsoft pistol and, while not an FPS beast by any means, it certainly gets the job done and can be taken to a wide variety of airsoft games, making it quite versatile as a sidearm option.
We saw the G18C get around 300 or so FPS using 0.20g BBs, which means it should be able to slide under most CQB/indoor FPS limits, but still should be usable in outdoor events, at least as a secondary.
It is an automatic-capable airsoft pistol and it does have a very impressive rate of fire, capable of emptying its 50 round mag in a couple seconds, i.e. an ROF somewhere in the 20s, which puts it roughly on par with other full-auto airsoft pistols of note such as the Tokyo Marui Xtreme 45 and the AAP-01. 
While we wouldn't recommend running the gun on auto all the time without some upgrades for the reasons stated earlier, a stock G18C can be a lot of fun (and quite effective) when delivering the occasional blast of BBs in game.
The gun is also a decently accurate airsoft pistol choice on semi, providing nice groupings up to around 75 feet (22 m) and hitting center mass targets well past 100 feet (30 m) or so once you get used to the gun and its fixed sight limitations.
The blowback action on the Glock 18C is pretty decent as well, with a smooth slide action, a nice sound and a pretty light and snappy trigger.
In terms of gas efficiency, gets around 2-3 mags per fill which is decent enough but nothing to really write home about.
Handling and feel
Overall, the Umarex Glock 18C is pretty comfortable and easy to hold.
At around 8 inches long it is slightly longer than the 17 and the 19X, but it is still more compact and easy to carry than other popular airsoft sidearm choices, such as most 1911 clones.
At just under 2 lbs, the G18C definitely has some heft to it, feeling very much like a real steel firearm, which is always enjoyable.
While the gun comes with a rear-serrated slide, which can help users get a firm grip when racking the slide, they are a little shallow (which can make them a little less grippy for those wearing gloves) and the fire selection switch can get in the way a little bit.
The grips, however, are extremely comfortable and do give users a good hold on the gun. They are stippled on each side and they are finger cut, with a nice checkered pattern between each groove, which can help users get a nice, firm grip on the gun when firing in automatic.
As with other Glocks, the Umarex Glock 18C is ambidextrous and should be comfortable for both left-handed and right-handed users to use.
The gun comes with a trigger safety, takedown levers and slide stops on each side of the frame and a reversible magazine release button.
In fact, the only real issue with the G18C in terms of ambidexterity is the fact that the fire selector is located on the left-hand side
Maintenance
The Umarex Glock 18C can be stripped much like a real steel Glock, i.e. easily and pretty quickly.
There are twin takedown latches on either side of the gun's frame that, which pressed down, lets the slide come free of the frame with a simple push.
Once the upper and lowers are apart, the users can check the slide, recoil spring assembly and other internals for any damage or wear and tear, and do periodic maintenance and clearing.
Umarex Glocks are made by VFC and are, for the most part, not TM spec. As a result, replacement parts aren't quite as ubiquitous as some other models, such as Tokyo Maruis or WEs.
That said, Umarex Glocks are extremely popular in their own right and Umarex has done a good job making sure that replacement triggers, barrels, frames, slides, hammer assemblies and more are pretty widely available on and offline.
Magazine type and capacity
The Umarex Glock 18C comes with a metal 50 round extended VFC Glock-style mag that is pretty sturdy and, when inserted, extends quite a bit from the grip, giving the gun a very machine-pistol kind of look.
The 18C is compatible with some other Umarex Glock mags, such as those from the 17 and 19X range, which makes the gun a little easier and more cost effective for users to own in the long run and gives those who don't appreciate the machine pistol look some more options.
In theory, users can try out some of the CO2 mags available for the 17, which is something that many Youtubers like to demonstrate online.
But given the gun's high rate of fire and potential damage that can result from the increased PSI of CO2 even with the metal slide, we would be very careful when doing so on automatic and we recommend that most users stick with the green gas options.
Unfortunately, because the G18C isn't TM spec, the gun is not compatible with mags from other brands.
Accessories & Customizability
As mentioned, the Umarex Glock is not a TM clone and does use some proprietary VFC parts.
That said, there are quite a few aftermarket upgrades and accessories for it that can help it deliver even more impressive performance.
There are, for example, upgraded slides (for full-auto aficionados), improved valves, threaded barrels, hop ups, buckings, hi-vis sights, strengthened guide rod sets, steel hammer assemblies and much, much more.
Price
Note: All prices correct as of writing, all prices in USD.
The Umarex Glock 18C comes in at a little under $200 or so (depending on where you buy it), which puts it slightly above other, non-automatic Umarex Glocks in terms of price.
Like other Umarex Glocks, this price point puts it on the more premium end of the airsoft pistol market, making it a little more expensive than other popular pistol options out there, such as the AAP-01 or even the Elite Force 1911 TAC.
That said, select fire, fully automatic gas blowback airsoft pistols aren't all that common and Umarex's 18C is a well-made, well balanced and accurate example of one that's officially licensed to boot.
Or
Or
Advantages of the Umarex Glock 18C GBB Pistol
Comfortable and easy to hold
With its highly textured grips, compact size and relatively light weight, the Umarex Glock 18C is a pretty easy to use and carry airsoft pistol, even for extended periods of time.
Versatile with well-balanced power and performance
The Umarex's power comes in around 300 FPS with .20g BBs. Although not an FPS beast, it is powerful enough to carry as a secondary in outdoor games and should slide nicely under any FPS limits you might encounter during CQB and indoor games.
Realistic with full Glock trades
Although actually a little heavier than the real steel version, the Umarex Glock 18C is otherwise an extremely close replica of the restricted Glock 18C when it comes to length, looks and dimensions.
It is also an officially licensed airsoft pistol, with all the actual Glock trademarks and branding that collectors might want.
Select fire with full automatic
The Umarex Glock 18C is a true select fire, fully automatic GBB pistol,something that is not all that common in the airsoft world, or the real firearms world for that matter.
With the flip of its selector switch, users can make precise single shots or suddenly spray their opponents with a hail of BBs, machine pistol-style.
Adjustable hop up
We always appreciate an airsoft pistol with an adjustable hop up, and the Umarex Glock 18C has a wheel-style version located under the slide, 1911-style, that is not only easy to adjust by hand but also provides excellent spin even when stock.
Snappy and enjoyable blowback
With its lightweight alloy slide, when fired the Umarex Glock 18C provides users with a snappy, relatively strong and quite audible blowback action that can be pretty impressive and a lot of fun.
Ambidextrous
Like other Glocks, the Umarex Glock 18C is pretty ambidextrous, sporting twin takedown levers and slide stops, a reversible mag release, and a trigger safety.
Disadvantages
Fixed sights
While they are pretty cool and won't snag on clothing or gear, the Umarex Glock 18C comes with fixed sights that can make it harder to hit targets past around 70 feet or so (22 m) without some experience and intuition.
Barrel not threaded
Like some of the other Glocks in Umarex's series, the Glock 18C doesn't come with a 14mm CCW threaded outer barrel, so it can be hard to attach your favorite suppressor or tracer unit without swapping it for a replacement.
Constant hardcore full auto use may strain the gun's slide and internals
While the automatic fire function of the Umarex Glock 18C is extremely cool, the gun's decent FPS and impressive rate of fire means that using it constantly can strain the alloy slide, catch and hammer over time.
In our opinion, at least, users interested in using the Glock 18C on automatic for extended periods of time will probably want to swap these out for more durable aftermarket parts that are, helpfully, widely available for this gun.
Bottom Line
If you want a lightweight, well-built, versatile and solidly performing gas blowback pistol, Umarex's line of Glocks should be at the top of your list.
And if you want all that and the ability to suddenly pepper your enemies with on-demand automatic fire, the Umarex Glock 18C is probably the one to check out.
Ted Clark– Hailing from Florida, Ted has been an avid airsoft enthusiast since he was in middle school. When he's not checking out and reviewing airsoft guns, he enjoys picking off his enemies one by one on the field as a sniper.