Durability and Build Quality

90%
| | |
| --- | --- |
| Pros | Cons |
| ✅ Can run gas or CO2 | ❌ Not exactly cheap |
| ✅ Powerful, but also versatile enough for CQB | ❌ Uses some proprietary parts, mags |
| ✅ Extremely realistic looks and handling | ❌ While barrel is threaded, may need adaptor |
| ✅ Fully ambidextrous | |
| ✅ Extremely accurate | |
| ✅ Bottom 20mm rail | |
| ✅ Ready to fit RMR Sight | |
| ✅ Easily adjusted hop up unit | |
| ✅ Comfortable to hold | |
| ✅ Snappy and fun blowback action | |
| | |
In 2017, Sig Sauer won the United States Army's XM17 Modular Handgun System competition, and its M17 (and the slightly shorter M18) became the sidearm of choice for the US Military, replacing the venerable Beretta M9.
As might be expected, airsofters the world over were eager to get their hands on a replica of this military-spec Sig Sauer P320 and, somewhat unusually in the world of airsoft, Sig Sauer was happy to oblige them.
The Sig Sauer ProForce P320 M17 is an official airsoft version of the M17, created by Sig Sauer itself as part of its up-market, professionally-oriented SIG AIR ProForce division (which includes the rather famous SIG MCX AEG carbine), and is designed to be a 1:1 replica of the real steel model. 
To find out if this airsoft P320/M17 truly lives up to its namesake, and to find out if it is worth your time and money, we decided to take a closer look.
Specifications
| | |
| --- | --- |
| Manufacturer | Sig Sauer / VFC (OEM) |
| Airsoft type | Green gas, CO2 |
| FPS | ~340 FPS @ 0.20g BB (green), 410 FPS on CO2 |
| Magazine Capacity | 21+1 BBs |
| Inner Barrel | 4.1 in (105mm) |
| Hop up | Adjustable |
| Construction | Alloy slide, reinforced-polymer frame |
How much does the Sig Sauer Airsoft M17 / P320 Resemble The Real Deal?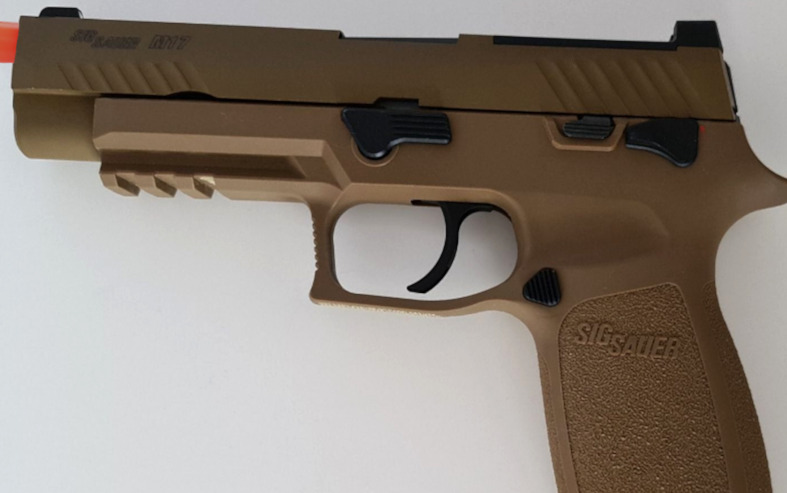 | | | |
| --- | --- | --- |
| | SIG Sauer ProForce P320 M17 | SIG Sauer P320-M17 |
| Weight | 1.68 lb (760 g) empty | 1.83 lb (833.5 g) empty |
| Overall length | 8.5 in (215.9mm) | 8.5 in (215.9 mm) |
| Action | Striker fire | Striker Fire |
| Caliber | 6mm | 9mm |
| Capacity | 21+1 | 17-21+1 rd |
| Construction | Nylon-reinforced body, metal slide | Stainless Steel slide, polymer frame |
| Rail | 6 O' Clock | 6 O' Clock |
The Sig Sauer Airsoft M17 / P320 is actually a 1:1 replica of a real steel M17 and is designed to recreate the original pistol's design and handling characteristics so that it can be used for professional training as well as more casual airsofting.
And, as can be expected by an airsoft gun created by the original firearms manufacturer, it does an excellent job in doing so, matching its real steel inspiration in terms of overall size, weight and even being pretty close in terms of construction, with a metal slide on a polymer frame.
All the P320/M17 components you might expect, such as the twin safeties, rotating slide catch, and mag release are located where they should be on this gun and are perfectly functional.
Sig has even replicated the P320's loaded chamber indicator, a little piece of metal that sort of pops up when the gun is chambered with a round, or in this case a 6mm plastic BB.
Created by Sig, as you can imagine, the ProForce P320 M17 contains all the official trademarks and logos you might expect, which is good news for milsimmers, collectors and real steel firearms enthusiasts alike.
The Sig Sauer name and model number are nicely laser-etched on the slide, while the wordmark Sig Sauer is molded nicely and prominently into the gun's grip.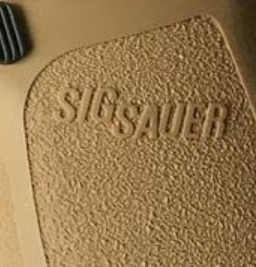 Each gun comes with a unique serial number, a cool detail that adds a nice bit of extra realism, and sports the location of the company's Newington, New Hampshire headquarters (although not the German HQ) engraved right on the frame.
Interestingly, and unlike many other airsoft guns, Sig has gone the extra distance as far as realism goes by placing the required official warnings and safety information on the bottom of the trigger, rather than on the slide itself, making the gun look much more like a real steel firearm when in use.
How Well Does the Sig Sauer Airsoft P320 M17 Perform as an Airsoft Pistol?
Build-quality and construction
Much like its real steel inspiration, the Sig Sauer ProForce P320 M17 airsoft pistol is made of both polymer and metal materials.
The frame of the gun is made of a reinforced polymer material, while the slide itself is made of a pretty sturdy aluminum alloy.
As a result, the ProForce P320 M17 is a pretty solid airsoft pistol that can stand up to both green gas and CO2 pressure, as well as handle the abuse that a typical airsoft game can throw at it.
Out of the box, we found the Sig to be well-made and well put-together.
The polymer frame felt pretty strong and rigid, without much in the way of bending, flexing or squeaking when handled, and the slide action was smooth and easy to draw.
There are a lot of controls and levers on this gun, something we'll discuss a little later in more depth, with a couple safety switches, a two-sided slide catch control arm and a reversible mag release.
These pieces are all functional and are fitted to the gun pretty securely, locking into place (or being pressed down, in the case of the mag release) without any noticeable wobbling or looseness, a good indicator of proper quality control.
Underneath the barrel, Sig Sauer has replicated the real steel version's standard 20mm rail, so it is very easy to attach any of your favorite tactical pistol accessories, such as flashlights and lasers, to the gun.
Now, it is important to note that the Sig Sauer ProForce P320 M17 does come with a threaded barrel underneath its orange tip.
Unfortunately, it is a less common size – 12mm CCW – so for the most part you will need an adaptor to attach mock suppressors, tracer units and so forth.
When it comes to sights, the gun comes with decently high visibility white tridot iron sights.
While these are mostly standard iron sights with some bright white markings on them, they do look pretty cool and make it a little easier to keep things accurate when aiming at low contrast targets or in lower light conditions.
They're also fairly low profile, so they are less likely to snag on clothing, vest straps or other airsoft equipment when used in close quarters, which is a plus.
On the downside, however, they are fixed.
While this does mean there is less to go wrong if the gun is banged around, it does mean that hardcore backyard plinkerers won't be able to make fine adjustments to their aim as easily.
Interestingly, and unusually for an airsoft pistol, Sig Sauer has included space for mounting optics on the ProForce P320 M17.
The back sight is actually part of a one piece plate and can be removed and replaced with a compatible RMR sight, such as those produced by SIG AIR.
Internally, the Sig Sauer ProForce P320 M17 is pretty solidly put together.
Most of the components are made of a pretty durable alloy, while the inner barrel is aluminum and is held tightly in place with a special pin, reducing its vibration.
The gun does have a proprietary design, with a rather unique gas system that contains a partially concealed cylinder.
This is done in order to protect it, as well as to prevent excessive debris from fouling the mechanism.
There is also a pretty high quality, adjustable hop up fitted to this gun.
Unlike a typical 1911 clone or even some airsoft Glocks, users can adjust the hop up from the exterior of the gun rather than having to strip it.
This means that hop adjustments can be done on the fly, making the gun a lot more usable in game.
To do so, users turn the guide rod located under the barrel using a special, oddly-shaped tool that is included with the gun.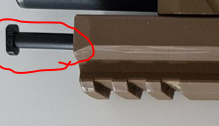 Should you lose this tool, adjustments can also be made with your fingers, although this may not be the most comfortable option.
One of the more notable design features with the Sig Sauer P320 M17 airsoft pistol is its modularity.
The trigger assembly is single piece and can simply be popped out of the lower receiver by removing the take down lever.
While there aren't as many receiver options (yet) in airsoft as the real steel version, this does allow users to quickly make upgrades or swap out the lower frame completely for another, either OEM or third party, which can be kind of handy if you're into customization.
Overall, the internals of the Sig are pretty sophisticated and cool, especially for an airsoft gun.
Users should be aware that there can be some small parts here and there (rollers, pins, springs, etc) that they may not be used to if they are more used to a TM spec design, and they will want to pay attention to their wear and tear during any maintenance checks, especially if running the gun on more powerful CO2 mags.
Performance and accuracy
As a gas blowback airsoft pistol, the Sig Sauer ProForce P320 M17 is very capable and can deliver pretty impressive performance on the field.
It is a dual gas airsoft pistol and is capable of running both green gas and CO2 mags.
On CO2, the gun chronos at around 410-420 FPS with 0.20g BBs, which is fairly impressive for an airsoft pistol.
It does, however, make it a little too overpowered for many indoor and CQB airsoft games, which can have strict FPS limits.
Switch to green gas mags, however, and the gun drops down around 340 FPS, allowing it to be used in just about any close quarters game, which is convenient.
Partially due to its high quality hop up and locked down internals, the Sig Sauer ProForce P320 M17 is also quite accurate.
We saw the gun get pretty close groupings to around 65 feet (20m) and hit body-sized targets well past 120 feet or so (36m) with little effort.
In addition, the blowback action on the gun is fairly impressive.
Even on green gas the gun cycles quickly, is quite snappy and offers a pretty strong kick for an airsoft gun.
Run it on CO2 and the P320 M17's blowback is suitably amplified and simply becomes a blast to shoot.
The gun is modeled after a striker fired pistol, so there is no hammer to play with/single action option, but the trigger is extremely responsive with short pull and a very precise break that feels almost like a hair trigger at times.
In terms of gas efficiency, the Sig ProForce P320 M17 isn't bad but also isn't anything to write home about, getting about 2-2.5 mags per fill on CO2 and a little better on green gas.
Handling and feel
By and large the Sig Sauer ProForce P320 M17 is a pretty ergonomic airsoft GBB pistol, which is perhaps unsurprising given that it is a 1:1 replica of the US Military's sidearm of choice and the direct replacement of the legendary Beretta M9.
At around 2.6 lbs loaded, the gun has enough heft not to feel like a toy but is sill light enough to be easy to hold for extended periods of time.
Similarly, it is also extremely well balanced pistol, with a nice centered mass and feeling very comfortable in hand overall.
Like its real steel counterpart, the gun does have a slightly wider grip, which tends to suit those with bigger hands a bit more.
That said, the gun's grips are pretty comfortable and heavily textured/stippled, providing users with a nice, secure hold, even in wet weather.
The gun's slide, meanwhile, has front and rear serrations that are fairly wide and deep, giving users a lot to hold on to when racking the slide from either end, even when wearing gloves.
The ProForce P320 M17's trigger guard is similarly glove-friendly, being substanitally larger than normal and having front serrations that can provide a more secure grip for the supporting hand.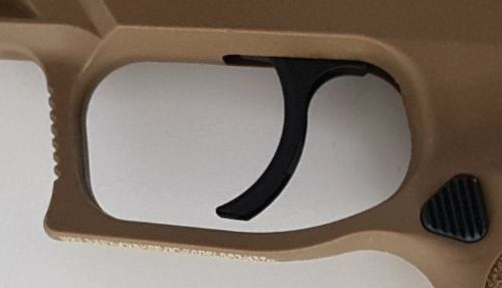 Finally, the Sig Sauer ProForce P320 M17 is a fully ambidextrous airsoft pistol.
The gun sports dual safeties, twin slide catch levers and a mag release that can be reversed in a matter of seconds.
As a result, the gun can be very comfortable and easy to use for both right- and left-handed users.
Maintenance
The Sig Sauer ProForce P320 M17 is designed to be taken down in the same manner as its real steel counterpart.
For those used to airsoft 1911s, this can be a little different but is actually a lot simpler in many ways.
After ensuring there is no BB in the chamber, users draw back the slide until its square cut aligns with the take down lever.
Users then rotate the take down lever down, and the slide should come free from the frame.
Users can then inspect the gun's slide, recoil spring, barrel assembly and trigger mechanism for damage, cleaning and lubing as necessary.
As we mentioned previously, the trigger assembly is a single piece that, with the removal of the take down lever, pops free with a gentle pull and wiggle.
Users can then make a far more in-depth inspection of the trigger mechanism and its component pieces if they would like.
In terms of replacement parts, it is important to note that the Sig Sauer ProForce P320 M17 uses a fair amount of proprietary parts and designs.
It is not a Tokyo Marui spec, therefore there isn't quite as large of an ecosystem out there nor are there a ton of ready clones that can be harvested for parts.
That said, replacements parts are still relatively easy to find, especially as the gun continues grows in popularity and interest.
A quick online search should reveal OEMs for just about every aspect of the gun.
These can be picked up from Sig themselves, as well as from a number of leading airsoft retailers.
Custom Parts and Upgrades
While upgrades and customizations were intially a little limited when the Sig Sauer P320 M17 airsoft pistol was first released, recently there has been a growing number of performance parts available for this gun from different third party manufacturers.
With the click of a button, users can, for example, find tightbore and threaded barrels, custom triggers and trigger kits, buckings, metal frames, high performance valves, springs, thread adaptors and much, much more.
As a result, although the Sig is its own design, users can pretty easily customize the gun to suit their own tastes and preferenes.
Magazine type and capacity
The Sig Sauer ProForce P320 M17 uses a fairly sturdy and relatively heavy 21 round, double stack alloy magazine.
There are both CO2 and green gas mags available for the gun, meaning that users have their choice and can pretty easily adjust the power of the gun to suit their preferences or any FPS limits that may apply.
They are, however, of a propritary design and there aren't any 3rd party mag producers for this gun, which limits the ability to pick up cheap spares.
Price
Note: All prices correct as of writing, all prices in USD.
The Sig Sauer ProForce P320 M17 isn't just an officially licensed airsoft pistol, it's a 1:1 replica of the US Military's main sidearm that is produced by the actual real steel manufacutrer, Sig Sauer.
As you might imagine, this does not come cheap.
While it depends on where and when you buy it and which options it comes with (there can be several), the gun tends to come in at around $170-200 or so.
Consequently, the ProForce P320 M17 sits fairly comfortably on the more premium side of airsoft pistols, alongside other higher end airsoft gas pistols such as the Tokyo Marui Hi-Capa 4.3, the Elite Force/Umarex Glock 18C and so on.
That said, with its excellent perforamance and accuracy, dual gas capability, good build quality and dedication to realism, the Sig Sauer ProForce P320 M17 does offer a value for the money and can be a lot of fun to use.
Or
Or
Advantages of the Sig Sauer ProForce Airsoft P320 M17
Excellent and versatile power
The Sig Sauer ProForce P320 M17 is capable of running on both CO2 and green gas mags, and delivers some pretty impressive performance on both.
On CO2, the gun hits at above 400 FPS, which will certainly make opponents think twice. Meanwhile, on green gas, it can deliver a decently strong, yet CQB limits-friendly, 340 FPS or so.
Extremely realistic handling and looks
The ProForce P320 M17 is a 1:1 replica of the US Military's sidearm of choice, being an exact copy of its real steel inspiration in terms of looks, Sig trademarks and even replicating its handling and takedown.
As a result, it not only looks good, but can be used for training purposes as well.
Fully ambidextrous
Sig Sauer has done a good job at making their airsoft P320 M17 as ambidextrous as possible, making it comfortable to use for both left- and right-handed users. .
The gun features safety levers and slide stops on either side, as well as an easily reversble mag release button.
Excellent accuracy
The ProForce P320 M17 is a very precise and accrate airsoft pistol, and can hit targets pretty accurately well past 120 feet (36m) or so.
Optics ready
Unlike many other airsoft pistols out there, the Sig Sauer ProForce P320 M17 doesn't just come with decent white dot sights, but also comes with an optics plate that is ready to fit an RMR sight for more precision (and cooler looks).
Easy addition of accessories
The Sig Sauer ProForce P320 M17 comes with a 20mm lower rail that allows users to easily attach their favorite tactical accessories.
Similarly, it does come with a threaded outer barrel that, with a 12-to14mm CCW adaptor, will allow them to add on mock suppressors, tracer units and more.
Easily adjusted hop up
Unlike many 1911 clones, adjusting the hop up on the Sig can be done from the outside by turning the guide rod clockwise/counterclockwise using a tool or your fingers.
This allows users to adjust their spin more easily and conveniently, such as during a game.
Disadvantages
Can be pricey
An officially licensed replica with some pretty high quality parts and designs, the Sig Sauer ProForce P320 M17 isn't exactly cheap, being priced as a more premium airsoft pistol.
Uses some proprietary parts and mags
The Sig P320 M17 airsoft pistol does use a variety of proprietary parts in its design that can be a little harder or more expensive to source than a standard Tokyo Marui clone.
Similarly, the magazines are a proprietary design, meaning it can be a little more costly to find and buy spares.
Threaded barrel needs adaptor
Although it does come with a threaded barrel, the Sig Sauer ProForce P320 M17 uses a 12mm CCW thread rather than a more standard 14mm CCW, so adding barrel attachments and accessories may require an adaptor.
Bottom Line
With its well-balanced and well-built construction, versatile power, excellent accuracy and with plenty of room for accessories, the Sig Sauer ProForce P320 M17 can be an excellent choice for those looking for a more modern and tactical airsoft sidearm.
It is also extremely an realistic airsoft pistol, designed to be a 1:1 replication of the real steel M17's handling and takedown, making it an interesting choice for firearms enthusiasts and those looking for realistic, but safe, training solutions as well.
Ted Clark– Hailing from Florida, Ted has been an avid airsoft enthusiast since he was in middle school. When he's not checking out and reviewing airsoft guns, he enjoys picking off his enemies one by one on the field as a sniper.