Durability and Build Quality

90%
| | |
| --- | --- |
| Pros | Cons |
| ✅ Lightweight and compact | ❌ Not the cheapest GBB pistol |
| ✅ Good stock internals | ❌ Outer barrel not threaded |
| ✅ Accurate at range | ❌ Plastic slide |
| ✅ Well-built, good quality control | |
| ✅ Gas efficient | |
| ✅ Comfortable to hold and fire | |
| ✅ Easy to customize with tons of aftermarket parts | |
| ✅ Nice, snappy blowback | |
Based on the Para-Ordnance Hi-Cap 45s, which themselves are based around the venerable 1911 design, Tokyo Marui's Hi-Capas are something of a beloved fixture in the airsoft world.
The Tokyo Marui Hi-Capa 4.3 is a compact take on the design, taking the accurate, well-made, reliable and eminently customizable nature of the TM Hi-Capa and fitting it into a smaller package.
To find out if the Hi-Capa 4.3 lives up to its reputation, and to help you decide if it's right for your collection, we decided to take a closer look.
Specifications
| | |
| --- | --- |
| Airsoft type | Gas Blowback Pistol |
| FPS | ~270 @ 0.20g |
| Recommended Gas | 134a, green gas |
| Action | Semi Automatic |
| Outer barrel | Non-threaded |
| Hop up | Adjustable |
| Construction | Polymer slide, alloy frame |
How closely does the Tokyo Marui Hi Capa 4.3 resemble a real steel firearm?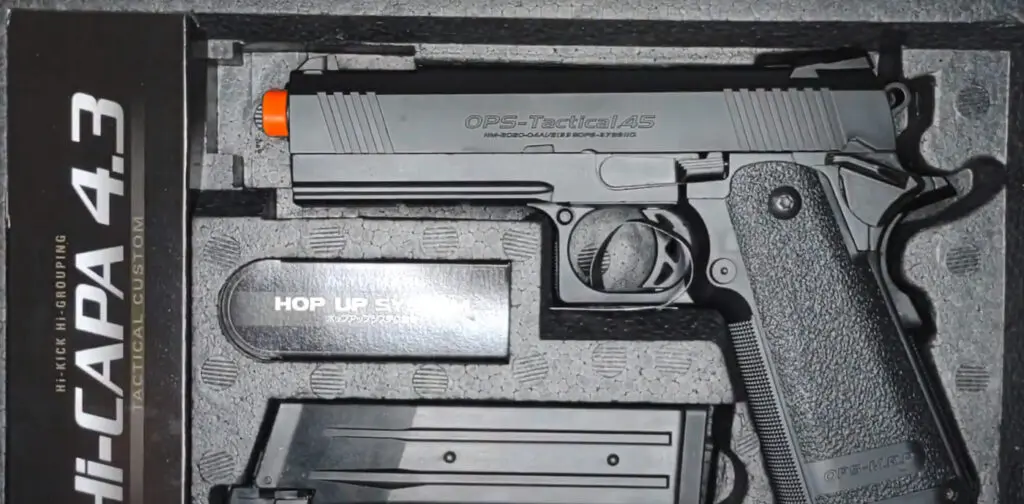 | | | |
| --- | --- | --- |
| | Tokyo Marui Hi Capa 4.3 | Para-Ordnance Hi-Cap P12-45 |
| Weight (empty) | 1.87 lbs (850 g) | 2.25 lbs (1.02 kg) |
| Length | 7.8 in (199 mm) | 7.5 in. (191 mm) |
| Action | Semi-Auto | Semi-Auto |
| Capacity | 28+1 rounds | 12 rounds |
| Construction | ABS, alloy | Steel (some are made of aluminum) |
| Sights | Adjustable rear sights | Rear fixed |
| Picatinny rail positions | Optional 6 o'clock | – |
Like its big brother the 5.1, the Tokyo Marui Hi-Capa 4.3 GBB pistol is based on the Para-Ordnance 45 series of pistols.
True to Tokyo Marui's reputation, the Hi-Capa 4.3 is a fairly accurate replica of the 1911 derivative…in a more compact form
Although it is somewhat lighter than even the compact P12 model (being made with a plastic slide), it does have a realistic size and look, with all the external switches and details that one might expect from a Para – right hand safety, mag release, slide lock – accurately represented and located where they should be.
The gun does, however, come with a few extra features and modern touches not present on its real steel inspiration that make it a little more modern and user friendly, such as adjustable rear sights, improved grips, more expansive magazine (it is a high capacity, after all) and an undermount rail.
That said, collectors might want to be aware that the Tokyo Marui Hi-Capa 4.3 is not an officially licensed reproduction and so doesn't have any official trades to speak of.
It does, of course, have Tokyo Marui markings here and there and "OPS-Tactical 45" etched into the side of the slide, which can be cool in its own right, at least in our opinion.
How Well Does the Tokyo Marui Hi-Capa 4.3 Perform As An Airsoft Gas Pistol?
Build-quality and construction
Like the larger Tokyo Marui Hi-Capa 5.1, and really most other Tokyo Marui airsoft pistols, the Tokyo Marui Hi-Capa 4.3 is not an all metal airsoft pistol.
While its frame and internals are made of a pretty sturdy aluminum alloy, the slide is made out of ABS plastic, as are other parts such as the grips, outer barrel and so on.
The use of a plastic slide is in accordance with Japanese law, and while it does make the Hi-Capa 4.3 slide a little less durable than a metal one might be when using higher pressure gasses (such as green), it does make the gun significantly more lightweight and easy to carry around or add to any loadout.
It also lets the gun have a blazingly fast cycle rate and blowback action, which is always a pleasure with GBBs.
If you are planning on running it on green gas, however, we would recommend you switch to an aluminum slide as the plastics ones are known to crack over time.
As a whole, the build quality of the Hi-Capa 4.3 is quite good and typical of Tokyo Marui's reputation for quality.
Although there is a fair amount of ABS plastic on the gun, the ABS is of fairly high quality and we didn't see any bending or flexing when we handled it.
Further, the safety lever, hammer and mag release all seem properly and firmly installed, the skeletonized hammer is nice and functional, and the slide draw is quite smooth.
The outer barrel of the Tokyo Marui Hi-Capa 4.3 is not threaded, so you'll need to pick up an adaptor or a threaded replacement if you want to add a suppressor or tracer unit to the gun.
TM, however, did include an undermount 20mm RIS rail for the gun, which allows users to add their own flashlights, lasers and other accessories to the 4.3 pretty easily.
Unlike the 5.1, the rail does come molded into the gun, which is nice since users won't have to punch a couple holes in the bottom of their new pistol to mount it.
As for sights, the Tokyo Marui Hi-Capa 4.3 comes with fairly standard 1911-style sights.
They are fairly prominent but not so much so that they will catch or snag on clothing, which s quite helpful.
They do lack the white dot markings that would make them stand out on low-contrast targets, however this is an issue that is solved easily enough with some white paint.
On the inside, the Tokyo Marui Hi-Capa 4.3 is pretty solid.

The gun features a short (95mm) high quality 6.08mm brass barrel, which is fully compatible with and can be swapped for the longer model from the Hi-Capa 5.1 if users so desire.
There are metal rails, as well, which not only help reinforce the gun a bit more but also can make it easier to upgrade the slide to metal, should you so desire.
There is also a metal recoil guide rod with a rubber stop, which should help prevent undue wear and tear on the gun as it fires, and an adjustable hop up unit.
The hop up unit is a typical Tokyo Marui, meaning it does provide excellent spin and it is dial adjusting, so you can make adjustments easily without any hex key or tool.

Like other 1911s, however, it is accessible from the underside of the slide, so you won't be able to make any hop corrections on the fly.
Performance and Accuracy
Overall and out of the box, we believe the Tokyo Marui Hi-Capa 4.3 to be a well-balanced and very capable airsoft pistol overall.
It is a Tokyo Marui, and so by Japanese law it is limited a bit in the FPS that it will deliver.
With 0.20g BBs and on green gas we saw it reach about 270 FPS.
While by no means an inordinately powerful airsoft pistol, the Hi-Capa 4.3 does hit hard enough to be usable in most outdoor airsoft games and will certainly slide under any FPS limits that may be in play in CQB or indoor games, making it a very versatile option as a secondary airsoft gun (or even close quarters primary if you really like pistols).
We found the 4.3 to be quite accurate, as well. We saw the gun get tight groupings well past 50 feet (15m) and could reliably hit center mass all the way to 100 feet (30m) and beyond.
In addition, the blowback action, due to the gun's lightweight ABS slide, is quite something.
When fired, the slide cycles back extremely quickly, giving the gun a very responsive and snappy feel.
Similarly, the trigger on this gun is quite good, with a pretty short pull and stroke that makes it very responsive and fairly light.
In terms of gas efficiency, we saw the Tokyo Marui Hi-Capa 4.3 get around 90 rounds per fill, or a little over 3 magazines, which is quite good and should help keep running costs down over time.
That said, while users interested in running the gun on propane/green gas for extended periods should consider upgrading the slide to a metal version, keep in mind that this can have a deleterious effect on performance.
In particular it can make the cycle rate a little slower and make the gun consume a little more gas, which is something to consider, although it should provide the gun a little more in the way of felt recoil.
Handling and feel
The Tokyo Marui Hi-Capa 4.3 is a compact take on the classic 1911 platform.
At 7.8 inches, the gun is a little longer than a Glock 19x, about ¼ of an inch shorter than a Glock 17 and about an inch or so shorter than its sibling, the Tokyo Marui Hi-Capa 5.1.
While perhaps losing a little in the way of pure intimidation, it is a lot easier to maneuver around with and use, especially in tight quarters, and its more modest dimensions make it a little easier to add to a loadout as a secondary, especially if you like strapping your pistols onto a vest.
At around 850g (1.87 lbs), the TM 4.3 is, thanks to its use of plastics, fairly lightweight.
Although it doesn't have quite as realistic a feel stock as a full metal airsoft pistol, the 4.3's weight does make it very comfortable to hold and fire for extended periods of time.
In terms of grips, the TM Hi-Capa 4.3 comes with stippled plastic grips, as well as some texturing on the front and back, that make the gun very grippy and easy to hold even when wet, which is nice.
It also comes with front and rear serrations that allow users to comfortably and easily draw the slide from the front or back of the gun.
The serrations are actually fairly deep cut and so should provide users with a stable grip on the slide even when they are wearing gloves or if the gun itself is wet and slippery, potential situations that many other airsoft pistols tend to ignore.
Finally, left-handed users will be a little disappointed to find that the Tokyo Marui Hi-Capa 4.3 isn't quite as ambidextrous as some other 1911 models out there, including the 5.1, as the safety and mag release are both located on the left hand side of the gun.
Maintenance
As far as gas blowback pistols go, the Tokyo Marui Hi-Capa 4.3 is pretty straightforward.
Push the slide back until its center aligns with the slide stop, as below.
Then pop the body pin and, with a gentle push, the slide should come free of the frame, exposing the recoil spring, valve, hop up and so on.
From there, you can check the slide for damage, examine the barrel, spring guide and other internals (nozzle, piston, seals), add lube as necessary and, of course, make any hop up adjustments.
In terms of replacement parts, the Hi-Capa 4.3 is a Tokyo Marui and so OEM and third party replacement parts are plentiful and, to make things easier, the 4.3 and the 5.1 share a number of components that can be used in a pinch.
Magazine type and capacity
Hi-Capa essentially stands for high capacity, and the Tokyo Marui Hi-Capa 4.3 comes with metal magazines that can hold 28 BBs, rather than a typical airsoft GBB 14 or so.
These magazines are relatively beefy, weighing in at a good 0.66 lb (300g), and are full metal with a plastic base plate.
The mags slide in pretty easily and will stay there without much rattling or looseness, a testament to Tokyo Marui's attention to detail and build quality.
They do have plastic lips, however, so you do need to be a little careful slamming them home.
The TM Hi-Capa 4.3 does have good magazine compatibility, and will accept Hi-Capa mags from other companies, such as WE, Well, AW, KJW and more.
Helpfully, because it essentially is a shortened 5.1, it will easily accept magazines from the Hi-Capa 5.1 and these will sit flush due to using the same base plate.
Being a pretty popular choice of airsoft pistol, beyond the regular 28 round magazine, you can find a variety of different magazine types for this gun, including extended 50 rounds and even drum systems.
Customizability and Upgrades
Being that it is a Tokyo Marui and given the fact that their Hi-Capas are likely some of the most popular airsoft pistols out there, there are a ton of aftermarket parts and accessories that can be used to customize or upgrade the Hi-Capa 4.3.
A cursory Googling will reveal that there are, for example, metal slides, tighter bore barrels, upgraded hop ups, more aesthetic grips, high performance valves, upgraded springs and much, much more.
There is, in fact, very little you can't do to a Tokyo Marui Hi-Capa.
One thing users should note is that, in general, there tends to be more parts specifically intended for the Tokyo Marui Hi-Capa 5.1 compared to the 4.3, whose compact dimensions seem to be a little less favored.
That said, as we have mentioned, very few parts are not compatible between these two guns, so it shouldn't be too much of an issue at the end of the day.
Price
Note: All prices correct as of writing, all prices in USD.
The Tokyo Marui Hi Capa 4.3 isn't exactly a cheap airsoft gun and, usually coming in somewhere around $150, it is on the more premium side of the airsoft pistol market.
It is similarly priced to the 5.1, as well as some of Tokyo Marui's other  well-known models, such as the PX4 and their Desert Eagle, and a little more expensive than 1911s like the Elite Force TAC.
That said, it is a little less expensive than some of its more direct competitors, such as the Umarex Glock 19X.
Overall, however, Tokyo Marui's Hi-Capa 4.3 is a well-made, snappy, reliable and highly accurate airsoft 1911-style pistol that can be easily customized and upgraded to suit any preference.
Or
Or
Advantages of the Tokyo Marui Hi-Capa 4.3
Well-built, lightweight
The Tokyo Marui Hi-Capa 4.3 is well-put together, with all the switches and parts fitted properly and with a smooth, easy slide action.
Although made of plastic, the ABS used is high quality and is fairly sturdy, with no looseness, creaking or bending to speak of.
Accurate
The TM Hi-Capa 4.3 is highly accurate stock, being able to get good groupings to 100 feet (30m) and beyond without much effort, largely thanks to its high quality internals and excellent adjustable hop up.
Lots of customization options
The Tokyo Marui Hi-Capa series has a huge number of aftermarket parts and accessories available for it, allowing users to almost endlessly fine tune its performance and personalize its looks and feel.
Smooth action
Although the ABS plastic slide isn't everyone's favorite part of the Hi-Capa, its lightweight design does make the blowback action of the 4.3 quite smooth and very snappy, with an extremely fast cycle rate that really needs to be seen to be believed.
Well-balanced power
While Tokyo Marui's aren't exactly known for their mind blowing power, the Hi-Capa 4.3 does deliver around 270 FPS with .20g BBs, which should be enough for most games and will adhere to even the most stringent FPS limits a field may have.
Good Gas Efficiency
The Tokyo Marui Hi-Capa 4.3 gets around 3-4 mags per fill, which is pretty good and should help reduce its running costs in the long run.
Disadvantages
Not Exactly Cheap
Although not the most expensive airsoft gas pistol pistol out there, at around $150 the Tokyo Marui Hi-Capa 4.3 is certainly not the cheapest either.
Plastic slide may limit gas types
While it is well-made, gas efficient and gives the gun a fast cycle rate, the ABS plastic slide that comes with the Tokyo Marui Hi-Capa 4.3 is really designed to be used with duster gas and can be damaged if used with higher PSI gasses, such as green gas.
As such, users looking for better performance may need to upgrade to a metal slide ASAP.
Non threaded barrel
While it does come with a rail attachment, the Hi-Capa 4.3 does not come with a threaded outer barrel and so adding mock suppressors or tracer units to it may require an adaptor or replacement barrel to fit.
Bottom Line
Lightweight, accurate, reliable and endlessly upgradable, the Tokyo Marui Hi-Capa 4.3 can make a fine sidearm or primary pistol for those looking for a compact gas blowback option to take to the field.
Will Martin – Will has been into airsoft and paintball for well over 10 years, and has done it all – from upgrading and fixing gearboxes as a tech to building custom airsoft loadouts for his friends to supporting off those friends as a DM.