Durability and Build Quality

94%
| | |
| --- | --- |
| Pros | Cons |
| ✅ Lightweight, easy to maneuver with | ❌ Not all that cheap |
| ✅ High quality stock internals | ❌ Somewhat more limited when it comes to attachments |
| ✅ Quick, responsive trigger | ❌ Not everyone a fan of its looks |
| ✅ High rate of fire | |
| ✅ ETU with 3 shot burst mode and other features | |
| ✅ Lot of upgrade options | |
| ✅ 6 point extendable and adjustable drop stock | |
| ✅ Good fit and finish | |
| ✅ Design and performance optimized for CBQ | |
The G&G SSG-1 represents the company's first attempt at creating an airsoft AEG specifically designed to suit the needs and requirements of speedsoft games.
Something of a radical departure from the usual fare of firearm replicas, since its release the SSG-1 has divided the airsoft world into two camps.
Some aren't exactly fans of it (to say the least), while others have taken to its rather radical design and capable performance.
To help those who may have fallen into the latter camp, and to figure out if the G&G SSG-1 is indeed worth your time and money, we decided to take a closer look.
Specifications
| | |
| --- | --- |
| Manufacturer | G&G |
| Power | AEG |
| Action | Semi, auto, burst |
| FPS | ~340-350 FPS @ 0.20g BBs |
| Hop up | Adjustable |
| Barrel Length | 9.05 inch (233 mm) |
| Total Length | 31.5 in (800 mm) |
| Weight | 4.85 lbs (2.2 kg) |
| Construction | Polymer |
| Rounds | 105 |
How Well Does the G&G SSG-1 Resemble A Real Steel Firearm?

G&G SSG-1
Colt M4A1
Weight
4.85 lbs (2.2 kg)
6.43 lbs (2.92 KG) empty
Barrel Length
9.17 inch (233 mm) inner
14.5 in ( 368mm)
Overall length
28.34 in (720 mm) collapsed;
31.3 in (795 mm) extended
29.75 in (756 mm) collapsed;
33 in (838 mm) extended
Action
Auto/Semi/burst
Auto/Semi
Caliber
6mm
5.56x45mm NATO
Capacity
105 mid cap
30 rounds
Construction
Polymer
Steel with polymer furniture
Rail
Top rail, top and bottom on muzzle brake
Various options
To give an honest review of the SSG-1 we have to get this out of the way – G&G did not really design the SSG-1 to look like a real steel firearm.
This is a gun built around specific performance criteria, namely speedsoft and high-intensity airsoft CQB, and so with this model at least realism has taken a backseat to capability.
By and large the G&G SSG-1 sort of looks like an M4 carbine…if you removed the handguards, modified the stock and added minor sleek cosmetic touches to the body.
In terms of its overall dimensions, the gun is a bit more compact and lighter than a standard M4 carbine, and features a shorter barrel with a fairly large, bulky and somewhat intimidating railed muzzle brake attached to the end of it.
For airsoft players who love their real steel firearms and collections, all this can be somewhat controversial (to say the least).
Other than roughly emulating the look and feel of an M4, the overall idea of the design here seems to be inspired by paintball markers, a common starting point for many speedsoft enthusiasts, with a short and lightweight front end that's easy to maneuver around with and capable of quickly shifting from target to target.
The G&G SSG-1 even comes in a number of funky colors, which is often another gripe more traditional airsoft players have with this gun, but is something that we think can be fun and a possibly quick identifier on the field.
How Well Does the G&G SSG-1 Perform as an Airsoft Rifle?
Build-quality and Construction
The G&G SSG-1 is largely a polymer airsoft AEG carbine.
While its outer barrel, controls and buffer tube are made of aluminum alloy, its CM16-inspired receiver, stock and grip are all made of a nylon-reinforced polymer.
The result is a gun that is lightweight, easy to maneuver around with and that can stand up to a few bangs and knocks here and there – all good things when you're talking about a speedsoft or CQB build.
When we picked up the SSG-1, it all seemed pretty well put together.
The outer barrel was properly fitted to the receiver, all the fire controls seemed pretty solidly installed and despite the fact that the stock has two axis of movement, there was hardly any wobble, rattling or looseness to speak of.
Although the G&G SSG-1 is built around an M4 carbine platform, in keeping with its focus on speed maneuverability, it is lacking any kind of handguard.
While this does give the gun a distinct look (for better or worse) and lightens things up on the front end to some degree (something we'll discuss later), users should keep in mind that this does leave the rather thick alloy outer barrel exposed.
This can result in somes scratches and dents over time, particularly with exuberant CQB play.
In terms of accessorization possibilities, the G&G comes with a 20mm top rail.
This is perfect for adding optics to the gun, which you'll need since the gun doesn't come with any built-in sights.
Unlike other M4 options out there, which can come with quad rails or M-Loks, due to the lack of handguards it isn't quite as easy to attach the usual assortment of vertical foregrips, brakes, lasers, flashlights and so on to this gun.
It is, after all and to be fair, designed for speed of play.
Interestingly, the rather unique and prominent muzzle brake attached to the front of the gun has short segments of rail molded into its top and bottom, which can allow users to attach some accessories, such as lasers or even a camera, if you're into documenting your airsoft skirmishes on social media.
That said, users do need to be careful as to what they attach to this muzzle break as they can shift the weight of the gun quite a bit due to the extreme forward positioning of the rails.
In addition, the gun's rather unusual outer barrel isn't threaded.
Those wanting to add a mock suppressor or, more usefully for speedsoft a tracer unit, will need an adaptor specifically designed for this model.
While the externals of the SSG-1 are very distinctive and somewhat controversial in the airsoft community, one thing that we think is a lot less controversial is the fact that G&G does seem to have put a lot of effort into the gun's internals and that it is quite impressive for a stock airsoft gun.
Inside the G&G, users will find a reinforced V2-compatible G2 gearbox with pre-shortstroked 18:1 steel G&G gears (three teeth have been removed), 8mm bearings, a unported but reinforced polymer piston with full steel toothed rack (with second to last tooth removed for better engagement angle), a ported cylinder and a flat blade trigger.
There is also connections for a G&G inline MOSFET (the unit is located above the stock) and a microswitch ETU with burst functionality and low voltage cut off.
This gearbox is powered by G&G's well-balanced 25K 17 TPA long type IFRIT motor and does have a quick change spring system.
Unfortunately, this is not a truly quick quick change system as users have to remove the gearbox to pop the spring out, meaning you probably won't be making FPS adjustments on the fly.
The gun's hop up is a rotary-dial adjustable polymer unit (accessible, of course, from behind the dust cover) with a G&G blue split bump bucking that delivers pretty decent and consistent spin out of the box, and the gun fires through a pretty standard 6.08mm brass inner barrel.
Finally, towards the rear of the gun is its drop stock.
This rather unusual stock is based around a standard crane stock that can be adjusted in two ways.
It can be collapsed or extended and it can be adjusted to angle up or down, something we'll discuss in more depth when we look at the gun's handling.
One thing to note is that changing the drop stock's angle does require the use of a hex key/allen wrench.
While this does mean that it will stay in position during play (after all you don't want this thing coming loose and dropping free in the middle of a game), it does mean that adjusting it to fit your preferences is something that will need to be done ahead of time.
The stock itself is attached to a pretty standard buffer tube that can fit most LiPo batteries (although like most buffer tubes it can get a little tight at times) and has the added benefit of supporting most AR-compatible stocks, so there is room for considerable customization in this regard.
Performance and Accuracy
On the field, the G&G SSG-1 is something of a little speed demon.
Using 0.20g BBs, we saw the gun deliver around 350 FPS at first before settling into about 345 FPS after a few shots.
While certainly not the most powerful airsoft carbine we've ever seen, this power range is ideally suited to indoor, speedsoft and CQB games, where stricter FPS limits tend to apply, and should be more than fine for most outdoor games as well.
The trigger on the gun is light and highly responsive, thanks to its flat trigger and microswitch, so quickly sending snap shots downrange (or volley after volley in the case of its 3 round burst mode) is quite a simple matter.
Set the SSG-1 to automatic, however, and the gun becomes something of a force to be reckoned with on the field.
Out of the box and using a 11.1V LiPo we saw the gun deliver a pretty impressive 27 RPS, outstripping even its sibling, the vaunted G&G ARP9, and its closest rival the Nemesis X9, both classics of airsoft CQB.
Accuracy wise, while the G&G SSG-1 is designed for more dynamic and aggressive shooting, we did see it get pretty decent groupings to around 50 feet or so (15 m) and it did hit targets to about 100 feet (30m) with some reliability, although there was some variability and spread.
Ultimately, we'd say the SSG-1 is ideally suited to short and medium distance ranges and, running stock at least, it probably wouldn't be our first choice as a DM or sniper platform.
Handling and feel
The first thing you might notice when picking up the G&G SSG-1 for the first time is that it is quite lightweight.
At around 4.85 lbs (2.2 kg), it is considerably lighter than most airsoft M4s out there (including its bigger brother the Raider) and is even lighter than the ARP9 and ARP556.
Thanks to its lack of handguard, the SSG-1's front end is quite lightweight and the gun is weighted more towards the rear, making the gun exceptionally easy to raise and swing from target to target, which can really help when running and gunning.
That said, although the outer barrel is a bit chunkier than normal, the lack of any handguard can feel a bit unusual if you're used to getting a firm grip on one with your supporting hand, and can be a bit drawback if you're in the habit of using a C clamp grip when shooting.
The drop stock is an unusual feature on the SSG-1.
As we've mentioned, the stock has an extra point of rotation that allows the stock to be adjusted up or down in angle as well as collapsed and extended.
Other than looking pretty cool, this can make it a lot easier to aim down the sights when wearing a full face mask or gogles/face mask combo, preventing users from having to add and adjust risers to their optics or sights.
Finally, in terms of ambidexterity, the G&G SSG-1 is a bit hit or miss.
It does not, for example, have an ambidextrous safety, but it does have dual mag drops and an ambidextrous catch.
Other than making things easier for left handed users, these can help if you need to switch shoulders when pieing corners or if you suddenly find yourself needing to do some off-hand shooting.
Magazine
The G&G SSG-1 comes with a gray and transparent 105 round reinforced polymer mid cap STANAG-style magazine.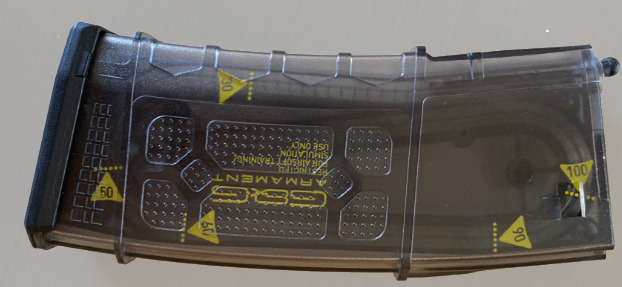 By and large, the magazine is pretty study, feeds quite well and has a BB counter, which is pretty cool.
Those that don't like the stock mag, or who want something with a little more capacity will be happy to note that the SSG-1 will accept pretty much most STANAG airsoft magazines, so you'll have your pick of high caps, low caps and even drums to choose from.
Maintenance
Based on an AR airsoft platform, the G&G SSG-1 is pretty easy to take down and maintain.
Essentially, users simply need to pop a couple body pins and the upper and lower receivers should come apart nicely, allowing users access to the hop up, gearbox and so on for cleaning and routine maintenance. .
In terms of replacements and upgrades, this is a very popular and well-known airsoft model and it is based around the largely V2-compatible G&G G2 gearbox.
As a result there are a plethora of parts available for this model (or that the gun will readily accept), including different stocks, multicolored outer barrels, stronger motors, improved buckings, upgraded triggers, ETUs and MOSFETS, tight bore inner barrels, HPA conversion kits, various high performance hop ups and buckings and more.
Ultimately, while its stock performance is quite good, we feel that this is a gun that really lends itself to being upgraded and customized to suit a user's needs, which is always a good thing.
Price
Note: All prices correct as of writing, all prices in USD.
The G&G SSG-1 isn't exactly a cheap airsoft gun.
Typically coming in at well over $300, the gun is on the more premium end of the G&G line, being pricier than the CM16 raider or the ARP series and more in the price range of the company's Honey Badger PDW, a Ronin T6 or a Trident Mk2.  
That said, love or hate its looks, for the money you do get a pretty solid airsoft gun that combines high quality internals, CQB-optimized handling and blazing ROF to deliver a potentially devastating experience on the field.
Or
Or
Advantages of the G&G SSG-1
Lightweight, easy to maneuver
At under 5 lbs, the G&G SSG-1 is easy to hold and easy to carry, and with its light front end, it is also quite easy to use in CQB scenarios and can snap from target to target quickly and without much effort.
High quality internals
With its shortstroked gearing, full steel toothed piston, microswitch ETU, flat blade trigger and more, it's clear that G&G has put considerable thought and effort into the internals of the SSG-1, all of which can help it deliver better performance than many of its rivals in CQB.
Highly responsive, snappy trigger
The G&G SSG-1 has a very enjoyable, light and highly responsive trigger that makes sending rapid snap shots at your opponent extremely easy and enjoyable.
Fast ROF
With the proper LiPo installed, set the G&G SSG-1 on automatic and it can deliver a blistering rate of fire right out of the box, around 26/27 RPS, which is considerably better than some more popular rivals in the airsoft CQB space.
Easily customizable
A popular airsoft gun that is based around G&G's G2 gearbox, there are a ton of upgrade parts available for this gun that can let users easily modify it for their needs and preferences.
Extendable drop stock
The SSG-1 features a relatively unusual stock for an airsoft gun, a drop stock that has 6-position extendability and is able to be adjusted up and down to better suit those wearing full face masks or goggles while playing.
Disadvantages
Pricey
At well over $300, the G&G SSG-1 is on the pricier side of airsoft carbines and can take quite a bite out of a budget.
Limited attachment options
Although it does have a top rail and a couple smaller rails on its unusual muzzle break, because it has no real handguards the G&G SSG-1 is a little more limited in the number and type of attachments that can be fitted to it without modifying or unbalancing it.
Similarly, its outer barrel is unthreaded and its muzzle brake will need to be taken into consideration when fitting any suppressor or tracer unit.
Looks are somewhat controversial
G&G's SSG-1's looks aren't for everyone and, combined with its reputation re: speedsoft, it may elicit some reaction from other players.
Bottom Line
It's true that not everyone is a fan of the SSG-1's stripped down M4 looks.
Dig deeper, however, and you'll find a comfortable, well-made, well-put together airsoft gun that delivers an impressive level of out of the box performance that can help its users dominate in CQB.
Will Martin – Will has been into airsoft and paintball for well over 10 years, and has done it all – from upgrading and fixing gearboxes as a tech to building custom airsoft loadouts for his friends to supporting off those friends as a DM.