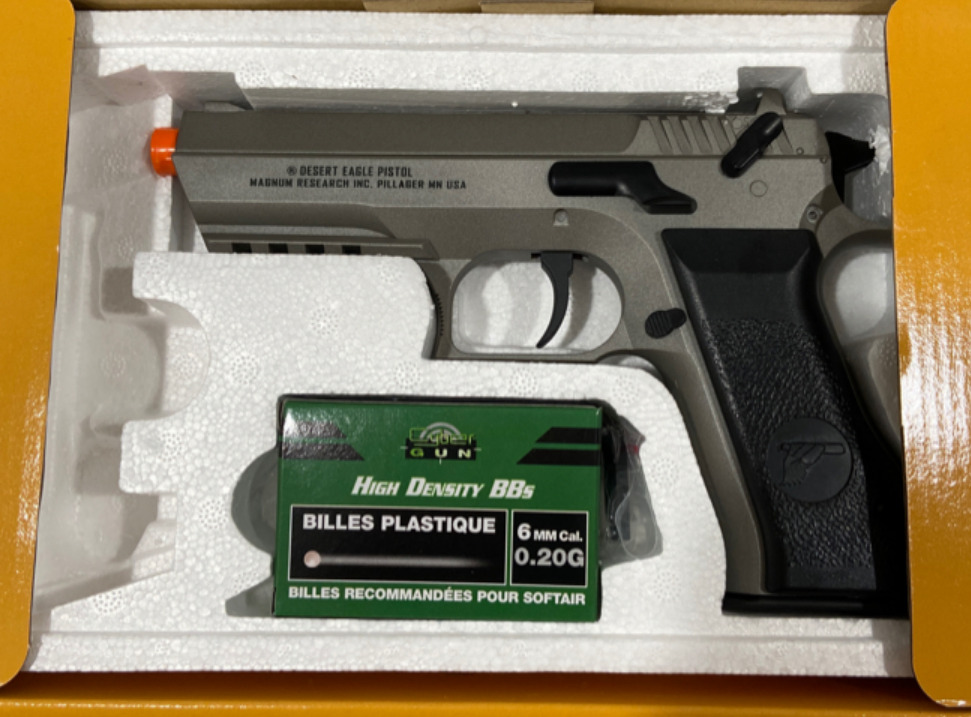 Durability and Build Quality

89%
| | |
| --- | --- |
| Pros | Cons |
| ✅ Highly affordable CO2 airsoft pistol | ❌ Fixed hop up and sights |
| ✅ Feels very much like real steel pistol | ❌ Non-blowback pistol |
| ✅ Officially licensed | |
| ✅ Well-made and put together | |
| ✅ Great power, still usable indoors and outdoors | |
| ✅ Pretty accurate | |
| ✅ Very gas efficient and cheap to run | |
The Jericho 941 is a well-known semi-automatic pistol designed by Israel Military Industries.
Affectionately known as the Baby Eagle (due to it being considerably smaller than its big brother, the Desert Eagle) the Jericho 941 was modeled on the CZ 75 and saw use as a service pistol for military and police in Israel and across the world.
Like its big brother, the Jericho has made appearances in various pop culture vehicles, showing up in titles such as Bad Boys for Life, Ghost in the Shell, Payday 2, and, of course, being the weapon of choice of Spike Spiegel in Cowboy Bebop.
The Cybergun Jericho 941 is an officially licensed CO2-powered airsoft pistol that replicates the look and feel of a Baby Eagle at a very affordable price.
If you are interested in adding a Jericho 941 to your airsoft collection, or are just interested in an affordable entry-level CO2 pistol for your next game, then read on as we look at this Eagle a little more closely.
Specifications
| | |
| --- | --- |
| Manufacturer | KWC/Cybergun |
| Power | CO2 |
| Action | Double action only |
| FPS | ~ 340 FPS @ 0.20g BBs |
| Hop up | Fixed |
| Barrel Length | 4.62 inch (117.35mm) |
| Total Length | 8.07 inches (205 mm) |
| Weight | 1.88 lbs (855g) |
| Construction | Metal slide, nylon-reinforced polymer frame |
| Rounds | 15 |
How closely does the Jericho 941 by Cybergun resemble the real thing?
| | | |
| --- | --- | --- |
| | Jericho 941 by Cybergun | Magnum Research Jericho 941 |
| Weight | 1.88 lbs (855 g) | 2.3 lbs (1043 g) |
| Barrel Length | 4.64 inch (117.35 mm) | 4.4" (115.31 mm) |
| Overall length | 8.07 inches (205 mm) | 8.2″ (208.28 mm) |
| Action | Double | Single/Double |
| Caliber | 6mm | 9mm |
| Capacity | 15 BBs | 16 rounds |
| Construction | Mixed polymer/metal | Polymer or Steel |
| Sights | Fixed | Adjustable |
| Rail | Yes | Yes |
A Magnum Research-licensed replica of the Baby Eagle, Cybergun's Jericho 941 is a pretty faithful reproduction of the classic pistol.
The Cybergun Jericho 941 matches the real steel version quite closely in overall dimension, being fractionally shorter and lighter than the original, at 8 inches (compared to 8.2 in the Magnum Research) and just under 2 lbs (compared to 2.3lbs in the real steel version).
The Cybergun has a polymer frame with a metal slide, which would normally be a point of difference if the real 941 wasn't offered as a PL9 polymer-framed version as well as steel.
The externals are a close match, too, with the (non-functional) slidelock, safety, mag release and undermount rail all accurately replicated and located where they should be.
For those who do love their trademarks, this is an officially licensed replica and so contains Magnum Research (the official importer of the Jericho until around 2015) trades across the barrel on either side of the gun.
They also have Magnum Research's flying eagle logo etched into the polymer grips, which is kind of cool to look at.
IWI-fans might be disappointed not to have the Israeli gun manufacturer's trades on this pistol, but at the end of the day that's just how licensing and importing agreements work.
How Well Does the Cybergun 941 Perform as a CO2 Airsoft Pistol?
Build-quality and construction
The Cybergun Jericho 941 is a polymer-metal airsoft gun.
The frame of the Jericho is made of fairly thick ABS plastic, while the slide is made of metal, allowing it to handle the increased pressure of CO2 gas without breaking.
The gun itself has good heft, as well, especially for a plastic-framed airsoft gun. At nearly 2 lbs (just under 900 g) and just about 8 inches long, the Cybergun Jericho 941 and feels very realistic in-hand, feeling very much like holding a real steel Baby Eagle, and manages to avoid the sort of toy-like feel that many compact, plastic airsoft pistols are prone to.
Overall, the gun is surprisingly well built for the price.
Everything feels quite nice and sturdy, the plastics are quite high quality and aren't prone to cracking or bending and all the catches seemed to click into place nicely.
It is important to note that, being a double action non-blowback (NBB) pistol, only some of the gun's replica catches are functional.
The ambidextrous safety catches and mag release are, of course, functional, but the hammer and slide catch are more decorative.
While the hammer can be thumbed and moves quite easily, the gun is double action only and, as an NBB airsoft pistol, the slide doesn't really slide back so its catch is rather purposeless.
In terms of accessories, much like its real steel inspiration, the Cybergun Jericho comes with a 20mm undermount rail, allowing users to easily attach a wide variety of pistol accessories, such as lasers or flashlights.
The outer barrel, however, is smooth, precluding the ready use of suppressors or tracer units without modification.
The gun comes with fixed blade and ramp sights. While not adjustable or anything all that fancy, they do come with white dots, which do a pretty good job in low light conditions or when aiming at low-contrast targets (such as opponents in dark outfits, for example).
Users should note that the Cybergun Jericho 941 comes with a fixed hop up.
While it does provide good out-of-the-box spin, we would have preferred an adjustable hop up unit for longer distance accuracy.
Keep in mind, however, that this is a very affordably priced CO2 pistol, and is certainly better than the many pistols out there in a similar price range that come with no hop up at all.
Performance and Accuracy
On the field, the Cybergun Jericho 941 offers pretty great performance, especially for the price.
In terms of power, after a few hotter initial rounds, the gun tends to settle into a comfortable 340-350 FPS or so with 0.20g BBs.
Although by no means an FPS powerhouse, it can deliver an entertaining punch and will likely pass most CQB field FPS limits, making it an ideal sidearm for both indoor and outdoor use.
For an airsoft pistol, the accuracy of the Jericho is pretty decent at close to medium range.
It should hit center mass relatively reliably up to about 65 feet (20m), but is really more at home at the 30 to 50 foot range (10-15 m), where it gets pretty solid groupings.
With its fixed hop up and sights, this isn't really the type of pistol you'll be using to accurately pick off targets at range, but can be an excellent companion or even a primary in CQB.
The trigger pull is a bit heavy with this gun, but that is to be expected since it is a double action, non-blowback CO2 pistol.
In terms of gas usage, the Cybergun Jericho 941 really stands out as an efficient little gun thanks to its non-blowback nature.
Users can expect to fire for quite some time before needing to change cartridges, getting somewhere around 100 rounds or so (6-7 mags) per fill, which is excellent and makes the gun quite cheap to run.
Handling and feel
With its true-to-life full-sized frame and solid 2lb weight, the Cybergun Jericho 941 is a very substantial airsoft pistol, and holding it feels very much like holding a real gun.
Although a bit heftier than some other plastic airsoft pistols, the gun is well balanced and its grips, which taper and curve towards the bottom, allow users to easily get a firm hold of it.
The grips themselves are unsurprisingly plastic and are lightly textured, providing better contact and friction when the gun is wet or if users are wearing gloves.
Similarly, the slide has nice, thick serrations towards the back, which allows users to get a good grip when racking, although the prominent ambidextrous safeties can get in the way a little bit.
Much like the real steel version, the gun doesn't have front serrations, so users who like to rack from the front might be out of luck.
As mentioned previously, the gun does have a prominent and exposed hammer. It is functional in that it can be easily thumbed back, but the gun is double action only so it can't be used to cock the gun.
That said, the gun is somewhat left-hand friendly, with prominent, ambidextrous and functional on-frame safeties (although for some reason the safety markings are only featured on its left side).
One thing we really liked about this gun is that the mag release is very light and easy to use, far more so than a typical 1911 clone.
This means that users don't have to use a lot of force to get mags to eject, which is good news for run and gunners who like to mag drop in game.
And since the mags are metal and quite hefty, they can withstand the occasional dramatic mag drop without much of an issue.
Maintenance
As a non-blowback pistol, the Cybergun Jericho 941 requires a lot less maintenance than its comparable GBB rivals.
As with other NBBs, these aren't really designed to be field stripped or taken apart and, with fewer moving parts on the inside, there isn't really a lot of wear and tear to be on the lookout for.
In general, users can expect to need to do only basic maintenance with this gun as prescribed by the manual, such as keeping it clean and lubricating the magazine from time to time.
On the downside, of course, not really intended to be opened does mean that there aren't a ton of upgrade or repair parts for this gun, which limits customization options.
That said, it is quite an affordable airsoft pistol, so this is something to be expected since most users would likely replace the whole gun if something critical breaks.
Magazine type and capacity
The Cybergun Jericho 941 comes with a 15 round mid-cap designed to fit a standard, 12 oz CO2 cartridge. 
The magazine is made of metal, it is pretty heavy and sturdy and should withstand whatever bumps and drops that could come from regular use, likely including the occasional mag drop/butterfingers incidents.
While perhaps the gun doesn't have as many mag options as a standard 1911, replacement mags are still fairly easy to find online.
Accessories & Customizability
The Cybergun Jericho 941 can support an assortment of accessories due to its undermount 20mm rail, letting users freely add flashlights, lasers and more.
The barrel itself is unthreaded, so without modification won't easily support the addition of suppressors or tracer units.
As a non-blowback pistol, the Jericho isn't really designed to be opened up and fooled around with too much and we couldn't find much in the way of ready upgrade parts for the gun's internals.
Price
Price is where most users will really sit up and take notice of the Cybergun Jericho 941.
The gun can be found online for around $65, depending on the retailer, which is surprisingly affordable for a CO2 pistol.
At this price level, there is very little that can compete with the Cybergun Jericho as a CO2 airsoft gas pistol.
Although it may be non-blowback and have a fixed hop up, the gun is well-built, realistic and delivers solid and well-balanced performance, reliability and accuracy, as well as being highly gas efficient.
As a result, we feel it can be a top choice for beginners and those looking for a secondary airsoft gun on a budget.
Advantages of the Cybergun Jericho 941
Highly affordable
Often available for around $65, the Cybergun Jericho 941 is a very affordable CO2 airsoft pistol that delivers good performance and is ideal for beginners or airsofters on a budget.
Feels very realistic
Although it uses a plastic frame, the gun's slide is metal and the guns overall dimensions and weight (2 lb) makes it feel like a real steel Jericho in hand.
Officially licensed
Despite its low price, the Cybergun Jericho 941 is officially licensed by Magnum Research and contains all the cool looking trademarks one might expect from a real Baby Eagle.
Well-built
The Cybergun Jericho is a solidly built airsoft pistol. It is made of thick ABS plastic, has a metal slide and all its component parts fitted together well and with little in the way of rattling, looseness or flex to it.
Decent power but still usable indoors and in CQB
With an FPS in the 350 range, the Cybergun Jericho 941 hits hard enough for an airsoft pistol but still remains within most field FPS limits, making it ideal for indoors, outdoors and CQB use.
Accurate at close and medium ranges
Although its hop up is fixed, it does provide decent enough spin out of the box for the gun to be accurate enough to hit center mass targets around 60 feet or so, making it an ideal choice for close and medium range shooting.
Highly gas efficient
As a nonblowback gun, the Jericho is very gas efficient and can get empty 6-7 mags per fill, far more than most other CO2 airsoft pistols, making it a cost effective and efficient choice of airsoft sidearm.
Disadvantages
Fixed hop up and sights
The Cybregun Jericho 941 doesn't come with a fixed hop up and its blade and ramp sights are fixed, so can't be adjusted for range or windage, limiting its accuracy at longer ranges.
Non-blowback
The gun is an NBB airsoft pistol and, while this may increase its gas efficiency and make the gun very easy to maintain, it does mean that the gun doesn't have a satisfying, realistic action when fired, which can bother some users.
Outer barrel not threaded
Fans of mock suppressors and other barrel accessories may be disappointed to learn that the Cybergun Jericho 941's outer barrel is not threaded, making it harder to add any accessories without modification.
Bottom Line
Very affordable, well-made, decently powerful and usable indoors and out, the Cybergun Jericho 941 is an excellent all around airsoft CO2 pistol for those on a budget or for those just starting out with airsoft gas pistols.
Ted Clark– Hailing from Florida, Ted has been an avid airsoft enthusiast since he was in middle school. When he's not checking out and reviewing airsoft guns, he enjoys picking off his enemies one by one on the field as a sniper.