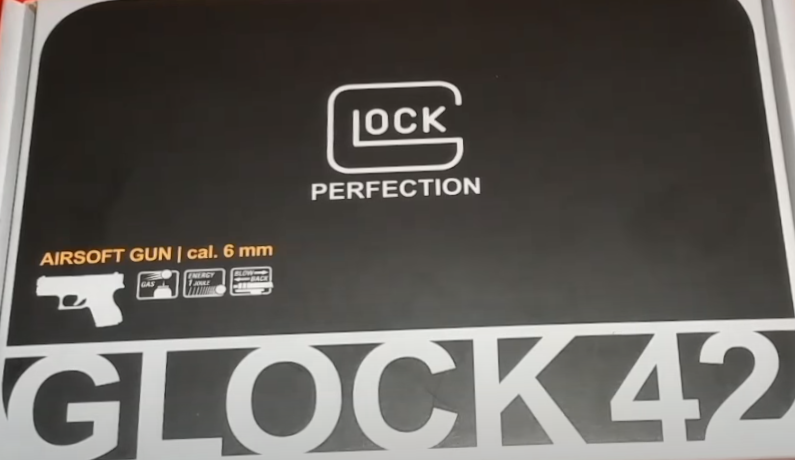 Durability and Build Quality

92%
| | |
| --- | --- |
| Pros | Cons |
| ✅ Extremely compact sidearm choice | ❌ Doesn't really lend itself to many accessories |
| ✅ Lightweight | ❌ Mags are proprietary |
| ✅ Officially licensed with Glock trademarks | |
| ✅ Metal slide, reinforced frame | |
| ✅ Surprising accuracy and performance | |
| ✅ Crisp and snappy blowback action | |
| ✅ Adjustable hop up | |
| ✅ Pretty ambidextrous | |
| ✅ Easy to handle in CQB | |
Sometimes bigger isn't always better.
Whatever their shortcomings when it comes to handling and capacity, sometimes the ability to quickly and unexpectedly deploy a compact airsoft pistol can give you the element of surprise you need to win the day.
The Elite Force / Umarex Glock 42 is an official replica of the smallest Glock on the block, the subcompact Glock 42.
Since its introduction, the Elite Force has raised a few eyebrows due to its, well, highly compact dimensions and performance compared to other ultra-compact/concealed carry airsoft options out there.
If you are in the market for a backup that can help you take your opponents by surprise, or if a Glock 42 just has what you're looking for, then read on as we take a closer look to find out if it's worth your time and money.
Specifications
| | |
| --- | --- |
| Manufacturer | VFC |
| Power | Green Gas |
| Action | Semi |
| FPS | ~ 250-260 FPS @ 0.20g BBs |
| Hop up | Adjustable |
| Inner barrel | 3.23 inch (82mm) |
| Total Length | 5.95 inches (152 mm) |
| Weight | 0.86 lbs (391g) |
| Construction | Metal slide with nylon-reinforced polymer frame – Gen 4 |
| Rounds | 9 |
How closely does the Elite Force / Umarex Glock 42 resemble the real steel version?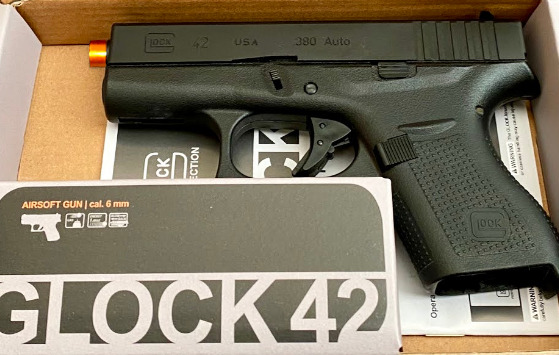 | | | |
| --- | --- | --- |
| | Umarex G42 | Glock 42 |
| Weight | 0.86 lbs (391 g) | 0.78 lbs (353g) empty |
| Overall Dimensions | Length: 5.95 in (151 mm)Height: 4.13 in (104 mm)Width: 0.83 in (21 mm) | Length: 5.94 in (150mm)Height: 4.13 in (104mm)Width: 0.83 in (21mm) |
| Action | Semi | Semi |
| Caliber | 6mm | .380 ACP |
| Capacity | 9 | 6 |
| Construction | Alloy slide, reinforced polymer frame | Steel barrel, slide and spring; reinforced polymer frame |
| Sights | Fixed | Fixed |
| Rail | No | No |
As with other models in the Elite Force/Umarex Glock range, the Glock 42 is an officially licensed airsoft pistol and as such is practically a 1:1 replica of the real steel firearm.
The Elite Force/Umarex G42 matches its real steel counterpart extremely accurately in its overall length, height and even width, no mean feat with this ultra-compact semi.
It even manages to closely approximate the very light weight of the Glock 42, which is perhaps less surprising given that the Elite Force's alloy/reinforced polymer build replicates the real steel Glock's overall construction about as well as can be expected for an airsoft gun.
Similarly, the gun's externals are all replicated quite well.
The gun's switches and controls (integrated trigger safety, dual takedown levers, reversible mag release etc) are where they should be on this subcompact, and while the gun is based on VFC's Gen 4 Glock platform, its use of traditional straight grips (rather than finger grooves) keeps it more or less identical to the modern Gen 5 Glock 42s out there, something that stands in contrast to Gen 4 G17s and G19s.
Finally, given that the Elite Force/Umarex Glock 42 is an officially licensed replica, it features authentic Glock trademarks and logos, which collectors and enthusiasts should appreciate.
As with other Glocks in the line, these adorn the gun in various locations, such as across the slide, on the grip, the barrel assembly and so on.
Unlike other Umarex Glocks, however, eagle-eyed users should spot the notable difference in caliber noted on this replica's slide – .380 instead of 9mm, which is very true to life. 
Finally, the gun even has "USA" engraved on its slide, rather than the usual "Austria," a nod to the US-based manufacturing of the real steel 42 that we feel adds to its overall realism.
How Well Does the Elite Force/Umarex Glock 42 Perform as a Gas Blowback Airsoft Pistol?
Build-quality and construction
Like the real steel Glock models, the Umarex Glock 42 is made from mixed metal/polymer materials.
In particular, the slide and internals are made of a fairly hard aluminum alloy, while the frame of the pistol is made from nylon-reinforced polymer.
As a result, the little Elite Force G42 is quite sturdy and solid, but at the same time remains very lightweight, even when compared to similarly built Glocks in the Umarex line.
In terms of build quality, the Elite Force Glock 42 is pretty well put together.
Although its frame is polymer, when we handled it it didn't show any real signs of bending or looseness and its controls, such as the reversible mag release button, seemed properly and securely installed.
Similarly, the gun's slide drew back easily and smoothly, which is important on a gun of this length as there really isn't a whole lot of real estate to securely grab ahold of.
Unlike the larger Glocks in the Umarex range, but true to the real steel subcompact pistol, the Elite Force G42 does not come with an undermount rail system, so adding flashlights or lasers to it isn't all that easy…not that there is really much room between the trigger guard and the end of the gun to mount accessories.
Similarly, the gun does not come with a threaded outer barrel, so adding a mock suppressor or tracer unit to it will require a fair amount of modifications or upgrades.
As a result, while we'd say the Elite Force Glock 42's size and build definitely serves its purpose as a capable sidearm or emergency backup, we wouldn't put it at the top of the list of Umarex or other airsoft Glocks for those looking for a primary they can readily customize and/or trick out.
Sight-wise, the G42 comes with standard Glock-style white-outlined sights.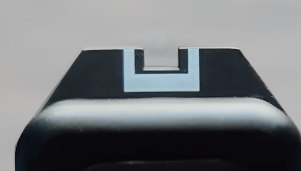 These are low-rise, so they won't catch on clothing or gear when drawn quickly, and they can help their users get a good bead on low-contrast targets. 
That said, as with other Glock models they are fixed and, as they are pretty low-rise, they can be a bit harder to see in low light.
Internally, the Elite Force Glock 42 is pretty well-designed and well built.
Like its larger siblings, the slide is reinforced and it has a reinforced dual recoil spring, which is thicker than most other airsoft pistols and older Glocks.
This is designed to better protect the internals of the gun by absorbing more of the gun's own blowback force, reducing the wear and tear it will go through during typical use.
The G42 comes with an adjustable, wheel-type hop up. 
This hop up is a pretty high quality unit and offers pretty good spin for a stock unit, which goes a long way in helping the tiny Elite Force Glock 42 deal with targets at any kind of range, especially given the relatively short, 3.22 inch (82mm) brass inner barrel.
Unfortunately, and like other Gen 4 Umarex Glocks, the G42's hop up is located underneath the slide, meaning users will have to strip the gun to make any adjustments.
One issue that we didn't have but other users have reported is with the alloy hammer, which can fail eventually and cause resetting issues.
Umarex and other companies do sell steel hammer replacements, however, which are pretty easy to swap in and can go a long way in helping the gun keep shooting for years.
Performance and accuracy
The Elite Force/Umarex Glock 42 is a subcompact airsoft pistol that, while pocket-sized, definitely has its uses on the field.
On green gas, once settled in we saw the gun get around 260 FPS with 0.20g BBs.
It's no powerhouse, to be sure, and most users probably won't want to rush out to replace their G17s (or 1911s) with this gun, but the gun does have more than enough oomph to accomplish what it is designed to do – take out targets from close in.
At less than 300 FPS,users should have no problem using this pistol on most ranges at zero minimum engagement distance (although it's always best to check the rules before showing up, obviously).
In terms of accuracy at range, the gun's natural home is around 30-40 feet (10-12 m) but, due to the quality of its internals and hop up, with effort it can hit targets to around 65 feet (20 m), which is actually pretty impressive considering the compact dimensions of its barrel and sub-300 FPS output.
When fired, the gun has a quick, crisp and snappy blowback action, and cycles quickly due to its lightweight slide.
Its trigger is also decent enough.
Although not quite as responsive as the flagship Glock 17 Gen 5, it is light enough, with a decent break and quick return, which makes it able to deliver some quick follow up shots.
That said, its magazines are also quite compact and take a fairly modest amount of gas, so users should expect somewhere between 1.5-2 mags per fill in good weather, which is something you might expect given that it is a subcompact.
Handling and feel
The first thing you tend to notice when handling an Elite Force Glock 42 is how small it is.
This "Baby Glock" replica is only about 6 inches long, 4 inches high and less than an inch wide, making it a subcompact airsoft pistol in pretty much every sense of the word.
The gun is considerably smaller than other Umarex Glocks, being over an inch shorter than the Glock 19 compact, over an inch and a half shorter than the 19X, just about a full 2 inches shorter than the well-known 17 and nearly 2.5 inches shorter than the 34 deluxe.
It's also quite lightweight.
Tipping the scales at under a pound (0.39 kg), it is a very easy to store, carry and handle airsoft gun that can easily be thrown into a loadout or even your pocket in a pinch (although we wouldn't recommend it).
Interestingly, due to its extremely compact dimensions and use of metal in its construction, its weight actually comes across (at least to us) as fairly hefty and helps the gun avoid seeming like a toy.
One thing to note is that the Elite Force/Umarex Glock 42 is considerably thinner in profile than other Glocks in the line, making it ideally suited for those with smaller hands, although perhaps a bit amusing for those with larger ones.
That said, despite its modest proportions, most users shouldn't have too hard a time getting a good grip on the G42 in order to handle it properly.
The gun retains many of the stylistic features of Umarex's other Glocks, including their nicely textured and straight polymer grips, which are comfortable and provide more than adequate grippiness in wet conditions or when wearing gloves.
Similarly, the Glock 42 comes with a full row of serrations on the rear of its slide, which is actually quite beneficial given its short length and thinner profile as it allows users to really get a tight hold when racking.
Finally, in terms of ambidexterity, the Elite Force Glock 42 is pretty well suited for both left- and right-handed use.
Its safety is on the trigger, it has dual takedown levers, its mag release is fully reversible and, really, the only issue lefties might have is with the slide stop, which is only on the left side of the frame.
One thing that is kind of amusing is that, like the real steel version, VFC has used many of the same controls from its wider line of Glocks on this rather compact variant, which ends up making them look oversized by comparison.
Although fun to look at, this actually has the rather user-friendly benefit of making them easy to spot and use on the gun's otherwise very compact airsoft frame.
Maintenance
By and large, the Elite Force/Umarex Glock 42 is pretty easy to take down.
Like a real steel Glock, the gun has two take down levers located on either side that, when pressed down, separates the slide from the frame.
This reveals the guns internals and hop up and allows users to perform basic GBB maintenance or repairs as necessary.
It's important to note, however, that unlike the Glock 17 or 19X, the Elite Force/Umarex Glock 42 is, as a subcompact, something of a niche airsoft gun.
As a result, while you can find replacement valves, slides, recoil springs and the like, there aren't quite as many ready upgrades as there are with other Glocks in the Umarex family.
Magazine type and capacity
The Umarex Glock 42 comes with a single, aluminum green gas magazine that holds about 9 rounds, which is considerably less than most full-sized airsoft pistols.
An extremely compact design, the magazine fits pretty flush with the G42 mag well when inserted, but doesn't really hold a lot of gas, so users do have to take the extra second or two to make sure it is filled properly in order to avoid feed problems.
Umarex and VFC do make extended magazines for the G42, however, notably a more standardized 14 round magazine.
One thing that users should consider, however, is the fact that the Elite Force/Umarex Glock 42 does have a thinner and smaller profile than most other VFC Glocks, and therefore needs to use its own magazines (VFC/Stark/Umarex Glock 42 magazines).
As a result, there isn't a lot of mag compatibility with the more popular G17s or 19s out there, which can increase the gun's overall cost of ownership over time.
Price
Note: All prices correct as of writing, all prices in USD.
Depending on where you look, the ultra-compact Umarex Glock 42 comes in at around $170 or so, which puts it solidly in the more affordable section of the Umarex Glock family.
However, the gun is a little more expensive than some larger airsoft gas blowbacks, such as the AAP01, and around the same price as some higher end pistols such as the MK23 or ASG P-09.
That said, there aren't that many good quality subcompacts or concealed carry airsoft options out there.
And with its good build quality, accuracy and crisp action, the Elite Force Glock 42 can provide a lot of value to those interested in its highly compact dimensions. 
Or
Or
Advantages of the Umarex Glock 18C GBB Pistol
Extremely compact sidearm choice
The Elite Force/Umarex Glock 42 is one of, if not the, most compact Glocks out there, and its 6" length and 4" height makes it extremely easy to stow away as a backup weapon.
Lightweight and fairly durable
Weighing less than a pound loaded, the Umarex G42 is actually quite easy to carry, hold and use for extended periods.
At the same time, its compact dimensions and partial metal build means it never really feels like a toy, which is always nice, and it is built solidly enough to take most of what a normal airsoft game can throw at it without breaking.
Surprising accuracy and performance
Although it is quite small, the Elite Force Glock 42 is pretty accurate at short to medium distances.
The subcompact also delivers enough of a punch to be felt by opponents while still being able to be used at zero distance.
Officially licensed
As with other Umarex Glocks, the Elite Force Glock 42 is officially licensed by Glock and has all the trademarks, proofs and accurate details that this would entail, making it well-suited for airsoft collectors and firearm enthusiasts alike.
Easy to handle and maneuver with
Due to its ultra-compact size and light weight, the Umarex Glock 42 is very easy to handle and deploy, as well as use in very tight quarters where it is unlikely to snag or bump into anything.
Adjustable hop up
Although designed for extreme close quarters, the Elite Force Glock 42 comes with a fully adjustable hop up that allows it to keep BBs flying straight well past 30 feet.
Crisp blowback
Due to its lightweight slide and use of green gas, the Elite Force Glock 42 has a noticeable and crisp blowback action that makes the little gun surprisingly fun to use.
Disadvantages
Proprietary magazines
Due to its thinner, compact design, the Elite Force G42 is not compatible with other airsoft Glock mags, meaning that finding spares can be a little trickier and more expensive.
Not hugely customizable
Like its siblings, the Elite Force G42 doesn't have a threaded barrel, which would allow users to add their choice of suppressors or tracer units.
Unlike its siblings, however, due to its compact size the Elite Force G42 doesn't come with a rail either.
As a result, the ability to add accessories and customize the look and functionality of the gun is quite limited.
Bottom Line
Concealed carry and subcompact pistols are somewhat niche in airsoft.
If you are in the market for a good quality, highly compact, officially licensed, lightweight and well-balanced airsoft pistol that can be deployed at a moments notice from, well, just about anywhere, the Elite Force Glock 42 might just be right for you.
Ted Clark– Hailing from Florida, Ted has been an avid airsoft enthusiast since he was in middle school. When he's not checking out and reviewing airsoft guns, he enjoys picking off his enemies one by one on the field as a sniper.