Durability and Build Quality

85%
| | |
| --- | --- |
| Pros | Cons |
| ✅ Very realistic, cool looking FN 57 replica | ❌ Not the cheapest TM pistol around |
| ✅ Lightweight | ❌ Kick can be a little too powerful for stock plastic slide if run on green gas |
| ✅ Officially licensed with FN logo | ❌ Not quite as many customization options out there as most TMs |
| ✅ Decently powerful | |
| ✅ Extremely accurate | |
| ✅ Powerful and snappy blowback action | |
| ✅ Comfortable to hold and use | |
| ✅ Good gas efficiency | |
| ✅ Great fit and finish | |
The FN 5-7 (or Five-seveN as it has been named by the company) is a perhaps less commonly known but highly respected pistol.
Designed as a companion piece to FN Herstal's rather legendary P90 SMG, its unusual looks and even more unusual 5.7×28mm diameter bullet (the same used in the P90) attracted considerable attention (and controversy) since its introduction in 1998.
While rather famous (or infamous) in the firearms community, the FN 5-7 is still something of a niche pistol in the airsoft world and there aren't a ton of replicas out there for those interested in picking one up.
Perhaps unsurprisingly, Tokyo Marui has made a pretty accurate replica of this famous firearm and, also perhaps unsurprisingly, it is one of the better ones out there.
To find out if it is worth a sport in your collection, let alone your time and money, we decided to take a closer look at this somewhat unique gas blowback pistol.
Specifications
| | |
| --- | --- |
| Airsoft type | Gas Blowback Pistol |
| FPS | ~330 @ 0.20g on green gas, 300 on duster |
| Recommended Gas | 134a, green gas |
| Action | Semi Automatic |
| Outer barrel | Non-threaded |
| Hop up | Adjustable |
| Construction | ABS Plastic |
How closely does the Tokyo Marui FN-57 resemble a real steel Five SeveN? .
| | | |
| --- | --- | --- |
| | Tokyo Marui FN-57 | FN Five-SeveN USG |
| Weight | 1.63 lbs (740g) | 1.3 lbs (610g) empty1.6 lbs (744 g) loaded |
| Length | 8.2 in (208mm) | 8.2 in (208mm) |
| Action | Semi-Auto | Semi-Auto |
| Ammo | 6mm | 5.7x28mm |
| Capacity | 26 rounds | 20-30 rounds |
| Construction | ABS plastic with reinforced plastic slide | Polymer Frame, Slide shell and steel components |
| Sights | Fixed | Fixed |
| Picatinny rail positions | 6 o'clock | 6 o'clock |
Aside from its unusual bullet, which is perhaps less relevant for airsoft purposes, the FN Five-seveN is known for its somewhat unusual design and Tokyo Marui has managed to replicate this look pretty accurately.
At 8.2 inches long and weighing just 1.63 lbs, the Tokyo Marui FN-57 matches its real steel counterpart pretty closely in terms of its full sized length and light weight.
It also is a pretty close match for the Five-SeveN in terms of its build.
Where the real steel pistol is largely made of reinforced plastic, the TM FN-57 is made of the usual Tokyo Marui ABS plastic so they do look and feel fairly similar, even down to the presence of seam lines in all the right places.
The FN Five SeveN is also somewhat well known for its more unusual external controls compared to the usual assortment of 1911s and M9s out there, something that is perhaps expected considering its close relationship with the similarly unusual P90 SMG.

On a real steel Five SeveN, the safety is located directly above the trigger, while the gun's takedown lever is located more forwards, towards the barrel, and the slide catch is placed at the rear, much like a Sig P226 or the more modern P320.
These details are all, of course, present and accurately replicated on the Tokyo Marui airsoft pistol and are, much like the real steel version, made of a grey plastic that helps them stand out quite a bit in all light conditions.
Similarly, the TM FN-57 comes with the 20mm rail and rear serrations and rear "wings" of a Mk 1 Five-SeveN USG or Tactical, forgoing the fully adjustable sights, blacked out controls and front serrations that later variants possessed.
Potential buyers should note that this is an officially licensed airsoft pistol, and the gun does have the fanciful FN logo rather prominently stamped into its textured grip.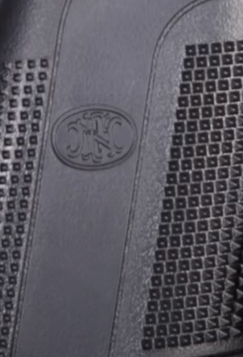 That said, the Tokyo Marui does not contain all the trades and markings of a real steel Five-SeveN, possessing simple caliber markings on the slide (and missing the oddly iconic "Five-SeveN" branding), as well as a long faux-serial number on the adjacent side of the frame in place of "FN Herstal Belgium."
While we feel that the faux-trades do look pretty cool in their own right, collectors, milsimers and sticklers for realism may be a bit let down.
How Well Does the Tokyo Marui FN-57 Perform As An Airsoft Gas Pistol?
Build-quality and construction
As with many other Tokyo Marui pistols, the FN-57's is largely made of ABS plastic, with the outer barrel, rear sights, hop up unit, trigger, pins, hammer and internals being made of alloy metal.
As mentioned above, in this case the use of ABS plastics is fairly in line with the overall design of the real steel Five-SeveN, which is largely made of polymer materials.
As with the HiCapa 4.3 and 5.1, and in accordance with Japanese regulations, the FN-57's slide is made of the same plastic as the frame.
It is, however, reinforced with alloy metal, which adds some much needed rigidity and sturdiness to its design.
While not quite as durable as an aluminum or even an aluminum or zinc alloy, and not exactly ideal for running the gun on higher pressure gasses, the use of a plastic slide does make the FN-57 slide far lighter and allows it to cycle far more quickly than some of its metal rivals, giving the gun a very snappy and enjoyable blowback action.
Fit and finish on the FN-57 is typically Tokyo Marui – when we handled the gun everything seemed to fit nicely together, the slide drew back smoothly and without issue and all the switches and levers seemed properly and tightly installed.
While there may have been some minor flexing in the mag well when squeezed, by and large the rest of the gun was fairly sturdy, with no real bending, squeaking or rattling that we could notice.
The Tokyo Marui FN-57 comes with an alloy 20mm rail located underneath the barrel, which allows users to mount flashlights and lasers to the gun without much of an issue.

Unlike the company's hi-capas, however, the rail comes preinstalled on the gun and so there's no real need for users to punch holes into the frame or screw anything in, which is always appreciated.
Sadly, the TM FN-57 does not come with a 14mm threaded outer barrel, so adding most mock suppressors or tracer units to the gun will take some work or, more likely, require swapping out the barrel for a threaded aftermarket option.
When it comes to sights, the FN-57 comes with pretty realistic Mk 1-style three-dot sights – a rear metal sight and front plastic one.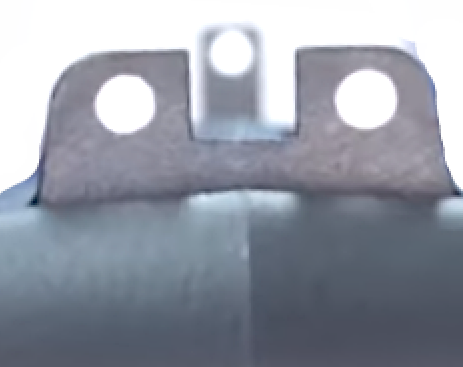 The sights are pretty low-rise, which can help prevent snagging the gun on clothing or gear in close quarters games, and their white dot markings are high visibility, letting them stand out nicely on low-contrast targets.
The sights aren't, however, adjustable.
While this is correct in terms of realism (Mk 1 Five-SeveN USG variants had fixed sights), it does mean that users will need to use a little more skill when aiming at targets beyond 75 feet or so.
Internally, as with other Tokyo Marui's the FN-57 is pretty well built.
The gun sports a well-finished 6.08mm brass inner barrel that's about 4.3 inches long (110 mm).
The inner barrel nests snugly inside a polished aluminum outer barrel that has been fitted with an O-ring near the tip, which is designed to help prevent excess wobble and improve accuracy.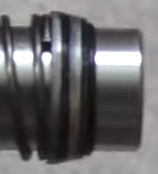 As we discussed earlier, the slide itself is reinforced with metal components to help it cope with the gun's gas blowback action, and the hammer and other internals are made of fairly durable alloy metals.
Interestingly, the FN-57 includes a larger-than-average 13.5mm cylinder mechanism that is designed to provide a stronger blowback action or "kick," a feature whose pros and cons as they relate to long term performance we'll discuss a little later on.
Finally, the FN-57 comes with a fully adjustable rotary hop up unit located on the underside of the slide.

The hop up is made of metal and is a pretty typical H-hop Tokyo Marui unit, so it is well-built and delivers pretty decent spin out of the box.
Unfortunately, as it is located under the slide, making adjustments to it does require stripping the gun, limiting your ability to make ad hoc corrections in game.
Performance and Accuracy
The Tokyo Marui FN-57 is a pretty capable and balanced airsoft pistol out of the box.
Using 0.20g BBs on green gas we saw the 57 chrono around 320-330 FPS at room temperature (around 68F/20C), while on duster it managed around 290-300.
Although certainly no monster, this makes the FN-57 a little more powerful than many other popular TM GBB pistols out there, such as the 4.3.
At the same time, the gun should still be able to slide under most CQB or indoor FPS limits or minimum distance requirements, which is always something we appreciate with an airsoft pistol.
In terms of accuracy, the FN-57 is almost laser-like.
Up to about 50 feet (15m) or so, we saw the gun get very tight groupings for an airsoft gun, and it continued to nail targets pretty consistently all the way out past 100 feet (30m).
When fired, the action on the FN-57 is surprisingly impressive.
A single action pistol, the 5-7's trigger is light to mid-range in pull and has a decent break with a pretty quick reset.
Thanks to its ABS plastic construction, the slide cycles extremely quickly, giving the gun a very snappy feel.
In addition, the larger cylinder mechanism does indeed produce a greater and more noticeable kick.
Since its introduction, users have played up the recoil on this pistol quite a bit so it was refreshing to find out that it did live up to its reputation to some degree.
Although perhaps not quite as loud and powerful as some of Tokyo Marui's larger pistols (such as the Desert Eagle), or most CO2s for that matter, it is certainly a step up from most TM GBB pistols out there and is a lot of fun to fire.
That said, users should keep in mind that, while fun to fire initially, the increased blowback force generated when run on green gas can be a bit much for the gun's plastic slide over time.
In fact, users running this gun on higher pressure gas and damaging the ABS slide is where a majority of the user complaints for this model come from, and either running it on duster or swapping out the slide for a metal option (a common upgrade for the TM Hi-Capas, for instance) usually solves this issue.
So while Tokyo Marui usually recommends users only use duster gas, we'd say that with this gun it can be considered something of a must unless you're willing to upgrade the slide.
Finally, in terms of gas efficiency, the Tokyo Marui FN-57 is pretty impressive given its strong blowback action, getting around about 2-3 mags per fill on average (depending on temperature, of course).
Handling and feel
Like the real steel Five-SeveN it is inspired by, the Tokyo Marui FN-57 is a bit different from most airsoft 1911s, Glocks and M9s out there.
At 8.2 inches long (208mm) it is a full length airsoft pistol, being around the same length as an Umarex Glock 17 and in between Tokyo Marui's Hi-Capas (the 4.3 and the 5.1).
At the same time, thanks to its ABS plastic design, it is pretty lightweight, tipping the scales at a fairly true-to-life 1.6 lbs or so.
The end result is an airsoft pistol that is fairly confidence-inspiring to hold yet very easy to carry around for long periods of time.
One thing to note is that, due to the rather unique design of the Five-SeveN, the positions of the slide catch, safety and take down levers can seem a little strange at first, both in terms of looks and actual handling.
The safety is frame-mounted and located above the trigger guard, rather than at the rear of the slide.
Although a little unusual, it does mean that users can more easily operate it with either their index or thumb of their supporting hand, which is nice.
Similarly, the slide catch is located towards the back of the gun.
While this can take a little getting used to, it does actually make it a little harder to accidentally hit it when firing compared to some other guns out there, which is actually kind of thoughtful.
In terms of grips, like a real steel Five-SeveN, the TM 5-7's are plastic and extensively checkered, making them very grippy and easy to handle even when wet.
This increased grippiness is actually important when it comes to the 5-7, as its greater kick does mean a corresponding increase in muzzle rise, something that is exacerbated by its slide being a little heavier towards the rear.
As a result of this, users will need to hold the gun fairly firmly in order to deliver the precision shots it is capable of.
The gun also has Mk1 USG-style rear serrations that are reasonably deep cut, allowing users to get a firm grip when racking the slide.
More than that, however, and something we really appreciate are a pair of small "wings" that project out from the rear of the slide.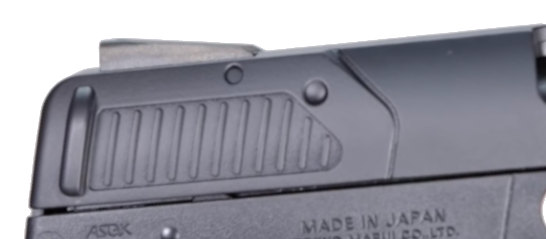 Much like a charging handle on a rifle, these can be used to draw the slide back if users are having a hard time otherwise, good news for airsofters who like wearing gloves or whose hands get a bit too sweaty for normal serrations.
Finally, the Tokyo Marui FN-57 is a bit of a mixed bag in terms of left hand friendliness.
While its frame-mounted safety is accessible and usable on both sides of the gun, its slide catch, push-button mag release and take down lever are located on and operated from the left side of the frame.
Maintenance
Taking the FN-57 down is actually pretty easy.
Unlike some 1911s out there, and somewhat like a Glock, the 5-7 comes with a nice and handy takedown lever located towards the front of the frame.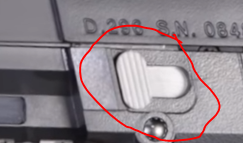 To strip the gun, users only have to draw the slide back, push the takedown lever backwards (towards the user and using a little force since it is a little tight) and then push the slide forwards.
There is no need to spend time trying to align anything and, with some practice, you can take this thing down in a couple seconds.
Once that's accomplished, users can access the trigger mechanism, outer barrel, recoil spring and hop up pretty readily in order to clean, lube and look for damage.
Magazine type and capacity
Although itself made of ABS plastic, the Tokyo Marui FN 5-7 comes with an impressively sized (and heavy at 316 g) aluminum alloy magazine that holds about 26 rounds, which is pretty much in the money compared to a real steel FN Five-SeveN and pretty high capacity compared to most other GBB pistols out there.
Owing to their size (nearly as big as a Desert Eagle mag), the Tokyo Marui 5-7 magazine can contain a fair amount of gas as well, allowing the gun to fire off quite a few rounds before needing to refill.
They can be a bit of a tight squeeze for many mag pouches, however.
On the downside, although pretty solid and while they feed pretty well, these magazines are unfortunately proprietary to the gun, somewhat pricey and there aren't really any options out there for the gun beyond them.
Additionally, due to the weight and size of the mag, you do need to be a little careful when inserting it to prevent damage to the mag well and release mechanism.
On the flip side, however, they do drop free pretty nicely, which is always a plus.
Customizability and Upgrades
Tokyo Marui tends to be the gold standard when it comes to airsoft guns that you can customize and personalize.
Typically, when a model is released there are a ton of 3rd party sellers ready and willing to sell a wide selection of replacement and upgrade parts for pretty much every component of the gun.
Unusually, and unfortunately, it can be a little more difficult to find replacement and upgrade parts (in the US at least) for the Tokyo Marui FN-57.
While you can find things like replacement inlet cores, metal slides, threaded barrels, enhanced recoil springs, tighter bore inner barrels and more, when compared to other TM airsoft pistols there just isn't as quite much out there for this model.
Price
Note: All prices correct as of writing, all prices in USD.
Tokyo Marui pistols aren't exactly known for being cheap and their FN 5-7 airsoft replica is no exception.
Although it depends on the retailer and their access to TM goods, generally speaking the gun tends to come in at just under $200.
This makes it a little more expensive than the more common TM Hi-Capas and the more exotic PX4 Storm or Desert Eagle, and somewhere around the midrange of most airsoft Glocks and the more niche Tokyo Marui Samurai Edge.   
That said, it is a well-put together and high performing airsoft pistol whose unique looks and design features can make it an extremely attractive option for any airsoft collector.
Or
Advantages of the Tokyo Marui FN-57
Very realistic
Tokyo Marui has done an excellent job replicating the FN Five SeveN, and their airsoft replica is nearly identical in terms of overall looks, dimensions, weight, balance and even construction.
The gun even comes with licensed FN logos on the grips, which add a touch more realism that collectors should enjoy.
Lightweight
Although a full-sized pistol, the Tokyo Marui FN-57 weighs only about 1.6 lbs (not very far off from the real steel version) and so manages to be pretty lightweight and easy to carry while still having enough heft to avoid feeling like a toy.
Decent power
The TM 5-7 chronos around 300 FPS using duster gas and 0.20g BBs, which isn't bad at all and should comfortably slide under most indoor and CQB limits.
Using green gas, which we don't really recommend due to the possibility of long term damage, the gun manages to hit around 330 FPS or so using 0.20g, which makes it quite powerful for a Tokyo Marui.
Laser-like accuracy
Beyond its power, the TM FN-57 is extremely accurate. When held firmly it should hit targets well past 100 feet or more (30m) with little issue and tends to group very nicely closer in.
Excellent blowback action
One of the 5-7's standout features is its "hard kick design," which allows the gun to produce a far more impressive recoil when fired and produce a great deal more noise.
The lightweight slide also provides a very snappy cycling action, which can be a lot of fun to watch.
Good gas efficiency
Despite its impressive blowback action, thanks to its tight design and large mag, the 5-7 still manages to get 2-3 mags per fill, which isn't bad at all and should help reduce its cost of ownership.
Comfortable to hold and use
Despite its unusual design and looks, the FN-57 is actually very comfortable in hand, being lightweight and with nicely textured, ergonomic grips and thoughtful switch/lever placement.
Ambidextrous safety
Unlike some other airsoft pistols out there, the Tokyo Marui FN-57 includes a functional and ambidextrous on-frame safety that can be easily engaged via the user's trigger finger or the thumb of their opposing hand.
Disadvantages
Not exactly cheap
The Tokyo Marui FN-57 tends to be sold on the more premium side of airsoft pistols and its $190-200 price tag can be a little much for some budgets.
Heavier kick can be an issue if run on higher pressure gas
While its blowback action is very impressive and a lot of fun, some users report that the increased pressure and force when run on green and other higher pressure gasses can cause excess wear to the plastic slide, requiring owners to upgrade it or run the gun on duster.
Not as many customization options for a Tokyo Marui
While there are replacements and upgrades for the TM FN-57, there are typically fewer options out there compared to other, more common Tokyo Marui pistols.
Bottom Line
Overall the Tokyo Marui FN-57 can be a fun and interesting choice to add to any airsoft collection.
Its unusual looks, relative power, outsized blowback, excellent accuracy and comfortable handling all make it an attractive option for those looking some casual shooting, as well as those sick of the usual array of 1911s and Glocks out there.
Ted Clark– Hailing from Florida, Ted has been an avid airsoft enthusiast since he was in middle school. When he's not checking out and reviewing airsoft guns, he enjoys picking off his enemies one by one on the field as a sniper.