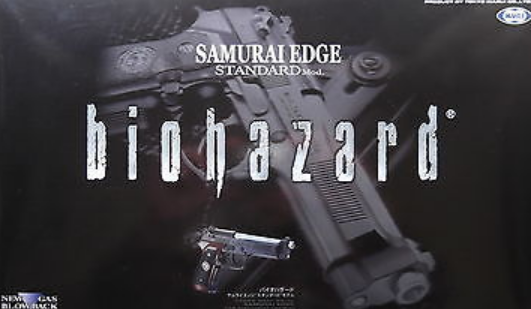 Durability and Build Quality

91%
| | |
| --- | --- |
| ✅ Precise replica of the video game gun | ❌ Not exactly the cheapest pistol around |
| ✅ Excellent fit and finish | ❌ ABS plastic slide and frame |
| ✅ Well balanced power | |
| ✅ Great blowback action | |
| ✅ Smooth and responsive trigger | |
| ✅ Excellent mag compatibility | |
| ✅ Very upgradable | |
| ✅ Very gas efficient | |
| ✅ Extremely reliable | |
The Samurai Edge is a modified Beretta 92F used by Racoon City's elite Special Tactics and Rescue Service in the popular Resident Evil franchise. 
Due to the gun's looks, character associations, in-game use and backstory, the Samurai Edge has become a pretty desirable item for fans of the series.
The Tokyo Marui Samurai Edge is a gas blowback airsoft replica of this popular video game weapon and has gathered its own fan base since its introduction.
To find out it truly lives up to the reputation of its digital inspiration, as well as to determine if it's worth a spot in your collection, we decided to take a closer look for ourselves.
Specifications
| | |
| --- | --- |
| Manufacturer | Tokyo Marui |
| Power | Green Gas, Duster |
| Action | Semi Auto |
| FPS | ~ 270 FPS @ 0.20g BBs on duster, ~310 FPS on green gas |
| Hop up | Adjustable |
| Inner barrel | 4.17 inch (106 mm) |
| Total Length | 8.5 inches (216 mm) |
| Weight | 1.8 lbs (816 g) empty |
| Construction | Plastic |
| Rounds | 26 |
How Much Does The TM Samurai Edge Resemble A Real Steel Beretta?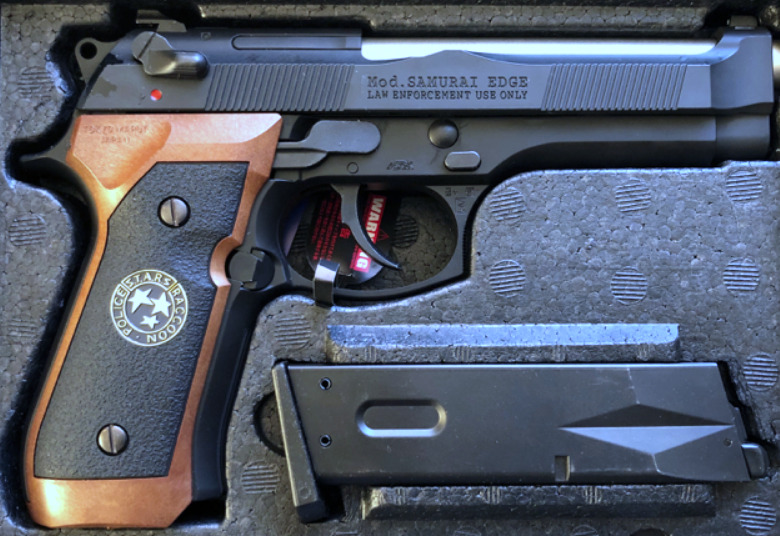 | | | | |
| --- | --- | --- | --- |
| | Tokyo Marui Samurai Edge | Resident Evil Samurai Edge Specs | Beretta 92F/M9 |
| Overall length | 8.5 inches (216 mm) | 8.5 inches (216 mm) | 8.5 inches (216 mm) |
| Weight | 1.8 lbs (816 g) empty | Under 1kg empty | 2.1 lbs (0.97 KG) empty |
| Action | Semi automatic | Semi automatic | Semi automatic |
| Caliber | 6mm | 9mm parabellum | 9mm |
| Capacity | 26 | 15+ | 10-15 rd |
| Construction | ABS plastic | Steel slide, wood paneled grips with Racoon City PD inserts | Steel slide, frame, polymer grips |
| Sights | 3 dot sight fixed | 3 dot sight fixed | Fixed |
| Rail | None | None | None |
Like its Resident Evil inspiration, the Tokyo Marui Samurai Edge is based on the Beretta 92F, and beyond some cosmetic modifications it does look pretty similar to the venerable pistol.
The Samurai Edge GBB replicates the 92F's dimensions, both in terms of size (at 8.5 inches long) and approximate weight (just under 2 lbs), which is actually pretty impressive for a largely plastic airsoft pistol.
The gun also shares many of the broad external characteristics of a 92F, including its iconic shape, ambidextrous safety and mag release, extended beavertail, skeletonized hammer and its distinctive open top slide.
Tokyo Marui Samurai Edge vs. Resident Evil M92F Custom Samurai Edge
With all that said, this Tokyo Marui pistol is not a direct airsoft replica of the Beretta 92F, but is in fact based on the unlockable weapon from the Resident Evil series, the M92F "Samurai Edge" Custom.
And Tokyo Marui has done an excellent job at bringing this video game item to life, with the Samurai Edge maintaining the distinctive look of the in-game gun, down to its smallest details.
For example, the gun comes with front and rear slide cuts, faux wood grips and white dot sights, all of which are not present on a stock real steel 92F but make up part of the "customizations" of the in-game gun.
The gun even maintains some of the more obscure details of the Resident Evil side arm (which can be read about in the in-game content "Fax From Kendo"), including being lighter weight than a standard 92F ("not exceeding 35 ounces"), being double action and having a capacity of 15+ rounds as standard.
Finally, the Tokyo Marui Samurai Edge comes loaded with highly accurate trades, marks and badges from the Resident Evil series, including "S.T.A.R.S RPD Special Team" enraged across the slide and a cool looking, enameled metal blue Racoon City Police badge on its grip. 
All this attention to detail makes the Tokyo Marui Samurai Edge a great option for airsoft fans of the Resident Evil series and cosplayers, although of course it may not be the most ideal for firearms enthusiasts or milsim players due to its significant and very noticeable visual departures from a stock M9 / 92F.
How Does The Tokyo Marui Samurai Edge Perform As An Airsoft Pistol?
Build-quality and Construction
As with quite a few other TM pistols, the Tokyo Marui Samurai Edge is largely made of plastic, with its slide and frame being made of ABS and only its controls, trigger and magazine being made of metal.
Nevertheless, as with other Tokyo Marui products, the build quality of the TM Samurai Edge is extremely solid.
When we handled it, we found the gun to be really very well put together, with its slide racking back and forth nicely, its frame being largely free of any excess bending, squeaking or flexing and its levers and switches being tightly installed and clicking nicely and firmly into place without any issue.
That said, the heavier use of plastic, which allows the gun to comply with more stringent Japanese airsoft laws, makes the gun a bit less durable in the long run than one with a metal frame and slide.
As a result, users are a bit more limited in the types of gasses they can reasonably expect to use with this GBB pistol.
While the gun will run green gas pretty well, it is recommended that users run it on duster to prevent excess wear and tear (and damage) over time.
In terms of accessories, much like other 92F airsoft replicas, there isn't really a huge amount of options with the standard version of this gun. 
There are, for example, no top or bottom rails for the easy attachment of lasers, optics and flashlights, and the stock outer barrel is unthreaded (although it comes with some nice faux rifling at the tip), meaning it won't readily accept airsoft suppressors or tracer units without a barrel swap or some modification.
That said, unlike a stock 92F (and as per its video game inspiration) the gun does come with some pretty nice white dot sights..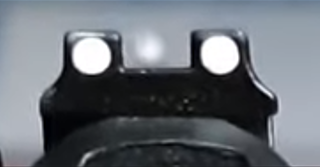 These can make it a lot easier to draw a bead on an opponent, particularly in lower light conditions (like Racoon City, for example) or on lower contrast targets, making the gun a bit more user-friendly.
Inside, the gun is based on a stock Tokyo Marui 92F / M9 and, as with other Tokyo Marui gas airsoft guns, is actually quite well made. 
In contrast to the gun's plastic externals, the inside of the gun is largely metal, with its recoil guide rod, hammer and trigger mechanism, take down and more being made of a pretty tough aluminum alloy, which means the gun should be able to be used for quite some time without issue.
The standard model of TM Samurai Edge comes with essentially a fixed hop up.

We say fixed as, while the gun technically comes with an adjustable hop up (although it does seem fixed at first glance), it is a screw type and its adjuster is located on the bottom of the unit. 
As a result, while the gun can be tweaked for greater or lesser spin, users have to remove the inner barrel and hop up unit to do so, meaning it's not exactly easy or even possible to do on the fly, unlike a traditional rotary style hop up.
Those looking for a more easily adjustable and usable airsoft gun should probably go for its variant, the Tokyo Marui Samurai Edge Hi Grade Type, which comes with a far more user-friendly rotary style hop up. 
Performance and Accuracy
Although designed as a homage to a popular video game gun, by and large we found the Tokyo Marui Samurai Edge to be a pretty capable airsoft gun on its own.
Using 0.20g BBs and running on duster gas (HFC134a), we saw the TM Samurai Edge chrono at around 270 FPS or so, and around 310 FPS or so on green gas.
This puts it at around the same stock power level as many of its well-known TM cousins, such as the Xtreme 45 or the PX4.
While not especially powerful, the gun will certainly do the trick as an airsoft pistol for most games and does slide under just about any indoor/CQB FPS regulations that you may come across.
Further, because of its lightweight slide, the gun has a very quick cycle rate, making follow ups and snap shots a dream, and its double action trigger response is light and extremely smooth.
Perhaps more than that, even with its stock ABS parts, the gun does have a pretty decent kick to it, with its slide blowing back quickly and smoothly with every shot, making the experience of using the gun a lot more pleasurable.
In terms of accuracy, the TM Samurai Edge is most at home at the close to medium range, hitting targets exceptionally well to about 50 feet or so (15 m) and hitting torso-size targets pretty reliably out to about 100 feet (30 m).
Finally, even though it has a decent blowback, the gun is pretty gas efficient.
In general, we saw the gun get around 2-3 mags per fill, which means the gun should reasonably get up to about 75+ shots off before users will need to take a refill break.
Handling and Feel
As mentioned, the Tokyo Marui Samurai Edge is based on the company's Beretta 92F replica and shares a lot of its handling characteristics with that airsoft gun.
At 8.5 inches long, the TM Samurai Edge is a full-sized pistol, being somewhere in between the popular Hi Capa 5.1 and the slightly shorter Glock 17 in terms of length.
Typically of a 92F, the gun's grip is big and chunky, which is good for those with average to large sized hands but may take some getting used to for those with a smaller hand-size, particularly given the gun's frame-mounted safety and lengthy trigger.
There is, however, a good deal of texturing on the gun's grip, with its sides having a good deal of stippling, which can make it easy to use in all weather conditions.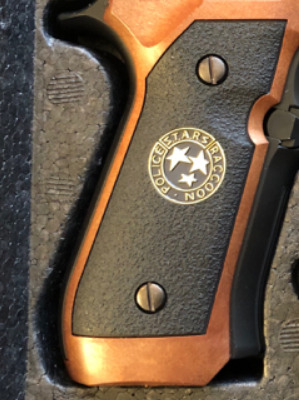 Further, the TM Samurai Edge's largish trigger guard does make using the gun a lot easier when wearing gloves, which is always nice.
In addition to its grip and guard, the Tokyo Marui Samurai Edge, unlike a typical 92F, also comes with fairly deep front serrations, which makes it possible to draw the gun's slide from its front and is a nice extra touch.

Finally, as per its in-game creator's specifications, the gun's safety and mag release are ambidextrous, which is always good news for left-handed users.
Maintenance and Upgrades
The Tokyo Marui Samurai Edge GBB is, being basically a 92F, taken down pretty easily.
Users simply depress a small locking button on the gun's right side and then flip the takedown lever on its left, which then allows the gun's slide to detach from the frame.
Users can then clean the gun, inspect it for damage and apply lubrication as needed.
In terms of replacements and upgrades, the TM Samurai Edge will accept pretty much all Tokyo Marui 92F / M9 parts and, interestingly, can even accept real steel 92F grips.
While the company's 92F series of replicas are not quite as popular as their Hi Capas (particularly in the US), parts are still fairly plentiful, especially if you're willing to shop online.
There are also tons of 3rd party upgrade parts for the 92F that will fit this gun, including metal slides, more user-friendly hop ups, tighter bore barrels, upgraded valves and more.
Magazine type and Capacity
The Tokyo Marui Samurai Edge comes with a pretty typical metal double stack 92F magazine.
The magazine holds 26 BBs, slides pretty nicely in and out of the gun's magwell and we found it to feed very reliably on the whole.
The gun does have pretty decent mag compatibility, as well, being able to use most other single and double stack M9 / 92F gas magazines out there, including those by WE and KJW, which should make getting spares fairly easy and much more cost effective in the long run.
Price
Note: All prices correct as of writing, all prices in USD.
Usually sold for around $200, the Tokyo Marui Samurai Edge isn't exactly the cheapest airsoft pistol out there.
The gun is a little more expensive than some of the other Tokyo Marui gas pistols out there, such as the Hi Capas and the Xtreme 45, being more on par with some of the company's more specialty guns, such as the FN 5-7.
That said, the gun is a beautifully designed and extremely accurate real life replica of the Resident Evil gun and, being Tokyo Marui, is actually very well-built, capable and highly upgradable, to boot. 
Or
Advantages of the Tokyo Marui Samurai Edge
Accurate, real life replica of the Resident Evil Samurai Edge
The Tokyo Marui Samurai Edge is pretty much a real life airsoft version of the S.T.A.R Samurai Edge found in the Resident Evil franchise, allowing fans of the series to actually get their hands on one of their own.
Well-built
Typical of Tokyo Marui, the Samurai Edge has excellent fit and finish right out of the box, with its slide, switches and buttons all properly fitted and working smoothly, and no real looseness, squeaking or rattling that we could notice.
Smooth action
With its lightweight slide and high build quality, the Tokyo Marui Samurai Edge has a very smooth action, with excellent trigger response, a very fast cycle and even provides a noticeable and enjoyable kick when fired.
Very customizable
Being based on the Tokyo Marui Beretta 92F, the Samurai Edge can make use of the many OEM and 3rd party replacements and upgrades that are out there, meaning users can take the gun and truly make it their own.
Well-balanced performance
Like other Tokyo Maruis out there, the Samurai Edge isn't the most powerful airsoft pistol around, but does offer well-rounded and reliable performance that should be good for most airsoft games and won't fall afoul of indoor/CQB FPS regulations.
Excellent magazine compatibility
The Tokyo Marui Samurai Edge GBB will accept most M9 / 92F gas magazines that are out there, which makes it easy and cost effective for users to find spares.
Good gas efficiency
With its lightweight slide and good fit and finish, the Tokyo Marui Samurai Edge gets pretty good gas efficiency, even with its full blowback action.
Depending on temperature, it should get around 2-3 double stack mags per fill, which is quite good and will allow users to stay in the game longer.
Disadvantages
Not exactly cheap
At around $200, the Tokyo Marui Samurai Edge isn't exactly a cheap airsoft pistol and may be a bit much for some budgets.
ABS plastic slide and frame
The TM Samurai Edge comes with a plastic slide and frame, which can limit the types of gasses it can use without causing damage in the long run.
Bottom Line
Well built, very well made, highly realistic and with capable on-field performance, if you're looking for a S.T.A.R.S Samurai Edge airsoft pistol to take to your airsoft game or cosplay event, the Tokyo Marui Samurai Edge GBB might just be the right choice for you. 
Will Martin – Will has been into airsoft and paintball for well over 10 years, and has done it all – from upgrading and fixing gearboxes as a tech to building custom airsoft loadouts for his friends to supporting off those friends as a DM.