Although by no means rare, compared to the more popular M4 replicas out there, AKs are a little bit more of a niche item in the airsoft world.
Those that love them, love them, and those that don't…well, don't.
And those individuals who have fallen for these rugged, Eastern European airsoft guns will want one that will last for some time and be well worth their time and hard-earned money.
Unfortunately, there is no shortage of shoddily made airsoft AK47s, AK74s or their myriad of more modern variants out there.
To help out, we've put together a list of what we consider to be the best airsoft AKs out there.
In A Rush? Here Are Some Of Our Top Picks
What We Look For In a Top Airsoft AK
When it comes to finding a good quality airsoft Kalashnikov, there are a few criteria that we look for specific to the airsoft AK platform.
Realistic Look and Feel
AKs, whether we're talking about the 47, 74, 105 or more modern versions, have a very distinct profile and the AK series is arguably the most iconic and recognizable firearm platform ever made, and this is a large component of why airsoft players like their AKs.
With their exposed gas chambers and blocks, chunky handguards, banana magazines, stamped steel frames and rear tangent sights, you simply know a Kalashnikov variant when you see it.
And after 80 years or so of development, there are quite a few variants out there to choose from.
From the classic AK47 and 74s to the shortened and handy AK74U, and all the way to more modern AK-12s, each does have their own unique look and design features inspired by the needs and innovations of their era.
When looking at an airsoft AK, we compare it closely to its real steel equivalent and favor those that have as few departures as possible.
High Quality Metal Build
AKs are known for being built tough.
Their relative ease of maintenance and durability are some of the main reasons…logistically challenged…forces around the world adopted the rifle over more high tech, lightweight and arguably more accurate rifles and carbines.
Sadly, not needing to deal with the stresses and pressures of real steel firearms, airsoft manufacturers have a tendency to build their replicas from more lightweight materials, like polymer or cheap aluminum alloy, which can help keep costs down.
Linked to our desire for realism, when it comes to airsoft AKs we ideally like ours built from stamped steel.
This allows the airsoft AK to come as close to the proper weight, balance and durability that real steel Kalashnikovs are known for.
Stamped steel isn't always an option, however, and in a pinch we can go along with aluminum or even high quality alloys, as long as the price of the airsoft gun is accordingly adjusted downwards.
Fit and Finish
Built by factories around the world with wildly different quality control standards, AKs are built to be functional and even real steel versions have a reputation for rattling and clattering along.
So while we're a little more lenient with these guns when it comes to minor looseness and rattling when handled, there are some things that we are rather picky about.
Pre-70s models are known for their wood stocks, grips and handguards and we like ours to be made of decent quality wood (not cheap plywood) and properly cut, sanded and stained to avoid water damage, splitting and even splinters.
For later models that use polymer, we obviously prefer nylon-reinforced polymers that are not more durable than standard ABS plastics, but better replicate the plastic furniture used on real steel firearms.
Models with folding stocks should fold smoothly, closing close to the gun's body and avoid blocking its selector.
It should also lock into place with a minimum of rattling when being moved around.
Those using skeletonized or wire folding stocks (such as AK 74U models) should use quality metals to prevent them from bending or breaking with use.
Parts and Magazine Compatibility
Airsoft AKs are usually built around a V3 gearbox.
While having a few novel features can always be fun, we generally tend to prefer airsoft AKs that use a minimum of proprietary parts and that can more easily be upgraded or repaired when things go wrong.
In fact, because the airsoft AK platform tends to be a little more finicky than a typical M4 clone, we tended to take this a little more seriously when compiling our list.
Similarly, we also like our airsoft AKs to be as compatible with magazines as possible.
AK magazines are very iconic and there are quite a few cool options out there that users may want to try out, including really nice looking bakelite versions.
Realistic Weight
While normally not an issue, or even a benefit in the case of Speedsoft, we consider being lightweight to be something of a negative with an airsoft AK replica.
AKs are heavy and durable guns, and those buying airsoft replicas (particularly those into milsim or collectables) will want to feel that AK weight.
To make sure our airsoft replicas were nice and hefty, we compared them to a chart of rough weights for different popular AK models.
| | |
| --- | --- |
| Original AK 47 | 9.5 lbs / 3.8 KG |
| AK 74 | 6 lbs / 2.7 KG |
| AKM | 6.5 lbs / 2.93 KG |
| AK74U | 6 lbs / 2.7 KG |
| AK74M | 7.5 lbs / 3.4 KG |
| AK 105 | 7 lbs / 3.2 KG |
| AK 12 | 7.72 lbs / 3.5 KG |
| AK12K | 7.5 lbs/ 3.4 KG |
Power
As battle rifles, AKs are no shrinking violet on the field and we like our airsoft replicas to reflect this.
Generally speaking, a good airsoft AK needs to be competitive with the various airsoft M4s and HK416s that it will typically counter on a field.
That said, to be an effective primary we do like our AKs to be at least able to be used indoors and out, and so we ideally like to see a quick change spring system installed, which can go a long way in helping make an airsoft AK as versatile as possible.
Ultimately, while we like our AKs in the 400+ FPS range, they should be able to relatively easily be taken down to the 350-400 range with spring change.
Accuracy
AKs are pragmatic guns designed for intermediate engagements.
Although the idea that AKs are inherently inaccurate is something of a myth, they are typically not quite as accurate on the whole as their AR rivals, whose direct impingement systems, lighter bolt carrier groups and typically higher QC generally let them offer more precise shooting out of the box.
With airsoft and its lack of real steel ballistic considerations, however, there really isn't as much of an excuse.
By using quality internals, barrels and hop ups, AK models should deliver stock accuracy that's as good (or better) than any other platform out there, including ARs, and should be able to hit center mass at 150 feet (45 m) or more.
Our Picks
Best Overall Airsoft AK47 – LCT LCKM AEG
| | |
| --- | --- |
| PROS | CONS |
| 1:1 replica of real AK47/AKM | Pricey |
| Durable, stamped steel construction | Side rail only on polymer versions |
| Really nice, burnished wood handguards | A little hot for indoor use, no QCS |
| 14mm CCW threading | |
| Reliable, powerful performance | |
| Good accuracy | |
| Decent mag cross compatibility | |
| Excellent fit and finish | |
| High quality internals | |
| | |
| --- | --- |
| Realism | ⭐⭐⭐⭐ |
| Durability | ⭐⭐⭐⭐⭐ |
| Power | ⭐⭐⭐⭐⭐ |
| Accuracy | ⭐⭐⭐⭐⭐ |
| Parts and mag compatibility | ⭐⭐⭐⭐ |
| Price | ⭐⭐⭐⭐ |
Ok, so while it's often called LCT's AK47, the LCKM is actually the company's take on the classic AKM, itself a "modern" (we're talking 1959 here) update of the venerable AK47.
And, regardless of whether you want to split hairs, it is likely the best made AK47 AEG out there.
Externally, LCT has done an excellent job at replicating the look and style of a real steel AKM.
The gun is pretty much a 1:1 replica in terms of overall size and dimensions, although at 7.7 lbs or 3.5 KG it is a little heavier than its real steel counterpart and more in line with the original 47 model.
Its receiver is made of stamped, riveted steel, as are its barrel assembly and front sights, while some of the accessory features on the body are made of aluminum.
The hand grips are made of a nice, burnished wood that feels quite nice and is smooth to the touch.
The only thing that's really plastic on this gun is its grip, designed as it is to house the LCKM's motor.
Painted a sort of burgundy/brown, it is visually accurate and pretty comfortable to hold for an AK, even if we would have preferred wood.
Interestingly, and maintaining the AKM's slightly sleeker, stamped look, underneath the orange tip LCT has replicated the AKM's slanted muzzle.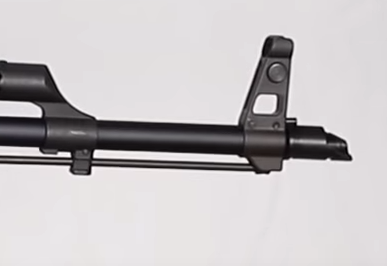 Although its anti-climbing benefits are somewhat lost in airsoft, its inclusion is an added touch of realism that we think most enthusiasts will appreciate.
The fit and finish of the LCT is very good, as well.
When we handled it, everything seemed pretty tightly put together and even the selector switch locked into place with a nice, heavy and very audible thunk, which we loved.
In terms of accessories, LCT has made an unusual choice with the LCKM series.
SKS-style rails are only available on models with polymer handguards, presumably to go along with their more modern and tactical looks.
While we would definitely still go with the wooden version, as they lend an unbeatable aesthetic quality to the gun, adding optics to it can require a bit of modification.
That said, all models do come with 14mm CCW threading, so attaching mock suppressors or tracer units to the gun shouldn't be too much of an issue.
Internally, LCT has done a pretty good job with this AKM replica and everything seemed to be of pretty decent quality when we took a look.
The gun has a pretty tanky metal V3 gearbox with steel gears in an 18:1 ratio, 9mm bearings, a chromed brass cylinder with a CNC aluminum alloy ported head, 18 AEG wiring and is powered by a fairly torquey 22K motor.
The gun fires through a pretty smooth and well-finished tight bore 6.02mm brass barrel and has a metal LCT hop up with a W-shaped bucking that delivers good spin right out of the box.
This attention to the gun's internals allows the gun to deliver pretty solid performance – we saw the LCT LCKM send BBs downrange pretty reliably at around 400-410 FPS and found that it was more than capable of hitting targets well past 150 feet (45 m).
In fact, closer in (at the 50-100 foot range) we saw the gun nail BBs into pretty tight groupings, which is kind of fun to see from an AK.
In terms of mag compatibility, the LCT comes with a 150 round midcap but is pretty cross-compatible and accepts most AK magazines, although some users report that a few may require a space here and there to get them to fit snugly.
On the downside, coming in at the $450 range, the gun is a little pricey for an AEG.
Although interested buyers can often get a version with polymer for about $100 less, we feel that most airsoft AKM users will probably be interested in the wood version, even if it also lacks SKS rails.
Overall, however, we feel the LCT LCKM is still the best airsoft AKM out there, maintaining an ideal balance of realism, quality and performance that lets it hang with the M4s any day of the week.
Or
Or
Best Budget Airsoft AK47 – CYMA AK47 CM046 EBB
| | |
| --- | --- |
| PROS | CONS |
| Good value for money, esp. for EBB | Shoots a little hot, no QCS |
| Realistic AK47 design | Some proprietary electric blowback components |
| Pretty powerful | |
| Accurate | |
| Durable, stamped steel construction | |
| Largely TM compatible V3 | |
| EBB is actually pretty forceful and cool | |
| Real wood furniture is actually quite nice | |
| 14mm CCW threading | |
| | |
| --- | --- |
| Realism | ⭐⭐⭐⭐⭐ |
| Durability | ⭐⭐⭐⭐ |
| Power | ⭐⭐⭐⭐⭐ |
| Accuracy | ⭐⭐⭐⭐ |
| Parts and mag compatibility | ⭐⭐⭐⭐ |
| Price | ⭐⭐⭐⭐⭐ |
Electric blowback airsoft rifles (EBBs) aren't always the most popular options in airsoft circles, largely due to their propensity for breaking and for generally being a poor substitute for gas blowbacks.
With the CM046, CYMA has done something that we feel most AK47 enthusiasts will appreciate – namely, creating an AK47 EBB that feels great to fire and that won't self-destruct after a few weeks.

Externally, the CM046 is a very accurate 1:1 replica of an AK47, matching the overall looks, length and dimensions of its real steel counterpart almost flawlessly.
It is, however, lighter than the real steel version by a couple of pounds, something that sticklers for realism will probably notice when picking it up.
Otherwise, the gun is pretty well made and feels very much like a real steel firearm.
Its receiver is made of steel, while its barrel assembly and charging handle are made of a pretty sturdy alloy.
It does use real wood furniture, with its stock, handguard and grips being made of pretty nicely finished darker wood that actually looks and feels pretty upscale.

The fit and finish on the gun is pretty decent, as well.
The charging handle moves back easily and smoothly, the selector switch locks into place solidly and while there is some wobble in the handguard if you really press on it sideways, it isn't too bad.
As it is an AK47 model (and not an AKM or more modern variant), there aren't any rails to speak of on this model, so if you like tactically dressing up your vintage gun for some reason, you might be out of luck.
CYMA has, however, included 14mm CCW threads, which is thoughtful and can allow you to screw a mock suppressor onto the CM046 more easily.
Internally, like other CYMAs, the CM046 delivers exceptional value for money.
It includes a fully TM compatible V3 with metal gears, metal bushings an bearings, a metal toothed piston, a tightbore barrel and a 22 TPA neodymium motor.
Performance wise, the gun hits pretty hard.
We saw it deliver around 420 FPS with 0.20g BBs. While a lot of fun to shoot, it does makes the gun a little too hot for most indoor fields and, without a quick change spring, swapping springs to bring it down to FPS limits takes a little more planning and work.
It is, however, an extremely accurate airsoft rifle that can deliver laser-like shots to about 150 feet or so.
Also, as an EBB, when fired the CYMA CM046 does offer quite a bit of feedback.
Its recoil, which is really more of a vibration, is actually quite noticeable and makes the gun a lot more fun to use.
Throwing the charging handle back with each shot, it is also pretty cool to watch in action.
It does, however, mean there are some proprietary parts to the gun that can make it more expensive to repair, although we had no real issues with reliability when we used it and most users online similarly report excellent longevity.
Finally, at around $250, the CYMA AK47 CM046 isn't particularly very expensive compared to other AKs on our list, and is actually a bargain when compared to other EBBs out there, such as Tokyo Marui's Recoil Shock series, which tend to be quite expensive.
Check out our in-depth review of the CYMA CM046
Or
Best Airsoft AK74 – LCT AJ74M
| | |
| --- | --- |
| PROS | CONS |
| Pretty accurate AK74 replica | Shoots a little hot, no QCS |
| Rugged steel design | Not exactly cheap |
| Beautiful black spruce wood | Bakelite mag a little plasticky |
| Side rail | |
| Pretty accurate at range | |
| High quality internals | |
| Good mag compatibility | |
| Really put together nicely | |
| | |
| --- | --- |
| Realism | ⭐⭐⭐⭐⭐ |
| Durability | ⭐⭐⭐⭐⭐ |
| Power | ⭐⭐⭐⭐⭐ |
| Accuracy | ⭐⭐⭐⭐ |
| Parts and mag compatibility | ⭐⭐⭐⭐⭐ |
| Price | ⭐⭐⭐⭐ |
If the go-go glamor and international discord of the 1970s is more your style, and you're in the market for an airsoft AK74, then LCT's AJ74M really should be at the top of your list.

Of the various 74 replicas that LCT offers (such as the more tactical UN or the STBKR), this one is the most accurate in design to the original full sized AK74 rifle.
In fact, it is a pretty exact replica of the Kalashnikov model 1974, matching its real steel inspiration in overall dimensions, as well as build.
The gun is made of fairly thick and rugged stamped steel and, interestingly, sports a nice black spruce wood handgrip that is very pleasing to look at and feel and is generally a step up from most other woods on this list (let alone those typically used in other airsoft guns).
Like their AK47 model, the LCT AJ74M has a polymer grip, this time made of a faux-bakelite that, while certainly nice to hold and fairly sturdy, is a little less than convincing.
Nevertheless, as with other LCTs, the AJ74M is pretty well put together on the outside, with a study charging handle, heavy selector switch and pretty tight handguards that didn't show any real looseness, rattling or shaking when we handled them.
Unlike the LCKM, the AJ74M does have SKS-style mounts on the side, which allow users to mount Soviet-style compatible airsoft optics and accessories pretty easily.
The outer barrel is threaded, as well, but users should note that it is 28mm positive, which means most will need to attach an adaptor to use most 14mm airsoft suppressors and tracer units out there.
Inside, the gun is an LCT AEG, and so it is built pretty solidly.
The gun sports an aluminum upgradable V3 gearbox with heat-treated 18:1 steel gears, 9mm bearings, a steel toothed piston, a brass cylinder with a ported head and a nicely-finished, tightbore 6.02mm brass barrel.
Powering this gearbox is an LCT 22K motor and a 120M or so spring.
The gun also comes with an LCT metal hop up that, thanks to a W-shaped bucking, provides pretty strong spin right out of the box.
Performance-wise, LCT's take on the AK74 doesn't disappoint.
We saw the gun hit pretty consistently around the 400-410 FPS mark using 0.20g BBs, which is pretty decent although it may exclude the gun from indoor or CQB ranges with stricter FPS limits.
Sadly, like most other LCT AKs, the gun doesn't really feature a true quick change spring system and, although doable, it can be a slower, careful process to swap in wearker springs.
Aside from being pretty powerful, the gun shoots pretty well.
Trigger response is quite good, with a nice trigger break and return for an AK AEG, and we saw the gun easily hit targets well past 150 feet (45 m), so accuracy at range shouldn't be a concern at all.
Mag compatibility for the AJ74M was surprisingly good, even compared to other LCTs we've seen – the gun has no issue accepting magazines from CYMA, Dboy or pretty much anyone else.
And that's a good thing because the bakelite-style 120 round midcap magazine that comes with the gun is made of plastic and feels a bit cheap, which is a bit of a downer even if it feeds pretty well and consistently.
Finally, like other LCTs in the range, in terms of price the AJ74M is on the expensive side.
Typically coming in at well over $400, it will take a bite out of any airsoft budget.
That said, LCT's AJ74M, with its steel build, high degree of realism, powerful and reliable performance and excellent parts compatibility, stands head and shoulders above most other AK74 replicas you'll find on the market and is well worth its hefty price tag in our opinion.
Or
Or
Best Airsoft AK105 – CYMA Standard AK105
| | |
| --- | --- |
| PROS | CONS |
| 1:1 AK105 replica | Some rattling in handguard |
| Stamped steel construction | Can shoot hot for CQB |
| More compact than AK74 | Battery options a little limited |
| Side rail, 14mm threading | |
| Pretty accurate at range | |
| Decent internals for the price | |
| Good mag compatibility | |
| Extremely upgradable | |
| | |
| --- | --- |
| Realism | ⭐⭐⭐⭐⭐ |
| Durability | ⭐⭐⭐⭐ |
| Power | ⭐⭐⭐⭐ |
| Accuracy | ⭐⭐⭐⭐ |
| Parts and mag compatibility | ⭐⭐⭐⭐⭐ |
| Price | ⭐⭐⭐⭐⭐ |
If you like the AK74 but are more about carbines, the AK105 might just be the AK for you.
And if that's the case, then you should definitely check out the CYMA CM040D, which we believe offers the best combination of performance and value for money out there.

Folding down to just about 24 inches, CYMA's take on the AK105 is a lot easier to carry around than a standard airsoft AK74, yet still maintains much of the original's intimidating factor.
The CYMA is a very realistic airsoft rifle, matching the real steel AK105 pretty well in its dimensions and length and, at around 6.5 lbs, only being a little lighter in weight.
The CM040D is a pretty tough little carbine, as well.
The gun is build around a stamped steel receiver and contains quite a few external steel components, such as a steel barrels assembly, flash hider and more.
This is a step up from many of the aluminum components used on some less expensive AK models from the company and more in-line with the upper end AKs on the market, such as LCT or E&L.
Although the gun doesn't come with wood furniture (the real steel AK105 being made in the early 2000s, long after the use of wood was considered passé), it does use high quality reinforced polymer material for its handguards, grip and folding stock, so it stands up to moderate handling pretty well.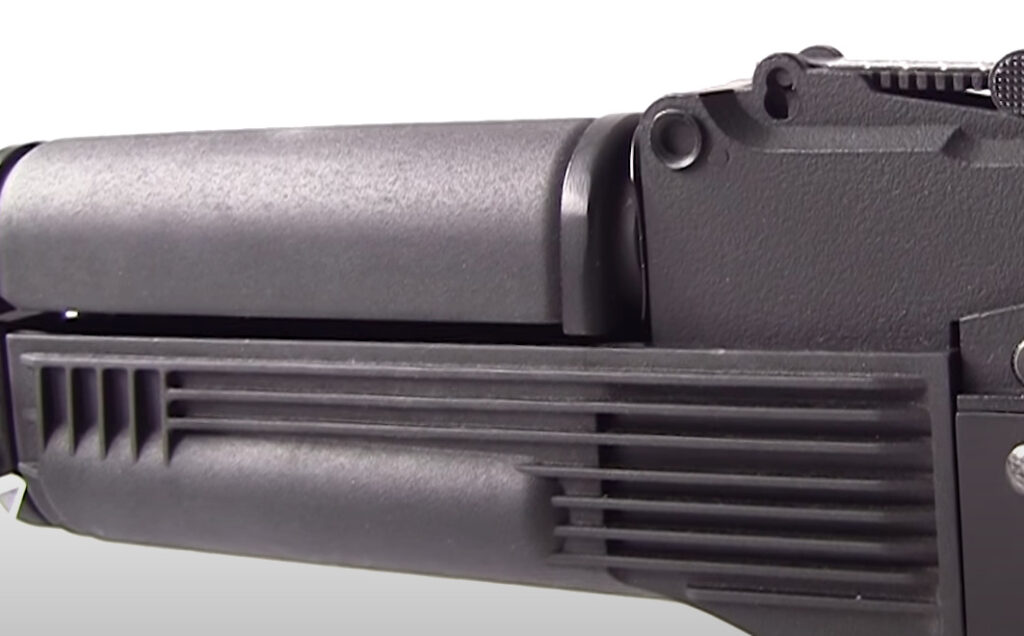 Fit and finish is pretty good with the CYMA, while there is a some wobble in the handguards when twisted, the gun otherwise is free from any looseness or rattling, and in our experience the selector switch remained pretty crisp and problem free during use.
CYMA has included an SKS-style metal rail to the side of the gun, which means it can mount AK-compatible optics, lasers and other accessories pretty easily.
The gun, helpfully, also has 14mm negative threading, so it can readily accommodate just about any barrel accessory, such as a tracer unit or mock silencer.
Inside, the CYMA CM040D contains a more than decent TM spec full metal V3 gearbox with steel gears, 7mm bushings, metal toothed polymer piston with an aluminum ported piston head, and a 6.04mm brass inner barrel that is about 455mm long.
Powering the gearbox is a pretty torquey short type CYMA motor with neodymium magnets, and the gun includes a metal alloy hop up that offers more than decent spin for the money.
In fact, where the CYMAs internals really shine is the fact that they can be upgraded to a fair degree thanks to their TM compatibility, making this gun an excellent platform for beginner customizers.
Performance-wise, the CYMA CM040D is quite powerful and we saw it hit around 400 FPS with 0.20g BBs.
As with many other AKs, it will need to have its spring swapped to meet any indoor FPS limits, and unfortunately the gun doesn't come with a quick change spring system.
That said, the gun is very accurate and can easily and reliably hit targets all the way out to 150 feet (45m) without a problem.
Due to its strong hop up, however, we feel it does best with slightly heavier BBs, such as 0.25g or 0.28gs, as it can have a little overspin with 0.20s.
The gun does come with a pretty decent hi cap, and as a CYMA the gun does have excellent compatibility with other magazines and should reliably accept most TM-compatible Kalashnikov magazines.
On the downside, this CYMA is somewhat limited in the types of batteries it will take stock.
Aside from the small battery compartment typical of AKs, 11.1v LiPos tend to be a little too powerful for it, and some users report significant overspin or double feeding with some 9.6v batteries.
Overall, however, we feel that the CM040D is one of the best value for money AK105s around.
At around $200-250, it is significantly cheaper than many competing models and really rises to the to once you consider its reliable performance, good build quality and ability to take upgrades.
Or
Best Airsoft AK74U – LCT LCKS74UN
| | |
| --- | --- |
| PROS | CONS |
| Very accurate AK74U replica | Small battery compartment |
| Stamped steel construction | Can shoot hot for CQB despite size |
| Folds down to be pretty small | |
| Side rail, 14mm threading | |
| Pretty accurate despite size | |
| Nicely finished wood furniture | |
| Good mag compatibility | |
| A little more affordable than other LCT AKs | |
| | |
| --- | --- |
| Realism | ⭐⭐⭐⭐⭐ |
| Durability | ⭐⭐⭐⭐⭐ |
| Power | ⭐⭐⭐⭐⭐ |
| Accuracy | ⭐⭐⭐⭐ |
| Parts and mag compatibility | ⭐⭐⭐⭐ |
| Price | ⭐⭐⭐⭐⭐ |
If you like the looks of an airsoft AK74 but are looking for something a little easier to carry around than it or even the AK105, then a compact AK74U replica might just be what you're looking for.
And of those, once again LCT stands as producing arguably the best model out there – the LCKS74UN.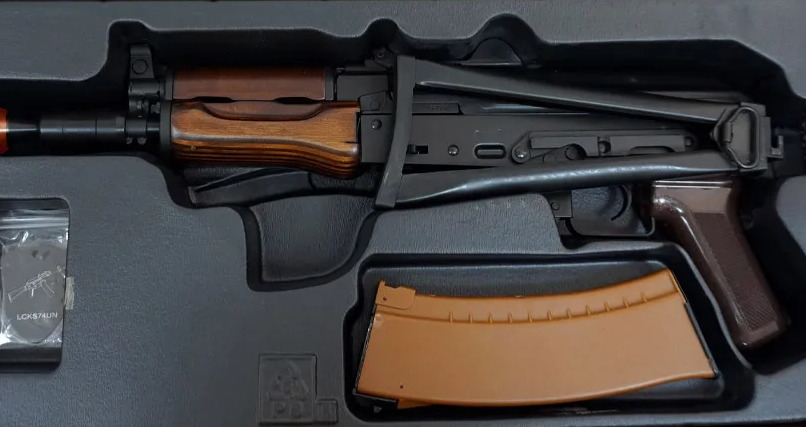 At around 28 inches (710 mm) long when folded, LCT's take on the AK74U is nearly 8 inches shorter than its full battle rifle cousin.
Aside from giving it more of a cool, bulldog-like profile, its size makes the LCKS74UN a far more compact and maneuverable option to add to your loadout.
As with the other LCTs on our list, this AK74U replica is pretty faithful to the real steel version, maintaining the AK74U's overall dimensions, widened muzzle break, skeletonized folding stock, shortened wood handguards and more.
In terms of weight, the LCKS74UN tips the scales at 3.6KG, which is just about on the money for an AK74U.
Like its larger sibling, the AJ74M, the LCKS74UN is largely made of stamped steel with a nicely finished black spruce wood handguard.
Like the AJ74M, however, it does have brown/burgundy plastic grip that we would have preferred to be in wood.
The fit and finish for this gun is pretty good, as well, with a sturdy and firm selector switch and a charging handle that draws back easily and comes forward again with a satisfying metallic clunk.
Interestingly for a folding airsoft carbine, the folding stock, too, is made of steel and is well designed, folding nicely into place without blocking any key features (allowing it to be used in its most compact form) and securing into place with a satisfying, audible click.
When nudged hard the stock can show some minor wobble, but ultimately we found it to be pretty solidly and securely installed.
As with other LCT AK74s, the gun comes with an SKS-style side rail, allowing users to easily add AK-compatible optics, should they so choose.
That said, once folded the stock will hit whatever optic or accessory you mount to the gun, which is something to consider.
The gun comes with a threaded outer barrel, although it is 24mm positive, so most users will need an adaptor to attach the more common 14mm suppressors and tracers out there.
Internally, the gun is pretty well kitted out and is pretty solid, typical of LCT AKs.
The gun comes with a fully upgradable V3 gearbox that is a distinct improvement over earlier LCT LCKS74UN models.
Contained within an aluminum shell, the gearbox features heat treated steel gears, 9mm metal bearings, a steel toothed reinforced polymer piston with ported piston head, a brass cylinder with double o-ring sealed head (offering improved compression) and 16 AWA wiring.
The gearbox is powered by a 22K short type high torque motor and fires through a nicely finished 220mm long, 6.02mm diameter brass barrel.
As with other LCT AKs, BBs get quite decent spin from the stock LCT metal hop up included in the unit.
Due to the quality of its build and internals, the LCT LCKS74UN is a more than decent performer, despite its small size.
With 0.20g BBs, we saw it deliver around 420 FPS, meaning it's not all that different from larger AK74 models in LCT's range and should have more than enough power to deliver in outdoor games.
It can, however, be a little hot for indoor games, despite the increased versatility its compact dimensions afford it, and with no quick change spring system, downpowering the gun from its M130 spring can take a little more effort.
Mag compatibility is, as with other LCTs on this list, quite good and the gun should accept most AK compatible magazines out there, including those from CYMA and Dboy.
And, like LCT's larger AK74 replicas, this is a good thing as the gun comes with a polymer bakelite hi-cap that, although perfectly functional, is kind of plasticky looking compared to some metal options out there.
Pricewise, the LCKS74U isn't too bad.
Coming in at around $350-400, although certainly not cheap, it is comparatively more affordable than other LCT AKs with wood furniture.
On the downside, its more compact dimensions do mean that the battery compartment is a little smaller than other AKs, which aren't exactly known for their cavernous interiors, and fitting larger batteries into it can be a bit of a squeeze.
That said, for those who love the looks of the AK74U, or for those who want a traditional looking AK in a more manageable size, the LCT LCKS74U balance of quality, power and looks should put it squarely at the top of any shopping list.
Or
Or
Best Airsoft AK SMG – LCT PP19 Vityaz
| | |
| --- | --- |
| PROS | CONS |
| Compact SMG with AK74 looks | Shoots a bit hot for CQB, no QCS |
| Very durable | Battery compartment small |
| Tank-like internals | Proprietary 9mm mags |
| Compatible with many AK74 parts/furniture | |
| Decently accurate | |
| Not as expensive as some other AKs | |
| Modern tactical looks | |
| SKS-rails, 14mm threading | |
| | |
| --- | --- |
| Realism | ⭐⭐⭐⭐⭐ |
| Durability | ⭐⭐⭐⭐⭐ |
| Power | ⭐⭐⭐⭐⭐ |
| Accuracy | ⭐⭐⭐⭐ |
| Parts and mag compatibility | ⭐⭐⭐1/2 |
| Price | ⭐⭐⭐⭐⭐ |
If you're in the market for a good quality, more modern SMG to take with you to but still want that classic Eastern bloc look, the LCT PP 19 Vityaz is probably what you're looking for.
Overall, the Vityaz is an excellent option for those looking for something a little more maneuverable than a standard 105, blending the compact size of a 9mm SMG with the rugged durability and looks of a late model AK74.
As with the other AK's we've selected, the PP19 is largely made of heavy and durable stamped steel and sports high quality nylon-reinforced furniture, so it can take a moderate amount of rough handling on the field without an issue.
And we found the gun was put together nicely, as well.
By and large the gun's polymer handguards fit together tightly, with minimal wobbling, and we found that the selector switch pretty solidly locked into place when thumbed, which is always a good thing when it comes to airsoft AKs.
Similarly, the triangular skeletonized steel stock locks into place pretty tightly and, interestingly, uses a double hook system that ensures it doesn't pop free during use.
Although based on the AK74 platform, the LCT PP19 Vityaz is actually very accessory friendly.
The SMG comes with an aluminum top rail as well as SKS-style side rails, so users can easily mount their choice of Western or Eastern optics and such.
Much like the 74U, however, users should note that the folding stock can't really be folded closed when optics are attached.
Similarly, and unlike some other LCT AKs we've mentioned, the gun comes with 14mm CCW threading, which makes it far easier to attach mock suppressors and tracer units, something that we're sure most SMG users will be happy to hear.
Although a bit different on the outside, inside, the LCT PP19 is as solid as any other AK model in the company's range.
The gun has a fully upgradable metal V3 gearbox with steel gears, 8mm bearings, a steel spring guide, an aluminum cylinder, a brass piston with ported head, all of which is powered by a typically torquey 22K LCT motor.
As with other LCT AKs, the gun comes with a pretty well finished 6.02mm brass barrel and a metal hop up that delivers some impressive spin thanks to a fairly high quality W-shaped hop up.
FPS-wise, the PP19 Vityaz can hang with just about any AK on our list, delivering about 400-410 FPS using 0.20g BBs, which makes it ideal for outdoor use but a little hot for indoor use…at least without a spring change.
Sadly, like other LCT AKs in the range, it doesn't really have a true quick change spring system to make this a little easier and less time consuming.
That said, it is pretty accurate at range despite its smaller size and can hit targets up to about 150 feet (45m), although we'd say it is more at home at the 50-100 foot range (up to 30m or so).
Sizewise, the Vityaz is pretty small compared to other AKs we've mentioned.
At around 18.5 inches folded, while it is larger than some other popular SMGs we've looked at in the past (such as the Scorpion Evo A1 or the Nemesis), it is smaller and easier to maneuver around with than even the AK74U.
Unfortunately, like LCT's take on the AK74U, the compact dimensions of the Vityaz does limit the types of batteries you can insert into it.
Further, based on a gun that takes 9mm mags, the LCT PP19 does use proprietary magazines, which is a bit of a drawback, although the mags it uses are quite affordable and relatively easy to find online.
Pricewise, The PP19 is similar to the LCKS74U and generally falls into the $350-400 range.
Although not exactly cheap, it is more affordable than most of their full sized AKs, despite offering comparable build quality, power and greater maneuverability and accessorizability.
Consequently, if you're looking for a well-built SMG-style AK that will let you strike a little more fear in the hearts of your opponents, you probably won't do better than the LCT PP19 Vityaz.
Read more about the LCT PP19 Vityaz in our in-depth review
Or
Or
Best Modern AK – Arcturus AK12K
| | |
| --- | --- |
| PROS | CONS |
| Modern AK design | Heavy |
| Extremely durable and well made steel build | Battery space a little cramped height-wise |
| Powerful and highly accurate | |
| Multiple rail options, 14mm threading | |
| Stock is foldable and retractable | |
| Quick change spring system for easy CQB | |
| Decent mag compatibility | |
| A little more affordable than other LCT AKs | |
| | |
| --- | --- |
| Realism | ⭐⭐⭐⭐⭐ |
| Durability | ⭐⭐⭐⭐⭐ |
| Power | ⭐⭐⭐⭐⭐ |
| Accuracy | ⭐⭐⭐⭐⭐ |
| Parts and mag compatibility | ⭐⭐⭐⭐ |
| Price | ⭐⭐⭐⭐ |
If you're love the look of AKs but want a carbine that's more cutting edge than the usual 74s and 47s out there, an AK12 might just be what your loadout needs, and for that you'll want to check out the Arcturus AK12K.
As might be expected for an airsoft AK, but rare when compared to modern carbine and battle rifle replicas, the 12K is mostly made of high quality stamped steel.
Steel parts include its receiver, top cover, gas tubes, piston assembly, barrel assembly and much, much more.
Its handguards and stock, meanwhile, are made of high quality nylon reinforced-polymer.
The stock with the Arcturus AK12K is actually kind of interesting as, while it is an AR-style crane stock, it is also side folding, which is something you don't see everyday.
As a result of its construction, the Arcturus is extremely durable, more so than even when compared to many of the other AKs on our list and, generally speaking, the gun should easily stand up to most of what an even spirited airsoft game can throw at it.
In addition, the Arcturus AK12K is very well put together.
Although perhaps not as well known a brand in the West as CYMA or LCT, MOS Manufacture has made an excellent airsoft rifle and a stand-out modern Kalashnikov carbine with their AK12K.
Everything on the gun is tightly screwed down and assembled, from the handguards to the stock to the selector switch.
In fact, the AK12K's selector switch is fitted so tightly it took us a little bit of time and thumbing to get it moving smoothly and easily (although it did eventually).
As a modern carbine option, the Arcturus AK12K offers quite a few more options for adding accessories than replicas of older AKs, which is good news for those who like to keep things tactical.
The gun comes with a full length 20mm top rail, as well as a bottom rail and two short segments of side rail on the handguards, giving users plenty of options for adding lasers, optics, flashlights and more to the gun while giving any decent M4/416 clone a serious run for its money.
Internally, the gun is simply a beast.
It comes with a full metal and upgradable V3 gearbox with nicely shimmed steel gears, 8mm bushings, 8mm bearings, a microswitch trigger, a cylinder with a full steel rack (something that stands out a bit compared to the other CYMAs and LCTs on this list), and a metal piston with a ported head.
Powering the gearbox is a 19K motor, which is a little slower than some other motors on our list and results in an adequate although not exceptional 12-13 RPS on auto.
The Arcturus carbine also comes with a metal hop up unit with a W-shaped bucking that is quite good and provides excellent spin out of the box, and fires out of a nicely finished 6.02mm stainless steel barrel.
Like other AKs on our list, the Arcturus is a heavy hitter in terms of performance.
We saw it hit around 415 FPS or so using 0.20g BBs, which is great for outdoors but a little too powerful for most fields that have stricter FPS limits.
That said, unlike many other airsoft AKs, this gun comes with a true quick change spring system.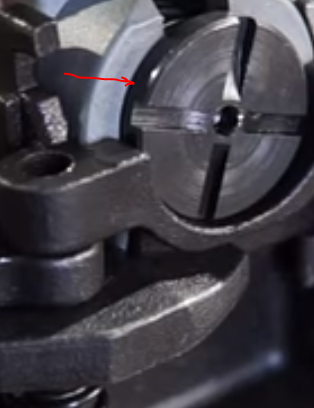 Should they choose to do so, users can access the spring from the rear of the gun and swap it for something a little more CQB-friendly without having to disassemble the gun.
The gun is also very accurate at range. We saw the gun hit targets up to and well past 150 feet (45 m), and some users online have used the gun to hit target pretty reliably past 200 feet or more, although we haven't done this ourselves.
In terms of mags, the Arcturus comes with two – a plastic hi cap and a variable cap magazine that can switch between a milsim-ready 30 rounds and a more traditionally airsoft-friendly 120 round midcap.
Compatibility-wise, the Arcturus AK12K is actually quite good, as well, supporting most AK mags, including those from LCT, CYMA, Dboys and more.
On the downside, although it extends well into the gas tube, the gun's battery space is quite cramped height-wise, something that is exacerbated by the fact that the gun has a pretty strong locking clasp mechanism on its top cover.
As a result, battery choice for 11.1Vs can be a little more limited.
In addition, coming in at nearly 8 lbs, the Arcturus is a heavy carbine, even for an AK, so you probably should warm up a bit before taking this gun along to an all day event.
That said, overall the Arcturus is exceptionally well built and its modern design is highly functional and should serve most airsofters quite well in game.
It is also pretty good value for money considering its build quality and the fact that it typically comes in at around $350-400, significantly less than many other good quality AKs out there.
Check out our in-depth review of the Arcturus AK12K for more information
Or
Benefits of AKs In Airsoft
Historically relevant
There are, perhaps, fewer guns more iconic and immediately identifiable than the classic AK and its later variants.
Used by military and police forces (as well as a wide variety of paramilitary groups) in conflicts around the world from the Cold War on, owning and using an airsoft AK can be a great way to have a little piece of history for yourself…and use it to harass your opponents on the field.
Aggressive-looking airsoft option
With its heavy metal frame, exposed gas block, chunky front end and sickle-like magazines, an AKs profile is extremely distinct and aggressive looking, and its sudden appearance in an airsoft game can be intimidating to other players.
….That's not an M4
In a veritable sea of AR-derived rifles, carbines, SBRs and even machine pistols, one of the main attractions of AKs for airsoft players is the fact that they are simply not an M4 or other AR variant.
An AK airsoft gun can, therefore, help you stand out from the crowd a little more.
Can shoot as well as any other airsoft gun
While debates about the intrinsic accuracy of AKs rages on, airsoft players can rest assured that, due to the dynamics of airsoft guns and their construction, an airsoft AK replica stands as good a chance as any to be a dependably accurate shooter.
Accessories and upgrades more common than before
Years ago, AKs were far more of a niche item in the airsoft world and replacement parts and upgrades could be hard to find,
In recent years, companies have started making replacement parts for these guns, and users can now find upgraded barrels, drop in V3 gearboxes, improved hop ups, valves, pistols, MOSFET/ECUs and more for these guns with a simple internet search.
Typically feel very realistic
Unlike their M4 rivals, there are very few ABS or polymer-based airsoft AKs.
Most replicas are made using extensive amounts of metal (even if it is alloy) and as a result they tend to feel far more like a real steel firearm than many competing options.
Externals usually built solid and tough
As a consequence of being built this way, airsoft AKs tend to be fairly durable and solid, on the outside anyway.
As a result, they can take a little more rough handling than their counterparts and their real steel inspiration's overall reputation for toughness means that getting a few nicks and dents is far less of a concern (and some may say even desirable) than with other collectable airsoft guns.
Drawbacks to AKs In Airsoft
Not the most common rifle or carbine option
Although more common these days, airsoft AKs are still rarer than a standard airsoft M4 clone.
As a result, replacements and upgrades are a little less commonly found, which can make them more expensive.
Similarly, as a niche item manufacturers may spend less time sourcing high quality internals for their airsoft AKs, which means that those interested in buying one may have to spend a bit more time looking around for a good model.
They tend to be heavier, bulkier than many other options
There's no getting around it, AKs can be hefty and chunky guns.
As a result, they may not be an ideal choice for certain games, such as CQB, as they can be hard to maneuver around.
Tend to have small battery compartments
For the most part, airsoft AKs tend to store their batteries under their top cover and into the gas tube.
As you can imagine, this doesn't usually mean there's a lot of room for larger batteries and stuffing a standard LiPo 11.1v can sometimes be a bit of a trick, especially considering that users often need to slam the top cover down to close it properly.
Can be hard to take down
Airsoft ARs are notoriously easy to take down for maintenance, usually only requiring users to pop a couple pins.
Airsoft AKs, on the other hand, are notoriously more challenging and can take some time, often requiring a few screws to be removed, body parts to be popped off, and so on, a more involved process that risks the loss (or destruction) of small but critical parts.
Bottom Line
Whether its an AK47, a 74, a 105 or even an AK-12/K, airsoft Kalashnikovs can be a fun and interesting option for a primary.
While they are big and heavy, and while there are some issues to look out for internally and externally, by and large airsoft Aks are often a powerful, durable and capable option that can help their users better stand out in a crowd of tacticool M4s.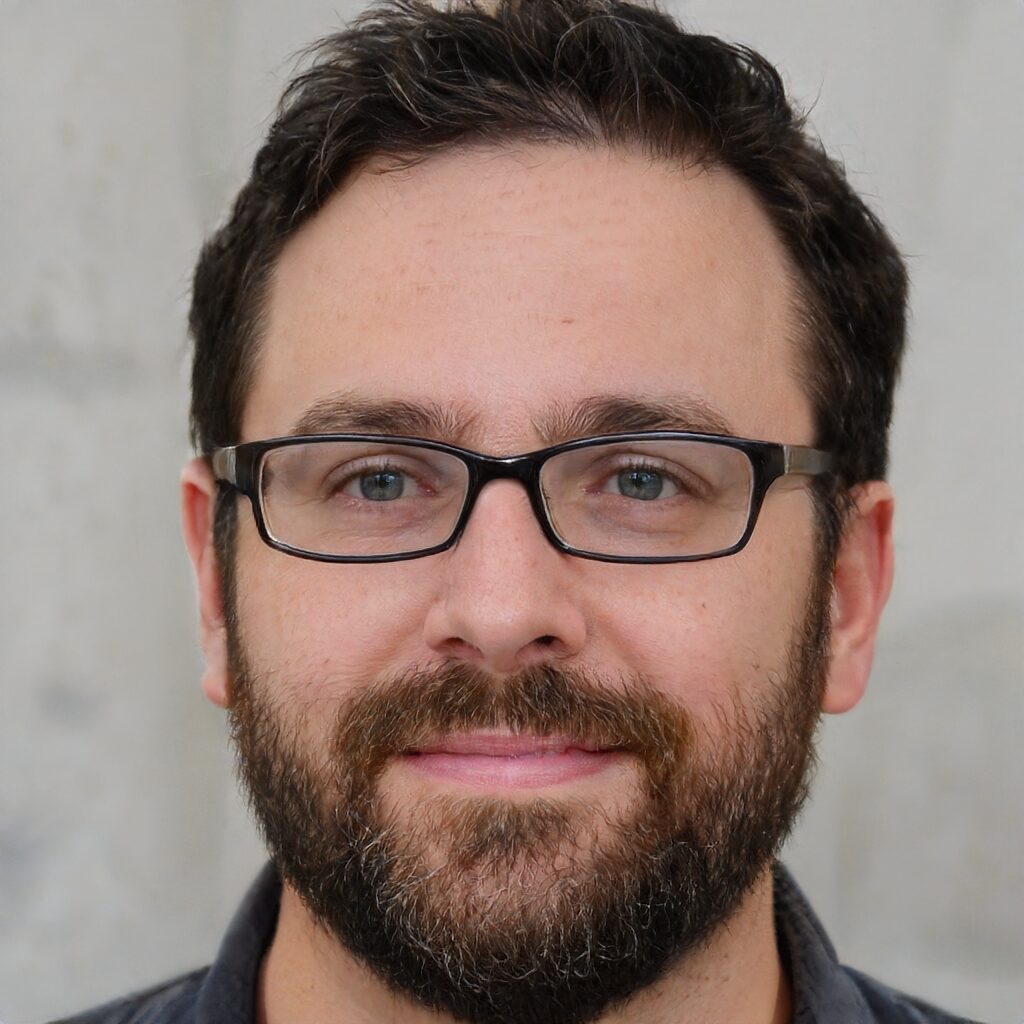 David Lewis – A longtime airsoft and airgun enthusiast and collector, our editor David's lifelong passion for tactical sports began in high school with some friends, a cheap knock-off airsoft M4, and an open field behind his parents' house.

When he's not plinking around, he enjoys sharing his knowledge of airsoft and helping those just starting out.