Durability and Build Quality

98%
| | |
| --- | --- |
| Pros | Cons |
| ✅ Durable, full metal construction | ❌ Not the most inexpensive carbine out there |
| ✅ Powerful | ❌ Uses some proprietary parts |
| ✅ Great accuracy | |
| ✅ Rugged, high-quality internals | |
| ✅ Good trigger response | |
| ✅ Easy to adjust hop up provides good spin | |
| ✅ Quick change spring system | |
| | |
A good airsoft carbine can be worth its weight in gold. When done right they combine solid all-around performance and AR-style customizability in a compact, easy to carry carry frame.
The Krytac Trident MK 2 CRB (which stands for carbine, if you haven't guessed) is one of the more well-known examples of a modern M4-style carbine out there today.
Its aggressive good looks and Krytac's reputation for quality has led it to develop something of a following in the airsoft world.
To find out if its reputation is well-deserved, and to help you decide if its worth a spot in your collection, we decided to take a closer and more in-depth look at it.
Specifications
| | |
| --- | --- |
| Airsoft type | AEG |
| FPS | ~390 FPS @ 0.20g BB |
| Rounds Per Second | ~23 RPS on 11.1v |
| Outer barrel | 14mm CCW threaded |
| Inner Barrel | 6.05mm |
| Hop up | Adjustable |
| Motor | 30K Long Type |
| Gearbox | Nautilus V2 |
| Construction | Aluminium alloy receiversKeylock or M-LOK handguards (M series) |
How closely does the Krytac Trident MK2 CRB resemble a real steel firearm?

Krytac Trident MK2 CRB
M4 Carbine
Weight (empty)
5.5 lbs (2.5 kg)
6.36 lbs (2.88 KG)
Length
Stock extended
31 in (787 mm)
33 in (838.2mm)
Stock retracted
26.5 in (675 mm)
29.75 in (756 mm)
Ambidextrous safety
Yes
No
Ambidextrous mag release
No
No
Mag type
STANAG
STANAG
Construction
Aluminum alloy
Metal
Picatinny rail positions
Top
Keymod or M-LOK handguards
Top Rail
The Krytac Trident MK 2 CRB is a modernized airsoft carbine of Krytac's own design that is loosely based on the venerable M4.
Overall, the Trident MK 2 CRB is something of a significant departure from the 40-something year old real steel carbine.
Designed for use in close quarters, it is a couple inches shorter in length than a standard M4 and just under a pound lighter (~380g).
The Krytac Trident CRB also has far more modern and aggressive styling than a classic M4 carbine, augmenting its familiar AR-style receivers with sharply angled and skeletonized (and pronged) handguards, a flat trigger, full length top rail and a rather rugged-looking, grooved and channel cut pistol grip.
In terms of trades, being a unique design there really aren't any to speak of other than Krytac's Kraken logo, which is admittedly pretty cool on its own, and the Trident name that is etched into the upper receiver.
Krytac Trident MK 2 CRB: How does it perform?

Build-quality and construction
Krytac is known for delivering excellent out-of-the-box build quality and performance and the Trident MK 2 CRB is no exception.
The Trident CRB is a full metal airsoft carbine, with billet-style aluminum alloy receivers and aluminum handguards that make it sturdier and more durable than comparable airsoft rifles made of plastic or cheaper metals.
The gun itself feels solid and well-put together and all its levers seem properly installed and securely fastened, snapping into place with a satisfying click, much like a real steel firearm.
Unlike some other metal airsoft carbines out there, there is virtually no rattling, clattering or looseness with this airsoft gun when handled, which is something we always appreciate.
Externally, the Trident MK 2 has two options for handguards in addition to a full length top rail..
Most models come with a 10 inch high strength, weapons-grade aluminum keymod rail system.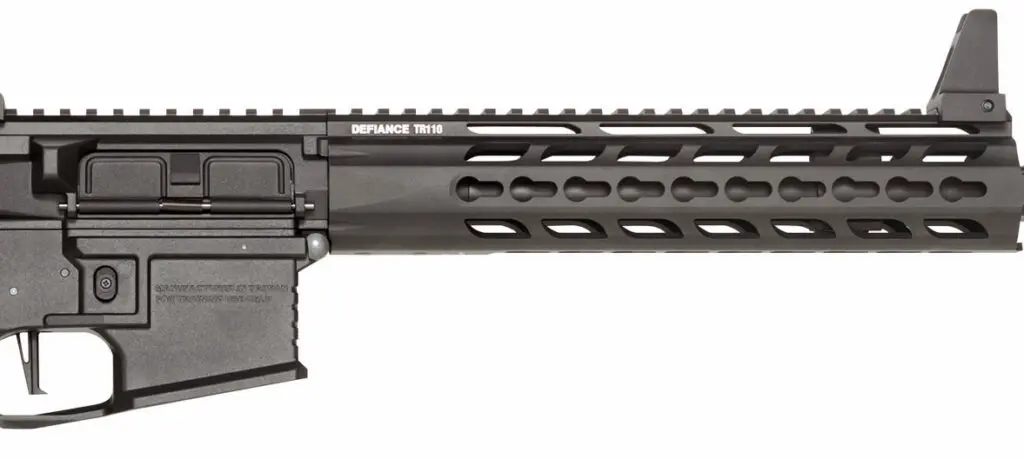 Aside from providing the gun with a cool skeletonized look, this keymod rail keeps the gun a little lighter in weight compared to a quad-rail Picatinny and provides the user with a lot more flexibility when it comes to placing accessories.
It also keeps the handguards a lot smoother, making it a lot more comfortable to hold and making the gun a lot less likely to snag on clothing, straps or gear in a CQB scenario.
The only real drawback to this type of handguard is the fact that, before they can mount an accessory, users have to first screw on a short 20mm rail segment first, which is a bit of an extra step.
Users who decide to pick up a Trident MK-II M CRB are provided with a similarly durable aluminum M-LOK handguard.
M-Loks have much of the same benefits as a KeyMod, and work very similarly, but are a little more modern in style and slightly easier to attach things to.
Whatever option you pick, however, these handguards ensure that Trident MK 2 CRB has plenty of room for freely mounting accessories like optics, foregrips, lasers, flashlights and more to the top, sides and bottom of the gun.
In addition to the rails and handguard, the Krytac Trident CRB's outer barrel is 14mm CCW threaded, which makes it very easy to add a mock suppressor or other barrel accessory to the gun.
The gun also comes with some pretty impressive aluminum sights.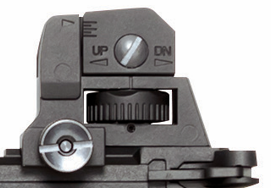 These dual-aperture real-steel flip ups are fully adjustable, lock firmly into place and are generally pretty cool to look at and use compared to the typical, stripped down iron sights usually offered on airsoft rifles.
The Trident MK 2 CRB's stock is kind of interesting as well.
Made of fairly tough plastic, it is a 6-position telescopic crane stock (as compared to a more common 4 position crane stock) and it has a nice, thick rubber butt plate for added comfort and stability.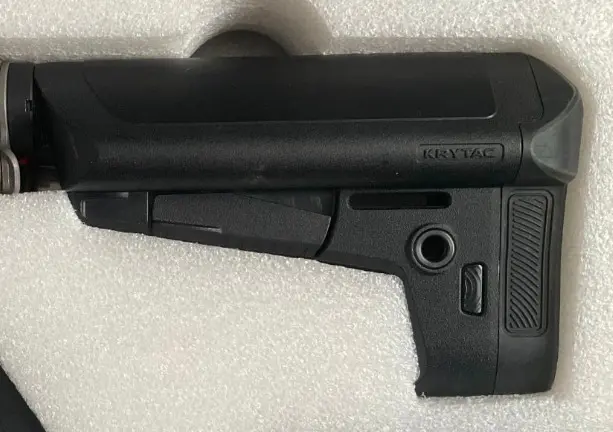 It is also built a little differently on the inside, with three compartments to accommodate different battery sizes and styles depending on user preference and need.
You can, for example, slide a nunchuck battery into battery tubes located on the sides, fit a mini-brick battery in vertically against the butt plate or simply insert a stick battery right into the buffer tube.
When it comes to internals, Krytac's line of airsoft rifles are known for their quality and the Trident MK 2 CRB certainly lives up to this reputation.
The CRB uses the Nautilus V2, a largely proprietary reinforced metal gearbox designed by Krytac.
Although "proprietary gearbox" isn't usually music to an airsoft player's (or technicians) ears, the Nautilus is a pretty decent and sturdy little performer and, overall, it seems that a lot of thought has gone into its construction.
Broadly speaking the gearbox uses metal gears, 8mm ball bearings, a brass cylinder head, and even comes ready with an mosfet and Dean's connector, making it 11.1v LiPo ready.
Users should know that Krytac Triden's gears are a proprietary design, partly due to the slimmer nature of the gearbox.
They are hardened, however, and pretty durable but can be a bit of a hassle to swap out without some shimming.
The gearbox also makes use of a polymer piston with four metal teeth, which provides a good balance between weight and durability compared to a full metal/full plastic piston.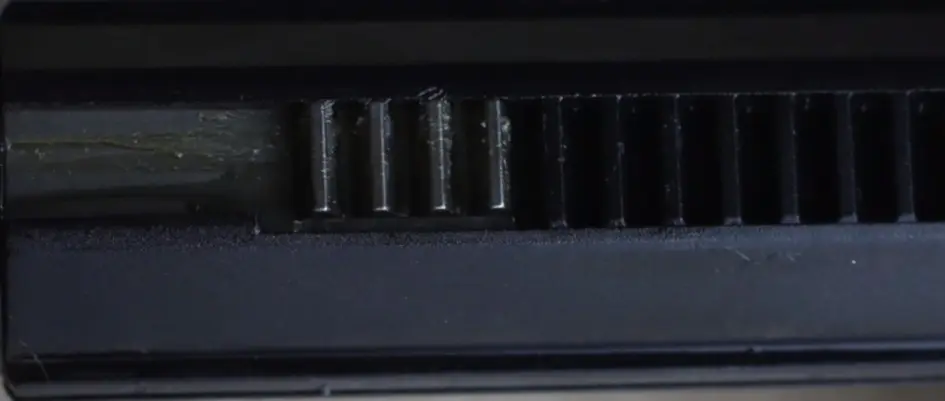 It is also missing the second to last tooth, a feature designed to provide for easier tuning and a better engagement angle.
Krytac has also installed a padded cylinder head, which is designed to reduce the force of impact and noise when fired, making the gearbox a little quieter and longer lasting.
One thing users should know is that while the Krytac Trident MK 2 CRB's gearbox does come stock with an integrated mosfet, it is non-programmable and there largely for protection.
In theory you can swap it for a third-party programmable mosfet/ETU, and many users do, but there is some reinforcement around the trigger contact that can make fitting things a little trickier and can require a bit more work.
To power all this, the Trident MK 2 CRB comes with a pretty torquey 30K neodymium motor and BBs are propelled through a 6.05mm 280mm inner barrel and are given a healthy spin along the way by a very easy to use adjustable and numbered rotary-style hop up.
Finally, Krytac has built a quick change spring system into the Nautilus, which allows users to swap springs without having to disassemble the gearbox completely.
The spring is accessed externally from the rear of the gearbox, so users just have to pop the gearbox out and work from there.
Now, this isn't the most speediest or easiest quick change spring system out there, especially compared to some competitors (such as the Ronin series or the newer Avalons) where springs can be accessed through the buffer tube, but it is quite a bit easier than having to unscrew open the gearbox, which is something.
Performance and Accuracy
Overall, we found the Trident MK 2 CRB to be a pretty decent performer on the field.
FPS-wise, the gun can deliver around 390 FPS using 0.20g BBs, which is respectable performance for a stock carbine.
Although not an FPS powerhouse by any means it is good enough for most games, although it may run afoul of stricter FPS-limits at CQB and indoor events.
That said, its quick change spring system makes it a lot easier to modify the FPS by swapping out the stock spring (M120 or so in the US) for something a little stronger or weaker, depending on what you want to do.
In fact, the Trident MK 2's reinforced, tank-like internals mean you can experiment with some pretty strong springs should you really feel the need to up its power significantly.
The Trident MK 2 CRB is also quite accurate out of the box, grouping fairly tightly to around 100 feet (30 m) and hitting targets well past 150 feet (45m) without much of an issue.
Some users even claim to hit targets well past 200 feet (60 m) with the right tuning and optics, but we haven't tried this ourselves.
This accuracy is partly due to the high quality internals that Krytac has installed in the gun, but it is also largely due to the high-quality hop up that Krytac has fitted to the gun.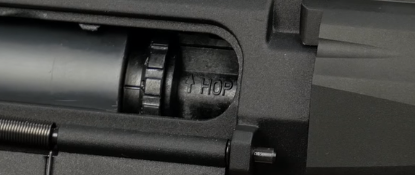 The Trident's hop up unit is very solid and provides excellent spin, and it is very easy to adjust on the fly as it has a numbered, rotary dial.
More than this, the Trident CRB comes with a functional bolt stop, allowing users to lock the gun's bolt in place and access/tune the hop up without having to try and hold things open with their other hand, a feature we always appreciate.
In terms of rate of fire, the Trident MK 2 CRB is pretty snappy and quick.
Using 11.1V LiPos we saw the gun get around 22-23 RPS on auto, which is pretty decent for an M4 carbine AE, although we would have also liked a burst mode in addition to the gun's semi and automatic firing modes.
Handling
Overall, the Krytac Trident MK 2 CRB is pretty comfortable and easy to handle in-game, even compared to other AR-style carbines.
The gun itself is relatively compact.
With a 10.5 inch barrel and a collapsible stock that takes the gun down to 26.5 inches in length, although it's no PDW or submachine gun the gun is easy to carry and maneuver around within close quarters.
The Trident CRB's skeletonized aluminum handguards (either in KeyMod or M-LOK forms) are smooth and easy to get your hands around, while the gun's grooved and channel cut plastic pistol grip is comfortable and easy to get a hold onto even when wet.
Interestingly, Krytac has expanded the trigger guard, making it a little larger than most and allowing it to better accommodate those with larger hands and those wearing gloves, which is thoughtful.
In terms of overall feel, the gun weighs in at around 5.5. Lbs (2.5 KG) which makes it around average for a carbine but, combined with the gun's largely aluminum alloy construction, it does feel very much like a real steel firearm.
Finally, the Trident CRB is a little more ambidextrous than most carbines out there, which is good news for left-handed airsofters.
As with other AR-style guns the charging handle is rear-drawn, and Krytac has also outfitted the gun with an ambidextrous fire selector.
Unfortunately, as is common to the AR-platform, the mag release and bolt stop are designed for right hand use.
Finally, the Trident's six point stock gives it a lot of adjustability, which makes it much easier for users of most arm lengths to find a way to shoulder the gun comfortably and securely.
Maintenance
As with other AR-style airsoft carbines, the Trident MK2 CRB is pretty easy to disassemble and maintain.
Simply lock the bolt plate back, pop the front body pin and slide the upper receiver forwards and off the lower.
Although not a TM carbine clone, OEM replacement parts aren't particularly hard to find online for this gun, largely due to its relative popularity as an airsoft primary. With a little googling, it is pretty easy to find replacement gearbox shells, cylinders, bearings, pistons, receivers, gears, and motors for the Trident CRB.
In terms of and upgrades, while the Trident MK 2 CRB is an excellent gun out of the box that shoots great stock, it can be a bit finicky when it comes to adding third party-parts due to the gun's proprietary parts and design.
While they certainly are available, and there is a fair amount of documentation and help online for doing it, it can sometimes be a bit of work to get non-Krytac OEM parts seated or fitted correctly.
Magazine type and capacity
The Krytac Trident MK 2 CRB generally comes with a 150 round polymer mid cap STANAG-style magazine.
There are also OEM 450 round hi caps available for the gun and even eyebrow-raising 3500 round electric drum magazines.
The gun has pretty broad magazine compatibility as well, being able to fit a wide selection and styles of M4 mags such as those from Ares, PTS, Tokyo Marui, G&P, Matrix and more.
This not only can help keep costs down a bit when running the gun, but also gives users a very wide selection of mags to choose from.
Price
Note: All prices current as of writing. All prices in USD.
Coming in at around $400, the Krytac Trident Mk 2 CRB is not exactly a cheap airsoft carbine and your wallet will probably feel it.
That said, it is an extremely well made primary whose build quality and internals make it a very capable and competitive out of the box performer, offering a considerable amount of practical value for its admittedly hefty price tag. .
To put it into perspective, the Krytac Trident MK 2 CRB comes in at around the same price range as a VFC Avalon Saber and considerably less than an ICS CXP Mars or Tokyo Marui MTR16.
Or
Or
Krytac Trident MK2 CRB AEG Pros and Cons
Advantages
High quality, durable design
The Krytac Trident MK 2 CRB is a well-made, full metal airsoft carbine.
Its aluminum alloy receivers and weapon's grade aluminum handguards not only make it feel like a real steel firearm, but should allow it to stand up to some pretty rough airsoft games without breaking.
Decently powerful
Although not an FPS monster, at ~390 FPS the Trident MK 2 CRB has enough power to make opponents think twice and should make it ideal for even more intense outdoor games and, with a little spring adjustment, CQB and indoor games as well.
Accurate
Although it is designed to be used as an all-arounder, the Trident CRB is a pretty dead-on shooter capable of getting pretty tight groupings to around 100 feet and, with a little adjustment and practice, can hit targets well past 150 feet.
Rugged, high quality internals
Krytac is known for installing high quality mechanicals in its AEGs and the Trident MK 2 CRB is no exception.
The gun comes with a reinforced gearbox with 8mm ball bearings, hardened metal gears, a four metal toothed piston, padded cylinder head, a sturdy motor and a mosfet, all of which should help the gun run well for quite some time without issue.
Snappy, quick response
Thanks to its high quality mechanicals, the Trident CRB is capable of delivering a pretty decent ROF when run on a LiPo, easily getting over 20 RPS out of the box.
Further, its flat trigger and high torque motor make it a great choice for delivering quick snap shots on semi auto.
High quality, easy to adjust hop up unit
Krytac has included an easy to adjust hop up unit on the Trident that provides its BBs with good, consistent spin.
The hop up is easily accessible under the dust cover and has an easy to use, numbered rotary dial. Further, the gun's bolt catch is fully functional, so you don't have to hold the charging handle back while making adjustments.
Quick change spring system
The Trident MK 2 CRB's gearbox features a quick change spring system that allows users to swap in more or less powerful springs without having to open the gearbox to do so.
Disadvantages
Can be a little pricey
Although similar in price to competitors such as the VFC Avalon and ICS Mars, in an absolute sense the Trident MK2 CRB isn't exactly the most affordable airsoft carbine out there and users will probably have to make room in their budget for its $350-400 price tag.
Uses some proprietary parts
Although its internal components are quite well made and perform well out of the box, the Trident CRB does make use of a proprietary gearbox and parts that aren't always the easiest to upgrade or modify.
Bottom Line
With its high quality internals and attention to detail, the Krytac Trident MK 2 CRB is a great all around airsoft carbine that can offer its users an excellent balance of power and handling in a fairly lightweight and durable package.
If you have the money and competitive, out-of-the-box performance is what you're after, it is certainly one of the better choices out there.
Will Martin – Will has been into airsoft and paintball for well over 10 years, and has done it all – from upgrading and fixing gearboxes as a tech to building custom airsoft loadouts for his friends to supporting off those friends as a DM.