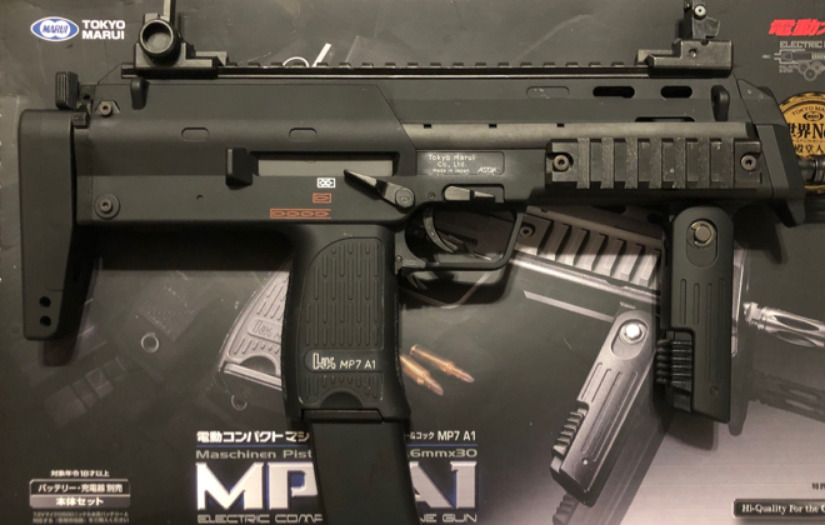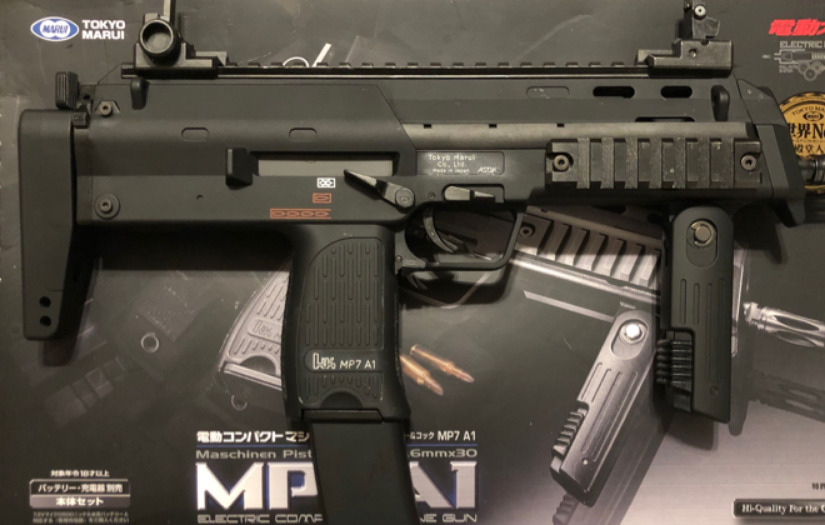 Durability and Build Quality

95%
| | |
| --- | --- |
| Pros | Cons |
| ✅ Extremely well-built | ❌ Not the cheapest SMG option |
| ✅ Compact and ideal for CQB | ❌ Can be hard to find in the US |
| ✅ Very accurate | ❌ Not a ton of mag options out there |
| ✅ Excellent blowback action, lots of fun to shoot | |
| ✅ Well-balanced power, great for indoor and CQB | |
| ✅ Good Gas Efficiency | |
| ✅ Realistic feel | |
The successor to the venerable MP5, the H&K MP7 is an excellent CQB-oriented submachine gun with a compact, lightweight design and a high rate of fire.
The Tokyo Marui MP7A1 GBB is one of the better MP7 airsoft replicas out there, with a reputation for excellent overall performance, reliability, build quality and hard-kicking blowback action.
If you are in the market for an MP7s to take to your next airsoft CQB engagement, or are just looking for an SMG to add to your collection, then read on as take a closer look at the Tokyo Marui MP7 GBB.
Specifications
| | |
| --- | --- |
| Manufacturer | Tokyo Marui |
| Power | 134A, Green Gas |
| Action | Gas Blowback |
| FPS | ~300-320 FPS @ 0.20g BBs on Green Gas |
| Hop up | Adjustable |
| Barrel Length | 5.73 inch (145.5 mm) |
| Total Length | 15-23.1 in (381-586 mm) |
| Weight | 4.7 lbs (2130g) |
| Construction | ABS plastic |
| Rounds | 40 |
How closely does the Tokyo Marui MP7A1 resemble a real steel MP7?
Tokyo Marui MP7A1
H&K MP7A1
Weight
4.7 lb (2.13 KG)
4.62 lbs (2.10 KG)
Barrel Length
5.73 inch (145.5 mm)
7.1 in ( 180 mm)
Overall length
15 (381 mm) collapsed;
23 inches (586 mm) extended
16.34 in (415mm) collapsed;
25.12 in (638 mm) extended
Action
Auto/Semi
Auto/Semi
Caliber
6mm
4.6 mm x 30
Capacity
40
20/30/40 rounds
Construction
ABS PLastic
Polymer
Sights
Adjustable rear
Adjustable rear
Rail
Top, Sides – picatinny
Top, optional side- picatinny
We feel the Tokyo Marui MP7A1 is a pretty close replica of its real steel H&K counterpart.
Overall, Tokyo Marui's typical attention to detail shines through, and the airsoft SMG matches the H&K MP7 pretty closely in looks – everything that typifies a real steel MP7A1 is present and functional.
Although it isn't an officially licensed replica, and hence doesn't have true H&K trademarks, the gun comes with a fully functional extended stock, front grip, ambidextrous controls, glock safety, flip up sights and, of course, the cool-looking and classic MP5-style pictographic fire selector. 
Now, normally, the use of plastics in an airsoft build can be seen to detract from the overall realism of a replica.
But because the actual H&K MP7 is out of lightweight polymers, in order to save on weight and improve handling, much like the ASG Evo Scorpion or the KRISS Vector SMGs, Tokyo Marui's use of plastic actually adds to the realism of the gun to some degree in our opinion.
In fact, broadly speaking, the Tokyo Marui MP7A1 matches the real steel version quite closely in terms of weight and feel.
When it comes to dimensions, however, things get a little tricky.
As can be seen in the table above, the Tokyo Marui MP7A1 is about 8% smaller than the real steel version – about an inch or so, give or take – so it's not a 1:1 replica.
Now considering this is supposed to be a compact airsoft SMG, that's not necessarily a bad thing if you're actually using it for airsoft play, something we will discuss in more detail in the Handling and Feel section, but true sticklers for accuracy and realism may have an issue here.
How Well Does the Tokyo Marui MP7A1 Perform as an Airsoft SMG?
Build-quality and construction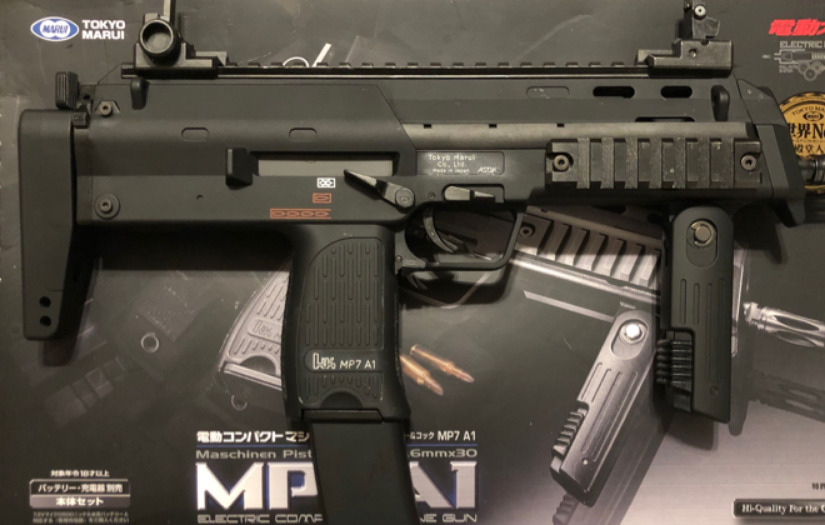 Much like other Tokyo Marui airsoft guns, and much like the real H&K MP7, the Tokyo Marui MP7 is largely made out of polymer material.
While the trigger, switches, stock and barrel assembly are all metal, the body, foregrip and other components are all made of ABS plastic.
Despite this, the gun does feel pretty tough and well-put together.
The plastics feel quite strong and the gun doesn't creak, bend or flex much when handled. The safeties and other switches are fitted properly – they all click nicely and audibly into place, with no looseness that we could see or feel.
Despite its plastic construction, however, the TM MP7 has a good deal of heft to it.
At nearly 5 lbs (just over 2 kg) it feels remarkably like the real steel version and, given its highly compact dimensions, successfully avoids the toy-like feel that is common with smaller, plastic airsoft guns and the gun really just feels like a high quality airsoft SMG.
Being a replica of a more modern (2001-ish) submachine gun, the Tokyo Marui MP7A1 comes with quite a few options for mounting accessories.
There is a full, front-to-back picatinny top rail, which is ideal for mounting optics, as well as two, smaller side rails, perfect for adding lasers, flashlights and more.
In place of a bottom rail, however, the gun comes standard with a flip-down vertical grip. 
The grip looks pretty cool but might not be to everyone's taste and, being a flip-down, can be a little prone to wobbliness at times when extended.
Unfortunately it is firmly moulded to the frame, and so may take some modification to remove and replace with a standard rail if you so desire.
In addition to rails, the Tokyo Marui MP7 comes with a CCW threaded barrel, so can accommodate various mock suppressors and barrel-mounted tracer units pretty easily.
It is 12mm, rather than the more common 14mm, but there are lots of 12mm options out there and users can get a 12mm-to-14mm adapter pretty easily and cheaply should they so wish.
In terms of sights, this MP7A1 comes with realistic flip up, H&K KSK-style sights. 
For those who aren't familiar with the real steel sights, they are actually pretty cool and useful.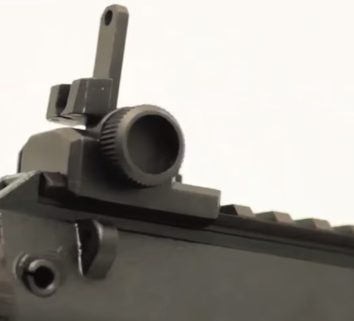 They are adjustable and, when folded flat, turn into low-profile, white-dot pistol-style sights, which are great in low light conditions.
In terms of stock, the Tokyo Marui comes with a pretty standard MP7-style retractable 3-position buttstock.
The stock is metal and feels pretty sturdy, with a minimum of wobble even when completely extended, which is nice and gives the gun a lot more stability in-hand, especially when used alongside the vertical grip.
One thing that sets the Tokyo Marui apart from most other MP7 airsoft replicas out there is its hop up unit access. 

Located under the gun's ejection port, to access the unit users push the trigger forwards. Doing so moves the bolt backwards a bit and reveals the wheel-style hop up.
Performance and Accuracy
Tokyo Marui airsoft guns are known for their excellent, balanced performance and their MP7 is really no different.
In terms of FPS, the Marui hits decently hard out of the box.
After settling in, we saw around 300-320 FPS using green gas and 0.20g BBs.
Like other Tokyo Marui models, it's not an FPS monster, but this FPS range makes it perfect for indoor/CQB games and their stricter, which is where you would probably want to use an airsoft SMG anyway.
Trigger response is pretty good with the Tokyo Marui MP7A1. Taking snap shots is quite easy with this gun, although it does have something of an ambiguous trigger break.
Users should also note that, much like a real steel MP7, the gun's trigger has a Glock-style safety that needs to be depressed before firing, which helps prevent accidental discharge but means you'll have to be a little more deliberate when taking a shot.
The gun also has excellent range for an SMG, largely due to its high quality hop up and internals, and should hit targets well past 50 meters without an issue, even if its FPS is a bit lower than some other MP7 gas blowback models.
The gun is happily capable of automatic fire, and has a more than decent rate of fire for a gas airsoft gun, getting around 16 rounds per second it can clear a room fairly easily (and make quick work of its stock 40 round magazine).
Gas efficiency is pretty good, as well, and we saw the gun get around 2-2.5 mags per fill on green gas, so the MP7A1 isn't that expensive to run, all things considered.
And when you do run out of BBs, the gun comes with a functional bolt catch mechanism that will engage, holding the bolt back and adding another touch of realism that we appreciate.

Another thing that we really liked about the Tokyo Marui MP7 is its blowback action.
Largely thanks to its heft, fully retracting bolt assembly, sturdy recoil spring and short stroke piston, the gun really has a great feel to it when fired, providing a decently powerful kick that you can actually feel in your forearms.
In fact, when set to full auto, you'll probably want to hold on tight to the vertical grip as the vibration can get a little intense, making it a little hard to get good groupings at distance.
That said, this is an SMG and accuracy at range isn't really the MP7's primary purpose, so we say go ahead and let 'er rip from time to time – dumping mags with this airsoft gun is a lot of fun.
Handling and feel
The first thing we noticed about the Tokyo Marui MP7 is that it is quite a compact little airsoft SMG.
Stock folded, it is only about 15 inches long (381mm), a couple inches shorter than the Kriss Vector, the ARP9 and even the vaunted Scorpion Evo 3.
As such, it handles exceptionally well in tight spaces and CQB games, easily allowing its users to move quickly and effectively around obstacles and around corners.
It is also a remarkably well-balanced gun.
Although it is fairly hefty, the Tokyo Marui MP7 can be easily held and fired single handed, which looks (and is) extremely cool. Obviously accuracy will take a bit of a hit when doing so, given the stronger blowback action on this gun, and for safety reasons we wouldn't recommend doing so around other people.
It is important to note that the Tokyo Marui MP7A1 is not a 1:1 replica when it comes to size.
Although much is sometimes made of this online, in practical terms we didn't feel the inch or so difference in length between the TM and its competitors had any noticeable effect on its handling on the field, even for those with larger hands.
In fact, given its use as a CQB gun, its slightly shorter overall length is something of an advantage, being slightly easier to use when pieing corners, maneuver around obstacles or when lifting to engage.
In terms of grip, we found the Tokyo Marui to be extremely comfortable to hold.
Its grip is full sized, nicely textured, and has stippling on the back and front that can help provide much needed extra friction when things get a little wet.
Much like the real steel MP7, the Tokyo Marui MP7 is pretty ambidextrous. 

The Mp7 comes with fully functional, ambidextrous pictorgraph fire selectors, ambidextrous slide stops, an ambidextrous mag release located just outside the trigger guard, and a rear-mounted charging handle.
As a result, the gun can be a good option for right and left handed users alike.
Maintenance
Disassembly and maintenance of the Tokyo Marui MP7 isn't too difficult.
Once the stock is removed, the bolt assembly is held in place by two pins that knock out pretty easily.
The bolt assembly then slides easily out and users can then proceed to check the bolt carrier, nozzle and recoil spring, as well as other critical parts, as well as o-rings and seals, on the main gun.
In terms of repair, the MP7A1 GBB is a Tokyo Marui so finding pretty much any replacement trigger, barrel, seal or anything else is pretty easy and just a matter of some googling.
Interestingly, for a variety of reasons (including licensing issues) the Tokyo Marui MP7 isn't always that easy to find, particularly in the US.
Upgrade parts for it, oddly enough, are actually fairly easy to find.
If you are able to get your hands on one of these and you live in the States, there are a number of places where you can find upgraded nozzles, stock conversion sets, springs, hop ups and more.
Magazine type and capacity
The Tokyo Marui MP7 comes with a metal 40 round magazine.
Although not quite as curved as a classic MP5, the mags do look pretty cool, are fairly reliable and can use duster, green and propane gas without much of an issue.
Replacements aren't all that hard to find, either, given the relative rarity of the gun stateside, but users who are looking to use it on automatic should know that, like other GBB airsoft MP7s out there, larger mag types (such as drums) can be more difficult to find.
Price
Note: All prices correct as of writing, all prices in USD.
The Tokyo Marui MP7A1 isn't exactly cheap. Generally speaking, and depending on the retailer it tends to come in at just under $300 (before shipping), making it a little more expensive than competing airsoft MP7s.
Although not exactly the cheapest SMG choice out there, the Tokyo Marui MP7 is one of the finest, most functional MP7 replicas out there.
It is well-built, compact, accurate, decently powered and a lot of fun to fire.
Unfortunately it can also be quite hard to find in the US, bur we've provided a couple links below where you might be able to pick one up.
or
Advantages of the Tokyo Marui MP7A1
Very Well Built
Although it is a mostly plastic airsoft SMG, the Tokyo Marui MP7 is solidly built and well-put together. Out of the box we didn't find much in the way of looseness, rattling or undue bending, and all the switches clicked solidly into place.
Compact
Even compared to other popular airsoft SMGs, at between 15-23 inches, the Tokyo Marui MP7A1 is a highly compact airsoft gun that is easy to maneuver in tight quarters and ideal for CQB games.
Accurate at Range
Although range isn't really what SMGs are all about, thanks to its high quality internals and excellent hop up unit, the Tokyo Marui MP7A1 GBB is surprisingly accurate and capable of hitting man-sized targets easily well past 100 feet (30 meters).
Excellent Blowback
The gas blowback mechanism on the TM MP7 is excellent, with rounds rocking the gun back nicely in your hands. When put on automatic, it truly is a delight to fire and is a step up from most other GBB SMGs out there.
Good, Well-Balanced Power
It may not be an FPS monster, but the Tokyo Marui MP7A1 offers a decent 300-320 FPS on green gas using 0.20g BBs, which makes it capable of being used in pretty much any indoor or CQB field.
Good Gas Efficiency
Even with its strong blowback action, the Tokyo Marui still gets decent gas efficiency. Getting between 2-2.5 mags per fill, using it won't drain your bank account in the long run.
Disadvantages
Expensive
At around $300, the Tokyo Marui isn't exactly a cheap gas blowback airsoft SMG and those picking one up will feel it in their wallet….
Hard to find in the US
….That is, if you can find it. Although it is an excellent airsoft SMG, for a variety of reasons, it is kind of hard to find a Tokyo Marui MP7A1 GBB in the USA (and even parts of Europe).
Mag options a bit limited
The Tokyo Marui MP7A1 comes with a metal 40 round mag. Although it does a fine job, those running the gun on automatic will find that dumping the mag is very tempting and doesn't take very long.
While it's not particularly difficult to find replacement 40 round mags, there isn't too much in the way of larger options.
Bottom Line
If you're looking for an MP7 to take to your next game, and you can find it, the Tokyo Marui MP7 is one of the best choices out there, providing an excellent blend of power, build quality, compact size and accuracy.
Will Martin – Will has been into airsoft and paintball for well over 10 years, and has done it all – from upgrading and fixing gearboxes as a tech to building custom airsoft loadouts for his friends to supporting off those friends as a DM.