The M1911 is a classic firearm and its vintage looks and its continued use in popular media and military forces around the world make it a highly desirable addition to any airsoft loadout.
Being one of the more in-demand choices around, there are a ton of airsoft 1911 makes, models and variants out there to choose from with a great many of…questionable quality.
If you are in the market for an airsoft 1911 and want to pick one that's worth your time and money, then check out our list of what we consider the best models out there.
In A Rush? Check Out Our Top Choices
What Do We Look For In An Airsoft 1911 Replica?
Realistic Design
In the real steel firearms world, there are many different companies making many different 1911 models in many different ways.
As a result, there can be a good amount of variation and custom features on a "true" 1911, which makes it a little more challenging to provide a precise definition of what makes a gun "authentic."
That said, there are some things that that you should look out for on an airsoft 1911, such as:
Grip safety (ensuring a user is actually holding the gun tightly before firing)
Prominent thumb safety
Serrations on the slide (at least on the rear)
Mag release button located behind trigger
Diamond grips
When it comes to overall dimensions, there are three variants out there that airsoft replicas tend to be based on – the full size "Government" model, a compact "Commander" model and a subcompact "Officer" model.
At the end of the day, and regardless of the variant (yes, even the so-called subcompact), there's no real question that the 1911 is a big gun and in order to be considered realistic, any airsoft replica should have roughly the following dimensions:
| | | | |
| --- | --- | --- | --- |
| Model | Government (Full) | Commander (Compact) | Officer (Subcompact) |
| Length: | 8.25" (20.96 cm) | 8" (20.32 cm) | 7.5" (19 cm) |
| Barrel length: | 5" (12.7 cm) | 4.25" (10.8 cm) | 3.5" (8.9 cm) |
| Height: | 5.5" (13.97 cm) | 5.5" (13.97 cm) | 5.5" (13.97 cm) |
| Width: | ~1" (2.54 cm) | ~1" (2.54 cm) | ~1" (2.54 cm) |
In terms of weight, the 1911 is a fairly substantial and hefty little piece, usually tipping the scales at around 2.42 lbs.
While we may not necessarily want something quite that heavy in our airsoft loadout, we do want at least some substance and heft to our airsoft replica to avoid it feeling too much like a toy when drawn and handled.
As a result, we like our airsoft 1911s to be between 1.5-2 lbs, making them a little heavier than, say, a typical airsoft glock but not too heavy as to be a burden to carry around.
Construction
It goes without saying that we prefer a gas blowback replica, ideally one where you can really feel the recoil as the venerable, .45 caliber 1911 was never a shrinking violet.
Further, we like our 1911s to have adjustable sights.
Although the gun will probably be most often used in CQB, and while accuracy at extreme range was never exactly the main point of the real steel version, we do like having the option of taking our airsoft replica out to the backyard to do some plinking now and again.
The original sights of a classic 1911 aren't really anything to write home about, being flat black dovetails.
We prefer something a little more modern, such as novak-style sights, and do prefer that they come with some contrast, such as with white dot or fiber optic-style versions, to make it easier to sight in on low-contrast targets.
Metal or Plastic?
Most people default to metal airsoft 1911s for the added realism.
And while we do agree that a good quality full metal 1911 can be a lot of fun to own and probably will last the longest, when it comes to functionality metal isn't necessarily the be all and end all that most people would believe, even with gas blowbacks.
As long as the slide is made of decent enough metal and the internals are reinforced properly, a good quality plastic-framed model should do just fine (when run on green gas especially), weigh considerably less and last a fair while as long as you're not too rough with them.
Those with plastic slides can be a little more cooldown resistant, meanwhile, which is good for cold weather shooting, but will limit the type of gas you can realistically use with them before risking catastrophic damage (usually duster and green in a pinch) so really isn't our preference.
Build Quality
Of course, we also like our airsoft 1911s to be built to last.
This generally means we look for a smooth, sturdy slide that locks properly when needed (and not randomly), a good quality matte finish, no looseness around the slide, grip or safeties, and mags that insert and feed properly (and without leakage).
We also like to see an adjustable hop up since we do like being able to shoot past 50 feet or so if we need to.
Range and Power
A 1911 is likely going to be used by airsoft players as a secondary and, for the most part, will be used for closer-in engagements.
As a result, we're looking for a gun that will hit center mass targets to around 70 feet (20 meters) fairly reliably.
We also like to see airsoft 1911 with power that, when chrono'ed, will let them be used outdoors as a backup but also won't see them fall afoul of FPS limits, so we're talking the 300-350 FPS range here.
Upgradability
As with any other airsoft gun, a 1911 replica should have decent enough aftermarket support for replacements and upgrades so that users can make them their own and fix them when things go wrong.
While the original 1911 firearm was created well before the advent of picatinny rails, many modern versions do have them and this is a definite "like to have" (although not necessary, particularly for milsim or collector pieces) when it comes to our airsoft preferences, as are threaded outer barrels for added suppressors and tracer units.
Price
Finally, there's no reason to have an airsoft 1911 on our list if nobody can realistically afford it.
By and large we like to see our picks fall into the sub-200 range, with budget models (that are actually worth something) closer to $100.
Our Picks
Best Overall – Tokyo Marui 1911 Night Warrior Hi-Kick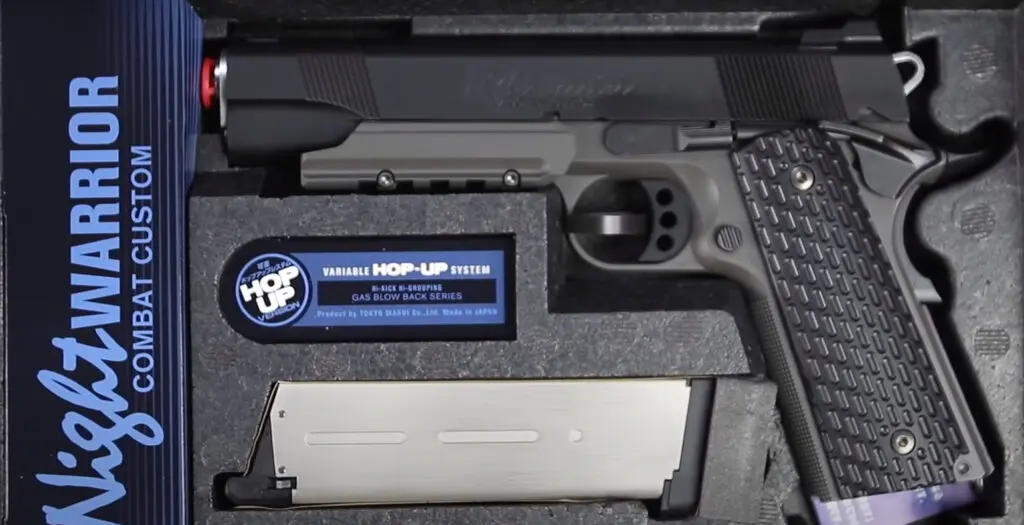 | | |
| --- | --- |
| Realism | ⭐⭐⭐⭐ |
| Accuracy | ⭐⭐⭐⭐⭐ |
| Build Quality and Construction | ⭐⭐⭐⭐⭐ |
| Upgradability | ⭐⭐⭐⭐⭐ |
| Range and Power | ⭐⭐⭐⭐⭐ |
| | |
| --- | --- |
| Pros | Cons |
| Cool modern design | Polymer construction |
| Solid Tokyo Marui build quality | Unthreaded barrel |
| Exceptionally accurate out of the box | |
| Based on TM system, very upgradable | |
| RIS allows for the easy addition of flashlights and lasers | |
| Snappy, high cycle action | |
| Excellent blowback | |
| Good mag quality | |
Ok, let's get this out of the way – the Tokyo Marui Night Warrior is not a "classic" 1911 like their MEU model.
Taking inspiration from what seems like a few modern 1911 variants, the Night Warrior takes the essential core of the well-known TM MEU and updates it with a more tactical style, adding things like an undermount RIS rail, two tone color design, tactical grips, skeletonized hammer and trigger and updated sights.
The gun isn't licensed (the large "Night Warrior" emblazoned on the slide should be a good tip off), but otherwise manages to match a 1911's dimensions and weight pretty well, being 8.5 inches long and weighing about 2.18 lbs. 
As with other Tokyo Marui pistols, the Night Warrior is made of plastic.
Although not a full metal build, it does use a fairly sturdy polymer material that feels very solid in hand and, typical of the company's focus on quality control, everything seems securely fitted and it didn't really show any signs of bending, creaking or rattling when we handled it.
The use of plastic does extend to the gun's slide, although Tokyo Marui has done an excellent job at reinforcing and thickening their plastic slides compared to older models, so the Night Warrior should have no real issue running green gas in typical conditions without cracking.
The slide is also exceptionally easy to pull back and very smooth and even do so with a nice, audible click.
The gun's built-in 20mm rail allows users to readily mount a wide assortment of accessories to the gun, including lasers and flashlights, and the gun sports nice and clear, fully adjustable Novak-style white dot sights that make it very easy to get the gun on target in lower light conditions. 
Sadly, like other 1911s in the Tokyo Marui range, the gun does not come with a threaded outer barrel for adding suppressors and other barrel accessories, although you can pick up adaptors or replacement units pretty easily.
Inside, the gun is very well built.
It is based on the widely-known MEU/1911 series, and there is a good amount of metals used inside, including a fairly robust hammer, durable return spring, slide stop, output valve and more.
The gun also has a Tokyo Marui adjustable hop up unit fitted to it that is capable of providing a good amount of spin, letting the gun handle slightly heavier weight BBs with ease, and it is a pretty responsive and easy to adjust rotary-style model, as well.
Being derived from the TM MEU itself, the Night Warrior is then compatible with a wide number of upgrade parts and accessories, including slides, barrels, valves, hop ups, springs and more, meaning that it is highly upgradable and customizable – which is good news for the tinkerers among us.
In terms of performance, the Tokyo Marui Night Warrior is probably hands down one of the best 1911 models out there, even when compared to other TM models.
On duster, we saw it get a respectable 280 FPS using 0.20g BBs, while on green gas we saw it deliver a much healthier (and useful) 320 FPS.
As a result, the gun should have no problem being used outdoors or in CQB, where it is unlikely to fall afoul of FPS limits or minimum engagement regulations.
The gun is also extremely accurate, thanks to its tight build quality and hop up.
Although you'll probably never use the gun as a long range shooter, it had no problem hitting targets consistently past 70 feet (20m), even getting some pretty decent groupings in the process.
In addition, as it is one of the company's "Hi Kick" models, the blowback action on the gun is excellent, delivering a noticeable rapport (or at least as much as can be expected from an airsoft gun) with each shot and a very noticeable and enjoyable recoil.
In fact, because the slide is made out of lighter weight materials, the gun is extremely snappy and cycles a lot faster than many other models on our list.
In terms of mags, the gun comes with a pretty high capacity 28 round brushed metal magazine.
The mag loads pretty well and contains 28 rounds, and you should get through that plus maybe a little more on a single fill (so about 2-2.5 regular mags per fill)
Finally, in terms of price, the Tokyo Marui Night Warrior 1911 tends to come in at just under $200, which puts it around the same price range as the company's similar Hi Capas and MEU, i.e. at the more premium end of the 1911 market.
That said, for the price, you do get an excellently thought out and put together modern 1911 that feels great, performs admirably out of the box and can be upgraded to a fair degree should the need strike you later on.
Or 
Or
Best CO2-Capable –  KJW KP07 M1911
| | |
| --- | --- |
| Realism | ⭐⭐⭐⭐ |
| Accuracy | ⭐⭐⭐⭐ |
| Build Quality and Construction | ⭐⭐⭐⭐⭐ |
| Upgradability | ⭐⭐⭐⭐⭐ |
| Range and Power | ⭐⭐⭐⭐⭐ |
| | |
| --- | --- |
| Pros | Cons |
| Full metal, durable build | A bit gas hungry |
| Pretty upgradable | Unthreaded barrel |
| CO2 capable | |
| Rail allows addition of many accessories | |
| Snappy, crisp and loud blowback action | |
| Well-balanced FPS on both green gas and CO2 | |
| Front serrations allow for alternate racking | |
| Good overall build quality | |
If, on the other hand, you want to get a little more bang for your airsoft bucks and you're looking for something that's CO2, then we feel that the KJW KP07 should be at the top of your list.
At around 8.6 inches (219mm) and weighing just about 2 lbs, it is a fairly accurate replica of a full-size 1911, although fractionally longer than the MEU variant it is based upon and not fully licensed, so there aren't any real US government/USMC trades to gaze at (although it sports a cool brass KJW logo on its gum rubberized grips).
Beyond that, the KP07 incorporates some modern touches, such as front serrations (for front racking), white dot Novak-style sights, functional grip safety, a rail and a cool looking, skeletonized hammer and trigger set.
With a slide and frame made of aluminum alloy, the KJW KP07 is also a full metal 1911 replica.
The alloy used is fairly durable and thick, which allows the gun to make use of (and survive) CO2 mags for improved all-weather performance and blowback action.
This metal construction also makes the gun considerably more rugged than other options, allowing it to survive the knocks, bangs and other mishaps associated with more…boisterous…airsoft playstyles.
The KP07 comes with an undermount rail system, which allows it to take most pistol accessories, such as flashlights and lasers, without much issue, but doesn't come with a threaded barrel, so adding a suppressor or tracer unit to it will require an adaptor or barrel swap.
Unlike the Tokyo Marui Night Warrior listed above, however, it doesn't have ambidextrous safeties, which can be a bit of a let down for left handed users.
Inside the KJW KP07 is based on the Tokyo Marui 1911 MEU and is built pretty solidly.
The gun comes with a long, thick spring guide (for improved recoil handling), an enhanced (red) blowback nozzle, adjustable rotary hop up and metal reinforcements along the frame. 

Because it is largely compatible with Tokyo Marui MEUs, the KJW KP07 can accept a wide range of aftermarket upgrades that are out there for TMs, which is always a plus for those who like to customize their pistols.
In terms of performance, on green gas we saw the gun get around 330-340 FPS using 0.20g BBs, which is right in the money for balancing indoor and outdoor use.
Load a CO2 mag, however, and you'll see a fair increase in performance (dependent on ambient temperature of course) – we saw it get around 350-360 FPS, which is pretty decent but still broadly usable.
Due to its metal construction, the gun's blowback action is quite enjoyable and it delivers a crisp, snappy experience and a very audible (especially on CO2) rapport when fired.
In terms of accuracy, the gun is pretty decent and will hit center mass targets to around 50-60 feet without much of an issue, which is honestly right where you need it to be as a secondary.
The KP07 comes with a metal double stack mag that feeds pretty well and will hold around 26 BBs.
On the downside, with its metal slide and powerful blowback the gun is a big gas hungry and gets around 1-2 mags per fill, so you'll probably want to invest in an extended mag with a greater gas reservoir with this gun.
Pricewise, the KJW KP07 usually comes in at the sub-$150 range, which makes it a great deal in our opinion once you consider its full metal build, solid internals, upgradability, performance and, most importantly, CO2-readiness. 
Or 
Best Hi CAPA 1911 – Tokyo Marui Hi Capa
| | |
| --- | --- |
| Realism | ⭐⭐⭐⭐ |
| Accuracy | ⭐⭐⭐⭐⭐ |
| Build Quality and Construction | ⭐⭐⭐⭐ |
| Upgradability | ⭐⭐⭐⭐⭐ |
| Range and Power | ⭐⭐⭐⭐ |
| | |
| --- | --- |
| Pros | Cons |
| Hi capacity mags | Polymer construction |
| Solid Tokyo Marui build quality | Not as powerful as some others |
| Accurate out of the box | Unthreaded barrel, plain sights |
| Very upgradable | |
| RIS allows for the easy addition of flashlights and lasers | |
| Blistering cycle speed | |
| Excellent blowback | |
| Low rise sights are good for CQB | |
Sure, it's not an According To Hoyle 1911, but if you're looking for a 1911 but want the option to reliably fire off more BBs than usual, a Hi Capa might be the right option for you.
And if you're considering one, then you'll probably want to go with the legendary Tokyo Marui Hi Capa series.
Modeled after a Para Ordnance P14-45, the 8.7 inch, 2 lb Tokyo Marui Hi Capa is simply an all around well made 1911-style replica.
As with other TM pistols its slide is made out of ABS plastic, but the frame itself is made of fairly sturdy, high quality aluminum alloy and everything fits together nice and securely, typical of the brand.
The Hi Capa comes with an optional, screw-in 20mm rail segment that allows users to attach whatever accessories they'd like to the underside of the barrel, such as lasers and flashlights, as well as ambidextrous safeties.
It does not, however, come with a threaded barrel and it comes with pretty standard, non-white dot low-rise sights that, while making the gun a lot less likely to snag on clothing in CQB, can be a bit tricky to see in low light conditions or on low-contrast targets.
Inside, the gun is quite well built and features a well-finished 112mm brass barrel, metal guides, heavier duty recoil springs and stoppers, metal reinforcements for the slide and, of course, a good quality Tokyo Marui rotary hop up. 

Being one of the more popular airsoft pistols out there, the Hi Capa is widely supported in terms of OEM and aftermarket replacement parts and upgrades, which means customizing and modifying the gun inside and out is a snap.
On the field, where it counts, the Hi Capa is a good little performer.
Throw in some green gas and it should hit around 300 FPS using 0.20g BBs, which can make it ideal for CQB and indoor games, if a little bit on the low side for outdoors compared to some others on our list (such as the TM Night Warrior).
As with the Night Warrior, the plastic slide does make the gun cycle at a blistering rate that, when combined with the gun's pretty responsive short pull trigger, can let the gun deliver a fairly impressive rate of fire on the field (justifying its expanded magazine in our opinion).
When it comes to accuracy, the gun's solid internals, hop up and highly finished barrel allow it some surprising precision at range, and we saw the gun reliably hit center mass targets past 100 feet (~30m).
Finally, true to its name, the gun comes with a 31 round full metal (and pretty substantial magazine) that feeds well and reliably.
Being something of a standard, the gun is able to take magazines from other Hi Capas out there, such as WE Tech, KJW and more, which is nice.
As for gas efficiency, the Tokyo Marui is pretty decent in this regard, getting around 3-4 mags per fill, which is pretty good.
When it comes to price, at north of $150, the Tokyo Marui Hi Capa is not exactly what we would call cheap.
That said, it is an excellent all around gun that is highly supported, highly upgradable, and a decent, reliable overall performer out of the box.
Or
Most User Friendly – VFC 1911 Tactical Custom
| | |
| --- | --- |
| Realism | ⭐⭐⭐⭐ |
| Accuracy | ⭐⭐⭐⭐ |
| Build Quality and Construction | ⭐⭐⭐⭐⭐ |
| Upgradability | ⭐⭐⭐⭐ |
| Range and Power | ⭐⭐⭐⭐ |
| | |
| --- | --- |
| Pros | Cons |
| Solid, all metal design | Uses some proprietary parts |
| Easy to adjust, externally accessible hop up unit | Mags don't hold as much as some others |
| Accurate with well-balanced power | No rail, threads |
| Easy to grip front and rear serrations | |
| A little easier to carry than other 1911s | |
| Good cycle speed | |
| Excellent blowback | |
| High visibility white dot sights | |
Although certainly cool, airsoft 1911s aren't always the easiest to use or adjust in game.
Most are based on or inspired by Tokyo Marui's classic MEU design and have features such as an internal hop up unit (located under the slide) that can make them a little awkward to adjust in game.
The Tactical is a VFC's own 1911 design and seems to be really designed to make the user experience as easy as possible.
It is a full metal airsoft pistol, being made with an alloy frame, slide and barrel, and checks at least most of the boxes when it comes to realism.
Inspired by the .45 chambered M1911 used in police special units (like LAPD SWAT teams), the gun is a little bigger than many other 1911s (at around 8.8 inches or 224 mm long) but also a lighter lighter, at 1.75 lbs (794 g), which balances it out nicely in hand.
As with other tactically-inspired 1911s, it comes with a skeletonized trigger and hammer set, high viz white-dot Novak-style sights and front and back serrations.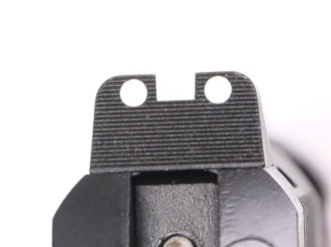 The serrations are actually a little wider spaced than a traditional 1911, reminding us a bit of the company's Glock series, which makes for easier gripping (particularly up front) when racking or press checking.
For the most part, the gun is very well put together and, aside from some very light rear play, everything seemed very nicely put together, including the slide, which draws back and forth in an exceptionally smooth manner.
Sadly, the gun is not ambidextrous and features only a right-hand safety, nor does it include a rail section so you will have to buy a VFC adaptor if you want to mount a flashlight or laser to this gun.
Inside, the gun uses a proprietary gas system.
Although not Tokyo Marui compatible (and therefore doesn't yet have quite the amount of aftermarket upgrade support), it is very well put together, with strong recoil springs, well finished aluminum inner barrel, sturdy metal trigger and hammer system and more. 
Interestingly, VFC has also included a unique hop up system that allows users to more easily make adjustments on the fly.
Much like their modern Glocks, users can adjust the hop up by using an allen key to turn the spring guide, which is located under the barrel.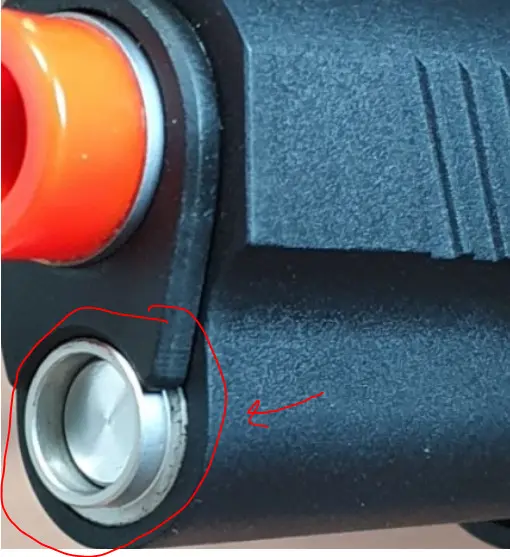 In other words, unlike the vast majority of 1911s out there, you don't have to disassemble the gun to give it more or less spin, which is quite handy.
In terms of performance, we saw the gun get around 330 FPS using 0.20g BBs on green gas, which is right on the money for a secondary and should allow the gun to slide under just about any FPS restrictions out there.
The gun's trigger is pretty responsive, as well, with a short pull and quick return and, thanks to its all smooth slide and improved gas flow, the gun offers pretty decent cycle and crisp impressive blowback action.
In terms of accuracy, the gun has no problem hitting targets and getting decent groupings at the 50 foot (15m) to 70 foot range (20m) range.
When it comes to mags, the gun comes with a metal single stack 20 round mag.
The magazine feeds well and loads pretty smoothly, although due to its single stack nature it does have something of a more limited gas capacity than a Hi Capa or even some of the other 1911s on our list that hold 25+ rounds.
That said, the gun does get around 1-2 mags per fill depending on ambient temperature, which isn't bad at all.
When it comes to price, the VFC 1911 Tactical Custom is pretty middle of the road, usually costing under $150, which is pretty good considering that this is a pretty cool looking, good performing all metal 1911 variant with quite a few features that make it easy to handle and adjust.  
Or
Advantages of Airsoft 1911s
Strong historical and military connection
The 1911 has been widely used by military and security forces since its introduction as the M1911 in the beginning of the 20th century.
It has seen service in both world wars, Korea, Vietnam (especially as part of the famous tunnel rats) and has seen continued use with forces across the world, including US special operations forces with the M45 MEU(SOC) variant.
As a result, other than simply looking cool, airsoft 1911s can be a highly desirable addition to historical collections and a wide variety of milsim loadouts.
Intimidating, feels good to hold
Airsoft 1911s are not for the shy and withdrawn.
Compared to other sidearm choices, they are big, heavy and rather intimidating to be on the other side of in close quarters.
Their size and heft also make it seem more like you're holding a real steel firearm (particularly if the model is a full metal affair) than smaller and lighter options, which is always satisfying.
Lots of different variants and styles out there
From period-specific collector's models to highly customizable, tactical models inspired by operators in modern theaters of war there are a ton of airsoft 1911 styles and variants out there to choose from, meaning you're almost certain to find something to suit your tastes.
Tends to be core part of manufacturer airsoft pistol line up
Being very popular airsoft option, airsoft 1911s tend to be something of a more premiere option in an airsoft manufacturer's line up.
This means that, compared to more niche/unpopular items, they tend to spend a little more time making sure they are fitted together properly and that upgrade and replacement parts are available for these models.
Disadvantages
Big and heavy
There's no avoiding the issue – coming in at around 8-8.5" long and weighing up to 2.5 lbs, airsoft 1911s can be big and heavy sidearms.
While, as we mentioned, this can be fun to hold and use in the short term, it does mean added weight in your loadout, especially if you're planning on bringing a lot of spare mags.
It also means that finding a good quality holster can sometimes be a pain.
Fairly common on the field
If you show up to an airsoft field where people use secondaries, chances are good you'll see people packing one of two things- an airsoft 1911 or a Glock.
As a result, you aren't likely to stand out quite as much even with a more tactical variant as you might with, say, a PX4 or even a revolver.
Some models aren't very accessorizable
Although more tactical versions exist, if you're looking for a classic 1911 chances are good it will be missing a rail and maybe even a threaded barrel.
This may limit the amount of airsoft pistol accessories you can mount on your gun, such as flashlights, lasers or suppressors.
Bottom Line
With a ton of models out there to choose from, finding an airsoft 1911 that meets your needs, performs well and can stand up to what you can throw at it can take a little time.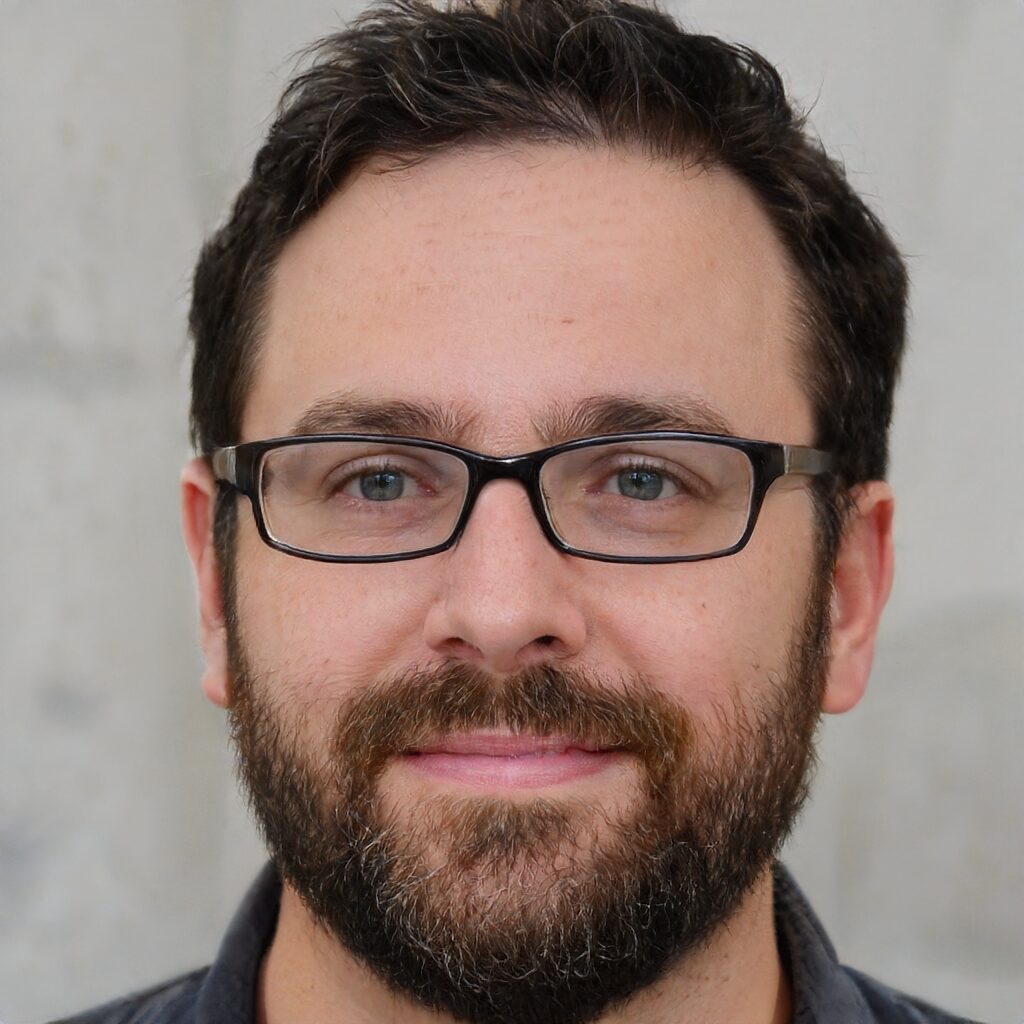 David Lewis – A longtime airsoft and airgun enthusiast and collector, our editor David's lifelong passion for tactical sports began in high school with some friends, a cheap knock-off airsoft M4, and an open field behind his parents' house.

When he's not plinking around, he enjoys sharing his knowledge of airsoft and helping those just starting out.