Durability and Build Quality

93%
| | |
| --- | --- |
| ✅ Extremely realistic design and feel | ❌ Not exactly cheap |
| ✅ Very solid, very durable | ❌ Battery compartment a little cramped as gun is front wired |
| ✅ Accurate at range | ❌ MOSFET is non-programmable |
| ✅ High ROF | |
| ✅ Capable power | |
| ✅ Truly quick quick change spring system | |
| ✅ Easily swappable stock, rear-facing rails | |
| ✅ Comes with MOSFET installed | |
Light, short and capable of easily handling different barrel and ammo configurations, the SIG MCX family of guns made a big splash in the firearms market and military when it hit the market in 2015, and is currently in service with special operations and police forces around the world including the US Navy SEALS, UKSF the Netherlands Maritime Special Operations Forces and more.
With its aggressively cool looks and ties to some of the world's most special units, the MCX quickly became a highly desirable item for airsoft players, as well.
Produced by VFC, the SIG Sauer MCX Virtus AEG is an officially licensed airsoft replica of the SIG Sauer MCX, raising quite a few eyebrows (and opening quite a few wallets) since its release.
To find out if it's truly worth a spot in your collection, we decided to take a closer look.
Specifications
| | |
| --- | --- |
| Manufacturer | VFC |
| Power | AEG |
| Action | Semi, Auto |
| FPS | ~ 410 FPS @ 0.20g BBs |
| Hop up | Adjustable |
| Inner barrel | 11.61 inch (295 mm) |
| Total Length | 29 inches (737 mm) |
| Weight | 7 lbs (3 Kg) empty |
| Construction | Aluminum |
How Much Does The SIG MCX Airsoft AEG Resemble A Real Steel MCX?

SIG Sauer Proforce MCX Virtus AEG
SIG Sauer MCX Virtus SBR
Weight (empty)
7 lbs (3kg)
7.4 lbs (3.35 KG)
Total Length
29 in (737 mm)
28.5 in (724mm)
Barrel Length
11.61 inch (295 mm)
Variable
11.5 (292mm)
9 in (229mm) 5.5 in (140mm)
Ambidextrous safety
Yes
Yes
Ambidextrous mag release
Yes
Yes
Mag type
STANAG
STANAG
Caliber
6mm
5.56×45mm NATO
.300 AAC Blackout 7.62×39mm
Construction
Aluminum alloy
Metal
Picatinny rail positions
Full length top, M-LOK with 3, 6 and 9
Full length top, M-LOK with 3, 6, and 9 (2nd gen)
Licensed by SIG Sauer and produced by VFC, the SIG Sauer MCX Virtus airsoft rifle is, in our opinion, a very accurate replica of the company's MCX Virtus SBR when chambered for 5.56 mm ammo.
The Sig MCX Virtus AEG matches its real steel counterpart about as closely as possible for an airsoft gun, being pretty much a 1:1 replica in terms of total length and, critically, in terms of weight.
We say critically as the Sig MCX airsoft gun is actually part of the company's ProForce line.
This means that, in addition to being a more premium AEG option for airsoft enthusiasts it is designed to be used for police and security training purposes, replicating the heft and handling of a real steel rifle so that professionals can hone their muscle memory, manual of arms, team tactics and so on with considerably less risk.
Tipping the scales at around 7 lbs, the gun is considerably heavier than a typical airsoft M4 carbine or SBR and, combined with its aluminum (rather than alloy or plastic) receivers, it really does feel like holding a real steel carbine.
Further, the gun sports a few notable external features that contribute to its realism.
These include a rather modern looking M-LOK handguard, true-to-life ambidextrous controls, and even a mock gas block that can actually be turned by hand once you pop off the handguard.
While this gas block isn't really all that functional in an AEG, it does make this Sig MCX airsoft replica handle a lot more like the real deal and is, we guess, something you can check out if you get bored when changing batteries.
Interestingly, SIG and VFC have also included a dual return spring on this model, something that isn't too common in airsoft guns.
It is pretty cool looking and is accurate to the real steel version's design, even if it's not that functional or necessary in airsoft.
They've also chosen to add a rear-facing picatinny rail located just behind the stock.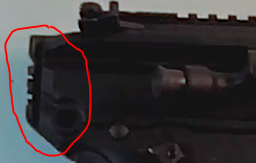 A feature of the real steel Virtus SBR, as well as a few other higher quality tactical firearms, this relatively unusual (for airsoft) feature allows users to attach a wide variety of real steel and airsoft stocks to the gun, from folding stocks to PDWs to helmet stocks and more, which is pretty cool.
Finally, being a licensed SIG Sauer product, the gun is replete with a variety of cool trademarks, which is excellent news for collectors and milsim enthusiasts.
The gun features authentic, high visibility SIG trademarks and model information across its lower receiver.
It also sports a cool metal "Virtus" badge that has been bolted onto its left side.
As a cool extra touch, the gun even has "Multi-Cal" stamped onto the mock bolt, which is a little amusing on this 6mm airsoft gun but is actually true to the real steel MCX, whose claim to fame (among other things) is its ability to handle 5.56, 7.62 and .300 Blackout rounds with only minor adjustments.
How Does The SIG Sauer MCX Virtus Perform As An Airsoft AEG?
Build-quality and construction
Partly aimed at professionals for training purposes, you'd kind of expect the MCX Virtus AEG to be built pretty well compared to the average airsoft carbine.
And you'd be right.
The Sig MCX Virtus is a full-metal airsoft gun.
Its receivers, stock rails and handguard are made out of CNC'd aluminum, which is a considerable step up from the typical zinc alloys and plastics found on typical airsoft rifles.
In fact the only real plastic on this gun is in its grip and its rather compact buttstock.
As a result, the gun feels extremely durable and we feel it should easily stand up to most of what an airsoft game can throw out without any real issue.
When we handled it, the MCX felt quite solid.
Its switches and controls all felt properly installed (minus some play in the selector switch) and the gun's receivers felt nice and rigid, with no bending, rattling or looseness that we could notice.
The only issue we found was some very minor wobbling around the handguard and the railed PDW stock over time, which isn't that uncommon with these types of configurations
In addition to a full-length top rail, the SIG Sauer MCX Virtus AEG comes with an aluminum M-LOK handguard, which allows users to attach floating rail sections all along its length.

This allows users to attach their choice of optics, lasers, battery cases, flashlights and more at the 3, 6, 9 and 12 positions.
In addition to giving the gun a lot more in the way of accessory options (and a cool skeletonized look to boot), it also makes the front smoother and easier to hold compared to a standard quad rail setup, particularly if you enjoy using a C-Clamp grip.
It also means that the gun is less likely to snag on clothing or gear, which can be pretty important in CQB games, and it keeps the gun's front end a lot lighter, which can help when quickly shifting from target to target.
In addition to its rails, the SIG MCX airsoft gun also comes with 14mm CCW threaded outer barrel under its surprisingly well-attached orange tip, which means users can pretty easily throw on most of the popular mock suppressors or tracer units that are out there.
Inside, the SIG Sauer MCX Virtus AEG makes use of VFC's well-known 2nd gen Avalon ECS gearbox.
Inside its reinforced metal frame, users will find a set of sintered steel VFC gears in an 18:1 ratio, 8 mm bearings, a piston with 7 steel teeth, a ported aluminum piston head, o-ring sealed nozzle and, being an ECS model, even comes with an integrated MOSFET.
Sadly, the MOSFET isn't programmable, which is a shame since adding a burst function and custom trigger response to this gun would be pretty sweet, but it does a pretty good job at protecting the gun's trigger contacts and makes the MCX AEG LiPo ready out of the box.
Interestingly, VFC has included a true quick change spring system to this gun (right in the middle of its rear facing rails, interestingly).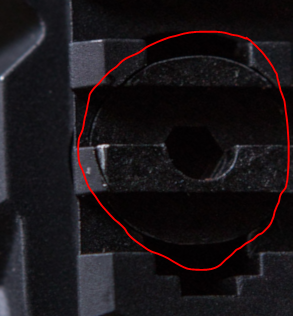 Pop off the gun's stock, gently unscrew the spring guide cover with an Allen key and the spring guide slides right out.
This feature (which interestingly isn't on the company's flagship Gen 2 Avalon Saber series) makes adjusting the SIG MCX's power a lot easier to do on the fly, increasing its overall versatility and flexibility by quite a bit.
All this is powered, meanwhile, by a high torque, long-type neodymium motor (a step up from the usual ferrites still found in most stock airsoft guns) and pushed through a fairly standard VFC rotary-style hop up, which is capable of delivering pretty reasonable spin and lift to even some heavier weight BBs (.30g and .32g).
The gun's 295mm inner barrel is made of brass, is smooth and quite nicely finished and is a 6.05mm tightbore, which is always nice to see.
Towards the rear, the gun comes stock with a 3 position PDW-style collapsible stock.
Riding on a pair of aluminum rails, this telescoping stock is sturdy and fairly comfortable to shoulder.
More importantly, when collapsed it reduces the gun's overall dimensions from a full size 29 inches to a pretty compact and CQB-optimized 25 inches.
As we've mentioned, thanks to the rear-facing picatinny rail segment, users can pretty easily swap this stock for one of their own preference.
The use does, however, mean that the gun is front-wired.
This means that batteries are located underneath the gun's handguard, which can be a little limiting in terms of the types of batteries that it can comfortably fit without things getting a little cramped.
The use of an M-LOK handguard, which has quite a few openings cut into it, also means that users have to be a little more careful that debris and dirt don't enter the battery compartment.
We would probably recommend that users looking to fit larger batteries or those interested in using the gun heavily outdoors invest in an external battery box, such as a PEQ2 or similar.
Performance and accuracy
On the field the SIG Sauer MCX Virtus AEG is a very capable airsoft gun.
In terms of power, it is a pretty hard hitter.
Using 0.20g BBs and with 11.1V LiPos we saw the gun chrono at around 410 FPS.
This gives it more than enough power to handle outdoor play and certainly will make opponents think twice when hit.
That said, this does leave it a little too powerful for most CQB and indoor fields, which is where the gun's SBR-dimensions would make it ideal.
Those interested in taking the gun to places where FPS-limits might apply should therefore make use of the gun's quick change spring system and install some M100s or even M90s to drop the FPS rate to 350 or lower.
In terms of ROF, the SIG MCX is quite speedy.
Set the gun to full-auto and, on 11.1Vs, it is capable of delivering around 22 RPS, which is pretty impressive and puts it ahead of many CQB rivals such as the KWA Ronin T6 PDW or even the Honey Badger PDW15.
Trigger response isn't too shabby for a stock gun either, thanks to its high torque motor the gun is pretty snappy and responsive on 11.1Vs.
Finally, in terms of accuracy, the SIG is actually quite a little sharpshooter.
When properly adjusted, the gun can get pretty tight groupings to about 70 feet (21m) or so and is easily capable of hitting center mass targets to well past 150 feet (45m).
While perhaps not the most important thing for a CQB-optimized airsoft gun, it is somewhat reassuring to know that the SIG MCX Virtus can be used to hit distracted opponents at range if needed and makes it a lot more usable in outdoor games.
Handling
The first thing you'll probably notice when you pick up the Sig Sauer MCX AEG for the first time is its weight.
At 7 lbs, it is considerably heavier than most airsoft M4 carbines and other CQB-optimized designs out there (1.5 lbs heavier than the G&G Honey Badger, for example) and it can take a little getting used to for extended games.
That heft, however, does make it feel a lot more like holding a real steel firearm than just about any other competitor – hence its additional use as a training tool – which is great news for those looking for a more realistic airsoft experience.
At the same time, at 29 inches long when extended (and 25 inches or so long collapsed) its relatively compact, CQB-friendly dimensions makes it quite easy to handle and maneuver in tight situations and around obstacles.
This is further helped along by its well-balanced weight distribution.
Thanks to its skeletonized handguard, most of the gun's weight sits above the users wrist, allowing them to easily lift and then snap between targets quickly and effectively.
The guns grip is a pretty standard AR pistol design, although it is nicely stippled along the sides and so should let users get a secure hold on it when wet or when wearing gloves.
Finally, the SIG MCX airsoft gun is fully ambidextrous.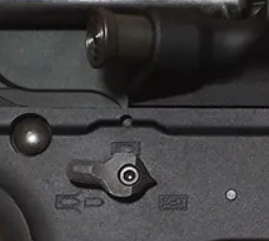 The gun sports dual functional bolt catches, mag releases and selector switches, making it easy to use for both lefties and righties alike.
One thing to note, however, is that the ambi mag release is a little more friendly to right handed users than left handed ones, as the gun has a nice big drop button on its left side and a somewhat stiff mag release lever on its right as can be seen in the comparison picture below.
Maintenance
Although not an M4, takedown of the SIG Saer MCX Virtus AEG is pretty straightforward.
Take the stock off using an allen key, pop the front body pins to remove the handguard and detach the upper receiver, which will allow users to inspect the gun for damage and clean it.
By and large, the gun accepts upgrades pretty well.
he Avalon gearbox is, of course, V2 compatible and while the gun has a slightly unusual inner barrel length and while the spring guide seems proprietary, there are a number of replacements and upgrades available for the gun.
Users can, for example, pretty easily upgrade the gun with a top tier motor, a programmable MOSFET/ETU, a more tightbore barrel and so on.
Magazine Type and Capacity
The SIG MCX airsoft gun comes with a metal 120 round STANAG-style midcap magazine.
The magazine fits quite snuggly once inserted and, overall, we found it to feed quite reliably and well.
By and large the gun does fit quite a few third party STANAG style magazines, such as PTS EPMs, CYMAs, those by SOCOM Gear and others, although it can take a bit of work to fit some due to the wiring at the top of the mag well that might need to be pushed aside.
Price
Note: All prices current as of writing. All prices in USD.
At the end of the day, The SIG Sauer MCX Virtus AEG is a premium airsoft gun and is not exactly easy on the wallet.
Often being sold for around $450, it is a little more expensive than the G&G PDW15, the Ronin T6, the Krytac Trident, around the same price as a Krytac Kriss Vector, its little brother, the MPX, or a G&G GK5C but less expensive than the VFC M27 IAR or a TM MK18 Mod 1. 
That said, as it is a highly accurate replica, is aggressively styled, very well built, easy to adjust, highly accurate and delivers capable performance on the field, we feel it can still deliver considerable value for its price.
Or
SIG MCX Airsoft Gun Pros and Cons
Pros
Extremely realistic SIG MCX design
Part of their ProForce line, the SIG Sauer MCX Virtus AEG is a highly realistic replica of the company's SBR platform.
Its 1:1 dimensions, attention to detail and highly realistic design make it look and feel nearly identical to a real steel firearm, a useful feature for professions doing training and airsoft enthusiasts alike.
Solid and durable
The SIG MCX airsoft gun is largely made of high quality CNC aluminum, eschewing the usual alloys and plastics that most airsoft guns are made of, to create a far more solid and durable carbine option.
Highly accurate
With minimal effort, we saw the SIG Sauer MCX AEG hit targets in a fairly tight group all the way out to around 70 feet and hit center mass at 150 feet plus with fairly little effort, making it a pretty accurate airsoft option despite its CQB nature.
High ROF
Pop an 11.1V LiPo into this gun and, when set to auto, it can hit a fairly impressive 22 rounds per second, putting it well above most typical carbine options.
True Quick Change Spring System
Unlike most other airsoft rifles, users pop out and replace the gun's spring system without even having to separate its receivers, making upgrading and downgrading its power something easy, quick and even something you can do in a field parking lot if you really need to.
Swappable Stock
Interestingly, and much like the real steel version, SIG and VFC have fitted the MCX Virtus AEG with a rear-facing picatinny rail, allowing users to pop off the stock and affix their choice and preference of rail mounted real steel and airsoft stocks.
LiPo Ready
Finally, something that is still frustratingly rare, the SIG Sauer MCX airsoft gun has been pre-fitted with a MOSFET.
This allows it to be run with higher voltage LiPos without as much risk of burning out its trigger contacts.
Cons
Pricey
Coming in at just about $450, the SIG Sauer MCX Virtus AEG is a premium airsoft gun and, although well made, can take a fairly big bite out of a typical airsoft budget.
Battery compartment can be a little cramped
The Sig MCX is front wired, which means that there can be a little less space for larger batteries without things getting cramped, squeezed or accidentally pinched in the process.
MOSFET non-programmable
While it does offer a decent MOSFET, sadly it is not a programmable ETU and so doesn't support things like burst mode, precocking, custom trigger response and other features that we feel could really elevate the gun's performance further.
Bottom Line
If you're looking for a highly accurate and detailed MCX airsoft replica or are just looking for something aggressively styled and not another M4, with its 1:1 look and feel, durable build quality, good quality internals and solid on field performance, the SIG Sauer MCX Virtus AEG might just be the right gun for you.
Will Martin – Will has been into airsoft and paintball for well over 10 years, and has done it all – from upgrading and fixing gearboxes as a tech to building custom airsoft loadouts for his friends to supporting off those friends as a DM.