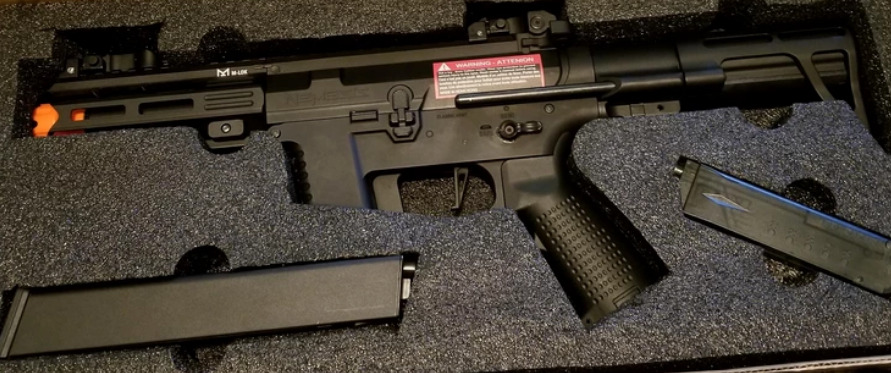 Durability and Build Quality

98%
| | |
| --- | --- |
| Pros | Cons |
| ✅ Compact, Easy to Handle CQB Design | ❌ PDW Stock only has 2 positions |
| ✅ Accurate, great range with good overall FPS | ❌ MLOK can be a little more work to attach things to than a standard rail |
| ✅ Very High Quality Internals | |
| ✅ Full metal build | |
| ✅ Short, snappy trigger | |
| ✅ Easy to add accessories | |
| ✅ High quality ETU and mosfet | |
| ✅ Ambidextrous | |
If you like the look and feel of an M4 but are looking for something a little more compact and CQB-friendly, the Classic Army Nemesis X9 can be an interesting option to consider.
Compact, aggressively-styled, well-built and with surprisingly good all-around performance, it has attracted something of a loyal fanbase in recent years.
But does this little Pistol Caliber Carbine airsoft replica live up to the hype?
To find out, we decided to take a closer look at the Classic Army Nemesis X9 and find out for ourselves.
Specifications
Airsoft type
AEG
FPS
~340-350 @ .20g BBs
Rounds Per Second
24 RPS
Outer barrel
14mm CCW threaded
Inner Barrel
5.5 in (140 mm)
Hop up
Adjustable
Motor
Long Type
Gearbox
V2- Full Metal
Construction
Metal upper receiverMetal lower receiver
Metal M-LOK handguard
Picatinny Rail
How does the Classic Army Nemesis X9 Airsoft Rifle compare to a real steel firearm?
Classic Army Nemesis X9
AR-19 PDW
Weight (empty)
5.18 lb (2.35 KG)
5.2 lb (2.35 kg) empty
Length
Stock extended
23.23 in (590mm)
27.5 in (736 mm)
Stock retracted
20 in (510mm)
24.5 in (756 mm)
Ambidextrous safety
Yes
Yes
Ambidextrous mag release
Yes
No
Mag type
120 rd 9mm-style Stick type
33rd 9mm stick
Construction
Metal
Metal
Picatinny rail positions
12 o' clock
MLOK at 3, 6 and 9 o' clock
12 o'clockMLOK at 3, 6 and 9 o' clock
The Classic Army Nemesis X9 is really designed to replicate the look of a machine pistol or short barreled rifle (SBR) and as such leans more towards the look of a 9mm AR PDW or pistol.
Admittedly there can be a lot of variation when it comes to 9mm AR pistols, as gun makers tend to take a great deal of liberty in their creation.
But to give an idea of how the X9 stacks up, when compared to the fairly well-known Armalite AR-19 as in the chart above for example, it is fairly clear that the Nemesis X9 replicates the dimensions and looks of a 9mm real steel PDW pretty well.
As a SBR/machine pistol, the Nemesis X9 is far more compact than a typical AR-style carbine, about 10 inches or so, and comes in at a hair under 5.2 lbs (2.35kg), making the gun ideal for close quarters games.
It is also, much like many PDWs on the market, very aggressively and tactically-styled with a recessed barrel, skeletonized handguard, sharp angles and prominent amplifier/flash hider.
As something of a custom design by Classic Army that isn't really based on any single model of gun per se, there aren't any trademarks to speak of (beyond those of Classic Army and the "Nemesis" brand logo, obviously), so you'll have to let your BBs do the talking on the field.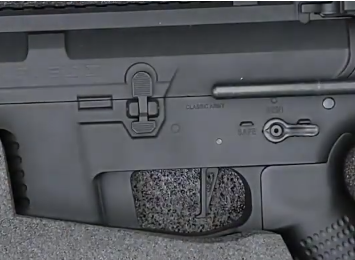 Classic Army Nemesis X9: How does it perform?
Build quality and construction
Overall, the Nemesis X9 is a pretty well put together little airsoft gun.
The Classic Army Nemesis X9 is a full metal airsoft design. Its upper and lower receivers are made of aluminum, as are its outer barrel, sights and MLOK handguard.
As a result, although not all that heavy, the gun is pretty durable and should stand up to most of the knocks and dings that a typical airsoft game can throw at it.
Similarly, the Nemesis X9 is pretty well put together, with its various switches feeling very solid and little to no wobble or rattling that we could notice.
In fact, out of the box, the X9 could even be a little too well put together at times, with features such as the safety selector feeling a little stiff and tight, although it tends to loosen up with a bit of use.
Outer Barrel
The Nemesis X9 comes with a 14mm counterclockwise threaded outer barrel that makes adding accessories such as suppressors pretty easy.
The barrel is a bit recessed into the MLOK handguard, however, so adding these accessories can take slightly more work and a little bit more patience than a typical carbine or SMG.
Like its closest competitor, the ARP9, the Classic Army Nemesis X9 comes with a prominent and fairly aggressive flash hider.
Although it won't do much to improve the AEG sound of the gun, it does look pretty cool and can be somewhat intimidating on the field.
The outer barrel is shrouded by an aluminum MLOK handguard.

Aside from giving the gun a cool skeletonized look, the MLOK handguard system allows users to add various accessories, such as flashlights, lasers and more, to the 3, 6 and 9 o' clock positions on the gun while still keeping the handguard relatively smooth, making it more comfortable to hold and preventing it from snagging on fabric during high-intensity games.
Those unfamiliar with the MLOK system, however, should know that it requires users to mount a short picatinny rail segment before attaching any accessory, which can be something of an annoying extra step compared to a standard quad rail.
Finally, in addition to the MLOK, the X9 comes with a full 20mm top rail that extends to the edge of the handguard.
The gun comes with two fairly standard metal flip-up sights attached to his rail.
These sights are fairly sturdy, standard M4 style adjustable sights that should do in a pinch and fold flat if you decide to attach an optic, which is helpful.
Inner Barrel
The Nemesis X9 has a 5.5 inch (140mm) inner barrel, which is pretty decent and surprisingly long for a gun of this size.
More than that, the barrel is a 6.03mm aluminum tightbore, which provides better accuracy and performance than the more standard 6.08 mm ones found on similar airsoft SMGs and PDWs.
Internals
Looking at the inside of the Nemesis X9, it is clear that Classic Army has put a considerable amount of thought and effort into this model.
The gun features a reinforced V2 gearbox with steel gears, 9mm bearings and a full metal toothed piston, which is pretty decent for a stock gun and makes the gearbox considerably more durable than most, all things considered.
The gearing is 18:1 standard, which is an improvement over older models which originally shipped with 21:1 gearing.
It also comes with a quick change spring system, which allows users to more quickly replace the stock spring with a tighter or looser one, should they want to increase or decrease FPS output.
That said, the quick change spring system that the gun uses is a type that requires users to open the gun and access the gearbox, so it isn't the quickest of quick change springs, although it certainly makes things faster and a lot easier than not having one.
Inside the gearbox, Classic Army has included a programmable ECS mosfet for the Nemesis X9.
For a stock mosfet it is fairly sophisticated and capable. It not only provides users with a snappier trigger response, better surge protection and low-power warnings, but also provides the X9 with several select fire options including semi, 3 shot burst, 5 shot burst and automatic, in several different configurations.
The ECS mosfet is wired up quite nicely with low-resistance silver-coated wiring, as well, so it is a step up from the typical mosfets and ETUs that many manufacturers pre-install on their guns.
Powering all this is a 31000 Classic Army long type motor, which is a great choice that delivers an excellent balance of torque and speed.
The gearbox is also attached to a flat trigger, something that gives the gun a snappier response and goes a long way in helping users get a more efficient pull, making it great for pulling off speedy snapshots in-game.
Finally, the Nemesis X9 comes with an adjustable hop up, which (in typical airsoft AR-style) is easily accessed from underneath the (surprisingly and amusingly patriotic) dust cover.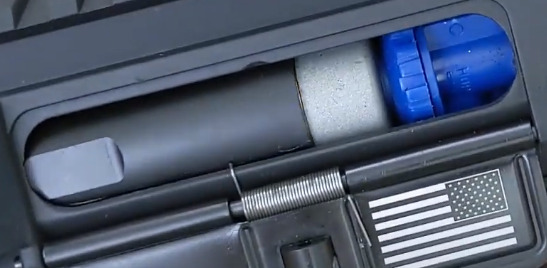 The polymer hop up is a rotary style model, so it is easily adjustable with a finger or a pen, and it provides pretty decent spin.
Helpfully, and unlike competing models, the bolt catch on the X9 is actually functional so you don't have to hold the charging handle back when making hop up adjustments, something that is always appreciated.
Stock
As it is a CQB-oriented, PDW-style gun, the Nemesis X9 comes with a collapsible, buffer tube PDW retractable stock.
The stock rides on twin metal rails and are pretty stable when extended, although (like other airsoft PDWs) it is more limited in its adjustability, only having two positions – extended and collapsed.
Although not quite as expansive as a full carbine, the battery space is decent enough and because the mosfet isn't located in there as it is with airsoft guns like the ARP9, it should fit most 11.1vs pretty easily and without much trouble.
One thing that users should note, and something we think Classic Army really did well here, is that users can pop the X9's upper off and replace them with practically any other model from the Nemesis line.
This means that if you like your X9 but feel like you might want a full M4 rifle, a carbine or want to use another type of rail system for a while, you can change things up pretty easily with this gun, which is pretty sweet.
Performance and Accuracy
Although the Nemesis X9 is small, its performance is anything but.
In terms of power, we saw the gun deliver around 340-350 FPS when chronoing with 0.20g BBs. On initial firing the gun hits a little higher than 350, but settles down soon after.
While not necessarily a beast FPS-wise, the Nemesis' power is right in the sweet spot for most airsoft games. It's powerful enough to be used in most outdoor games but is still usable in CQB and indoors where FPS limits may apply.
As mentioned previously, the gun's ECS mosfet allows it to be set to several different burst fire modes as well as full-auto, which adds some flexibility to the guns use, and the ETU keeps the gun's trigger response nice and snappy.
When on full auto, however, the X9 delivers a pretty decent ROF out of the box. We saw it achieve about 23-24 RPS with an 11.1V, which is more than decent and should make the X9 a pretty good choice for fast-paced airsofting and even speedsoft.
As far as accuracy is concerned, thanks to its pretty decent and easily adjustable hop up and quality internals, the Nemesis does a pretty good job at hitting targets and grouping all the way out to 100 feet (30m) and has no real issue hitting targets at 150 feet (45m) with a little effort and concentration.
Some users even report hitting targets past 200 feet (60m) with this gun, although we haven't confirmed this ourselves.
As with other PDW-style airsoft guns, getting good accuracy at range (150 feet or so) can be a little tricky for some users as the stock's lack of adjustment options and compact size can make it a little more challenging for larger users to shoulder comfortably in our opinion compared to a traditional crane stock.
Overall, although the Nemesis X9's compact size makes it ideal for CQB, its well-balanced power, accuracy and range make it a good all-around option to bring to outdoor events as well.
Handling
The Nemesis X9 is a pretty compact airsoft gun.
Fully collapsed, it measures just about 20 inches (510 mm) long or so, and when fully extended is just 23 inches (590mm).
Sizewise, this makes it around the same size as an G&G ARP9 but a little longer than fully-collapsed ASG CZ Scorpion Evo 3 or folded Krytac Kriss Vector SMGs, however.
That said, it is a very easy airsoft gun to maneuver around with, especially in tight quarters.
In terms of weight, despite being made of metal, the gun is fairly lightweight. It tips the scales at just over 5 lbs (2.3KG), so while it has some heft it isn't too far off from various other modern polymer SMGs and machine pistols and so should be fairly easy to carry for long periods of time.
With exception of the standard, right hand AR-style mag release, the gun is pretty left-hand friendly, as well.
The X9's fire selector is ambidextrous, with fully functional switches located on either side of the gun, and the charging handle is AR-standard and drawn from the rear.
The PDW stock is adequate and keeps the overall dimensions of the gun down. Although sturdy and fairly durable, it only has two positions (collapsed or fully extended) and so doesn't give users the same kind of precise control that a typical five point stock might allow.
Consequently, those with unusual arm lengths of wearing thick tactical gear may need to shift around a bit to shoulder it properly when firing at longer distances.
Maintenance
Although its looks are somewhat unique and aggressively styled, the Classic Army Nemesis X9 is essentially an AR AEG, so maintenance is pretty easy and straightforward.
Simply pop the body pins and the upper and lower receivers come apart, allowing you to inspect, clean and even fiddle with the gun's inner barrel, trigger and so on.
Hop up adjustment is similarly easy. It is located under the dust cover and it is rotary-style, so you can adjust it forwards or backwards with your finger or a small pen.
In terms of replacement parts, there are tons of parts available out there for the Nemesis line and everything from barrels to replacement mosfets to complete gearboxes are all readily available online if you need them, as are upgrade parts such as barrels, gearboxes and motors.
Magazine type and capacity
The Nemesis X9 usually comes with a 120 round midcap magazine that replicates the look of a 9mm stick.
The magazine is pretty solid and reliable, feels pretty sturdy and provides the gun with enough ammo for most uses.
For those looking for more flexibility, there are quite a few options out there for this gun in terms of magazines.
Classic Army makes a 1400 round electric drum, which can be a lot of fun if you like to let things rip, and the Nemesis has broad compatibility with ARP9 magazines, so you can find 30 and 60 round low caps as well.
G&G ARP 9 Vs Classic Army Nemesis X9: How do they compare?

Classic Army Nemesis X9
G&G ARP9 AEG
Airsoft type
AEG
AEG
Length
Stock extended
23.23 in (590mm)
23.23 in (590mm)
Stock retracted
20 in (510mm)
19.69 in (500mm)
FPS
~340-350 @ 0.20g
~350-360 @ .20g BBs
RPS
~23-24 RPS
~22 RPS
Hop Up
Rotary adjustable
Rotary adjustable
Mosfet/ETU
Yes
Yes
Motor
31K Classic Army Long Type
25K G&G Long Type
Ambidextrous safety
Yes
No
Ambidextrous mag release
Yes
Yes
Construction
Metal
Polymer
Picatinny rail positions
12 o' clock
M-LOK at 3, 6 and 9 o' clock
12 o' clock
M-LOK at 3, 6 and 9 o' clock
Those looking at the Nemesis X9 invariably want to know how it compares to that other CQB airsoft legend and the X9's closest rival, the G&G ARP9.
Now, it's important to note that both are great airsoft guns that are quite well made and can serve users well as primaries in both outdoor and CQB use.
They do, however, have their differences.
Although they weigh more or less the same (with the ARP9 being a little lighter perhaps), the ARP9 uses a solid nylon-reinforced polymer airsoft gun while the Classic Army Nemesis X9 is a full metal airsoft gun.
Both designs are quite durable and well put together, and should withstand most of the rough and tumble handling of an airsoft game, but we tend to lean a bit more towards favoring the Nemesis X9's billet style aluminum receiver.
Another difference is that, while both use PDW stocks, the X9's stock is slightly larger and more accommodating, offering slightly more battery space than the more cramped ARP9, partially owing to not having its mosfet located in the stock.
Similarly, while the ARP9 comes with a high-quality 6.08mm aluminum barrel, the X9 comes with a more tight-bore 6.03mm one.
On the inside, both companies have put a lot of effort into their gearboxes.
Both are reinforced V2 with steel gears, and while the X9 uses more metal teeth on its piston and offers 9mm bearings stock, the ARP9 uses superior split-mound buckings on its hop up, which can provide slightly better spin, consistency and accuracy at distance.
In terms of motors, the ARP9 uses a decent 25K long type, which is a good performer, while the Nemesis X9 offers a bit of a higher speed and torquey 31K long type.
One thing that some users might want to know is that the X9's mosfet and ETU is a little more modern and programmable than the ARP9, offering more options to the user (3,5 round bursts vs just 3 round bursts).
In terms of shooting, the guns are quite similar, hitting in the mid 300s fairly consistently and are ideal for CQB games.
The ARP9 is slightly more powerful than the Nemesis X9, provides a louder sound due to the included amplifier, and there tends to be a greater selection of magazines available for the G&G overall (it has been out a lot longer, after all).
The ARP9 also comes with a 300 round hi cap, compared to the X9's 120 round midcap.
Finally, in terms of price, the ARP9 tends to be a little less expensive than the X9.
Depending on the retailer, extras and any discounts that might be applicable, the ARP9 is usually a little cheaper than the X9 to buy.
Price
The Classic Army Nemesis X9 isn't the cheapest airsoft gun out there, with models usually coming in at just under $300 or so, depending on the retailer.
That said, it is a more affordably priced airsoft CQB option compared to other SMGs out there, such as the ARES M45X-S AEG, the ASG ASG CZ Scorpion Evo 3 A1 or the Kriss Vector.
And, given the functionality and high quality internals that come stock with the X9, we feel that its price represents pretty good value for money overall.
Or
Or
Classic Army Nemesis X9 Pros and Cons
Advantages
Compact, CQB-optimized design
At just 20-23 inches long, the Nemesis X9 is ideally suited for CQB. It is extremely easy to hold, sweep and maneuver around in tight situations and, although not exactly a featherweight, it is easy enough to carry and hold for long periods in game.
Good FPS, accurate and offers great range
Although not the most powerful airsoft gun we've ever seen, the Nemesis X9 is capable of delivering a respectable ~340-350 FPS with 0.20g BBs, making it perfect to take to both outdoor fields those with stricter FPS limits, such as CQB and indoor arenas.
High quality internal parts
The Classic Army Nemesis X9 is no slouch when it comes to its internals. The gun comes with a reinforced V2 gearbox with steel gears, 9mm bearings, a rotary hop up, a tight-bore barrel and a beefy 31K motor.
Combined with a fairly sophisticated mosfet/ETU, the gun is capable of delivering more than decent performance and should last for some time.
Full metal construction
Unlike some of its competitors, the Nemesis X9 eschews a plastic construction for billet style aluminum. As such, the gun feels very solid and durable in hand.
Short, responsive and snappy trigger response
Thanks to its flat trigger and high quality ETU, when attached to a 11.1V LiPo the Nemesis X9 has a short and snappy trigger response with very little lag.
Lots of ways to add accessories
Despite its size and with a threaded barrel, MLOK handguard and full-length top rail, there is quite a bit of room on this gun to add accessories, such as lasers, flashlights, optics, suppressors and more.
High quality mosfet and ETU
Unlike some other airsoft manufacturers that tend to put in basic or outdated mosfets into their guns, the Classic Army Nemesis X9 has included a pretty decent one out of the box that is solidly wired up and offers users multiple fire modes, ample surge protection and a quick trigger response among other features.
Left hand friendly for an AR
Unlike other AR-derived pistol caliber carbines, or even full ARs themselves, the Nemesis X9 is pretty left-hand friendly, with the safety selector, sling attachment points and charging handle all being ambidextrous.
Disadvantages
Stock PDW has only 2 positions
As with other PDW stocks, the X9 stock looks great and keeps the gun fairly compact. However, with only two positions – extended and collapsed – it doesn't offer users as much adjustability for shouldering it as can be found with more traditional crane stocks.
MLOKs can be a little bit more work than a standard rail
While the MLOK handguard is certainly cool and offers a lot of advantages over traditional rails (lightweight, less likely to snag in CQB), it does require the use of a small rail adaptor before adding a rail-compatible accessory.
As such, it does require an extra step to use, making accessorizing an airsoft gun a little slower.
Bottom Line
The Classic Army Nemesis X9 is a welcome addition to the PDW/Pistol Caliber Carbine airsoft market.
With its high quality internals, well-balanced power, consistent and accurate fire and a durable metal build, the X9 is a great all-around airsoft SMG that will serve its users well in indoor, outdoor and CQB games alike.
Ted Clark– Hailing from Florida, Ted has been an avid airsoft enthusiast since he was in middle school. When he's not checking out and reviewing airsoft guns, he enjoys picking off his enemies one by one on the field as a sniper.