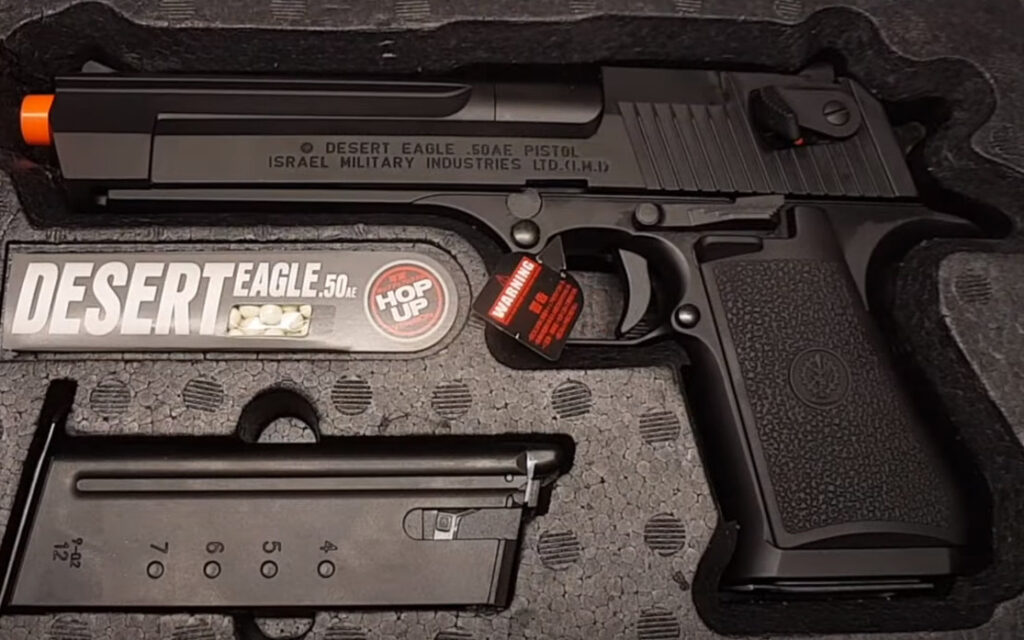 Durability and Build Quality

93%
| | |
| --- | --- |
| Pros | Cons |
| ✅ Solid, well-built airsoft pistol | ❌ Not exactly the most practical airsoft pistol |
| ✅ Very realistic with lots of trademarks | ❌ Plastic slide not the most ideal for higher PSI gases |
| ✅ Well-balanced FPS | |
| ✅ Accurate and reliable | |
| ✅ Hop up is easy to adjust | |
| ✅ Powerful blowback action | |
| ✅ Intimidating and fun to hold | |
| ✅ Tons of upgrades and aftermarket parts | |
Featured in dozens of action films and capable of handling some pretty powerful revolver rounds in its semiautomatic frame, the Israeli Weapons Industries/Magnum Research Desert Eagle is a powerful firearm whose intimidating looks has attracted something of a cult following over the years.
The Tokyo Marui Desert Eagle is a faithful airsoft reproduction of this iconic gun and has itself become fairly popular among airsoft enthusiasts as a well-made and highly intimidating sidearm to pull on your opponents.
To find out if its reputation is well-deserved, and to figure out if its really worth your time and money, we decided to give the TM Desert Eagle a closer look.
Specifications
| | |
| --- | --- |
| Manufacturer | Tokyo Marui |
| Power | Duster, Green Gas |
| Action | Semi Auto Gas Blowback |
| FPS | ~ 300-340 FPS @ 0.20g BBs |
| Hop up | Adjustable |
| Inner barrel | 5.31 inch (135 mm) |
| Total Length | 10.62 inches (270 mm) – 14.57 in (370mm) |
| Weight | 2.43 lbs (1.1KG) empty |
| Construction | Plastic |
| Rounds | 27 |
How closely does the Tokyo Marui Desert Eagle resemble the real thing?
Tokyo Marui Desert Eagle
Magnum Research Desert Eagle
Weight
2.43 lbs (1.1KG) empty
4.4 lb (1.99 KG) empty
Overall length
10.6 in (270mm) – 6" barrel
14.75 (370mm) – 10" barrel
10.6 in (273.1 mm) – 6" barrel 14.75 in (370 mm) – 10" barrel
Action
Semi automatic
Semi automatic
Caliber
6mm
.357 – 50 cal Action Express
Capacity
27
7 rd
Construction
ABS Plastic
Steel
Sights
Adjustable
Adjustable
Rail
12 O' Clock Weaver
12 O' Clock Weaver (CA Approved Model)
True to the Tokyo Marui reputation, the attention to detail in the TM Desert Eagle is excellent and it is a very accurate replica of the real steel version in most regards.
The Tokyo Marui airsoft pistol matches the real steel CA Approved Desert Eagle pretty accurately in terms of its looks and its rather impressive overall dimensions, as can be seen when comparing it to the real steel version seen below.
This means that small touches, such as the Desert Eagle's distinctive fluted barrel, ambidextrous claw safety lever and forward-integrated Weaver rail are all present and accounted for and located right where they should be.
The difference that really stands out between Tokyo Marui's airsoft replica and the real steel model is its weight.
Magnum Research's .50 caliber Desert Eagle is a beefy gun that tips the scales at just under 4.5 lbs (1.99 KG).
Due to regulations on airsoft design in Japan, the Marui model is made of ABS plastic and weighs just over half of that.
When it comes to trades, however, enthusiasts will be happy to know that the Tokyo Marui Desert Eagle has a lot going for it.
The gun has the original IWI markings etched on one side and the Magnum Research trades on the other, so there will be little doubt in your opponent's mind as to what you're carrying (as if they might need the extra help).

The gun also has a small Israeli Weapons Industries logo molded into the plastic grips, which is kind of cool.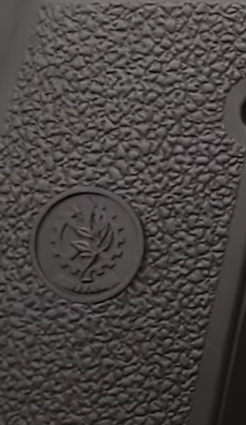 How Well Does the Tokyo Marui Desert Eagle Perform as an Airsoft Gas Pistol?
Build-quality and construction
Similar to other Tokyo Marui airsoft pistols, such as the MK23 or the PX4, the Desert Eagle is made largely of plastic.
Although its size is certainly intimidating, this means the gun is actually fairly lightweight and easy to hold, as well as fairly scratch resistant, although not quite as durable as some more high end, full metal airsoft pistols out there.
In typical Tokyo Marui fashion, the Desert Eagle is very well put together and feels very solid in-hand.
Although it is made of plastic, we found everything to be tightly fitted, with all the switches clicking nicely into place and the frame not showing any flex or bending when handled.
The slide, as well, draws back smoothly and easily and showed no signs of looseness or poor fit that we could see.
That said, it is made of plastic as well, and so is mainly designed to run on duster and green gas and probably won't stand up to CO2 gas usage, which can be a bit of a disappointment for some airsoft players.
Interestingly, and much like the California Approved model of the Desert Eagle Mark XIX, Tokyo Marui has included a 20mm Weaver-style rail molded on top of the gun, directly behind the front sight.
This allows users to freely add optics or other accessories to the gun, which is a nice touch for an airsoft pistol and can certainly add to the gun's already impressive intimidation factor on the field.
The outer barrel of the TM Desert Eagle is not threaded, however.
As a result, users can't really add barrel accessories such as mock suppressors or tracer units to the gun without modifications, adaptors or just swapping it all out for a threaded replacement.
In terms of sights, the gun uses pretty standard, plain black dovetail cut sights.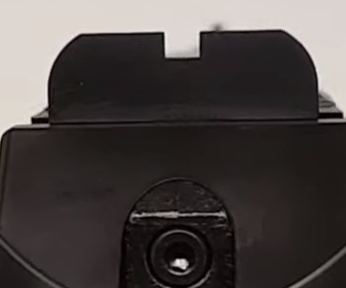 These sights can certainly do the job, and the rear sights can be adjusted, but their lack of any markings can be a bit of an issue on low contrast targets or in low light.
They are pretty prominent though and so users probably won't lose them on a target quite as easily as they might with, say, a Glock replica.
On the inside, it is clear that Tokyo Marui has put a lot of effort and thought into this gun.
The inner barrel is a 6.04mm alloy piece whose tighter bore can help with accuracy and FPS, as does the easily adjusted, rotary style hop up that Tokyo Marui has included in this model.
Accessible from the outside of the gun, the TM Desert Eagle's hop up can be adjusted on the fly and without having to disassemble the pistol, making it a lot easier to use than many other airsoft pistols out there.
It also has some rather precise graduated markings and, helpfully, lets you know which direction to turn.
Peeking under the slide also reveals that the TM Desert Eagle also has been fitted with twin recoil rods.
These help keep the gun firing smoothly and snappily, resetting the action faster and getting the gun ready to fire more quickly after each host and is pretty cool.
Performance and accuracy
The Tokyo Marui Desert Eagle is a gas blowback airsoft pistol designed to run on duster gas, although it can run on green gas as well as long as users are willing to accept somewhat increased wear and tear on the gun.
Although not an FPS monster by any means, it can offer fairly respectable FPS on the whole.
On green gas we saw it get about 300 FPS using 0.20gg BBs on duster gas, and around 340 or so on green gas.
This is actually fairly impressive for a TM pistol, which tend not to be the hardest hitters due to their plastic construction and existing FPS regulations in Japan .
This FPS rate means the gun is a good all around performer, more than capable of being taken to outdoor games while still sliding in under any CQB or indoor FPS limits, although its rather large size probably limits just how close in you'll get in a close quarters situation.
Accuracy with the TM Desert Eagle is excellent, as might be expected of a Tokyo Marui product, largely thanks to its good all around build quality, 6.04mm inner barrel and high quality hop up unit.
With a little aiming practice, the gun gets pretty tight groupings all the way to 75 feet or so (23 m) and can hit targets pretty reliably to about 100 feet (30 m) or more.
Some users even claim to be able to hit targets well past 120 feet with this gun, although we haven't tried this ourselves.
The Desert Eagle's so-called "Hard Kick" blowback action is surprisingly strong for a non-CO2 pistol.
The recoil action is smooth and quick, providing a nice snappy feel with each shot that you'll certainly feel.
The trigger itself is fairly large and is a single action semi, so you can't really manually cock the hammer to fire it. That said, it is a surprisingly light and quick pull, although a little longer than a comparable airsoft 1911, but not by much.
It also releases quite quickly, allowing users to fire off follow ups pretty quickly, which is always good.
In terms of gas efficiency, the Desert Eagle is ok but isn't anything to write home about, getting about 2 or so mags per fill.
That said, nobody really buys a nearly foot long (or more) gun like this for its practicality in the field, and in fairness the plastic slide on the TM Desert Eagle does give it better gas efficiency overall than some of the metal slide Desert Eagle competitors, such as the WE.
Handling and feel
The first thing you might notice about the Tokyo Marui Desert Eagle, much as you might the real steel version, is that it is huge.
At nearly 11 inches long (with the 6" barrel), it is considerably longer than most Glocks, 1911s and M9s that tend to pop up in a typical airsoft event.
Pick up the much larger version (10" barrel), and its massive 14.75 inch length overshadows even more unusual and beefy sidearms, such as the KWC Broomhandle Mauser, the mighty ASG Dan Wesson 715 8 inch revolver or even a KWA MP9 SMG.
The TM Desert Eagle's size doesn't exactly make it a practical airsoft option, and it does make finding a holster for the gun something of a trick, but it can be tons of fun to hold and is certainly one of the more intimidating airsoft pistols out there.
Despite its size, however, the Tokyo Marui Desert Eagle is pretty lightweight.
At just under 2.5 lbs (or 1 KG), while it certainly doesn't feel toy-like, it isn't particularly hard to hold, even for extended periods of time, although the gun is a little more weighted to the front.
The gun features an extended rack of nice, deep slide cuts towards the back of the slide, which not only add to the gun's threatening looks but also let users get good purchase on the slide, even in wet conditions or when wearing gloves.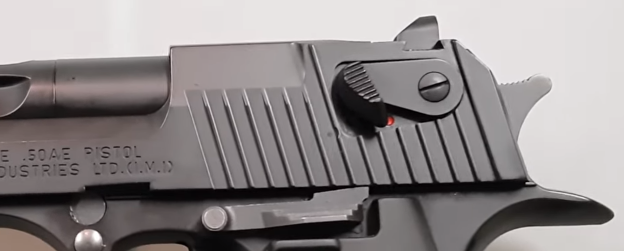 The TM Desert Eagle's grips are, like the real steel version, fairly big and wide (to accommodate their beefy magazines) and feature a nice, grippy and aesthetic stippled texturing that can be easily swapped out for any number of custom grip options, such as finger channeled plastic or wood.
Although the grips are a bit chunky, they are pretty accommodating and we feel that even those with smaller hands should be able to hold on to and fire this airsoft pistol pretty effectively.
One thing we did like about the gun is its rather expansive trigger guard and large trigger. These allow users wearing gloves (or those with particularly sausage-like fingers) to operate the pistol without issue.
In terms of ambidexterity, it is something of a mixed bag. The gun does have ambidextrous safeties, but the slide lock and mag release are on the left side.
Maintenance
Although it can be an intimidating choice sidearm, stripping the Tokyo Marui Desert Eagle is anything but.
Users simply pop the body pin forward of the trigger guard, turn the hinge on the other side of it down, rack the slide and push it forward.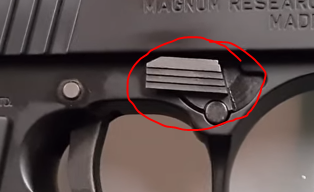 The slide and lower receiver should come apart pretty smoothly, allowing users to access the recoil springs, hop up unit and barrel assembly.
As an all plastic airsoft gas blowback gun, the Tokyo Marui Desert Eagle is really designed to run on duster gas.
While it can run on green gas pretty well, the extra PSI can strain some of the gun's parts
(the slide, slide catch and blowback unit, for example), and so users running it on green gas should more frequently check the gun for any cracks or damage and generally make sure everything is in order.
Replacement parts are, being a Tokyo Marui, not particularly hard to find for this gun if things go wrong, which is always a plus.
Magazine type and capacity
The Tokyo Marui Desert Eagle comes with a metal double stack magazine that can hold a fairly impressive 27 rounds, providing users with substantially more fire than the usual 15 or 22 rounds found in many airsoft GBB pistols out there.
The magazine is pretty distinctively chunky, replicating the rather sizable .50AE magazines of a real steel Desert Eagle and are fairly durable and well made.
They are, however, proprietary to the gun, something that is a bit unusual for Tokyo Maruis, and aren't cross compatible with other Desert Eagles, such as the WE versions.
Accessories & Customizability
As might be expected from a Tokyo Marui product, there are quite a few aftermarket parts and accessories available to fit the Desert Eagle.
Although a little more niche than some of their other pistols, it is extremely well known in the airsoft community and companies do make quite a few higher-spec parts for it including upgraded inner barrels, outer barrels, improved sights, steel slide stops, metal slides, and even aluminum frames.
Price
Note: All prices correct as of writing, all prices in USD.
The Tokyo Marui Desert Eagle isn't exactly what you might call a cheap airsoft pistol.
Coming in at over $150, it sits pretty solidly on the more premium end of the airsoft pistol market, being pricier than other sidearm options such as the KJW M9, the Elite Force 1911 TAC or even Cybergun's take on its baby brother, the Jericho 941.
That said, the Desert Eagle is more or less in line pricewise with other high quality Tokyo Marui pistols, such as the Hi Capa, as well as the reliable Umarex Glocks, such as the G17 Gen 5 or the 19X.
And, all things considered, we feel the TM Desert Eagle does deserve to be in such company.
With its intimidating size, ease of use, high quality build, true to life design, excellent blowback, decent power and high accuracy, all told it provides a great deal of value for money and can be a great addition to just about any collection.
Or
Or
Tokyo Marui Desert Eagle Pros and Cons
Advantages
Pretty solid and well built
Although not a full metal airsoft pistol, the Tokyo Marui Desert Eagle is quite well made and put together, with the excellent fit and finish one would come to expect from the brand.
All of the gun's levers and buttons seemed to be fitted properly with looseness or rattling that we could find, the frame seemed appropriately solid and the gun's action was smooth and snappy with a more than decent cycle rate.
Highly realistic with lots of cool trademarks
The Tokyo Marui Desert Eagle is a very realistic 1:1 replica of the classic IWI/Magnum Research Mark XIX Desert Eagle, and has all the trademarks one might expect, including a cool looking IWI logo on the grip.
Decent FPS
Although not the most powerful airsoft pistol out there, the TM Desert Eagle can get around 300 FPS on duster and around 340 on green gas. This makes it an effective choice for both outdoor games and CQB/Indoor events where FPS limits might apply.
Accurate and consistent performance
Thanks to its tiger barrel and excellent hop up unit, the TM Desert Eagle is a pretty accurate airsoft pistol that is capable of accurately hitting targets well past 70 feet (22 m) with little effort.
Enjoyable Blowback
The Desert Eagle has, in our opinion, earned its "Hard Kick" name with a rapid, loud and snappy blowback action that makes it a blast to shoot.
Intimidating (to opponents)
At nearly 11 inches long (or 15 inches long if you go with the 10 inch barrel model) and fairly chunky, the Tokyo Marui Desert Eagle can be, like its real steel counterpart, quite intimidating to those it is pointed at and its sudden appearance on the field can give a user a temporary tactical advantage.
Easy hop up adjustment
Unlike many other airsoft pistols, users can easily adjust the hop up on the Tokyo Marui Desert Eagle without having to disassemble it, using a rotary hop up adjustment that is accessible from the top of the gun.
Lots of aftermarket parts and accessories
Although not as popular as a 1911, the Tokyo Marui Desert Eagle is something of a beloved replica in the airsoft world and so there are a ton of aftermarket accessories available for the gun that will allow users to customize the gun to their taste and needs should they feel the urge.
Drawbacks
Not the most practical airsoft pistol for CQB games
Although lots of fun to use and look at, in the end the Tokyo Marui Desert Eagle is a big, chunky gun that can be kind of cumbersome in close quarters situations and isn't really the most practical sidearm option out there.
Plastic slide and frame
The Tokyo Marui Desert Eagle is mostly made of plastic, including its slide. While well-made and pretty solid for the most part, those using higher pressure green gas will have to be careful and check for damage a little more periodically.
Bottom Line
With its intimidating looks, great build quality, well-balanced power, high accuracy and excellent blowback action, the Tokyo Marui is one of the best Desert Eagle replicas out there and should be a welcome addition to any serious airsoft pistol collection.
And, although perhaps not the most practical airsoft sidearm out there, you'd certainly be hard pressed to not have a smile fixed on your face when drawing it in game.
Will Martin – Will has been into airsoft and paintball for well over 10 years, and has done it all – from upgrading and fixing gearboxes as a tech to building custom airsoft loadouts for his friends to supporting off those friends as a DM.