Durability and Build Quality

92%
| | |
| --- | --- |
| Pros | Cons |
| ✅ Affordable | ❌ Uses proprietary parts, mags |
| ✅ Well made | ❌ Doesn't have the same feel as a shell-loading revolver |
| ✅ Accurate at range | |
| ✅ Power suitable for outdoor and CQB use | |
| ✅ Extremely gas efficient | |
| ✅ Cool, very unique looks | |
| ✅ Top and bottom rails | |
| ✅ Comes with 5 magazines | |
| ✅ Comfortable to hold and fire | |
| ✅ Mags are cheap and easy to find | |
| ✅ Quick loading, higher capacity than most airsoft revolvers | |
Airsoft revolvers are something of a double-edged sword in the airsoft world.
Although they are cool to look at, fun to handle and certainly stand out in a sea of M9s, Glocks and 1911 clones, they aren't really all that practical for daily use.
They are often slow loading, have a smaller capacity for BBs and (with CO2s, at least) tend to be way overpowered for most indoor/CQB games.
The Elite Force H8R is a rather unique take on the classic six-shooter design and largely aims to add much needed practicality and sensibility to the world of airsoft revolvers.
And in the years since its initial release it has cultivated its fair share of fans who are happy to finally have an airsoft revolver they can both look at and actually use in game.
To find out if the H8R lives up to its reputation, and to figure out if its worth your time and money, we decided to take a closer look.
Specifications
| | |
| --- | --- |
| Airsoft type | CO2 Gas Revolver |
| FPS | ~330 FPS @ 0.20g BB |
| Magazine Capacity | 10 BBs |
| Inner Barrel | 5.75 in (146mm) |
| Hop up | Adjustable |
| Construction | Alloy slide, reinforced-polymer frame |
How much does the Elite Force H8R Gen 2 Resemble A Real Steel Revolver?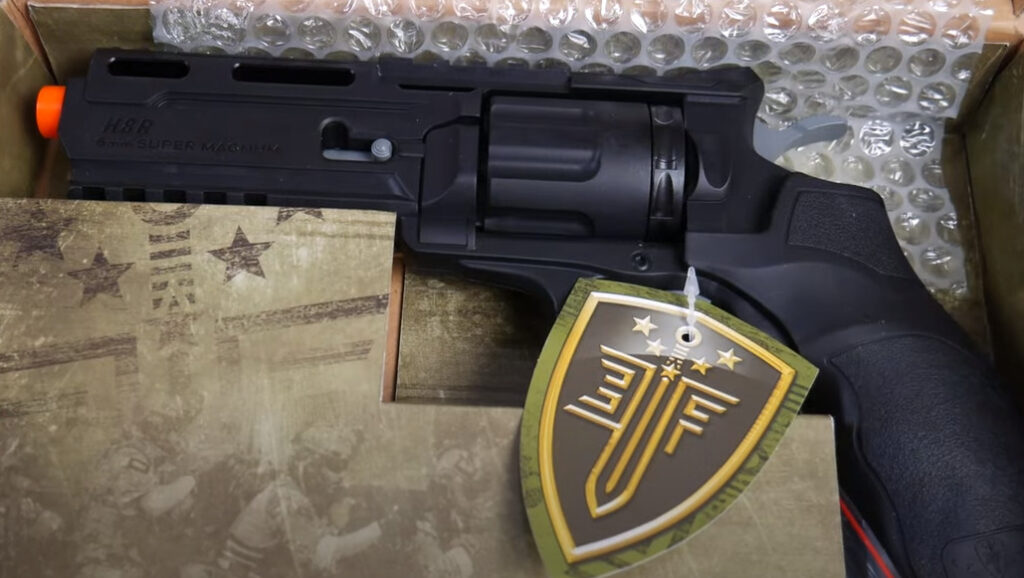 | | | |
| --- | --- | --- |
| | Elite Force H8R G2 | 357 Magnum Revolver (model 686) |
| Weight | 1.5 lbs (685g) | 2.8 lb (1270 g) |
| Overall length | 10.2 in (192mm) | 11.94 in (195 mm) |
| Barrel Length | ~6 in | 6 in |
| Action | Double Action/Single Action | Double Action/Single Action |
| Caliber | 6mm | .357 Magnum |
| Capacity | 10 rd | 6 rd |
| Construction | Nylon-reinforced body, metal internals | Stainless Steel, synthetic grip |
| Rail | 12 and 6 O' Clock | None |
Although its overall design can be said to take some inspiration from a classic 357 or other magnum revolver, the Elite Force H8R Gen 2 is, like its predecessor the Gen 1, something of a custom design from Umarex.
In fact, the H8R's looks are pretty eye-catching.
With a rather chunky frame, top and button integrated rails, vent ribs, low-rise fiber optic-style sights, groove-cut grips and an almost semi-auto looking barrel, the H8R is less a direct airsoft replica and more of a retro-futuristic, sci-fi take on a revolver, seemingly more at home on the belt of a cyberpunk detective than a wild west gunfighter.
Further adding to this rather distinctive design is the fact that the H8R is fed by a daisy wheel magazine, rather than shells, and contains a magazine release cut into its side.  

In fact, we'd say the only thing really tipping you off that the H8R is an airsoft revolver would be the large,functional, exposed hammer and (admittedly nonrotating) cylinder.
As a custom design there are, of course, no real trades on this gun beyond those of Elite Force, although the gun does have "6mm Super Magnum" engraved into its barrel, which is kind of fun.
For these reasons, in terms of looks anyway, we'd say the Elite Force H8R is probably less appealing to hardcore airsoft collectors and those focused on realism, and more suited to those inclined to appreciate its unique looks and functions.
How Well Does the H8R Perform as an Airsoft Revolver?
Build-quality and construction
Rather unusually for an airsoft revolver (and especially one designed for CO2), the Elite Force H8R is made mostly of plastic.
The body of the gun is made of pretty high-quality nylon-reinforced polymer, while the internals are mostly metal.
As a result, the H8R is pretty light and easy to handle, yet feels quite solid and durable in-hand.
Although we wouldn't necessarily use it to hammer nails on the range, it should be capable of standing up to most of the rough handling and knocks that a typical airsoft game (and player) will subject it to without any real issue.
Similarly, we found Elite Force's attention to detail and quality to be pretty on-point with the H8R.
Its hammer, trigger, mag release slide, grip-mounted safety and cylinder mechanism all felt properly and securely installed and operated smoothly and effectively right out of the box.
At the same time, the gun's frame seemed very well put together, with no looseness, wobbling or creaking when we handled it.
Interestingly, and unlike the vast majority of airsoft revolvers out there, the Elite Force H8R comes with two integrated 20mm rails, one on top and one below. 

As a result, it is extremely easy to add a wide variety of attachments to this revolver, including optics, lasers, flashlights and more.
The gun does not, however, come with a threaded outer barrel.
To be fair, it is a revolver, and we wouldn't really expect it to come with 14mm CCW threading. Adding a mock suppressor or tracer unit isn't exactly what springs instantly to mind when it comes to these types of guns.
In terms of sights, the H8R Gen 2 is definitely a step up from its previous incarnation.
Where the Gen 1 came with decent enough plastic sights, the Gen 2 comes with a pair of fiber optic-style sights that not only look really cool, but are easier to see on low contrast targets and in low light situations, even more so than white dots. 
The sights are also pretty low-profile, so they won't catch as easily on loose clothing or gear, which is nice and can be quite helpful in CQB events.
Inside, the H8R is pretty well-designed and uses fairly sturdy metal components. 
Its inner barrel is made of fairly high quality aluminum, while the trigger assembly, tap, guide drum rod and mag release are all made of fairly durable alloy material. 
Unfortunately, many of these parts are proprietary and, while pretty sturdy, can be harder to replace compared to a standard, TM spec pistol if things suddenly go wrong.
The interior of the gun also includes a couple pieces of solid metal, one towards the bottom and one behind the grip, which serve to add to the gun's heft and improve its overall balance.
The Gen 2 also comes with an adjustable, screw-type hop up unit that is conveniently accessible from the top of the gun and able to be tweaked on the go with any 1.5mm allen key.
The inclusion of an adjustable hop up is certainly an improvement over the Gen 1 (which did not come with one), and the unit does provide some pretty decent spin, allowing the gun to be pretty accurate at distance, which we will discuss below.
Finally, and rather thoughtfully, the H8R contains a built-in allen key in its grip that, much like the ASG Dan Wesson, can make it a lot easier to tap CO2 cartridges on the fly.
Performance and accuracy
Overall, and somewhat unusually for a CO2, the Elite Force H8R is a pretty well-balanced and versatile gun that can, in our opinion, be a pretty good all-around choice of sidearm…at least as far as airsoft revolvers go.
The H8R is capable of delivering around 330 FPS using 0.20g BBs, which is decent enough for outdoor games while still being able to be used in CQB and indoor fields where stricter FPS limits may apply.
The Generation 2 H8R, largely thanks to its adjustable hop up, is also fairly accurate.
Unlike the Generation 1s that were more suited to close-in (sub-50 foot) shooting, the Gen 2s are actually pretty good mid-range airsoft revolvers, capable of getting decent groupings at 50 feet (15m) and reliably hitting human-sized targets at around 100 feet (30m).
The H8Rs trigger is a double/single action.
On double action the trigger is a bit long, but relatively easy to pul and, fairly snappy.
Pull the hammer back and put the gun into single action mode, however, and the H8R's trigger becomes surprisingly light and responsive.
As it is an airsoft revolver, when fired there is no real blowback action to speak of.
In fact, the cylinder itself doesn't actually spin when the trigger is pulled (the rotary mechanism holding the magazines does so instead), which can be kind of disappointing as for many a large part of the appeal of airsoft revolvers is in their mechanical action. .
That said, when fired the gun is pretty loud and its CO2 action does provide a pretty nice kick.
In terms of gas consumption, the daisy wheel-style rotary magazine is actually very gas efficient, especially when compared to traditional airsoft revolver shells.
Generally speaking, users can expect to get around 180-200 shots per fill, or about 18-20 mags worth on a single CO2 cartridge, which can help users save money in the long run.
Handling and feel
By and large, and despite its rather beefy dimensions, the Elite Force H8R is actually pretty comfortable and easy to handle.
At around 10 inches long, the gun can be a bit bulky and it's not always easy to find holdster for it.
But, at around 1.5 lbs, the H8R is quite light, does feel very good to hold, and its size does provide it with a fair intimidation factor on the field that shouldn't be discounted.
As we mentioned earlier, the H8R's interior does include a couple metal weights (one underneath the mag release mechanism and one behind the grip) that serve to help increase the heft of the gun and keep the revolver a little better balanced.
Additionally, and unlike many cheaper airsoft revolvers, the H8R also comes with a built-in safety on the gip, which makes the gun a lot less prone to accidental discharges when maneuvering around with it, which is always nice.
In terms of grip, the gun comes with pretty ergonomic, finger-grooved grips that have nice, sticky stippling across the sides and just below the hammer to prevent thumb-slippage.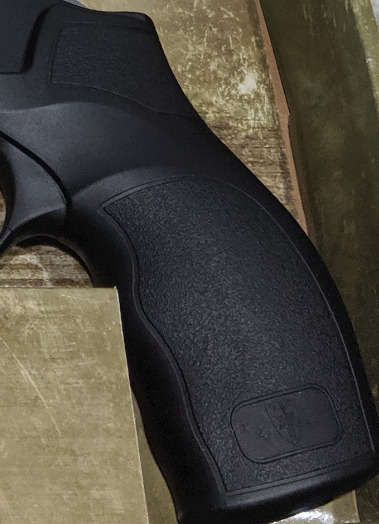 These grips make the gun very comfortable to hold for extended periods of time and let users operate the revolver securely even with the sweatiest of palms or in wet weather.
One thing that fans of revolvers and airsoft pistols should note is that the rotary magazines do handle a bit differently compared to a standard magazine or even an airsoft revolver shell.
They do need to be loaded in a particular way, from the left with the larger holes/BBs pointed towards the front.
And in order to pop the mag out users have to first engage the magazine release, pushing it forward and up.
They can then refill the mag with BBs one by one, pop it back into place and reset the release to lock it in.
While perhaps a bit more complicated than simply slamming home a magazine on a 1911, it needs to be said that the Elite Force H8R is a lot less complex and quicker to load and shoot than a typical shell-loading airsoft revolver, which can involve some pre-planning (filling and packing shells ahead of time) and fumbling around during a game.
Similarly, its 10 round magazine, by definition, holds more rounds than a typical six-shooter.
As a result, the Elite Force H8R can be considered a lot more practical in an actual airsoft game than many of its traditional revolver alternatives, which tend to be more suited to collecting, plinking or backyard games.
On the downside, of course, the H8R and its disk magazines don't provide users with the same shell-loading, mechanical revolver experience that others might, which can often be a reason why people buy these types of airsoft guns in the first place.
Finally, when it comes to left-handed use, much like other airsoft revolvers the H8R is something of a mixed bag.
While the safety and hammer are fully ambidextrous, the gun's mag release switch is located on the left hand side of the gun and, like a true revolver cylinder, its mags are designed to be inserted from the left.
Maintenance
The Elite Force H8R is designed to be a pretty low-maintenance airsoft gun, and doesn't generally require a whole lot of maintenance other than cleaning the barrel and externals and occasionally applying a light amount of lubricant to the trigger hinge and gas valve.
That said, if you do want to take the gun down (to do some more involved maintenance or repair, for example) it can be a fair bit trickier than say a typical 1911 clone.
Taking the H8R down requires users to pop the fiber optic sights off and unscrew about 14 screws before manually separating the two halves of the gun (being very careful, of course, not to break or lose anything in the process).
In terms of replacement parts, unfortunately, many of the H8Rs parts are proprietary and while you can find repair kits for this gun online, there aren't quite as many replacement parts or upgrades as can be found for a typical Tokyo Marui spec airsoft pistol.
Magazine type and capacity
The Elite Force H8R Gen 2 is fairly generous with its magazines, coming with five plastic round disk magazines, each of which can hold 10 BBs. 
The mags are proprietary and specific to the H8R line, so there's not much in the way of mag or shell compatibility with this gun.
That said, due to the popularity of the H8R series, it is pretty easy to find spare mags and they are pretty cheap to buy, usually costing less than $12 each.
Price
Note: All prices correct as of writing, all prices in USD.
The Elite Force H8R Gen 2 is actually a pretty affordable CO2 airsoft revolver.
Typically coming in around $80-90, it is a little less expensive to buy than many of its more immediate and well-known competitors, such as the ASG Dan Wesson 715s, a WG Nagant, or an Elite Force Smoke Wagon.
For the money, however, you do get a lot of gun. The H8R is a unique looking, well-made, accessorizable and fairly durable CO2 revolver.
It is also comfortable to hold and offers well-balanced, versatile power with a more useful (and honestly more sensible) 10 round swappable magazine.
Or
Or
Advantages of the Elite Force H8R Gen 2
Affordable
Often sold for less than $90, the Elite Force H8R is an affordable airsoft revolver that is significantly less expensive than other well-known models out there.
Combined with its easily sourced and relatively cheap magazines, it shouldn't be too much of a burden to buy and use.
Well made
The Elite Force H8R is made of high-quality nylon-reinforced plastics and high quality metal internals. The Gen 2 comes with nice ergonomic grips and has been upgraded to include an adjustable hop up and fiber optic-style sights.
More than this, the gun has been fitted together nicely and showed no signs of creaking, bending or looseness when handled.
Well-balanced power
Although the H8R is a CO2-powered airsoft revolver, it avoids the pitfalls of many of its competitors by being relatively reasonable (and usable) with its power output.
The gun chronos at around 330 FPS on average and so can be used at both outdoor events and in CQB/indoor games where stricter, sub-400 FPS limits may apply.
Accurate
Thanks to its well-built internals, high-vis sights and (most importantly) its adjustable hop up unit, the Generation 2 Elite Force H8R is actually pretty accurate at mid-range, being able to group nicely at 50 feet and reliably hit targets to about 100, which is a step up from the first gen.
Cool, unique looks
Although it does not replicate the looks of a traditional revolver by any means, the H8R does have a unique retro-futuristic look to it that will definitely make it stand out in a crowd.
Dual rail system
Unusually for a revolver, the Elite Force H8R comes with both an upper and lower rail system, allowing users to easily mount their choice of optics, flashlights, lasers and more to the gun.
More practical as an airsoft revolver
Although airsoft revolvers aren't really a practical choice altogether, the H8R is a step up from most in terms of usability compared to a traditional replica.
Its FPS output is more reasonable and consistent, its mag system contains more than 6 shots, it loads reasonably quickly, it's lightweight, it's accurate and it can accept a number of tactical accessories.
Comes with 5 mags
The Elite Force H8R comes with 5 10-round daisy wheel-style disk magazines, considerably more than the 1 or 2 that most airsoft guns come with.
Spare magazines are also fairly commonly found online and are relatively cheap to buy, lowering the running costs of the gun further.
Gas efficient
Finally, due to not using shells and not having a blowback mechanism, the Elite Force H8R Gen 2 is pretty gas efficient, being able to squeeze off around 180-200 shots per 12 oz canister of CO2, which is pretty impressive.
Disadvantages
Uses proprietary parts
The Elite Force H8R is not a Tokyo Marui spec gun and does include a variety of proprietary parts and designs.
Although popular, there aren't quite as many replacement parts or upgrades commercially available for it as there can be with a more traditional airsoft pistol choice, such as a 1911 clone.
Doesn't have the same revolver feel and handling as some others
Although it is more convenient and practical to use in a game, the Elite Force H8R doesn't operate the same way as most airsoft revolvers and there is something to be said for the mechanical thrill and intrinsic cool of using airsoft shells.
Bottom Line
If we have to be honest, airsoft revolvers are something of a nice item in the airsoft world and, much as in the real steel world, will never really have the sheer practicality of a semi-auto sidearm.
That said, if you are looking for a revolver that can actually do well in an airsoft game, the Elite Force H8R Gen 2 might be just what you're looking for.
It is a well-built, lightweight, faster loading, higher capacity and accurate airsoft revolver with well-balanced power that won't fall afoul of most FPS limits.
Almost as importantly, its rather cool looks will draw more than a few admiring glances along the way.
Ted Clark– Hailing from Florida, Ted has been an avid airsoft enthusiast since he was in middle school. When he's not checking out and reviewing airsoft guns, he enjoys picking off his enemies one by one on the field as a sniper.