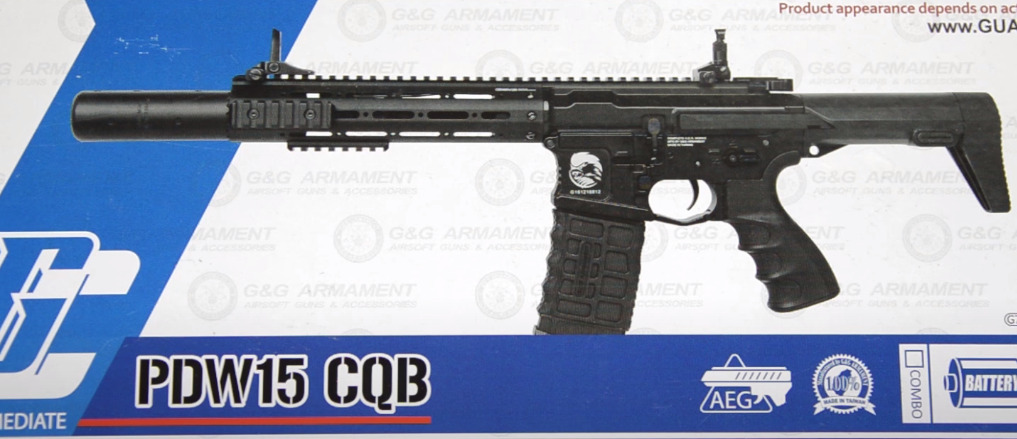 Durability and Build Quality

95%
| | |
| --- | --- |
| Pros | Cons |
| ✅ Full metal Honey Badger-style airsoft replica | ❌ Pricey |
| ✅ Compact, easy to carry | ❌ Smallish battery space |
| ✅ Power is balanced, optimized for CQB | ❌ No ETU OOTB |
| ✅ Fully ambidextrous | |
| ✅ Great accuracy | |
| ✅ Full length top rail, modular handguard | |
| ✅ Quality internals | |
| ✅ Easily adjusted hop up unit | |
| ✅ Comfortable to hold | |
| ✅ 14mm CCW threaded barrel | |
| ✅ Good RPS | |
| | |
Designed to be a replacement for the H&K MP5s in use by US Special Operations units, the Q (formally AAC) Honey Badger is a modern personal defense weapon based on the AR platform that has developed something of a legendary status among firearms enthusiasts.
Several companies have, in recent years, attempted to create their own airsoft replica of the Honey Badger, and the G&G PDW15 CQB is one that has attracted a lot of attention and developed something of a following in its own right.
To find out if this airsoft Honey Badger has claws, and to help you figure out if it's worth your time and money, we decided to take a closer look at G&G's PDW15 CQB.
Specifications
| | |
| --- | --- |
| Airsoft type | AEG |
| FPS | ~330 FPS @ .20g BBs |
| Rounds Per Second | ~ 20 RPS |
| Threaded | 14mm CCW |
| Inner Barrel | 6.03mm stainless steel |
| Hop up | Adjustable rotary |
| Construction | Aluminum upper and lower receivers |
How Much Does The G&G Pdw15 Cqb Resemble A Real Steel Honey Badger?

| | | |
| --- | --- | --- |
| | G&G PDW15 CQB | Q Honey Badger SD |
| | | |
| Weight (empty) | 5.64 lbs (2.56 kg) | 5.37 lb (2.43 kg) empty |
| Length | | |
| Stock extended | 31 in (790 mm) | 31in (790 mm) |
| Stock retracted | 27 in (690 mm) | 26 in (660 mm) |
| Fire Selection | Semi, Auto | Semi, Auto |
| Ambidextrous safety | Yes | Yes |
| Ambidextrous mag release | Yes | No |
| Mag type | 300 rd. STANAG | 30 rd. STANAG |
| Caliber | 6mm | .300 Blackout |
| Construction | Aluminum receivers | Metal |
| Rails | Full length top rail, modular handguard | Full length top rail, M-LOK Handguard |
While it's not an official replica of the famous Q (formally AAC) personal defense weapon, by and large the G&G PDW15 CQB makes for a pretty good overall airsoft Honey Badger SD.
The G&G PDW15 CQB maintains roughly the same overall dimensions and weight as a Honey Badger SD- a inch or so longer when collapsed and fractionally heavier – and is built similarly as well, being a full metal design.
In addition, the buttons, levers and various aesthetic touches from the Badger are present and accounted for on the G&G, with the PDW15 CQB replicating the Q's ambidextrous controls, PDW stock, skeletonized/mountable handguard, and rather beefy silencer.
That said, while the overall look between the two guns is quite similar, there are some differences between the G&G and a Q Honey Badger SD.
For example, the G&G includes an ambidextrous mag release, uses a standard (rather than straight) trigger, has a slightly different modular handguard and uses a grip with finger grooves rather than a standard pistol grip.
While some of these choices can arguably be considered an improvement for airsoft, it does mean that purists and collectors may need to make some external modifications here and there to really perfect the Honey Badger SD look.
Similarly, as this is not a licensed airsoft replica, it doesn't have any Q trademarks on its frame.
It does, however, have a pretty cool, stylized honey badger printed on the mag well.
How Well Does The G&G Pdw15 CQB Perform As An Airsoft Aeg?
Build-quality and construction
Unlike other airsoft Honey Badger replicas out there, such as the Ares Amoeba AM-014, G&G's PDW15 CQB is a full metal airsoft gun.
The gun's upper receiver, lower receiver and 9" MLOK-style handguard are made of a heavy-duty aluminum alloy that lends the gun a fair amount of durability and solidity, letting it stand up pretty well to the typical knocks, drops and bangs that a spirited airsoft game can put it through without much of a problem.
And we found the build quality to be pretty good as well, with the gun showing no real looseness, rattling or clattering when handled in game.
Similarly, the gun's safety levers are fitted securely into the frame, snapping nicely and audibly into place when thumbed, as are the mag release buttons.
Helpfully, the PDW15 CQB has also been fitted with a functional bolt catch, which holds the gun's mock bolt back nicely and allows the hop up to be adjusted single-handedly, which we always appreciate.
Similar to a real steel Honey Badger, the G&G PDW15 comes with a few different ways to attach tactical accessories.
It comes with a full length metal top rail, which is perfect for quickly attaching and detaching optics and other parts to the gun without worrying about chipping or damaging the gun.
The gun comes with a pair of tower-style iron sights, which are fully adjustable and have nice big knobs, which make them a lot easier to adjust.
And they fold pretty flat, which makes them good backups for CQB games.
The PDW15 also comes with an MLOK-style handguard and a couple rails that allow users to attach pretty much whatever they want all around the sides and bottom of the gun, such as lasers, flashlights, grips, brakes and more.
It is important to note that this is G&G's take on a modular handguard and isn't precisely an MLOK, but it functions more or less the same way using floating rail bits that come with the gun (and that can be purchased online) and are screwed in when needed.
Aside from looking cool, the modular handguard system does offer a few benefits to the PDW15 CQB user aside from improving the accessorizability of the gun.
A skeletonized build, it tends to keep the front of the gun a little lighter when compared to an equivalent quad-rail system, making the gun easier to maneuver around with and swing from target to target.
It also tends to be a lot smoother.
Comfort aside, this means that the PDW15 will be a little less likely to snag on clothing, vests or other gear in close quarters.
Towards the front of the gun, G&G has fitted the PDW15 CQB with a rather chunky, plastic Honey Badger-esque mock suppressor, which is kind of cool to look at (although the tip is painted bright orange if you buy it in the US, due to laws surrounding airsoft products).
Underneath this mock silencer, the gun sports 14mm CCW threading, so it will support the vast majority of suppressors and tracer units on the market.
Unfortunately, the barrel of the gun is rather significantly recessed, like the ARPs or the SMC9, so it can be a bit more tricky to fit some of them. 
Inside, G&G has put some effort into the gun's build, as well.
The PDW15 comes with a reinforced metal V2 gearbox that contains 18:1 metal gears, 8mm ball bearings and a full metal-toothed piston, which is pretty decent on a stock airsoft gun and should help it stand up a little better to typical use and abuse.
The PDW15 also comes with an adjustable, rotary style hop up that can be adjusted with a finger or a pen and is, as with other ARs, easily accessible under the dust cover.
Fitted to the hop up is a 6.03mm stainless steel tightbore barrel, which helps give the gun a bit more of a punch and should stand up to corrosion and debris a bit better than a standard brass or aluminum version.
Interestingly, G&G has also fitted the PDW15's gearbox with a quick change spring system, which makes it easier to change out the gun's spring for a less or more powerful version to adjust the gun's power output.
Users should note that it's not a truly quick quick change system, as it does require them to remove the gearbox to swap out the spring, rather than being able to quickly access it through the buffer tube.
That said, it is a fair bit better than having to disassemble the gearbox in order to swap springs.
Users should also note that the G&G PDW15 CQB doesn't come stock with a mosfet/ETU, which is a bit unusual for a gun of this price.
As a result, there are no programmable or helpful digital functions (like burst mode) available for the gun out of the box.
That said, G&G has made it fairly easy to add a Gate Titan or other third party mosfet/ETU system to the gearbox, which are usually a step up from those included by most manufacturers anyway.
To power all this, G&G has fitted the PDW15 CQB with its Ifrit 25K long-type, high-torque motor, an upgrade from older 17K motors and largely the same as those used on their ARP9 and 556.
Finally, as might be expected, the G&G PDW15 CQB Honey Badger is fitted with a highly compact PDW-style retractable stock.
Riding on two metal rails, the PDW15's stock is pretty smooth and stable when extended.
Unlike quite a few other airsoft PDWs we've seen, we didn't find that it rattled or felt loose when handled, and its buttplate is (to G&G's credit) a lot wider than most PDW stocks out there, which makes it a lot easier to shoulder.
The butt is also slightly curved and rounded, which makes it a little more comfortable to use, as well.
Unfortunately, as with other PDW stocks, there are only two positions – collapsed and extended – which will limit the gun's adjustability and comfort for some users.
Also, as with similarly styled airsoft PDWs such as the Nemesis, the Ronin T6 PDW or the ARP9, the battery compartment on the G&G PDW15 CQB can be a bit small, limiting the size of battery users can comfortably and safely squeeze into the gun (around 99mm in length).
We would recommend, therefore, that those considering buying the PDW15 also purchase a battery extension unit.
Performance and accuracy
Much like its real steel inspiration, the G&G PDW15 CQB is a compact little performer all things considered.
Power-wise, we saw the gun hit around 330 or so FPS using 0.20g BBs out of the box.
Although by no means an airsoft powerhouse, keep in mind that the PDW15 CQB is (as its name implies) a CQB-oriented gun and its power allows it to slide under just about any indoor FPS field limits while still being perfectly usable outdoors.
The PDW15 can also be upgraded to deliver more FPS by changing its spring (from say an m90 to 120).
Although this does require the removal of the gearbox (meaning you probably won't be able to do so in the parking lot of your local field), it does mean that even mod-shy users can largely swap springs themselves as needed without the need of a tech.
On full auto, the gun churns out BBs at a rate of about 19-21 RPS, which is pretty quick.
Although not the fastest airsoft gun we've ever seen, it keeps the PDW15 pretty competitive with other heavy hitters in airsoft CQB, such as the KWA MP9, G&Gs own ARPs, the Krytac P90 or even a Scorpion Evo 3 A1.
With its high quality barrel, more than decent internals and good hop up unit, the PDW15 CQB is also pretty accurate at range.
Although not exactly the most critical thing for a CQB-oriented airsoft gun, the gun will group quite nicely well past 50 feet (15 m) and should hit man-sized targets reliably to about 150 (45 m), especially when fitted with some decent optics.
Without an ETU, of course, there are no handy features such as burst mode, custom RPS or multi-staged trigger settings, which is kind of unfortunate.
However, the G&G's trigger response is surprisingly decent out of the box, being pretty snappy and light compared to many other AEG's we've seen, even without any high quality electronics, which is always a plus.
Handling and feel
Overall, the G&G is a relatively compact and easy to handle airsoft gun.
With the stock retracted it is just about 27 inches (690 mm) long, and fully extended it is about 31 (790 mm), which is smaller and more CQB-friendly than most carbines and rifles.
It's also lightweight. At just over 5.5 lbs, the gun has enough heft to make it feel like a real steel firearm, but is still easy enough to carry for long periods.
Users should note, however that as a PDW AR it is noticeably longer than some of its Machine Pistol/SBR rivals, such as the 20-inch Nemesis and G&G's ARPs, or some SMGs out there.
That said, in the grand scheme of things, the G&G PDW15 CQB is easy to hold and handle.
It is, for example, a very well-balanced gun.
Light in the front and with most of the weight sitting above the user's wrist, the gun is able to be raised and lowered extremely quickly and snap between targets at lightning speed.
It is also quite comfortable to hold.
G&G has fitted the PDW15 CQB's grip with finger-grooves, which can be very comfortable and provide greater control over the gun for most users, i.e. those without very large or very small hands who may find them a bit finicky to hold.
Although the grips have a lot of smooth plastic around the side, they are textured inside the grooves and on their back, which does provide a more slip resistance in wet weather.
In a similar vein, the PDW15 CQB has an enlarged trigger guard, which makes the gun easier to handle and fire when wearing gloves, which is always helpful, especially in cooler weather or with a tactical loadout.
Finally, and to their credit, G&G has made sure that the PDW15 CQB is fully ambidextrous.
The gun comes with dual safety selectors, a rear-drawn AR-standard charging handle, and twin mag releases, so it should be easily handled by both right- and left-handed users.
Maintenance
Maintaining G&G's PDW15 CQB is pretty easy.
The gun breaks down much the same way as any other AR-style airsoft rifle – pop the body pins and the upper and lower receivers come apart, exposing the barrel, trigger and more.
After doing so, users can inspect the gun for damage, clean it and lube as necessary or as prescribed by the manual.
Finally, the PDW15 CQB, while not quite as popular as G&G's ARP9, ARP556 or their Raider series, does have replacement parts available online and does share a good deal of compatibility with the CM16 series, so fixing things in a pinch if they go wrong (or upgrading it for better performance) shouldn't be too hard.
Magazine Type And Capacity
The G&G PDW15 CQB comes with a 300 rd. plastic high cap magazine that is coated in textured rubber that is pretty cool to look at and quite easy to hold when things get slippery, although they can be a bit of a tight fit in a standard vest pouch.
The PDW does have excellent magazine cross compatibility, however, being able to accept pretty much any M4-style STANAG magazine, and so can readily take advantage of the many variations in capacity (and functionality) out there for airsoft M4s.
Price
Note: All prices correct as of writing, all prices in USD.
The G&G PDW15 CQB is not a cheap airsoft gun by any means.
Typically coming in at around $350-400, your wallet will feel the bite of this Honey Badger and it sits in the more premium end of airsoft CQB weapons, in the same general ballpark as the company's rather infamous SSG-1, an ASG Scorpion Evo 3, a Kriss Vector, or a P90, and a little more expensive than a Nemesis or ARP556.
That said, pricey or not, it is arguably one of the best Honey Badger airsoft replicas out there, with a full metal build, good parts compatibility, excellent build quality and reliability, CQB-optimized power, and capable rate of fire.
Or
Or
Advantages Of The G&G Pdw15 CQB
Full metal Honey Badger-style airsoft gun
G&G's PDW15 CQB is a full metal AEG take on the iconic Honey Badger. With its handguard, upper and lower receiver made from a very durable aluminum alloy, it should stand up well to most of the abuse an airsoft game can throw at it.
Compact design
The PDW15 CQB is a compact take on the classic AR design that is easy to maneuver around with and use in close quarters games.
CQB-optimized power
Chronoing at under 350 FPS, the G&G PDW15 CQB doesn't come out of the box as a heavy hitter, but it is ideally suited to CQB and indoor games as it can easily meet pretty much any FPS restrictions a field might have.
Good accuracy
Despite its compact dimensions, the PDW15 CQB doesn't really suffer from any loss in accuracy or range and is more than capable of delivering accurate fire at distances of up to 150 feet or more.
Well-built internals
G&G has put a lot of effort into the PDW15's internals, with a reinforced gearbox, steel gears, 8mm bearings, a full metal piston, rotary hop up, a stainless tightbore barrel and more, it should deliver consistent and reliable performance for some time.
Comfortable PDW stock
While PDW stocks are good for making sure airsoft guns stay compact, they're not usually all that comfortable to hold.
With its wider butt and curved and rounded shape, the PDW15 CQB is a step above, resting far more comfortably in its user's shoulder than most.
Fully ambidextrous
With its dual safeties, dual mag releases and AR-style charging handle, G&G has made sure that both left-handed and right-handed users are able to handle and fire the PDW15 effectively and comfortably.
Pretty fast on full auto
Although perhaps not the fastest airsoft gun we've ever seen, at around 20 or so RPS, the PDW15 CQB can deliver a decent hail of BBs at opponents and manages to rival many of the more popular machine pistols and SMGs out there for speed.
Disadvantages
Pricey
At over $300 to purchase, the G&G PDW15 CQB is certainly not a cheap airsoft option and can deliver a pretty good hit to an airsoft budget.
Small battery space
As with other CQB-optimized airsoft guns out there, such as the ARP, the G&G PDW15 does have a relatively limited battery space and may require a BEU to fit larger batteries.
No ETU out of the box
Sadl, the G&G PDW15 CQB doesn't come with an ETU, meaning that users will have to buy and install their own to get features like burst mode or set a hair trigger.
Bottom Line
The AAC/Q Honey Badger is an iconic modern firearm that has developed something of a cult following over the years.
With its full metal construction, well-built exterior and internals, flexible power, decent ROF and capable range and accuracy, while it's certainly not cheap the G&G PDW15 CQB is one of the better examples of an airsoft Honey Badger out there and can be an asset to any airsoft collection.
Will Martin – Will has been into airsoft and paintball for well over 10 years, and has done it all – from upgrading and fixing gearboxes as a tech to building custom airsoft loadouts for his friends to supporting off those friends as a DM.