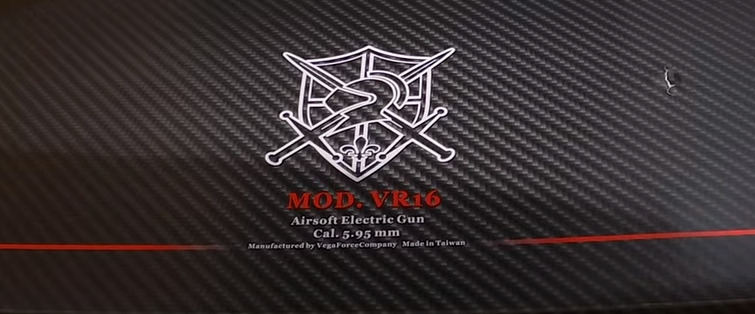 Durability and Build Quality

90%
| | |
| --- | --- |
| Pros | Cons |
| ✅ Lightweight, easy to maneuver with | ❌ A little more on the pricey side |
| ✅ Durable, full metal construction | ❌ No programmable ETU |
| ✅ Excellent trigger response | |
| ✅ High rate of fire | |
| ✅ Extremely accurate | |
| ✅ Cool, ergonomic QRS furniture & mag | |
| ✅ Fully ambidextrous | |
| ✅ Great power | |
When it comes to modern looking AR-style carbines, airsoft players generally have their pick.
The VFC Avalon VR16, like other models in the Avalon lineup, is a very popular carbine AEG option.
Known for its capable out of the box performance and strong internals, since its release it quickly rose to become one of the more sought-after midrange AEGs out there.
Its second generation has made some improvements to the original, including the use of a more reliable and capable ECS gearbox, and promises to live up to the vaunted Avalon VR16 reputation in terms of stock performance.
To find out if this is the case, and to help determine if its worth a spot in your collection, we decided to take a closer look.
A Note About VFC Avalon Saber & Its Variants
As with the previous generation of Avalon, there are quite a few variants of the VFC Avalon gen 2 (also sometimes known as the Elite Force Avalon Gen 2in the US), which makes the series a bit more adaptable to user needs.
For the purposes of this review, we chose to focus on the VR16 Saber Carbine, but users can get the Avalon as a more compact CQB-oriented version (seen in the picture below), the Calibur carbine, a PDW, an MK18, or even as an old school SOPMOD M4.

For the most part the differences between these variants are external, with the guns being largely built out of the same aluminum alloy materials and have the same tightbore barrels, hop ups and MOSFET-integrated ECS Avalon V2 gearboxes.
They do, however, differ in their overall length and weight, which can have an effect on their look and handling characteristics in close quarters, and a few (PDW, MK18 and the SOPMOD) have different handguard options, triggers, stocks and grips.
Some, like the Calibur, may even use a slightly different H&K 416-style lower, rather than a traditional AR, which is again fairly cosmetic.
They do have minor differences in inner barrel length (the PDW having a pretty short 165mm one),however, which can result in minor FPS differences here and there, but overall their individual performances on the field tend to be pretty similar.
As a result, we'd say that when it comes to picking an Avalon variant, it really boils down to personal taste and preference in an airsoft gun.
VR16 Carbine Specifications
| | |
| --- | --- |
| Manufacturer | VFC (Also sold as Elite Force) |
| Power | AEG |
| Action | Semi, auto, burst |
| FPS | ~400 FPS @ 0.20g BBs |
| Hop up | Adjustable |
| Inner Barrel Length | 14.3 inches (363mm) |
| Total Length | 35 in (890 mm) |
| Weight | 5.5 lbs (2.5 kg) |
| Construction | Aluminum alloy |
| Rounds | 120 |
How closely does the VFC Avalon Saber resemble a real steel M4?
Elite Force / VFC Avalon Saber VR16 Carbine
Colt M4A1
Weight
5.5 lbs (2.5 kg)
6.43 lbs (2.92 KG) empty
Barrel Length
14.3 inches (363mm)
14.5 in ( 368mm)
Overall length
31 .5 in (800 mm) collapsed;
35 in (890 mm) extended
29.75 in (756 mm) collapsed;
33 in (838 mm) extended
Action
Auto/Semi/burst
Auto/Semi
Caliber
6mm
5.56x45mm NATO
Capacity
125 mid cap
30 rounds
Construction
Aluminum alloy with some polymer furniture
Steel with polymer furniture
Rail
Top rail, M-LOK
Various options
The VFC Avalon VR16 Saber Carbine is a bit of a modern take on the venerable M4 carbine platform.
It does match a carbine M4 pretty well in terms of overall dimensions, being slightly longer than a classic M4A1 due to its beefier and more modernized QRS stock, and a little bit lighter due to its use of aluminum rather than steel in its construction.
With its M-LOK handguard, heavily stippled grip and skeletonized stock, the VFC Avalon VR16 Gen 2 does seem it came off a modern battlefield or duty roster, looking more like a Daniel Defense or a SIG rather than a classic Colt, but it is immediately recognizable as an AR-based airsoft replica.
It has a modular two-part receiver, a telescoping stock, pistol grip, flat top rail and the fire selector, mag release and bolt catch are all functional and located in the right places.
As the VFC Avalon VR16 isn't an officially licensed replica of any particular real steel M4-style firearm, it doesn't have any licensed trademarks or factory stamps, which might be a bit of a downside for hardcore collectors and milsim enthusiasts.
Instead, the gun comes with a fairly prominent Avalon logo etched onto the side of the lower receiver, as well as various Vega Force Company manufacturing stamps, where real steel company markings would otherwise be.
The company has even included 5.95mm caliber marking, in case you forget you're firing 6mm BBs, which is kind of fun.
How Well Does the VFC Avalon VR16 Saber Carbine AEG Gen 2 Perform as an Airsoft Rifle?
Build-quality and Construction
The VFC Avalon VR16 Saber Carbine is a full metal airsoft rifle.
Its upper and lower receivers are made of a pretty decent quality aluminum alloy, as are the M-LOK handguard and its various controls.
In fact, the only real use of plastic on the VR16 is in its furniture, the QRS branded stock and grip, which are made of a durable nylon-reinforced polymer, as well as the flip up sights and QRS finger rest.
All in all, the VFC VR16's build makes it quite durable and robust and it should stand up nicely to most day to day wear and tear as an airsoft primary, whether games take place indoors or out.
At the same time, the VFC's design keeps it very lightweight and easy to carry and handle, which is always a plus when you're talking about an airsoft carbine.
When we handled the VFC VR16, it seemed pretty decently put together out of the box.
While there was some minor wobble in the stock, by and large it was nothing really serious and everything else seemed pretty well-fitted and solid.
The fire controls on the gun we looked at seemed properly installed and secure and the gun's receivers seemed fitted tightly together, with no rattling or looseness to speak of.
The VR16 comes with a full length picatinny rail system at the top, which makes adding optics, sights and lasers pretty easy to do and gives users ample room to place them to taste and preference.
This model also comes with a long, free floating mil-spec M-LOK style metal handguard, which is a definite step up from the usual plastic airsoft MLOK replicas that are attached to some rivals.

As there are plenty of cut outs in various different positions, the handguard gives users a lot more space and flexibility when it comes to adding brakes, lasers, flashlights, vertical foregrips and such to the gun compared to a traditional quad or lower picatinny rail.
It also serves to keep the gun's weight down and helps keep the front of the gun a bit smoother compared to a traditional rail system, which not only makes the gun more comfortable in hand but also helps prevent it from snagging on gear or clothing in CQB situations, which is helpful.
Furthermore, underneath the flash hider, the VFC VR16 Saber Carbine AEG comes with a 14mm negatively threaded outer barrel, which means that you should have no problem adding the usual assortment of mock suppressors or tracer units to this replica.
While the externals of the VFC Avalon VR16 are impressive and modular enough, it is in the inside where we found that this gun really shines.
The core of VR16 Saber Carbine is its second generation ECS V2 gearbox.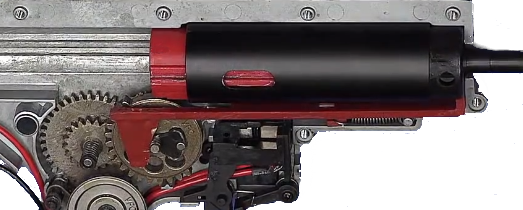 Inside its reinforced plastic frame is a full suite of nicely-shimmed VFC steel gears (with a delay to help prevent misfeeding), low-friction 8mm bearings, a flat blade, lightening-style trigger and a metal, beveled cylinder.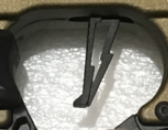 It also has a polycarbonate piston with a half-rack of steel teeth and an aluminum ported head.
The piston's 2nd to last tooth is also shaved down to help improve engagement, which we always appreciate.
The gen 2 ECS gearbox also comes with an inline, integrated mosfet (located near the trigger), a blade fuse, and a second MOSFET located in the buffer tube, all of which add up to stronger protection and usability compared to the previous generation when running 11.1V LiPos.
Interestingly, the VFC Avalon VR16 gearbox comes with a quick change spring system.
Using a hex key, users can pop the spring out from the back of the gearbox without much of an issue.
Sadly, it isn't a really quick quick change spring system, as users can't access it readily through the buffer tube and will have to open the gun and remove the gearbox to make a swap.
As a result, making last minute FPS adjustments can be something of an issue.
The gun feeds out through a rotary hop up unit that provides some pretty excellent spin out of the box, even with heavier weight 0.30 and 0.32 g BBs, and it fires out of a pretty sweet and smoothly-finished 6.03mm brass tightbore barrel.
All of this is powered by a pretty torquey, long type 22 TPA neodymium motor
Finally, towards the back of the gun, the VFC Avalon VR16 Saber Carbine comes with a semi-skeletonized and telescoping QRS-branded stock.
The stock is fully adjustable, supporting 5 positions, which is good news for users with longer or shorter than average arms, and helpfully features both quick detach and flat sling mounts.
It's also operated by a trigger mechanism, rather than the usual squeeze lever, which makes adjusting its length a lot easier and quicker, especially when wearing gloves or when things get a little damp.
As with other AR-style airsoft AEGs, the stock is where users fit the battery.
It has a couple compartments and is wired to small Tamiya.
There is a fair amount of room inside, and the gun will fit most battery types, including nunhuck 11.1V LiPos and 7.4V bricks.
As we mentioned, there may be a little wobble to the stock but this can be quickly and easily remedied with a little electrical tape.
One thing that should be noted is that the QRS stock does come with a small section of rail at the bottom, which means that adding a monopod can be quite easy if you plan on converting the gun into a designated marksman platform.
Performance and Accuracy
Overall, the VFC Avalon VR16 Saber Carbine is a very capable and high performing AEG right out of the box.
With 11.1V LiPos installed and using 0.20g BBs, we saw the gun deliver around 400 FPS with a variance of only a few (~5) FPS once settled in.
This means that the VR16 has more than enough power to keep up in outdoor games and to act as a decent primary.
It can be a bit hot, however, for some CQB and indoor airsoft fields, but its quick change spring system means that swapping down to an M110 or even M100 to accommodate strict FPS limits should be pretty simple.
As we've mentioned, however, changing the spring does require taking the gearbox out first, so you will have to plan ahead a little bit before heading to your next indoor event.
In terms of rate of fire, we saw the VR16 get around 25 FPS on 11.1Vs, which is actually quite quick for a stock airsoft carbines, blowing past competitors such as the KWA Ronin and even the venerable Trident when set to automatic.
Similarly, thanks to its flat trigger and high torque motor, the trigger response on the Saber is quite impressive, with the trigger feeling light and having a very smooth break.
One thing to note is that previous editions of the Avalon were reported to have multifeed and lock-up issues, which (thanks to the improved internals of the gun) thankfully seem to be resolved, at least as far as we could tell when we handled it.
One thing we would have liked to see is a programmable ETU, which you might expect from a gun at this price point, but this seems to be kept for the more upmarket Avalon Samurai Edge.
If you want to add 3 round bursts or have features like low battery warnings, active brake or precocking, this means you will have to buy and fit an upgrade unit.
With all that said, it's really in accuracy and range where the VFC VR16 Saber Carbine stands out.
At distances up to 100 feet (30 m) it is a nail driver, grouping its shots tightly around the target, and continues to hit its mark quite reliably well past 150 feet (45m).
Consequently, we don't feel that it would take too much to turn one of these into a dedicated DM platform.
This accuracy is helped out largely by the guns smooth brass tight bore barrel and its high quality rotary hop up.
The hop up is accessible from under the dust cover and clicks nicely and audibly when turned, which makes adjusting a BB's trajectory quite easy.
This is especially true as the bolt catch on this replica is functional and holds the bolt back for you while you make adjustments to the hop up located to its front, something that you would think would be more ubiquitous in the industry but somehow isn't.
Handling and Feel
At around 5.5 lbs (2.5 kg) and made mostly out of metal, the Avalon VR16 Saber Carbine feels very much like a real steel firearm, yet is a little lighter and easier to carry than some of more immediate competitors, such as a Trident MK2 or a KWA Ronin.
Its lightweight M-LOK handguard, combined with its rear wiring, makes it a little more weighted towards the rear in our opinion, making the gun very easy to raise and quickly shift between targets.
Combined with its snappy trigger and rapid fire, this can make it particularly effective in higher-speed games and skirmishes.
The Avalon VR16 Saber Carbine is fitted with a few components from VFC's Quick Response System, whose lettering is stamped quite prominently upon them.
The QRS system is designed to improve the ergonomics and handling characteristics of certain critical airsoft parts and furniture.
The QRS grip on the VR16, for example, is heavily stippled, far more so than a typical M4 grip or even most customs, so it is very grippy and ideal for use with gloves, outdoors and/or when wet.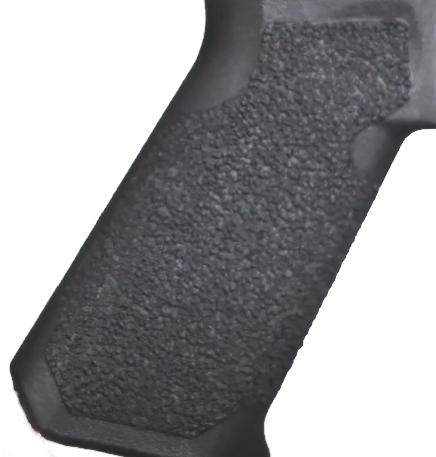 The semi-skeletonized QRS stock, as we've mentioned, is far faster and easier to adjust due to its trigger-like mechanism.
It is made out of fairly durable reinforced polymer material and doesn't have a rubber butt plate, however, but despite this it is actually fairly comfortable to shoulder and rest your cheek against.
The VFC Avalon VR16 also includes some other, more subtle, ergonomic features.
The mag release, for example, is significantly enlarged on the right side of the gun, which makes it easier to use on that side.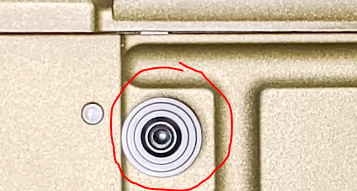 Interestingly, the gun also features a couple small plastic finger rests just outside its trigger guards, which makes practicing proper trigger discipline just a little more comfortable.
Finally, the VFC Avalon VR16 Saber Carbine AEG is pretty much fully ambidextrous.
It sports dual sided fire selector controls, dual mag releases, ambidextrous sling attachment points and much more.
As a result, the gun is a lot easier to use for left handed airsofters, and it can be a lot easier to use if you need to do some off-handed shooting or need to switch shoulders during a CQB game.
Maintenance
Based on an AR platform, takedown and maintenance of the VFC Avalon VR16 AEG is actually pretty simple.
Users simply need to pop the captive body pins on the lower receiver and it should come apart from the upper nicely, which gives users access to the gearbox, hop up and other internals for clearing and maintenance.
Although it includes a few upgrade parts, the Avalon ECS gearbox is V2 compatible and should be relatively familiar to more experienced airsofters and modders and, on the whole, is pretty upgradable and repairable.
It's important to note that the gun itself delivers a considerable amount of performance out of the box, with a torquey engine, decently shimmed gears, a tightbore barrel, a tightly sealed air nozzle and cylinder and a strong hop up unit, and so we feel that most airsoft users won't really need to do much when it comes to upgrading or modifying the gun to get the performance they desire.
That said, replacement QRS parts, gearboxes, rebuild kits, barrels, MOSFETs, triggers and more are available for the Avalon series, and it is compatible with a wide variety of upgrade parts, such as upgraded MOSFETs, ETUs, hop ups, improved barrels and more.
Although not exactly a TM, it is a step up in terms of modifiability from its closest rivals(such as the Trident or the Ronin series), which tend to use more proprietary parts on the whole.
Magazine type and capacity
The VFC Avalon VR16 Saber Carbine AEG comes with a QRS mid=cap magazine that holds about 120 rounds.
The magazine is plastic, has an aggressively hexagonal pattern and is very heavily stippled, which is nice as it allows users to get a firm grip on it when drawing it from a pouch or out of the gun regardless of whether they are using gloves or if the weather is a little wet.
By and large, we found that the magazine slid into the gun pretty easily and fed reliably and consistently, even on automatic where we might have expected some issues given the higher RPS of the build.
In addition to the mid cap, VFC also produces QRS 300-round hi-caps, and the gun is broadly compatible with other AEG STANAG magazines, such as those made by Tokyo Marui, Elite Force, G&P, PTS and more.
One thing to note, although we didn't have much of an issue when we looked at the gun, is that some users do report the Avalon VR16 to be a little fussy when taking 3rd party magazines and that they may require a bit of a jiggle to get them to fit right, although they do seem to end up feeding properly regardless of any extant wobbling.
Price
Note: All prices correct as of writing, all prices in USD.
The VFC Avalon VR16 Saber Carbine AEG (Gen 2) is on the more premium end of mid-market AEGs, typically coming in at a little over $450, depending on retailers. 
This price point puts the gun squarely on the level of its sibling the VFC BCM, Krytac Trident MK2s, higher spec KWA Ronins, the ICS Mars series and some others.
It is, however, considerably less expensive than many high end, performance AEGs such as the Tokyo Marui MK18 NGRS, the Avalon Samurai Edge series, some Archwicks and so on.
Even at this price point, however, the VFC VR16 delivers a decent amount of value for money, with cool modern looks, good build quality, excellent and reliable out of the box performance, upgradable and customizable internals, and a good amount of accessorizability.
Or
Or
Advantages of the VFC Avalon VR16 Saber AEG
Durable, full metal build
The VFC Avalon VR16 is mostly made of high quality aluminum alloy components, which give it a good deal of rigidity, durability and stability that can help it stand up to the day to day knocks that a typical airsofter can throw at it.
Moreover, this metal build helps the Avalon VR16 feel like a real steel firearm, which is always a plus in airsoft.
Lightweight and easy to maneuver around with
While it is a full metal airsoft AR build, the VR16 Gen 2 AEG is also quite lightweight, even when compared to its closest competitors, which makes it easy to carry and use, as well as shift from target to target when running and gunning.
High quality internals
VFC has put a good amount of effort into the internals of the VR16, with well-shimmed steel gears, dual MOSFETs, a blade fuse, a strong half-metal toothed piston, a very capable hop up unit (Maple Leaf in some areas) and a smooth, tightbore brass barrel.
As a result, there isn't a whole lot that a casual airsoft player will have to do with this gun aside from basic maintenance.
Excellent out of the box performance
The Avalon VR16 Saber Carbine is a very capable performer even when stock.
Out of the box, it can consistently deliver around 400 FPS and, with the right batteries, can hit around 25 RPS on auto, making it one of the faster stock airsoft carbines we've seen.
Extremely accurate
One thing that was quite notable with the VR16 AEG is how accurate it is.
After adjusting its rotary hop up, we saw it get tight groupings well past 100 feet (30m) and were capable of hitting targets well past 150 feet (45m) without much effort.
Ergonomic QRS furniture
The VR16, like many other Avalons in the range, comes with highly stippled and ergonomic QRS stocks, grips and mags, that are comfortable, very user friendly and highly usable in all weather conditions.
Lots of room for accessories
With a truly mil-spec metal M-LOK, a 14mm CCW threaded barrel, a full top rail and a small rail on stock, the VR16 is an airsoft carbine that lends itself very easily to adding a wide assortment of tactical accessories, from lasers and flashlights to optics and DMR-style monopods.
Upgradable
Unlike many of its competitors there aren't too many proprietary internals in the Avalon, which means it can also be upgraded or repaired a lot more easily.
Fully ambidextrous
The VFC Avalon VR16 Carbine AEG is fully ambidextrous, with dual fire selectors, mag releases, ambi sling points and more.
This means the gun is both left-hand friendly and good for off-hand shooting in CQB games.
Disadvantages
A little pricey
Typically coming at over $450, the VR16 is not a cheap AEG and can be slightly more expensive than some of its rivals.
No ETU
Although its internals are high quality and it does come with dual MOSFETs, the VR16 Gen 2 does not come stock with a programmable ETU, which we might have expected from an AEG of this caliber and price.
Bottom Line
The second generation of the venerable VFC Avalon VR16 carbine is a worthy successor to the name.
Running stock, the gun offers highly capable performance for its midrange price, offering a combination of excellent V2-compatible internals, extreme accuracy, good power, light and easy handling, a full metal build and comfortable ergonomic furniture, as well as important improvements to its overall reliability.
If you are looking for a capable primary in the $300+ range, the VR16 Gen 2 is definitely worth a spot at the top of your list.
Will Martin – Will has been into airsoft and paintball for well over 10 years, and has done it all – from upgrading and fixing gearboxes as a tech to building custom airsoft loadouts for his friends to supporting off those friends as a DM.