Durability and Build Quality

92%
| | |
| --- | --- |
| ✅ Very impressive ROF | ❌ Full auto only |
| ✅ Solid, reliable and well-made | ❌ Not all that accurate at range |
| ✅ Easy to hold, easy to carry | |
| ✅ Tons of customization and upgrade options | |
| ✅ Very smooth and crisp blowback | |
| ✅ Excellent magazine compatibility | |
| ✅ Readily compatible with other TM Hi Capas | |
| ✅ Good value for money | |
In airsoft, there are situations that call for power and situations that call for precise shots….
And then there are those situations that can really only be resolved by a hailstorm of BBs.
Since its introduction, the Tokyo Marui Xtreme 45 has generated a lot of interest among airsoft players for its sleek design and blazing rate of fire.
To find out if it's worth your time and money, we decided to take a closer look at this rather unique addition to the Tokyo Marui pistol line.
Specifications
| | |
| --- | --- |
| Airsoft type | Gas Blowback Pistol |
| FPS | ~270 @ 0.20g |
| Recommended Gas | 134a, green gas |
| Action | Automatic |
| Outer barrel | Non-threaded |
| Hop up | Adjustable |
| Construction | Polymer |
How closely does the Tokyo Marui Xtreme 45 resemble a real steel pistol? 
| | | |
| --- | --- | --- |
| | Tokyo Marui Xtreme 45 | Para-Ordnance Hi-Cap P12-45 |
| Weight (empty) | 1.8 lbs (817 g) | 2.13 lbs (963 g) |
| Length | 7.8 in (199 mm) | 8 in. (202 mm) |
| Action | Full Auto | Semi-Auto |
| Capacity | 30 rounds | 12 rounds |
| Construction | ABS | Steel (some are made of aluminum) |
| Sights | Rear adjustable | Rear adjustable |
| Picatinny rail positions | Optional 6 o'clock | Optional 6 o'clock |
Based on the Tokyo Marui 4.3 Hi Capa, the Tokyo Marui Xtreme 45 is based largely around a Para-Ordnance Hi Cap, a double-stack variant of the famed 1911.
Due to its greater use of plastic in its construction, the Xtreme 45 is a bit lighter than its real steel inspiration, but otherwise is a pretty accurate replica.
The gun sports a realistic size and keeps many of the modern features that characterize a 2011, such as its skeletonized trigger and hammer, expansive and squarish trigger guard, low rise sights, heavily stippled grips, undermount rail and so on.
Although based on the 4.3, the gun does differ a bit from its Hi Capa counterpart in a couple ways, notably lacking front serrations along the slide and eschewing traditional straight rear cuts for a kind of swooping winged pattern that, while cool, is a bit unconventional.
It is important to note that the gun is not an officially licensed replica of any particular gun and doesn't really sport any official trademarks or markings, something that collectors and enthusiasts will probably be a little disappointed about.
Instead, the gun has a pretty large and distinct "Xtreme 45" etched onto the left hand side of the slide.
There is also an "Xtreme" etched in a nice cursive on the right hand side.

Both of these give the gun a pretty unique style and should let your opponents know precisely what it is that's shooting them and just how extreme it is.
How Well Does the Tokyo Marui Xtreme 45 Perform As An Airsoft Pistol?
Build-quality and construction
In terms of its build, the Tokyo Marui Xtreme 45 is essentially very similar to the company's Hi Capas, in particular the 4.3.
While the gun's frame and internals are made of alloy metal, much of its externals, such as grips, outer barrel and slide, are made of ABS plastic (albeit one with a nice, shiny metallic finish).
This particular construction, in addition to helping the gun stay compliant with Japanese airsoft regulations, does make it a fair bit less durable than one with heavier use of metal or aluminum, which in turn can limit the kinds of gasses one can reasonably use (such as CO2 or higher pressure greens) without causing wear and damage over time.
That said, the gun still feels reasonably strong in hand, with very little in the way of flexing or bending when we handled it, and the gun generally gives off the usual sense of high quality that Tokyo Marui is known for – all its controls were fitted properly, the slide draw was buttery smooth and the safety and mag release were all nice and firm.
More than that, the heavier use of plastic in the Xtreme 45 keeps the gun extremely light, particularly when it comes to the slide, which helps give the gun an extremely impressive cycle rate.
The Xtreme 45 comes with nice mid-profile sights, which we like as they tend not to snag on clothing or gear quite as much as traditional airsoft 1911 sights do in close quarters but are also a little easier to see than true low-profiles in poor light conditions. 
Unfortunately, they don't really come with any white dot markings, so can be a bit harder to see on low-contrast targets.
Like its siblings, the Tokyo Marui Xtreme 45 doesn't come with a threaded outer barrel, so adding a suppressor or tracer unit to it does require you to pick up either an adaptor or a replacement barrel.
There is, however, a 20mm rail at the 6 o' clock, which allows you to easily add your own flashlights, lasers and other accessories pretty quickly and, unlike the 5.1, it does come pre-installed, which we appreciate.
On the inside, the Tokyo Marui Xtreme 45 is pretty interesting. 
The gun comes with a 95mm brass barrel (6.08mm diameter), which is swappable with its Hi Capa siblings, metal rails and an adjustable dial hop up that's both very effective and easy to set (although it can only be accessed when the gun is stripped, like most other 1911-based airsoft pistols).
Where the gun really sets itself apart from other airsoft pistols of this type is in its blowback mechanism, especially around the (dual) recoil spring. 

The gun comes short stroked from the factory – it features a rubber buffer (sort of like a piece of rubber squeezed between two metal washers) attached pretty far forward on the spring, reducing the amount of distance its slide moves back and increasing its rate of fire dramatically (and disabling its slide lock, FYI).
Combined with its light plastic slide, this rather unique build gives the gun one of the shortest out of the box cyclic rates/ROF for a gas pistol out there.
Performance and Accuracy
The Tokyo Marui Xtreme 45 is known for one thing – speed- and from our experience that reputation certainly seems justified.
As with other gas pistols from Tokyo Marui, the gun is a bit on the light side when it comes to FPS.
Using 0.20g BBs and with green gas, we chrono'd the gun at around 270 or so FPS, meaning it's not really too different powerwise from its sibling Hi Capas.
The gun isn't hugely powerful, but certainly does the trick when it comes to outdoor airsoft games.
Further, thanks to its lightweight slide and short stroking, the gun does have an incredible rate of fire.
Straight out of the box we saw the gun fire off an impressive 25-26 RPS, putting it in the same ballpark (although often quicker) as the Galaxy G and even the Umarex G18C.
Unlike those models, however, this gun is automatic only.
Now while that may not seem like much of an issue for some, it does mean that the gun can be a little limited in terms of where you can take it.
Not all fields, especially CQB or indoor ones, allow automatic fire for safety reasons, and some of the ones that do can slap some lengthy minimum engagement distances on full-auto guns.
That said, the gun is a blast to use and, when it gets going, it definitely brings a smile to our faces.
The gun's action is smooth and, although it is blasting away, its kick isn't too bad at all, thanks once again to its light slide, light frame and short cycle.
In terms of accuracy at range, well, this is an obligate-automatic pistol we're talking about and accuracy really isn't what it's all about.
While the Xtreme 45 will reach targets past 100 feet or so (30 m), the sheer amount of BBs sent downrange with each trigger squeeze (and the blowback action that entails) doesn't really lend itself to pinpoint accuracy – this gun is about sudden, pray and spray suppressive fire.
Handling and feel
The Tokyo Marui Xtreme 45 is a pretty easy airsoft pistol to hold and use.
At around 7.8 inches long, the gun sits somewhere in between a compact and a full-sized pistol, being smaller than the TM Hi Capa 5.1 and Glock 17 and a little longer than a 19x. 
Further, the heavy use of plastic in the gun's design makes it quite lightweight.
Although this does make the gun feel a little less substantial and realistic than a full metal option, it does help make the gun very easy to hold and fire single handed on full auto, which is really the point at the end of the day.
While its automatic fire may not make it suitable for some airsoft games, its compact size and lightweight does make it easy to store in a loadout, which can make it an interesting surprise to suddenly draw on opponents or as a last-ditch suppressive fire escape option for snipers.
When it comes to its handling, the Tokyo Marui Xtreme 45 comes with a heavily stippled plastic grip with fairly typical front and back diamond texturing on it (as well as some on the trigger guard), which makes the gun quite easy to get a firm hold on when wet or dry.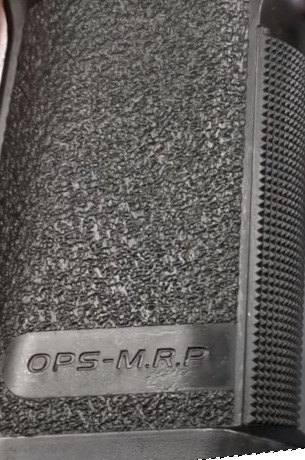 The decorative rear serrations on the gun, as we've mentioned, are a bit of a departure from a typical 1911-style airsoft pistol.
While not the deepest cut we've ever seen on a pistol, and while we would prefer the gun came with additional front serrations, their overlapping wing-style does allow users to get a decent enough hold on the slide when racking.
In terms of control, the gun is essentially configured for right hand use, with its mag release and safety being located on the left hand side of the gun.
Maintenance and upgradability
Disassembly of the Tokyo Marui Xtreme 45 is pretty much like any other 1911-style airsoft pistol.
Users simply draw the slide back until its center aligns with the slide stop, pop the body pin and slide it forward again to detach it from the frame.
Doing so allows users access to the recoil spring, valve, hop up and other internals that they can then inspect, clean and lube at their leisure.
In terms of replacements and upgrades, functional differences aside the gun is still a Tokyo Marui Hi Capa and therefore parts are readily available online and there are any number of 3rd party upgrades designed for its siblings that can be fitted to it, including performance polymer slides, improved hop ups and buckings, nice grips, upgraded valves, springs and so on.
Essentially, there is not much you can't do with this gun – it really boils down to should, rather than can.
For example, trying to improve accuracy through a longer or better quality barrel may not be the best idea as the automatic nature of the gun will offset any potential gain.
We would also caution that, although it is technically possible to fit an aluminum or metal slide to this gun, doing so will slow down the gun's cycle and rate of fire, which sort of defeats its purpose.
Magazine type and capacity
The Tokyo Marui Xtreme 45 comes with a 30 round metal gas magazine that's pretty solid, feeds well, slides in and out nicely and holds a bit more ammo than a typical 1911 airsoft pistol might offer.
The gun is compatible with TM Hi Capa mags and has excellent compatibility with Hi Capa offerings from other airsoft brands, such as WE, KJW, AW and so on.
This means that the Xtreme 45 can take advantage of the myriad of gas magazines out there for these types of pistols, including extended 50 round mags and drums, which are really worth taking a look at given the gun's impressive rate of fire.
Price
Note: All prices correct as of writing, all prices in USD.
Coming in at around $165 or so, the Tokyo Marui Xtreme 45 is more on the premium side of things when it comes to airsoft guns.
It is about on par pricewise with other members of the TM Hi Capa family, with the Sig ProForce P320, and is around the same price as some of the company's other notable pistol offerings, such as the VP9 or the FN-57.
It is, however, a bit cheaper than the automatic Umarex Glock 18C.
That said, you do get a lot of value for money with the Xtreme 45.
It is extremely well-made, reliable, highly upgradable and offers an unbeatable fully automatic blowback experience that will put a smile on the face of just about any airsoft player…unless it's pointed in their direction, that is. 
Or
Or
Advantages of the Tokyo Marui Xtreme 45
Easy to carry
The Tokyo Marui Xtreme 45's compact size and lightweight construction ensures that the gun is very easy to carry, easy to fire and a snap to add to just about any loadout.
Devastating ROF
Thanks largely to its short stroking and light slide, the Tokyo Marui Xtreme 45 cycles extremely quickly and can offer a very impressive 25-26 RPS when fired, which should help keep your enemy's heads down.
Well-built
In addition to be very quick, the Xtreme 45 also benefits from Tokyo Marui's usual eye for quality control and attention to detail, being solidly put together and suffering from little to no wobble, looseness or squeaking.
Tons of customization options
Being based on the company's Hi Capa line, the Xtreme 45 is compatible with a ton of upgrade parts and accessories, making it an ideal choice for those who like to tune or personalize their airsoft guns.
Very smooth action
The Xtreme 45s blowback action is not just fast, its also buttery smooth and reliable at speed, which in turn makes the gun a joy to fire.
Excellent mag compatibility
Like its siblings, the Tokyo Marui Xtreme 45 is compatible with a wide array of 3rd party magazines, which can lower running costs and gives its owners access to tons of cool mag options, such as drums.
Disadvantages
Full auto only
The Xtreme 45 is automatic only, which can limit its practical use on certain fields and in certain games.
Not very accurate at range
Due to being a full auto gun, and one with an impressive ROF at that, getting groupings at any range with this gun can be quite hard, making it a fun but not all that precise option to take to the field.
Bottom Line
Reliable, well-built, extremely upgradable, easy to carry and offering a devastating ROF, although perhaps not the most flexible airsoft pistol out there, the Tokyo Marui Xtreme 45 has a lot going for it other than its good looks.
If you're looking for an airsoft pistol that offers a hilariously good time when firing it while also sending your opponents scurrying, then the Tokyo Marui Xtreme 45 is probably for an ideal choice. 
Will Martin – Will has been into airsoft and paintball for well over 10 years, and has done it all – from upgrading and fixing gearboxes as a tech to building custom airsoft loadouts for his friends to supporting off those friends as a DM.