Durability and Build Quality

90%
| | |
| --- | --- |
| ✅ Affordable | ❌ Some proprietary internals |
| ✅ Very compact | ❌ Not necessarily the most practical backup |
| ✅ Very lightweight | |
| ✅ Full blowback action | |
| ✅ Decent range and accuracy for size | |
| ✅ Extremely gas efficient | |
| ✅ Full metal build | |
The Colt Junior was a .25 caliber vest-pocket pistol from the 1960s whose tiny dimensions gave users a highly concealable firearm with enough power to be at least somewhat useful for self-defense…something rather unique in an age before polymer subcompacts were a thing.
The WE CT25 is a green gas replica of this tiny groundbreaker and has become popular with those looking for an extremely concealable, semi-auto airsoft pistol.
To find out if the gun lives up to its expectations, and to determine whether it's worth a spot in your collection, we decided to take a closer look for ourselves.
Specifications
| | |
| --- | --- |
| Manufacturer | WE Tech |
| Power | Green Gas |
| Action | Gas Blowback |
| FPS | ~215-220 FPS |
| Hop Up | Adjustable |
| Barrel Length | 2 in (51 mm) |
| Outer Barrel | 11mm CW threaded |
| Total Length | 4.5 in (115 mm) |
| Weight | 0.77 lb (350 g) |
| Construction | Metal |
| Rounds | 7 |
How Closely Does The WE CT25 Resemble Its Real Steel Inspiration?
| | | |
| --- | --- | --- |
| | WE CT25 | Colt Junior 25 |
| Weight | 0.77 (350 g) empty | 0.81 lbs (368.5 g) |
| Barrel Length | 2 inch (51 mm) | 2 inch (51 mm) |
| Overall length | 4.5 in (115 mm) | 4.5 in (115 mm) |
| Action | Semi | Semi |
| Caliber | 6mm | .25 ACT |
| Capacity | 7 rounds | 6 rounds |
| Construction | Aluminum alloy | Steel |
| Sights | Fixed front, adjustable rear | Fixed front, adjustable rear |
| Rail | Yes | No |
Although it isn't officially licensed, as can be seen the WE CT25 is a very accurate airsoft reproduction of the well-known real steel Colt Junior.
Externally, WE matches its pocket-sized counterpart nearly exactly, having the same overall dimensions and even weight, which is impressive given the significant differences usually found in alloy airsoft pistols and their counterparts, which are typically made from steel.
WE has also replicated many of the notable features of the Colt, including its skeletonized exposed hammer, slide serrations, tiny iron sights, grip-mounted mag release and even its combo slidelock/safety.
The only real notable difference in the gun's build is its grip, which is made of brown checkered plastic (except for the pink version, which matches its frame) instead of actual wood.
One thing to note is that, not being officially licensed, the standard WE CT25 airsoft pistol doesn't feature any Colt markings or traders along its slide and lacks the metal button-style colt trademark that real steel Junior's sport on their grip (instead having a similar one with WE written on it).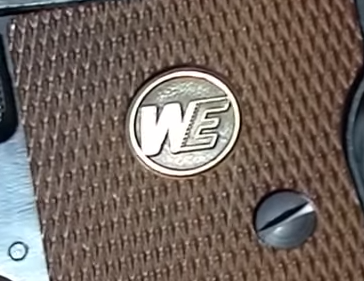 There is, however, a Cybergun licensed version of the CT25, which contains these markings and trademarks.
While we didn't test that particular model ourselves, it might be of interest to collectors and enthusiasts, particularly as it only costs around $10 more than the base model.
How Does The WE CT25 Perform As An Airsoft Pistol?
Build-quality and Construction
Although fairly small, the WE CT25 is actually well built.
The subcompact is, surprisingly, a full metal airsoft pistol and its frame, trigger and slide are made of a fairly sturdy aluminum alloy, with only its grips being made of plastic.
It's also fairly well put together – when we handled it the slide lock/safety rotated solidly around its axis and locked into place firmly and without any looseness, there was no sign of any trigger wobble and the slide racked smoothly back when drawn.
While we certainly wouldn't use this gun for harcore running and gunning, by and large we feel it should stand up to regular use, packing and green gas without much of an issue.
In terms of accessories, well…your options are a bit more limited with the WE CT25.
There are no rails on the gun's frame, meaning that you won't be able to attach optics, lasers or flashlights to it, although given the fact that the whole gun can fit in your palm there really isn't much room for those things anyway.
Basic ramp and notch iron sights are present on the gun, although they are quite small and really are more cosmetic than anything else – after all, this isn't really a gun for long range plinking or target practice.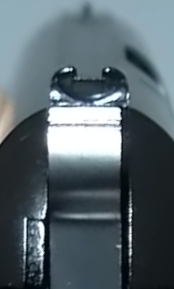 Oddly enough, the gun does come with a threaded outer barrel, meaning you can attach a suppressor or tracer unit to the CT25 if you really must and/or feel the need to look ridiculous.
The threading is, however, 11mm positive, so you will need to pick up an adaptor to fit most standard options out there.
Inside, the gun is pretty sturdy and is built like most of WE's other GBB pistols just…smaller.
The gun's outer barrel is a bit unusual in that it, like the real steel version, twists free of the gun and, surprisingly, sports an integrated hop up unit, which is adjustable via small a grub screw. 
While we question how much value this adjustable hop up unit truly has on a gun of this size, with its relatively low power and highly compact inner barrel, it is a nice feature and does extend the range of this subcompact a fair bit, which we will go into more below.
One thing to note with this gun's internals is that, due to its compact dimensions, some of its parts are proprietary, notably its unique outer barrel and its smaller hop up bucking (a standard sized bucking simply wouldn't fit).
Performance and Accuracy
Like its real steel inspiration, the WE CT25 isn't really about on field performance so much as it's about acting as a very concealable surprise for your opponents.
Using green gas at room temperature, we chrono'd the gun at around 215-220 FPS.
While certainly not a heavy hitter, it does mean that the gun can be easily taken to just about any field out there, outdoor and CQB alike, without falling afoul of any FPS limits that might be in place.
Interestingly, the gun is a gas blowback model and its slide fires backwards pretty snappily with each shot.
There isn't a huge amount of noise or action with this gun, but the action is there, is fun to see and it does make the gun actually pretty stealthy.
In terms of range, the gun actually shot a lot further than we expected once its hop up was dialed in.
The gun grouped decently tightly – getting about 4 inch groups at around 35 feet (~10m) – and was capable of hitting targets pretty reliably to about 70 feet (~21m), which we think is honestly pretty impressive for a 4.5 inch airsoft gun with a 2 inch barrel.
While we wouldn't take this pistol as our secondary, it does make for a fun novelty airsoft gun, backyard plinker and, well, backup to your backup in case of a real emergency.
One place in which the CT25 truly excels, interestingly enough, is in its gas efficiency.
Although the gun only holds 7 BBs, we found that one fill of green gas was good for about 35 rounds or 5 mags, which is pretty impressive.
Handling and Feel
The first thing you might notice when picking up the WE CT25 is its size – this subcompact is tiny.
At just 4.5 inches long and around 3.5 inches high, its whole frame can pretty much fit in the palm of an average sized hand and makes it far smaller than other ultra compact airsoft pistols we've looked at, such as the Elite Force / Umarex Glock 42.
Further, at under a pound, the gun is extremely lightweight, which makes it very easy to carry and conceal in your loadout.
The WE CT25 also has many features that might be found on a traditional semi auto pistol, such as deepcut serrations on the rear of its slide, which make it a lot easier to rack given its compact dimensions, and a decently sized beavertail, which can help prevent slide bite. 
Based on the Colt Junior, the gun does have a few quirks that users should be aware of.
For one, it sports a short, square cut grip.
While this grip is checkered, letting users get a decent hold on the gun in all weather conditions or when wearing gloves, it is fairly short and may not be the most comfortable for those with larger hands, particularly when it comes to extended firing.
The gun also comes with an unusual rotating slide stop, which also acts as a safety of sorts. 
Turn the slide stop to 90 degrees and it will both lock the slide, depress the hammer and prevent the gun from firing until disengaged.
While not a problem, by any means, it is an action that some users will need to get used to.
The gun also sports a big, chunky mag release, which is always nice.
Due to the mechanics and size of the gun, however, this is located on the bottom of the grip, rather than near the trigger as it might be on an airsoft 1911, Glock or 92F. 
Again, this is nothing that should be seen as a negative, simply something that users will have to be aware of and get used to.
Finally, it is important to note that the WE CT25, like the Colt Junior it is based on, isn't the most ambidextrous.
Its slide lock/safety and mag release are all located on the left hand side of the gun, making it ideal for right handed users but a gun that left handed shooters will have to work around.
Maintenance and Upgrades
Takedown of the WE CT25 is a bit different than most semi-auto pistols out there and can take users a bit of time in order to develop a practiced hand with it.
In order to take it down, users have to draw the slide back completely and lock it.
They then need to turn the barrel assembly about 90 degrees counterclockwise, which will then unlock it and allow it to be drawn out, giving users access to the inner barrel and hop up unit, which are built into it.
From there, users can unlock the slide and remove it, being careful to hold on to it to prevent the whole slide assembly from being launched outwards as they do so.
Once this is done, users will have access to the slide, recoil spring and other internals of the gun, which they can then clean, lube and inspect for damage.
In terms of repairs and upgrades, the WE CT25 GBB pistol is a bit of a niche item and does, as we've mentioned, has a couple proprietary internal components, notably its barrel and bucking.
As a result, while replacement parts are available for the gun, they aren't quite as readily available or plentiful as, say, a Tokyo Marui Hi Capa and users may need to do a bit of searching around online to find replacement parts.
There are a few upgrade parts for this gun, oddly enough, including steel slides and barrels, which can help it accommodate higher PSI gasses like CO2.
Magazine type and Capacity
The WE CT25 comes with a metal 7 round magazine.
While not exactly very high capacity, we found the magazine to slide and sit nicely within the gun and fed pretty reliably during our tests.
The mag is pretty small, which makes sense as it needs to fit into a 3.5 inch grip, but holds the gas it does contain very well and, as we've mentioned, can fire off a surprising number of rounds before needing to refill.
It is a proprietary design, however, and there aren't any larger capacity alternatives out there, which really serves to reinforce this gun's purpose as a casual plinker and/or an emergency backup airsoft pistol, in our opinion.
Price
Note: All prices correct as of writing, all prices in USD.
Usually sold for around $100 or so, the WE CT25 is a pretty affordable airsoft gas blowback pistol, even if it is something of a niche item.
At this price, it is less expensive than some other subcompacts out there (which usually cost in the $130-200 range) and around the same price as many no-name CO2 pistols or even novelty airsoft guns, such as the equally tiny Maxtact airsoft derringer.
That said, for the money, the WE CT25 is a fairly reliable, properly built and highly compact semi-auto green gas airsoft pistol that can be a lot of fun to fire and can act as a nasty surprise for unwary opponents on the field. 
Or
Advantages of the WE CT25
Affordable
At around $100, the WE CT25 is a fully functional and reliable green gas subcompact GBB airsoft pistol that won't break the bank.
Highly compact and concealable
At just 4.5 inches long and 3.5 inches high, the WE CT25 is highly compact and easy to conceal in a loadout, making it ideal as an emergency backup to your backup.
Very lightweight
The WE CT25 is also extremely lightweight and easy to carry, despite being full metal, tipping the sales at far less than a pound unloaded.
Decent range and accuracy for its size
Although it will never be a long range target gun, the tiny WE CT25 is, thanks to its adjustable hop up and decent design (and despite its tiny inner barrel), capable of hitting targets to around 70 feet pretty reliably and actually offers decent grouping to around 30 feet or so.
Blowback action
The WE CT25 is actually a gas blowback airsoft pistol, and while it doesn't have the loudest or most impressive action, it is very fun to use.
Highly gas efficient
Capable of getting around 35 rounds, or 5 mags per fill, the WE CT25 is highly gas efficient and shouldn't cost a lot of money to run in the long term.
Disadvantages
Some proprietary parts and magazine
Due to its compact dimensions and unique design, the WE CT25 does contain some proprietary internal parts and a proprietary magazine, which can make it a bit tougher to repair and upgrade.
Not exactly the most practical airsoft pistol
Although it offers surprisingly decent performance, with its limited range, power and capacity, the WE CT25 will likely never be anyone's idea of a regular secondary and is likely best kept as a plinker, novelty or emergency use airsoft gun.
Bottom Line
While tiny, with its surprising range, reliability and accuracy, the WE CT25 can offer its users an outsized amount of fun and can be a good choice for those looking for some easy to carry, just-in-case firepower. 
Will Martin – Will has been into airsoft and paintball for well over 10 years, and has done it all – from upgrading and fixing gearboxes as a tech to building custom airsoft loadouts for his friends to supporting off those friends as a DM.