Durability and Build Quality

96%
| | |
| --- | --- |
| Pros | Cons |
| ✅ Very well-built | ❌ Some proprietary parts |
| ✅ Compact, CQB-oriented design | ❌ Stock can get a little cramped |
| ✅ Adjustable FPS system | ❌ Compact, but a little longer than some other CQB options |
| ✅ Realistic feel and handling | |
| ✅ Excellent trigger response | |
| ✅ Very easy to add accessories | |
| ✅ Lots of upgrades possible | |
If you're looking for a compact, accurate and cool looking airsoft gun to take to your next CQB game, and the usual selection of SMGs and carbines just aren't doing it for you, a PDW (Personal Defense Weapon) might be just what you're looking for.
The KWA Ronin T6 PDW has become fairly popular since its debut, due to its aggressively-styled, tactical looks and its serious performance on the field.
If you think you might be interested in the Ronin T6, or if a well-built PDW sounds like it might just suit your style of airsofting, then read on as we dive a little deeper into this gun.
Specifications
Airsoft type
AEG
FPS
Adjustable: ~300-320, 350-370 @ .20g BBs
Rounds Per Second
18-19 RPS
Outer barrel
14mm CCW threaded
Inner Barrel
6.05mm
Hop up
Adjustable
Motor
Long Type
Gearbox
VM4 AEG V2.5
Construction
Metal receivers
M-LOK handguard
Polymer sights and PDW stock
How closely does the Ronin T6 PDW Airsoft Rifle resemble a real steel gun?
KWA Ronin T6 VM4
M4 PDW (Daniel Defense DDM4 PDW)
Weight (empty)
5.7 lbs (2.59 kg)
5.7 lbs (2.59 kg)
Length
Stock extended
26.5 in (673mm)
24.75 in (629 mm)
Stock retracted
21.75 in (552 mm)
20.75 in (527 mm)
Ambidextrous safety
Yes
Yes
Ambidextrous mag release
No
No
Mag type
STANAG
STANAG
Construction
Metal
Metal
Picatinny rail positions
Top, bottom
M-LOK handguards
Varies
Ronin Tactical 6 is an airsoft rifle of KWA's own design, a compact M4-style Personal Defense Weapon, and as such is quite different from a standard M4 as far its overall style goes.
Now, PDWs are a bit of an odd duck in the firearms world, falling somewhere between a submachine gun and a full carbine, and refer to more of a general class of firearms than anything specific.
As a result, there can be a lot of variation in style and looks with PDWs, from those built on FN SCAR and AR15 platforms, to bullpups and variants on common submachine guns (MP5K-PDW, for example).
That said, we found that the KWA Ronin T6 VM4 is a pretty true to life example of a modern AR15-platform PDW.
Putting it up against a Daniel Defense DDM4, as in our chart above, we can see that its dimensions are very realistic, matching the DDM4 quite well in terms of overall length and weight and all the switches and general functionality of a modern m4 upper/lower receiver.
Beyond that, however, the KWA Ronin T6 VM4 is its own gun, with a strongly aggressive and compact style, recessed outer barrel, sharp angles, metal M-LOK handguard and sliding PDW-style stock.
As it is a proprietary design, the Ronin T6 PDW doesn't have any licensed trademarks beyond several prominent KWA markings across the lower receiver and dust cover.
KWA Ronin T6 VM4 PDW:  How does it perform?
Build-quality and construction
Although physically small, the VM4 PDW is pretty sturdy and well built.
It is an all full metal airsoft gun, with the exception of its grip, sights and stock it is made of a pretty high quality metal alloy construction, so it should take at least most of what a typical rough and tumble airsoft game can throw at it.
Build quality is quite good, as well. The KWA Ronin's parts are all nicely fitted together and the gun didn't have any creaks, rattling or looseness when we handled it.
Outer Barrel
The VM4 PDW's outer barrel is threaded, a standard 14mm counterclockwise threading, which makes it very easy to attach accessories like suppressors, tracer units or amplifiers.
Surrounding this outer barrel is an aluminum M-LOK handguard, which adds to the gun's aggressively tactical style with its skeletonized looks and provides the gun with a good deal more versatility when it comes to mounting handrail accessories.

The M-LOK also helps keep the gun's overall weight down, and is a little easier to use in close quarters compared to a quad rail since it doesn't have as many sharp, protruding corners that can snag clothing when maneuvering around. 
And, the T6 comes with picatinny attachments for the M-LOK rail, which is nice and definitely a step up from other airsoft guns that make you go out and get your own.
Topping it all off, so to speak, the KWA Ronin T6 VM4 PDA sports twin picatinny rails, a full-length top rail, excellent for mounting and fitting optics, and a rather small, bottom mounted rail, which is probably best for fitting a handstop since it is set so far forward.
Backup Sights
To help with aiming, the T6 VM4 comes stock with PTS EPBUIS enhanced back up sights.
These are flip up sights that are made of some pretty high-end nylon-reinforced polymer materials (Dupont Zytel resin), rather than a heavier alloy. 
They are low profile, meaning they lie pretty flat against the gun when folded, which (like the MLOK handguard).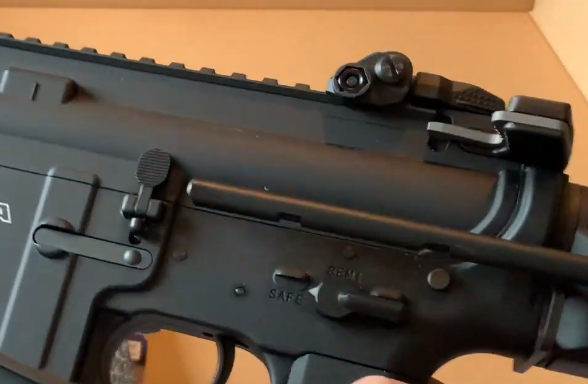 This is designed to prevent the sights from snagging on loose clothing or being damaged by banging into walls and obstacles.
Commonly used for training and simulation, the sights are fully adjustable for windage and elevation and come with a rubberized texturing on their sides, which is useful in wet weather or if you're wearing gloves (probably more common in CQB games).
The sights are pretty cool, snap into place nicely, and the rear apertures are pretty easy to see through in order to draw a good bead on a target.  
They are also quite easy to adjust and fit nicely (if a little snugly) on the T6 VM4's rails.
Although most users will probably want to use the T6 with optics, likely red dots given its CQB orientation, the sights are a nice edition and a significant step up from the generic, detachable pop up sights you see on most AR-style airsoft guns.
Internals
It is clear that KWA has put a lot of effort into the Ronin T6 PDWs looks, and by and large this same effort and attention to detail continues inside the gun as well.
An AEG, the gun is powered by a KWA's own gearbox, the VM4 V2.5.
It is a full metal gearbox that contains typically tanky KWA steel gears (18:1 standard gearing) and 9mm see bearings, which is pretty decent for a stock gun and means it should last for some time.
As with other KWA rifles, it is a proprietary gearbox however, and while most of the parts are V2 compatible, some parts, such as the tappet plate, nozzle and cylinder head, are not.
Powering the gearbox is a KWA high torque motor. Although not a neodymium motor, it is a pretty decent little ~21TPA motor that does a pretty good job at balancing torque and speed and is a pretty good choice for a stock gun in our opinion.  
In addition, the gun sports an easily-adjustable KWA rotary hop up unit and fires BBs out of a relatively tightbore, 6.05mm brass inner barrel.
One thing to note is that the KWA Ronin T6 PDW is MOSFET and ETU-ready and is designed to readily and easily accept most types.
Most notably it will accept the drop-in Gate Titan, which will give users a little more piece of mind when using the gun with an 11.1v LiPo, and provide a host of useful airsoft features such as adjustable trigger sensitivity, pre-cocking function, burst mode, low ammo warning and more.
At this price point, we would have expected the Ronin to come out of the box with some kind of MOSFET pre-installed as well as with a fuse, but to be fair KWA does make the process of installing a MOSFET/ETU really pretty easy.
Users should note that the Ronin is not compatible with the Gate Aster, however.
The battery, fuse and connectors for the T6 PDW are located in the buffer tube towards the rear of the gun and, as with other PDW-style airsoft guns, it can get a little cramped in there.
A 7.4v LiPo battery will fit easily enough, but 11.1Vs can be a bit of a tight fit and may require the use of a battery extension, which can add to the cost of the gun.
That said, the compartment is a bit bigger than some of its rivals, such as the ARPs.
Stock
As it is a PDW, the Ronin T6 VM4 comes with what KWA calls a Tanker-style stock, an extendable polymer stock that rides on twin rails.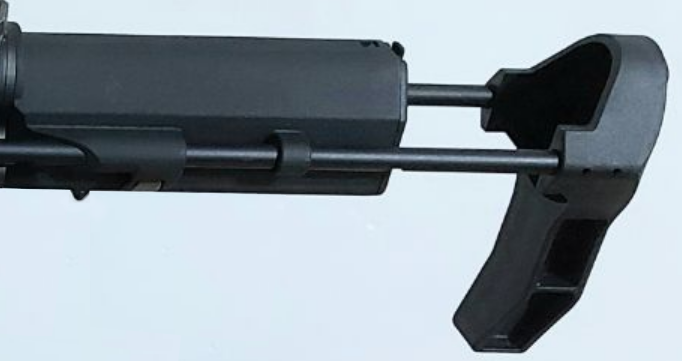 The use of a PDW-style stock keeps the Ronin T6 PDW's overall dimensions pretty compact, and they are pretty smooth and easy to extend.
Users should note that, as with other airsoft guns with PDW-style stocks, such as the G&G ARP9 and ARP556, there are only two possible extended positions.
Performance and Accuracy
Despite its compact dimensions, the Ronin T6 PDW is anything but a shrinking violet on the field.
FPS-wise, we saw around 370 FPS using 0.20g BBs, making this highly-portable gun a solid all arounder for most games.
It is a CQB-oriented gun and many CQB and indoor fields restrict a gun's maximum output to 350 or less, and this is where the KWA Ronin T6 PDW becomes really interesting.
The gun allows users to manually adjust FPS output on the fly using what KWA calls its Variable Performance System (VPS).
Essentially, when they need to, users can pop off the backplate of the gun's buffer tube and, using an included T-bar style allen key, directly tighten or loosen the main spring.
By decompressing the spring, users can drop the gun's FPS pretty significantly and allow it to easily slide under any field limits they may encounter.
In fact, doing so allowed us to radically drop the FPS in a matter of seconds, bringing the gun down to a chrono of around 300-320 FPS with 0.20g BBs, well under a typical 350 FPS limit.
Unlike other models that require users to pop out the spring and replace it to adjust FPS, the Ronin T6 allows users to do so a lot more quickly, easily and painlessly than even a quick change spring system (such as the Kriss Vector's) might allow them to do.
As a result, the KWA Ronin T6 PDW can be a highly versatile and usable airsoft gun, capable of sliding from outdoor to indoor games and back again without any real trouble.
On the downside, if you are planning on upgrading to a progressive spring down the line, which is tighter on one side than the other, the system may not work quite as well.
In terms of rate of fire, on a 7.4v LiPo we saw an RPS of about 18-19, which is pretty decent and users report getting in the low 20s on an 11.1V.
The trigger is quite good and very responsive even on a 7.4V and tends to be a lot snappier on an 11.1.
In terms of accuracy, we saw excellent groupings well past 100 feet (30m) and could easily hit targets at around 150 feet or so (45 m), although some longer-armed users may need to take their time and get comfortable with shouldering the gun's PDW-style stock and compact dimensions before taking a crack at distance shooting.
Accuracy is, of course, helped out by the KWA rotary hop up. 
Located under the dust cover, the unit is proprietary, but is well built and provides excellent spin overall.
It is a rotary style hop up, as well, which means it doesn't really require an allen key or screwdriver to turn so it's pretty easy to use, something that's helped along by the gun's functional bolt catch.
This means adjustments to your BBs trajectory can be made on the fly and in-game, which is always helpful. 
Overall, however, although probably most at home in a CQB game, the range, accuracy and power of the Ronin T6 PDW make it a pretty great outdoor airsoft option, as well.
Handling
The first thing we noticed when picking up the Ronin PDW for the first time is its weight.
Despite its looks, the gun has some heft to it. At nearly 6 lbs it weighs about as much as a real steel PDW and a little less than an empty M4.
While this means the gun isn't exactly a lightweight to carry around, it does feel exceptionally realistic to hold and shoot and feels very solid in-hand.
In terms of size, the gun is compact. With the stock collapsed, it comes in at just over 21 inches long and it can be extended to just under 27 inches.
Additionally, because of the MLOK handguard, the AR-design and the fact that the batteries are kept in the buffer tube, the gun is fairly light towards the front.
As a result, the gun is very easy and comfortable to raise and maneuver around with in close quarters and to poke around obstacles and walls, making it ideal for CQB use.
That said, it is a little longer than some comparable PDWs and SMGs, such as the ARP9, the ASG Scorpion Evo 3 A1, the Tokyo Marui MP7 or the Krytac Kriss Vector.
Holding the gun is quite comfortable in game.
The MLOK handguard is a lot smoother and easier to get your hand around than a comparable quad rail, while the gun's pistol grip is nicely textured and easy to hold on to, even while wearing gloves.
The KWA Ronin T6 VM4 PDW is also fairly ambidextrous, which is good news for lefties.
It sports easy to thumb ambidextrous safeties, rear-drawn M4-style charging handle and dual slide releases.
The mag release is, unfortunately and like other ARs, located on the right side of the gun, so mag drops will take a little practice if you're new to the AR platform and are left handed.
Maintenance
Aggressive styling and compact size aside, the Ronin T6 VM4 is based on the AR-platform and, as such, disassembly is pretty straightforward, as can be seen in the video below.
Users need only pop the body pins and pull the charging handle and the upper receiver detaches pretty smoothly, giving users immediate access to the inner barrel and hop up.
Being an AEG, maintenance is pretty simple, generally limited to cleaning and the occasional lubrication of things like the magazine and bolt assembly, as well as periodically inspecting for damage or wear.
In terms of replacement parts, KWA does use a few proprietary parts that aren't TM compatible (although many internals are), but being an extremely popular airsoft line replacements are widely available online and in stores so fixing things if they break or go wrong shouldn't be much of a problem.
For the modders out there, in terms of customization there is a lot that can be done with the T6 PDW, as well, and since the Ronin T6 is such a popular airsoft gun, there are a lot of builds online to be inspired by.
Adding a MOSFET and ETU is, as mentioned above, very easy, and with a click of a mouse button users can find reinforced internals, torquier motors, flat triggers, improved gearing, tighter bore barrels, and much much more.
Magazine type and capacity
The KWA Ronin T6 PDW comes with a 120 round mid cap STANAG magazine that works quite reliably out of the box.
Although some users report that the magwells can be a bit of a precise fit, the gun is highly compatible with most STANAG/AR magazines out there.
This compatibility can keep the operating cost of the gun down (finding cheap mags for this airsoft gun is quite easy) and it allows users a good deal more flexibility in what mags they would like to use -users can find high caps, low caps and drums for the T6 pretty easily.
Price
Note: All prices current as of writing. All prices in USD.
While the KWA Ronin T6 VM4 PDW is an excellent gun with excellent performance and high build quality, unfortunately your wallet will feel this one.
It is not a particularly cheap airsoft gun, usually coming in at between $350 and $400, depending on the retailer.
That said, it is competitively priced when you compare it to similar quality airsoft SMGs and SBRs, falling somewhere in the middle of the pack.
The Ronin PDW tends to cost less than the premium priced ASG Scorpion Evo 3 A1 AEG and Krytac Kriss Vectors but more than the G&G ARP9 and ARP556, for example. 
Or
Or 
KWA Ronin T6 PDW Pros and Cons
Advantages
Compact, CQB-optimized design
The Ronin T6 PDW is a highly compact M4 variant that, at between 21 and 27 inches, is very easy to move around with and maneuver effectively through CQB and indoor fields.
Its relatively light front allows it to be raised and swept around with little effort and the gun is generally easy to use even when loaded up with gear.
Solid and adjustable FPS
While not an FPS monster out of the box, the Ronin T6 PDW's ~370 FPS is pretty well balanced and packs enough of a punch to be used outdoors, with a respectable rate of fire to boot.
Interestingly, users can also easily adjust their FPS to suit CQB and indoor field limits without having to remove the spring.
Durable, high performing internals and build quality
The Ronin PDW's internals are high quality and durable, using strong steel gears, a decently torquey motor, steel bearings and an easily-adjustable, rotary hop up to keep its fire precise.
While it doesn't come with a MOSFET or ETU, KWA has done a good job at making sure its gearbox easily accepts most kinds with a minimum of effort.
Realistic weight and feel
Although small, the Ronin T6 PDW has a very realistic, M4-like weight to it that makes the gun feel very realistic in-hand and a joy to hold.
Excellent trigger response
Even when using a 7.4V LiPo, the T6 PDW had a snappy, short trigger response with little to no lag, which made shooting it a joy as well.
Easy to add accessories
The Ronin comes with both top and bottom picatinny rails, an M-LOK handguard and a threaded outer barrel, making it very easy to attach a variety of accessories and optics to the gun without any need for adaptors.
Very upgradable
One of the more popular models of airsoft guns out there, the Ronin T6 has tons of aftermarket and performance parts available for it, and tons of help and ideas for customization from users online, as well.
Great magazine compatibility
The Ronin T6 PDW accepts a wide variety of STANAG magazines, meaning it can take advantage of different low, mid, and high caps, as well as drums and tracer mags that can really spice up gameplay.
Ambidextrous
With ambidextrous safeties, slide catches, and charging handle, the Ronin PDW is quite easy for both right and left-handed users to use comfortably in game.
Disadvantages
Some proprietary parts
The Ronin PDW does contain several proprietary components, including parts of its gearbox and hop up unit, which means it can be a little costlier and more challenging to find replacements compared to more TM-compatible M4 clones.
Stock is a little cramped
As with other PDW options, the battery and fuse are located in the buffer tube of the stock and things can get a little cramped if you're using an 11.1V battery, making it harder to upgrade the battery without using an extension cap.
A little bigger than some other compact options
Although it is compact and easy to use in CQB, the Ronin T6 PDW isn't quite as compact as some SMGs and PDW options out there.
Bottom Line
KWA's Ronin T6 is a very popular airsoft gun, and for good reason. Well made, durable and customizable, it also offers an excellent blend of power, accuracy and maneuverability that can serve a player well in any game they might find themselves in. 
Ted Clark– Hailing from Florida, Ted has been an avid airsoft enthusiast since he was in middle school. When he's not checking out and reviewing airsoft guns, he enjoys picking off his enemies one by one on the field as a sniper.