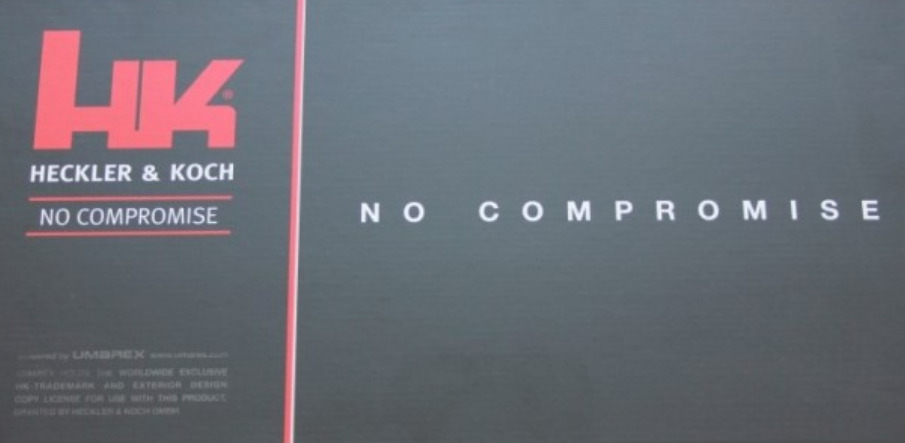 Durability and Build Quality

93%
| | |
| --- | --- |
| Pros | Cons |
| ✅ Lightweight, easy to maneuver with | ❌ Not cheap |
| ✅ 1:1 replica, officially licensed by H&K | ❌ Proprietary internals and mag |
| ✅ Excellent trigger response | |
| ✅ High rate of fire | |
| ✅ Well-built inside and out | |
| ✅ Compact CQB design | |
| ✅ Accurate at range | |
| ✅ Good power | |
With its CQB-oriented and lightweight design, the H&K MP7 is a highly effective, and highly desired, submachine gun that continues to be used by military and police forces around the world.
While GBB airsoft replicas of this famous SMG aren't anything new, finding a well-made AEG model has been something of a challenge, owing to the real steel version's highly compact dimensions and the difficulty of squeezing reliable mechanicals into it.
Upon its release, the VFC MP7A1 was something of an eyebrow-raiser – offering AEG consistency and ease of use with blistering on-field performance.
The second generation of the model seems to have taken this one step further, making significant improvements to the internals to improve its performance and long term reliability.
If you are in the market for an MP7 replica and you feel that an AEG might be just what you're looking for, then read on as we take a closer look at this cool looking SMG.
Specifications
| | |
| --- | --- |
| Manufacturer | VFC, Umarex/Elite Force |
| Power | AEG |
| Action | Semi, Auto |
| FPS | ~340 FPS @ 0.20g BBs |
| Hop up | Adjustable |
| Barrel Length | 7.87 inch (200 mm) |
| Total Length | 25.2 in (640 mm) |
| Weight | 4.12 lbs (1.87g) |
| Construction | Nylon reinforced polymer |
How closely does the VFC MP7A1 AEG resemble a real steel MP7?

VFC MP7A1
H&K MP7A1
Weight
4.12 lb (1.87 KG)
4.62 lbs (2.10 KG)
Barrel Length
7.87 inch (145.5 mm)
7.1 in ( 180 mm)
Overall length
16.5 (420 mm) collapsed;
25.2 inches (640 mm) extended
16.34 in (415mm) collapsed;
25.12 in (638 mm) extended
Action
Auto/Semi
Auto/Semi
Caliber
6mm
4.6 mm x 30
Capacity
110 round
20/30/40 rounds
Construction
Nylon-reinforced polymer
Carbon fiber-reinforced polyamide
Sights
Adjustable rear
Adjustable rear
Rail
Top, optional sides
Top, optional sides
The VFC MP7A1 AEG is a 1:1 replica of H&K's classic SMG.
The gun matches its real steel inspiration extremely closely in its overall dimensions, replicating the MP7A1 pretty precisely in terms of length, height and even weight, being only fractionally longer and lighter than an actual H&K MP7.
It even is a pretty close match for the H&K's carbon fiber-reinforced polyamide (or at least as far as can be expected from an airsoft gun), being made out of nylon-reinforced polymer, rather than the relatively softer ABS plastics used on some other models.
Beyond its overall looks, the gun also sports the various fire controls and features that typify an MP7A1, such as its PDW-style stock, folding vertical foregrip, pictographic fire selector, backup glock-style trigger safety and ambidextrous setup.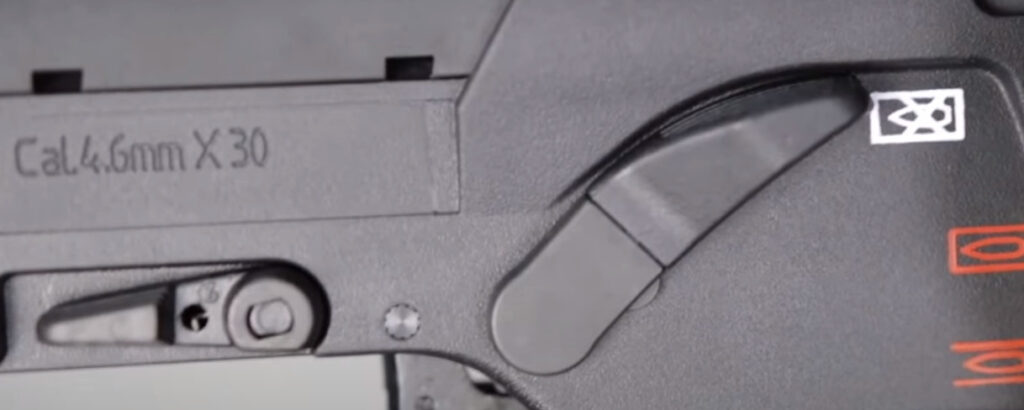 Milsimers and collectors will be pleased to note that the VFC (co-branded with Umarex – the holder of H&K licenses among others) is an officially licensed model, and therefore has a wide variety of H&K trademarks and logos dotting its frame.
How Well Does the VFC MP7 A1 AEG Perform as an Airsoft SMG?
Build-quality and Construction
As we mentioned above, much like a real steel H&K MP7 the VFC MP7A1 AEG is largely a plastic airsoft SMG.
The VFC's frame is made of nylon-reinforced polymer material with some metal components here and there, such as its top rail, sights, flash hider, dummy bolt and stock guide rails.
Although the gun isn't quite as strong as it might be were it made of aluminum or steel (which would also make it a fairly poor MP7 replica), its polymer build does feel quite a bit more durable than ABS plastic rivals.
One thing we noticed is that as the VFC has been molded as a monolithic design, i.e. the handguard, grip and receiver are all made from a single piece of plastic.
As a result, there isn't much in the way of visible seam lines and there wasn't much in the way of rattling, creaking or flexing when we handled it, which is always nice.
In terms of adding accessories, the VFC MP7A1 AEGis based on a modern SMG and so there can be quite a few options for users to choose from.
For example, the gun sports a full-length metal 20mm picatinny top rail, which makes it easy to mount optics and/or backup sights to the gun,
There are also a number of M-LOK-style cutouts along the sides of the gun.

These are designed to accommodate small sections of picatinny rails, and once set up users can then attach any number of accessories, such as flashlights, lasers and such.
Sadly, these sections of rail are sold separately (unlike a real steel MP7, which tends to include them).
One thing to note is that the VFC MP7A1 AEG does not have a bottom rail (or room for one).
Instead, much like the real steel firearm it is based on, the SMG comes with a flip-down vertical plastic foregrip.
The foregrip is pretty well designed and offers a nice and comfortable grip.

Beyond a little wiggle when fully extended (something common to most integrated airsoft foregrips), it is pretty well secured to the gun's frame and works quite well in CQB situations.
Unfortunately, it is also not easily removable and if it isn't to your taste, well, that's also unfortunate.
In addition to its rail system, the VFC MP7A1 AEG comes with a threaded barrel.
Rather unusually, it uses an 11mm clockwise-thread.
Although there are a number of barrel accessories for this model, those looking for the ability to mount the usual array of 14mm mock suppressors or tracers may require an adaptor.
One thing that stood out to us and that we really liked with this gun are its metal flip-up H&K-style sights. 
The sights are fully adjustable and can fold flat, which can make things a lot easier in CQB as, when folded, they won't snag on clothing or gear. 
When they are folded down, however, they reveal a second pair of low-rise, pistol-style sights molded onto the back first. 
These backup sights are a little simpler in style, with only the rear being adjustable, but do make the gun far more usable and precise when in its most compact form, which we appreciate.
Unfortunately, these pistol sights are not white dot, so can be a little harder to use in low-light conditions.
Towards the back, the VFC MP7A1 AEG comes with a four position MP7-style retractable stock.
The stock is released using a small lever located next to the charging handle, and can make this compact SMG pretty comfortable to shoulder, even for those with longer arms.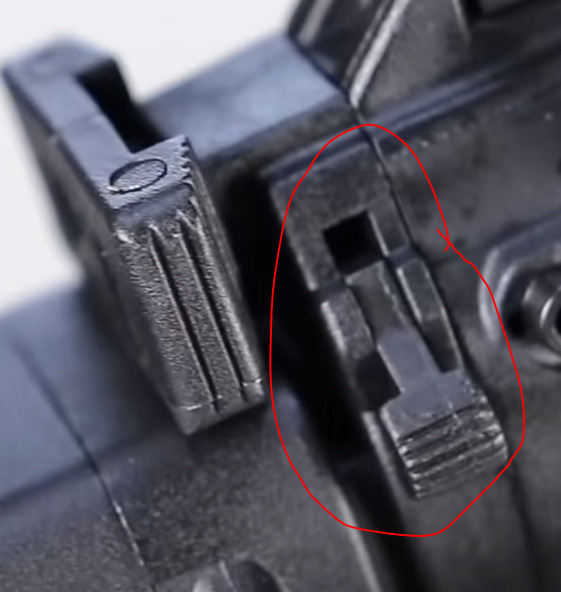 The stock rides on twin metal rails that are actually quite nicely installed, and there is minimal wobble or rattling when fully extended.
When it comes to its internals, the VFC MP7A1 looks a little different than most airsoft guns out there.
Powering the gun is a highly compact and proprietary squarish metal gearbox that is designed to accommodate the gun's small receiver.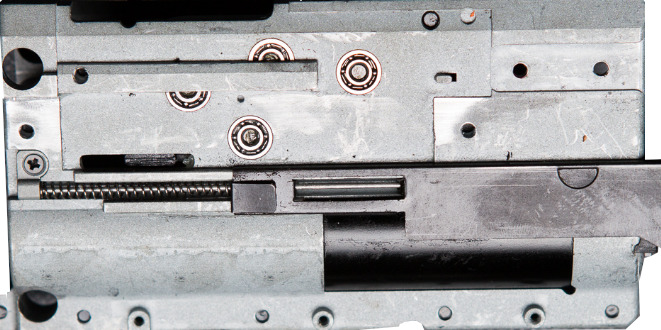 Inside, users will find that VFC has put a fair amount of effort into this small package, with the mini-gearbox containing steel VFC gears, 8mm bearings, a full steel tooth (7 teeth) ported piston and metal cylinder.
In fact, everything looks very much as it would in a good quality V2 gearbox, just…smaller.
Users should note, however, that the VFC MP7A1 gearbox is proprietary to this model, which means that finding replacement parts and upgrades can be a bit of an expensive trick.
Its size and build also make disassembling it a bit tricky and something that is best left to a knowledgeable tech, something that may disappoint home tinkerers somewhat.
Interestingly, VFC has seen fit include a kind of quick change spring system with this gearbox.
To be sure, it isn't a truly quick quick change spring system, as it does require users to pop the gearbox out of the gun to access it, but it is far better than having to open and fiddle with this compact gearbox.
One thing to note is that, due to the compact size of the gearbox, it does take a shorter spring than a standard TM-clone.
Although not particularly hard to find, it does mean that users looking for a powerdown (or powerup) may need to do a little more surfing online.
VFC has also loaded the inside of the gun with some helpful accessories.
The MP7A1 AEG comes with a MOSFET, which helpfully allows the gun to readily run LiPos, a microswitch trigger and even a Hall effect sensor, which stops the gun from firing after its last shot, which is pretty cool. 
Other than that, the gun contains a pretty nice VFC adjustable wheel-style hop up that is accessible from the mock ejection port, although it can be a bit tricky to adjust at times due to its placement.
It also has a 200mm long aluminum inner barrel with a pretty tight 6.03mm diameter.
Now, for those familiar with the Gen 1 VFC MP7A1, the Gen 2's gearbox is a significant improvement over the previous model.
In particular, the company has improved its gearbox shimming, added a new nozzle, strengthened its tappet plate and delay chip (which could crack on occasion), added a tension release slot to prevent lockup, and a stronger MOSFET.
The result seems to be a gun with significantly improved long term durability and functionality.
Finally, the battery compartment for the VFC is located in its rather compact handguard, which is really the only place you might reasonably expect to fit a battery in this rather compact design.
Although a bit cramped, we managed to fit our 7.4v LiPo into it without too much effort.
Performance and Accuracy
Overall, the VFC MP7A1 AEG is a pretty high performance SMG that can deliver in a skirmish.
To start with, we saw it hit around 340 FPS using 0.20g BBs, which should make it acceptable for most CQB/indoor games while staying perfectly usable and effective outdoors.
Thanks to its internals, well finished barrel and high quality hop up unit, we found it to be quite accurate at range despite its size, easily being able to group shots up to 50 feet (15 m) and being able to consistently and effectively hit targets past 100 feet or so (30 m).
Trigger response on the gun is extremely snappy, light and responsive, as well, which is good news as (like its real steel inspiration) the gun is fitted with a Glock-style trigger safety, something that has had an effect on some other models we've looked at. 
When set to automatic fire, the gun is a lot of fun to use.
We saw the gun get around 24-25 RPS out of the box on 11.1V (or 23 RPS on 7.4V), which is quite good and puts the gun slightly ahead of some rivals, such as the Evo 3 A1, the Nemesis X9 or the KWC MP9, in terms of rate of fire, at least.
Handling and Feel
With the stock collapsed, the VFC MP7A1 AEG is about 16.5 inches long, making it a pretty compact little SMG.
As an officially licensed 1:1 replica of the H&K MP7A1, it is a little longer and taller than a Tokyo Marui MP7 (which is something like 8% smaller than the real steel version), but otherwise is on par with other mainstays of airsoft CQB, such as the Evo 3 A1, the Kriss Vector or G&G's ARP line.
As a consequence, the gun is very easy to carry around and is highly maneuverable, allowing its users to more easily operate in confined spaces and pie corners or obstacles.
At just about 4 lbs (1.87 KG) It is also very lightweight, which makes it really easy to hold for extended periods of time or just throw into a loadout as a backup.
Due to its largely plastic construction and the fact that the gearbox is set towards the back, the VFC MP7A1 AEG is remarkably well-balanced, as well, and we feel users should have no problem holding and firing this gun single-handed should they so choose.
In terms of its grips, the VFC MP7A1 AEG keeps them nice and full-sized with some nice texturing (and the company trademarks) etched into them, as well as some stippling on the back and front, all of which allow users to keep a firm grip on the gun, even in wet conditions.
Finally, as with its real steel inspiration, the gun is fully ambidextrous. 
The VFC comes with ambidextrous fire controls (with classic H&K pictographs on either side) , a trigger mounted secondary safety, ambidextrous mag release, dual bolt catch levers and dual stock-releasing levers.   

As a result, the gun can be a good SMG option for left-handed users and those who enjoy practicing their CQB shoulder transitions.
Maintenance
This gun is an AEG and, when treated right, doesn't really require quite as much maintenance as its GBB sibling.
That said, stripping the gun down can be a bit more of an involved process than some other airsoft AEG's out there.
Once the battery is removed (as well as the side rails, if installed), users need to pop the rear body pins and then remove the fire selectors and catch lever in order to access and pop pins located underneath. 
Due to the presence of small pins and screws, this isn't really something you want to do on the field, outside or in the back of your car.
Once all this is done, the rather tightly fitting gearbox and barrel assembly can be slid out from the rear of the gun as a single unit.
As we've mentioned, owing to its unique design and compact size, disassembling the gearbox can be a lot trickier than a typical full-sized V2 or V3.
Similarly, its proprietary design, size and parts does mean that this rather small gearbox doesn't readily fit a lot of standard upgrade parts, so (at time of writing) there's not a huge amount of ways to really customize the gun to improve its (admittedly already impressive) stock performance.
Magazine type and capacity
The VFC MP7A1 AEG comes with a polymer 110-round 9mm-style box magazine.
The mag is pretty sturdy and feeds pretty well once locked into place.
You do have to press gently but firmly to set the magazine, however, and users do need to resist the urge to really slam them home.
The mags have a mag follower that is designed to let the gun stop when empty, which is cool and pretty useful but a feature that can get damaged with excessively rough handling.
As with the gearbox, these magazines are also proprietary.
Price
Note: All prices correct as of writing, all prices in USD.
There's no getting around it, the VFC MP7A1 AEG Gen 2 is an expensive little airsoft gun.
Depending on where you shop and its availability, it can come in at around (or even over) the $400-450 range.
This price point puts it well into the premium segment of AEGs, putting it in the same rough ballpark as the Evo 3 A1, the Krytac Kriss Vector, the Krytac P90 and others.
That said, there aren't many MP7 AEG airsoft replicas out there, let alone one that's officially licensed and as well built and capable as the VFC on the field. 
Or 
Or
Or 
Advantages of the VFC MP7A1 Gen 2
Very realistic, officially licensed
The VFC MP7A1 Gen 2 is an officially licensed 1:1 replica and so not only matches the actual dimensions and style of the real steel SMG, but also has all the cool H&K trademarks and markings that enthusiasts and collectors will want to see.
It's an MP7 AEG
The VFC MP7A1 Gen 2 is an AEG version on the classic submachine gun.
While it lacks the blowback excitement of its GBB rivals (and sister gun), it more than makes up for in reliability, consistency, lower running costs, reduced maintenance schedule and volume of shots.
High rate of fire
The VFC MP7 AEG delivers high performance automatic shooting right out of the box.
It can consistently deliver a ROF in the mid-twenties, which is quicker than many of its more popular SMG rivals.
Well Built
VFC has put its MP7A1 AEG together quite well, using durable materials and making sure that the fit and finish is solid.
The company has also put a good deal of effort into its internals and has improved the gun's reliability and performance through a number of important improvements from the previous generation.
Compact
The VFC MP7A1 is a pretty small SMG.
When fully collapsed, it's less than 17 inches long and is quite easy to maneuver around with in tight spaces.
Accurate at range
Although small, thanks to its high quality internals, the VFC is also quite accurate.
Although its natural home is in short to medium distance engagements, it is quite capable of hitting targets 100 feet (30 m) out pretty reliably.
Decent power
Although it's not the most powerful SMG we've ever seen, the VFC MP7A1 AEG does hit at just under 350 FPS, letting it slide under CQB and indoor FPS limits while still being quite usable as a general skirmisher.
Disadvantages
Expensive
Usually coming in at well over $400, the VFC MP7A1 AEG isn't exactly a budget airsoft SMG and it can deliver as much of a wallop to your wallet as it can your opponents.
Proprietary internals
Due to its compact dimensions and the fact that it is an AEG, the VFC MP7A1 uses a proprietary gearbox and doesn't exactly lend itself to ready and cheap upgrades.
Bottom Line
For those looking for a more reliable and consistent airsoft MP7 experience, the usual assortment of gas blowbacks isn't always the answer.
With its heady mix of power, high quality components, good build quality, compact size and speedy performance, the VFC MP7A1 AEG can be an excellent choice and an ideal companion for CQB games.
Ted Clark– Hailing from Florida, Ted has been an avid airsoft enthusiast since he was in middle school. When he's not checking out and reviewing airsoft guns, he enjoys picking off his enemies one by one on the field as a sniper.