Durability and Build Quality

97%
| | |
| --- | --- |
| Pros | Cons |
| ✅ Full metal M4A1 replica | ❌ Pricey |
| ✅ Realistic looks | ❌ ZET system uses some proprietary parts |
| ✅ Very solidly built and durable | |
| ✅ Cerakote finish | |
| ✅ Officially licensed with Colt trademarks | |
| ✅ Full length top rail, quad rail, 14mm CCW thread | |
| ✅ Very accurate at range | |
| ✅ Snappy and fun blowback action | |
| ✅ Decent, versatile power | |
| ✅ Good gas efficiency | |
| | |
While M4 AEGs are something of a staple of the airsoft world, there's simply nothing like the kick and feel of a well-made gas blowback version of this iconic Colt carbine.
Since its launch in 2016, the Tokyo Marui M4A1 MWS has earned a reputation as one of the more impressive M4 gas blowback cabrines out there, combining typical TM build quality, accuracy and reliability with a fairly novel gas blowback system, the ZET.
If you are in the market for a gas blowback M4 and the Tokyo Marui M4A1 has caught your eye, then read on as we take a closer look at this GBBR.
Specifications
| | |
| --- | --- |
| Manufacturer | Tokyo Marui |
| Power | 134A, Green Gas |
| Action | Gas Blowback |
| FPS | ~315 FPS @ 0.20g BBs on Green Gas |
| Hop up | Adjustable |
| Barrel Length | 9.05 inch (230 mm) |
| Total Length | 33.85 in (860 mm) |
| Weight | 5.5 lbs (2.5 kg) |
| Construction | Aluminum alloy, plastic |
| Rounds | 35 |
How closely does the Tokyo Marui M4A1 resemble a real steel M4?
Tokyo Marui M4A1
Colt M4A1
Weight
6.53 lb (2.96 KG)
6.43 lbs (2.92 KG) empty
Barrel Length
14.5 inch (368 mm)
14.5 in ( 368mm)
Overall length
30.5 in (775 mm) collapsed;
33.85 in inches (860 mm) extended
29.75 in (756 mm) collapsed;
33 in (838 mm) extended
Action
Auto/Semi
Auto/Semi
Caliber
6mm
5.56x45mm NATO
Capacity
35
30 rounds
Construction
Metal with plastic furniture
Steel with polymer furniture
Sights
Adjustable front and rear
Adjustable rear
Rail
Quad RAS
Various options
Although designed to be more of a high performance airsoft primary, rather than a collector's piece, we feel that the Tokyo Marui M4A1 is a pretty close match for its real steel counterpart.
Although not an exact 1:1 copy of the Colt M4A1, by and large Tokyo Marui has, with some extremely minor differences in weight and length, managed to replicate the classic carbine's overall dimensions and look.
The TM M4A1's receivers are full metal and many of the details found on the real steel M4 are present and accounted for.
The Tokyo Marui carbine has all the controls one might expect of an M4A1, including a functional bolt stop and release button, an A2 Birdcage-style flash hider, a 14.5" A2/government profile outer barrel with proof marks, caliber and twist engravings, 6 position AR-style crane stock, metal front sight post with adjustable sight, real steel grip and more.
Interestingly, the realism of the gun extends even to its magazine, which tips the scales at around 16 oz (454g), or about the same weight as a real steel STANAG magazine.
Whether this particular touch of authenticity is a positive or negative really depends on how weighty you like your loadouts, but it is reflective of Tokyo Marui's well known attention to detail.
Finally, and something that collectors and milsim enthusiasts alike will enjoy, it is a licensed airsoft replica and has all the various trades that one would expect from a Colt M4.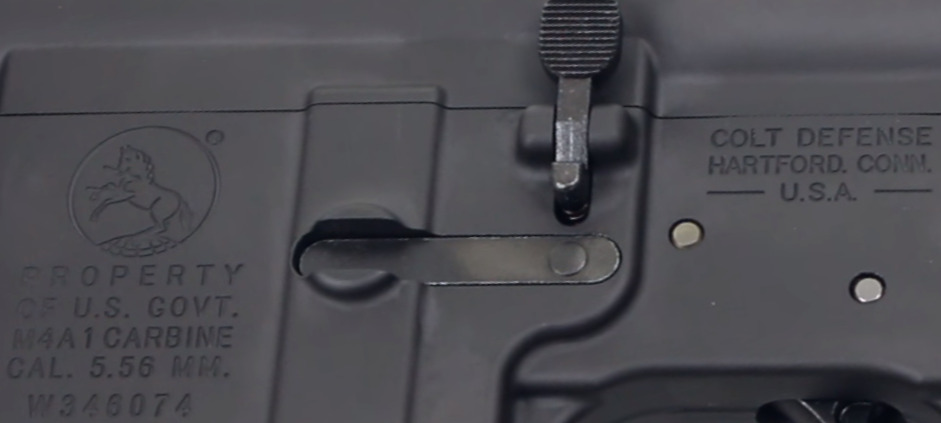 These include the classic Colt logo, proof marks, manufacturer's HQ and even an "property of the US Gov" thrown in for good measure, a nod to the M4A1 roots as a service carbine.
How Well Does the Tokyo Marui M4A1 MWS GBBR Perform as an Airsoft Rifle?
Build-quality and construction
While Tokyo Marui replicas are usually known for being made out of polymer materials, the M4A1 MWS is a full metal airsoft carbine.
Its upper and lower receivers, as well as its quad rails, are made out of pretty high quality CNC finished die-cast aluminum.
At the same time, Its outer barrel is made from machined aluminum and even many of its smaller accessory components and controls, such as its selector switch, mag release and charging handle, are made of sturdy aluminum alloy.
The only plastic used on this gun is really, much like a real steel M4, in its furniture, such as the stock, grip and handguards.
As a result, the Tokyo Marui M4A1 MWS has a very premium look and feel about it and is extremely solid and durable for an airsoft rifle.
The gun's exterior is even given a nice, black Cerakote finish that really gives the Marui more of a real steel look.
For those unfamiliar with Cerakote finishes, it is a sort of premium polymer/ceramic coating that, when applied to a material (such as the metal of an airsoft gun), provides it with fairly impressive resistance to corrosion, impact and general wear and tear.
In this way it can keep the M4A1 MWS looking factory fresh for longer, even if used as a primary in spirited outdoor events.
On the downside, while it protects the gun, the Cerakote finish does mean that the M4A1's aluminum receivers won't develop quite as much of a patina over time, which some users find aesthetically pleasing.
Yet, all the high quality materials in the world won't really help an airsoft gun if it hasn't been put together with at least some degree of care.
Thankfully, this is a Tokyo Marui and their level of quality control is quite high.
When we handled it, the M4A1 MWS seemed very well put together, with no rattling, wobbling or excessive play, even in the typical AR trouble spots, such as its handguard and stock.
In fact, we found the gun's RIS to be rock solid and put together firmly, with no lateral play or wobble to speak of, which came as a bit of a pleasant surprise given that this tends to be a common issue in other airsoft models and even real steel M4s.
In a similar vein, all the gun's controls (selector switch, mag release button, bolt catch/release) were properly installed.
They were tightly fitted to the frame and quite smooth and easy to use, shifting solidly into place when thumbed.
Externally, the Tokyo Marui M4A1 we looked at (the SOPMOD) came with a picatinny quad rail (there are models out there with a standard, smooth A2-style handguard, as well), so adding flashlights, lasers or other accessories to the gun is pretty easy to do.
This RIS is made from cast aluminum, which makes it more durable and less likely to chip or get damaged, and it has realistic white numbering printed across it – an added touch of tactical realism that should help users better keep track of any accessory placements.
That said, being a quad rail rather than an M-LOK or KeyMod, it does mean that the handguard can be a bit more bulky to hold and users need to be a bit more careful not to let its rail corners snag on clothing or equipment in CQB.
That said, the handguard is semi-skeletonized, which reduces its weight compared to more solid versions, and what it sacrifices in smoothness and comfortable handling, it more than makes up for in the easy attachment and detachment of accessories compared to M-LOKs or KeyMods.
The Tokyo Marui M4A1's upper receiver was cast with a top rail, which is perfect for adding optics, and there is even an optional, polymer M4-style carrying handle (complete with an adjustable A2 flip sight) that users can buy if they want to keep things old-school.
In terms of sights, the gun comes with an adjustable front post and removable, adjustable rear tower sights.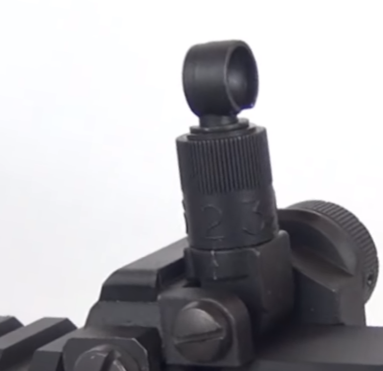 The rear sight is pretty cool, with prominent numbers around its base and provides a nice clicky feel and sound when turned.
They also fold quite flat, so they won't catch on anything in close quarters.
In addition to rail mounts, the Tokyo Marui M4A1 also comes with 14mm CCW threads, which make it very easy to attach mock suppressors and tracer units to the gun.
Interestingly, the gun's Birdcage-style flash hider doesn't have a grub screw securing it to the outer barrel, nor is it glued on as most are, so users can simply use their hands to screw or unscrew it if they want to attach something, which is kind of cool.
Moving towards the back of the gun, the Tokyo Marui M4A1 MWS features a pretty typical, plastic mil-spec M4 grip.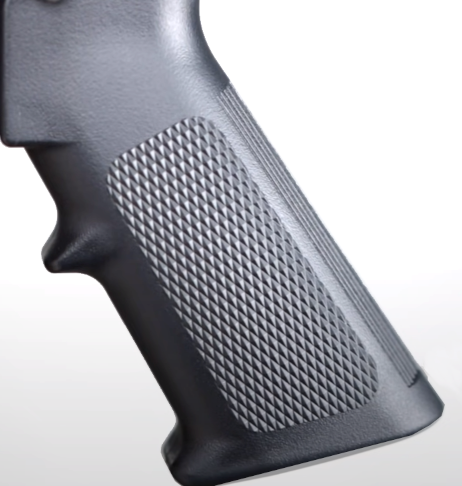 It is quite realistic, essentially modeled closely after those found on real steel M4A1s, and sports a single prominent finger groove and lightly checkered sides.
Authenticity aside, although it does the job, the grip isn't particularly fancy and is a little more narrow than those found on many other airsoft replicas on the market.
That said, an interesting feature of the Tokyo Marui M4A1 MWS is that, thanks to its particular retaining bolt, it can accept real steel rifle grips, which opens the gun up to a wider world of possible accessories.
Finally, the M4A1 MWS comes with a plastic 6 position crane stock.
The stock is pretty standard and is much as might be expected from an M4 replica – it extends and smoothly collapses, increasing or reducing the gun's overall length by a couple inches as it does so, and it shoulders pretty nicely.
It can have a some wobble to it if you twist it hard enough, but far less than most airsoft M4s and even real steel versions that we've experienced, and is pretty stable and well fitted all things considered.
Internally, the Tokyo Marui M4A1 MWS uses its rather novel ZET blowback system and looks a little different than many airsoft ARs out there, including other Tokyo Marui M4 replicas.
The ZET system, which stands for Final or Z (due to its shape) Endurance Technology, is a redesigned gas blowback system that is designed to better handle the different stresses that GBBR/Ps put on the bolt assembly and catch/release system.
Essentially, there is a mechanism (involving little shock absorbers, springs and even rollers on the hammer and bolt carrier) that comes between the bolt and its catch, which serves to absorb much of the recoil force, ultimately improving the gun's longevity and reliability without sacrificing any blowback action or recoil.
It also means that users can more freely slap the bolt release without worrying about it suddenly failing, a rather common issue in GBBR ARs.
Users should keep in mind, however, that, as can be seen in the picture above, this mechanism is a little different than most other M4s out there.
Aside from making the trigger assembly a little less realistic looking, its different design and use of some unique parts can make sourcing replacements and doing repairs a little trickier than a typical TM AR system unless you know what you're doing.
That said, it is quite sturdily built, with lots of high quality metal and steel being used, and it is a Tokyo Marui, so it should last for quite a while without any issue.

And it really does seem to work, slowing down the bolt carrier significantly as it returns to prevent damage and the usual wear and tear.
Further, although the ZET is relatively new for Tokyo Marui, it has been out for quite some time and replacements (and upgrades) aren't exactly hard to find for the gun.
Beyond the ZET system, the rest of the internals for the M4A1 are pretty solid, with most of the internals being made of sturdy aluminum alloys or even steel.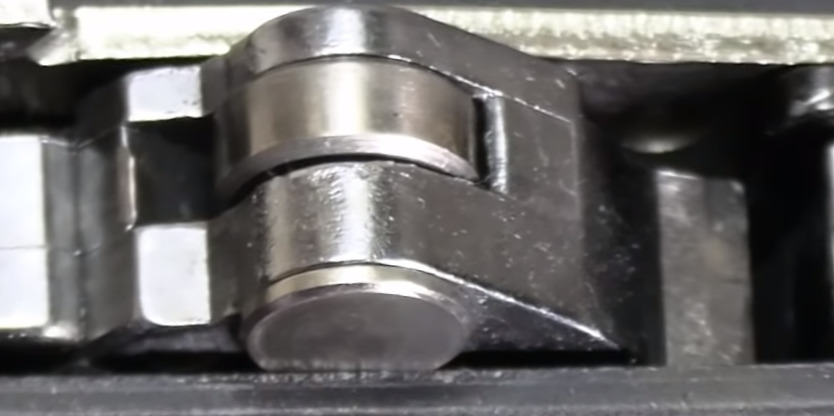 One thing to note is that the TM M4A1 MWS is originally designed to run on 134A gas and runs quite reliably on duster.
As such its plastic nozzle and relatively weaker nozzle return spring can have issues using green gas in the long run.
While the gun works just fine on green gas in general, these should probably be replaced with more sturdier versions if you want to mainly run the gun on green, which you probably will.
Beyond this, the gun comes with a 250 mm long, 6.08mm diameter brass barrel.
Although a little shorter than those found on most other M4 replicas, the barrel is very well machined and finished out of the box, which goes a long way in helping the gun deliver better accuracy and performance.
The barrel is attached to an adjustable hop up unit, which in typical Tokyo Marui style provides exceptional spin and accuracy at range even when stock.
It is a rotary style hop up, as well, so adjusting it is quite easy to do.
That said, for whatever reason, Tokyo Marui has placed the hop up unit a little deeper inside the gun than other ARs and so it's not really accessible from underneath the dust cover.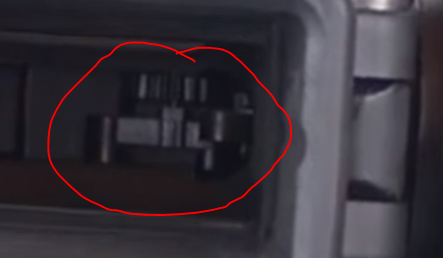 Instead users will either have to pop the upper receiver up to get at it or remove a magazine and sort of reach in through the mag well with a tool or screwdriver to turn it (being careful not to damage anything).
Either way, it does make it a little trickier to adjust things on the fly.
Performance and Accuracy
Overall, the Tokyo Marui M4A1 is quite a good all-around airsoft carbine.
After settling in, we saw the gun deliver around 315 FPS using 0.20g BBs on green gas, with a +/-variance of less than 8, which is very consistent.
Although Tokyo Marui's aren't known for being FPS monsters, the gun has enough power to make it effective in outdoor games while still being able to slide comfortably under any indoor/CQB FPS limits that may exist.
More than that, the gun is quite accurate at range, largely due to its build quality and excellent hop up.
We saw the gun consistently hit targets and even group nicely to around 100 feet (30 m), and it even hit targets fairly reliably past 150 (45 m) or so.
The blowback action of the Tokyo Marui M4A1 is pretty impressive, even with the protective ZET system the company has put in place.
The gun is extremely snappy and enjoyable to use, offering a pretty punchy and responsive action when fired, as well as a very satisfying, audible and crisp "pop pop" that should turn a few heads on the field.
Trigger response on the gun is something of a mixed bag.
It is fairly light and has a quick break, but unusually has a longer reset.
Those wanting to set up a hair trigger or send rapid snap shots downrange will probably want to upgrade it with a ZET-compatible drop in later on.
The gun is, as might be expected from an M4, automatic-fire capable.
In terms of its rate of fire, the Tokyo Marui M4A1 MWS gets around 16 RPS stock, which is okay for a stock GBBR, although nothing to really to write home about.
That said, its gas efficiency certainly is.
On green gas, we saw the gun get through 3-4 mags per fill, about 100-140 rounds, which is better than many competitor GBBRs and should help reduce its overall running costs by quite a bit.
Handling and feel
The Tokyo Marui M4A1 is a very close replica of a milspec M4A1, and handles about the same.
With an extended length of just under 34 in (863 mm), it is a little bigger than non 1:1 replicas such as the G&G Raider or a Krytac Trident.
That said, it has a much more authentic feeling and remains compact enough to handle pretty well in CQB.
With its die-cast aluminum outer barrel and quad rail handguard, the gun is (like an actual M4) a little front heavy, but otherwise is quite easy and comfortable to handle and hold for extended periods of time.
Its grips are true to life, and while the fanciest example of rifle grips out there in the airsoft world, they are quite easy to hold and provide decent grip even when wet or if you're using gloves, which is always nice.
And, if you do decide that a standard AR grip isn't for you, you can easily swap the gun's grip with one of the many comfort-oriented real steel versions out there, a feature that not every airsoft replica can boast about.
Similarly, the AR-style six point stock give the gun a good degree of adjustability, making the gun a lot easier for those with longer or shorter arms to shoulder correctly.
In terms of ambidexterity, the gun is an M4 replica and is largely designed for right-hand use.
Although its charging handle and sling points can be used easily by lefties, its mag release, safety and bolt stop are all right-hand oriented.
Maintenance
As a close replica of a standard M4A1, the Tokyo Marui MWS GBBR is pretty easy to takedown and maintain.
Much like any other AR, users simply have to lock the bolt plate back, pop the body pins and slide the upper receiver forwards and off.
Users can then clean the gun, check for damage, lube it and make adjustments to the hop up as necessary.
That said, as we've mentioned, the ZET system does look and act differently than many other airsoft M4s out there and some caution does need to be exercised when taking it apart.
In terms of replacement parts and upgrades, the M4A1 has become fairly popular and OEM and third party manufacturers do offer a wide selection online.
A quick search will let users find longer barrels, tighter bore barrels, high flow valves, improved hop ups, stronger return springs and even complete drop-in upgraded ZETs.
Magazine type and capacity
The Tokyo Marui M4A1 comes with a 35 round aluminum STANAG-style magazine.
This magazine is extremely sturdy and is actually pretty heavy, about the same weight as a fully loaded real steel M4 mag.
While this is quite authentic, it can increase the overall weight of a loadout, which is something to consider.
It does, however, drops free pretty easily, which can be kind of fun.
In terms of magazine compatibility, the Tokyo Marui M4A1 MWS ZET does use a bit of a different magazine system
That said, spares aren't particularly difficult to find (although they can be a bit more expensive), and a number of third party companies have started making MWS-compatible magazines for the gun..
Price
Note: All prices correct as of writing, all prices in USD.
Airsoft GBBRs aren't exactly known for being all that cheap, and the Tokyo Marui M4A1 MWS is not really much different.
Typically coming in at just over $600, it is a purchase your wallet will certainly feel, and puts the gun at around the same price point as better quality GBB M4s, such as the GHK M4A1 V2 RIS or the VFC M4s.
That said, the Tokyo Marui M4A1 is an officially licensed, full metal M4A1 replica and is extremely well made.
It has well-balanced power, excellent reliability, accuracy and efficiency, a Cerakote finish and is highly customizable, so it does offer a great deal of value for the money.
Or
Or
Advantages of the Tokyo Marui M4A1 MWS GBBR
Very well built
With its die-cast aluminum receivers, metal internals and the usual Tokyo Marui quality control and attention to detail, the Tokyo Marui M4A1 is built to last and should stand up to the rough handling of most airsoft events.
Colt trademarks and proofs
The Tokyo Marui M4A1 is an officially licensed airsoft M4 replica and contains a lot of official and interesting logos, trademarks and proofs that collectors and enthusiasts will appreciate.
Extremely accurate M4 replica
The M4A1 MWS is a pretty true to life M4 airsoft carbine, matching its real steel counterpart quite well in terms of looks, build, overall dimensions, weight and even its magazine weight.
Very accurate at range
Due to the quality of its internals, the finish of its inner barrel and its hop up, the Tokyo Marui M4A1 is a very accurate airsoft carbine, being able to hit targets up to around 150 feet (45 m) with little issue and getting decent groupings closer in.
Modular and customizable
The M4A1 MWS lends itself pretty well to being accessorized, with a top rail, quad rail handguard, 14mm CCW threading (with easy on/off flash hider), and real steel compatible grip system.
Excellent blowback action
When fired, the M4A1 is snappy, responsive and offers an audible "pop pop" that will make heads turn on the field.
Decent Power
Hitting around 315 FPS, although not a FPS heavyweight, the M4A1 MWS does enough in the power department to be usable outdoors and in CQB where FPS limits may apply.
Good gas efficiency
The M4A1 MWS offers pretty impressive gas efficiency for a GBBR, getting up to about 4 mags per fill, which should help save on running costs.
Disadvantages
Not exactly cheap
Unfortunately, at over $600, the Tokyo Marui M4A1 isn't exactly the cheapest GBBR around, and can be a little bit tougher to squeeze into a tight airsoft budget.
ZET System uses some proprietary parts
While the ZET blowback system can help save on wear and tear without impacting performance, it is quite different than many airsoft gas M4 systems out there and uses a few parts that can be harder to replace.
Similarly, it does use its own ZET mag system, which means that spares aren't quite as ubiquitous as they otherwise might be.
Bottom Line
With its excellent blend of power, accuracy, authentic looks, durability, build quality, recoil action and general reliability, if you are looking for a gas blowback M4 to take to your next game, the Tokyo Marui M4A1 just might be what you're looking for. 
Ted Clark– Hailing from Florida, Ted has been an avid airsoft enthusiast since he was in middle school. When he's not checking out and reviewing airsoft guns, he enjoys picking off his enemies one by one on the field as a sniper.