Durability and Build Quality

92%
| | |
| --- | --- |
| Pros | Cons |
| ✅ Excellent build quality | ❌ Can be pricey for a spring-powered airsoft rifle |
| ✅ Extremely accurate out of the box | ❌ Not the most realistic weight |
| ✅ Very reliable | ❌ Not the most powerful |
| ✅ Extremely quiet | |
| ✅ Adjustable trigger | |
| ✅ Extremely customizable | |
| ✅ Well made, easy to adjust hop up | |
| ✅ Comfortable to carry, hold and use | |
| ✅ Lots of interesting variants to choose from | |
For those who have even a casual interest in airsoft sniping, the Tokyo Marui VSR-10 scarcely needs an introduction.
Inspired by the Remington 700 platform, of which the legendary M24 is derived, its reputation for excellent out of the box performance and easy customizability has made it a popular and notable airsoft rifle for beginner and advanced airsoft snipers alike.
To see if its reputation is truly well-deserved, and to help you decide if it's worth your time and money, we decided to take a closer look.
Specifications
| | |
| --- | --- |
| Manufacturer | Tokyo Marui |
| Airsoft type | Spring-powered bolt action |
| FPS | ~290 FPS @ 0.20g BB |
| Magazine Capacity | 30 BBs |
| Inner Barrel | 303mm-430mm, 6.08mm brass barrel |
| Hop up | Adjustable |
| Construction | Aluminum barrel, ABS stock, aluminum alloy barrel assembly and bolt |
How closely does the Tokyo Marui VSR-10 resemble a real steel firearm?
Tokyo Marui VSR-10
Remington 700
Weight (empty)
4.6 lbs (2.09 kg)
8.99 lbs (4.08 KG)
Length
Varies by model
~37.4 in to 44.7 in
(~950mm to 1135mm)
Varies by model and configuration
From 36.25 – 46.5 inches
(920mm to 1181.1mm)
Action
Bolt action
Bolt Action
Caliber
6mm
Varies by model
Mag type
30 rd box magazine
3-6 rd. internal or 10 rd box magazine
Construction
Aluminum barrel, ABS stock
Steel barrel, synthetic or wood stock
Rail positions
Optional Top
None
The VSR 10 platform is largely based on the rather well-known Remington 700 series of bolt-action centerfire rifles, more specifically the M24 military and police version.
Both the 700 series and the VSR-10 have a number of variants in their respective lines, which can make drawing a direct comparison of accuracy in replication a little bit more difficult for the purposes of a review.
By and large, the Tokyo Marui VSR-10 comes in two flavors – the Pro series and the shortened G-Spec, with each having several sub-variants that come with a variety of different features, such as Tokyo Marui's Real Shock system, scopes, chrome finishes and so on. 
There is even a version with a kind of gun-shot emulating sound system.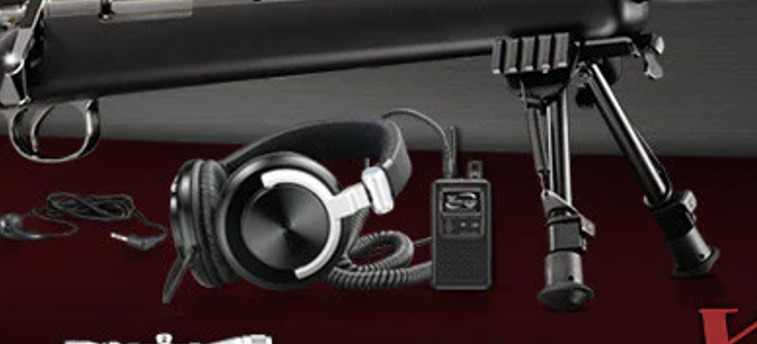 Similarly, Remington also offers a wide variety of variants for its 700 platform.
Aside from the venerable M24, there are cut-down tacticals, stainless steel models, extended barrel models, models that use a hinged floor plate or box magazines, and so on.
Being a real steel firearm, of course, many of these differences, such as barrel length, twist rate and caliber, are far more significant than with an airsoft rifle.
By and large, however and true to their reputation, Tokyo Marui does get the overall look of a Remington down pretty well regardless of the model.
The VSRs have a realistic overall length, matching the size range of real 700s and the M24 to a couple inches.
The bolt-action design features are accurately represented, as well, with the TM being a fully functional bolt action airsoft rifle that includes details such as the Remington 700 style small, round and knurled bolt handle (on the Pro series, anyway), 30 rd mid-cap box-style magazine, bipod readiness, sling points, Remington-style rifle stock and more.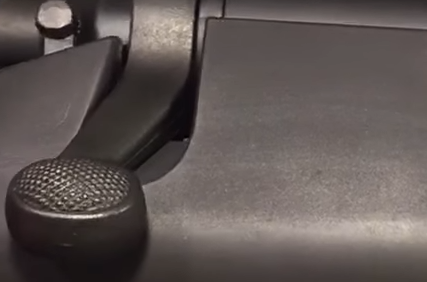 One very noticeable difference, whose significance we will discuss in more detail a little later, is the VSR-10's weight.
As with most other quality airsoft replicas, the Tokyo Marui VSR-10 is largely similar in construction to its real steel inspiration, with a metal outer barrel and synthetic stock.
But, airsoft being airsoft, it isn't quite built to the same tolerances as a real steel rifle, whose barrels are usually made of heavyweight steel and whose weight is often deliberately kept high for stability and accuracy purposes.
At 4.6 lbs (2.09 KG) the Tokyo Marui VSR-10s fit quite nicely and are very appropriate for the airsoft world, but feel significantly lighter than the real steel versions.
Finally, as the name might imply, the Tokyo Marui VSR-10s are not officially licensed airsoft products.
There are no real trades of any kind on the gun, beyond Tokyo Marui's of course, which can be a little disappointing to airsoft collectors.
To be fair, however, this isn't really a gun designed to sit in a collection, something we feel would be probably better suited to a good quality M1 or even M14 replica.
While it may look good, the Tokyo Marui VSR-10 is designed to be a very functional airsoft sniper platform.
As such, it really should be taken out into the field to sow fear and confusion into the hearts of your opponents, and the lack of trades should have no effect on this either way.
How Well Does the Tokyo Marui VSR-10 Perform as an Airsoft Rifle?
Build-quality and construction
The Tokyo Marui VSR-10 is built out of a mixture of plastic and metals.
The outer barrel is made out of pretty high quality rolled and machined aluminum, a rather significant step up from the typical pot metals used in most airsoft bolt-action rifle replicas, and one that contributes to the gun's overall quality.
Being made from better quality aluminum, the barrel is very durable and is quite scratch and dent resistant and should stand up well to most of the bumps and knocks that a more…spirited…airsoft sniper can put it through.
At the same time, it is fairly lightweight and doesn't weigh the front of the gun down too much.
As is proper for an airsoft sniper platform, the TM VSR-10's barrels come in a nice matte finish, although they can be picked up in chrome as well.
It is important to note that the outer barrels of the gun are threaded, but they do not come with standard 14mm CCW threading.
They are something like a 20mm positive thread, and while G-Spec models do come with their own specific suppressor (which is pretty decent and foam filled), if you want to add your own suppressor, extension or tracer unit to these guns (which, of course, you will) you'll need to pick up an adapter plug.
Similarly, many of the mechanisms and details of the gun are made of metal.
The bolt and bolt mechanism are aluminum alloy, for example, as are the trigger and thumbable safety.
The body on the gun is made of ABS plastic.
While not quite as durable as a nylon-reinforced polymer frame, it is of a pretty decent quality, which shouldn't come as a surprise as this is a Tokyo Marui product.
When handled, the gun's plastic stock feels pretty rigid and strong, with no flexing, creaking or bending that we could notice.
Similarly, Tokyo Marui has done a good job with its quality control here, ensuring that the gun's seams are relatively small and relatively unobtrusive.
Some VSR-10 models (the Pro) come with standard iron sights. These are high-profile notch sights, and the rear sight is adjustable while the front is a blade sight. 
While perhaps a little superfluous given what most people will use the VSR-10 for, they can be good in a crunch (when SHTF), although if you are airsofting as a sniper you really should carry a decent sidearm for just such an occasion.
They are also functional and can be used just fine if iron sight plinking is your thing.
Oddly enough, and like other VSR-10s such as the JG, the front side is actually glued on (pretty solidly) when you first take the gun out of the box.
It can take a little work getting it off and conversely (if you're so minded) a little work permanently affixing it to the barrel.
One thing to note for those interested in modifying their VSR-10s is that if they do come with rear sights, these do use the same holes that any aftermarket rail system will attach to, so you won't really be able to attach optics alongside these stock sights.
Inside, Tokyo Marui has done a good job with the VRS-10 and it is a pretty decent gun stock.
The VSR-10 is a spring powered airsoft rifle and comes with something like an M90 spring (as far as we could tell).
The cylinder and cylinder head are brass, the piston and spring guide are made of sturdy plastic, while the trigger and sears are made of pretty solid feeling aluminum alloy.
The gun comes with a pretty standard, but good quality, 6.08mm brass barrel, and the trigger system is a 45°, meaning it holds the piston and bolt in place at a 45 degree angle.
Although users looking to upgrade the VSR-10 with stronger springs to hit higher FPS rates might want to consider upgrading to a 90°, for the most part the VSR-10's stock internals keep things pretty smooth, light, accurate and, perhaps most importantly, reliable.
Finally, the VSR-10 comes with an adjustable AK-style sliding hop up unit.
The unit is accessible from the outside of the gun, which makes it extremely convenient to make last second hop adjustments on the fly.
It also comes with graduated markings, which can help users more easily keep track of what they're doing as they go.
The VSR-10's stock bucking is a standard, non-split Tokyo Marui. It is decently hard and provides excellent spin to about 0.30g.
Performance and Accuracy
Out of the box, the Tokyo Marui VSR-10 is a very capable airsoft rifle.
Now, it isn't a powerhouse, by any stretch of the imagination.
With a stock FPS of about 290 using 0.20g BBs, it won't quite match up in terms of raw power delivery to some of the M4s or AKs out there.
That said it falls well under the limits set on sniper rifles at most airsoft fields, and being bolt-action it should be usable just about anywhere that allows sniping.
As we all know, however, FPS isn't everything when it comes to airsoft and this is where a stock VSR-10 really comes into its own.
Even for a spring airsoft rifle, the Tokyo Marui VSR-10 is remarkably quiet when fired.
Beyond a brief click and the racking sound of the bolt being drawn back, the gun really doesn't make any noticeable sound, even without the G-Spec's suppressor.
While typically a downside in an airsoft gun (who doesn't like a good blowback action, after all), it is actually a significant strength with airsoft sniper rifles.
At any kind of minimum engagement distance, it is unlikely that opponents will be able to detect where a shot is coming from and so, if careful and properly concealed, VSR-10 users should be able to confuse, scatter and pick off their opponents pretty easily.
The gun is also remarkably accurate stock.
It does depend on the weight of BBs used, but with 0.20g BBs users should have no issue getting tight groups at 100 to 130 feet (30-40m or so).
With 0.28g we saw the gun hit targets accurately well past 150 feet (50m) with everything dialed in and with decent optics, and some VSR-10 users claim that with 0.30gs they can hit targets well past the 180-200 foot range, although this isn't something we have tried ourselves.
In terms of feel, the VSR-10 has a fairly smooth bolt pull, although some users do report some double loading issues if it's not drawn back correctly.
Interestingly, the VSR-10's trigger's pull and stroke can be adjusted to give the gun a longer or shorter pull through a couple hex screws located on the trigger mechanism. 
Although stock the gun won't really be a hair trigger, these adjustments can go a long way in making the gun more responsive and can help users tailor the gun to fit their preference without having to immediately drop in aftermarket parts.
Users should note that there are Recoil Shock versions of the Tokyo Marui VSR-10 that use little weights inside the gun to provide a blowback-like action when fired.
While it does provide a little simulated recoil, if you really are into sniping we would probably stick to the non-recoil versions of the Pro or G-Spec as the simpler internals means there is less to go wrong and the lack of any recoil or shock will help keep the gun stable and on target a little more between shots.
Handling and feel
Based on the Remington 700 platform, the Tokyo Marui VSR-10 is very comfortable to hold and use.
It has a big, firm stock to shoulder (with a rubber butt plate) and nicely curved grip to hold on to and keep things stable and under control.
The gun is, as might be expected with its metal front barrel, a little front heavy, an effect that only increases once bipods are attached.
That said, this isn't a gun that you're going to be running and gunning with and will most likely be fired from a stable platform, so the balance is a little less relevant.
It's also not a particularly heavy gun.
Made largely out of aluminum, aluminum alloy and plastic, at under 5 lbs it really isn't too hard to carry around or maneuver with, especially with the much shorter barreled G-Spec.
The weight of the gun, however, can have its pros and cons, although it is more of an advantage than a disadvantage in our opinion.
On the one hand, the lightweight of the VSR-10 can take you out of the moment, feeling a lot less realistic in-hand than heavier airsoft bolt actions like the A&K M1 or one of CYMA's M14s might.
Similarly, a sudden jostle will move a lightweight airsoft gun off target a lot easier than a heavy one.
However, put the VSR-10 on a bipod and it can swivel around from target to target far more easily than a heavy gun, something that can be very useful in dynamic airsoft games, and the VSR-10 can be held on target for a long time without fatiguing the user, which is useful for ambushing.
It's also important to keep in mind that the old long range marksman's adage "heavier is steadier" doesn't really apply to airsoft, since there's no real recoil.
In terms of ambidexterity, the Tokyo Marui, like other VSR-10s and most airsoft bolt actions, is mostly designed to accommodate right handed shooters.
The bolt handle and safety are located on the right hand side of the gun, which means using them with your left hand can be a bit of a trick.
Interestingly, the magazine release is relatively ambidextrous, being located on the bottom of the gun, which can be a little more helpful for left handed shooters.

Maintenance
Being a spring-powered airsoft rifle, there is a lot less that can (and probably will) go wrong with the VRS-10 than with an AEG or GBBR.
As mentioned in some of our other articles about spring airsoft guns, there aren't any motors, gears, batteries, gas valves or cartridges to worry about with these guns.
By and large, these guns are very reliable – as long as the main spring and essential components remain intact it will tend to shoot BBs.
As a bolt-action, taking the gun down for routine maintenance, however, can be a little more involved than a typical AR rifle and can involve a lot of unscrewing.
To separate the receiver and stock users have to use an included hex key to loosen and remove a couple body screws.
Once this is done, however, users should be able to check out the barrel assembly, bolt assembly and trigger unit, being able to inspect for damage, adjust the trigger and more as needed.
The barrel assembly can be removed by unscrewing a retaining phillips head screw and turning the assembly in a counterclockwise direction.
The cylinder is similarly held in place on the trigger assembly by a couple screws.
One thing to note is that the mag catch spring sits pretty much freely inside the stock and can pop free and fly off when taking the gun apart, which can be annoying.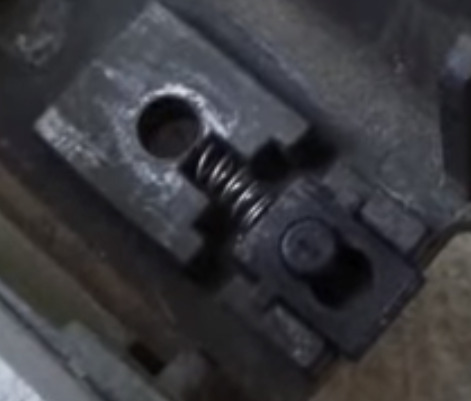 In terms of repairs and replacement parts, it is a Tokyo Marui and one of the most popular sniper rifle platforms out there.
Consequently, users can find and install OEM (or compatible) parts for the VSR-10 pretty easily and fairly inexpensively.
Magazine type and capacity
The Tokyo Marui VSR-10 comes with a relatively distinctive looking, rectangular 30 round plastic mid-cap box magazine.
By and large, we found that the magazine fed really well and very reliably, something that is kind of important when taking on the role of an airsoft sniper, and typically priced at unde $15, it isn't that expensive to pick up spares.
Given that the Tokyo Marui VSR-10 platform is widely imitated, there are a large number of magazines that are compatible with this gun from other brands, such as those produced by Action Army, G&P, JG and others, which should make it easier and less expensive to source spares in the long run.
Plus, there are a variety of magazine sizes available for the gun, such as larger capacity 50 and 55 round mags, which can give users a little more peace of mind.
Accessories & Customizability
In the end, the draw of the Tokyo Marui VSR-10 is, and always has been, its customizability.
While it is a fine bolt-action rifle out of the box and perfectly usable for basic sniping even when stock thanks to its reliability and accuracy, the gun is essentially a blank slate that airsofters can use to build the airsoft sniper platform of their dreams.
As one of the most popular airsoft platforms on the market, there are about a million aftermarket accessories and upgrades for the Tokyo Marui VSR-10.
From bipods, tighter springs, tightbore barrels and better hop up buckings to more durable cylinders and pistons, steel sears, 90 degree triggers and even actual wood stocks, with a little work you can really tweak this gun and make it your own.
In fact, when it comes to aftermarket accessories, there is very little that won't fit this gun, unlike some other non-TM spec VSR-10s out there, to the point where it can be easily stripped out and completely rebuilt to high-performance specs.
Price
Note: All prices correct as of writing, all prices in USD.
As with other Tokyo Marui products, the VSR-10 doesn't exactly come cheap, and you can usually pick one up for somewhere around $200-300, depending on the model (some, like the Pro Sounds, can cost up to $400 or more). 
Although not particularly expensive when compared to better GBBRs or even AEGs, this price point does puts it more towards the premium end of the bolt-action airsoft rifle market, and more expensive than other VSR-10s out there, such as those produced by CYMA and JG and a little more than some other bolt-action, spring airsoft sniper rifles, such as the AMOEBA Striker. 
That said, the VSR-10 does have exceptionally well-put together externals, good internals, excellent out of the box reliability and accuracy, and very strong parts compatibility that makes it one of the best airsoft sniper platform choices out there. 
Or
Or
Or
Advantages of the Tokyo Marui VSR-10
Well built
The Tokyo Marui VSR-10 is very well put together, with a rolled and machined aluminum outer barrel and a variety of durable alloy components.
Although it does use ABS plastics in its stock, it is very rigid and solid, without much bending, flexing or creaking when it is held or used.
Very accurate
Out of the box and with some decent optics, the VSR-10 will pretty much drill targets up to about 100 feet (30m) without much effort and users should be able to reliably hit targets well past 150 feet (50m) with a little concentration.
Very reliable
A spring airsoft rifle, there is very little that can or will go wrong with a stock VRS-10, especially given Tokyo Marui's reputation for quality control, and with proper maintenance it should load and fire BBs without suffering from misfeeds, double loading or slam firing or other common bolt action issues.
Extremely quiet
Even without the G-Spec suppressor, the spring-powered Tokyo Marui VSR-10 is a very quiet airsoft rifle that isn't likely to give away its users position when fired.
Extremely customizable
Although it performs excellently as a sniper rifle when left stock, the VSR-10 really lends itself to modification and customization.
From improved internals to cosmetic improvements, there are tons of aftermarket parts and upgrades for this gun that can allow users to easily improve its performance and tailor the gun to their specific needs and desires.
Adjustable trigger
The Tokyo Marui VSR-10 has an adjustable trigger mechanism that allows users to better tailor its pull and distance to their preferences.
High quality and easy to adjust hop up unit
The Tokyo Marui VSR-10 comes with a high quality TM hop up unit that not only provides good spin, contributing to the overall accuracy of the rifle over distance, but is also a slide-style hop up that is accessible from the outside of the gun, so adjustments can be easily made on the fly.
Disadvantages
Relatively Pricey
At around $2-300 the VSR-10 may not destroy your budget but it is a little more expensive than most spring action/bolt action airsoft rifles out there.
And although far from the most expensive Tokyo Marui gun out there, it is a little more pricey than many of its clones.
Not the most realistic airsoft gun to hold
The Tokyo Marui VSR-10 is very lightweight for a gun of its size.
While this can have significant benefits while shooting (or carrying the gun around in game), when holding it you are very much reminded of the fact that it is an airsoft gun and not a real steel rifle.
Not the most powerful
While it is accurate and reliable, the Tokyo Marui VSR-10 is not really all that powerful (largely due to local regulations), chronoing at sub-300 FPS.
While it's true that FPS isn't necessarily king with airsoft sniper rifles, the TM is less powerful than many rivals that clock in at 400+ FPS and may disappoint some users.
Bottom Line
A good airsoft rifle can be hard to find, but with its accuracy, range, reliability, easy handling and near-silent firing, the Tokyo Marui VSR-10 can be a great and effective sniper option even without any modifications or customization.
And for those who do want to get into the hobbycraft side of airsoft, the gun is eminently customizable and can be tweaked and tricked out to your heart's content.
Ted Clark– Hailing from Florida, Ted has been an avid airsoft enthusiast since he was in middle school. When he's not checking out and reviewing airsoft guns, he enjoys picking off his enemies one by one on the field as a sniper.
Will Martin – Will has been into airsoft and paintball for well over 10 years, and has done it all – from upgrading and fixing gearboxes as a tech to building custom airsoft loadouts for his friends to supporting off those friends as a DM.