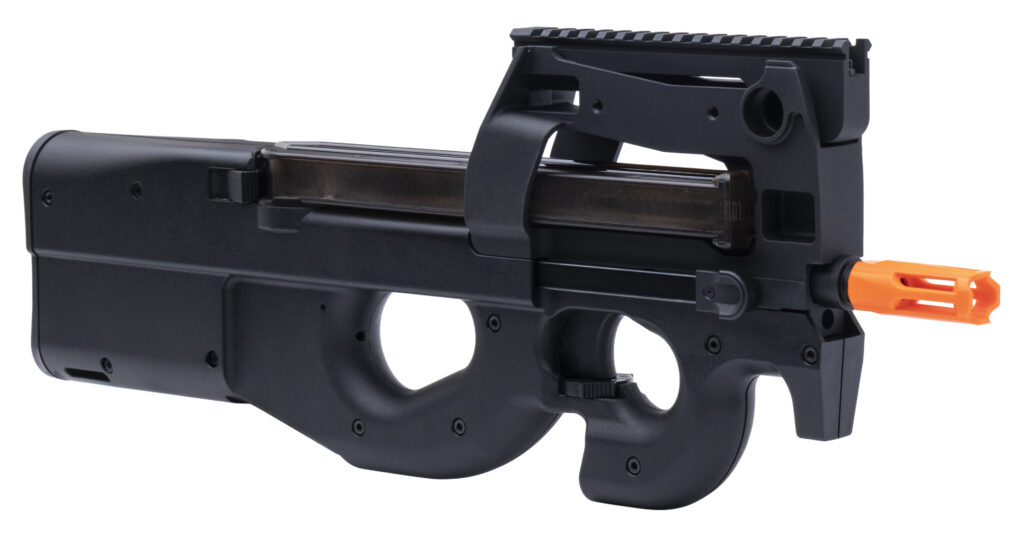 Durability and Build Quality

92%
| | |
| --- | --- |
| Pros | Cons |
| ✅ Highly realistic with official trademarks | ❌ Pricey |
| ✅ Compact and very cool looking | ❌ Some proprietary parts in gearbox |
| ✅ High quality, tanky internals | ❌ Battery compartment can be a little cramped |
| ✅ Excellent build quality | |
| ✅ Strong FPS with quick change spring | |
| ✅ Accurate at range | |
| ✅ 22+ RPS on auto | |
| ✅ Highly adjustable trigger | |
| ✅ Easy to take down and maintain | |
| ✅ Excellent magazine compatibility | |
| ✅ Fully ambidextrous | |
| ✅ Well-balanced, comfortable to hold and use | |
There are few guns out there whose looks are so distinctive and so widely admired that they transcend the functionality of the gun itself, turning it from a functional firearm to a cross-cultural icon.
With its unique boxy-yet-rounded bullpup design the P90 is one such gun, seemingly appearing in pretty much any form of media that calls for a futuristic weapon.
In the airsoft world, the demand for P90s as an SMG has remained pretty strong and different models have popped from time to time whose quality has been, honestly, pretty hit or miss.
The EMG Krytac P90 AEG is the result of a three-way collaboration between Krytac, EMG and Cybergun to produce an officially licensed P90 that not only looks good, but performs well on the field, too.
To find out if this gun can live up to the hype, and to find out if it's really worth your time and money, we decided to take a closer look.
Specifications
| | |
| --- | --- |
| Manufacturer | Krytac |
| Action | AEG |
| FPS | ~405 FPS |
| Hop Up | Adjustable |
| Inner Barrel | 10.04 in (255mm), 6.05mm dia. |
| Outer Barrel | 14mm CCW threaded |
| Total Length | 19.8 in (504 mm) |
| Weight | 5 lb (2.29 kg) |
| Construction | Aluminum upper, Polymer frame |
| Rounds | 50-200 |
| RPS | 22-24 @ 11.1V |
How closely does the EMG Krytac P90 resemble a real steel FN P90 SMG?

| | | |
| --- | --- | --- |
| | EMG Krytac P90 | Herstal FN P90 |
| Weight | 5 lbs (2.29 kg) | 5.8 lbs (2.6 kg) |
| Barrel Length | 10.04 in (255 mm) | 10.4 in (264 mm) |
| Overall length | 19.8 in (504mm) | 19.9 in (505mm) |
| Action | Semi/Auto | Semi/Auto |
| Caliber | 6mm | 5.7×28mm |
| Capacity | 50-200 BBs | 50 rounds |
| Construction | Aluminum, Polymer | Steel, Polymer |
| Sights | Integrated sight | Integrated sight |
| Rail | Top, side | Top, side |
Overall, the Krytac P90 is a pretty close 1:1 replica of the Herstal FN P90.
Aside from a slight, but expected, difference in weight, the Krytac airsoft version manages to replicate the P90s rather distinctive looks pretty closely, matching its real steel counterpart in terms of length and dimensions.
The external design of the Krytac is also a nearly identical copy of a FN P90 Tactical, and includes all of the quirky but distinctive features of the Belgian SMG, including its circular grip, rotary safety, ambidextrous control, pinhole sights and more, all of which are in their proper location and are completely functional.
The gun is even built similarly to the real steel SMG, with a metal upper receiver over an injection molded polymer frame.
The gun is the product three-way venture between EMG, Krytac and Cybergun and is an officially licensed airsoft gun, so it contains all the trademarks that one might come to expect in a P90, which is good news for collectors.
The gun is marked with both the P90 name and its caliber on its rail system, and has FN Herstal trades prominently displayed across the left-hand side.
Much like the real steel version, however, the right side is oddly left blank and is devoid of any markings whatsoever. 

We were a little saddened to find out, however, that in the name of realism (and licensing issues, presumably), Krytac's rather cool kraken logo is nowhere to be found on this gun.
EMG Krytac P90 Aeg: How Does It Perform As An Airsoft Gun?

Build Quality and Construction
Like a real steel P90, the Krytac P90 uses a blend of metal and polymer materials in its construction.
The upper receiver of the gun is made of aluminum, while the frame is made of a fairly unique feeling polymer material.
This polymer is lightly textured, a little smoother to the touch and more realistic feeling than many other models, such as the classic King Arms P90.
It is also significantly less shiny than many other P90 airsoft SMGs out there, which makes it look a lot more realistic, as well.
The use of polymer keeps the Krytac P90s weight down significantly, yet it remains pretty tough and durable, especially compared to models that use cheaper ABS plastics, so it should take many of the casual knocks, bangs and drops of a typically spirited airsoft game.
True to Krytac's reputation, the gun is put together quite well and feels very sturdy when handled.
Its P90 body is held together by several hex screws (there are far more around the body but many are just there for decoration), and so the gun holds together pretty well.
Krytac does include a small tab to make taking the uppers and lowers apart quite quickly and easily, and unless you really twist the receivers laterally (and risk breaking the thing), the P90 is actually surprisingly quiet when handled or jostled around normally, with no real wobble, creaking, or rattling to speak of. 
Similarly, we found the gun's charging handle to be nicely installed, sliding back smoothly and without any undue wobble.
As a P90, the Krytac doesn't have many levers or buttons on the side of its frame.
It does have a rotary safety located under the trigger, however.  
The safety can be a little unusual to look at and use for those coming from the AR/AK world, and may take a little getting used to.
Marked with S, 1 and A, the rotary safety dial allows users to toggle between Safe, Semi and Auto, and it does so pretty well, with each position locking into place with a satisfying and relatively heavy click.
The outer barrel of the Krytac P90 is 14mm CCW threaded, so users are easily able to add mock suppressors and tracer units to the gun, and towards the top of the upper receiver, the Krytac P90 comes with a removable tower-like rail system.
This rail system, although adding a couple inches in height, comes with a top mounted picatinny rail, which allows for the easy mounting of optics, as well as room for twin side rails, for adding lasers, flashlights and other accessories.
The gun only comes with a single side rail, however, so users will have to buy another if they want to mount accessories to both sides of the gun.
Interestingly, the Krytac P90s rail system also provides the gun with back up sights.
Although easy to miss at first glance, the gun actually has a small pinhole-like aperture running through the rail leading to an adjustable front post. 
While perhaps good in an emergency, these sights aren't exactly the easiest to use or aim with, as they are quite small and forward set, and most users will probably want to run the Krytac P90 with a reflex sight or optic of some kind.
When it comes to the P90s internals, as with their Vector or the Trident models, Krytac has put a lot of thought and effort into their work.
As with these other Krytac airsoft guns, the gun's gearbox is proprietary and designed to fit within the P90s rather…unique…frame.
While the words "proprietary" aren't usually what every airsofter (or technician) wants to hear when it comes to a gearbox, the Krytac P90 is actually very well-put together, well-thought out and, well, pretty tanky.
Inside, the gearbox sports V2 compatible steel gears seemingly borrowed from the Trident Nautilus gearbox in a standard 18:1 gear ratio supported by 8mm steel bearings, as well as a reinforced Krytac polymer piston with four steel teeth (and the second to last tooth removed for a better engagement angle and easier tuning) and a T Plug.
The gearbox also has a quick change spring system that is actually quick change.

Users can access the spring guide from inside the butt stock, rather than needing to remove the whole gearbox, which is nice and allows users to pretty easily raise or lower the FPS on the fly. 
The P90 also comes stock with an integrated mosfet and a Krytac ETU thatsupports last round detection, so the gun will automatically stop firing when the magazine is empty, which is kind of cool, increases the responsiveness of the trigger in general and gives the gun its binary trigger mode, where the gun can be fired on semi or auto depending on how far you squeeze the trigger.
That said, the ETU isn't natively programmable and doesn't support options like burst fire.
Interestingly, the trigger itself is manually adjustable, which isn't a feature you see every day on an AEG.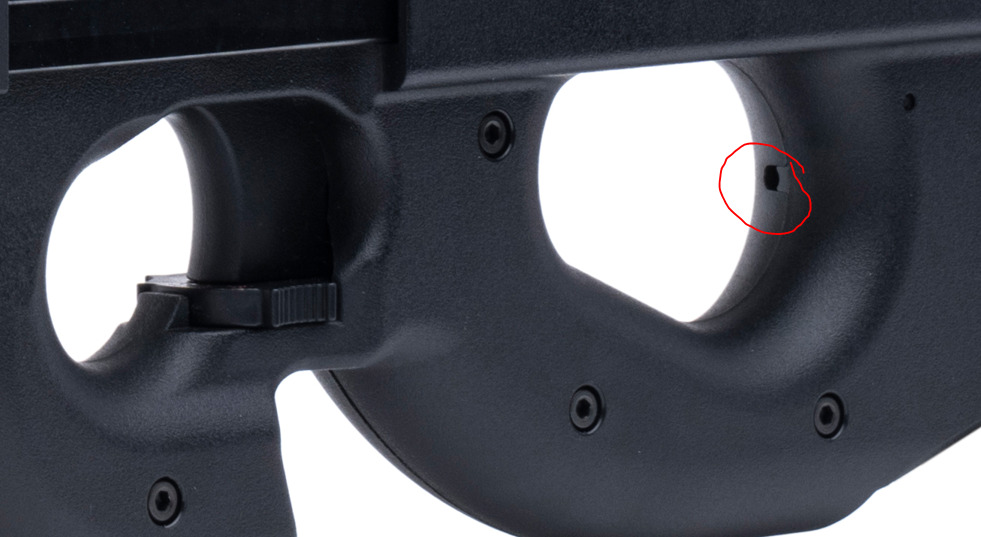 Behind the grip is a small hole that fits a 2.5mm allen key, and users can turn it to shorten or lengthen the travel of travel, letting users more finely and intuitively tune the responsiveness of the trigger to their own comfort level. 
Combined with the Krytac ETU, users can really make the P90 into something of a hair trigger SMG should they so choose.
To power all this, the P90 comes with a long-type Krytac 30K neodymium motor that provides a good deal of torque, and the gun is fitted with a decent enough 6.05mm brass inner barrel.
BBs are propelled through a Krytac hop up unit. It is an adjustable hop up unit with a big, chunky rotary dial that can easily be turned by hand, even when wearing gloves. 
The hop up unit is accessible through a fairly sizable window located on the underside of the gun behind the grip, which users can either pop open with their fingernail or (in the recommended manner) by drawing the charging handle back fully, which is kind of cool
One thing that users will have to be aware of is that, like other airsoft P90s, the buttstock in the Krytac P90 is a little cramped, with the manual recommending 30mm x 15mm x 100mm batteries.
While it will fit a 1000 mAh 11.1v battery, as well as a 7.4v, and while Krytac has made the space a little larger than most of its competitors by moving the fuse and mosfet into the gearbox, the range of batteries that will fit in the gun comfortable is a bit more limited than some other airsoft frames and users (particularly those buying 11.1v nunchucks) may want to invest in a battery housing extension.
Performance and Accuracy
All told, the Krytac P90 delivers pretty impressive performance on the field.
In terms of power, running on an 11.1v with a stock M120 spring, we saw the gun deliver a more than respectable ~400-405 FPS with 0.20g BBs.
Although fairly impressive for an SMG and great for outdoor games, this will put it well over the FPS limits of most indoor CQB fields.
Luckily, as we mentioned, the gun sports a quick change spring system and fitting it with M95s should bring it down to the mid 300s with just a couple minutes' work.
One thing to note here is that some users have reported the occasional double firing on semi automatic mode when fitted with weaker springs and when running on 11.1v batteries.
This can, however, be fixed by fitting the gun with a 7.4v battery.
Although lacking a burst mode, the Krytac P90 also has a fairly impressive stock rate of fire on automatic.
On 11.1v LiPos we saw the gun get around 22-23 RPS on auto, a rather healthy speed that makes it quite competitive with other popular SMGs such as the ASG Scorpion Evo 3 A1, the Nemesis X9 and even Krytac's own Kriss Vector.
Even with the binary trigger, the pull on the Krytac is pretty snappy and quick, especially compared to most other P90s out there, and it can be adjusted as we mentioned earlier.
One thing that more technically minded users might enjoy is the fact that the trigger unit can be taken down pretty quickly and the spring swapped out with a replacement, so it can pretty easily be turned into something approximating a hair trigger.
In terms of accuracy, the Krytac P90 is a little sharpshooter.
While the stock P90-style iron sights aren't the greatest for target practice, with any kind of optic the gun can easily get groupings well past 100 feet (30 m) and hit targets decently up to about 150 feet (45 m) without much of an issue.
Thus, although the Krytac P90's overall design would lend itself to CQB, it can very easily be taken to and used effectively in outdoor events, making it quite versatile.
This accuracy at range is due partly to the high quality internals, but also due to the excellent Krytac hop up unit that the gun is fitted with.
Accessible from the underside of the gun, the hop up unit is very easy to adjust, clicking audibly into place with each turn, and provides excellent spin that keeps BBs flying towards their target.
Handling and Feel
The EMG Krytac P90 is a 1:1 replica of a P90, which means it shares many of the handling characteristics of that relatively renowned firearm.
It has a bullpup SMG, and so despite its 10 inch barrel it is relatively compact.
At just under 20 inches long, it is considerably shorter than a standard M4 carbine, a Nemesis X9 or even the ARP9 (by just a hair).
However, due to the fact that it built with an integrated/fixed stock, it is a bit longer than a collapsed Scorpion, MP7 or even the Vector.
To be fair to the P90, however, it is considerably more compact than any of those airsoft SMGs when they are extended.
At around 5 lbs (2.26 KG) in weight, the gun does approximate the heft of a real steel P90 and feels very much like a real firearm when held.
However, the Krytac P90 is well balanced, with most of its weight just behind the grip and so it is quite easy to hold and the lighter front end means users can swing the barrel around from target to target very quickly and efficiently in CQB games.
With its futuristic, boxy overall dimensions, very rounded grips and rotary safety, like other airsoft P90s, ergonomically this Krytac can be a bit different to hold and use for those coming from an AR or even AK background, at least at first.
That said, you do get used to the P90 and its unusual design quite quickly. Its round pistol grip is surprisingly comfortable and its oversized trigger guard is almost intuitively usable as a sort of foregrip and can be used to stabilize the gun quite effectively.
In terms of left hand use, the Krytac P90 (much like real steel FN P90) is fully ambidextrous.
The rotary safety selector is accessible from both sides of the gun and is located under the grip, while the charging handle and magazine release are located on both sides of the frame.
Even the hop up unit is left-hand friendly, being accessible from underneath the gun rather than on the right hand side dust cover as is common with most airsoft SMGs and rifles.
Maintenance
Although the EMG Krytac P90 has a few hex screws holding it together, which is something like the Vector, taking it apart for maintenance is actually quite easy.
After setting the gun to safe and removing the battery of course, there is a little release catch located under the magazine that, when pressed, separates the upper receiver from the frame.
Push the barrel assembly in, turn it and it should come free along with the hop up unit.
You can then check the barrel, hop up, trigger and more for damage, clean them and so on.
Accessing the gearbox is similarly easy.
Once the battery is removed and the buttplate inside the stock is unscrewed, it can be carefully pulled out from the rear of the gun in seconds without having to unscrew anything.
In terms of replacement parts, although some parts are proprietary, both Evike and Krytac do carry replacement parts for the P90, such as motors, hop ups, gears, barrels and more, and many of the internals are compatible with other Krytac airsoft guns, such as the Trident.
Magazine type and capacity
The Krytac P90 AEG comes with a P90-style detachable box magazine.
This magazine is kind of interesting as it is an adjustable or convertible mag. That is, with the flick of a switch it can be set to be a 50 round mid cap or a 200 round hi cap, giving it a surprising degree of versatility for a magazine and is pretty cool altogether.
The magazines fit and feed quite well, unlike some of the cheaper P90s on the market that tend to have reliability problems when it comes to their mags.
Unfortunately, and unlike many other P90s out there, the mags do not come with fake cartridges inside and are more or less clear.
Although this does lose something in terms of the overall aesthetics of the gun, these clear mags can actually be kind of handy in that they allow users to better keep an eye on their BB levels and any issues that may arise.
Helpfully, in addition to their own mags, the Krytac P90 is also compatible with Tokyo Marui P90 magazines, which can make ownership a lot more affordable and convenient in the long term.
Keep in mind, though, that if you do use non-Krytac mags, the gun's last round cut-off feature may not work properly.
Price
Note: Prices correct as of writing, all prices in USD.
Starting at just under $450, there's no getting around it – this is an expensive airsoft gun and your wallet will feel this purchase.
At this price point, it is significantly more expensive than other P90s on the market, such as the relatively affordable Cyma, and puts the Krytac P90 at around the same price point as GBB SMGs, the Krytac Kriss Vector and the Scorpion Evo 3 A1.
That said, with its great overall build quality, high quality internals, user friendly features, excellent power, speed, responsiveness and accuracy, the Krytac is likely one of the best performing and reliable SMGs options out there and likely one of the best examples of an airsoft P90 period.
Plus, it's officially licensed.
Or
Krytac P90 AEG Pros and Cons
Pros
Officially licensed and very realistic
The Krytac P90 is an officially licensed 1:1 replica of a Herstal FN P90.
It matches the real steel SMG pretty closely in terms of looks, construction, size and even weight, and even has all the official trademarks that you might want in all the right places.
Compact, cool design
Krytac has recreated the P90s iconically futuristic good looks, making this a very distinctive and instantly recognizable airsoft SMG to take to the field.
More functionally, the Krytac P90 is a highly compact choice of airsoft gun. At under 20 inches long, it is easy to carry and maneuver around with, particularly around obstacles and in tight quarters, making it an ideal choice for CQB games.
Well-built, inside and out
The EMG Krytac P90 is made of a combination of an aluminum upper receiver mounted to a very strong and durable polymer frame.
When handled, we found the gun to be very well put together, with no wobbling, flexing, rattling or squeaking that we could hear or feel.
More than that, Krytac has put a good deal of effort into the gun's interior as well.
The AEG's gearbox is a unique design with V2 compatible steel gears, 8mm bearings, reinforced polymer piston with 4 metal teeth, a quick change gear system, integrated mosfet, ETU, tightbore barrel and more.
Powerful
The Krytac P90 is no slouch when it comes to power, chrono-ing at 400 or so FPS with 0.20g BBs with its stock M120 spring.
Although a little too powerful out of the box for use on fields with stricter CQB FPS limits, the quick change spring system allows users to quickly and easily swap in lower powered springs in a matter of seconds and without having to remove the gearbox.
Accurate at range
Though compact and seemingly ideal for CQB, the Krytac P90 is actually a pretty accurate little airsoft SMG.
Fitted with a proper sight, it is capable of hitting targets reliably to 150 feet with little effort thanks to its internals and the spin provided by its high quality Krytac hop up unit.
Strong Rate of Fire
When running on an 11.1V LiPo we found that the Krytac P90 was capable of reaching a rate of fire of about 22-24 RPS on automatic, putting it in the range of some of the better SMG choices out there.
Adjustable trigger response
Airsoft P90s tend to have a reputation for having a mushy and somewhat long trigger response and pull.
Aside from equipping their gun with a fairly capable ETU, the Krytac P90 also features a fully adjustable trigger, whose length of pull can be adjusted from the outside of the gun using an allen key and whose spring can be easily swapped for something a little more responsive.
Super easy take down
Although there are quite a few hex screws on the frame, many of which are used to keep the Krytac frame sealed nice and tightly, taking the gun down for maintenance is actually quite easy.
The upper and lower receivers detach with the push of a switch and, once the internal protective plate is unscrewed and removed from the buttstock, the gearbox actually pulls right out.
Fully ambidextrous
The Krytac P90 is a fully ambidextrous airsoft SMG.
The mag release, safety selector and charging handles are accessible and usable from both sides of the gun.
Even the hop up unit is accessible from underneath, rather than from the side.
Good magazine compatibility
Although its last round cut off feature does require the use of Krytac magazines, the Krytac P90 does accept Tokyo Marui compatible P90 magazines, which makes finding spares for it a lot easier and potentially a lot less costly.
Cons
Pricey
There's no getting around it, at over $400, the EMG Krytac is one of the more expensive P90s out there.
Although certainly one of the best examples of a P90 AEG in airsoft, it is not what you might call a budget option and your wallet will likely feel this purchase.
Some proprietary parts
Although well made, the Krytac P90 does use a proprietary gearbox design with some parts that are not TM compatible.
Battery compartment somewhat cramped
A common problem with the compact P90 design, although Krytac has taken great effort and succeeded in making the battery compartment of its P90 a little larger than its competitors, it still is a bit cramped and users can have a hard time fitting some batteries into it.
Bottom Line
The P90 is a wonderful SMG for airsoft, with distinctive futuristic looks and a compact bullpup design that is ideally suited to CQB games.
With its high quality internals, realistic design, excellent build quality, reliable, accurate and powerful performance, and plethora of user-friendly features, if you have room in your budget the EMG Krytac is likely one of the best P90 airsoft AEGs out there and can be a valuable addition to any collection.
Will Martin – Will has been into airsoft and paintball for well over 10 years, and has done it all – from upgrading and fixing gearboxes as a tech to building custom airsoft loadouts for his friends to supporting off those friends as a DM.