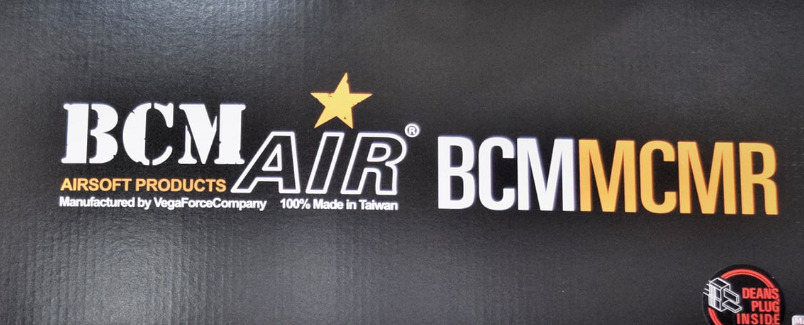 Durability and Build Quality

95%
| | |
| --- | --- |
| Pros | Cons |
| ✅ Extremely lightweight, easy to handle | ❌ Not exactly a cheap AEG |
| ✅ Solid, full metal construction | ❌ MOSFET features not as expansive as some others |
| ✅ Excellent trigger response | |
| ✅ High ROF | |
| ✅ Exceptionally accurate | |
| ✅ Very realistic, tactical looks | |
| ✅ Integrated MOSFET with pre-cocking and burst | |
| ✅ Great power | |
Bravo Company Manufacturing (or BCM for short) is a popular producer of high quality firearms and innovative firearms accessories that have become popular with US military, law enforcement and security professionals.
The sleek and performance-oriented styling of BCM's carbines and rifles has made them quite attractive for airsoft enthusiasts looking for something a little more modern and tactical to take to the field.
The VFC BCM MCMR 11.5 inch AEG is a popular and officially licensed take on BCM's CQB-oriented carbine and has attracted quite a bit of attention since its launch.
To find out if this gun lives up to the BCM well-earned reputation, and to figure out if it's worth your time and money, we decided to take a look for ourselves.
BCM MCMR AEG Specifications
| | |
| --- | --- |
| Manufacturer | VFC |
| Power | AEG |
| Action | Semi, auto, burst |
| FPS | ~400 FPS @ 0.20g BBs |
| Hop up | Adjustable |
| Inner Barrel Length | 10.83 inches (275mm) |
| Total Length | 31 in (790 mm) |
| Weight | 4.74 lbs (2.15 kg) with mag |
| Construction | Aluminum |
| Rounds | 120 |
How closely does the VFC BCM MCMR AEG resemble a real steel BCM?

VFC BCM MCMR
BCM CQB 11 MCMR
Weight
4.74 lbs (2.15 kg) with mag
5.5 lbs (2.5 KG) empty
Barrel Length
10.83 inches (275mm)
11.5 in ( 368mm)
Overall length
28 in (715 mm) collapsed;
31 in (790 mm) extended
27.5 in (698.5 mm) collapsed;
31 in (838 mm) extended
Action
Auto/Semi/burst
Auto/Semi
Caliber
6mm
5.56x45mm NATO
Capacity
120 mid cap
30 rounds
Construction
Aluminum alloy
Aluminum 7075-T6 receivers, MIL-SPEC steel bolt carrier and barrel
Rails
Top rail, MCMR handguard
Top rail, MCMR handguard
As can be seen from the above chart, the VFC BCM MCMR AEG is pretty much a 1:1 replica of a real steel BCM CQB Carbine.
The VFC matches its BCM inspiration very closely in terms of overall dimensions, both when collapsed and when extended, and its 11.5 inch barrel giving it a compact, CQB-oriented form.
That said, being an airsoft AEG and being made out of aluminum alloy rather than forged aluminum and MIL-SPEC steel, the VFC BCM is a little lighter than its already lightweight real steel counterpart by almost a pound, something we will discuss a little later on.
Alongside its dimensions, the VFC BCM MCMR is also a pretty exact match for a similarly-sized BCM CQB Carbine in terms of its external looks, with all the AR-style switches and controls all functioning and located where they should be.
Similarly, BCM's smooth and highly functional MCMR M-LOK handguard, stippled pistol grip, M4-style flash hider, enlarged trigger guard, textured charging handle and SOCOM-style buttstock are all quite accurately represented, being licensed and directly modeled on those from the real steel BCMGunfighter collection.
Realism aside, they combine to give this gun a particularly modern, aggressive and highly realistic styling that immediately sets the VFC BCM apart from most other stock airsoft AR carbines out there.
The gun is, of course, officially licensed and so sports a plethora of BCM trademarks and markings (including a unique serial number) across its frame that airsoft enthusiasts and collectors will really appreciate.
Aside from the usual magwell markings, BCM logos can also be found on the VFC's flash hider, grip, upper receiver, lower receiver, charging handle and even printed across the mock bolt.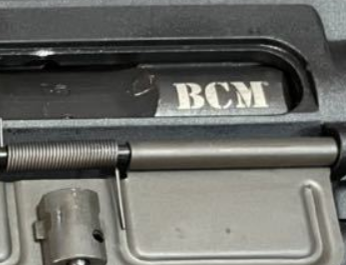 The gun even comes with a decorative rubber plate across the handguard, which is a bit unusual for a firearm replica but will certainly let everyone know what you're carrying. 

How Well Does The VFC BCM MCMR AEG Perform As An Airsoft Rifle?
Build-quality and Construction
Right off the bat, the VFC BCM MCMR AEG is a full metal airsoft AR Carbine.
Its outer barrel, upper/lower receivers and buffer tube are all made of aluminum alloy, while its pins, mockbolt, and flash hider are made of steel.
Meanwhile, the 11.5" BCM MCMR M-LOK handguard is made of lightweight and durable CNC aluminum.
This use of lightweight aluminum, aluminum alloy and steel helps strike a balance between weight and durability, leaving the VFC BCM light in the hand yet robust enough to take most of the bumps and knocks that a typical airsoft game will put it through without a problem.
In fact, the only real plastic used on this gun is in the stock and grip and even these eschew the usual ABS plastics seen on some cheaper airsoft rifles for some pretty solid nylon-reinforced polymer.
Out of the box, the VFC BCM MCMR seemed very well put together when we handled it.
The receivers were fitted together tightly, the safety selector was properly inserted and, although a little stiff at first, soon settled in and was fairly easy to thumb into position.
The BCM Gunfighter SOCOM-style stock, meanwhile, was quite firmly and securely attached to the buffer tube, seeming very well-fitted and solid in our hands.
Although it took a little more effort than a standard crane stock would to get moving, it showed no signs of wobble or looseness- something of a common issue with many other airsoft ARs.
When it comes to adding accessories, we found the VFC BCM MCMR to be pretty accommodating.
The gun comes with a full length aluminum top rail, which is built solidly enough to accept pretty much any real steel optic or laser (or flip up sights, which the gun sadly doesn't come with), and a free-floating M-LOK-style MCMR handguard, which offers a wide variety of placement points for accessories at the 3,6 and 9 o' clock positions, as well as 45 degree offsets.
Patterned after BCM's real steel MCMR rail, the handguard is a slimline and is very lightweight, weighing just about 0.5 lbs (270 g or so), yet is made of CNC aluminum so it holds up exceptionally well against bending or flexing when squeezed. 
This low weight can have a very functional purpose, making the VFC BCM's front end very light and easy to maneuver around obstacles and quickly shift from target to target.
In addition, the M-LOK style makes the gun's front end very smooth, especially compared to a typical quad rail.
Other than making it more comfortable to hold (especially if you're a fan of the C-clamp grip), this means the VFC BCM is less likely to catch or snag on clothing or gear in CQB games when drawn quickly.
On the downside, the use of an M-LOK-style handguard does mean that you will have to make use of rail sections, which can be a little annoying and a little more time consuming to set up and attach things compared to a full picatinny.
In addition to the rails and MCMR, the VFC also comes with a 14mm CCW threaded outer barrel, which makes adding mock suppressors, tracer units and other barrel accessories extremely easy.
While the VFC BCM MCMR is very realistic and well-designed on the outside, its internals are no less impressive.
The gun is powered by a reinforced Gen 2 Avalon V2 gearbox that sports nicely shimmed VFC steel gears, 8mm bearings, a polymer piston with a half-rack of steel teeth, an aluminum ported piston head, aluminum cylinder and an optical trigger unit.
The gun also comes with an in-line Avalon MOSFET that, in addition to making the gun LiPo ready, gives the gun a few handy features, such as pre-cocking, which compresses the spring after each shot and makes the gun more responsive, 3-round burst mode and voltage detection, which is always handy.
While these features are certainly handy in-game and while the Avalon MOSFET does its job pretty well, it is important to note that it isn't the most advanced ETU out there and doesn't really have quite as many programmable options as, say, an aftermarket Gate Titan or a Perun V2 Optical.
Driving all of this, the VFC BCM comes with a pretty well-balanced VFC 22 TPA neodymium motor, as well as a pretty impressive hop up system that comes stock with Maple Leaf buckings and fires BBs through a 275 mm long tightbore (6.03mm) inner barrel.
The hop up system is easily accessible, being located under the gun's dust cover, and is a rotary unit so making adjustments is pretty easy to do.
An Avalon gearbox, the VFC BCM also comes with a quick change spring system that allows users to swap springs without opening the gearbox, although it doesn't allow you to access it from the buffer tube to make last minute adjustments.
Finally, the VFC BCM comes with a Gunfighter SOCOM-style plastic adjustable stock. 
Modeled after a real steel BCM stock, it has a fairly interesting and ergonomic design that makes it both lightweight and easy to shoulder.
The buttstock has a number of small cutouts to save on weight and there is a large, rather comfortable, rubber plate fixed to the back that pops open at the press of a button to reveal a cavernous interior that should easy fit nearly all batteries, wires and any other upgrades a user might see fit to cram into the gun.
Rather interestingly, the stock also comes with a stippling effect on its bottom, which can give better grip in wet conditions.
Performance and Accuracy
Given the fair amount of attention and effort that went into the VFC BCM's internals, it is perhaps unsurprising that the gun is a pretty capable performer out of the box.
Running 11.1V LiPos, we saw it get around 400 or so FPS with 0.20g BBs, giving it more than enough power to keep up with its rivals outdoors.
This does mean that the gun runs a little hot for CQB or indoor games on some stricter fields, but a quick swap to an M100 should take the gun down to 350 quickly and easily enough.
Set to automatic, we saw the VFC BCM get around 23 RPS, which is very quick for a stock airsoft carbine and faster than many rivals such as the Krytac Trident or the KWA Ronin and about on par with VFC Saber.
The trigger response on the gun is quite good even on burst mode, thanks in large part to the MOSFET pre-cocking function, and, due to the optical sensors, the trigger has a pretty short travel.
That said, the optical sensors do mean that the trigger does have a somewhat slow reset, although nothing too serious.
Where we found the gun to really shine, however, is in its accuracy.
Thanks to its well-finished tightbore barrel and solid hop up unit the gun is extremely precise (as far as airsoft rifles go, anyway).
Once dialed in, we saw the VFC BCM hit targets at around 100 feet (30 m) with laser-like accuracy and, especially if you throw in some 0.28s, has no issue whatsoever reliably hitting targets past 150 feet (45 m).
Handling and Feel
The first thing you notice when you pick up the VFC BCM MCMR is how light it is.
With a magazine loaded, the gun tips the scale at only about 4.74 lbs (2.15 kg). Unloaded, it comes in at just under 4 lbs (1.8 kg), making the gun far lighter than most other M4 carbines out there.
It even makes quite a few SMGs, such as the ARP9 or Nemesis X9, seem a bit hefty and is really about on par, weightwise at least, with guns like VFC's own MP7 or the KWA MP9.
Yet, despite its weight, the VFC BCM never really feels like a toy, thanks largely to its metal construction and highly detailed looks.
The gun is easy to carry for long periods and its light front end makes it very easy to maneuver around and pie corners with, and generally allows the gun to snap between targets a lot easier when compared to a standard M4 clone.
As a result, and especially with its burst capability and responsive fire, the gun can be a very useful and effective CQB option, particularly when it comes to high-speed, low-drag games and skirmishes.
In terms of grips, the gun is fitted with a BCM Gunfighter pistol grip whose ample stippling gives it quite a bit of bite, even when wet. 
This anti-slip stippling, as we've mentioned, also extends to the underside of the gun's buttstock, which can give users better grip when extending it when things get a little slippery, and the gun comes with a nice, expensive trigger guard that is quite accommodating for those wearing gloves.
Interestingly, although somewhat unusually for an airsoft AR, the ambidextrous Gunfighter charging handle also has textured latches, which can help users get a firmer grip on them.
Finally, in terms of ambidexterity, the gun is a pretty standard AR in that regard.
While its charging handle is ambidextrous, its selector and mag release are configured for right hand use, so left-handed airsofters will have to make their usual adjustments with this gun.
Maintenance and Upgrades
As with other AR-style airsoft carbines, takedown and maintenance of the VFC BCM MCMR is actually pretty easy.
All you really need to do to access the gearbox, hop up and other internals is to pop out the captive body pins on the lower receiver and it should detach from the upper pretty smoothly.
The internals, as we've mentioned, are based around Avalon parts, which is pretty easy to find OEM replacement parts for.
Similarly, the gearbox is V2 compatible, making it quite easy to upgrade with aftermarket triggers, barrels, gears, ETUs and more.
Magazine Type and Capacity
The VFC BCM MCMR comes with a pretty decent and standard metal VFC 120 round midcap STANAG magazine that is built pretty solidly and loads and feeds pretty smoothly.
More than that, the gun is compatible with just about every other M4 airsoft STANAG-type magazine, which means that users can not only keep their costs down but can also take advantage of the myriad of hi-caps, low caps and drums out there if they should so choose – a bit of flexibility that we always appreciate.
Price
Note: All prices correct as of writing, all prices in USD.
When it comes to price, the VFC BCM MCMR is not exactly a cheap gun.
Like its sibling the Saber it comes in at the higher end of mid-market AEGs, at the $450-500 range and alongside notable M4 carbine rivals such as the ICS Mars and the Ronin series.
That said, it has to be said that the VFC is an excellent airsoft carbine that delivers quite a bit of bang for the buck.
It looks great, is very well-built, is officially licensed by a well known firearms brand, offers a good deal of performance, is highly accurate and reliable out of the box and offers a good deal of flexibility and upgradability, is exceptionally lightweight and is very comfortable to hold and use.
Check out the VFC BCM MCMR AEG on Evike
Or
Check out the VFC BCM MCMR AEG on Airsoft Station
Or
Check out the VFC BCM MCMR AEG on Airsoft GI
Advantages of the VFC BCM MCMR AEG
Exceptionally lightweight, easy to carry CQB option
Thanks to the use of lightweight materials in its construction, the VFC BCM weighs in, with a loaded magazine mind you, at under 5 lbs.
As a result it is really easy to carry, maneuver around obstacles with and shift from target to target, which means it can be an ideal primary for close quarters.
Durable, full metal build
Although the gun is pretty light, the widespread use of quality metals (aluminum, aluminum alloy and steel) in its construction means that it remains pretty durable and should stand up to most of what an airsoft game can throw at it without issue.
Authentic, cool looking externals
Externally, the VFC BCM MCMR has a very aggressive and modern look to it, with a cool, skeletonized MCMR M-LOK handguard, heavily stippled pistol grip and SOCOM stock.
Further, these accessories all come straight from VFC's authentic BCM Gunfighter collection, which themselves are licensed 1:1 replicas of real steel BCM components.
High quality internal components
The VFC BCM is also very solid where it counts – on the inside.
It makes use of an Avalon gearbox that sports properly shimmed steel gears, dual MOSFETs with pre-cocking and burst mode functionality, a half-metal toothed piston and more.
The gun also comes stock with a very capable Maple Leaf bucking equipped hop up, a neodymium motor and a well-finished tightbore barrel.
Excellent performance out of the box
Thanks to the effort put into its internals, the VFC BCM MCMR is a solid out of the box performer.
We saw it consistently chronos at 400 FPS or so while delivering an impressive 23 RPS on full auto, making it quite a quick little airsoft carbine in our opinion.
The gun's trigger is highly responsive, thanks to its pre-cocking feature, and is capable of a always-handy 3 shot burst mode.
Laser-like accuracy
More than that, however, the VFC BCM MCMR really stands out for its accuracy.
It can deliver pretty tight groupings for an airsoft gun at 100 feet (30 m) and, with a decent optic and heavier BBs, can easily nail targets at 150 feet (45 m) or more with no issue.
Lots of room for accessories and upgrades
The VFC BCM is also a gun that lends itself to airsoft accessories and upgrades.
The gun comes with a full length top rail, a slimline metal MCMR M-LOK handguard and 14mm CCW threaded outer barrel, so adding optics, lasers, mock suppressors, flashlights and more is a breeze.
Inside, the Avalon gearbox is fully V2 compatible and has a wide variety of aftermarket parts and accessories available for it, allowing users to more easily tweak the gun's already capable performance further if they so choose.
Disadvantages
Not exactly cheap
At over $450, the VFC BCM MCMR is not an inexpensive AEG option and your wallet will feel its purchase.
MOSFET doesn't have as many options as some others
While the VFC BCM's MOSFET does its job quite well (protecting the gun's trigger contacts from scorching on LiPos), and provides some helpful, performance-oriented features like pre-cocking and burst, it doesn't feature quite as many helpful or interesting programmable options as some other, third-party ETUs on the market.
Bottom Line
BCM is a well-known name in the world of firearms, known for making high quality, tactically useful carbines, rifles and accessories.
The BCM MCMR 11.5" AEG from VFC is an airsoft M4 carbine that's definitely worthy of Bravo Company's logo and licensing.
Out of the box, the gun is highly capable, with excellent power and accuracy, a durable metal build, comfortable handling and a lot of useful external details.
If you're looking for a reliable CQB-ready AEG M4 primary in the mid-range price range, the VFC BCM MCMR should definitely be at the top of your list.
Will Martin – Will has been into airsoft and paintball for well over 10 years, and has done it all – from upgrading and fixing gearboxes as a tech to building custom airsoft loadouts for his friends to supporting off those friends as a DM.