Durability and Build Quality

92%
| | |
| --- | --- |
| Pros | Cons |
| ✅ Great Value for Money | ❌ Hop up requires slide removal |
| ✅ Solid and well built, full metal | ❌ Some proprietary parts – not as upgradable and customizable as some others |
| ✅ Realistic, comfortable feel | |
| ✅ Hard hitting, but still usable indoors | |
| ✅ Accurate | |
| ✅ Good gas consumption | |
| ✅ Threaded barrel and rail | |
Ask most people to draw a pistol, and if they don't draw a revolver, chances are that most of them will produce something resembling a Colt 1911. And there's a very good reason for that.
The 1911 has been in production for more than a hundred years and it's design has changed very little since it's debut.
It's comfortable to hold, compact enough to carry easily, and cool enough to look at to be included in pretty much every modern tv show or movie where some guy draws a pistol.
In many ways, the 1911 is the iconic pistol design of the modern era.
Unsurprisingly, it is quite a popular option for airsofters looking for a cool pistol and the airsoft companies have responded accordingly.
Lots of airsoft pistols have been built over the years using this classic design. Also unsurprisingly, they are of wildly varying quality – some are truly excellent while others are barely functional.
The Elite Force 1911 TAC is a 1911-style airsoft pistol that has drawn a lot of interest in the airsoft community. Specifically built to run on CO2, in addition to looking good it is designed to pack a punch as well.
If a tactical, CO2-powered 1911 airsoft replica is something you might be interested in taking to the field, then read on as we take a deeper look at the Elite Force 1911 TAC to see if it's worth your time and money.
Specifications
| | |
| --- | --- |
| Airsoft type | Gas Blowback Pistol |
| FPS | 340-360 @ 0.20g with CO2 |
| Recommended Gas | CO2 |
| Action | Semi Automatic |
| Outer barrel | Threaded; 14mm counterclockwise |
| Hop up | Adjustable |
| Construction | Full Metal Construction – Metal frame, metal slide, metal sights |
How closely does the Elite Force 1911 TAC resemble the real thing?
| | | |
| --- | --- | --- |
| | Elite Force 1911 Tactical | M1911 pistol |
| Weight (empty) | 2 lbs ( 905g) | 2.4 lbs (1.1 kg) |
| Length | 9.05 in (230mm) | 8.5 in. (216 mm) |
| Barrel Length | 5 in (127 mm) | 5 in (127mm) |
| Action | Semi-Auto | Semi-Auto |
| Capacity | 14+1 rounds | 8 rounds |
| Construction | Metal | Metal |
| Sights | Adjustable rear sights | Rear fixed |
| Rail positions | 20mm at the 6 o'clock | – |
Broadly speaking, the Elite Force 1911 TAC has similar dimensions to a standard 1911.
It comes in at roughly the same overall profile, weight, and barrel length as a 1911, and will easily fit in any holster designed for the 1911, which is nice.
And it does have many of the same exterior components commonly found on 1911s, such as a functional slide stop and 1911-style thumb safety.
That said, this isn't your grandfather's (or great-grandfather's) 1911.
A little longer than your average 1911, the Elite Force 1911 TAC adopts a more modern, tactical look to it…which you might expect with a name like 1911 Tactical.
Beyond its general shape, it does cosmetically look quite different from a standard 1911, coming standard with a skeletonized trigger and hammer, beavertail safety and chunky slide cuts.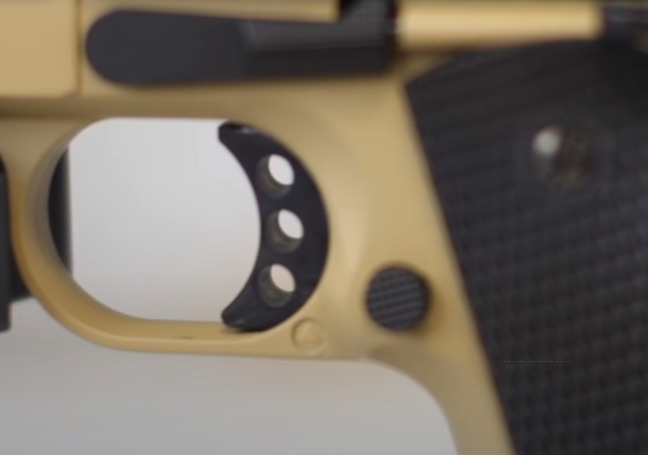 It also has a few extra features that aren't available on a standard 1911, such as enhanced white dot sights for better aiming, ambidextrous safeties and an integrated 6 o' clock picatinny rail, for the easy addition of accessories.
While those looking for a period correct and stock 1911 will probably have to look elsewhere, those looking for a modern take on a classic should be pleased.
That said, the Elite Force 1911 TAC is not an officially licensed Colt product and, as such, doesn't have the same trademarks as a 1911, with ELITE FORCE 1911 TAC etched fairly prominently on the barrel, which can bother some users.
Elite Force 1911 GBB: How Well Does It Perform?
Build-quality and construction
The Elite Force 1911 TAC is a full metal gas blowback pistol – both the slide and frame are made of decent quality metal that feels pretty sturdy, with only the grips and some smaller pieces being made of polymer.
This gives the Elite Force some heft and provides it with some added realism – at about 2 lbs (905 g) it does feel a lot like a real steel 1911.
With the slide and frame being made largely of fairly high quality metal, the TAC is fairly durable. It should withstand most of the bumps and bangs of an enthusiastic airsoft skirmish with ease.
The metal slide also helps give the Elite Force a nice, crisp metallic blowback and cocking which is always appreciated and feels far more realistic.
More importantly, this metal helps the Elite Force 1911 handle the more pressurized CO2 cartridges it uses, where ABS pistols would struggle over time.
The 1911 TAC is very well put-together overall and quite tight. We didn't find too much in the way of clattering and no wiggling or rattling which would indicate loose or badly fitted parts.
The slide action is smooth and locks nicely and reliably, with a charming metal snap to it which can be kind of addictive.
The 1911 TAC has a 20mm underside rail, which lends it a good level of customizability. You can use the rail to easily attach a wide array of accessories to improve your shooting and/or make the piece better suit your playstyle, such as flashlights or lasers.
This is reasonably common among airsoft pistols but the 1911 TAC's barrel is a lot less so.
The outer barrel is negatively threaded (14mm CCW), which allows users to easily add suppressors, tracers or whatever other accessories they'd like should they want to build on the Elite Force's tactical look.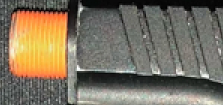 Overall, we think this is a very ergonomically well-designed pistol – it not only looks good but feels great to hold.
The body is relatively slim and easy to grab onto, especially compared to an airsoft Beretta or even the Tokyo Marui Hi Cap with its double stack magazine.
The grips are diamond textured polymer, which aren't to everyone's taste, but we like them and feel they're nice to hold (if a little plastic-y) and makes the Elite Force 1911 TAC easy to draw and hold even in poor weather conditions or while wearing gloves and they're pretty simple to clean.
And if you don't like them, obviously they're quite easy to replace.
Similarly, the Elite Force's slide comes with nice, wide slide cuts, which make it easy (and fun) to rack. And they are located on the front and back of the model, which allows for different handling preferences.
There is also a fully functional ambidextrous safety, which we appreciate since it makes things easier for left handed users, but the mag release is on the left side, being designed for right handed shooters.
Elite force has skeletonized some of the mechanisms of the 1911 TAC, notably the trigger and hammer, which we think gives it a more tactical, high speed look compared to a standard 1911 and saves (admittedly a very small) amount of weight.
Performance and Accuracy
The Elite Force 1911 TAC is a very solid airsoft pistol overall.
The mags for the 1911 run on standard 12 oz. CO2 cartridges, and the TAC is pretty good on gas for an all metal pistol.
We got off about 50-55 BBs before hitting empty, which translates to about three or four magazines before needing to swap, which is pretty good.
The TAC's Short trigger pull makes it a very responsive airsoft pistol to use and should let you fire fairly rapidly in game if you need to and definitely helps with follow ups.
Designed for CO2, the Elite Force hits pretty hard for a pistol – on the chrono, we saw 340-360 using 20g BBs, averaging in the 350s which isn't bad at all.
That said, it's a hard hitter but still reasonable. This isn't a monster firing off 400+ FPS, so the Elite Force 1911 TAC can be used in most games and, more importantly, it delivers a good amount of reliability and consistency – we had no issues with jamming, even after firing for some time.
One thing to note is that because it is CO2 and is more pressurized than Green Gas models, it does do better at lower temperature. The gun offers more stable and consistent performance in cold weather, so it can be a good option for outdoor use in the cold.
The CO2 also has the benefit of giving the Elite Force 1911 TAC a nice, solid kick to it. You will definitely feel this gun's blowback, which is really cool, and with the metal components and tight build quality, you'll hear it nicely too.
In terms of accuracy, the Elite Force 1911 is quite accurate and does well at both short-range and even mid-range shooting.
It is still a 5-inch barreled pistol at the end of the day, but we were able to get decent groupings and hit consistently at around 50 feet, and were even able to hit things past eighty-five, although obviously our spread did increase.
Our accuracy was helped along by the fact that this gun does have enhanced, white dot iron sights. This makes aiming easier in low-light or poor visibility conditions, and provides a big boost to accuracy in those circumstances.
Even if you play all your games in full, bright sunlight or indoors under proper lighting conditions, having more visible dots on your sights can still make it a bit easier to aim- particularly for newer players.
Adjusting the hop up, however, can be a little annoying with the Elite Force.
In order to do so, users have to disassemble the slide from the frame and use the adjustment wheel. While fairly common in other 1911 airsoft replicas, even with Tokyo Marui, it is something of a pain.
Maintenance
As with other CO2 airsoft gas blowbacks, the Elite Force 1911 will need periodic maintenance to keep it working smoothly.
The Elite Force 1911 TAC disassembles pretty easily and much like any other 1911, push the slide catch in, take it out and the slide comes right off and a few drops of silicon oil here and there is usually all that's needed.
CO2 does put a little more stress on a gas blowback compared to lower pressured gases. You will need to periodically check the seals, nozzle and o-rings and carefully clean the slide, guide rails and barrel.
Magazine type and capacity
The Elite Force 1911 comes with a 14-shot magazine that fits a 12 oz CO2 cartridge (that slots into a little cut out in the middle).

It can also make use of an Elite Force extended magazine, which holds 27 BBs.
In terms of compatibility, the Elite Force doesn't have quite as much compatibility as some other 1911s, but does accept the various other KWC OEM 1911 mags out there, such as those from Cybergun, Dan Wesson, 6mmProShop and those from KWC itself, for example.
So while you will need to be a little more careful when ordering mags, it's not as hard as finding mags for a totally proprietary gun.
Accessories & Customizability
With the integrated undermount rail and 14mm CCW threaded barrel, there is a lot that can be added to the Elite Force 1911.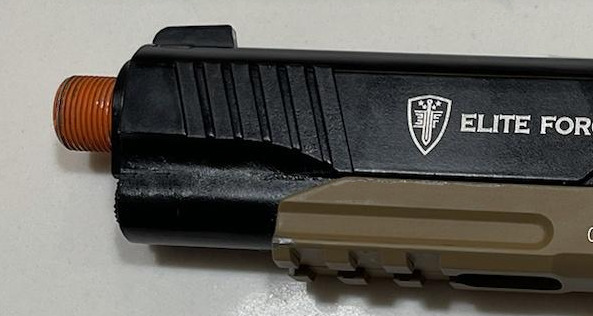 The gun can easily accommodate a range of accessories, such as suppressors, loudeners, suppressor/tracer units, flashlights, lasers and more.
If you feel like it, you can actually unscrew and replace the sights, which is kind of interesting.
Where there is a bit of an issue is with customizability.
Some components of the Elite Force 1911 are proprietary, such as the hop up and bucking, so tinkering enthusiasts aren't quite as free to swap things around and upgrade the Elite Force 1911 as they might be with Tokyo Marui clones, for example.
So although the gun performs quite well out of the box, it's not really the pistol of choice to strip apart and rebuild as a custom piece.
That said, KWC does do OEM work for Elite Force/Umarex as well as several other brands of 1911 airsoft replicas, so there are some compatible options out there if you're willing to look for them.
If things break, however, because of the Elite Force's increasing popularity, there are now tons of OEM replacement parts and rebuild kits available on the internet, which is nice and addresses a common complaint users had with early models.
Price
Coming in at just over $120, the Elite Force 1911 isn't the cheapest airsoft pistol out there but considering it is a full metal CO2 gas blowback 1911, it is fairly affordable.
Add to that the fact that it is quite well made, accurate, a blast to use and easily accessorizable with suppressors and such, it is actually quite good value for those looking for a quality airsoft replica.
Advantages
Great Value
Coming in at just over $100, the Elite Force 1911 TAC offers users a modern take on the venerable 1911 with good performance, accuracy and reliability, hard hitting power and a snappy blowback feel all in a full metal body.
Well built, solid airsoft pistol
The Elite Force 1911 TAC is well made and solidly put together. It doesn't rattle or wobble and, when driven home, magazines fit snugly in the well.
Easy to hold and use
Although it does a good job at replicating the weight of a real steel 1911, with a slim profile, textured polymer grips and three-dot sights, the Elite Force 1911 TAC is quite easy to hold, handle and use.
Durable, full metal construction
The Elite Force 1911 TAC is a full metal airsoft pistol. Its slide and frame are made of a metal, giving it increased durability, a more realistic feel and an awesome snappy slide action that sounds great when cocking or recoiling.
Hits hard, but still usable
We found the Elite Force to average around 350 FPS @ 20g. As a CO2 gas blowback pistol, it should come as no surprise that the TAC hits a little harder and faster than your everyday Green Gas pistol.
Yet, its power is reasonable and should fall within the limits of most games, making it useful for both outdoor and indoor skirmishes.
Accurate
The Elite Force doesn't just hit hard, it also hits accurately. We had no problems drilling fairly precisely into targets at 50 feet with the TAC, and even scored some pretty reliable hits further out, which is pretty good for a pistol.
Easy to accessorize
With its integrated undermounted rail system and threaded barrel, the Elite Force can be easily accessorized with suppressors, suppressor tracer units, loudeners, flashlights, lasers and more.
Good gas consumption
We were able to squeeze out well over 50 shots per 12 oz CO2 canister, or about 3-4 mags per fill, which is pretty decent for a full metal, CO2 airsoft build.
Great for playing in variable temperatures
Running on CO2, the Elite Force 1911 TAC is better able to deliver consistent performance in cold weather compared to other gas-type running airsoft pistols, making it a good option if you live where the weather gets a little frosty.
Drawbacks
Hop up adjustment requires slide removal
Unlike some other 1911s, adjusting the hop up on the Elite Force 1911 can be a bit annoying and take some getting used to, as it requires disassembling the slide.
Not the easiest to upgrade
The Elite Force 1911 TAC uses many proprietary KWC parts and, while these are pretty high quality, this means that its internals aren't as easily upgradable as some other pistols.
Bottom Line
The 1911 TAC is durably built, provides solid performance, is extremely cool and fun to shoot, all at an affordable price point for the quality of build.
If you're looking for a good quality 1911 airsoft pistol that can hit hard and accurately out of the box, the Elite Force 1911 TAC sets the bar and can be a fine addition to practically any loadout.
Ted Clark– Hailing from Florida, Ted has been an avid airsoft enthusiast since he was in middle school. When he's not checking out and reviewing airsoft guns, he enjoys picking off his enemies one by one on the field as a sniper.