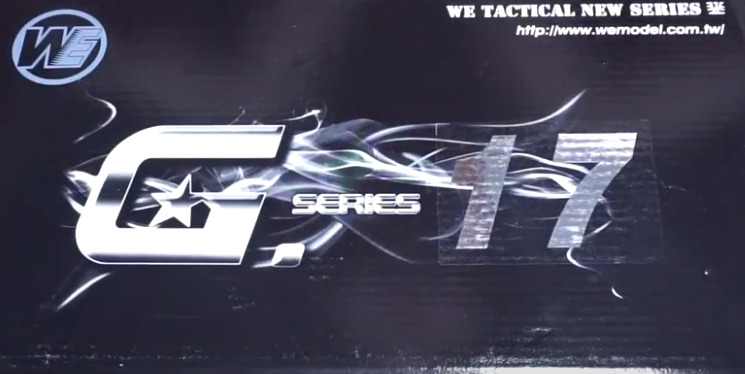 Durability and Build Quality

89%
| | |
| --- | --- |
| ✅ Affordable | ❌ Not available for purchase in US |
| ✅ Durable | ❌ Unlicensed- no trades |
| ✅ Good performance | ❌ Fixed sights |
| ✅ Snappy blowback action | |
| ✅ Very upgradable | |
| ✅ Comfortable | |
The Glock 17 is arguably one of the most famous modern pistols around, being the first of the innovative, polymer-framed pistols to hit the market all the way back in 1982.
The WE Tech G17 is an airsoft gas blowback replica of this famous gun that's become fairly popular over the years, even if its not an officially licenced replica, largely due to its affordable price and well-balanced performance.
To find out if this airsoft pistol lives up the reputation of its real steel influence, we decided to take a closer look.
Specifications
| | |
| --- | --- |
| Manufacturer | WE Tech |
| Power | Duster, Green Gas |
| Action | Semi Auto, Gas Blowback |
| FPS | ~ 310 FPS @ 0.20g BBs |
| Hop up | Adjustable |
| Inner barrel | 3.82 inch (97 mm) |
| Total Length | 7.95 inches (202 mm) |
| Weight | 1.76 lbs (800g) empty |
| Construction | Metal slide with nylon-reinforced polymer frame |
| Rounds | 24 |
How closely does the WE Tech G17 resemble the real thing?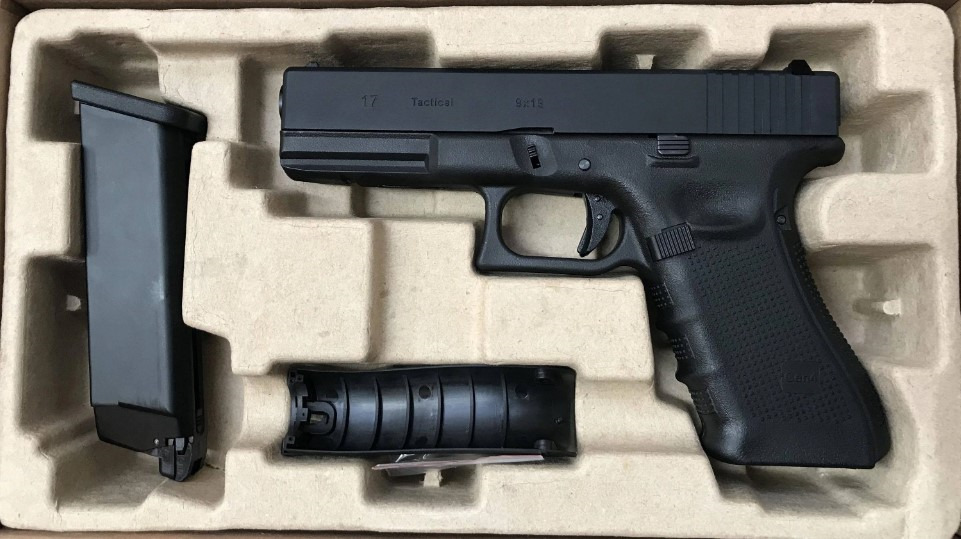 | | | |
| --- | --- | --- |
| | WE G17 | Glock 17 Gen 5 |
| Weight | 1.76 lbs (800g) | 1.38 lb (630 g) empty |
| Overall length | 7.95 in (202 mm) | 7.95 in (202 mm) |
| Action | Semi automatic | Semi automatic |
| Caliber | 6mm | 9mm |
| Capacity | 24 | 17-33 rd |
| Construction | Metal slide, polyner frame | Steel barrel, slide and spring; reinforced polymer frame |
| Sights | Fixed | Fixed |
| Rail | 6 O' Clock | 6 O' Clock |
The WE Tech G17 is a pretty exact replica of a Glock 17.
The gun matches its real steel counterpart pretty closely in terms of looks and the overall length and dimensions of the WE are pretty 1:1.
All of the real steel Glock 17's controls and catches are located where they should be and by and large WE has done an excellent job at getting all the small details of the legendary sidearm correct, including its tapered barrel, highly textured grip, finger grooves on Gen 4 models and its functional Glock rail.
As with other airsoft Glock replicas, the WE does weigh a little more than a real steel G17, largely due to the more sophisticated and advanced materials used by Glock but, really, unless you have a scale handy it is pretty hard to tell from holding it.
One notable difference between the two is in the safety mechanisms that are present.
Real steel Glocks are known for relying on a trigger safety mechanism but, due to various local laws surrounding airsoft manufacturing, the WE (like the Tokyo Marui Glock series) has an added on-frame safety.
This takes the form of the steel faux serial number on the underside of the barrel, which will prevent the gun from firing when pulled backwards.
While perhaps not the most true to life design, it does provide an added layer of safety, which can be helpful.
One thing to note is that the WE Tech G17 is not an officially licensed airsoft pistol, so (unlike the Umarex Glock 17s), so most models don't have much in the way of Glock trades on it, which can be a little bit of a disappointment to collectors and enthusiasts.

It also means that, due to various laws surrounding trademarks and rights, they aren't sold in the United States.
If you're in the US and want a solid Glock 17 that you can actually buy, we'd recommend the officially licensed Elite Force/Umarex version instead.
WE Tech G17 Gen 4 vs Gen 5
Like the real steel Glock, and like any true to life airsoft Glock replica worth its salt, WE has made a number of models in its Glock range that replicate the different generations of Glock 17s that have existed.
The two most notable of these, and the two you are most likely to come across, are the Gen 4 and Gen 5.
There are some notable differences between the two, including those that are based on developments made by Glock throughout the years and those particular to the WE Tech G17 line.
In general, and true to the real steel models, a G17 Gen 5 tends to have smooth, straight grips rather than the finger grooves found on the Gen 4s, which makes them a bit simpler for those with different hand sizes to comfortably hold.
The Gen 5 also has a slightly enlarged magazine well and catch, as well as a larger bottom that produces a snugger fit.
The Gen 5s also tend to have a more tapered or beveled front end, rather than a traditional squared off profile, which can make things smoother when drawing the gun from a holster.
As far as WE models are concerned, the Gen 4's slide and frame are very slightly wider in profile than a real steel Glock 17.
While this makes them feel nice and chunky in-hand, it does mean that it can be a little harder to find a holster that fits without needing to be widened by a hair.
For the Generation 5s, WE Tech redesigned the gun's slide and frame, making them a 1:1 replica of the 1-inch real steel Glock profile, meaning it is far easier to slide them into standard holsters.
How Well Does The WE Tech Glock Perform as an Airsoft Pistol?
Build-quality and Construction
As might be expected of a Glock replica, the WE Tech G17 is made from a mix of polymer and metal.
The gun's slide is made from a fairly tough aluminum alloy while the frame is made of a pretty sturdy nylon-reinforced polymer, resulting in a gun that's quite durable and capable of handling higher PSI gasses, such as green gas or even red, quite well compared to rivals made from ABS and cheaper alloys.
Fit and finish on the WE G17 is surprisingly good, especially considering the affordable price of the gun.
When we handled it we found that the pistol's slide travel was quite smooth and easy to draw, while the polymer frame felt quite strong with no real rattling, squeaking or undue bending that we could notice.
The WE Tech G17 comes with a Glock-style rail under the barrel, which makes it quite easy to attach the usual assortment of flashlights and lasers without much of a problem.

Somewhat unusually for an airsoft Glock (and unlike the VFC/Umarex series), the WE G17 actually comes with a threaded outer barrel, which is always nice.
Admittedly, it is an 11mm thread, and so will need an 14mm adaptor to make ready use of the various different barrel accessories out there (mock suppressors, tracers and so on), but this is often a lot cheaper (around $5-10) and easier than replacing the entire barrel.
In terms of sights, the WE comes with typical fixed Glock-styles white dot/marked sights.
While not adjustable, the sights are low-rise, making the gun easier to deploy in CQB or from vests and holsters, and their high contrast markings make them a lot easier to pick out on low-contrast targets or in lower light conditions.
On the inside, the WE G17 is quite well put together.
The slide is made out of durable metals and is nicely reinforced, with the interior of the gun containing lots of good quality metal, most notably with the trigger assembly, which is something you always like to see in a gas blowback since it makes the gun more likely to stand up to its own action over time.
The inner barrel of the G17 is a standard, 97mm long 6.08mm diameter brass barrel, which seemed well-finished and pretty smooth when we looked at it.
The gun comes with an easily adjustable hop up system, which uses a wheel that clicks into place pretty solidly and securely when turned.
Unfortunately, and unlike the Umarex, the gun doesn't provide external access to the hop up.
This means that like most airsoft pistols out there (such as the Elite Force 1911), you will have to strip it to make any adjustments, which can be a bit of a hassle if you need to do so in game.
Performance and Accuracy
Overall, we found the WE Tech G17 to be a pretty decent performer, especially for its price.
Once settled in, the gun chrono'd at around 310-320 FPS on green gas and with 0.20g BBs.
While no monster, it certainly has enough power to be effective as an all around sidearm but will still comfortably slide under any FPS limits that a field may have.
In terms of accuracy, although the gun's fixed sights do make it a bit more challenging to hit targets past 75-80 feet (22-25 m or so), the gun does group quite nicely at 50 feet (15m) and can even hit targets pretty consistently at around 100 foot range (30m), which is always pleasantly eyebrow-raising with airsoft pistols.
As with other airsoft Glocks, the gun's trigger response is slightly impacted by the presence of a trigger safety (fingers have to be quite firm and flush on it for it to fire), but it otherwise has a pretty decent break.
In addition, the gun is a gas blowback pistol and we found its action to be quite snappy.
While it lacks the widened nozzle of the VFC, its blowback is still quite satisfyingly crisp, providing an audible metallic clack with each shot, which makes the gun quite enjoyable to fire.
In terms of gas efficiency, the WE Tech G17 gets about 2-3 mags per fill (depending on external temperature obviously), or about 50-75 shots, which is decent enough and can help lower the overall running cost of the gun over time.
Handling and feel
The WETech G17 is actually pretty comfortable and easy to handle as an airsoft pistol.
Its compact dimensions (just under 8 inches long) make it more compact and easy to carry/maneuver around with compared to other popular, modern full-sized sidearms, such as a Hi-Capa 5.1 or an MK23.
At around 1.7 lbs (~800 g) the WE is pretty lightweight, as well.
Although very slightly heavier than its Umarex rival, it still feels very comfortable and easy to hold while still maintaining a real steel feel.
Like a real steel Glock, the WE G17 has a number of design features that make it easy to use.
Its slide is rear-serrated, which makes it easy to get a firm grip on the gun when things get a little wet and wild, and the gun's grips are quite nicely textured, with prominent raised plastic bumps across the sides.
The gun even comes with a couple back straps that can be attached to the grip that can help expand its profile to help those with larger hands get a firmer and more comfortable grip, which is always nice.
As we've mentioned, the Gen 4 and Gen 5s differ in grip design, with the Gen 4s sporting prominent finger grooves.
These grooves can be quite nice and can help users get a nice, firm grip on the gun…if their hands are roughly average in size.
Those with significantly larger or smaller than average fingers may find them a bit too tight or loose, which can make the gun a little less comfortable to hold.
We would therefore recommend that such users go for the Gen 5 models and their straight grip.
Finally, the WE Tech G17 is fairly ambidextrous.
While the mag releases are designed for right hand use, the gun sports slide stops on both sides of the frame and dual safety mechanisms that are accessible with either hand (trigger/frame), which makes the gun pretty easily used by left and right handed players alike.
Maintenance and Upgrades
The WE Tech is, like a good airsoft Glock, quite easy to take down.
The gun has two takedown latches on either side of the frame. Users simply have to push one down and push the slide forward to separate it from the frame and access the internals for maintenance.
Probably one of the biggest draws of the WE Tech G17 compared to rival models is that it is largely Tokyo Marui-compatible inside and out, which means that performing repairs and upgrades on the gun is incredibly simple and can even be comparatively inexpensive.
There are a ton of TM-spec aftermarket parts for airsoft guns out there and users can freely upgrade or replace the gun's inner barrel, outer barrel, spring, buckings, bearings, nozzles and more with their choice of OEM or aftermarket parts.
Magazine type and capacity
The WE Tech G17 comes with a metal 24 round Glock-style magazine that can be filled with green gas.
The magazine fits quite securely into the mag well, feeds reliably and has a good seal, avoiding any leaks in our experience.
The WE is TM-spec and can therefore accept a wide range of magazines, including WE Glock mags of different capacities (including a rather expansive 50 round magazine), as well as those from Bell, Tokyo Marui, Classic Army and others (with varying degrees of gas efficiency due to some slight differences in gasket design on some models).
Price
Note: All prices correct as of writing, all prices in USD.
As we've mentioned, the WE Tech G17 can be a bit harder to source in the US than officially licensed models, such as the comparable Umarex/Elite Force.
That said, it is priced considerably more affordably than its rivals (and most popular green gas pistols, really), usually being priced at around $90 or so.
This makes it considerably more affordable than the Umarex Glock series and even most other popular GBB pistol models, such as the Tokyo Marui MK23 or Hi-Capa, and around the same price as the AAP-01.
Considering the quality of its build, its well-balanced performance, excellent accuracy and snappy blowback action, we feel that this makes it quite good value for money and a good deal overall.
Advantages of the WE Tech G17
Affordable
Coming in at under-$100, the WE Tech G17 is a highly affordable green gas airsoft pistol that's very competitive with its nearest rivals and should be able fit most airsoft budgets.
Well built, durable
The WE Tech G17 is made out of pretty durable materials.
With a high quality metal slide and a d reinforced polymer frame, it should stand up to most of what an airsoft game can throw at it and should stand up to green gas use for quite some time with minimal maintenance.
Good performance
Sure, it's not a 400 FPS monster, but the WE packs a decent enough punch while still being able to be used in CQB and indoor fields without a problem.
More than that, it is quite accurate and cable of hitting targets fairly reliable to 100 feet or so (30m).
Snappy blowback action
The WE Tech G17 has a pretty crisp and snappy action whose noise and cycle rate make it a blast to shoot.
Highly upgradable
The WE Tech G17 is mostly Tokyo Marui compatible and so users have their choice of the many, many 3rd party replacement and upgrade parts available for airsoft Glocks that are on the market.
Comfortable to hold
Being fairly lightweight and with nice serrations and a heavily textured grip, the WE Tech G17 series is quite easy and comfortable to hold for extended periods.
It also includes swappable backstraps and is available with and without finger grooves (depending on the generation), which is not only true to real steel Glocks but also makes the WE series highly adaptable to different hand sizes.
Disadvantages
Fixed sights
As with other Glock replicas, the WE G17 has fixed sights.
As a result, it can take a little more skill to hit targets at longer distances (75 feet+ or so).
Not readily available in the US
Not being an officially licensed replica, as well as for other legal reasons, the WE Tech G17 isn't sold in the usual airsoft shops and stores in the US and some other countries.
No Trademarks
One of the cool things about having an airsoft Glock replica are all the cool Glock trademarks on them.
As the WE is not an officially licensed replica, other than not being sold in the US for legal reasons, it means that they lack authentic markings.
Bottom Line
With its solid build quality, good overall performance, fun blowback action and high potential for easy upgrades, if you're looking for a quality, budget-friendly airsoft Glock, and if you live in an area where they're sold, the WE Tech G17 might just be what you're looking for.
Will Martin – Will has been into airsoft and paintball for well over 10 years, and has done it all – from upgrading and fixing gearboxes as a tech to building custom airsoft loadouts for his friends to supporting off those friends as a DM.