Durability and Build Quality

97%
| | |
| --- | --- |
| Pros | Cons |
| ✅ Lightweight and strong | ❌ Barrel not threaded |
| ✅ Power balanced for CQB and outdoor games | ❌Sights are fixed |
| ✅ Officially licensed, realistic | ❌ Pricey |
| ✅ Well-built with high quality parts | |
| ✅ Hop up is easy to adjust in-game | |
| ✅ Excellent blowback action | |
| ✅ Good gas efficiency | |
| ✅ Comfortable to hold | |
Introduced in 1998 as a competition version of the venerable Glock 17, the Glock 34 quickly became popular in the firearms world for its accuracy and good overall handling characteristics.
Its distinctively long slide and barrel has also made it a popular choice in tv, films and video games, popping up in franchises like Deadpool, John Wick, Call of Duty and more.
Much to the chagrin of airsoft players everywhere, there hasn't been quite as many Glock 34 replicas produced compared to its shorter siblings.
Luckily, Umarex has added the 34 to its rather extensive Glock lineup, allowing its fans to get their hands on an officially licensed replica.
To find out if this Glock is worth your time and money, and to see if it lives up to the reputation of Umarex's other Glock models, we decided to examine it a little closer.
Specifications
| | |
| --- | --- |
| Manufacturer | Umarex/VFC |
| Power | CO2, Green Gas |
| Action | Semi Auto, Gas Blowback |
| FPS | ~ 330 FPS @ 0.20g BBs |
| Hop up | Adjustable |
| Inner barrel | 4.5 inch (114 mm) |
| Total Length | 8.4 inches (214 mm) |
| Weight | 1.5 lbs (695g) |
| Construction | Aluminum alloy slide with nylon-reinforced polymer frame |
| Rounds | 24 |
How closely does the Umarex Glock 17 Gen 5 resemble the real thing?
| | | |
| --- | --- | --- |
| | Umarex G34 | Glock 34 |
| Weight | 1.5 lbs (695g) | 1.62 lb (735 g) empty |
| Overall length | 8.4 inches (213 mm) | 8.8 in (224mm) |
| Action | Semi automatic | Semi automatic |
| Caliber | 6mm | 9mm |
| Capacity | 24 | 17-33 rd |
| Construction | Metal slide, nylon-reinforced polymer frame | Steel barrel, slide and spring; reinforced polymer frame |
| Sights | Fixed | Fixed |
| Rail | 6 O' Clock | 6 O' Clock |
The Umarex Glock 34 is an officially licensed airsoft replica of a Glock 34, and as such matches the competition gun pretty well in terms of its overall dimensions.
The Umarex manages to replicate the G34's overall length and weight and they are, aside from some small differences that you would expect from an airsoft gun, pretty close.
This is largely due to their somewhat similar construction.
The real steel Glock 34 (like the 17 it is based on) is made with a proprietary polymer frame and steel barrel/slide, which (for airsoft purposes, anyway) is close enough to the aluminum alloy slide and nylon-reinforced frame of its replica.
Similarly, all the exterior features that the G34 is known for are present and accounted for on the Umarex Glock 34, including its ported and elongated slide, slightly tapered front end, ambidextrous controls, rear serrations, slide lock, Glock-style sights and more.
Umarex and VFC have even managed to replicate the cool, two-tone gray on black look of a real steel G34.
Collectors and Glock enthusiasts will be happy to note that, like other models in the Umarex Glock line, the Umarex/Elite Force Glock 34 is an officially licensed replica and comes decked out in Glock trades.
There are Glock trademarks on the front of the side, on the grip, on the top of the barrel, on the bottom of the magazine and so on.
Lest there be any doubt on the field that this airsoft gun is the real deal (i.e. officially certified and licensed), as a Gen 4 platform gun it is embossed quite prominently on the right hand side of the gun just below the slide.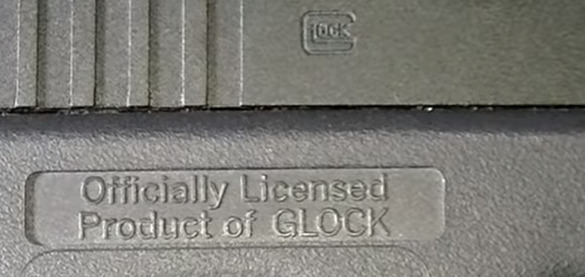 Finally, as the "Deluxe" edition, the Umarex Glock 34 Deluxe comes with a fairly realistic hard shell plastic carrying case that is very similar to those that come with real steel Glock firearms, which is kind of cool.
How Well Does the Umarex Glock 34 Perform as an Airsoft Gas Pistol?
Build-quality and construction
Like its real inspiration, and like other Glocks in the line, the Umarex / Elite Force Glock 34 is made from a mixture of metal and plastic components.
Its frame is made of a pretty solid nylon-reinforced polymer, while its slide is made of a pretty high-strength CNC-machined aluminum alloy.
The resulting airsoft gun is quite sturdy and durable, feeling far more durable than most ABS and pot metal rivals, and yet remains pretty lightweight and easy to carry.
As with the G17 that it is based on, the Umarex Glock 34 is pretty well put together, as well.
The gun's frame is pretty sturdy and doesn't show any signs of any real bending, flexing or squeaking when handled, and the slide stop, takedown switch and mag release button all seem properly and solidly installed, with no looseness or wobbling that we could notice.
The Umarex Glock 34's slide is CNC-milled and sits pretty firmly on the gun's frame.
Its action is quite firm and smooth and it returns with a nice metallic snap, which we always appreciate, and showed no signs of rattling or any looseness when the gun was handled.
Being an extended slide that sits on what is essentially an Umarex Glock 17 frame, the front of the gun is a bit unusual as the recoil spring plug is recessed quite a bit into the gun, leaving what looks like a sort of shallow hole underneath the barrel.
While this has absolutely no effect on the gun's performance, it may raise a few eyebrows on the field from those looking at the gun in profile.
As with other Glocks in the Umarex line up, the Glock 34 comes with a 6 O' Clock rail, so it is pretty easy to attach the usual flashlights, lasers and other tactical airsoft pistol accessories.
Unfortunately, the Umarex Glock 34 does not come with a threaded barrel, and so adding a suppressor or tracer unit to the gun can require picking up and installing a threaded replacement.
In terms of sights, the G34 comes with pretty standard and true to life Glock-style sights.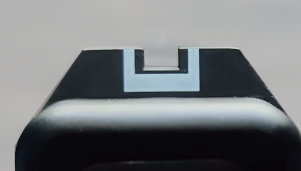 The sights are low-rise, which makes them less likely to snag on clothing or equipment, and they are marked in white, which improves contrast when aiming in low light or on darker targets.
That said, while these sights are an improvement over plain irons sights, if you are planning on using the gun consistently in night or twilight events they still can be a little tougher to use compared to fiber optic or tritium sights given their low profile.
Further, the sights are also non-adjustable.
While they work fine for distances of up to about 75 feet (22 m), those aiming at longer distances will have to rely more on their instinct and experience to pick off targets accurately.
Built by VFC, the internals of the Umarex Glock 34 are well-designed, reinforced and actually pretty robust.
The dual recoil spring is fairly thick and heavy duty, far thicker than those found on the Gen 3s for example, which helps the gun deal with the higher CO2 pressure and blowback force and better protects its internal components from typical wear and tear. 
Interestingly, the hammer assembly of the gun is made of actual and fairly tough steel, doing away with the alloy material that has occasionally caused issues with other models and increasing the long term reliability of the gun substantially.
As with other Gen 4 Umarex Glocks (and most 1911 clones, for that matter), the G34 has an adjustable hop up located underneath the slide. 
As with other Glocks in the Elite Force/Umarex range, the hop up unit is very high quality and provides excellent spin for a stock unit.
Its wheel-style adjuster is fairly easy to locate and is fairly precise, allowing users to make finer adjustments without any real issue.
On the downside, unlike the Gen 5 Glock 17s or 19Xs, as the hop up is located on the underside of the slide, users will have to strip the gun to make adjustments, meaning they can't be done on the fly.
Performance and accuracy
Like other Glocks in the series, the Umarex Glock 34 can be run on CO2 or green gas, which makes it a pretty flexible airsoft pistol.
For the purposes of this review, however, we stuck with the CO2 mags that the gun comes with.
On CO2, we saw the G34 chrono at around 330 FPS using 0.20g BBs.
Although not exactly an FPS monster, it does have decent enough power and it should be able to be used in indoor, outdoor and CQB events without having to worry about FPS limit, making it a good option as a secondary.
In terms of accuracy, the gun offers pretty tight groupings to about 50 feet or so (15m) and should be able to hit targets reliably out to around 100 feet (30m), although some users may struggle at distance due to the gun's fixed sights.
When fired, the Umarex Glock 34 offers a pretty impressive and crisp blowback action, with the slide moving quickly and fairly strongly backwards with each shot and delivering a satisfying metallic clack as it does so.
The gun also has a fairly impressive cycle (due to the lightweight slide) and has a fairly light trigger and good return, making it good at delivering rapid semi-auto shots, which can be quite helpful.
Despite its dynamic action, gas efficiency with the Glock 34 is actually pretty impressive.
The gun gets around 3-4 mags per fill, which means it shouldn't be too expensive to run in over time
Handling and feel
Although based on the 17, with its extended slide, the Umarex 34 is one of the longer Glocks out there.
At just a hair under 8.5 inches long (213 mm), the gun is a little longer than the Glock 17, 18C, 19X and the 19, being somewhere around the length of a Hi Capa 5.1 or a KJW M9, and it is a little taller than its siblings when loaded, due to the G34 mag base being a little chunkier.
Although a little bigger than some other Glocks, we don't feel that the G34 is so big as to become cumbersome in CQB situations or if strapped to a vest, and its longer size has no noticeable effect on its overall handling in our opinion.
At 1.5 lbs, the gun is pretty lightweight and easy to carry, but still has enough heft to feel substantial and somewhat like a real steel firearm.
The gun's slide has wide set, fairly deep serrations towards the rear, which can really help users get a good grip when drawing it, particularly in wet conditions or when wearing gloves.
In addition, the gun comes with nicely textured plastic grips, which help users get a nice firm hold of the gun, and they are pretty comfortable to use.
Being a 4th generation Umarex Glock, the 34's grips are finger-grooved.
While these do provide excellent handling, comfort and grip for users with average-sized hands compared to a typically smooth grip, they can feel a bit awkward to those whose hands are substantially larger or smaller than average.
That said, the Glock 34 does come with two attachable backstraps, one large and one medium. These pop into place pretty easily and can help expand the grip to fit larger hand-sizes, which is kind of thoughtful.
Finally, left-handed users will be pleased to know that the Umarex Glock 34 is mostly ambidextrous.
The gun's safety is on the trigger, the takedown levers are on either side of the gun and the magazine release is reversible.
The only real issue that left-handed users might have is that, unlike the Glock 5th gens, the gun's slide stop is located on the left side of the gun.
Maintenance
Much like a real steel Glock, performing maintenance on the Umarex Glock 34 is pretty simple and easy to do.
The gun sports two takedown latches located on either side. Pressing them down lets the slide separate from the receiver and exposes the recoil spring assembly, hop up, barrel and so on.
At this point, users can check the slide, hammer, rails and other components for damage, clean the gun and lube where necessary.
When it comes to finding parts for the G34, it can be a little more challenging to find replacements and upgrades compared to TM-clones, especially as the gun does have a few proprietary parts.
That said, there are a good deal of third party and OEM triggers, barrels, frames and so on for the gun that are pretty easily found online.
In fact, the Umarex Glock 34 has a good amount of compatibility in terms of internals with the more popular G17, as they essentially share the same lower frame.
Consequently, you can make use of the wider variety of G17 aftermarket parts with their 34, such as improved spring guides, hop up buckings, recoil springs and even a complete frame replacement in a pinch.
You should be aware, however, that the Glock 34 does have a few differences compared to the 17, namely a stronger steel hammer assembly, different/longer slide and a slightly longer barrel.
Magazine type and capacity
The Umarex Glock 34 comes with a metal 25-round VFC CO2 Glock-style mag that feels pretty solid and, interestingly, has a bit of a heavier and thicker base that allows it to better drop free.
It is important to note that the gun is compatible with Gen 4 VFC Glock 17 mags (including green gas) and so can take advantage of the extended mags available for those models, as well.
As with other Glocks in the Elite Force line, the magazines for this airsoft pistol can be a little on the pricey side, costing over $30 a piece, and magazine compatibility beyond VFC is limited.
Price
Note: All prices correct as of writing, all prices in USD.
The Umarex / Elite Force Glock 34 Deluxe is not exactly a cheap airsoft CO2 pistol. Coming in at around $250-300, your bank account will certainly feel this one.
This price puts it well into the premium end of the airsoft pistol market (and Umarex Glocks), generally alongside other specialty officially licensed pistols, and generally reflects its purpose as both a high quality airsoft sidearm and a professional training tool.
That said, it is an extremely well-made Umarex Glock, with a CNC milled slide, reinforced internals, official trademarks, crisp blowback action and good all-around power and accuracy that should let it serve quite well as a main sidearm.
Or
Or
Or 
Advantages of the Umarex Glock 34 Deluxe
Well-built with high quality parts
Umarex has done a good job with the Glock 34's quality.
All of its externals have been fitted together properly, with no looseness, wobbling or frame flexing to speak of, and the gun's CNC aluminum slide is lightweight, durable and a step up from most.
Similarly, the gun's internals have been reinforced and, with the steel hammer assembly, should be able to last for quite some time.
Lightweight and durable
At 1.5 lbs the Umarex Glock 34 is pretty lightweight and easy to hold, yet manages to avoid feeling like a toy.
Its reinforced polymer frame, aluminum slide and metal internals make the gun pretty durable as a GBB, and the gun should be able to withstand the typical abuse an airsoft game can throw at it.
Well-balanced performance
While the Umarex G34 is certainly no beast, its ~330 FPS means it has enough power to be usable in outdoor games while still managing to stay under any CQB or indoor FPS limits.
Snappy blowback
Partly thanks to its lightweight slide, the Umarex Glock 34 has a snappy cycle and crisp blowback action that makes it very enjoyable to use.
Realistic and officially licensed
The Umarex Glock 34 is a good match for the overall look and dimensions of its real steel counterpart and, being an officially licensed airsoft replica, has all the Glock trademarks you could ask for.
Comfortable to hold
With its light weight, textured and fingered grip and swappable backstraps, the Umarex Glock 34 is pretty easy to hold for extended periods of time and in most weather conditions.
Good gas efficiency
As with other Glocks in the Umarex lineup, the Glock 34 is pretty good on gas, as well, getting around 3-4 mags per fill, which makes it pretty cheap to run.
Disadvantages
Pricey
Let's face it – although it is very well built, the Umarex Glock 34 is not a cheap airsoft pistol and its $200+ price tag puts it on the more premium side of things.
Fixed sights
Sadly, the Umarex Glock 34's sights are non-adjustable, which can make backyard plinking and shooting at distances over 75 feet or so a little more challenging.
Unthreaded barrel
As with other Glocks in the Umarex line up, the G34 doesn't come with a threaded barrel and so adding a mock silencer or tracer unit will require an outer barrel swap.
Bottom Line
The Umarex Glock 34 stands out as an excellent overall choice for an airsoft sidearm.
If you're in the market for a realistic, well-balanced, accurate and well-built airsoft pistol, and you want something a little more intimidating than the classic 17, then this Glock just might be for you.
Will Martin – Will has been into airsoft and paintball for well over 10 years, and has done it all – from upgrading and fixing gearboxes as a tech to building custom airsoft loadouts for his friends to supporting off those friends as a DM.