Durability and Build Quality

98%
| | |
| --- | --- |
| ✅ Cool, innovative GBB semi-auto design | ❌ Not the cheapest option around |
| ✅ Durable, full metal construction | ❌ Some proprietary parts |
| ✅ Solid all around shotgun performance | |
| ✅ Accurate, realistic design | |
| ✅ Excellent build quality | |
| ✅ Fast firing | |
| ✅ Powerful blowback action | |
| ✅ Excellent spread | |
Originally made by Izhmash, the renowned manufacturer of the classic AK series, the Saiga 12K is a shotgun whose robust design, adaptability and semi-automatic firepower quickly made it a legend among military forces, law enforcement services and civilian enthusiasts alike.
For years airsoft players have been waiting with bated breath for an airsoft company to come out with a functional replica worthy of the name.
After years of engineering, development and testing, Tokyo Marui finally came out with a tri-shot, gas-powered take on the Saiga, much to the excitement of airsoft shotgun fans.
To find out whether the Tokyo Marui Saiga 12K lives up to the reputation of its real steel inspiration, and to find out whether it's worth a spot in your collection, we decided to take a closer look for ourselves.
Specifications
| | |
| --- | --- |
| Manufacturer | Tokyo Marui |
| Power | 134A, Green Gas |
| Action | Semi-auto GBB tri-shot |
| FPS | ~270 FPS @ 0.20g BBs on duster |
| Hop up | Fixed |
| Barrel Length | 11.81 inch (~300 mm) |
| Total Length | 26-36 in (666-908 mm) |
| Weight | 6.92 lbs (3.14 kg) |
| Construction | Metal frame, ABS plastic furniture |
| Rounds | 45 |
How closely does the Tokyo Marui Saiga 12 resemble a real steel Saiga?
Tokyo Marui Saiga 12K
Kalashnikov Saiga 12K
Weight
6.92 lb (3.14 kg)
7.72 lbs (3.5 kg)
Overall length
26.22 in (666 mm) folded;
35.75 inches (908 mm) extended
26.39 in (670mm) folded;
35.83 in (910 mm) extended
Action
Semi-automatic
Semi-automatic
Gauge
6mm
12
Capacity
45
2/5/8 shells
Construction
Aluminum alloy, ABS Plastic furniture
Steel frame, polymer furniture
Rail
Side dovetail
Side dovetail
Tokyo Marui is well-known for making detailed and highly accurate airsoft reproductions of popular guns and with the amount of development and time that went into the Saiga 12K, it's perhaps no surprise that this gun is an extremely close replica of its real steel counterpart.
In general, the TM Saiga 12K matches the Kalashnikov 12K in terms of its overall dimensions, both with its stock folded and extended, and being only fractionally lighter due to the greater use of aluminum alloy rather than stamped steel.
The gun also comes with all the external features that one might expect, including a heavy duty steel dust cover, shotgun rib, side-folding stock, heavy duty AK-style selector, ambidextrous mag release, appropriately-placed sling points, a decorative Saiga gas regulator, AK-style grips and long and chunky barrel.
The gun even comes with a variety of authentic-looking trades and markings across its frame, including "Saiga" written in cyrillic, faux production numbers, post-Soviet certification markings and, of course, the Izhmash factory marks and proof stamps.

These are always cool to look at in an airsoft gun and which add an extra touch of realism that collectors and AK and/or milsim enthusiasts will certainly appreciate.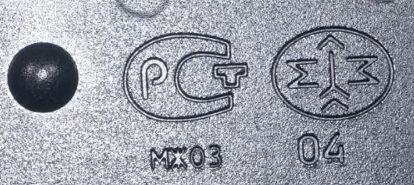 There are some minor differences between the Marui and a real steel Saiga, such as the outer barrel being fractionally wider and some of the markings not exactly being 100% factory spec, but they are hardly noticeable unless you're really nitpicking and honestly shouldn't matter much in the long run to the vast majority of users.
How Well Does the Tokyo Marui Saiga 12K Perform as an Airsoft Shotgun?

Build-quality and construction
Much like Tokyo Marui's other shotguns, such as its M870 Breacher, the Saiga 12K is a full metal airsoft gun.
The gun's dust cover, pins and sector switch are made out of steel, while the guns receiver and outer barrel are made out of a fairly durable aluminum alloy.
The only real use of plastic on this gun is in its handguard and stock, which are made of the usual ABS plastics favored by TM.
While the gun perhaps doesn't have quite as much steel as might be seen in other high end AK replicas, such as those built by LCT or Arcturus, the gun is still quite solid and should stand up pretty well to fairly rigorous gameplay.
In fact, owing to its use of these lighter weight materials, it is a bit easier to carry around the field for long periods of time compared to other AK options, which can be a distinct benefit for some.
Perhaps as might be expected of Tokyo Marui, we found the TM Saiga 12K to be very well put together.
When we handled it, there wasn't really any wobble or looseness, the gun's pins seemed tightly fitted, the bolt drew back smoothly and the selector switch moved solidly into place with a pleasing click every time (sadly, its markings are in export-oriented English, rather than Cyrillic). 
In fact, the gun's fit and finish is such a far cry from most AKs out there (real steel and airosft included), whose overall construction definitely tends to lean towards the wobbly and clattery, that it might even be considered a point against its accuracy of design if the thing weren't so pleasing to hold and use.
In terms of accessories, the Tokyo Marui Saiga 12K, much like its real steel inspiration, comes with a couple options.
The gun features a traditional AK-style side-mounted dovetail rail, which is mil spec and can be used to mount Soviet-style optics or other accessories, should you have them lying about. 
With a typical airsoft AK mount, of course, users can fit just about any Western accessory to the gun.
In addition to its rail, the Tokyo Marui Saiga 12K also comes with a threaded outer barrel, which should allow it to more easily be fitted with suppressors.
However, the outer barrel is an unusual size at 23mm in diameter and is clockwise threaded, meaning that may be a bit tough to find barrel accessories that will fit…at least until adaptors are made for it.
The TM 12K's integrated sights are kind of interesting.
The front sight is a small nub made of brass, which looks pretty cool and stands out nicely on the gun's black matte paint job. 
It is adjustable for elevation, which is done by inserting a small hex key into a nearby hole and turning a rotating tab device that causes it to mechanically move up and down slightly, which is kind of cool to do.
The rear sight is, much like a real steel Saiga, fixed and located to either side of the gun's top ribbing.
The sights can, however, be adjusted for windage by popping out a pin, loosening the sights and shifting the whole thing from side to side a bit.
A bit unwieldy but, let's face it, iron sights aren't exactly why you pick up an airsoft shotgun in the first place.
On the inside, the Tokyo Marui Saiga 12K is pretty innovative.
The gun is the first and, so far, the only semi automatic tri-shot gas blowback shotgun around and, to get it working right, Tokyo Marui had to do some engineering. 
The gun's features a good deal of solid metal inside, as well as a 19mm ported piston, a spring-loaded hook that acts to stop BBs from misfeeding, a fully reciprocating bolt and a unique triangular three-nozzle gas system
There are also three well-finished 11.8 inch aluminum inner barrels (considerably shorter than the outer barrel – customizers take note) that are set in a triangular pattern and are slightly offset to improve the gun's spread when firing.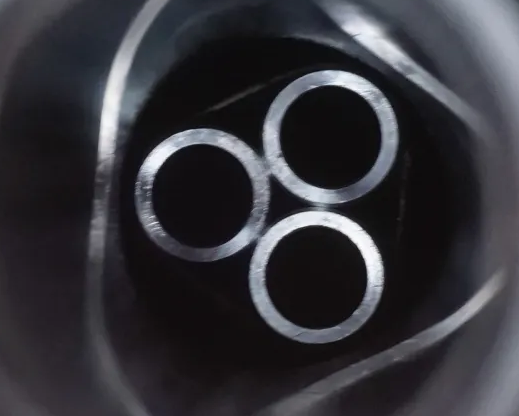 All of this is pretty revolutionary and allows this gas blowback gun to reliably bang out up to three BBs in a single trigger pull, which in turn explains Tokyo Marui's lengthy development cycle for this gun.
The use of such innovative airsoft engineering does, however, mean that the gun's internals are largely proprietary.
Perhaps due to the complexity of the system, it should also be noted that the hop up unit is fixed, so most adjustments for range will have to be done by playing around with BB weights.
Finally, the TM Saiga 12K comes with a cool triangular plastic folding stock, which is done by pushing down a metal button located just behind the gun's rail.
The stock comes with a rectangular cut out, which enfolds the rail and can do a pretty good job of avoiding any chipping, scratching or breaking if users are a bit enthusiastic at folding things up. 
The stock also features a true-to-life push-down circular cleaning kit compartment, which is a nice touch, as well as a heavy duty steel sling point, which is always useful.
Performance and Accuracy
As an airsoft shotgun, the Tokyo Marui Saiga 12K is very impressive and, in our opinion, was well worth the wait.
As we've stated, the gun is the first and, at time of writing, only example of a semi automatic gas blowback tri-shot shotgun.
Rather than dealing with shells and pumping action, the gun feeds from a chunky magazine and users simply pull the gun's trigger to launch a volley of BBs downrange.
And volley it does.
Out of the box and using manufacturer-recommended 134a gas, we saw the TM Saiga 12K get around 260 FPS.
While not the most powerful blast we've ever seen, keep in mind that the gun does fire off three BBs at a time and is really at home in CQB games, where it should slide under even the strictest FPS regulations (assuming the field allows gas-powered airsoft shotguns, of course).
And, thanks to its rather sizable 19mm piston, heavily bolt and tri-valve system, when the gun fires you really do feel it.
With each pull of the trigger, the gun's bolt slams back quickly, giving a very noticeable and enjoyable kick and delivers a surprisingly loud rapport for an airsoft gun.
The gun has a typical AK trigger, with a light pull, a fair amount of travel and a break that isn't exactly crystal clear, although the gun does have a very tactile reset, which is nice.
That said, this kind of trigger system is perhaps far more forgivable and understandable on an airsoft shotgun than with an AK rifle or carbine given that precise control and pinpoint precision isn't exactly what users are going for.
In terms of accuracy, the Tokyo Marui Saiga 12K, thanks to its high quality internals and decent hop up mechanism, is actually surprisingly capable for a shotgun.
The gun is capable of hitting man sized targets out to about 90-100 feet (~30m), although (as with other airsoft shotguns) it's really more at home at the medium range, particularly at around 65 feet (20m), where it delivers a capable, shotgun-appropriate spread (around 4-5" or so).
While the gun is very precise closer in, at closer range its spread will be negligible, which sort of defeats the purpose of an airsoft shotgun in our opinion (although getting slammed by a mass of 3 tightly packed BBs can certainly be a memorable experience for opponents).
Rate of fire is really where the Saiga 12K shines, however.
As a semi-auto GBB shotgun, users can deliver blast after blast with just a pull of the trigger, avoiding any pumping action and making delivering follow up shots a lot faster and more effective than even the smoothest gas-powered alternative.
Consequently, this is the fastest way to clear an area with an airsoft shotgun, barring perhaps Tokyo Marui's line of AEGs (the infamous AA12 and the SGR-12), although the immensely enjoyable blowback action of the Saiga has these clearly beat in terms of overall user experience in our opinion.
In terms of gas efficiency, although the Tokyo Marui Saiga 12K has a lot of parts, BBs and metal to move around, it is pretty decent overall.
We saw the gun get around 60 or so shots per fill at room temperature, which makes it fairly competitive with most other gas-powered airsoft shotguns.
Handling and feel
Although it is a shotgun, the Saiga 12K is based on the AK 100-series (107/108) and so it should come as no surprise that its Tokyo Marui airsoft replica handles and feels much like an AK.
At around 35 inches with the stock extended, the gun is fairly compact for a shotgun, being just a tad longer than an M4 carbine.
While perhaps not quite as short as a sawn-off, this does makes it more compact and easy to maneuver around with in close quarters than, say a JAG Arms Scattergun or a standard S&T M870 Remington.
At just under 7 lbs, however, the gun is (in typical AK style) on the heavy side and is a bit heftier than most comparable full metal airsoft shotguns out there, which is something to consider when taking it along to all day games, but does make the gun feel a lot more like a real steel Saiga.
As mentioned, without a pump, the gun is quite easy and user-friendly and the usual concerns about airsoft shotguns being tough to rack, gas or spring, don't really apply, which is good news for those who find constant pumping to be a bit tiresome, slow or challenging.
The gun features sections of diamond pattern along its plastic handguard and pistol grip, which does make the gun more comfortable to hold and can help users keep a tight hold of the gun when using gloves or in damp weather, which is always nice. 
One thing to be aware of, however, is that the gun uses a pretty typical AK-style grip.
Although fairly comfortable to hold, those with very large hands may find their knuckles brushing up against the squarish, metal frame of the gun and so may wish to use gloves during longer games.
The Saiga's stock is pretty solid and locks in and out of place pretty reliably.
Its curved butt and plate also helps the gun shoulder nicely, which is a definite plus given that this gun delivers a fair kick with each shot.
Finally, in terms of ambidexterity, the gun is, like other AKs, more configured towards right hand use.
While the mag release is ambidextrous (located just in front of the trigger guard), the gun's selector, sling and charging handle are all located on the left hand side of the gun.
Maintenance
In terms of field stripping the Saiga 12K for maintenance, things are actually surprisingly easy.
Users only really have to push in the spring guide (located to the rear of the gun's dust cover), pop off the cover, push forward and remove the spring guide and recoil spring assembly.
This allows users to remove the bolt carrier, which allows users to access the trigger mechanism and barrels to lube things up, inspect for damage or to further disassemble the gun if necessary (which can involve a little unscrewing and pin popping).
Because the Tokyo Marui Saiga 12K is based on a pretty new design it does have quite a few proprietary parts to it, and because it is such a new gun there aren't yet a ton of 3rd party upgrades or replacement parts for it.
As a result, it can be a bit harder to repair or customize this gun compared to some others and users will probably want to go a bit easier on it and follow the manufacturer's guidelines…at least until replacement parts are more widely and easily available.
Magazine type and capacity
Unlike most gas airsoft shotguns, and like its real steel inspiration, the Tokyo Marui Saiga 12K doesn't use shells but instead makes use of a large and beefy plastic midcap gas magazine that holds about 45 rounds.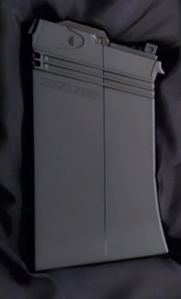 This chunky mag loads smoothly and sits pretty well inside the gun, feeding exceptionally reliably, partly due to a ramp and lever mechanism in the gun's chamber that helps prevent misfeeds.
Interestingly, Tokyo Marui has attached a thermometer-like tape to the front of the magazine underneath its insulating plastic shell, which lets you know when the mag temperature is too cold for optimal performance, which can help with mitigating any cool down effect.
At time of writing there are no higher capacity or third party mags for this gun, and they can be a bit pricey.
Another thing to consider is that, being so large, they can be a bit trickier to stuff into the usual vest pouches.
Price
Note: All prices correct as of writing, all prices in USD.
In general, the Tokyo Marui Saiga 12K can be picked up for just north of $500, which does make it a bit more on the premium side for an airsoft shotgun, even for a gas blowback model.
For example, the gun is more expensive than the company's 870 Breacher, its pump-action KSG or the Jag Arms Scattergun, and around the same price as its AA12 Sledgehammer.
It is, however, considerably less expensive than the comparable AEG SGR-12 model, which is something to consider.
That said, for the money you do get an extremely well-built and accurately designed full metal airsoft Saiga replica, complete with an innovative functional semi-automatic multi shot gas system that delivers quick, reliable performance and a heck of a kick with every shot.
And, more often than not, that kind of quality is worth paying (and waiting) for.
Or
Advantages of the Tokyo Marui Saiga 12K
Really cool and innovative design
With its unique tri-valve system, enlarged piston head, mechanical feeding ramp, magazine cooldown gauge and more, the Tokyo Marui 12K has a lot of innovative features to it that have set a new standard in airsoft shotgun design.
More than that, it's a gas-powered tri-shot semi-automatic airsoft shotgun, which in itself is unique and, let's face it, really, really cool.
Durable full metal design
Aside from its furniture, Tokyo Marui has made the Saiga 12K out of a fairly durable aluminum alloy material with quite a few steel parts to boot, which makes the gun quite durable and capable of standing up to the day to day rigors of airsoft gameplay.
Highly accurate and realistic design
The TM Saiga 12K is a faithful reproduction of a real steel Saiga, replicating all of its quirky AK-style features, as well as being roughly the same size and weight as the real deal.
Further, the gun comes with a plethora of proofs, markings and trades that should delight collectors and enthusiasts.
Solid build quality
As with most other Tokyo Marui models, build quality on the Saiga is top-notch, with its parts having been fit together quite well and with nearly no rattling, clattering or looseness to speak of.
Very fast and capable shotgun performance
For an airsoft shotgun, the Saiga 12K is blazing fast.
There is no need to worry about messing around with a pump as the gun is capable of delivering shot after shot with just a pull of its trigger.
Excellent spread at medium range
We found that the TM Saiga was capable of delivering excellent 5 or so inch three round spreads to around 50-65 feet, and a heck of a wallop closer in, making it an excellent close to medium range option.
Powerful kick and loud rapport for an airsoft gun
With its large piston, triple valve system and snappy bolt, the Tokyo Marui Saiga 12K is capable of delivering a comparably strong, loud and very satisfying kick with each shot, even compared to other gas-powered options.
Disadvantages
It ain't cheap
Let's face it, at around $500 the innovative Tokyo Marui Saiga 12K isn't the cheapest airsoft shotgun around and your wallet is likely to feel this purchase.
Fixed hop up
Although it does come with a pretty decent unit, sadly the Saiga 12K's hop up is not adjustable.
Some proprietary parts
The downside to the Tokyo Marui Saiga 12K having such an innovative and cutting edge airsoft design is that it does make use of proprietary parts that can be a bit more challenging to upgrade or replace down the line.
Bottom Line
With its groundbreaking design, realistic looks and capable semi-auto gas blowback performance, the Tokyo Marui Saiga 12K isn't just the best (and only) GBB option out there, it's one of the best and most innovative airsoft shotguns around. 
Will Martin – Will has been into airsoft and paintball for well over 10 years, and has done it all – from upgrading and fixing gearboxes as a tech to building custom airsoft loadouts for his friends to supporting off those friends as a DM.