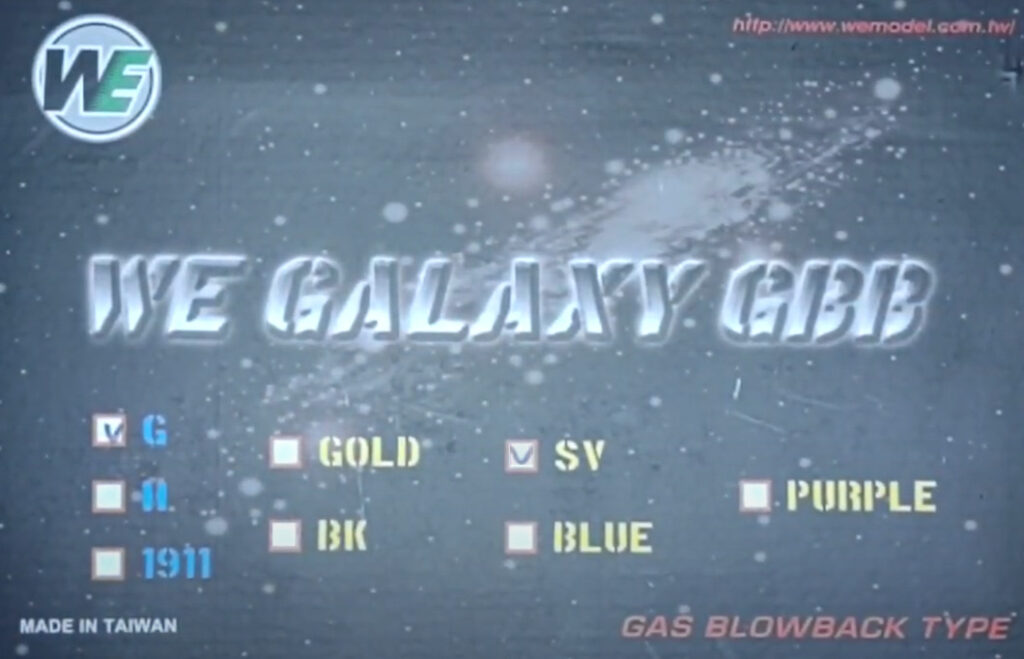 Durability and Build Quality

97%
| | |
| --- | --- |
| Pros | Cons |
| ✅ Cool, futuristic looks | ❌ Not exactly cheap |
| ✅ Very well built and durable | ❌ Not the most powerful kick |
| ✅ Good all around performance | ❌ Hop up isn't the most user-friendly |
| ✅ Automatic-capable | |
| ✅ Impressive rate of fire | |
| ✅ Stable firing performance | |
| ✅ Good gas efficiency | |
| ✅ Easy to maintain | |
WE Tech's Galaxy series of airsoft gas pistols are something of a daring response to the popular Action Army AAP-01, and their futuristic good looks have certainly raised a few eyebrows in the airsoft world since their launch.
The WE Tech Galaxy G is based on the popular WE Tech G-series of Glock-style replicas and, with its cool Ruger Mark IV-inspired styling and automatic fire capabilities, has become the breakout model in the series, having developed a sizable following since its launch.
To find out if the Galaxy G is really worth your time and money, we decided to take a look for ourselves at this sci-fi-inspired airsoft Glock replica.
Specifications
| | |
| --- | --- |
| Manufacturer | WE Tech |
| Power | Green Gas, CO2 |
| Action | Gas Blowback |
| FPS | ~300 FPS |
| Hop Up | Adjustable |
| Inner Barrel | 4.4 in (113mm) |
| Outer Barrel | 14mm CCW threaded |
| Total Length | 8.6 in (220mm) |
| Weight | 1.5lb (680 g) |
| Construction | Metal upper receiver, reinforced polymer lower |
| Rounds | 25 |
How Closely Does The WE Tech Galaxy G Resemble a Real Steel Firearm?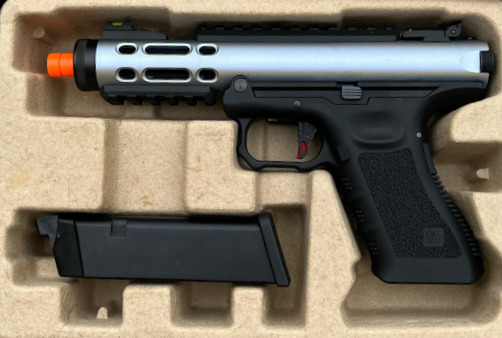 | | | |
| --- | --- | --- |
| | WE Tech Galaxy | Ruger MK 4 |
| Weight | 1.5 lbs (680g) empty | 2.23 lbs (1.01 kg) |
| Barrel Length | 4.4 inch (113 mm) | 5.5 in (139.7 mm) |
| Overall length | 8.6 in (220 mm) | 9.75 in (247.65 mm) |
| Action | Semi/Automatic | Semi |
| Caliber | 6mm | .22 LR |
| Capacity | 25 rounds | 10+1 rounds |
| Construction | Aluminum alloy/Polymer | Aluminum upper/hammer forged steel barrel |
| Sights | Fixed front, adjustable rear | Fixed front, adjustable rear |
| Rail | Yes – 12 and 6 o'clock | No |
The WE Tech Galaxy G is an in-house Glock design from WE Tech that, like its closest rival the Action Army AAP-01 Assassin, shares quite a few similarities with a real steel Ruger Mark IV.
As with the vintage competition pistol, the Galaxy G has a more rounded upper receiver with a rather distinctive, internal and rear-drawn cylindrical bolt.
Also, like more modern incarnations of the Mark IV (and unlike the AAP-01), the upper receiver has a number of ventilated holes machined into it, reducing its overall weight and giving it a very space-age look.
Finally, like its real-steel inspiration, the gun's controls are reversible, a plus for left-handed users, and the gun maintains the same single button takedown that the Ruger is famous for.
That said, being an airsoft gun there are a few differences users should note.
The WE Tech Galaxy G is a bit different in terms of its overall dimensions, for example, being just over an inch shorter and a bit lighter in hand, largely due to the greater use of polymer in its construction.
The WE Galaxy G also includes a fiber optic front post sight, rather than the plain iron sights that the Mark IV traditionally comes with.
Similarly, given that the G series of Galaxy is based on a Glock frame, the exact style and placement of its controls can differ quite a bit from a classic Ruger design.
Finally, as it is not a licensed product, there are, of course, no Ruger trademarks to speak of, so airsoft collectors will have to make do with the gun's rather unique and aggressive appearance.
WE Tech Galaxy G: How Does it Perform As An Airsoft Pistol?
Build Quality and Construction
The WE Tech Galaxy G is a gas blowback airsoft pistol that is made from a combination of metal and plastic.
The gun possesses a single piece aluminum, CNC'd alloy upper receiver that sits upon a G17-style polymer frame.
The upper's alloy material is pretty tough and solid-feeling, while the polymer frame is fiber-reinforced, making it considerably more durable than the typical ABS plastic and cheaper metals used on most inexpensive GBB pistols.
At the same time, WE has done a pretty good job with the Galaxy's fit and finish.
Although designed to come apart with the press of a single button (more on that later), the upper receiver and frame lock come together quite snugly, with no looseness or rattling when handled.
Similarly, the outer barrel and ventilated upper receiver are a single piece, which provides the gun with considerable stability (and a lot less wobble) compared to other Mark IV-style airsoft replicas.
Interestingly, like the AAP-01 and the real steel Mark IV, the upper receiver houses a relatively unusual internal cylindrical bolt design that is drawn back from the rear of the pistol.
Unlike a traditional Glock, there is no slide to blow backwards and the upper receiver remains stationary, with the charging handle itself reciprocating with every shot.
Aside from looking cool, this has the effect of reducing any gas blowback vibration, keeps any optics more stable and keeps the sights a little more on target between shots which, at least in theory, makes the gun a little more accurate than it otherwise might be.
The WE Tech Galaxy also comes with removable 20mm upper and lower rails (12 o' clock and 6 o'clock).
Aside from making the Galaxy look a little more like a space-age blaster, they also make it quite easy to add your favorite optics, flashlights, lasers and so on to the gun.
It is important to note that while included with the gun as a package, these rails don't come installed on the WE so you will need to screw one or both on yourself if you want to use them, which can be a little extra work but isn't too difficult in the grand scheme of things.
Because of this, the aluminum construction of the upper receiver can be seen as something of an added benefit, preventing the rail mounting screw holes from cracking or becoming otherwise damaged by over-enthusiastic owners.
In addition to the rails, the WE Tech Galaxy comes with a metal 14mm negatively threaded outer barrel, which will conveniently accommodate most mock suppressors and tracer units, which is always nice.
One thing to note when it comes to adding suppressors and other items is that, just beneath the outer barrel, the Galaxy G comes with an aluminum barrel stabilizer that also unscrews.
As a result, it can come loose and come off when removing a barrel attachment, which is something to keep an eye out for.
In terms of sights, the WE comes with a rear adjustable, notch-style sight and a front, fiber optic post.

Although the rear sight is flat black, lacking any higher contrast white dots or markings, the fiber optic front does a pretty good job at keeping the gun on target in low light conditions, and makes the gun more usable in night games.
Inside, the gun is pretty decently built and similar to the company's Glock 18Cs.
They are made from pretty decent alloy metal and include a sturdy steel hammer, a hefty metal bolt, an aluminum 6.08mm inner barrel, and a fairly tight recoil spring to absorb blowback.
As a result, it should stand up to gas use for quite some time, on green gas or CO2.
The Galaxy G comes with an adjustable hop up unit (with a WE red bucking), as might be expected.
Unfortunately, like many other airsoft pistols it is located under the receiver with no external access, and so the gun does need to be taken down to make any adjustments.
One thing users should note with the hop up is that it is a screw type, rather than a rotary or a TDC (top dead center), as we might have preferred.

As a result, users will need to use a screwdriver or similar object to make an adjustment.
This can be a bit more of a hassle given that the gun will only hinge open so much and the screw really can't be adjusted by hand.
Performance and Accuracy
Although its unusual looks are probably what most people would notice about the WE Tech Galaxy G Series, it is actually a pretty decent performer on the field, as well.
Running on green gas, we saw the Galaxy G hit around 300 or so FPS pretty reliably using 0.20gs.
With higher compression gasses, such as red, users have reported easily chronoing around 340-350 with the gun, although we haven't tried doing so ourselves.
Although not exactly a gas blowback powerhouse, the Galaxy G series hits hard enough for outdoor use while being able to slide comfortably under any FPS limits that users may encounter in CQB or indoors.
It is also important to note that the WE Tech Galaxy G is a select fire airsoft gas pistol and is capable of automatic fire, making it a more versatile airsoft pistol option.
In fact, the gun is pretty quick when set to auto.
We saw it get around 21 RPS, which is actually up there with some of our favorite SMGs and SBRs, such as the KWA MP9, and is directly comparable to the well-known and more conventionally-built Umarex Glock 18C and its main rival, the AAP-01 .
In terms of accuracy at range, the Galaxy G series can hit targets well past 100 feet (30 m), especially with decent optics attached to its rails, but we feel it is more at home at the 50–75 foot range (15-23 m), where it will group pretty nicely and without any real trouble.
Due to internal reciprocating bolt and fixed uppers, the gun is a bit different from other gas pistols when it comes to its blowback action.
While it does blowback with a fun-to-watch reciprocating action, the WE Tech Galaxy G offers a fairly light vibration rather than a powerful kick.
While this action does keep the gun fairly stable between shots, which can help a bit when it comes to accuracy, it can be a bit disappointing for those chasing a more powerful airsoft recoil experience.
That said, we found that the Galaxy G does have a pretty decent trigger set up.
Its flat trigger has a fairly sharp break, decently quick return and fairly light pull, making it quite effective in delivering rapid follow up shots in game.
Finally, largely due to its reduced blowback mass and internal action, the Galaxy G is surprisingly good on gas, getting about 2-3 mags per full, depending on how aggressive you are and, of course, ambient temperature.
As a result, it can be a little more affordable to run long term.
Handling and Feel
Although it looks quite a bit different than most airsoft Glocks out there, the WE Tech Galaxy G is actually pretty comfortable to handle.
At 1.5 lbs empty and about 2.3 lbs with its mag in, the gun does have a fair bit of heft to it and avoids feeling like a toy gun or sci fi blaster, which it otherwise might be prone to.
At the same time, due its design characteristics, it is a little lighter than similar all-metal Glocks out there, such as the Umarex 18C, and around the same weight as the classic 17.
As a result, it is very easy to carry and really doesn't add a lot of weight to any given loadout, making it ideal as a secondary or backup airsoft weapon.
The gun also features a deeper beavertail grip than its Glock 18C rivals, which can increase its stability and make it a little more comfortable to hold.
In terms of grips, the gun essentially is identical to a Glock 18C.
They are quite comfortable and have slip-resistant stippling on each side, as well as prominent finger grooves (with checkered interiors) that allow users to get a nice, firm grip on the gun…something that can be quite important when set to automatic fire.
When it comes to racking the bolt, the process isn't too difficult.
Although the gun lacks the characteristic rear serrations of a conventional Glock, the cylindrical bolt does have prominent and textured "ears" that make it easy for users to get a firm grip on it, even when wearing gloves.
One thing that users should note is that the WE Tech Galaxy G's selector switch is located on the charging handle and is only accessible when this is drawn back, making it a little more awkward to change firing modes.
This is especially true given that the selector switch is located on the bottom of the Galaxy G's charging handle, rather than the top.
Finally, we found the WE Galaxy G to be fairly ambidextrous.
The charging handle is located at the rear center of the gun and can be intuitively operated with either hand, while the safety and mag release are fully reversible, so the gun can be quite left-hand user friendly.
Maintenance
The WE Tech Galaxy G is extremely easy to take down and maintain.
Rather than a slide and rail system, such as those found on typical 1911 clones or on traditional Glocks, the Galaxy G's frame and receiver are connected by a hinge.
Pressing a button at the back of the gun allows the receiver to flip up, which then provides access to the bolt, hop up and barrel assembly so they can be cleaned, adjusted and checked for damage.
By further popping out the gun's main body pin, much like on an M4, the upper and frame can be completely separated, giving users freer access to the frame and trigger mechanism.
In terms of replacement parts, WE has done a pretty good job at making parts accessible online, and there is a fair amount of compatibility with WE Glock parts.
In terms of upgrades, being a fairly popular airsoft pistol there are quite a few third parties making improved barrels, hop ups, buckings, hammers, springs and more for this gun.
One thing to note when upgrading this gun is that the inner barrel sits almost completely flush with its assembly, so any replacement has to be exact in order to fit correctly.
Magazine type and capacity
The WE Tech Galaxy G comes with a 25 round metal WE Glock-style metal green gas magazine.
Built on a Glock lower, the gun will accept most modern MOS WE tech G-series mags and their compatible versions such as VFC, KJW and so on (including CO2), so users do have their choice.
Interestingly this means that the gun can accept larger 50 round mags pretty easily, as well as drums, which is pretty cool.
One thing to note is that, while older Glock 17/18 mags can work with the gun, because WE's MOS system uses a slightly different gas route than previous designs there can be some venting issues that can cause some erratic performance.
Price
Note: All prices correct as of writing, all prices in USD.
The WE Tech Galaxy G might be pretty cool but it is not exactly a cheap airsoft gas blowback pistol.
Although it depends on the retailer and availability, the WE Galaxy G series generally comes in north of $140, putting it solidly above its rival, the AAP-01, and making it more in line with pistols such as the Tokyo Marui Hi Capas, the ASG CZ P09, and some Umarex Glocks.
That said, the WE Tech has a lot going for it that some of its rivals do not, such as cool space age looks, a solid aluminum upper, a high level of customizability, decent accuracy and performance, good mag compatibility and, of course, automatic fire.
Or
Or
Pros and Cons
Advantages of the WE Tech Galaxy G
Really cool, futuristic looks
Loosely based on the Ruger Mark IV, the WE Tech Galaxy G has some rather unique and aggressive looks. More like a sci-fi blaster than a Glock, it can be a great way to stand out in a veritable sea of airsoft 1911s and G17s.
Durably built and solid
Unlike its AAP-01 rival, the WE Tech Galaxy G has a aluminum alloy upper receiver mounted to a very solid fiber-reinforced polymer frame, making it durable and sturdy enough to handle just about any airsoft game.
Further, WE Tech has done a fine job putting the gun together. With everything fitting snugly and tightly together, we couldn't see any bending, wobbling, rattling or looseness in its construction.
Well-balanced performance
At around 300 FPS or so, although it's no FPS monster, the WE Tech is well-balanced and can be taken to and used effectively at just about any field, regardless of FPS limits.
It's also fairly accurate and its more stable and subdued blowback action means it can stay on target more easily between shots.
Supports full auto fire
The WE Tech Galaxy G is a select-fire automatic airsoft pistol, i.e. capable of firing on semi and full auto, which makes it ideal for those looking to pack a little more firepower in their loadout.
Impressive ROF
Not only is the WE Tech Galaxy G capable of full auto, but it has an impressive rate of fire. It is capable of sending BBs downrange at around 21 RPS, putting it in the same category as some notable SMGs and SBRs.
Gas efficient
Due to its internal bolt system and subdued blowback mechanism, the Galaxy G is pretty gas efficient and easily capable of getting 2-3 mags per fill.
Easy to maintain
The WE Tech Galaxy G is designed to be taken down quite easily, with its upper and lower receivers popping apart with the push of a button.
It has decent parts compatibility with other WE products and there is certainly no shortage of replacement and upgrade parts available for it.
Disadvantages
Not exactly cheap
At over $140, the WE Tech Galaxy G isn't the cheapest gas airsoft pistol around and is more expensive than its closest rival, the AAP-01.
Weaker blowback than some other airsoft GBBPs
While it is snappy and efficient, and while the reciprocating charging handle is a lot of fun to watch in action, the WE Tech Galaxy G doesn't have the strongest kick out there, which some users might not appreciate.
Hop up unit isn't all that user friendly
While it is adjustable and provides pretty good spin, the WE Tech Galaxy G hop up unit is located underneath the upper receiver, meaning you'll need to take the gun down before adjusting it, and it is a flathead screw type, so you'll also need a screwdriver to do so.
Bottom Line
The WE Tech Galaxy G is a pretty radical looking airsoft pistol with a lot going for it.
With its select fire capability, solid build quality, futuristic design, strong mag compatibility supporting green gas and CO2, balanced FPS and high ROF, the gun can be an excellent, albeit perhaps unconventional looking, option for those looking for a capable backup weapon or even CQB primary.
Ted Clark– Hailing from Florida, Ted has been an avid airsoft enthusiast since he was in middle school. When he's not checking out and reviewing airsoft guns, he enjoys picking off his enemies one by one on the field as a sniper.