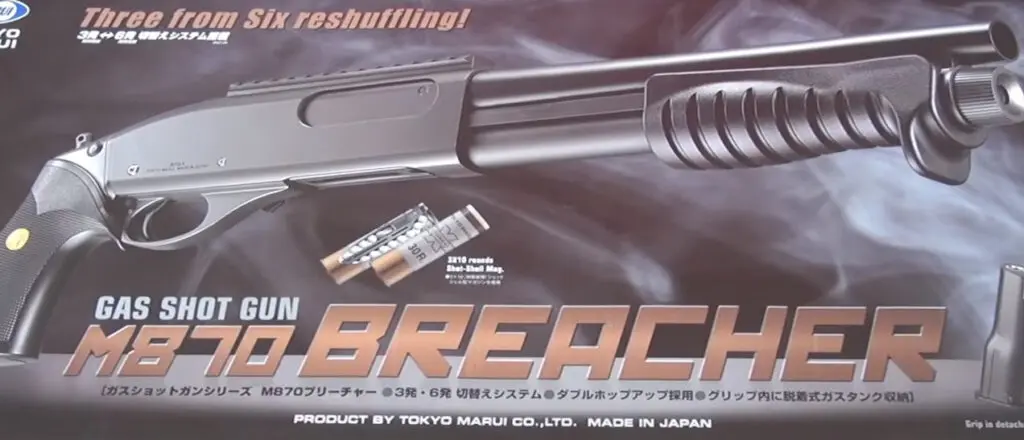 Durability and Build Quality

94%
| | |
| --- | --- |
| Pros | Cons |
| ✅ Compact, easy to handle | ❌ Pricey |
| ✅ 1:1 realism | ❌ Only comes with one shell |
| ✅ Solidly built and well put together | |
| ✅ 3/6 round burst | |
| ✅ Good range and accuracy for an airsoft shotgun | |
| ✅ Excellent action, lots of fun to handle and fire | |
| ✅ Picatinny top rail | |
| ✅ Upgrades and replacement parts available | |
| | |
The Remington 870 is a classic shotgun and its variant, the 870P MCS Breacher, has been used by police and armed forces to take down stubborn doors (or aggressors) for years.
The Tokyo Marui M870 Breacher is a 1:1 airsoft replica of this tactical shotgun option and, while airsoft shotguns aren't always so easy for airsoft manufacturers to get right, the little Breacher seems to have done a good job of it, earning itself a reputation among airsofters for quality and CQB performance.
If you are in the market for a compact airsoft shotgun and the Breacher has caught your eye, then read on as we take a closer look to find out if its really worth your time and money.
Specifications
| | |
| --- | --- |
| Manufacturer | Tokyo Marui |
| Action | Gas |
| Gas Type | 134a, Green Gas |
| FPS | ~250-300 FPS |
| Hop Up | Fixed |
| Inner Barrel | Triple inner barrel design, 6.04 mm brass |
| Total Length | 20.28 in (515 mm) |
| Weight | 5.4 lbs (2.45 kg) |
| Construction | Metal with polymer grip and forend |
| Rounds | 30 |
How closely does a Tokyo Marui M870 Breacher resemble real steel Remington 870P?
| | | |
| --- | --- | --- |
| | JAG Arms Scattergun HD | Remington 870P MCS Breacher |
| Weight | 5.4 lbs (2.45 kg) | 6.2lbs lbs (2.81 kg) |
| Overall length | 20.28 in (515 mm) | 20.25 in (514.35 mm) |
| Action | Pump | Pump |
| Barrel Length | 10 in (254mm) | 10 in (254 mm) |
| Gauge | 6mm | 12 gauge |
| Capacity | 28 BBs | 6 rounds |
| Construction | Alloy frame with polymer grips and forend | Steel frame with polymer grips and forend |
| Rail | Top | Top |
As is typical with Tokyo Marui, it seems like a lot of thought has been put into creating this airsoft shotgun and, by and large, the TM M870 Breacher is a 1:1 replica of a Remington 870P MCS Breacher.
Aside from very minor differences in weight (largely due to the differences in metals used), the Tokyo Marui Breacher matches its real steel counterpart almost exactly in terms of overall dimensions and look.
The airsoft shotgun has a similar metal frame/plastic furniture build, a curved and tactical forend, 20mm top rail, functional mag tube, trigger safety button, textured pistol grip and more.
The gun even comes without front sights, as might be expected of a shotgun largely designed to blow locks off of doors at extremely close range.
One noticeable difference is that the Tokyo Marui M870 breacher comes with a single rear sling point attachment, while the real steel 870 breachers tend to come with two.
Collectors and sticklers for realism should also note, however, that this is not an officially licensed airsoft replica.
As a result, the Tokyo Marui M870 isn't really adorned with all the official Remington trades and logos that one might expect on the real steel version.
That said, the gun does come with a few touches here and there that can go a long way when it comes to realism.
The gun, for example, comes with gauge information on its barrel, "Model 870" engraved on its frame.

It also has a nice golden 870P-style winged lion badge on its grip, which is pretty cool.
How Well Does the Tokyo Marui M870 Breacher Perform as an Airsoft Shotgun?
Build-quality and construction
The Tokyo Marui M870 Breacher is a full metal airsoft shotgun.
The gun has an aluminum alloy barrel assembly, metal gas tank and a zinc alloy frame, with the only real prominent plastic parts being its pistol grip and forend.
While this alloy construction is perhaps not quite as strong as some of the higher quality pure aluminum or steel-framed airsoft rifles we've seen, it is far more durable and realistic than many other airsoft shotguns out there, which tend to be made from cheaper ABS plastics.
As might be expected of a Tokyo Marui, the M870 Breacher is quite well put together.
The gun is tightly put together and well fitted, with little in the way of rattling or wobble to it.
The slide action on the gun is smooth and easy, and the forend racks very audibly with the signature pump-action metallic "clack" that everyone knows and loves.
The forend itself is modeled after the real steel tactical MCS breacher and looks a bit more unusual than other 870s in the Tokyo Marui lineup.
It is rather short, curvy and deeply ribbed with a stop at the end, a safety feature on the real streel version that is largely designed to keep a users hand away from the shortened muzzle and the presumably close blast area.
The Tokyo Marui M870 Breacher also comes with a functional magazine tube that users can unscrew the end of and insert spare shells for safekeeping.
As a cut-down Remington replica, and unlike larger shotguns such as the full size and tactical versions of the Tokyo Marui 870 or the JAG Arms Scattergun, you can only fit one spare shell in the mag tube.
While perhaps not the most useful in-game feature, it is a thoughtful and realistic addition that we appreciate.
That said, those who do want to carry around some spare shells should probably invest in a compatible saddle, which tends to hold five rounds, looks a lot cooler and tends to be a lot more speedy when it comes to reloads.
The TM M870 Breacher also comes with a removable 20mm RIS rail, which can accommodate most optics.
While many might scoff at adding optics to such a compact, CQB-oriented shotgun, there are two things to keep in mind.
The first is the fact that, as an airsoft gun, the Breacher's range has little to do with its overall size and it can cover a fair distance (which we will discuss a little later).
The second is that, unlike its larger 870 siblings and much like its real steel inspiration, the Tokyo Marui Breacher doesn't come with any sights.
While this sight-delete makes suddenly deploying the gun as secondary from a loadout a lot more easy, preventing the gun from snagging on gear, it can make hitting targets at distance a lot more difficult.
As a gas airsoft shotgun, the Tokyo Marui M870 Breacher has a gas tank, which is located in the pistol grip.
The gas tank looks something like a chunky magazine and is made of fairly thick metal. Although it is smaller than the tanks found in more full-sized 870 replicas (which take up the bulk of a stock), its thicker walls and rather unique design make it far less prone to leaks compared to previous and larger models.
On the inside, the Marui is pretty decent for an airsoft shotgun.
While it features a typical tri-barrel setup (which gives it its shotgun-style burst firing), it sports three relatively tight-bore and nicely-finished 6.04mm brass barrels.
Unlike less expensive airsoft shotguns, these barrels are attached to an actual hop up unit.
While it is a fixed hop up, due to the likely cost of adding an adjustable version to three barrels, it is a pretty high quality Tokyo Marui unit that offers excellent spin out of the box, even considering that this is a more niche CQB-oriented airsoft weapon.
Performance and accuracy
Although small, the Tokyo Marui M870 Breacher is quite mighty and can send some fairly impressive fire downrange.
As with other Tokyo Marui 870s (and their clones), it is capable of both 3 and 6 round bursts, which is how the gun emulates the scatter effect of a real steel shotgun and which allows it to be rather devastating in close quarters games
Firing modes can be selected using a little switch located just behind the faux ejection port, which is accessed by racking the slide back fully, which locks it open.
While not particularly difficult to use, it does work using a phillips head screw, which unfortunately prevents users from easily and casually flicking between firing modes.
In terms of power, as with other airsoft shotguns of this type, the output depends not only on the type of gas used but the selected shot mode, as well.
Using green gas on 3 shot mode, for example, we saw the gun get about 300 FPS using 0.20g BBs, while on 6 shot mode we saw it get around 240-250.
While not exactly high powered, this means that the Tokyo Marui M870 has enough going for it to be useful in most games, especially CQB and indoor games where it is really intended to shine.
When it comes to accuracy, the Breacher really proves that size isn't all that important…at least when it comes to airsoft.
On 3 shot the gun has a maximum effective range of around 65 feet (20 m), which isn't bad at all for an airsoft shotgun, although with its fixed hop up and lack of sights it is more at home closer in at the 30-50 foot range (10-15 m) where its BBs will end up in a pretty tight spread.
And this is why the Breacher is so awesomely devastating in CQB games.
Although not intrinsically very powerful FPS-wise, there is simply nothing like being able to deliver 3 BBs into your opponent's body at once in a 3-4" group.
Now, when it comes to rate of fire, the Tokyo Marui M870 Breacher is actually quite surprising.
Rate of fire isn't really what you think of when it comes to non-automatic weapons, and certainly not with shotguns.
That said, if you have ever used a spring-powered airsoft shotgun then you know that manufacturer's generally include fairly powerful springs that take some effort to rack, slowing down a user's ability to deliver follow up shots.
Because the Tokyo Marui M870 Breacher is gas powered, and because its forend is quite smooth and easy to rack, it is capable of delivering some pretty quick action.
Although you will likely never reach the speed of a semi or automatic airsoft gun, if you put a little muscle into it it can be a useful tool when clearing an area quickly.
This speed of fire is helped out by the very responsive trigger that Tokyo Marui has seen fit to mount on the Breacher.
Only requiring about 2 lbs of pull to fire, it is quite light and has a nice break and return to it, something that can be helpful in-game but that. isn't always so common with airsoft shotguns.
Finally, in terms of gas efficiency, the Breacher gets around 2-2.5 shells per fill, or being able to send out 60-75 shots.
While it doesn't really get as much out of a tank as its full sized 870 rivals, which get well over 100 shots per tank, it's also considerably smaller and less leak-prone over time.
Handling and feel
The Tokyo Marui M870 Breacher is a very compact, CQB-oriented airsoft shotgun.
At just over 20 inches long (508 mm), it is one of the most compact (if not most compact) M870 airsoft replicas made by Tokyo Marui, and is even a few inches shorter than the venerable JAG Scattergun Reaper and Sawn-Off variants.
As a result, the Breacher is extremely easy to handle and maneuver around with in tight quarters.
Its compact and relatively light design, combined with its single sling point attachment, also means that it can easily be switched from dominant to off-hand when quickly pieing corners, which is always nice.
In addition, the Breacher is a lot of fun to fire.
Its gas power provides the gun with a nicer rapport when fired, and its pump action is very realistic, providing its users with a loud and very enjoyable movie-like racking sound that will certainly turn heads.
That said, this means that the gun isn't exactly stealth-oriented – opponents at some distance will hear you fire and will certainly hear you rack a round.
However, if your first instinct is to rely on a gas powered airsoft shotgun as a stalking weapon, we really don't know what to tell you.
In terms of its grips, the M870 Breacher comes with a realistic pistol grip, which is a little wider than its real steel counterpart (due to it holding the gas tank).
The grip is heavily textured with a nice checkered pattern that helps give the gun excellent stability when wet or if the user is wearing gloves.
In a similar vein, the gun's tactical forend (or pump slide) is contoured and deeply grooved, which allows users to get a good grip on it in all conditions.
Unfortunately, we found its rounded, flanged and tapered design to be a little more awkward at times compared to what might be found on a standard pump shotgun.
One other thing to keep in mind is that the M870 Breacher does not come with any kind of stock as it is based on a CQB-oriented firearm whose main purpose is to blow the hinges and locks off of doors from very close range.
While this lack of stock helps keep the Marui Breacher very compact, it does make it a little harder to aim the gun at targets further out despite this airsoft shotgun's inherent ability to do so, which is a bit of a shame.
Finally, the Tokyo Marui N870 Breacher is a pretty ambidextrous airsoft gun.
Its pump action, shell insertion and sling point are all left- and right-hand compatible, and the only thing that left-handed users really need to keep in mind is the fact that the cross-bolt style safety pushes right to lock safe and left to fire.
Maintenance
The Tokyo Marui M870 is an airsoft shotgun and, due to their more unique and sometimes complicated internals, they aren't really meant to be field stripped.
The gun contains a lot of small parts and screws that can pop out of place if you're not careful, so maintenance usually involves keeping things clean, checking for damage, checking the o-rings inside the grip and mag as prescribed by the manual and so on.
In terms of replacement parts, the Breacher is a Tokyo Marui and, while its shotguns are something of a niche item compared to its pistols and rifles, parts are pretty widely available online.
As for upgrades, the relative popularity of the M870 series means that a number of third party companies have developed improved parts for these guns, and users can find tighter bore barrels, stronger springs, metal nozzles, reinforced pump arms, reinforced transfer bars, various steel components and higher performance valves for this gun.
Shell type and capacity
The Tokyo Marui M870 Breacher, like other M870s in their line, uses a plastic 30 round replica shell that offers users about 5-10 shots at a time.
Unlike some other shotguns out there, however, the Breacher comes with only one of these shells, which is kind of disappointing.
You can, however, get spares (or compatibles) pretty easily, and they do fit older TM shotguns, which can be helpful if you have a collection.
Price
Note: All prices correct as of writing, all prices in USD.
The Tokyo Marui M870 Breacher isn't exactly a cheap airsoft gun.
Usually costing around $300 or more, it is considerably more expensive than many other airsoft shotguns out there, even gas powered versions such as the JAG Scattergun or the licensed Cybergun FN Herstal SLP, although substantially less expensive than some of TM's more exotic shotguns, such as the AA12 or the Saiga 12K . 
That said, the Tokyo Marui Breacher does provide a lot of value even at this price.
It is a highly reliable, very realistic, accurate, highly maneuverable, pretty durable and very well-assembled, and in a world of cheap and unreliable airsoft shotgun alternatives this is no small feat.
Or
Or
Pros and Cons of the Tokyo Marui M870 Breacher
Advantages
Compact
At around 20 inches in total length, and with very little to snag or catch on clothing or gear, the Tokyo marui M870 Breacher airsoft shotgun is very compact and easy to deploy/maneuver around with and use in close quarters.
Very well put together
Unlike some other airsoft shotguns, the Tokyo Marui M870 Breacher is a full metal airsoft gun and, while we wouldn't exactly chuck it around, it should stand up to most airsoft use for quite some time.
More than that, it is very well put together, with a smooth pump action, light and responsive trigger, good quality internals and no obvious rattling, wobbling or bending that we could notice when we handled it.
3/6 round burst mode
The Tokyo Marui M870 Breacher offers 3 and 6 shot modes, giving it a nice spread that makes it a far more realistic shotgun experience.
This reliable burst mode, combined with the accuracy and tight groupings provided by its quality hop up and TM internals, means it can deliver quite the sting to a stubborn opponent in the field.
Realistic
The Tokyo Marui M870 Breacher is a pretty solid 1:1 replica of a Remington 870P MCS Breacher shotgun.
Although not officially licensed,it has an assortment of engravings and design touches that really add to its look and sense of authenticity.
Pretty good range and accuracy
Airsoft shotguns aren't designed to be sniper rifles and generally aren't great at range.
Being able to comfortably hit targets past 65 feet makes the compact Tokyo Marui Breacher something of a pleasant and highly amusing surprise, both to its users and to its targets.
A lot of fun to handle and fire
A gas-powered airsoft shotgun, the Tokyo Marui M870 Breacher has a noticeable rapport when fired, a decent kick and racks with a very realistic sound, making it extremely fun to use.
Has a picatinny rail attachment
The Tokyo Marui M870 Breacher comes with a detachable 20mm top rail, which gives users the ability to quickly mount and unmount their favorite optics, which is a definite plus for this farther reaching but sightless airsoft shotgun.
Replacements and upgrades are available
While perhaps not as popular as some other Tokyo Marui airsoft guns, the popularity of the TM M870 series, and the Breacher in particular, means that replacement parts and upgrades are pretty widely available, even in the US.
Disadvantages
Pricey
While it is an extremely well-built airsoft shotgun, at over $300 the Tokyo Marui is on the expensive side and can cost more than many other airsoft shotguns out there.
Comes with only one shell
Unlike other airsoft shotguns, the Tokyo Marui M870 Breacher only comes with a single 30rd shell.
Although these aren't exactly expensive or hard to find, and while there are third-party companies making compatible shells, it can be a little annoying.
Bottom Line
The Tokyo Marui M870 Breacher is a solid replica of the well-known Remington 870P MCS Breacher, which has helped police and military users blow down doors for many years now.
With its compact design, solid build, cool looks, awesome pump action, and reliable and accurate performance, if you are looking for a high-quality CQB-oriented airsoft shotgun, the Tokyo Marui M870 Breacher is likely one of the best options out there.
Will Martin – Will has been into airsoft and paintball for well over 10 years, and has done it all – from upgrading and fixing gearboxes as a tech to building custom airsoft loadouts for his friends to supporting off those friends as a DM.