The Wild West Era didn't really last all that long- from about the 1860's to about the mid-1890's – but it formed a big part of America's identity and remains so to this day, with Stetson-wearing, gunslinging cowboys and outlaws being a part of our shared national mythology and an iconic image for people all over the world.
With cool historical loadouts and unique airsoft guns and gameplay, it's perhaps no surprise that Wild West airsoft games have become somewhat popular in the US and abroad.
Although this particular niche in airsoft isn't (and will likely never be) as popular as more modern military-style games, there are actually quite a few guns and options out there to choose from when it comes to building your own cowboy/outlaw loadout.

To help out, we decided to put together a list of our favorite Wild West airsoft rifles and revolvers that will help you put a bit more yee in your haw.
In A Rush? Check Out Our Favorite Wild West Airsoft Guns
What We Look For In A Wild West Airsoft Gun
Realism and attention to detail
Wild West airsofting is all about replicating a certain look and style and, as with other historical airsoft niches, an important part of any potential gun is its design and attention to detail.
As with any airsoft gun, these guns should replicate the real steel firearm they are based on, including many of the quirky features old West guns were known for.
With Wild West airsoft revolvers, this means functional cylinders, thinner slab-side grips with minimal texturing and low rise sights (good for quick-draws if not distance shooting).
With old-time rifles and shotguns, on the other hand, this means real wood stocks, brass and metal adornments and so on.
Wild West is different from Western steampunk, so rails, weird optics and skeletonized furniture aren't really what we're looking for in this list.
Reliability and build quality
As cool as an old-time, Western-themed airsoft revolver or rifle may look, they're really not all that useful if they fall apart after a few shots.
These guns should be made out of decent materials, usually metal, and their rather unique mechanisms of action (be that cylinder-based revolving or lever-action) should be smooth and free of any annoying wobble or rattling.
Performance
While looks and design are certainly key with Wild West airsofting, as with other historical gun-types, they do actually have to function on the field to some degree.
While we certainly don't expect the same performance out of these guns as we do airsoft SMGs or sniper platforms, we do like to see things like FPS around 300-350, for maximum usability without being unusable at closer range, and the ability to reliably hit a target at over 30-40 feet (for revolvers) and 110 feet (for rifles and shotguns).
Hop ups can be an issue for some airsoft Wild West themed guns, particularly when it comes to revolvers, which often are based on repurposed older airsoft platforms and may lack them altogether.
While we certainly would prefer an airsoft gun with an adjustable unit, in these cases we tend to be more accepting of fixed design as for the most part it does prevent BBs from dropping off after about 40 feet or so.
Cost
Let's face it, a Wild West airsoft gun is probably going to be an occasionally used niche item, if not just for cosplay.
Consequently, and while we obviously want to balance price with build quality, any gun we're looking for shouldn't cost as much as a primary rifle or SMG – i.e. they should probably cost under $250 at the most.
Our Picks
Best Rifle – Matrix Special Edition M1892 High Power Gas Sniper Rifle
| | |
| --- | --- |
| Pros | Cons |
| Fairly inexpensive | No room for accessories, even if called a sniper rifle |
| Realistic look | Reloading a bit tricky |
| Durable design | Some proprietary parts |
| Very smooth lever action | |
| Solid power | |
| Good accuracy | |
| Gas efficient | |
| Adjustable hop up | |
Sure, the Winchester model 1892 was released at the very tail end of the Wild West era, but it certainly made an impact on the Old West and the A&K / Matrix replica of this historical weapon certainly does it justice, being a great balance of form and function.
The gun's matte finished barrel, stock, large flip up sight, brass butt plate look fantastic and exude an authentic 19th century charm, capturing the essence of the original firearm in our opinion.
It should be noted that the gun is sold with both wood and polymer stocks, and while the plastic imitation wood does lighten the gun's weight by a fair amount and is easier to care for in the long run, we would definitely go with the rather well-finished and sanded real wood version for maximum authenticity, aesthetics and value.
By and large, the Matrix M1892 is pretty durable, thanks to its all-metal internals (sadly, most of which are proprietary), lever, and barrel, and while there was a bit of wiggle when we handled it (particularly between its stock and receiver) by and large the gun seemed pretty well put-together, especially for a niche airsoft gun.
The clever integration of the gas chamber into the lower barrel is also a nice touch, making it easy to refill the gun and letting it hold a significant amount of gas without bulking out the stock with a larger integrated tank.
Performance-wise, the M1892 doesn't disappoint.
The gun is a lever action, and its mechanism is quite smooth and cocking the gun delivers a satisfying tactile feel and an authentic sound that immerses you in the action and means you never feel like you're just fiddling around with a toy gun.
The gun also comes with a generously sized lever ring that accommodates almost any hand size, ensuring a comfortable and secure grip, which we always appreciate.
When fired, the gun chronos at around 350 FPS or so on green gas, which means it has enough power to keep up with rivals but without falling afoul of any restrictions a field might have on power.
Interestingly, the A&K / Matrix M1892 airsoft rifle also has quite impressive accuracy and range, being able to hammer torso-sized targets well past 150 feet (45 m) without any real issue.
This accuracy and capability is certainly helped out by the fact that the gun, unlike many other historical airsoft guns, actually comes with a decent adjustable hop up unit, which is located on the top of the gun and is turned with a standard allen key.
It delivers impressive accuracy, even at long distances. With a power range of 350 to 400 FPS, it strikes the perfect balance between hitting targets at range and adhering to regulations.
Finally, the gun is pretty gas efficient.
While the gun only holds about 25 rounds, it can deliver around 75 shots per gas charge, which isn't too bad (basically the equivalent of 3 mags per fill).
On the downside, although the gun bills itself as a sniper rifle, there's no real area to put a scope or bipod on a stock model.
Further, because of the gun's internal magazine loading can be tricky and users will need to use a special loading tool in order to do so.
With all that said, in our opinion the A&K Matrix Special Edition M1892 High Power Airsoft Sniper Rifle is really a functional work of art for those who appreciate historical detail.
The gun looks great, performs well, feels good in-hand and, typically sold for under $200, you won't need to rob a stagecoach to afford it.
Best Old West Shotgun – S&T M1887

| | |
| --- | --- |
| Pros | Cons |
| Fires up to 3 shots per trigger pull | Not the cheapest option |
| Compact | No hop up |
| Decent build quality and real wood construction | |
| Lightweight | |
| Multishot | |
| Available in sawn-off form as well | |
| Holds up to 5 shells | |
| Shell ejecting | |
Based on the Winchester 1887 lever action shotgun (a gun featured in classics such as Public Enemies, Terminator 2, Resident Evil 4 and Red Dead Redemption 2) , the S&T M1887 is our top Wild West shotgun, and for good reason.
The gun is sturdily built, being made with a very aesthetically pleasing real wood stock fitted to a pretty durable alloy barrel/mag tube and receiver.
The gun's fit and finish is also quite good, with the gun's wooden pistol grip and handguard being nicely finished for an airsoft gun and having a nice dark color and visible grain.
When we handled the gun, the S&T M1887 showed no signs of looseness or rattling, which is always a plus, and the lever mechanism was very easy to cock.
As a result, once you get the hang of it, the gun doesn't suffer from any real lag in ROF compared to the usual pump actions out there – good news for those who want this gun for something more than a pretty wall hanger or cosplay item.
It's also a shell-ejecting airsoft gun, which isn't always so common, and shells will pop out its ejector port with each shot, making it very realistic and fun to use compared to many other options out there.
As a shotgun, the S&T M1887 comes in two variants, a shortened 26.6 inch coach model and, of course, a 19.3 in sawn-off…because why not.
At the end of the day, both variants are pretty lightweight (under 4 lbs), compact and easy to carry, so it really boils down to personal shotgun preference and the type of loadout you're going for.
Performance with the S&T M1887 is pretty solid for an airsoft shotgun.
The gun is multi-shot and can deliver 3-BBs with a trigger pull, which can be useful in closer range.
As with other multi shot airsoft shotguns, FPS can vary depending on how many BBs are being fired off, but generally we saw the gun get around 310 FPS on single and 230 FPS on tri-shot, meaning the gun should have no problem being used on any field that allows gas shotguns, regardless of any FPS restrictions.
One thing to note, however, is that as there is no hop up the gun really is most effective below 50 feet, making it a close-in tool more than anything else.
The M1887 does hold 5 shells in its underslung magazine tube, however, so it can bring quite a few BB blasts to the field, which is always nice.
In terms of price, the S&T M1887 is a bit on the pricier side of Wild West airsoft guns, being sold for around $275 or so.
On the whole, however, the M1887 is an excellent and period correct airsoft shotgun choice whose solid build, capable firepower and amusing shell-ejecting action should help amuse its owner and scatter opponents in equal measure. 
Best Backup Weapon – Maxtact Full Metal Gas Derringer 
| | |
| --- | --- |
| Pros | Cons |
| Looks good | Short Range |
| Small enough to conceal easily | 2 Shot limit |
| Feels real in the hand | |
| Surprisingly powerful | |
| Affordable | |
Pistols are a staple of Wild West airsoft games, but we're not going to start off with any of the usual revolvers out there.
The Derringer pistol was a popular concealed weapon in 19th century America and, whether sneakily tucked away in an outlaw's boot or the belt of a gentleman gambler, it was used by pretty much everyone who needed quick access to an emergency secondary.
And that's just what the Maxton Derringer offers airsoft players.
A very realistic replica of the famous vest-pocket pistol, the gun is quite compact, only a few inches from hammer to muzzle, and is a breeze to slide into just about any loadout.
At the same time, however, the gun is all metal and is substantial.
Nudging the scales at almost a pound (about 13 oz or 370g), the gun isn't exactly heavy but doesn't feel like a plastic toy, either.
In fact, it's not too far off from the real steel Derringer's 18.5 oz, adding to this airsoft replica's overall realism quite a bit.
The gun is also surprisingly well-balanced and comfortable to hold, with its weighted handle preventing it from being front-heavy and awkward to handle, as one might expect.
When it comes to power, too, this little pistol has a few surprises.
On green gas, it chronos in at around 200 FPS, which isn't really all that powerful but does make it ideal for the very close in situations the gun is designed to handle.
It's important to note that the gun isn't exactly going to be your primary.
The gun is single action and only holds two shots, this really is more of a surprise back up to a larger airsoft revolver or rifle than anything else.
It is, however, hilarious to use, especially when deployed unexpectedly.
It's also extremely affordable, with basic black models starting at just under $70 or so (and gold models under $90 or so).
So while it may perhaps be a niche item for fans of the Old West, it's one that won't break the bank and whose use may just save your proverbial bacon in game 
Best Wild West Revolver – Elite Force Legends Smoke Wagon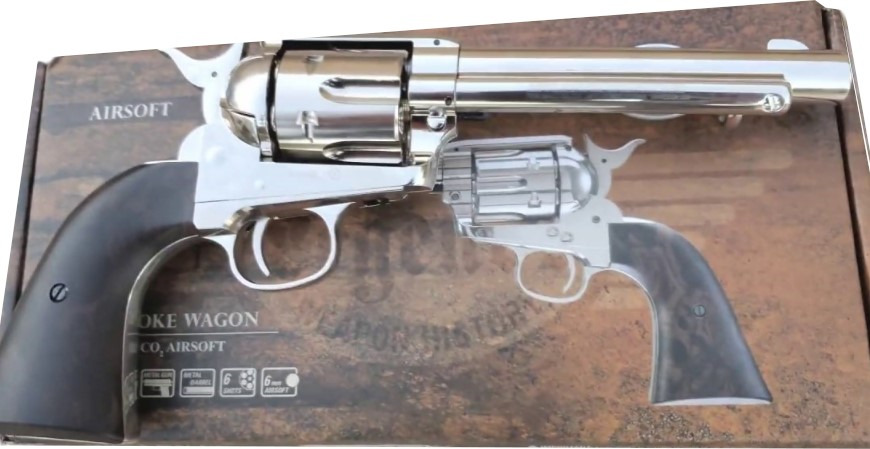 | | |
| --- | --- |
| PROS | CONS |
| Historically accurate | Not great at range |
| Looks great | Slow to reload |
| Durable, metal frame | Single action |
| Comfortable grip | |
| Good gas efficiency | |
| Solid power (300 FPS) | |
| Nicely balanced for drawing and twirling | |
| | |
As we discussed in our article about airsoft revolvers, the Elite Force Smoke Wagon can be an absolute gem for those who appreciate classic firearms.
The pistol is a highly accurate reproduction of the legendary Single Action Army (SAA) and with a full metal frame and polished finish, it will turn some heads on the field.
But looks arent what this pistol is all about – its built tough as well.
While we wouldn't throw it around or use it to shoe horses, it's solid enough to withstand a few knocks on the field.
In terms of performance, the Smoke Wagon doesn't disappoint, either.
At around 300 FPS, it is right in the sweet spot for an airsoft revolver of this type, being just powerful enough to be highly useful but not so much as to be banned from close range shooting.
And close range is what this gun is for as, much like other airsoft pistols of the type, it doesn't come with a hop up unit and is effectively a gun for engagements to 50 feet or so.
The gun is highly gas efficient, however, getting around 150 shots per fill, which means you can send out quite a few BBs from its cool metal cartridges before needing to break off.
It is single action, however, so letting loose a rapid fire stream of plastic will take some effort.
But it's not only about looks and performance with this gun.
The Smoke Wagon is nicely balanced as an airsoft pistol, with most of its weight dead center, meaning you can actually twirl it around quite a bit, which is fun..
The cylinder action of the gun is very smooth and lands in place with a satisfying, audible click.
Finally, typically sold at just under $140, the Smoke Wagon isn't extremely expensive although it is a bit high for a niche airsoft gun.
That said, on the whole we feel the Elite Force Legends Smoke Wagon can be a great wild west airsoft six-shooter.
It's accurate, stylish, durable, and downright fun to use.
Whether you're looking to channel your inner cowboy or just want a kickass airsoft sidearm, we'd say this is the one to reach for on the draw.
Or
Most Realistic Revolver – Cybergun Colt SAA .45 Peacemaker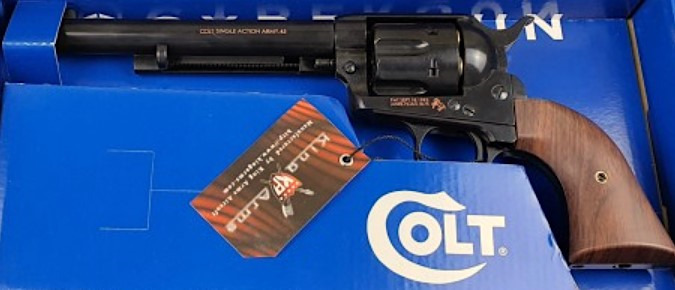 | | |
| --- | --- |
| Pros | Cons |
| Authentic trades | Not meant for long range |
| Comes in a variety of colors and barrel lengths | Kind of pricey |
| Durable metal body | gas |
| Feels good in the hand | |
| Firing action is good and satisfying | |
| Easy to reload | |
| Good power, just right for CQB | |
While the Smoke Wagon offers the best balance of performance and build in our opinion, if realism and authenticity is your thing, the Cybergun Colt .45 Peacemaker SAA might be the right choice for you.
To start with, this is a fully licensed reproduction of the legendary Peacemaker.
As such, it not only matches that legendary Western sidearm in terms of overall looks and dimensions, it also comes with actual Colt trades and marks.
At around 2 lbs and made of sturdy metal, it also feels far more like a real steel Peacemaker than other options out there.
Importantly, the gun doesn't just look good, it's been put together quite well, too.
The Cybergun Peacemaker is well-balanced and has its mass located towards its center,
making it perfect for spinning or any other fancy tricks you want to pull off.
Further, the gun's hammer and trigger are smooth as silk while its cylinder action is smooth and sounds great.
Even reloading is a breeze – you don't even have to remove the cartridges if you're in a hurry.
Simpky load the BBs in the front of a cartridge while its in the cylinder.
Rotate, and then load the next one.
It's really easy and with a bit of practice can be done pretty quickly, too. – helpful for the budding gunslinger.
On the downside, raw power with this gun isn't really something to write home about.
At around 280 FPS, its great for close-quarters shootouts but may not be the most ideal for long range outdoors blasting.
It also lacks a hop up, which should reinforce its use for up close and personal dispute resolutions.
Finally, typically sold for just under $200, it's not a cheap airsoft wild west gun.
That said, if you're looking for realism, the Cybergun Colt SAA .45 Peacemaker airsoft pistol is the way to go.
It's a beauty, feels great in your hand, and it's a blast to use in a shootout – and really, that's what it's all about, isn't it?
Why You Should Consider Wild West Airsoft Guns
Western-themed airsoft games
Whether recreating a famous battle, gunfight or simply trying your hand at a real life game of outlaw, Wild West airsoft games can be a lot of fun and in order to play them the right way you'll need your own vintage rifle, shotgun or six-shooter.
Very distinct action
The old West, for the most part, was all about lever actions, shells and revolvers, and their airsoft counterparts can give users a far more unique and dynamic experience compared to the typical BB-filled mags and semi-autos found in more modern games.
Unique looks
Wild west airsoft guns are often made with wood, brass, metal, banded barrels and can even have intricate metal designs.
Their unique looks can help them stand out both in a collection and on the field.
Historical connection
As we've mentioned, the Wild West has a special place in American history (and the world's perception of it) and the guns that characterized the period and its conflicts, such as the Peacemaker and the Winchester rifle, were some of the most iconic and important guns ever made.
What Are Some Drawbacks?
Slow
In general, you won't see a lot of AEGs or rapid fire SMGs (or LMGs) in Wild West airsoft games, with most of the period-specific guns out there being single fire and manual action.
Limited capacity
Being shell loaded for the most part, or designed with an internal BB container, generally speaking most vintage, Old West-style airsoft guns tend to hold far fewer BBs than their mid- and hi-cap mag equipped modern counterparts.
Limited repair and upgrade options
Oftentimes, airsoft replicas of Old West guns tend to include proprietary internals, shells and components, which can make it hard and costly to repair them and means that upgrading them can be quite tricky.
Fewer options out there than modern options
Let's face it, the era of cowboys and outlaws has long since vanished and, while the occasional Western-themed game or movie can still become quite popular, airsoft games based in this period of time are fairly niche.
As a result, there aren't quite as many options out there for vintage Western airsoft guns compared to, say, 20th/21st century AR or AK variants.
Bottom Line
At this point, the so-called Wild West is probably more myth than fact, yet its imagery still captures the imagination of people across the US and around the world.
Although perhaps less common than CQB games ripped from the modern battlefield, Wild West airsoft games can still be a lot of fun and a good quality vintage Western-style airsoft gun can be a welcome and surprisingly functional addition to any collection.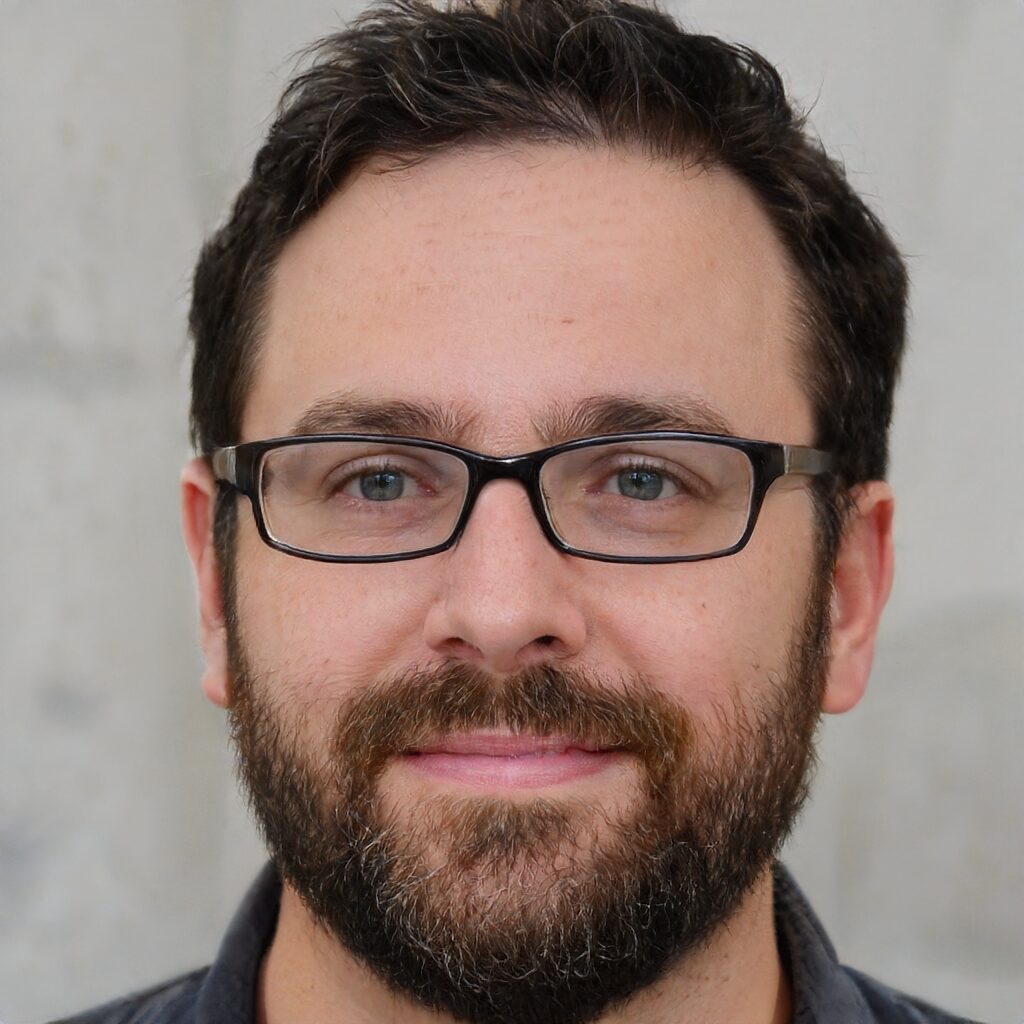 David Lewis – A longtime airsoft and airgun enthusiast and collector, our editor David's lifelong passion for tactical sports began in high school with some friends, a cheap knock-off airsoft M4, and an open field behind his parents' house.

When he's not plinking around, he enjoys sharing his knowledge of airsoft and helping those just starting out.